If you are looking for inspiration to create a weekly meal plan, you are in the right place!  Each week I share a meal plan I create that is packed with easy to make recipes, with variety, AND I try to repurpose leftovers from at least one meal each and every week to minimize time spent in the kitchen and maximize time spent enjoying life!  A new meal plan comes out each Friday, so stay tuned!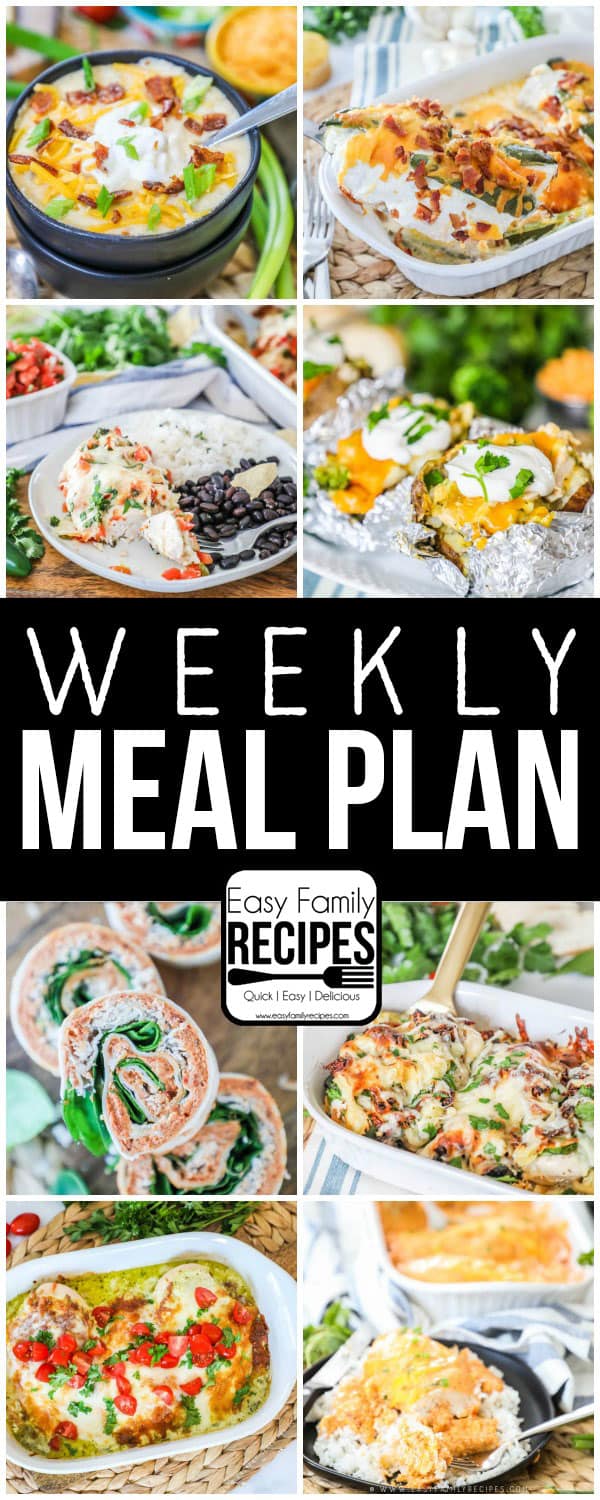 Hi Friends!  Welcome to our weekly meal plan section of Easy Family Recipes.  I love sharing new recipe ideas each week and have a real passion for making cooking simple and enjoyable to do at home when you are a busy family.  If you aren't signed up for my e-mail newsletter, make sure to do that asap so you can get new recipes and the new meal plan updated for each week!
You can click here to sign up or on the button below.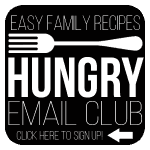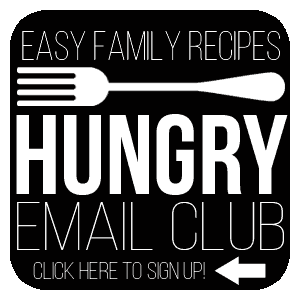 Week 7 Meal Plan
Monday: Bacon Ranch Chicken Casserole– Supremely creamy and packed with flavor.  This one is a crowd pleaser!  You can double it if your family really loves it and keep leftovers on hand for lunches throughout the week.  Make sure and serve this with a side of my garlic smashed potatoes.   Pin Garlic Smashed Potatoes here.
Tuesday:Green Enchilada Pork Chili– This is a fun twist on traditional chili from Lil Luna!
Wednesday:Creamy BBQ Chicken- This is one of my favorite new recipes and I recently had a friend tell me she made it two weeks in a row her boys loved it so much. Serve it as sandwiches with my favorite broccoli slaw for a classic (and totally easy) dinner!
Thursday: Chili Pie- Whip up a batch of cornbread (I make it in a pie pan,) then once it is done, use a wooden spoon to poke holes in it. Spoon your leftover chili from Tuesday over the top letting it soak into the holes in the cornbread and sit on top of the cornbread.  Cover the top with a generous sprinkle of cheese and bake for about 20-25 minutes or until it is all heated through and the cheese is melted.  Take it out and slice it up.  Garnish each slice with a dollop of sour cream, a spoonful of pico de gallo and some fresh cilantro.
Friday: BBQ Chicken Salad- Load up a bed of mixed greens with a heap of this creamy BBQ chicken and then top with your choice of veggies:  chopped tomatoes, celery, corn, black beans, bell pepper, diced egg, and any other veggies or toppings you love!  Drizzle with ranch dressing and a little extra BBQ sauce and add some corn chips for a little crunch if you want.
Bonus!!! If you have never tried them, give these cornflake cookies a go!  They have such amazing flavor and texture they are a fast favorite around here!
Week 6 Meal Plan
Monday: Creamy Garlic Chicken– Not only did my son ask for 3 servings of this, but I hid the leftovers so I would be the one to get to eat them!  Make sure not to eat those leftovers too soon because we will use them later in the week. Bonus- This is a super low carb recipe. Serve this with a side salad or roasted asparagus.☛☛☛Pin Creamy Garlic Chicken recipe here!
Tuesday: Chicken Noodle Soup– This version makes it easy by using rotisserie chicken and might be the best you have ever had! Feeds a crowd, or gives you enough leftovers to pack for yummy lunches this week.  Use a thermos to pack it in the morning and keep it warm until lunch for you or the kids.☛☛☛Pin Chicken Noodle Soup recipe for later here!
Wednesday: Garlic Chicken Shells- Use the leftovers from Monday!  Chop up the chicken then mix, then steam some broccoli and chop it up too.  Mix the garlic chicken with the broccoli and stuff it inside larger pasta shells.  Top with red or white pasta sauce, a handful of extra mozzarella cheese and bake at 350 for about 20 minutes or until everything is heated through and the edges are bubbly.
Thursday: Honey Herb Pork Tenderloin from @thecookierookie- She says this is a restaurant quality meal you won't believe you made at home because it is so easy! You can serve this with mashed potatoes and easy garlic green beans.☛☛☛Pin Honey Herb Pork Tenderloin Here. Pin Creamy Mashed Potatoes here. Pin Garlic Green Beans here.
Friday: Burgers!  I like to keep them in the freezer for busy nights.  If it is nice outside you can throw them on the grill, and if not, just cook them up on the skillet.  For a real treat, top them with my to-die-for Pimento cheese! Serve them on buns, or break up the patty and serve it as a salad or lettuce wrap for a low carb option. Serve them with my garlic smashed potatoes or ranch smashed potatoes for the best dinner!☛☛☛Pin Pimento Cheese here. Pin Ranch Smashed Potatoes here. Pin Garlic Smashed Potatoes here.
Bonus!!! Sun Dried Tomato Wraps If you need a super lunch idea or a really awesome looking appetizer that took you almost no time, these Sun Dried Tomato Wraps are killer!  They look so fancy and taste so good, but are so easy to make!☛☛☛Pin Sun Dried Tomato Wraps here.
I added options for pins this week as something new.  Does that help you?  Do you use Pinterest to organize your recipes?  Let me know what you think of this week's meal plan and what you would love to see in upcoming weeks.
Week 5 Meal Plan
Enjoy the meals this week.  Please let me know if you have other requests for dishes you would like to see included on the meal plan in the coming weeks!
Week 4 Meal Plan
MEAL PLAN!  I am really excited for this week's meal plan.  Mostly because it includes Pizza as a reward for making it to Friday! 🤣 This week is loaded with some super easy meals that don't sacrifice on flavor, plus there is a make ahead meal you can stick on your busiest night and a meal to use up some leftovers.  That is what I calling winning people!  Tell me what's on your meal plan this week!?
Monday: Italian Chicken Bake– This recipe has been pinned over a million times!  It is tried, true, super simple and absolutely delicious!
Tuesday: Easy Taco Soup from Eazy Peazy Meals– Let's celebrate Taco Tuesday with this soup!  Serve with cheese quesadillas to make this meal even heartier.
Wednesday: Lemon & Asparagus pasta from @lilluna – Serve with garlic bread and a side salad
Thursday: Loaded Chicken Salad (make ahead meal.  Use this meal on your busiest day)
Friday: Pesto Chicken Pizza (with leftovers from Tuesday!) – Grab a pizza crust and spread pesto thinly over it.  Chop up the leftover chicken and sprinkle it on top.  Add any extra meats or veggies you want, and top with mozzarella or Italian cheese blend.  Bake per crust package instructions or at 425 for 12-16 minutes.
I hope you enjoy this weeks dinner options!  If you have requests for next week's meal plan, please leave them in the comments for me!