If you are looking for inspiration to create a weekly meal plan, you are in the right place!  Each week I share a meal plan I create that is packed with easy to make recipes, with variety, AND I try to repurpose leftovers from at least one meal each and every week to minimize time spent in the kitchen and maximize time spent enjoying life!  A new meal plan comes out each Friday, so stay tuned!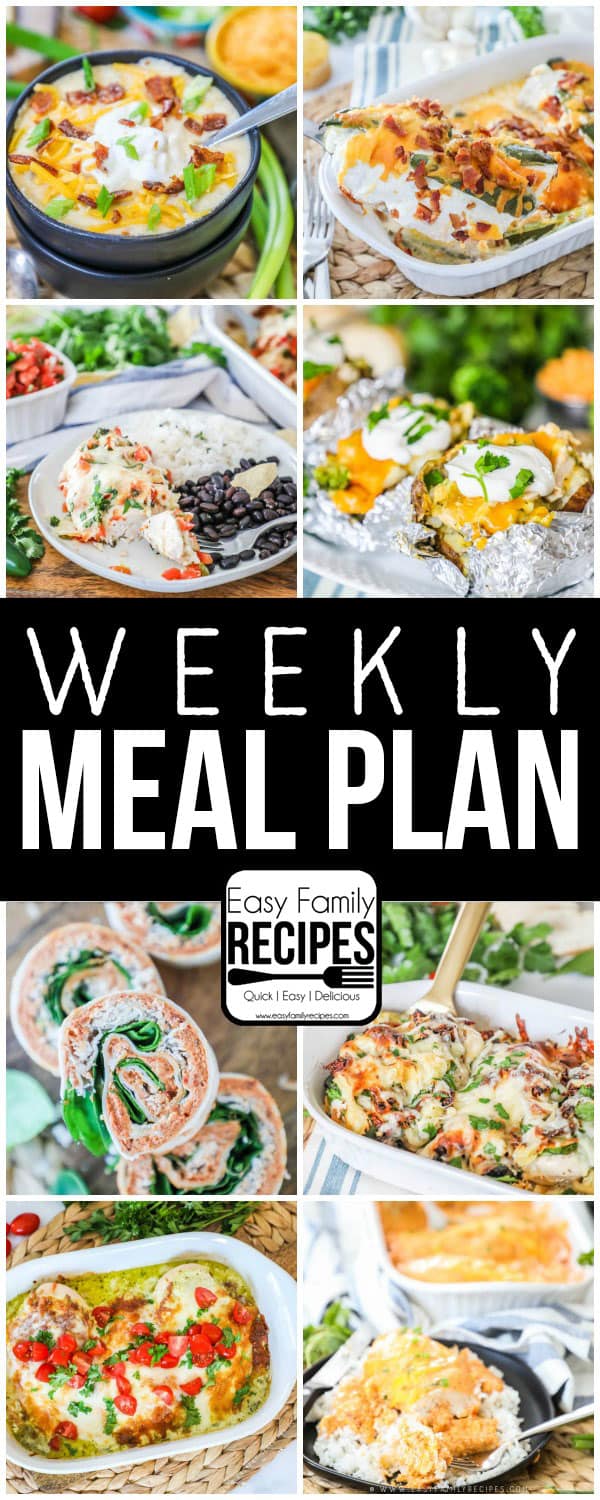 Hi Friends!  Welcome to our weekly meal plan section of Easy Family Recipes.  I love sharing new recipe ideas each week and have a real passion for making cooking simple and enjoyable to do at home when you are a busy family.  If you aren't signed up for my e-mail newsletter, make sure to do that asap so you can get new recipes and the new meal plan updated for each week!
You can click here to sign up or on the button below.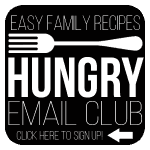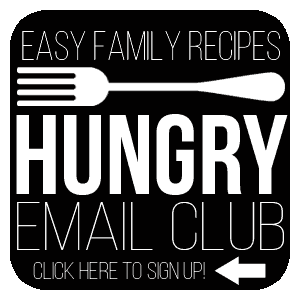 Week 29 Meal Plan
Monday: Cajun Chicken Skillet– One of our recent favorites, serve this chicken skillet with mashed potatoes and sautéed green beans. Save the leftovers to make another killer meal on Thursday!
Tuesday: Chicken Ranch Tacos– Taco Tuesday never tasted so good as with this flavor combo!  Serve the tacos with black beans and rice for a super filling meal!
Wednesday: Pineapple Teriyaki Meatballs– This easy crock pot meal is perfect for hump day! It is the perfect combo of sweet and savory.  I like to serve these over rice, and if you want a little something extra you can make some stir dried veggies.
Thursday: Cajun Chicken Stuffed Avocados- Take the leftovers from Monday (or even cook up another skillet!) and chop the chicken into very small pieces.  You can then mix it with the peppers and green onions from the dish and pile it right inside a ripe avocado half, hot or cold.  If you like it creamy, mix about 1 cup of chicken with 1 tbsp mayonnaise then stuff the avocado with it.
Friday: Burgers & Broccoli Cauliflower Salad– Depending on the weather you can grill burgers, or just do them in a pan on the stove.  Serve them with this delicious broccoli cauliflower salad. It is so tasty, healthy and gives you that crunch you crave with a burger! If you need another side, baked beans or cut up watermelon are always some of my go-to's for burger night.
BONUS- Steakhouse Worthy Wedge Salad– This salad is so easy to make just like you would order at your favorite steakhouse!  The secret is the homemade gorgonzola dressing. It sounds fancy but is really easy as can be!
Week 28 Meal Plan
Monday: Classic Chicken Salad– Perfect for Monday because it stores well and can be used for lunches all week, make a batch of this chicken salad and serve it on top of salad green or as a sandwich for dinner. Pair it with this cucumber tomato salad and a potato or grain and you have a light but super filling dinner (that doubles as lunches prepped for the week!)
Tuesday: Taco Zucchini Boats– These are one of my favorite Mexican dinners. I love them because they have all the flavor of a taco but are packed with extra veggies and waistline friendly.  If your kiddos aren't into the extra veggies you can still throw theirs in a taco shell (and chop up some zucchini in there with it if you are sneaky like me!)
Wednesday: Garlic Steak Skillet– This week's new recipe, and perfect for mid-week because it is just so simple and quick to get on the table.  We love to serve these steakhouse style with mashed potatoes and a side salad.
Thursday: Baked Asian Chicken– This Baked Asian Chicken is a nice dish to change up the flavors for the week.  You can serve it with jasmine rice and steamed broccoli.
Friday: Garlic Steak Wraps- Use the leftover garlic steak to make wraps for an easy and delicious end of the week meal. Buy flat bread or large tortillas (I especially like lavash bread found in the deli section) then add steak, lettuce, tomato, other veggies such as, shredded carrots, cucumber, bell pepper, etc. Drizzle with your favorite dressing and wrap up.  You can serve this simply with chips or make a quinoa or pasta salad to go along with it.
BONUS- Pesto Spinach Breakfast Casserole – This is a recipe I made a long time ago, but still one of my favorites and I am making it again for breakfast this weekend!  It is light but still has tons of flavor. If you have leftovers it will reheat well both from the fridge or freezer.
Week 27 Meal Plan
I know the weather is still record lows in many places but we had a very warm weekend here!  I am feeling my soup and warm, cozy, winter food days waning, so this week I am loading up on all of those to make sure I get my fill before our days are filled with sunshine and warm weather again! We have an extra day off this week on Monday, so I am going to fill that day with a little extra meal prep to make the rest of the week even more smooth!
Week 26 Meal Plan
I don't know how the year is going for you guys, but for us, sports just started back up, and with three kids, we are busy and time is flying! I always try to make my recipes easy, but with crazy evening schedules, I have placed a renewed effort on creating meals that can be prepped ahead, and can be ready when we run in the door after or between things for the kids. This week reflects that with several "too easy to taste this good" kinda dinners!
Monday: Crockpot Honey BBQ Meatballs– This recipe is great because it is kid friendly, takes all of two minutes to prep, and can be started whenever you have the time and cook until you are ready! It makes enough to feed a hungry family and the leftovers make some killer extra meals! My favorite way to serve these is with garlic cheesy bread and broccoli or whatever vegetable I have on hand. You can also serve with or on a starch like rice or mashed potatoes.
Tuesday: Green Chile Chicken Tostadas– Another easy crockpot recipe and one of my kids favorites! These tostadas don't need a side if you load them up with meat and veggies, but if you want one, black beans or Mexican Street Corn Casserole make some great ones!
Wednesday:BBQ Meatball Pizza- Take those leftovers from Monday, and give them a new life.  Buy a store bought pizza crust (I love the pizza dough balls in particular!) Spread a layer of BBQ sauce on the crust, then chop the meatballs and sprinkle them over sauce.  Top with cheese and finely sliced red onions (optional) and bake as directed on pizza crust. Garnish with freshly chopped cilantro and serve!
Thursday: VALENTINES DAY! Garlic Chicken Skillet– Guys, it does not get any easier or more flavorful than this!  There are just a couple of ingredients and maybe 5 minutes of prep to get this meal going, then, it cooks in like 6 minutes.  This is a go to for us on even the busiest of weeknights! However, I picked this especially for Valentine's because even though it is super easy, it gives off that fancy feel! Serve this garlic chicken with sautéed green beans, roasted asparagus, or a side salad and wild rice.
Friday: Power bowl bar- Today we are getting all the leftovers out of the fridge and having fun too!  Make your favorite grain. I like to do quinoa, jasmine rice, brown rice, or even something with a little flavor like cilantro lime rice. Then you can get out all of the leftover meats from the week (garlic chicken, green chile chicken, any extra bbq meatballs etc) heat them up.  Add toppings options such as beans, corn, chopped tomatoes, lettuce, bell pepper, cucumber, avocado, etc. and let everyone go to town and customize their own bowls. You can top them with oil and vinegar, or any dressings you might have in the fridge.  I always recommend my creamy Italian dressing and balsamic vinaigrette.
BONUS- With Valentine's day next week, if you have sweets on the mind, here are some of my favorite sweet baked treats: Peanut Butter Swirl Bars, Cookies & Cream Parfait, Double Chocolate Chip Cookies, Sugar Cookies with Frosting, and Chocolate No Bake Cookies.
Week 25 Meal Plan
Can you even believe it is February?! 2019 is proving to be our most busy year yet, so I definitely feel your pain on getting dinner on the table each and every night. This week was a cold one, even here in Florida, so I added soup for one night, and made sure to include a some newer recipes you may not have tried yet, as well as a couple of oldies but goodies!
Monday: Skillet Ranch Chicken– This is probably my #1 go to recipe when I need a quick and easy meal. This recipe can literally go from the fridge to the table in as little as 15 minutes if you are on it! Plus, it has that chicken nugget vibe going on so the kids love it, but it is not breaded, or fried, so it is super healthy and packed with flavor for the adult eaters! I like to serve this dish with a variety of things depending on how much time I have. It pairs well with everything from a simple salad (try the new balsamic dressing I just posted! SO GOOD!) to mashed potatoes, rice, or roasted veggies! Save the leftovers for Thursday!
Tuesday: Chicken Fajita Soup– I LOVE this soup! It is another super healthy recipe packed with lean protein and veggies, but doesn't taste "healthy" since the soup is extra velvety and it is so packed with flavor!  My favorite way to serve this is with a spoonful of sour cream stirred in. We also like to have tortilla chips with it, although it would also be good with tortillas (flour or corn) to dip!
Wednesday: Parmesan Crusted Pork Chops from Lil Luna- This is a simple crowd pleaser from my friend Kristyn! These would pair well with smashed potatoes, sautéed green beans, or broccoli salad!
Thursday: BBQ Ranch Chicken Salad- Use the leftovers from Monday to make this salad, so good that even kids devour it! Chop romaine or iceberg lettuce, then add corn, black beans, tomatoes (or pico de gallo), chopped cilantro, and lots of the ranch chicken from Monday. Drizzle the salad with ranch dressing and BBQ sauce and toss until everything is well mixed and coated with dressing. Crunch tortilla chips for the top. This hearty salad is a meal in itself. You shouldn't need any extra sides! Enjoy!
Friday: Loaded Greek Wraps– You can make these with chicken or falafel for a meatless option. Trader Joes sells falafel mix as well as frozen pre-made falafel. You can also look for it in your local grocer but it can be hit or miss depending on the store. We love to do these as a "make your own" bar and let the kids get involved in the meal.  It is also great for company since these are customizable to the max, and the assembling makes kind of a fun activity!  We like to serve these with pita chips and hummus or air fryer french fries with salt, pepper and crumbled feta.
BONUS- Cajun Chicken Dip– Okay people, if you are watching football this weekend. This dip is where it is AT! It is so good and so easy to whip up.  The challenge here my friends, is just not eating the whole dish all by yourself!  No tips on that because I haven't yet masted that myself. You can use tortilla chips, pita chips, veggies, baguettes, pita bread, or plantains to dip, so there are lots of options!
Week 24 Meal Plan
Who can believe it is already the end of January?!  I don't know where the month went, but I have a feeling that this year is going to be just as busy as the last one for us, so these simple meals are a must to get dinner on the table. I am doubling down with meal prep, leftover recipes, and simple flavors that make life easy! This week's meal plan is packed with all of them!
Monday: Crock Pot

BB

Q Chicken – This isn't your average crock pot BBQ Chicken. It is rich, tangy, creamy and DELICIOUS! Plus making a big slow cooker full of this BBQ Chicken is perfect for using throughout the week. For Monday, keep life simple and serve these as sandwiches with smashed potatoes and a this killer (but so easy) Broccoli Salad with Bacon. You can pack the Broccoli Salad up for lunches throughout the week if you have leftovers!
Tuesday: Baked Chicken Fajitas– This classic is light, healthy, packed with flavor and perfect for a busy Taco Tuesday dinner! You can serve this with tortillas and traditional fajita toppings, or if you want to go lighter, I recommend doing a burrito bowl style dinner with cauliflower rice, pico de gallo, guacamole, lettuce, and of course the chicken fajitas!
Wednesday: Philly Cheesesteak Soup from The Cookie Rookie- Becky has the best soup recipes, and this one seems perfect for a mid-week winter day! You can serve it in a bread bowl as she recommends, or just do it in a regular bowl with a side salad to keep it lighter.
Thursday: BBQ Chicken Enchiladas– This is one of my favorite dinners!  It is an unusual combo, but so incredibly delicious! You can finish off the  leftovers from Monday to make it up and have your fridge cleared out for grocery shopping this weekend. WIN!
Friday: Chicken & Chorizo Sheet Pan Dinner– This is a quick, easy and healthy recipe I featured on Instagram today.  It is perfect for Friday because it is quick to put together and can be scaled easily to feed a crowd if one shows up! You can serve this with garlic bread and a side salad with this easy homemade balsamic dressing for an amazingly filling meal.
BONUS-  With many of us concentrating on our healthy in the new year and with spring right around the corner, my favorite tip for eating healthy is making homemade salad dressing!  If you have never tried it, it is SO EASY.  The best part though is that homemade dressings are so incredibly delicious and make eating salad something you look forward to doing!  I like to keep 2-3 flavors in the fridge at any time so it encourages me to eat salad for lunch and it makes it super quick and easy to serve salad as a side with dinner.  Even my kids will gobble down salad with the right dressing! Here are a couple of my favorite recipes for you to try out:
Week 23 Meal Plan
With the cold snap coming through this week, I am really in the mood for warm and comforting food!  This week's plan has one of my all time favorite soups along with a classic crock pot meal and a recipe we had last week, but my husband requested AGAIN this week!  Of course I have a couple of recipes that can be repurposed to make life easy on your most hectic nights too!
Monday: Slow Cooker Thai Chicken – I like to serve this over rice (or cauliflower rice for a lighter option) and drizzle teriyaki glaze and this spicy asian mayo over the top. If you really want to dress it up, you can top it with some finely chopped cabbage and crushed peanuts too!
Tuesday: Loaded Cauliflower Soup– One of my goals for the year is to incorporate more meatless meals. This is one of my favorite soups because even though it is meatless, it is so good, and so filling, that you don't feel that you are missing anything! And if you have some in your family that don't believe in meatless, you can add just about as much bacon on top as will make them happy 🙂 You can also find this Cauliflower Soup in a crock pot recipe here!
Wednesday: Honey Mustard Chicken– This is the dinner we had last week and it was so good, we are having it again this week!  I shared it with you in my email, but if you missed it, here is the recap: THIS IS THE BEST CHICKEN EVER! Ok?  Really though, even my kids were picking the bits out of the bottom of the pan because they enjoyed it so much.  I plan to serve this with Mashed Potatoes and Sautéed Green Beans.
Thursday: Italian Meatballs (with spaghetti or spaghetti squash!) – This recipe from my friend Lisa, is the perfect way to round out the week.  I would pair this with a salad with my Homemade Italian Dressing (Have I mentioned how addicted to this stuff I am?!)
Friday: Honey Mustard Chicken Wraps- Take that leftover chicken from Wednesday and chop it up! Grab an oversized tortilla or some Lavash bread and layer on a drizzle of honey mustard, slices of the leftover chicken with toppings, chopped lettuce, and cherry tomatoes cut in half. Roll the wrap up and wrap in foil. If you want a heartier meal, add rice or quinoa to the wrap.
BONUS- Add this Broccoli Salad with Bacon to your list of things to make this week. Pair it with a meal as a side, or make it lunch, or add protein like grilled chicken or steak bites and make it the main course.  This is SO EASY to make from scratch, has only a few ingredients, keeps well in the fridge all week long, and is REALLY REALLY delicious!!
Week 22 Meal Plan
Monday: Crock Pot Chicken Wild Rice Soup – I keep having friends message me that they made this and is a new favorite!  It has so much flavor and is so easy. Plus when you make soup at the beginning of the week you can use the leftovers for lunches throughout the week. If you need an Instant Pot recipe check this Creamy Chicken and Rice Soup recipe!
Tuesday: Creamy Cajun Chicken– This was so good we made it twice in one week!  It is a great one dish meal for a busy night.  Make it today and save the leftovers for another dinner later this week.
Wednesday: Italian Stuffed Peppers– This easy recipe can be made earlier in the day or week then cooked when you are ready to serve if you need to save time. So make it Wednesday or move this dish to your busiest night of the week!
Thursday: Cajun Chicken Quesadillas- Chop or shred your leftovers from the Cajun Chicken and then add it in a tortilla with bell pepper, onion, and some cheddar cheese. You can also add additional veggies as you like! Grill each side with a little butter until golden, then slice and serve with sour cream.
Friday: Keep it simple with Burgers paired with my ranch smashed potatoes!  These potatoes are so good I have trouble eating them any other way now!
BONUS- Make a batch of this Creamy Homemade Italian Dressing and keep it in the fridge to use for salads all week.  You could serve a side salad with this dressing with any or all of the meals this week.  My kids obsess over dipping carrots in this as a dip for a snack too!
Week 21 Meal Plan
Okay friends.  We are officially in the thick of it!  All of the holiday goodness…. and craziness.  It can be stressful, but I have to tell you, I just love it!  But since it isn't super acceptable to cookies for breakfast, lunch AND dinner, I came up with a few other options for you this week.
Week 20 Meal Plan
With so much scrumptious holiday food in the mix over the last week and in the near future, we are keeping it light and simple this week by using recipes with simple, delicious ingredients and repurposing the leftovers into some new meals later in the week! Enjoy friends!
Week 19 Meal Plan
With so much scrumptious holiday food in the mix over the last week and in the near future, we are keeping it light and simple this week by using recipes with simple, delicious ingredients and repurposing the leftovers into some new meals later in the week! Enjoy friends!
Monday: Slow Cooker Ranch Chicken– Serve simply over rice, or cauliflower rice to keep it low carb. You can drizzle with extra ranch dressing and top with green onions or bacon crumbles for an extra treat! Pair it with a side salad (try this homemade Italian Dressing or some extra Homemade Ranch) or some 10 minute sautéed green beans for a well rounded meal!
Tuesday: Hawaiian BBQ Meatballs– These are great served with mashed potatoes, cauliflower, broccoli slaw.
Wednesday: Ranch Chicken Tacos– Use up your leftover chicken from Monday with this easy family friendly recipe!
Thursday: Pesto Spinach Artichoke Chicken– This dinner is light and delicious! You can serve it with pasta, zoodles, or some easy garlic sautéed spinach.
Friday

: Baked BBQ Meatball Hoagies- Grab the meatballs from Tuesday and stuff them into hoagie rolls.  Place them all on a baking sheet or large casserole dish and cover with provolone cheese.  Bake at 375˚F until heated through and cheese is melted. Break out the salad dressing you made on Monday, and pair it with a salad!

BONUS- When you are making Christmas cookies you MUST try these super Soft Sugar Cookies with my favorite Sugar Cookie Frosting!  These are probably fighting for the #1 loved cookie in my heart!
Week 18 Meal Plan
We are super busy this coming week with all sorts of Thanksgiving activities for the kids.  With that in mind, this next weeks meal plan gives you lots of meals that can pull double duty for easy dinner, lunches and breakfasts throughout the week!
Monday: This Baked Garlic Parmesan Chicken is a creamy, dreamy, one dish wonder!  Make a little extra so you can reuse this for another meal later this week! Serve this with sauteed green beans and a side salad with homemade Italian dressing!
Tuesday: These Taco Zucchini Boats are so good that your kids won't even complain about eating their veggies!
Wednesday: Garlic Chicken Stuffed Baked Potatoes- You know you are going to be getting ready for Turkey day tomorrow, so make tonight easy by using the leftovers of the garlic parmesan chicken! Cut open fresh hot baked potatoes and stuff a generous amount of leftover chopped Garlic Parmesan Chicken inside with some steamed broccoli. Top with Mozzarella cheese and broil until the cheese is melted.  Top with a. dollop of sour cream and some fresh chives and bacon and enjoy!
Thursday: THANKSGIVING! Make sure and try out my always tender, moist & delicious Fail Proof Roasted Turkey, (or this Turkey Breast for a small crowd), and my Thanksgiving sides favorite sides Jiffy Corn Casserole, Crock Pot Mashed Potatoes (or Instant Pot Mashed Potatoes) and 3 ingredient Cranberry Sauce! I also love to make these cranberry muffins early in the day and munch on them all day long!
Friday

: Thankgiving Paninis!  I look forward to these all year!  Slather leftover cranberry sauce on one side of each piece of bread. Pile on sliced turkey, stuffing, and add cheese if desired (my favorite is Brie!) Butter the outsides of the sandwich and use a panini press, or just grill each side in a skillet until golden brown.

Saturday– If you still have turkey (happens to me all the time!) shred it up today and use it to make one of these popular chicken salads (turkey is a perfect sub for chicken) Loaded Chicken Salad, Greek Yogurt Chicken Salad, Ranch Chicken Salad. You can now use this for easy lunches the next few day and get that turkey all eaten up!
BONUS- If you are doing a special holiday breakfast, try these super popular breakfast casseroles- Sausage Breakfast Casserole – Hash brown Breakfast Casserole – Apple Fritter Breakfast Casserole!
Week 17 Meal Plan
We are super busy this coming week with all sorts of Thanksgiving activities for the kids.  With that in mind, this next weeks meal plan gives you lots of meals that can pull double duty for easy dinner, lunches and breakfasts throughout the week!
Week 16 Meal Plan
We are slowly getting back to routine after sick kids have been rocking our world since school started!  This week's meal plan you won't want to miss!  It has you covered whether you are under the weather or feeling good as can be!  And it includes one of my newest recipes made to batch cook and use the meal again later in the week!
Week 15 Meal Plan
I am getting Summer fever bad!  The sad thing is that I am still wearing a sweatshirt here in Rhode Island with the highs in the 50's this weekend! This time of year I feel like we all get antsy having so many end of the year activities and functions to attend.  Our meals need to be quick and easy and if I can reuse the leftovers for a second meal, it is a HUGE win!  So that is just what we will be doing this week!
Monday: Honey Balsamic Chicken– You don't want to miss this recipe! It is packed with flavor and so super easy to make.  It will definitely give you a dinner hero status!  Serve it with some smashed potatoes and some veggies and you have a perfect meal!
Tuesday: Slow Cooker Green Chile Chicken– Let the Crock Pot do the work and whip up a batch of this Green Chile Chicken with just a few ingredients.  Serve it tonight burrito bowl style on a bed of rice and beans with toppings each can choose (lettuce, corn, cheese, sour cream, guacamole, salsa etc.) Save the leftovers for Thursday!
Wednesday: Italian Turkey Meatballs– These are SO SO good!  I love making a big batch and keeping them on had to eat in so many ways throughout the week.  You can serve them tonight with pasta (spaghetti and meatball style) or spaghetti squash or zoodles for a lower carb option.
Thursday: Green Chile Chicken Tacos– Pop out Tueday's leftovers and create a new trend with taco Thursday!
Friday: Meatball subs!  Grab those leftover meatballs and load them into sub rolls with some marinara sauce and cover them with mozzarella cheese.  Bake them on a cookie sheet at 425˚F for about 5-10 minutes or until they are heated through and the cheese is melty.
BONUS- The strawberries have been on sale at just about every store around here and we are in heaven!  Grab a bunch and make these Strawberry Poppy Seed Muffins.  They are some of my favorites AND they also can freeze and be reheated for quick and delicious breakfasts

Enjoy your week!  I will be back with more easy recipes next week!
Week 14 Meal Plan
Another week and with the weather getting warmer the last thing I want to do is spend a lot of time in the kitchen. This week's recipes reflect that and are all quick and easy without sacrificing taste.
Monday: Creamy Chicken Bacon Ranch Casserole– Bacon + Ranch is the magic combo!  Enjoy it today and then make over the leftovers and enjoy it in a whole new way later in the week!
Tuesday: Slow Cooker Carne Asada from The Stay at Home Chef- It almost seems wrong to get something so delicious with so little effort! You can eat the meat as is or use it to make tacos or burritos.
Wednesday: Artichoke Chicken Bake– A little creamy and a little tangy and 100% delicious!  This one disguises the artichokes well enough that even the kids will eat them!
Thursday: Paninis with leftovers from Artichoke Chicken and Bacon Ranch Chicken- Slice up the leftovers and let each person choose their filling.  Pack the filling between 2 slices of bread. Heat a well buttered griddle and grill each side of the sandwich to a golden brown.
Friday:Turkey & Sun dried Tomato Wraps– These are great because you can make them up and take them on the run if you have sports or if the weather is nice pack them up with some fruit and a bag of chips and head out for a family picnic!
BONUS- We made these Chocolate Chip Cookies this week and I forgot just how much we LOVE them.  This is my version of the World's Best Chocolate Chip Cookie!  Give 'em a try!

Enjoy the warmer weather and make sure to spend as little time in the kitchen as you can this week!
Week 13 Meal Plan
I am super excited about so many of the new recipes I have been creating lately.  So many of you have told me that you love when I give you ways to reuse or "makeover" the leftovers from one meal later in the week, so I have been incorporating many more of those types of meals into what I am sharing.  This week has one of my recent favorites and is just PACKED with delicious and EASY dinner ideas!
Monday: Creamy Greek Chicken– Serve it pita-style with tzatziki and chopped cucumbers, tomatoes, and red onion. For #lowcarb use lettuce wraps
Tuesday:Taco Salads- Make up a big batch of taco meat and put out all the toppings and let everyone make their own salad.
Wednesday:Hummus Bowls- Spread hummus in the bottom of a bowl. Top with with leftover Greek Chicken from Monday, feta, grape tomatoes, olives, and greek yogurt, or your choice of toppings.
Thursday:Ranch Chicken Bites– These are like healthy chicken nuggets and they are TO DIE FOR!
Friday: Use the leftover taco meat from Tuesday to make Pepper Nachos!  Cut bell peppers in quarters and deseed.  Lay the peppers on a cookie sheet and pile with taco meat, cheese, black beans, corn, and all of your favorite nacho toppings.  Bake at 400˚F for 14-18 min or until the cheese melts and everything is heated through.  Top with sour cream, salsa, and guacamole.
BONUS- If you love breakfast you might just go bonkers for this new LOADED Hashbrown Breakfast Casserole recipe! You can also use it for meal prep and put it in the fridge or freezer to have quick and delicious breakfasts all week!
Enjoy the week and enjoy the food! Until next week friends!
Week 12 Meal Plan
I am super excited about so many of the new recipes I have been creating lately.  So many of you have told me that you love when I give you ways to reuse or "makeover" the leftovers from one meal later in the week, so I have been incorporating many more of those types of meals into what I am sharing.  This week has one of my recent favorites and is just PACKED with delicious and EASY dinner ideas!
Happy Cooking (and more importantly, Happy Eating!)
Week 11 Meal Plan
This week is a good one!  One of my all time favorite recipes (Chicken Fajitas!) and my BFF's favorite recipe too!  Plus, I have you covered with a leftovers recipe and a clean out the fridge kind of recipe!
Monday: Chicken Picatta Casserole– Alllll the delicious flavors of the restaurant but 1000x easier to make!  I have already had many readers message me that they made and LOVED this recipe, hopefully your family will too!
Tuesday: Ground Turkey Tacos– Use my favorite quick and easy homemade taco meat for Taco tuesday and then we will eat up the leftovers in another fun way later in the week!
Wednesday: Breakfast for dinner!  This is my go to pancake recipe. They are thick, tender, fluffy and breakfast perfection! We like to serve it with eggs and fruit for my kids favorite dinner of the week!
Thursday: Chicken Zucchini Casserole– This recipe has been super popular on the blog lately with the winter weather lifting I think we are all craving the fresh veggies this is packed with!  The perfect all in one dish meal! Serve it with Ranch smashed potatoes for a clean your plate worthy meal!
Friday:Taco pizza! This is a fun dinner that will surprise the family with a departure from the same ol' pizza night!  Grab a pizza crust and spread a thin layer of salsa on it.  Cover with cheddar cheese, then sprinkle the remaining taco meat over the top.  Bake it at 425˚F for 10-14 minutes or until the crust is cooked through then take it out and top it with chopped lettuce, tomatoes and a drizzle of sour cream.
BONUS- If there was ever a time to make cookies, it is NOW. The reason? Caramel Stuffed Snickerdoodles.  Pretty much the stuff dreams are made of!
Happy Cooking (and more importantly, Happy Eating!)
Week 10 Meal Plan
This week is a good one!  One of my all time favorite recipes (Chicken Fajitas!) and my BFF's favorite recipe too!  Plus, I have you covered with a leftovers recipe and a clean out the fridge kind of recipe!
Monday: Chicken + Chorizo Sheet Pan Dinner– This is the NEWEST recipe on my site and my BFF Dawn's go to easy meal. It doesn't disappoint! —> 📌
Tuesday: Chicken Fajita Bake– Serve it up this night as fajitas with all your favorite toppings and save the leftovers for later in the week! Serve this with the Mexican Street Corn casserole for a real treat!
Wednesday: Instant Pot Sloppy Joes from @ezpzmealz– This isn't your cafeteria lady's sloppy joe!!  Serve it with veggies and ranch and my MOST FAVORITE smashed potatoes!
Thursday: Chicken Fajita Quesadillas– Chop the leftovers from Tuesday and layer it between tortillas with a little cheddar cheese (you can throw in some extra veggies if you want too!) then heat a pan over medium until hot, then grill each side with butter until golden.  If you don't have leftovers you can always grab a rotisserie chicken at the store or whip up some shredded chicken.
Friday: Loaded Baked Potato Bar– One of my favorites for clearing out the fridge. Bake up some potatoes, then chop of leftover veggies and meats from earlier in the week, and let every one top their own however they like!  Add cheese and sour cream for a delicious dinner.
BONUS– Try these super easy scones for breakfast this weekend.  Every time I make them I think they are better than I even remember! These are chocolate chip, but you can use fruit, nuts, or any toppings you may like in them instead.
Happy Cooking (and more importantly, Happy Eating!)
Week 9 Meal Plan
Sorry for the delay this week guys, with the holiday craziness, I just wasn't as prepared as I thought I was and just didn't get it done until now.  But hey we are all human right? Hopefully you can still grab a few ideas to incorporate into the week, plus there are 2 ways to use up your leftover hard boiled easter eggs this week!
Monday: Pesto Chicken Casserole– This is my newest recipe and a CRAZY delicious one dish meal! —> 📌Pin it here
Tuesday: Crock pot Caesar Chicken– I love how easy this is both to whip together and to make into several other dinners.  You can make it day of or prep and freeze to throw in the crock pot when you are ready. For tonight, make this as wraps in tortillas or as lettuce wraps.  Use the shredded chicken and top with your choice of diced tomatoes, parmesan cheese, and a drizzle of creamy caesar dressing.
Wednesday: Egg Salad– This is a SUPER old recipe on my site (read very bad pics) but still every bit as delicious and the perfect way to use up leftover easter eggs! Serve as on toasted bread as sandwiches with chips or smashed potatoes, and veggies with ranch dip.  You can add lettuce, tomato and bacon to the sandwiches as desired.
Thursday: Smokey Bacon Chili from Two Peas and Their Pod– Easy for dinner and perfect for reheating for lunches throughout the week!
Friday: Loaded Chicken Caesar Pasta Salad- So good, even kids will eat it! Use leftovers from Tuesday's #slowcooker caesar chicken and pile it in a large bowl with chopped romaine, tomatoes, cooked bow tie pasta, parmesan, chopped hard boiled egg (the last of those Easter eggs, hopefully!) and crumbled bacon.  Add creamy caesar dressing and toss it all together.
BONUS–  These Peanut Butter Cookies just might change your life.  Give them a try and let me know what you think!
Week 8 Meal Plan
Monday: Bruschetta Chicken– This is the perfect quick and easy meal for Monday.  It is packed full of wholesome goodness and has tons of flavor with only a few ingredients and one dish.  You can serve it with pasta, these garlic mashed potatoes or sautéed green beans.  Leftovers will reheat well for lunches throughout the week.
Tuesday: Taco Tuesday!  You won't believe how EASY this homemade taco meat is, and man is it delicious!  You can serve the tacos traditionally in a crunchy shell or put it on soft flour or corn tortillas, or set up a taco bar and let everyone choose their own.  Save up your meat (or make some extra!) because we are using the leftovers on Thursday!
Wednesday: You aren't going to want to miss this Fool proof Beef Tenderloin from Lydi Out Loud.  It makes "fancy food"  super easy to make!  I would serve this with a side salad and some garlic smashed potatoes.
Thursday: Mexican Stuffed peppers- Take the leftover taco meat and mix it with back beans and corn. Stuff the mixture into bell peppers (cut off the tops and trim out the ribs and seeds) and top with cheese. Arrange the peppers in a casserole dish and pour 1 cup of chicken or vegetable broth in the bottom of the dish, cover with foil and bake at 350 for 40-45 minutes or until the peppers are tender and everything is heated through.
Friday: Loaded Potato Soup– This is an easy crock pot recipe to keep things simple on Friday. You can get fun and make this a really hearty meal by loading up on topping options for everyone to pick from!  There are tons of ideas in the post.
Bonus!!!  I am OBSESSED with this layered Greek Dip!  It is such a delicious dish to bring to a party or have for munching over the weekend.
Week 7 Meal Plan
Monday: Bacon Ranch Chicken Casserole– Supremely creamy and packed with flavor.  This one is a crowd pleaser!  You can double it if your family really loves it and keep leftovers on hand for lunches throughout the week.  Make sure and serve this with a side of my garlic smashed potatoes.   Pin Garlic Smashed Potatoes here.
Tuesday:Green Enchilada Pork Chili– This is a fun twist on traditional chili from Lil Luna!
Wednesday:Creamy BBQ Chicken- This is one of my favorite new recipes and I recently had a friend tell me she made it two weeks in a row her boys loved it so much. Serve it as sandwiches with my favorite broccoli slaw for a classic (and totally easy) dinner!
Thursday: Chili Pie- Whip up a batch of cornbread (I make it in a pie pan,) then once it is done, use a wooden spoon to poke holes in it. Spoon your leftover chili from Tuesday over the top letting it soak into the holes in the cornbread and sit on top of the cornbread.  Cover the top with a generous sprinkle of cheese and bake for about 20-25 minutes or until it is all heated through and the cheese is melted.  Take it out and slice it up.  Garnish each slice with a dollop of sour cream, a spoonful of pico de gallo and some fresh cilantro.
Friday: BBQ Chicken Salad- Load up a bed of mixed greens with a heap of this creamy BBQ chicken and then top with your choice of veggies:  chopped tomatoes, celery, corn, black beans, bell pepper, diced egg, and any other veggies or toppings you love!  Drizzle with ranch dressing and a little extra BBQ sauce and add some corn chips for a little crunch if you want.
Bonus!!! If you have never tried them, give these cornflake cookies a go!  They have such amazing flavor and texture they are a fast favorite around here!
Week 6 Meal Plan
Monday: Creamy Garlic Chicken– Not only did my son ask for 3 servings of this, but I hid the leftovers so I would be the one to get to eat them!  Make sure not to eat those leftovers too soon because we will use them later in the week. Bonus- This is a super low carb recipe. Serve this with a side salad or roasted asparagus.☛☛☛Pin Creamy Garlic Chicken recipe here!
Tuesday: Chicken Noodle Soup– This version makes it easy by using rotisserie chicken and might be the best you have ever had! Feeds a crowd, or gives you enough leftovers to pack for yummy lunches this week.  Use a thermos to pack it in the morning and keep it warm until lunch for you or the kids.☛☛☛Pin Chicken Noodle Soup recipe for later here!
Wednesday: Garlic Chicken Shells- Use the leftovers from Monday!  Chop up the chicken then mix, then steam some broccoli and chop it up too.  Mix the garlic chicken with the broccoli and stuff it inside larger pasta shells.  Top with red or white pasta sauce, a handful of extra mozzarella cheese and bake at 350 for about 20 minutes or until everything is heated through and the edges are bubbly.
Thursday: Honey Herb Pork Tenderloin from @thecookierookie- She says this is a restaurant quality meal you won't believe you made at home because it is so easy! You can serve this with mashed potatoes and easy garlic green beans.☛☛☛Pin Honey Herb Pork Tenderloin Here. Pin Creamy Mashed Potatoes here. Pin Garlic Green Beans here.
Friday: Burgers!  I like to keep them in the freezer for busy nights.  If it is nice outside you can throw them on the grill, and if not, just cook them up on the skillet.  For a real treat, top them with my to-die-for Pimento cheese! Serve them on buns, or break up the patty and serve it as a salad or lettuce wrap for a low carb option. Serve them with my garlic smashed potatoes or ranch smashed potatoes for the best dinner!☛☛☛Pin Pimento Cheese here. Pin Ranch Smashed Potatoes here. Pin Garlic Smashed Potatoes here.
Bonus!!! Sun Dried Tomato Wraps If you need a super lunch idea or a really awesome looking appetizer that took you almost no time, these Sun Dried Tomato Wraps are killer!  They look so fancy and taste so good, but are so easy to make!☛☛☛Pin Sun Dried Tomato Wraps here.
I added options for pins this week as something new.  Does that help you?  Do you use Pinterest to organize your recipes?  Let me know what you think of this week's meal plan and what you would love to see in upcoming weeks.
Week 5 Meal Plan
Enjoy the meals this week.  Please let me know if you have other requests for dishes you would like to see included on the meal plan in the coming weeks!
Week 4 Meal Plan
MEAL PLAN!  I am really excited for this week's meal plan.  Mostly because it includes Pizza as a reward for making it to Friday! 🤣 This week is loaded with some super easy meals that don't sacrifice on flavor, plus there is a make ahead meal you can stick on your busiest night and a meal to use up some leftovers.  That is what I calling winning people!  Tell me what's on your meal plan this week!?
Monday: Italian Chicken Bake– This recipe has been pinned over a million times!  It is tried, true, super simple and absolutely delicious!
Tuesday: Easy Taco Soup from Eazy Peazy Meals– Let's celebrate Taco Tuesday with this soup!  Serve with cheese quesadillas to make this meal even heartier.
Wednesday: Lemon & Asparagus pasta from @lilluna – Serve with garlic bread and a side salad
Thursday: Loaded Chicken Salad (make ahead meal.  Use this meal on your busiest day)
Friday: Pesto Chicken Pizza (with leftovers from Tuesday!) – Grab a pizza crust and spread pesto thinly over it.  Chop up the leftover chicken and sprinkle it on top.  Add any extra meats or veggies you want, and top with mozzarella or Italian cheese blend.  Bake per crust package instructions or at 425 for 12-16 minutes.
I hope you enjoy this weeks dinner options!  If you have requests for next week's meal plan, please leave them in the comments for me!