These garlic butter pork bites are a super simple, 20 minute entrée that delivers tender, bit-sized buttery garlic pork pieces to the table with just a handful of pantry seasonings and grocery staples. It'll be a dinnertime favorite that will make pork chops a new go-to recipe for an easy and kid-friendly dinner.
Garlic Butter Pork Bites – The EASY Way!
Don't you love those meals that your kids just devour with no complaints? Well THIS is IT! Garlic pork bites are bite-sized little nuggets of tender flavor that your kids are going to absolutely love. Whether it's the nugget-like appearance that wins them over, or the super tasty garlic butter flavor, you can relax knowing that dinner won't be a battle.
And you're going to love it too! It's lean, healthy protein and real ingredients, but it only takes you 20 minutes total to cook. That's from start to finish! Serve them up however you like, whether it's scooped onto a plate with classic sides or on top of a pile of pasta. This is a go-to for those super busy, tired nights, so you can serve a great dinner without any stress.
Why I LOVE this recipe!
SO FAST! – Seriously, this is the FASTEST recipe. 10 minutes to prep, 10 minutes to cook, done.
Easy Ingredients – Basic pantry seasonings and staples come together to make this recipe so you won't have to worry about a extra stop at the store.
Big Flavor! – Who doesn't love the combination of garlic and butter? My additions of lemon and a pinch of red pepper makes it unforgettably delicious!
Kid-Friendly – There's something about bite-sized foods that's magic for kids. I say embrace it!
What to Serve with Garlic Butter Pork Chop Bites
Since this dish has the classic flavors of garlic, lemon, and butter, it will pair well with many of your favorite traditional side dishes. There are both classic options and some healthy options to keep it light.
Side Dish Ideas
You can choose one or add a few sides to make a wholesome, well rounded dinner.
Recipe Notes
This garlic butter pork chop bites recipe is as simple as promised! Just 20 minutes total and one pan for a family friendly meal.
In this section I am going to go through a few tips and tricks I use when making this recipe to get the absolute best and most delicious results.
Make sure to scroll to the bottom for the FULL recipe card.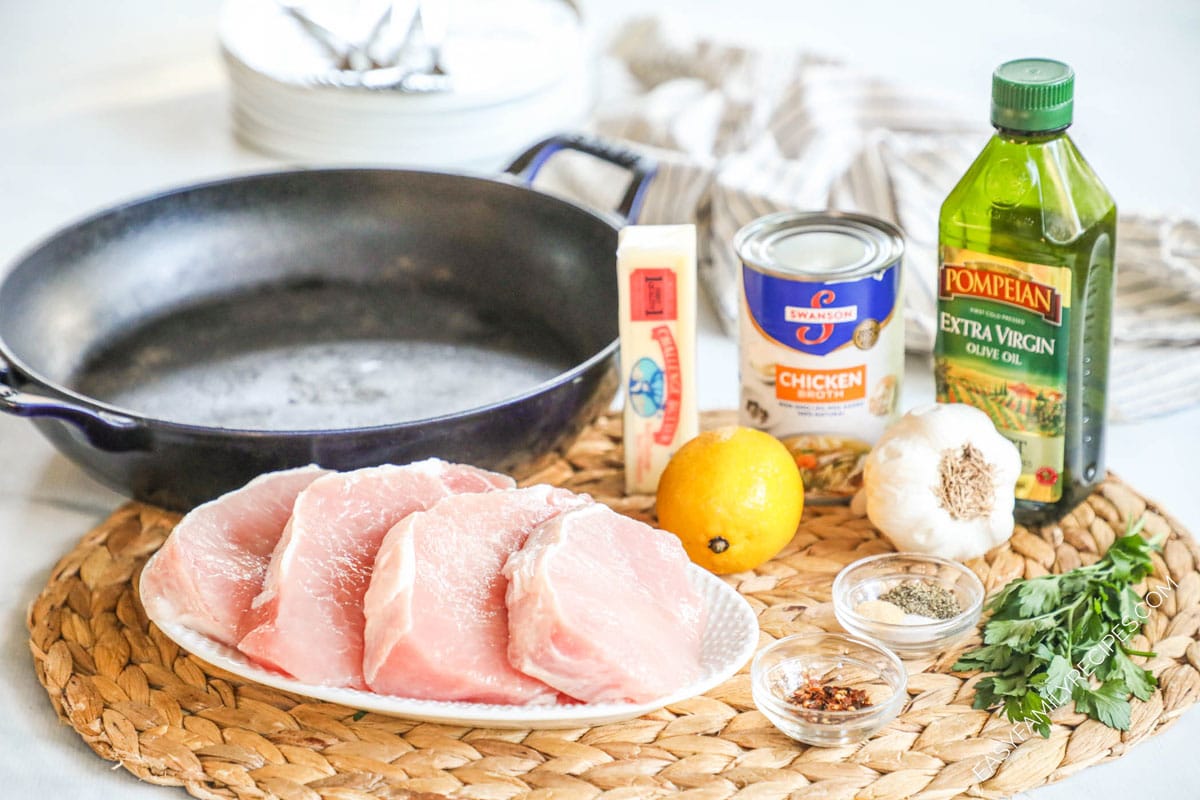 Ingredients + Substitutions
Pork Chops – I recommend buying boneless pork chops that are about 1″ thick to make cubing it quicker. You can also use tenderloin or pork loin and cube that instead.

Seasonings – A simple combination of salt, pepper, and garlic powder season the pork before cooking.

Olive oil – Any oil, like canola, grapeseed, or vegetable oil can be used instead.

Broth – You can use chicken, vegetable, or beef broth, or even a dry white wine if you'd like.

Lemon juice – You can use bottled if you need to, but I prefer fresh lemon for the best flavor whenever possible.

Garlic – This is a must! You'll need 4 cloves. Unfortunately granulated or powdered garlic won't work to make the butter.

Red Pepper Flakes – This is optional, but just a pinch adds another dimension of flavor that's so yummy! If your family is sensitive to spice, feel free to leave it out.

Parsley – This is another optional ingredient, but I like to sprinkle it on top for a beautiful, finished look and flavor.

Butter– Salted or unsalted will work- just use what you have on hand.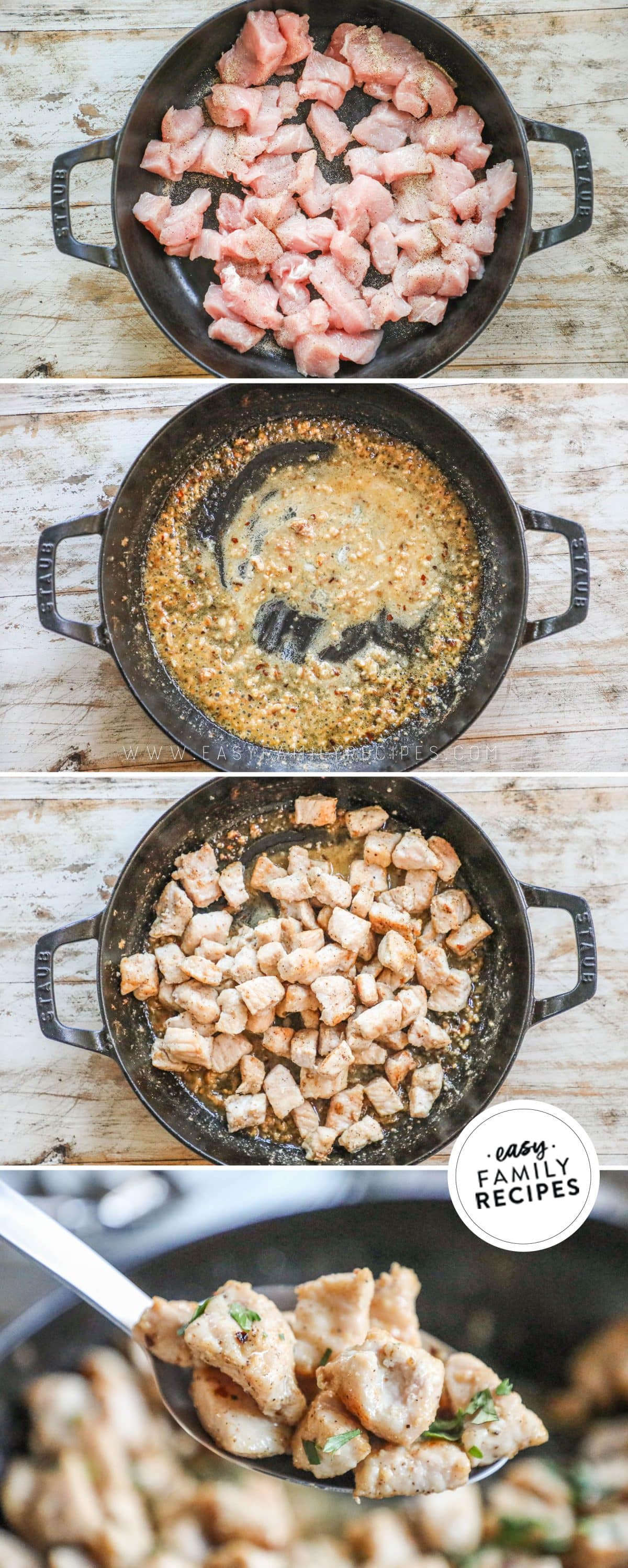 Recipe Tips
Trim the fat – Fat is usually a good thing on pork chops, but when you're cutting them down to bites it can actually lead to chewy, unpleasant pieces. So do your best to trim all of the fat off of the chops before you cube it. I find this especially important for the kids!

Don't overcrowd the pan – It's really important to not crowd the pan when you're first sauteing your pork bites. If you load the pan so full that there's no space between the pieces, it will end up steaming instead of searing. Searing creates that beautiful, golden brown, flavorful crust. The pork should fit in a single layer with a little bit of wiggle room. Cook them in batches if you need to so you can make sure you get that sear.

Scrape the pan – Searing not only flavors the pork, it also leaves behind a lot of really tasty brown bits in the pan. When you add in your broth or wine to deglaze the pan, make sure you scrape all of that up so it adds that yummy flavor to the garlic butter sauce.
Recipe Short Cuts
If you need to make this recipe, but are extra short on time, here are a few ideas that can help make this recipe even faster!
Prep ahead– You can cut that already super fast prep time down by prepping the pork, garlic, lemon, and other ingredients ahead of time. You can do this the night or morning before, then all that's left is to do the actual cooking!

Use a really large pan– For 2 pounds of of pork bites, you might need to sear them in batches if you use a small sauté pan. Instead use the biggest sauté pan you can so you can cook all the bites at once.
Recipe Variations
If you love this recipe as much as we do and want some quick ways to change it up for variety, these little tips will do the trick!
Honey Garlic Pork Bites– Make the recipe as directed but add 2 tablespoons of honey into the pan with the butter and garlic, then toss in the cooked pork.

Crispy Honey Garlic Pork Bites– Set up a breading station with a bowl of flour, eggs, and breadcrumbs. Season the flour and breadcrumbs with salt, pepper, and garlic powder. Dip the pork bites into the flour, then the beaten eggs, and finally the breadcrumbs. Sear as directed until each bite is crispy. Make the sauce by adding 2 tablespoons of honey to the pan with the butter and garlic. Toss in the cooked breaded pork bites until coated.

Garlic Parmesan Pork Chop Bites– Make the recipe as written but add in 1/2 cup of finely grated parmesan cheese to the butter garlic sauce after it's bubbled. Stir in the pork bites to coat.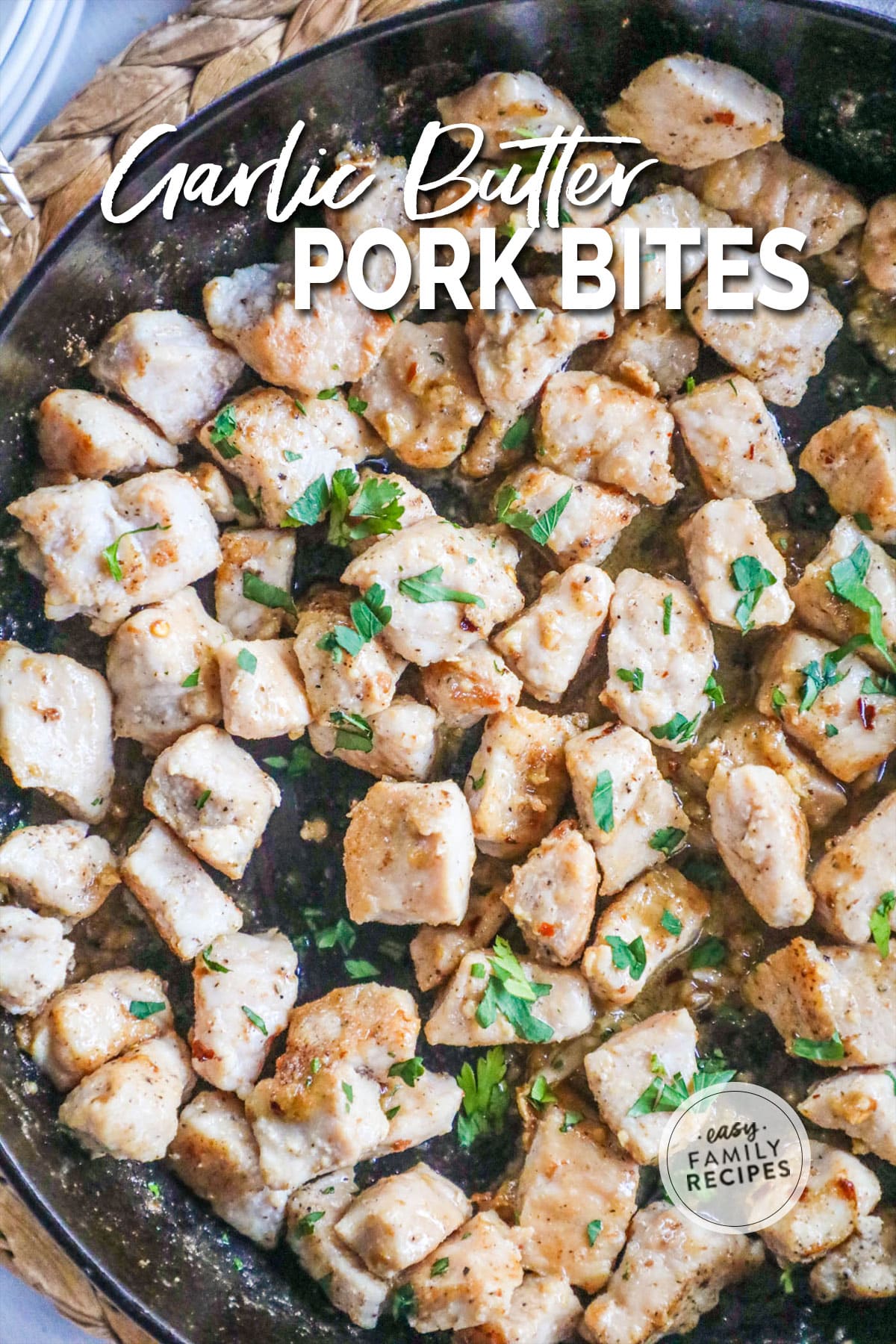 Freezer Meal Instructions
Making this butter garlic pork bites recipe into a freezer meal is simple! Follow the steps below and you can store this recipe in the freezer for up to 6 months.
Cube and season the pork and place it in a freezer safe bag.
Combine the broth and lemon juice and freeze in an ice cube tray.
Transfer frozen broth mixture to a freezer bag.
Add garlic and red pepper flakes to butter and place in a separate freezer bag.
Freeze.
Thaw in the fridge for 24-48 hours when ready to cook.
Make according to recipe directions.
Garlic Butter Pork Bites Leftovers
If you have leftovers after making garlic pork chop bites, then it is your lucky day! They save and reheat well, and can make the start of another delicious dish.
To save leftovers, separate into meal sized portions and then place in an airtight container and store:
in the refrigerator for 3-4 days
in the freezer up to a month
Leftover Recipes
Here are a few ways to repurpose those leftovers and give them a delicious makeover!
Garlic Butter Pork Bite Pasta– Boil your pasta of choice according to the package instructions. In a separate pan heat 2-3 cloves of crushed garlic with 1/2 a stick of butter. When the pasta is cooked, add it to the butter with 1/4 cup of pasta water. Toss to combine and add in leftover pork bites until warm.
Garlic Pork Bite Salad– Gently reheat garlic pork bites then set on top of your favorite salad mix. Add sliced mushrooms, tomatoes, onions, and any other desired toppings. Toss with my perfect lemon vinaigrette dressing and serve.
Garlic Pork Bite Pita– Add reheated garlic butter pork bites to a warm, split pita with diced cucumbers, tomatoes, red onion, and shredded romaine. Drizzle on homemade ranch dressing, or serve it on the side for dipping.
More EASY Pork Chop Recipes Recipes
If you enjoyed this recipe, I really hope you will take a moment to grab a few more easy recipes for another busy night!
You can check out all of my quick and easy dinner recipes here, or see a few of our readers favorite recipes below.
Hungry for more family-friendly recipes? Sign up for my free recipe club to get new family-friendly recipes in your inbox each week! Find me sharing daily meal-time inspiration on Pinterest, Instagram, and TikTok.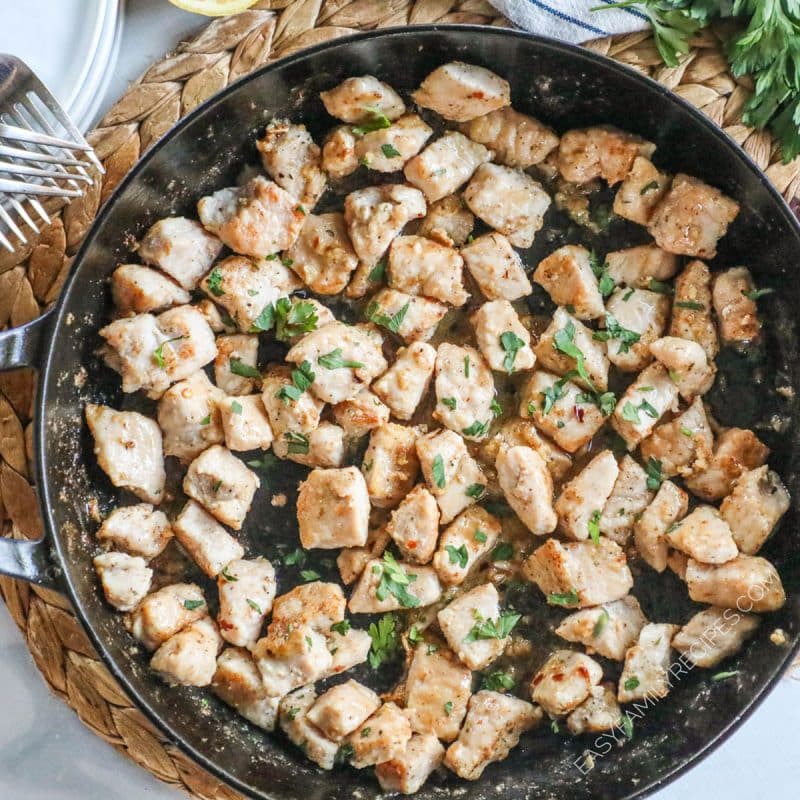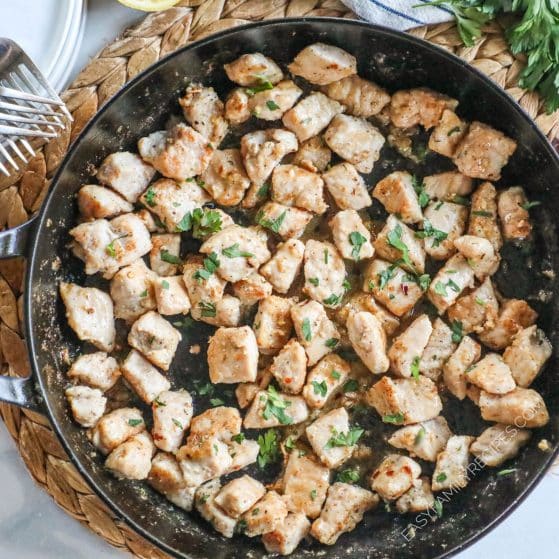 Garlic Butter Pork Bites
Boneless pork chops are cubed, seasoned, and cooked, then tossed with a quick pan sauce of lemon, butter, and garlic to create a fast, family-friendly meal.
Prep Time: 10 minutes
Cook Time: 10 minutes
Total Time: 20 minutes
Serves:4 people
Hover over "serves" value to reveal recipe scaler
Ingredients
2 lbs boneless pork chops cut into 1-inch cubes
1/2 teaspoon garlic powder
1/2 teaspoon salt
1/2 teaspoon pepper
1 tablespoon olive oil
1/4 cup butter
1/4 cup chicken broth or vegetable broth, beef broth, or dry white wine
1/2 lemon Juice of
4 cloves garlic pressed
1/2 teaspoon red pepper flakes optional
Instructions
Mix the garlic powder, salt and pepper together and season the cut pork evenly with the seasoning.

Heat a large skillet with the olive oil over medium heat. Once hot, Add the pork bites in a single layer, and allow them to cook 2 minutes without stirring to sear the outside. Stir the pork and continue to cook 3-5 minutes or until they are cooked through (145˚F).

Remove the pork bites from the skillet and add the chicken broth and lemon juice to deglaze the pan, scraping all the brown bits from the bottom. Add the freshly pressed garlic, butter, and red pepper flakes (optional) to the broth mixture and stir until the butter melts and starts to bubble.

Add the pork bites back into the lemon butter sauce and toss to coat. Garnish with fresh parsley. Serve warm. Enjoy!
Nutrition Information:
Calories: 496kcal (25%)Carbohydrates: 3g (1%)Protein: 50g (100%)Fat: 31g (48%)Saturated Fat: 13g (81%)Polyunsaturated Fat: 3gMonounsaturated Fat: 12gTrans Fat: 1gCholesterol: 183mg (61%)Sodium: 550mg (24%)Potassium: 895mg (26%)Fiber: 1g (4%)Sugar: 0.5g (1%)Vitamin A: 443IU (9%)Vitamin C: 8mg (10%)Calcium: 31mg (3%)Iron: 1mg (6%)
(Nutrition information provided is an estimate and will vary based on cooking methods and brands of ingredients used.)