This Easy BBQ Pulled Pork is tender, juicy, delicious, and just a bit zesty from our special ingredient! Made super EASY in the Crock Pot, you can use it for sandwiches, salads, or just eat it on it's own with your favorite barbecue sides.
Tender & Juicy BBQ Pulled Pork
Growing up in Texas BBQ is almost a religion. There are many debates on what makes the perfect barbecue sauce, and how to cook it.
I may not have ALL the answers, but I can tell you that THIS Pulled Pork BBQ made in the Crock Pot is 100% tender, completely flavor packed, and SO EASY to make!
There is no question that it is a definite winner for an easy weeknight meal.
Besides, just being a go-to slow cooker meal, this recipe feeds a crowd so it is great for:
Potlucks
Neighborhood BBQs
Meal for a new baby
Freeze half for later
This BBQ Pulled Pork is just one of those recipes it is great to keep on hand for any occasion.
How to Serve with BBQ Pork
This dish is great because it can be served straight up, or several different ways for variety (or picky eaters.) Here are a few of our favorite ideas:
On it's own! Just dig in with a fork!
Pulled Pork Sandwiches
BBQ Pork Salads (pair it with my homemade ranch…SO DELISH!)
BBQ Pulled Pork Loaded Baked Potatoes
Once you know how you are going to use it, pick a side or three and make a well rounded dinner the family will love!
Traditional BBQ Sides
Heathy Side Ideas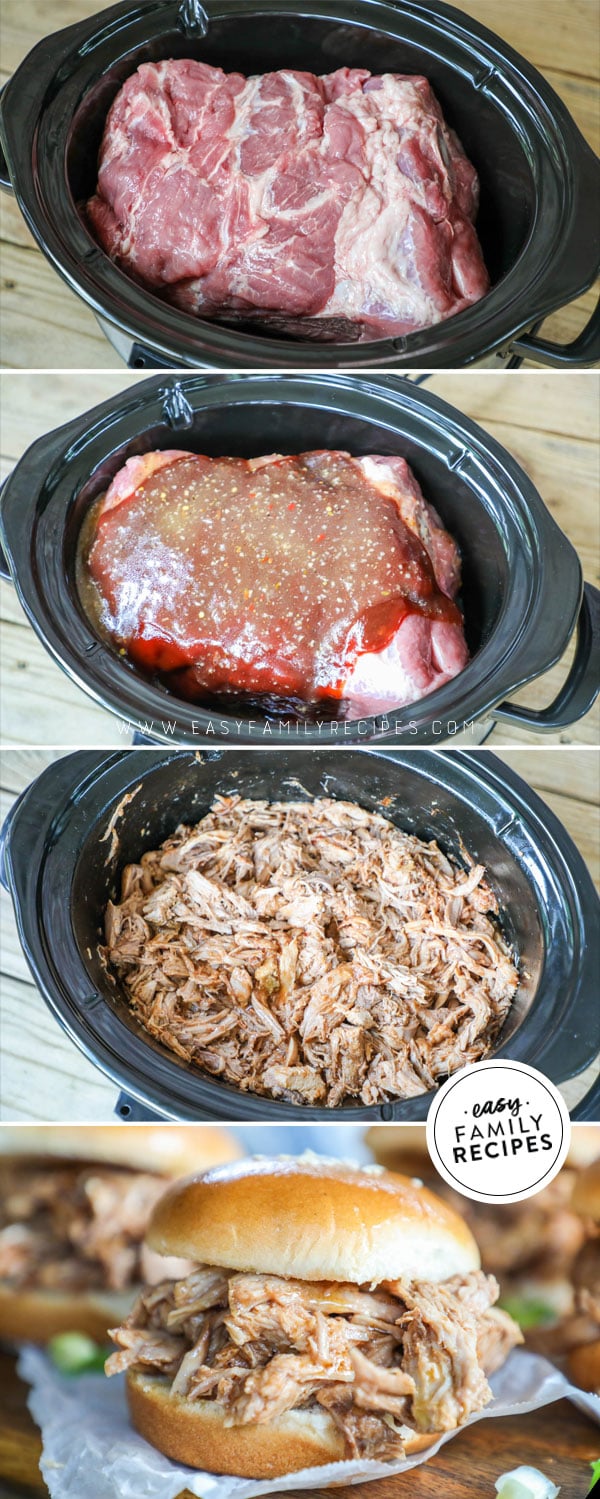 My Tips for the BEST BBQ Pulled Pork in the Crock Pot
BBQ can be a little tricky to get just how you want it, if you don't know a few key tricks!
Luckily, the crock pot is going to work it's magic for us here and make this BBQ Pulled Pork absolutely tender, juicy and flavor filled without much effort!
I am going to share a few tips to get the best results here, but make sure and scroll down to the bottom of this post for the full recipe card below.
The Meat
For pulled pork you can use any fatty cut of pork. I suggest using the shoulder because:
They have a ton of flavor
Pork shoulder is easy to find any almost any grocery store
It has the perfect amount of fat to lean meat ratio
Look in the refrigerated meat section of the store and you should be able to spot it. Sometimes they go by various names, so keep an eye out for any of these:
Pork Shoulder
Pork Butt
Boston Butt
Picnic Roast
This tough cut, is transformed with several hours in the slow cooker to tender juicy shreds of BBQ perfection!
If you have more questions on the cut, you can refer to this Pork Cut Diagram.
The Sauce
Barbecue sauce can make or break this recipe. The flavor comes from the sauce, so don't skimp out on the cheapest sauce. Instead find one that you really love the flavor of.
You can also use sugar free sauces to make this recipe low carb, or even homemade BBQ sauce.
We like to mix the BBQ sauce with Italian dressing to give it a special little zesty kick that makes it something special, and not just your same ol' shredded pork.
The Slow Cooker
The method we are cooking the meat is just as important as the ingredients in this recipe.
Since the cut of pork is more tough, it is imperative that it cooks for many hours to break down the fat and tendons, and turn it in to tender, delicious, flavor filled shreds of meat.
How to Shred BBQ Pork
Since we are cooking this pork low and slow in our crock pot, the shredding should be very easy!
Once the cooking is done, you can remove the roast and place it on a large cutting board. BE CAREFUL! It will be very hot!
Pull the meat off when the pork roast is still very warm to hot to be able to remove the most meat, the most easily.
Start on the meatiest side of the roast and get to work pulling the meat off. Work your way around the bones and gristle until you have removed all of the meat.
There are a few options for shredding:
Regular forks- use forks from your drawer to pull the meat off
Shredding forks- these are made for shredding meat and are larger and get the job done quickly!
Thermal gloves- These allow you to get right in there with your hands and get into every nook and cranny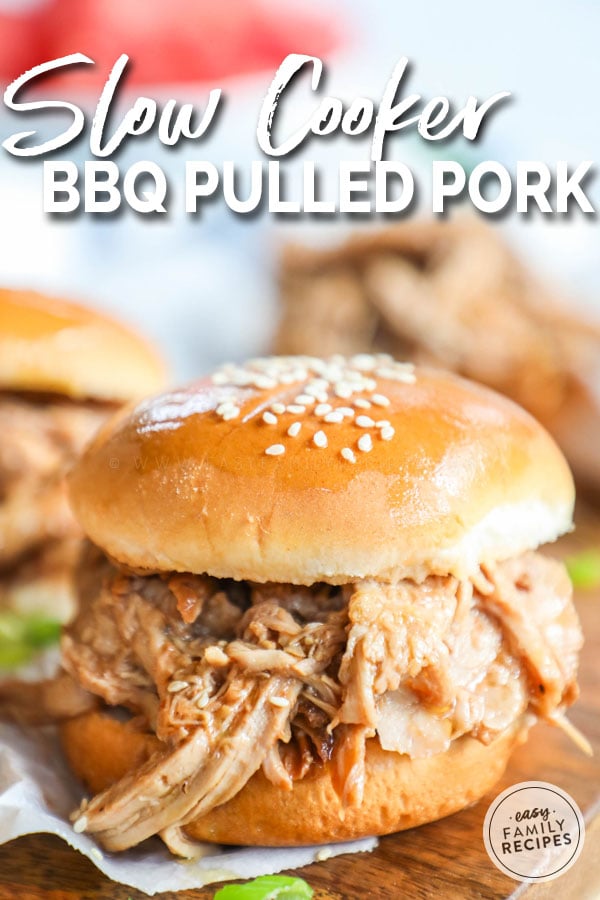 How to Freeze BBQ Pulled Pork
This meal is great to freeze before or after cooking. Follow the directions below for freezer instructions:
To Freeze BEFORE cooking:
Place the pork shoulder, sauces, and spices mixed together in an air tight container.
Freeze
When ready to cook, thaw in the refrigerator.
Cook as directed.
Note: this works best when the roast is thawed. However if you find yourself in a bind, you can also put the pork shoulder in the crock pot partially or completely frozen, however, it may take up to 1-3 hours longer to cook.
To Freeze AFTER cooking:
Follow recipe as directed and pull all meat from the bones.
Allow meat to cool.
Divide meat into meal sized portions and freeze individually in an airtight container or zip top bag.
When ready to eat, thaw in the refrigerator, then reheat as desired.
Crock Pot BBQ Pulled Pork Leftovers
As I mentioned above, one of the best parts about this recipe is the leftovers! Since it makes so much, we almost always have them, and it makes a quick and delicious meal later in the week (or month if you freeze!)
To Save
To save leftovers, package the BBQ pork in meal sized portions and place
in the refrigerator for 3-4 days
in the freezer for up to a month
Once you have it stored, you can pull it out to make any of these great meals below, or others that you want to try!
Leftover BBQ Pork Recipes
BBQ Pork Mac & Cheese– Make your favorite mac & cheese and pile the pulled pork on top! You can do it on the stove top or bake it in the oven!
Pulled Pork Cornbread Pie- Use a pie plate to make cornbread as directed (this can be done ahead of time.) Once the cornbread is done, layer the top with pulled pork and top with cheese. Bake in the oven 10-15 minutes until heated through and the cheese is melted. Top with fresh cilantro, chopped tomatoes, or sour cream.
BBQ Pulled Pork Pizza- Grab a pizza crust and layer it with BBQ sauce and cheddar cheese. Sprinkle pulled pork and sliced red onions over the top. Bake as directed. Garnish with chopped cilantro or green onions.
BBQ Pork Nachos– Layer chips onto a sheet pan. Place the BBQ pulled pork along with black beans and corn on top of the chips and cover in cheese. Bake at 425 until the cheese is melted then remove and drizzle with extra BBQ sauce. Serve topped with salsa, guacamole, and sour cream.
Pulled Pork Enchiladas– Roll the BBQ pulled pork in tortillas and place in a casserole dish. Pour green enchilada sauce over the top and sprinkle with cheese. Bake at 400˚F for 15-25 minutes or until heated through. Top with pico de gallo and sour cream.
The possibilities are endless for all of the new meals you can make with leftover BBQ pulled pork. It really makes this meal a super meal.
More EASY Crock Pot recipes?
If you enjoyed the ease, versatility, and of course the taste of this Crockpot BBQ Pulled Pork, then add a couple of these tried and true slow cooker recipes to your meal plan!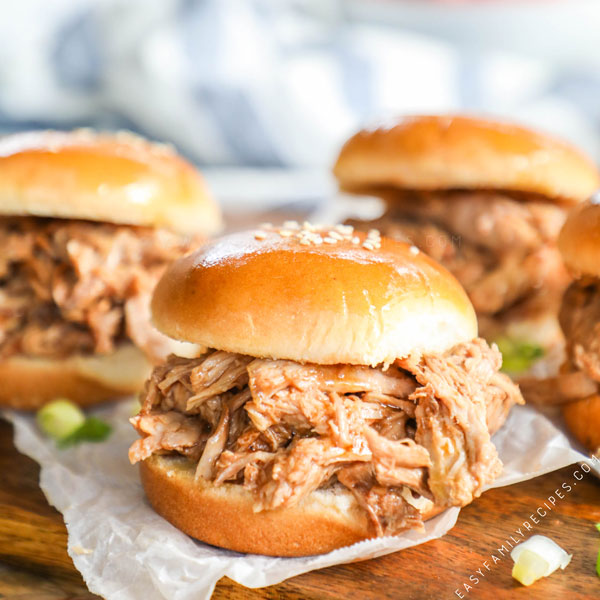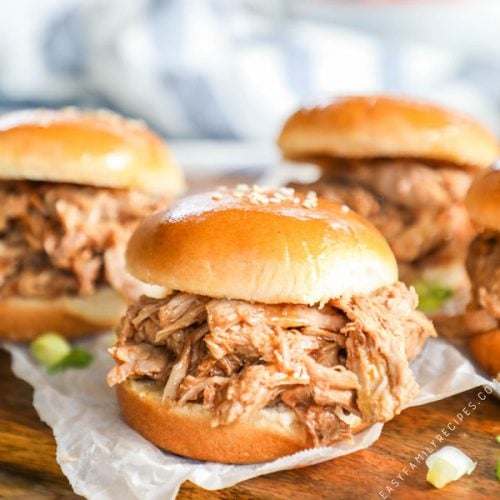 Crock Pot Pulled Pork
This Zesty Crock Pot BBQ Pulled Pork is the perfect recipe for a weeknight dinner or to feed a crowd! It is simple, delicious, and the slow cooker handles all the hard work.
Ingredients
8

lb

Pork shoulder roast

,

bone in

1 1/2

cups

barbecue sauce

,

divided

1/2

cup

Italian Dressing

3

cloves

garlic

,

pressed

1

tsp

salt

1

tsp

pepper

1-3

tsp

red pepper flakes

,

OPTIONAL
Instructions
Season pork shoulder with salt, pepper, and garlic on all sides.

Set pork in the crock pot. Pour 1 cup barbecue sauce, Italian Dressing, salt, and peppers over the top of the roast.

Cover and set to cook on low for 8 hours. Once done, remove the roast, cover with foil, and let rest for 20 minutes. Drain the juice from the slow cooker into a bowl, and remove the fat from the top with a fat separator or by chilling then spooning it from the top, then set aside.

Use forks and a carving knife, or insulated food gloves to pull the meat from the bones, discarding any fatty or undesirable pieces.

Once the meat is pulled, mix it with 1.5 cups of juices and the remaining 1/2 cup of BBQ sauce. You can add more juice or barbecue sauce as desired.
Recipe Notes
The red pepper flakes in this recipe are optional. If you like a small bit of spice, you can add up to 1 tbsp, or more depending on the level of heat you like, or leave it out all together if you want it more traditional
The pork can be cooked longer than 8 hours in the slow cooker if desired. This will continue to tenderize the meat. I do not recommend cooking for a shorter amount of time since this is a fattier cut of meat, it takes a longer time to break down the tissue and get it really tender
Pull the pork from the bone while the meat is still hot to make this process the easiest. Using thermal food gloves can help dramatically with this process since it will be HOT!
Nutrition Information
Serving:
6
oz
,
Calories:
359
kcal
(18%)
,
Carbohydrates:
16
g
(5%)
,
Protein:
36
g
(72%)
,
Fat:
15
g
(23%)
,
Saturated Fat:
4
g
(25%)
,
Cholesterol:
123
mg
(41%)
,
Sodium:
701
mg
(30%)
,
Potassium:
723
mg
(21%)
,
Fiber:
0
g
,
Sugar:
12
g
(13%)
,
Vitamin A:
90
IU
(2%)
,
Vitamin C:
1.9
mg
(2%)
,
Calcium:
40
mg
(4%)
,
Iron:
2.5
mg
(14%)