This Chicken Stuffed Poblano Peppers are absolutely FLAVOR packed and too easy to make! Tender chicken breast combined with a blend of spices, black beans, corn, and tangy enchilada sauce then stuffed in poblano peppers with a layer of cheese and baked to perfection for and irresistible, healthy, delicious meal.
Stuffed Poblano Peppers – The EASY Way!
Chile Rellanos are one of my all time favorite Mexican meals. If you have never had one, it is a large poblano pepper, stuffed with cheese and/or meat, batter dipped and fried.
It is DELICIOUS. But also not healthy enough to be an every day kind of meal.
This recipe was inspired by those flavors, but made MUCH lighter and packed with wholesome ingredients.
Wait… What is a Poblano Pepper?
While many are familiar with bell peppers or jalapeño peppers, you may not have ever had a poblano pepper.
Poblano peppers are a large dark green pepper. While they do have some heat to them, once the seeds and ribs are removed they are fairly mild.
Poblano peppers will be found near the fresh jalapeño peppers in the grocery store. To pick a good one, I look for a nice, even dark green color, free from blemishes. Check that the stem looks healthy and not dried out or moldy.
For this dish I also like to find peppers that are more straight and hollow looking so they can be easily filled.
What to Serve with Stuffed Poblanos
Since this dish has the classic flavors of Mexican food, it will pair well with many of your favorite Mexican side dishes. There are both classic options and some healthy options to keep it light on my list below.
Side Dish Ideas
Topping Ideas
You can load up the top of these as much (or as little) as you want. Here are some of our favorites:
Sour cream
Chopped cilantro
Pico de gallo
Jalapeno Ranch (see above!)
Guacamole
Crushed tortilla chips
Hot sauce
You can choose one or add a few sides to make a wholesome, well rounded dinner.
Recipe Notes
This Chicken Stuffed Poblano Peppers recipe is as simple as promised! Just eight pantry ingredients and few minutes of prep for a wholesome family friendly meal. Talk about EASY!
In this section I am going to go through a few tips and tricks I use when making this recipe to get the absolute best and most delicious results.
Make sure to scroll to the bottom for the FULL recipe card.
Ingredients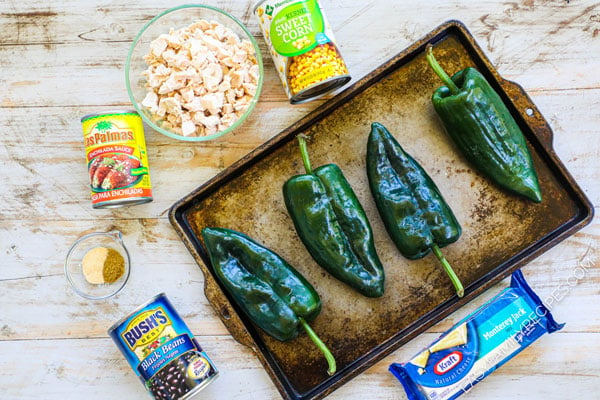 Poblano peppers– Grab them fresh in the produce section. I try to find the biggest, straightest peppers so they will be easier to stuff.
Shredded chicken– I usually use rotisserie chicken, but you can use any chicken with a neutral flavor.
Black beans– Canned beans that have been drained and rinsed work well, or you can make them from scratch.
Sweet corn– Again, I find canned easiest, but you can also use fresh or frozen corn that has been thawed.
Red enchilada sauce– I usually use Las Palmas brand, but you can use any brand, or even make homemade enchilada sauce!
Garlic powder
Cumin
Monterey jack cheese– You want to buy a block if possible. This lets you pack it in easier.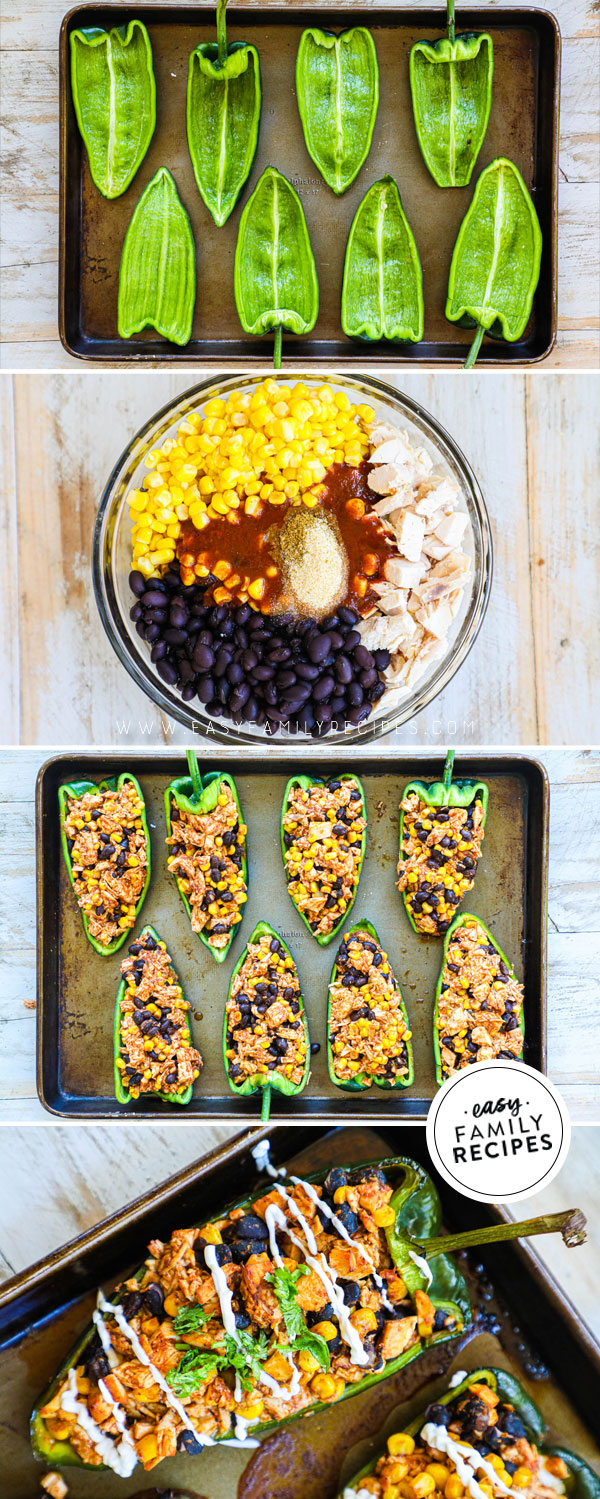 Recipe Tips
Remove the seeds and ribs– Prepping the peppers by washing them, cutting in half and placing them on the baking sheet. The more of the ribs you remove the less spicy they will be.

Sit flat tip– if your peppers don't want to sit flat, cut a small, thin slice off the bottom so that they have a flat surface to balance on.

Cheese it up! By using a block of cheese, you are able to cut thick slices that melt into a delicious cheesy layer. This reminds me of a chile rellano and is my favorite part!

Bake to perfection! Because the filling is already prepared, you are really just cooking the peppers to the perfect doneness, melting the cheese, and heating the filling. To check for doneness, you just need to see if the peppers are soft.
Recipe Short Cuts
If you need to make this recipe, but are extra short on time, here are a few ideas that can help make this recipe even faster!
Pre-mix the filling– You can mix the shredded chicken filling up to 2 days in advance and keep it refrigerated until you are ready to make the peppers. Make sure to give it a good stir to redistribute the flavors when you are ready to use it.

Pre-cook the peppers– You can cook the peppers ahead of time to cut down on the final cook time, if desired. To do this, prepare the peppers by cutting them in half and removing the seeds and ribs. Then place them in a baking dish and cover with foil. Bake for 15-20 minutes or until they are just tender. You can then refrigerate them until you are ready to prepare the meal.

Prepare as a freezer meal– Follow the directions below to make this as a freezer meal and then just pop it out when you are ready to make it with little to no prep time!
Recipe Variations
If you love this recipe as much as we do and want some quick ways to change it up for variety, these little tips will do the trick!
Extra Cheesy Stuffed Poblano Peppers– Follow recipe as written, adding 4 oz (1/2 block) of cream cheese to the shredded chicken filling. Make peppers as directed adding the layer of cheese on the bottom, the filling, and then add a sprinkle of cheese on top.

Ground Beef Stuffed Poblano Peppers– Make recipe as directed substituting 1.5 lbs of cooked and browned ground beef for the shredded chicken.

Vegetarian Stuffed Poblano Peppers– Make recipe as directed substituting 3 cups of cooked rice, OR cooked cauliflower rice for the shredded chicken in the recipe.

Spicy Chicken Stuffed Poblano Peppers– Make recipe as directed adding 1-3 diced jalapeño or serrano peppers to the chicken mixture. You can increase or decrease the level of spice by the amount of jalapeno, as well as the amount of ribs and seeds you leave in them. Top with hot sauce after cooking if desired.
Dietary Considerations
If you have special dietary needs, this healthy stuffed poblano recipe meets many and can be easily modified to comply with others.
As always, check all store bought ingredients for compliance on specific dietary needs. The notes below are a general guide.
Gluten free: This recipe is naturally gluten free. Do make sure that the enchilada sauce you use is gluten free. Not all brands are naturally gluten free.
Dairy free: These stuffed poblanos can be easily modified to be dairy free by omitting the cheese layer.
Nut free: This recipe is naturally nut free
Egg free: This recipe is naturally egg free
Low carb/Keto: This recipe can be modified to be low carb by omitting the black beans and corn from the stuffed poblanos. You can add cooked cauliflower rice in place of them if you want more to the dish.
Macros: The approximate macro calculation for this recipe is- P: 26g C: 28g F: 12g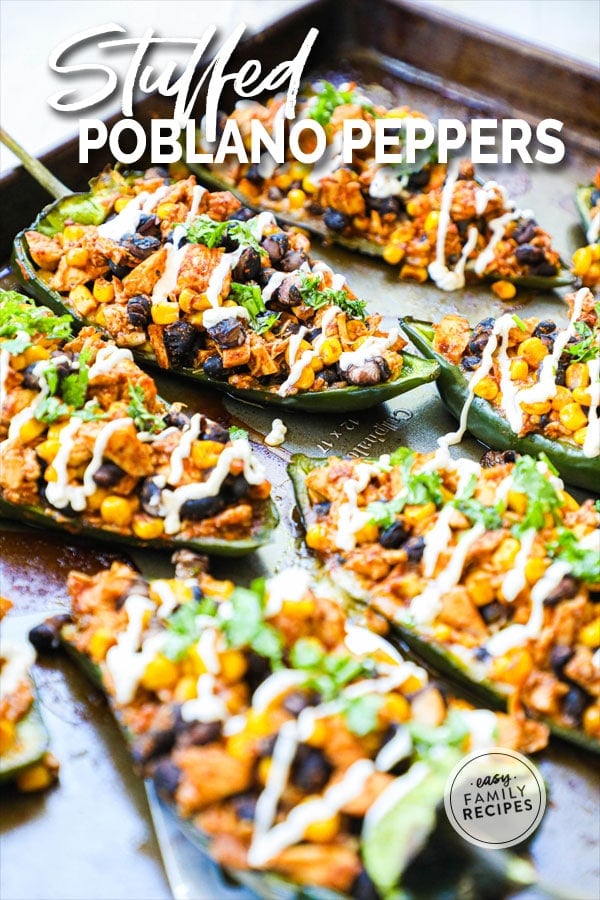 Freezer Meal Instructions
These stuffed peppers make a great freezer meal. The meal can be pre-prepped and frozen, or leftovers of the meal can be frozen to use for meal prep or reheat at a later date.
To freeze:
In a large bowl, mix the chicken, corn, black beans, enchilada sauce, garlic powder, and cumin together until combined.
Cut the poblano peppers in half lengthwise and clean out the ribs and seeds.
Divide the cheese evenly between the peppers, then pile the chicken mixture on top of the cheese.
Pack peppers in a freezer bag, or other freezer friendly container and freeze.
When ready to cook, place in the refrigerator for 24-48 hours, or until thawed, then cook as directed.
This meal is best when frozen for 6 months or less.
Chicken Stuffed Poblanos Meal Prep
If you like prep your meals for the week, these stuffed peppers make an excellent healthy meal prep option when paired with whole sides.
To meal prep, I pair a stuffed poblano pepper with 1-2 sides in an individual container.
Here are some great sides to use for meal prep:
Rice – cilantro lime or brown
Cauliflower rice
Refried beans
Salad with jalapeno ranch (on the side)
Veggies tossed with taco seasoning and roasted
Stuffed Poblano Peppers Leftovers
If you have leftovers after making Chicken Poblanos, then it is your lucky day! They save and reheat well, and can make the start of another delicious dish.
To save leftovers, separate into meal sized portions and then place in an airtight container and store:
in the refrigerator for 3-4 days
in the freezer up to a month
Leftover Recipes
Here are a few ways to repurpose those leftovers and give them a delicious makeover!
Chopped Poblano Quesadillas– Chop up the leftovers of the stuffed poblano peppers. Heat a skillet over medium heat. Butter the skillet and place a tortilla in. Pile chopped chicken and poblano mixture on half of the tortilla and top with extra cheese. Once the tortilla is golden, fold it over and serve hot!
Chicken Poblano Enchiladas– Chop up the leftover chicken stuffed poblanos. Warm corn tortillas, then dip them in enchilada sauce, fill with chicken and poblano mixture, roll and place in a baking dish. Repeat until filled. Pour red enchilada sauce over the enchiladas, top with cheese, and bake at 400˚F for 20-30 minutes or until heated through.
Chicken and Poblano Rice Skillet– Chop leftovers and heat them in a large skillet over medium heat. Once hot, add prepared rice and extra enchilada sauce as needed. Top with cheese and chopped cilantro.
More Healthy Dinner Recipes
If you enjoyed this recipe, I really hope you will take a moment to grab a few more easy recipes for another busy night!
You can check out all of my Easy Dinner recipes here, or see a few of our readers favorite recipes below.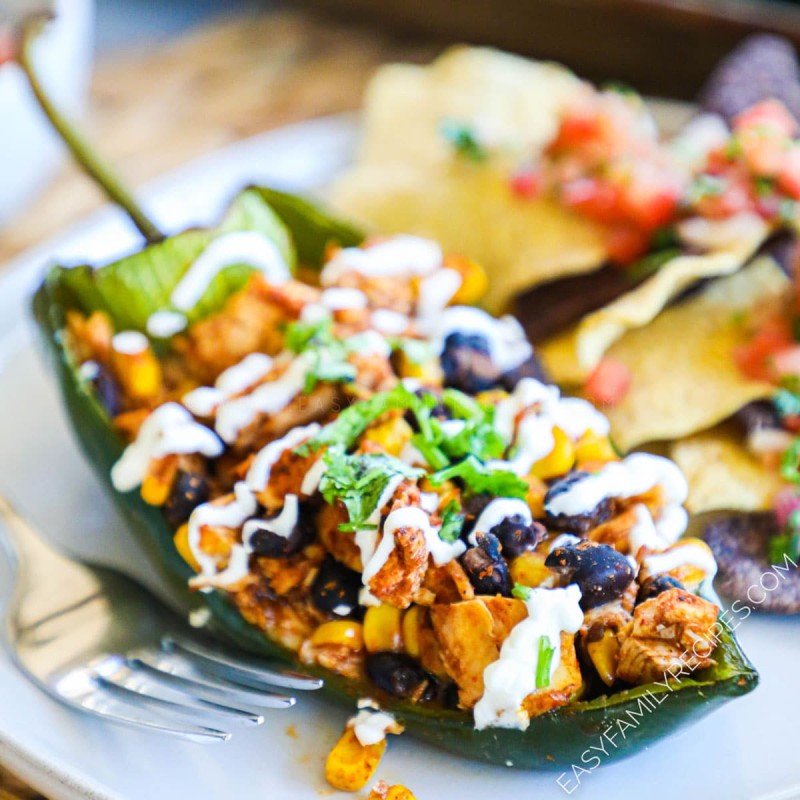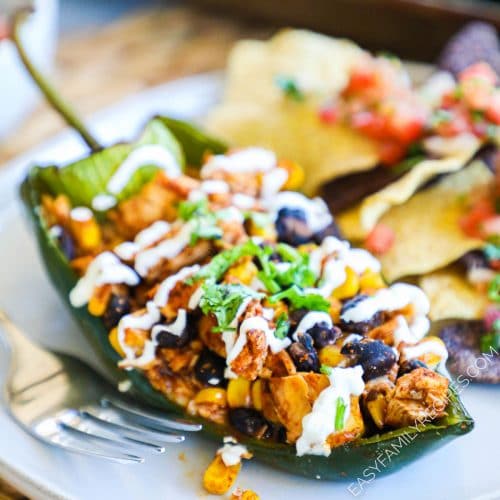 Chicken Stuffed Poblano Peppers
These Stuffed Poblano Peppers are bursting with flavor and almost TOO EASY to make! Perfect for an everyday family dinner, meal prep, or a even a freezer meal, this is one of the most delicious and versatile recipes we make!
Ingredients
4

poblano peppers

,

large

3

cups

shredded chicken

15

oz

black beans,

drained and rinsed (1 can)

15.25

oz

sweet corn

,

drained (1 can)

10

oz

red enchilada sauce

,

(1 can)

1/2

tsp

garlic powder

1/2

tsp

cumin

6

oz

monterey jack cheese

,

sliced
Garnish
1/4

cup

sour cream

2

tbsp

cilantro

,

chopped
Instructions
In a large bowl, mix the chicken, corn, black beans, enchilada sauce, garlic powder, and cumin together until combined.

Cut the poblano peppers in half lengthwise and clean out the ribs and seeds.

Lay the peppers cut side up on a baking sheet. Divide the cheese evenly between the peppers, then pile the chicken mixture on top of the cheese.

Bake covered with foil at 400˚F for 30 minutes. Remove the foil and bake for an additional 5-10 minutes or until the peppers are tender.

Remove from the oven and drizzle with sour cream and sprinkle with cilantro. Enjoy!
Recipe Notes
See full post for details on:
Modifications for special dietary needs
Freezer meal instructions
Meal prep ideas
Side dish ideas
Tips and short cuts
Nutrition Information
Serving:
1
filled pepper half
,
Calories:
321
kcal
(16%)
,
Carbohydrates:
28
g
(9%)
,
Protein:
26
g
(52%)
,
Fat:
12
g
(18%)
,
Saturated Fat:
6
g
(38%)
,
Cholesterol:
62
mg
(21%)
,
Sodium:
570
mg
(25%)
,
Potassium:
515
mg
(15%)
,
Fiber:
7
g
(29%)
,
Sugar:
6
g
(7%)
,
Vitamin A:
717
IU
(14%)
,
Vitamin C:
49
mg
(59%)
,
Calcium:
195
mg
(20%)
,
Iron:
3
mg
(17%)