When the family is in the mood for an extremely delicious, Asian inspired dinner, whip up this Honey Sesame Chicken and make everyone happy. Golden brown pan-fried chicken pieces are tossed in a sweet honey sauce and topped with sesame seeds to create a extra tasty meal that will beat any takeout. In under 30 minutes you can have a large pan of piping hot, sweet and saucy chicken on the table. You'll be fighting for those last bites, guaranteed.
Honey Sesame Chicken – The EASY Way!
This is definitely one of my family's favorite recipes. Whenever I make a pan of Honey Sesame Chicken everyone is happy to eat dinner. And I don't mind making it often because it's really easy to put together!
In fact it's one of the yummiest 30 minute meals you can make! The chicken is lightly pan fried in a small amount of oil so it's quicker and healthier than making a traditional deep fried version. Once it's coated with the sweet, sticky honey sesame sauce it becomes something that all ages can agree is delicious. It's super easy to pair with sides too! Whether you go for simple rice or a mix of vegetables, there's no wrong way to serve it.
Why I LOVE this recipe!
Delicious! – The sweet sticky sesame chicken sauce with honey really is irresistible and so easy to make!
Family Friendly – This is a dinner that's perfect for all ages, little kids will love the sweet sauce and adults will love a 'takeout' style meal that was made at home.
30 Minute Meal – It really only takes 30 minutes to prep, marinate, cook, and sauce your honey sesame chicken! You'll wow your family with flavor and won't stress yourself out doing it!
Easy to Serve – Bite-sized pieces make this ideal for quickly spooning onto plates and digging right in. No need to cut up your kids chicken while your food gets cold!
What to Serve with Honey Sesame Chicken Breasts
Since this honey sesame chicken recipe has the classic flavors of Asian stir fry, it will pair well with many of your favorite side dishes. There are both classic options and some healthy options to keep it light.
Side Dish Ideas
You can choose one or add a few sides to make a wholesome, well rounded dinner.
Recipe Notes
This sesame honey chicken recipe is as simple as promised! Just 30 minutes for a family friendly meal.
In this section I am going to go through a few tips and tricks I use when making this recipe to get the absolute best and most delicious results.
Make sure to scroll to the bottom for the FULL recipe card.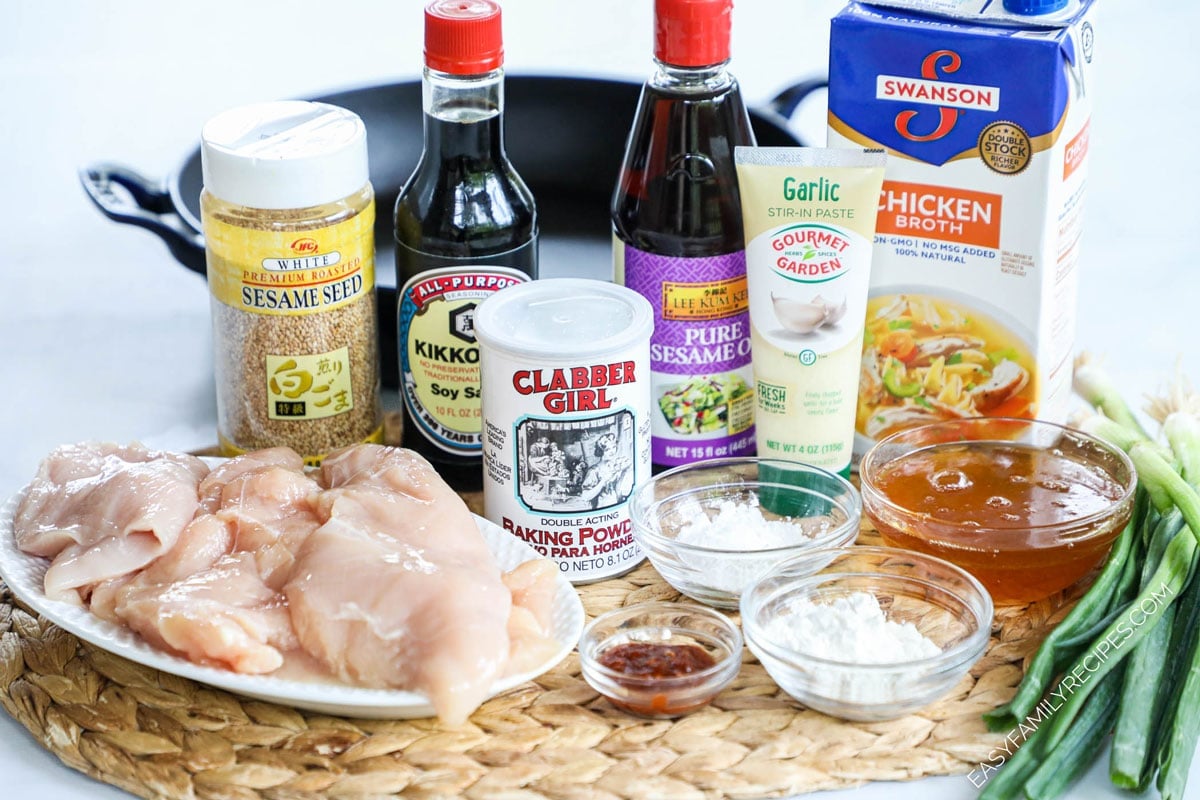 Ingredients + Substitutions
Even though the ingredient list is longer than my typical one, the ingredients are super simple and this comes together fast, I promise!! Don't let the list intimidate you!
Chicken – We make our honey sesame chicken recipe with breasts that I cut into bite-sized pieces. You can definitely slice up any other type of boneless skinless chicken with equally delicious results.
Flour
Cornstarch
Water
Baking powder
Soy sauce
Honey
Sesame Oil – You can use either toasted or untoasted sesame oil. It's usually easy to find near the Asian ingredients on the ethnic foods aisle of your grocery store.
Chicken Broth – This is the base of the sauce, and I prefer chicken broth for best flavor. But veggie broth, chicken stock, or even water will work as well.
Rice Wine Vinegar – This is a lightly flavored vinegar that adds a tang to our sauce. In a pinch you could also use white wine or apple cider vinegar with tasty results. You can find rice vinegar in the Asian ingredient section of your grocery store.
Chile Paste – Check the Asian aisle for this ingredient. Asian chile pastes taste different than one you'd find in Mexican or Indian food. They come in different levels of spice, and you can also adjust how much you add to make sure there's not too much heat for your family. It's the type of condiment that last forever in the fridge, and I love keeping it on hand for recipes like this one!
Garlic – Either finely mince 3 cloves of fresh garlic or use a prepared garlic paste to save a little time.
Cooking Oil – You can use vegetable, canola, or grapeseed to fry up the chicken pieces. We're pan frying, not deep-frying, so you won't need a lot.
Sesame Seeds – A sprinkle of toasted sesame seeds adds crunch and flavor to the finished dish. You can buy them pre-toasted, or do it really quickly yourself by stirring them in a warm skillet until they smell nutty and appear golden.
Green Onions – This is another great, but optional, garnish if you have them!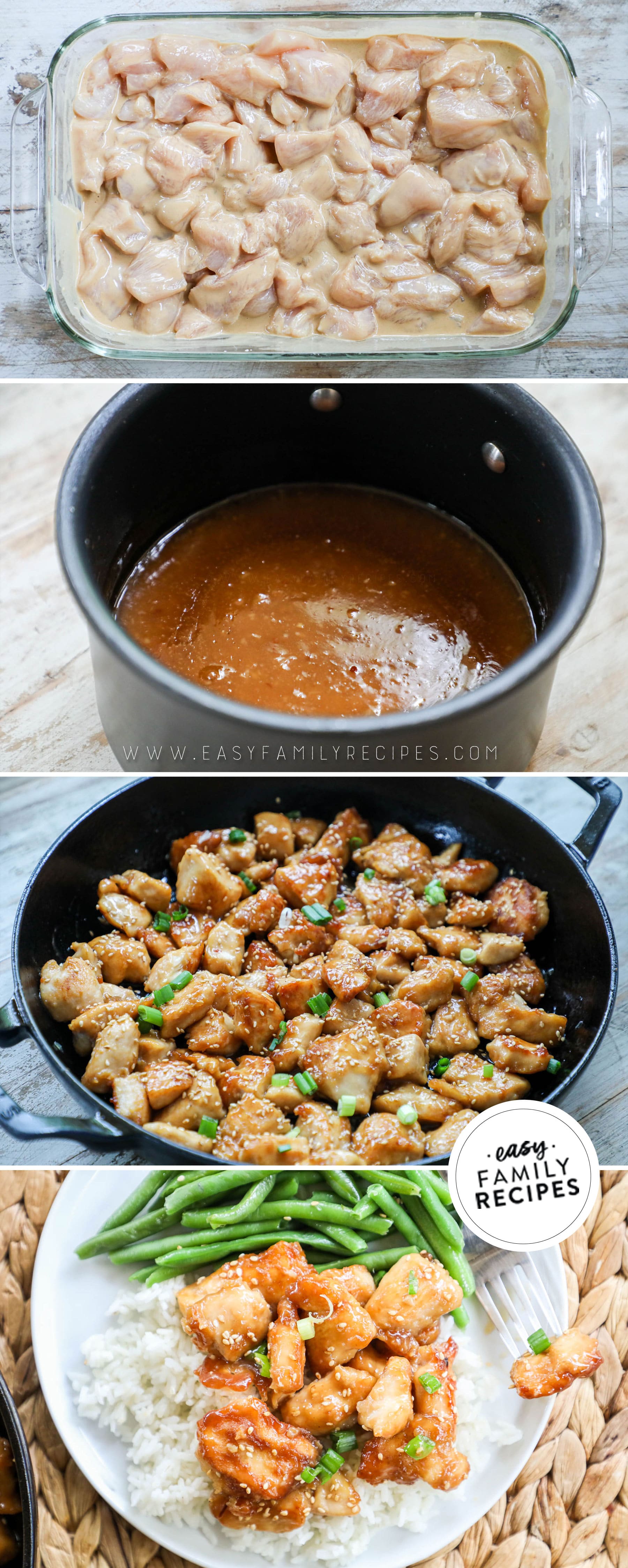 Recipe Tips
Whisk the cornstarch with cold liquid – One trick to using cornstarch successfully is cold liquid. If you add it to a hot liquid, it will get lumpy instead of dissolving and thickening our sauce.

Whisk the marinade ingredients together before adding the chicken, and start with cool water and soy sauce to make sure it doesn't get lumpy. When adding the cornstarch to the sauce, mix it in a separate bowl with cool water to create a slurry that you can pour that into the sauce for thickening.

Uniform Chicken pieces are key – To keep your cooking time consistent and all your chicken cooked perfectly and evenly, it's important to slice the breasts into uniform, bite-sized pieces.

Cook the sauce briefly – Another key to using cornstarch is to understand that it continues to thicken as it cools. We want to simmer the sauce after we whisk in the slurry for just a minute. You'll see it begin to thicken, and then you can turn off the heat. Cooking for too long can result in a thick gel-like sauce that's hard to toss the chicken in.

Use your largest skillet – This makes a hearty 6 servings of honey sesame chicken, which is a lot to cook when it's all chopped up. Use your largest skillet so you can cook more chicken at once.

But it's important to not overcrowd the pan trying to cram it all in there. The chicken will stick to each other and create large clumps instead of bite-sized crispy pieces, and that can mean uneven cooking. If you need to, cook in batches so all the chicken is golden brown and perfect. I generally do 2 batches in my large skillet.
Recipe Short Cuts
If you need to make this recipe, but are extra short on time, here are a few ideas that can help make this recipe even faster!
Make the Sauce Ahead– You can cook the sauce all the way and store it in a bowl in the refrigerator for 3-5 days. When you're ready to use it, just gently warm it up before tossing with freshly cooked chicken.

Buy Small Chicken chunks– Save yourself a little prep time by starting with smaller chicken pieces from the beginning. Either chunks or strips can be chopped into bite-sized pieces really quickly.
Recipe Variations
If you love this recipe as much as we do and want some quick ways to change it up for variety, these little tips will do the trick!
Honey Sesame Chicken Thighs– Marinate boneless, skinless thighs in the flour mixture. Make the sauce as directed, then pan fry the thighs until they've cooked to 165°F, flipping once or twice to crisp both sides. Pour the sauce over the cooked thighs and simmer gently, flipping them until they're well coated.

Spicy Honey Sesame Chicken– Add a tablespoon of chile paste to the marinade ingredients and double the amount called for in the sauce. Cook as directed.

Lemon Honey Sesame Chicken– Swap the water for lemon juice in both the marinade and the sauce then continue with the recipe as written.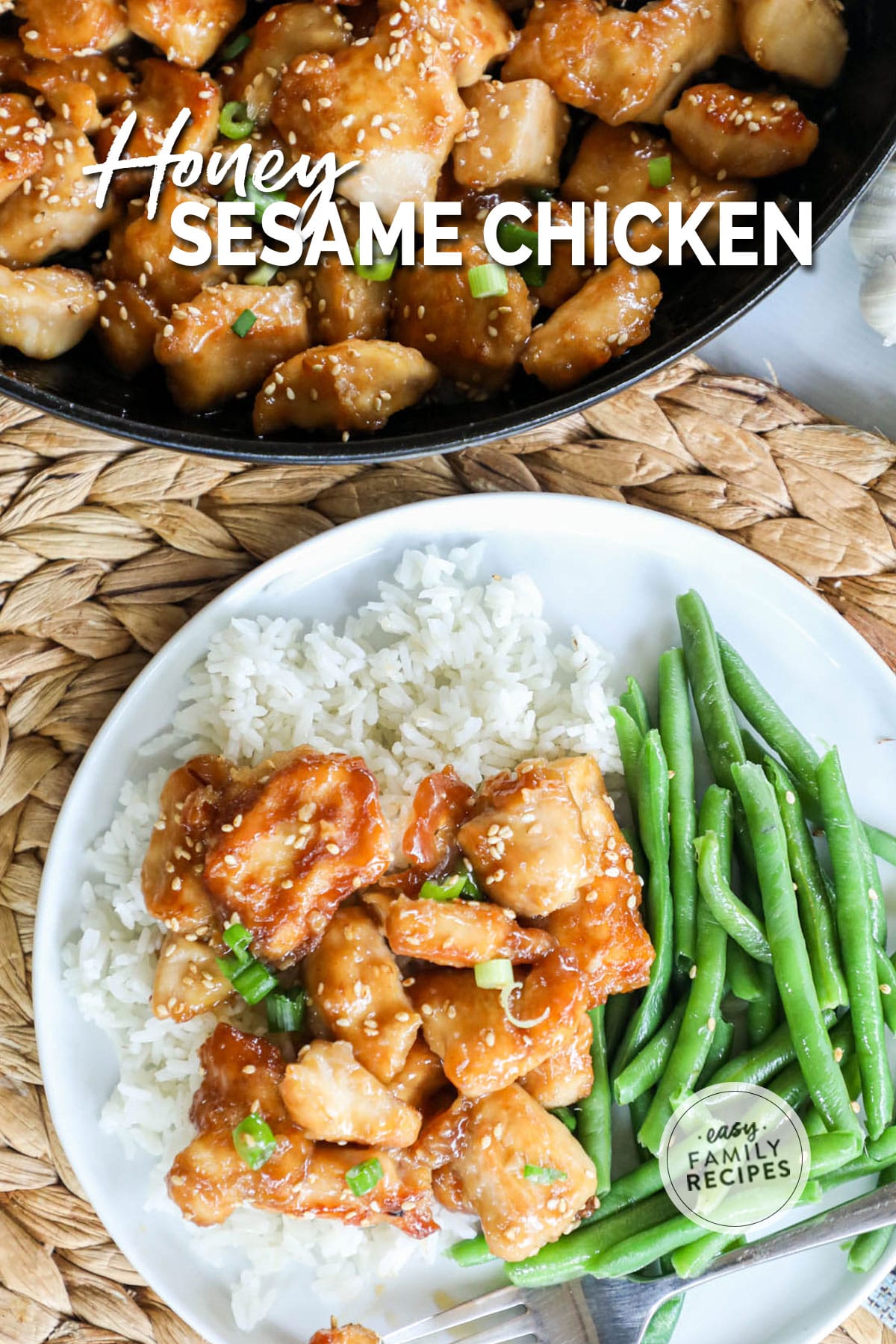 Honey Sesame Chicken Leftovers
If you have leftovers after making honey sesame chicken breasts, then it is your lucky day! They save and reheat well, and can make the start of another delicious dish.
To save leftovers, separate into meal sized portions and then place in an airtight container and store:
in the refrigerator for 3-4 days
in the freezer up to a month
Leftover Recipes
Here are a few ways to repurpose those leftovers and give them a delicious makeover!
Honey Sesame Chicken Stir Fry– Cook your vegetables of choice, such as broccoli florets, sliced bell peppers, and snap peas in a hot skillet with oil. When tender but crisp toss in the leftover honey sesame chicken for the final minute or two of cooking to rewarm. Serve together over rice or noodles.

Honey Sesame Chicken Bowl– Prepare steamed white rice. Steam or boil fresh broccoli so it's tender, but still crisp. Reheat the honey sesame chicken with any leftover sauce and serve with warm broccoli and fresh rice.

Honey Sesame Chicken Lettuce Wraps– Wash and pat dry large leaves from lettuces like romaine or butter. Chop carrots into thin matchsticks and dice green onions. Serve warm honey sesame chicken in the lettuce cups topped with carrots and onions.
More Chicken Recipes
If you enjoyed this recipe, I really hope you will take a moment to grab a few more easy recipes for another busy night!
You can check out all of my easy chicken recipes here, or see a few of our readers favorite recipes below.
Hungry for more family-friendly recipes? Sign up for my free recipe club to get new family-friendly recipes in your inbox each week! Find me sharing daily meal-time inspiration on Pinterest, Instagram, and TikTok.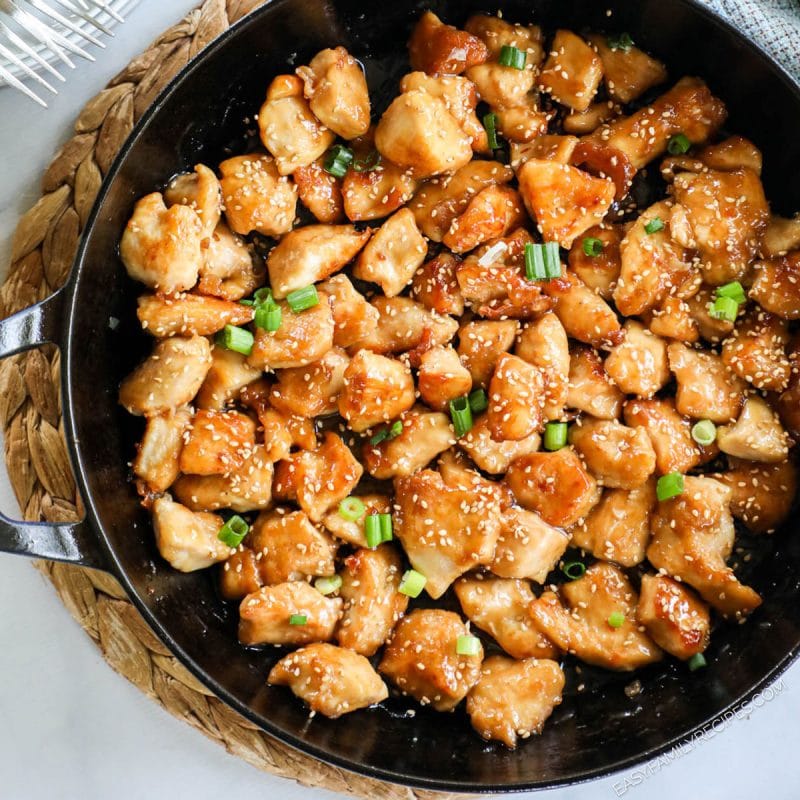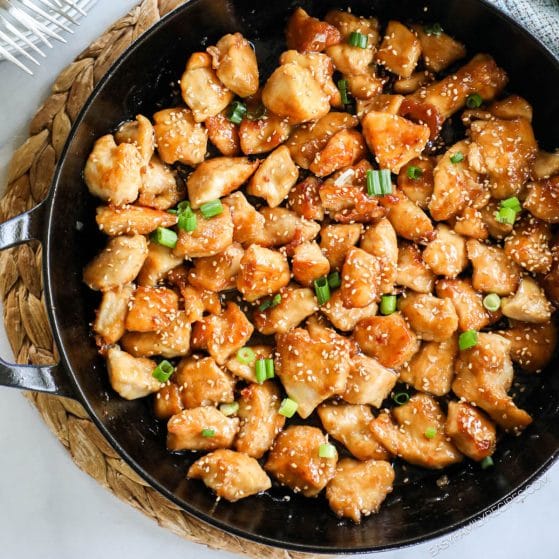 Honey Sesame Chicken
This Asian inspired recipe features chicken that is lightly fried with a flavorful coating and then tossed in a quick and easy honey sesame sauce that's sweet, sticky, and delicious. It's a 30 minute family dinner that everyone will love.
Prep Time: 15 minutes
Cook Time: 15 minutes
Total Time: 30 minutes
Serves:6 servings
Hover over "serves" value to reveal recipe scaler
Ingredients
For the Chicken
3 pounds chicken breast
2 tablespoons all-purpose flour
2 tablespoons cornstarch
1/2 teaspoon baking powder
2 tablespoons soy sauce
2 tablespoons water
1 teaspoon sesame oil
2 tablespoons vegetable oil or other oil for frying
For the sauce
1 cup chicken broth
2/3 cup honey
2 tablespoons rice wine vinegar
2 tablespoons soy sauce
1 tablespoons sesame oil
1 teaspoon chile paste
3 clove garlic minced
2 tablespoons cornstarch
2 tablespoons water
Garnish
2 tablespoons toasted sesame seeds
2 tablespoons sliced green onion
Instructions
Whisk together flour, cornstarch, baking powder, soy sauce, water, and sesame oil from the first list until smooth.

Cut chicken into bite-sized pieces and then place in a zip top bag or container. Pour in flour mixture and toss until all pieces are completely coated with the mixture. Refrigerate until ready to cook.

In a small sauce pan whisk together chicken broth, honey, vinegar, soy sauce, sesame oil, chile paste and garlic. Heat over medium high heat stirring regularly until it comes to a simmer.

Mix the cornstarch and water together until smooth and slowly stir it in the simmering sauce. Let simmer for about 30-60 seconds longer and then turn off heat. Sauce should coat the back of a spoon. The longer it simmers the thicker it will become.

In a large skillet, heat the frying oil over medium heat. Once the oil is hot, drop in the chicken pieces in a single layer on the bottom of the pan. You will likely need to do the chicken in 2-3 batches so that you don't over crowd the pan.Cook chicken 3-4 minutes on the first side, then flip and cook 2-3 minutes on the second side. Each side should be golden brown and 165˚F internal temp once done.

Remove chicken from the oil to a paper towel lined plate and repeat until all the chicken is cooked.

Once you have finished cooking the chicken, toss the chicken with the sauce to coat completely. Then garnish with toasted sesame seeds and green onions. Serve immediately. Enjoy!
Recipe Notes:
You can buy toasted sesame seeds at the store, but if you find yourself with untoasted sesame seeds, just put them in a skillet over medium heat stirring regularly for a few minutes until they become golden brown.
Nutrition Information:
Calories: 498kcal (25%)Carbohydrates: 40g (13%)Protein: 51g (102%)Fat: 15g (23%)Saturated Fat: 3g (19%)Polyunsaturated Fat: 5gMonounsaturated Fat: 4gTrans Fat: 1gCholesterol: 146mg (49%)Sodium: 1117mg (49%)Potassium: 916mg (26%)Fiber: 1g (4%)Sugar: 31g (34%)Vitamin A: 71IU (1%)Vitamin C: 4mg (5%)Calcium: 67mg (7%)Iron: 2mg (11%)
(Nutrition information provided is an estimate and will vary based on cooking methods and brands of ingredients used.)