If your family loves the to dig into a rotisserie chicken for dinner, then this recipe is perfect for a low-stress family meal. My Crock Pot Rotisserie Style Chicken recipe uses just a handful of ingredients and your trusty slow cooker to capture all the delicious juicy flavor of a store bought chicken right at home! After a few hours of hands-off slow cooking, you'll pull out a tender whole chicken that is great as a stand alone protein for dinner, or can be used to make countless other meals.
Crock Pot Rotisserie Chicken – The EASY Way!
Rotisserie style chicken is a go-to for so many American families. They're easy, delicious, and can be used as they are or shredded into tacos, sandwiches, and tons of other yummy meals. But did you know it's just as easy to recreate that juicy flavor by cooking a whole chicken in your slow cooker at home?
None of us have those fancy rotating rotisserie ovens, but tons of us have a slow cooker ready to tackle dinner prep. This Crock Pot Rotisserie Chicken captures the flavors and tenderness of a store-bought chicken, and it only takes 10 minutes of hands on time.
After a few blissful hours of stress-free, hands off cooking, you can serve a really tasty whole chicken for dinner with any of your favorite sides. The leftovers are also handy for lunches and other meals throughout the week, making this an easy dinner win!
If you prefer to use the oven, check out my recipe for Rotisserie Chicken in the Oven here!
Why I LOVE this recipe!
SO EASY! – All it takes to make a slow cooker rotisserie chicken is a handful of simple spices, oil, and onions. That's it, really!
Set it & Forget it – I LOVE a good, no-stress dinner protein, and this is definitely it! Set the chicken in, pop on the lid, and let your Crock Pot do all the work.
Family Friendly – I've never heard my kids complain about rotisserie style chicken for dinner, and yours won't either! The juicy flavors are easy to love for everyone you feed, from the littlest of littles to the adults.
Very Versatile – I have TONS of recipes on the blog for using rotisserie chicken in delicious ways, and I've shared a few below. But it's also just as good served on a platter whole!
What to Serve with Slow Cooker Rotisserie Chicken
Since this Crock Pot recipe has the classic flavors of rotisserie chicken, it will pair well with many of your favorite traditional side dishes. There are both classic options and some healthy options to keep it light.
Side Dish Ideas
You can choose one or add a few sides to make a wholesome, well rounded dinner.
Recipe Notes
This rotisserie Crock Pot chicken recipe is as simple as promised! Just 10 minutes of prep for a family friendly meal.
In this section I am going to go through a few tips and tricks I use when making this recipe to get the absolute best and most delicious results.
Make sure to scroll to the bottom for the FULL recipe card.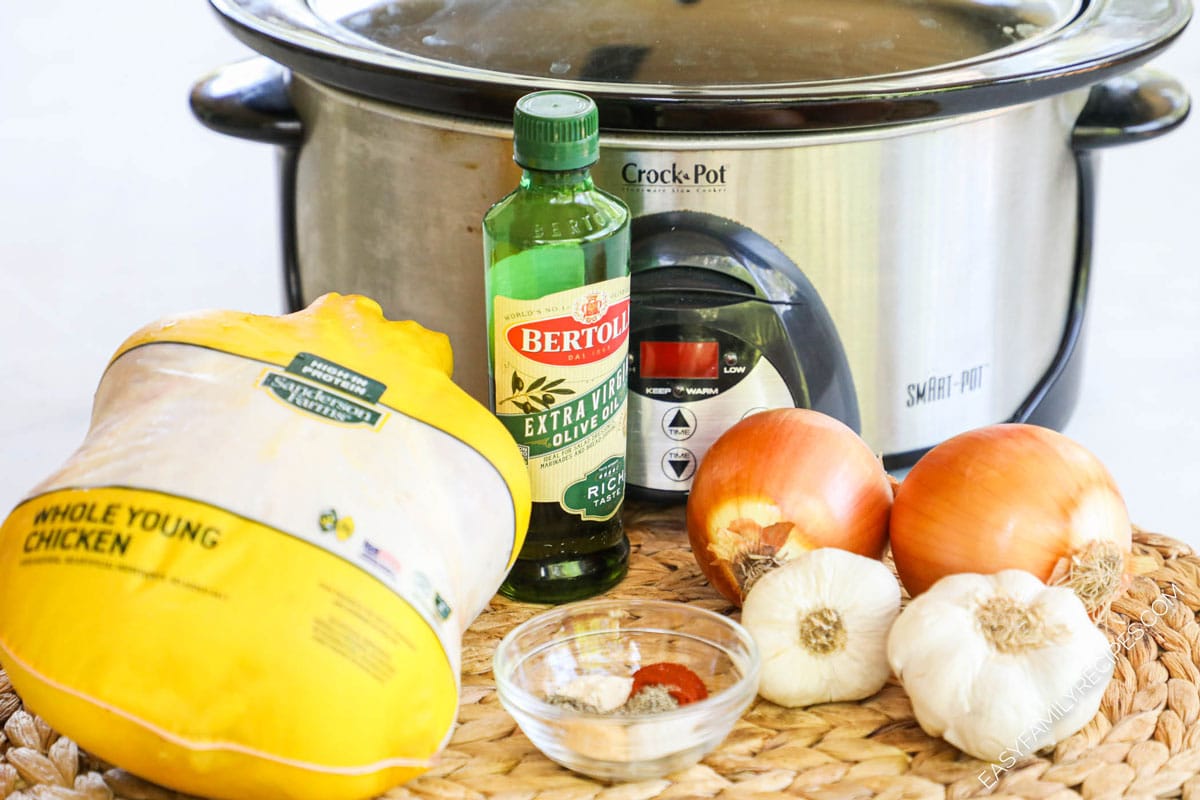 Ingredients + Substitutions
Whole Chicken – It's important to choose a chicken that will fit into your Crock Pot. I used a 4 pound chicken, but you can go slightly larger if you have a bigger slow cooker, or even smaller if you prefer.

Oil – The type of oil doesn't really matter here. I used olive oil, but canola or vegetable oil will work just as well to hold those spices on the chicken.

Onions – You'll need enough onions to stuff into the chicken and to layer on the bottom of the slow cooker. I used two yellow onions, but sweet or white will work as well.

Spice Blend – A super easy combination of salt, pepper, paprika, dried thyme, and onion and garlic powder mix together to recreate that essential flavor of rotisserie chicken when cooked in the Crock Pot.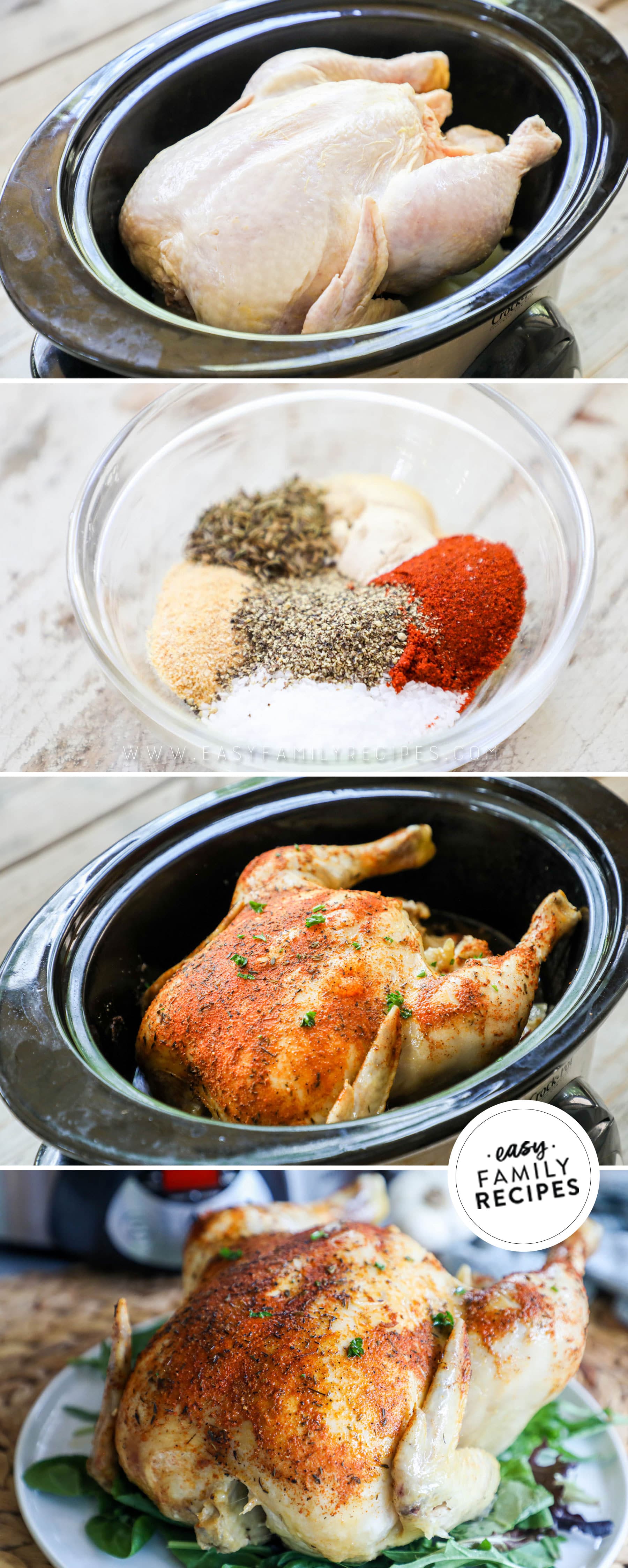 Recipe Tips
Cook until 'Done' – I know so many slow cooker recipes are well-loved because they can go all day and be just fine. But, for the sake of juicy, perfect Crock Pot rotisserie chicken, you should only cook this for about 4 hours. We're aiming for that perfect 'done' temperature which is 165°F.

Letting it go for longer will produce that fall off the bone style of chicken. But, since it's cooking without sauce or liquid, it'll actually be drier and chewier that way. Instead, pull out that instant read thermometer and start temping the chicken at the four hour mark. If you don't have one, check your grocery store or online to get one for cheap, you'll use it!

Rub in the Seasonings – We're using the spice blend as a rub to deliver all that rotisserie flavor to the chicken. Sprinkle it on generously and make sure it's well coated on all sides for best flavor.

Keep it Propped Up – Chicken naturally releases liquid when it cooks. If we leave the chicken sitting in it, the bottom will be soft and soggy. Instead we use onions to lift the chicken up so the skin and fat can render instead of getting flabby.

Use the Oven for Crispy Skin – If you want that iconic crispy exterior it's easy to do, but will take an extra step. Preheat your oven to broil, and when your chicken is done, pull it out and set it on a baking sheet. Pop it in the oven to let it caramelize the skin into golden brown, crispy deliciousness.
Recipe Short Cuts
If you need to make this recipe, but are extra short on time, here are a few ideas that can help make this recipe even faster!
Use a Premade Spice Blend– The spices we use in this slow cooker rotisserie chicken are super common in most pantries, but go ahead and use a pre mixed blend if you'd like. Seasoning salt makes a pretty good stand in.

You can also make the spice mix ahead of time! I like to make big batches and keep it in my spice cabinet to whip out anytime I need it. It will stay good up to a year when stored properly, so there is no reason not to have it ready to go!

Prep the Night Before– Create the spice rub, chop the onions, and clean out the chicken the night before so all you have to do is assemble when you're ready to get it cooking.

Use a Smaller Chicken– Size matters for cooking time. If you want it to cook in less time, opt for a smaller chicken which will cook faster than the 4lb one I used.
Recipe Variations
If you love this recipe as much as we do and want some quick ways to change it up for variety, these little tips will do the trick!
BBQ Crock Pot Rotisserie Chicken– Add brown sugar and chili powder to the seasoning blend. Continue with the recipe as directed. When the chicken is done, baste with 1 cup of your favorite bottled brand or my easy homemade BBQ sauce. Cover and cook another 15 minutes, then serve with leftover sauce.

Lemon Pepper Crock Pot Rotisserie Chicken– Swap the spices for a lemon pepper seasoning and slice a whole lemon. Add the slices into the cavity and on the bottom of the pan with the onions. Cook as directed.

Cajun Crock Pot Rotisserie Chicken– Replace the spices with my easy, Cajun seasoning mix. Then follow the recipe as directed.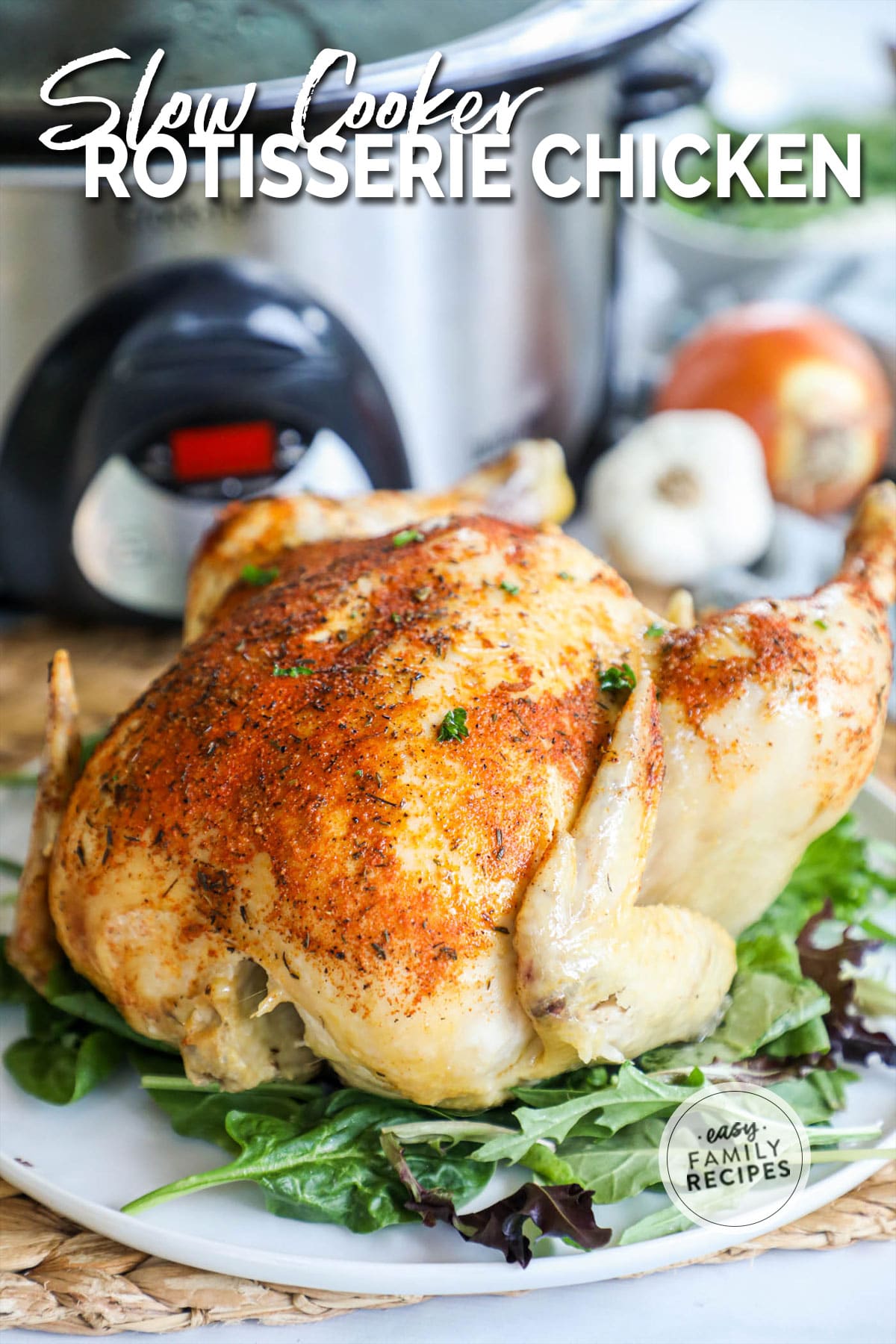 Freezer Meal Instructions
Making this Crock Pot rotisserie chicken recipe into a freezer meal is simple! Follow the steps below and you can store this recipe in the freezer for up to 6 months.
Rub the chicken with the seasoning blend and stuff the onions inside.
Place in a large freezer safe container or bag.
When ready to cook, thaw in the refrigerator for 24-48 hours.
Drain off any excess liquid that accumulated when thawing.
Cook as directed.
Crock Pot Rotisserie Chicken Leftovers
If you have leftovers after making slow cooker rotisserie chicken, then it is your lucky day! They save and reheat well, and can make the start of another delicious dish.
To save leftovers, separate into meal sized portions and then place in an airtight container and store:
in the refrigerator for 3-4 days
in the freezer up to a month
Leftover Recipes
Here are a few ways to repurpose those leftovers and give them a delicious makeover! All of these tasty recipes are featured on the blog and use rotisserie chicken in new and exciting ways.
More Crock Pot Dinner Recipes
If you enjoyed this recipe, I really hope you will take a moment to grab a few more easy recipes for another busy night!
You can check out all of my easy dinner recipes here, or see a few of our readers favorite recipes below.
Hungry for more family-friendly recipes? Sign up for my free recipe club to get new family-friendly recipes in your inbox each week! Find me sharing daily meal-time inspiration on Pinterest, Instagram, and TikTok.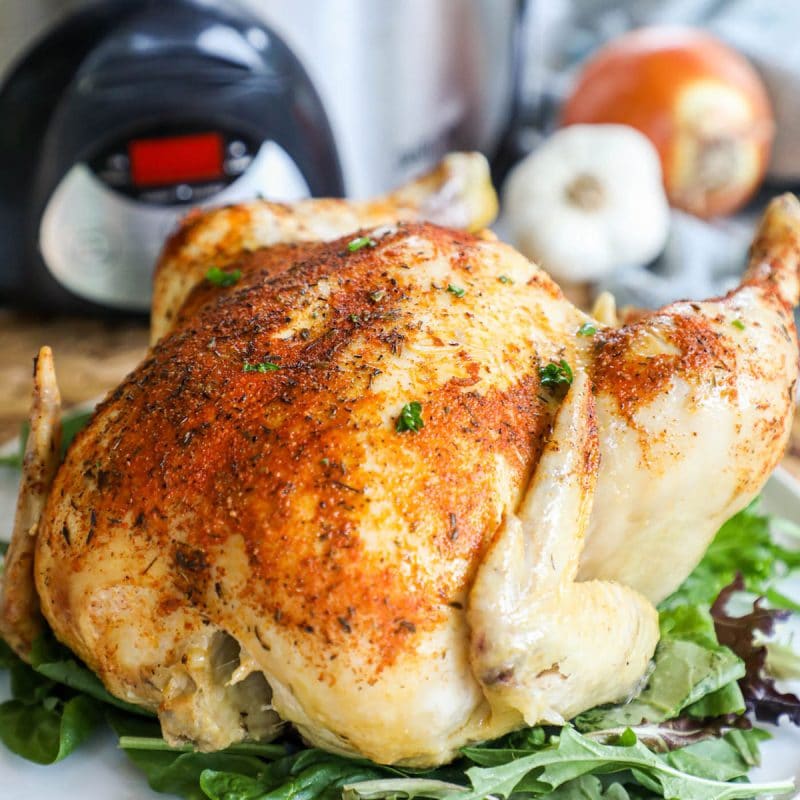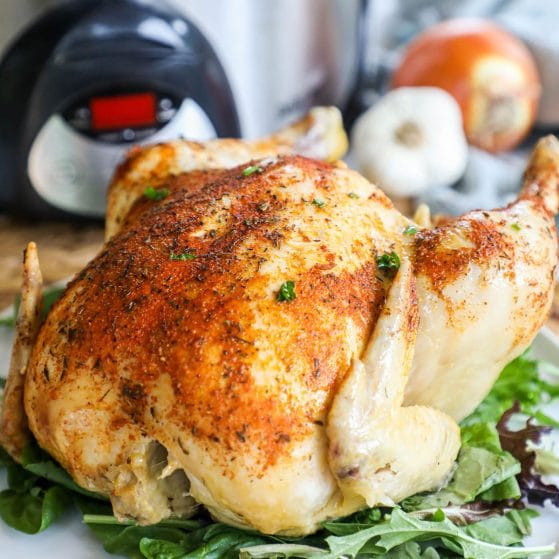 Crock Pot Rotisserie Chicken
This easy recipe uses onion, spices, and oil to recreate the tenderness and flavors of rotisserie chicken by cooking a whole chicken in the Crock Pot. It's a simple, set it and forget it recipe that can have a juicy, delicious chicken on the table in 4 hours.
Prep Time: 10 minutes
Cook Time: 4 hours
Total Time: 4 hours 10 minutes
Serves:6 servings
Hover over "serves" value to reveal recipe scaler
Ingredients
4 pound whole chicken
2 teaspoons salt
1 teaspoons paprika
1/2 teaspoon onion powder
1/2 teaspoon dried thyme
½ teaspoon black pepper
½ teaspoon garlic powder
1-2 onions quartered
1 tbsp olive oil
Instructions
Peel and quarter the onions and place in the bottom of the crock pot.

Mix the salt, paprika, onion powder, thyme, pepper, and garlic powder together.

Remove the chicken from its packaging and discard the neck and/or gizzards. Rub the outside of the chicken all over with the olive oil. Sprinkle the seasoning all over with the seasoning and rub it in.

Place the chicken in the slow cooker on top of the onions and cover. Cook on low for 4 hours, or until the chicken reaches an internal temperature of 165˚F.

Optional: To make the skin crisp, preheat the oven to 425˚F. Bake for 15-20 minutes or until the skin is lightly browned and crisp.
Nutrition Information:
Calories: 343kcal (17%)Carbohydrates: 2g (1%)Protein: 27g (54%)Fat: 24g (37%)Saturated Fat: 7g (44%)Polyunsaturated Fat: 5gMonounsaturated Fat: 11gTrans Fat: 0.1gCholesterol: 109mg (36%)Sodium: 878mg (38%)Potassium: 316mg (9%)Fiber: 1g (4%)Sugar: 1g (1%)Vitamin A: 372IU (7%)Vitamin C: 4mg (5%)Calcium: 25mg (3%)Iron: 2mg (11%)
(Nutrition information provided is an estimate and will vary based on cooking methods and brands of ingredients used.)