Easy Tuscan Pot Roast is one of the BEST Crock Pot recipes! It is super simple to make with only 6 ingredients (plus salt & pepper) and packs some INCREDIBLE flavor! The beef is perfectly juicy and so tender it shreds effortlessly.
Slow Cooker Pot Roast Packed with Flavor
I have to be honest… When I think pot roast, I usually think BORING.
Pot roast is great because
It really is super easy to make
It's a set it and forget it meal
Gives a great bang for your buck since it uses an affordable beef chuck roast.
But if it doesn't make your mouth water… then who cares!
Since pot roast has so much going for it though, I decided maybe it just needed a bit of a makeover to give it that mouth-watering delicious "it factor" again.
And my friends, boy did we hit the jackpot!
Adding simple flavors like balsamic vinegar, sun dried tomato, and lots of garlic took that boring pot roast and made it unrecognizable!
My husband (ie my chief food critic) even gave it his highest praise!
How to Serve Tuscan Pot Roast
Pot roast is a classic American dish, and with this Tuscan twist, it can be served well with a variety of traditional, Italian or even low carb sides. 
Side Dishes for Pot Roast
Low Carb Side Dish Options
Choose one, or pick a few to really stretch this meal. If you have a favorite dish you love to serve pot roast with, let me know in the comments below so I can give it a try next time!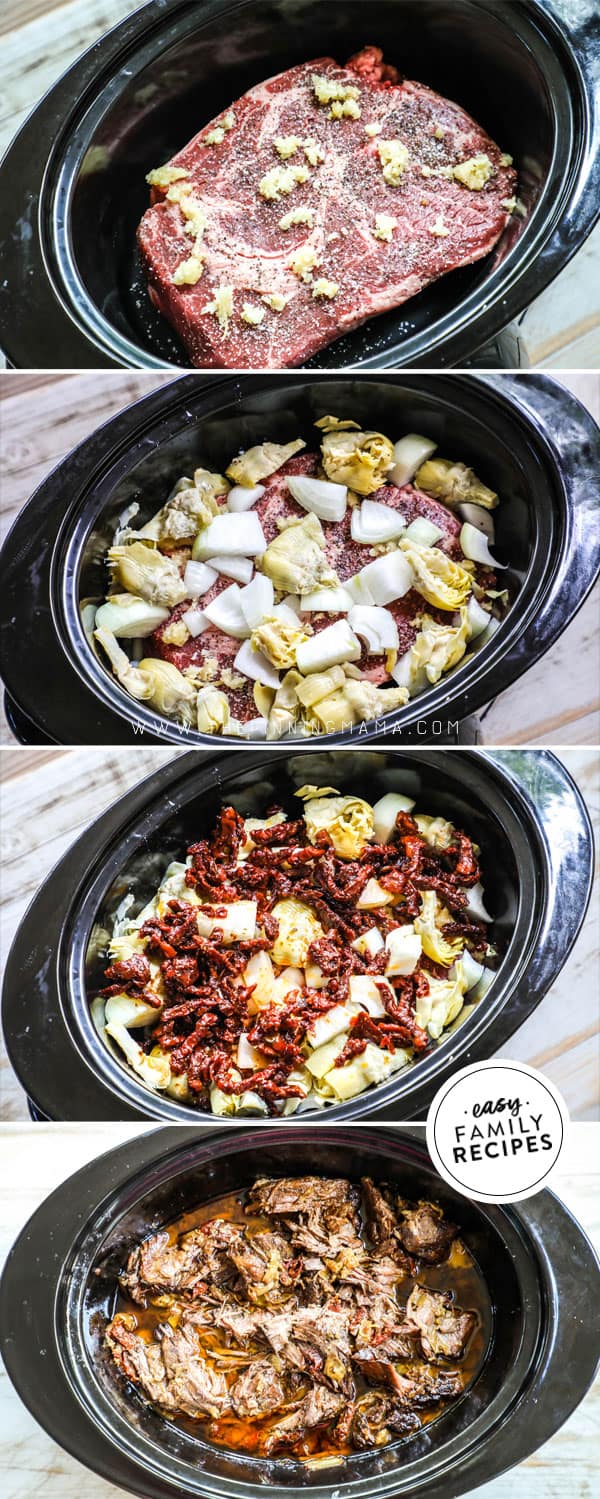 Cooking Tips
I am going to walk through a few pointers and time saving tricks to get the absolute best pot roast. Make sure and scroll to the bottom for the full recipe card.
What cut of meat is best for pot roast?
The chuck roast is the best cut for a pot roast since it is full of connective tissues. When you slow cook a meat over a long period of time, these tissues are broken down and they keep the meat moist and flavorful, where as cuts of meat that are more lean will end up dry and flavorless if cooked in this way.
I recommend using a 3 pound chuck roast to make your pot roast. Chuck roast is affordable and easy to find in the meat department of any grocery store. It can also be called boneless chuck roast, shoulder pot roast, or shoulder steak. 
Three pounds is a fairly standard size for a pot roast, however it may vary plus or minus half a pound. You can use this recipe without modification in that range.
Do I need to sear the pot roast?
There are a good chunk of pot roast recipes out there that instruct you to sear the outside of the roast before placing it in the slow cooker.
This adds quite a bit of extra time to the dish both in prep and clean up, so being in the business of EASY recipes, I have tried it both ways many times, and I don't think it adds a substantial difference in taste or texture to the finished roast.
That said, you can do it and it is okay, but I don't think it is worth the time and extra steps. Using a recipe like this that infuses the pot roast with flavor will give you much more taste with much less effort!
How long do I cook my pot roast?
The length of time you cook your pot roast is one of the most important parts of the recipe.
When cooking a pot roast in a Crock Pot, you should cook it for a minimum of 6 hours, up to 10 hours on low, with 8 being the happy spot.  This process of slowly cooking the meat over a low temperature is where the magic happens and the thick and tough cut of beef transforms into an amazingly tender and flavorful cut of beef.
Cooking for 6-8 hours over low heat in the slow cooker should produce a pot roast that falls apart into tender shreds of beef with little effort.
Substitutions
There are a few substitutions that you can make if you are in a pinch and find yourself without an ingredient on hand. I always recommend making the recipe as directed if possible!
Chuck roast– Brisket cut makes the best substitution for chuck roast. You can also use rump roast or bottom round roast for a pot roast, however these don't have the rich beef flavor that the other cuts have. For reference you can see a diagram for the cuts of meat here.
Artichoke hearts- frozen artichoke hearts can be used in place of canned. You can also leave them out all together if you don't care for them.
Sun dried tomatoes– I highly recommend that you use the sun dried tomatoes packed in oil. I have used both the jars with herbs and without and they both work well. I recommend you buy julienne cut as a time saver!
Do not use the sun dried tomatoes that come in a pouch and are not packaged with oil. In this recipe the oil plays an important part in seasoning the pot roast.
Balsamic Dressing – If you have time (and it only takes minutes!) make the homemade balsamic dressing I recommend in the recipe. It has tremendous flavor and really adds to the dish. Plus it stays good in the fridge for weeks so it is easy to keep on hand. If you absolutely can't you can substitute store bought.
Time Saving Tricks
If you are short on time, here are a few ideas that can help you pull this Easy Pot Roast recipe together in even less time!
Buy pre-cut veggies– you can get onions pre-chopped in the produce section of most stores, grab the artichokes already quartered (just check the fine print on the can!) and get the sun dried tomatoes julienned. This saves you lots of potential prep time!
Pre-mix your veggies- You can prep and mix the vegetables and garlic up to 24 hours in advance and place them in a zip top bag or air tight container in the fridge. Then when you are putting the pot roast on to cook, just dump the veggies in, season, and add the dressing.
Freezer Meal– You can prep this recipe up to 6 months ahead of time by using the freezer meal instructions below. Just remember to allow time for thawing!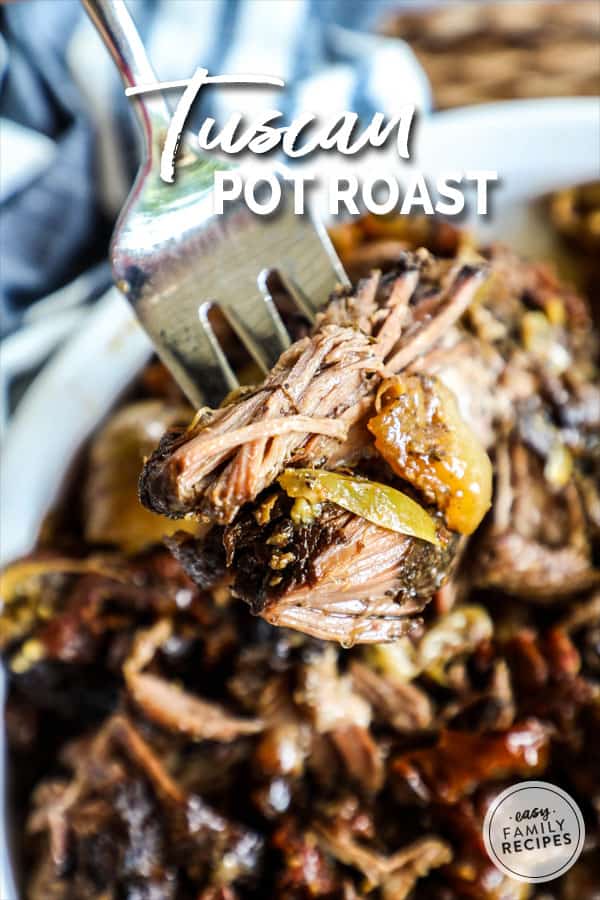 Freezer Meal Instructions
Can you freeze pot roast? … You bet you can!
Freezing before or after cooking are both great options for pot roast. This allows you to prepare this Easy Tuscan Pot Roast as a freezer meal, or just save leftovers so that you can have a quick meal ready to go another night. (see the leftover recipe ideas below!)
To freeze before cooking:
Follow the recipe directions through step 2, placing the pot roast and ingredients in a large zip top bag or air tight container.
Freeze for up to 6 months.
When ready to use, thaw for 24-48 hours in the refrigerator.
 Continue as directed in step 3.
To freeze after cooking:
Prepare recipe as directed.
Let pot roast cool.
Divide into meal sized portions and place in a zip top bag or air tight container.
Freeze.
When ready to eat, thaw in the refrigerator and reheat in the microwave or covered in an oven safe dish.
What to do with Pot Roast Leftovers
To save leftovers, package them in an air tight container and place in the:
Refrigerator for 3-4 days
Freezer for up to a month
Leftover Pot Roast Recipe Ideas
This roast will definitely feed a crowd, so if you have leftovers, you are in luck!  You can save them for a new and exciting dinner later in the week, or in the month when frozen. Here are some of our favorites:
Easy Pot Roast Patty Melts- Pile the leftover Tuscan Pot Roast between 2 slices of bread and add cheese (my favorite is mozzarella) then butter each side and grill over medium heat until golden.
Pot Roast Shepherd's Pie– Mix leftover pot roast with mixed veggies and cream of mushroom soup. Spread in the bottom of a baking dish and top with mashed potatoes. Bake at 350˚F for about 30 minutes or until the edges start to bubble and the top is golden.
Pot Roast Ragu Pasta– For this short cut version of classic ragu, just mix one jar of your favorite marinara sauce with a generous helping of the pot roast and simmer on low for 20 minutes to meld the flavors. While the sauce simmers, cook 1 lb of pasta per package directions. Drain the pasta and toss with the sauce. Top with parmesan cheese.
Tuscan Pot Roast Pizza- Place a thin layer of marinara  on a prepared pizza crust. Top with mozzarella cheese. Dollop the pot roast shreds and vegetables over the top of the pizza. Bake per pizza crust instructions.
More Crock Pot Recipes
If you enjoyed this recipe, we hope you will grab some more easy slow cooker recipes while you are here. We have a whole collection of easy recipes to make you a hero at the dinner table!
Here are a few of my favorites: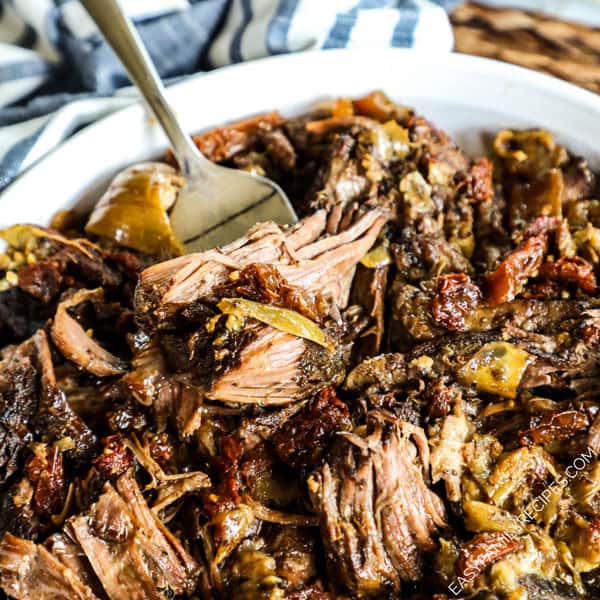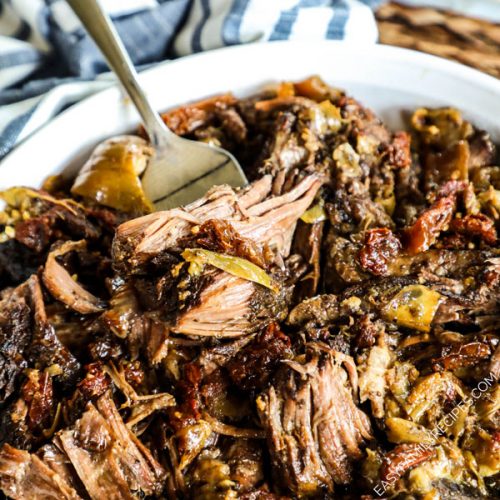 Crock Pot Tuscan Pot Roast
Slow cooked in balsamic dressing with onions, sun dried tomatoes and artichokes, this pot roast is not only packed with flavor but also exceptionally rich and tender.
Ingredients
3

lbs

chuck roast

8

oz

sun dried tomatoes packed in oil

,

(1 jar)

14

oz

quartered artichoke hearts

,

(1 can) drained

6

cloves

garlic

,

pressed

1

onion

,

roughly chopped

1/4

cup

balsamic dressing

1

tsp

salt

1

tsp

ground black pepper
Instructions
Place the roast in the bottom of the slow cooker and season with salt and pepper on both sides.

Layer the onions, sun dried tomatoes, artichoke hearts and garlic on the roast. Pour the balsamic dressing over the top and mix to combine.

Cook on low for 6-8 hours.

Once done, the meat can be served in chunks or shredded and mixed with the onions, sun dried tomatoes, and artichokes. Enjoy!
Nutrition Information
Serving:
10
oz
,
Calories:
466
kcal
(23%)
,
Carbohydrates:
11
g
(4%)
,
Protein:
35
g
(70%)
,
Fat:
32
g
(49%)
,
Saturated Fat:
10
g
(63%)
,
Cholesterol:
117
mg
(39%)
,
Sodium:
693
mg
(30%)
,
Potassium:
1037
mg
(30%)
,
Fiber:
3
g
(13%)
,
Sugar:
1
g
(1%)
,
Vitamin A:
885
IU
(18%)
,
Vitamin C:
41
mg
(50%)
,
Calcium:
59
mg
(6%)
,
Iron:
4.8
mg
(27%)