Easy Slow Cooker Pork Carnitas are a delicious easy version of a classic Mexican dish that will have your family eagerly awaiting dinner. With only 10 minutes and a simple blend of pantry spices you can transform a pork shoulder into juicy and tender crispy carnitas that can easily feed a hungry family.
Being born and raised in Texas, means that I LOVE Mexican flavors. I share so many recipes inspired by the Mexican cuisine I grew up on, but this one is really something special! This EASY version of classic pork carnitas is always an easy win at the dinner table.
And since it is a Crock Pot meal, I just 'set it and forget it' then go about the day stress-free. When we're ready to eat I open the lid to a deliciously tender pork roast that falls apart and makes enough to serve my family really easily.
Plus there's no wrong way to enjoy carnitas! Serve them over rice, in a taco, burrito, or on nachos for a super easy family friendly dinner. You can also use leftovers to create new meals throughout the week. There are so many fantastic ways to enjoy this Crock Pot pork carnitas recipe that you'll never get bored!
Why I LOVE this recipe!
Easy Prep! – 10 minutes is all you need to get this in the Crock Pot.
Simple Ingredients – Find all the ingredients at any grocery store year around.
Hands off Cooking – Once you push the start button, your slow cooker takes over and you can forget about it all day long.
BIG flavor – Did I mention that it is delicious? The citrus and carnitas seasoning combine with the natural flavor of jalapeños to create the yummiest slow cooker pork carnitas.
Makes a LOT – Starting with a 4lb pork shoulder creates plenty of delicious pulled pork carnitas. It's easily enough to feed an average family, maybe even for more than one meal!
So Versatile! – Whether your family wants tacos, enchiladas, quesadillas, or just to serve the pork carnitas meat with a spoonful of the delicious cooking jus, there are so many tasty ways to gobble it up.
What is Carnitas?
If you're not familiar with Mexican cuisine you might be wondering what 'carnitas' actually means. It translates to 'little meats' and traditionally is made with pork slowly cooked in citrus, spices, and fresh chilis then fried in lard to create an irresistible crisp texture.
My version is so much simpler for busy families who want to enjoy all the flavor, but with way less time and effort! They are a healthy option too, by cooking in just the natural pork juices and fresh squeezed oranges, and then being baked instead of fried to create that crispiness.

Carnitas are essentially a delicious flavor loaded Mexican shredded pork. If you are looking for Mexican Shredded Beef or a Crock Pot Chicken Carnitas, check out these recipes!
Recipe Notes
This Easy Slow Cooker Pork Carnitas recipe is as simple as promised! Just a handful of ingredients and 10 minutes of prep for a family friendly meal.
In this section I am going to go through a few tips and tricks I use for how to make carnitas in the crockpot to get the absolute best and most delicious results.
Make sure to scroll to the bottom for the FULL recipe card.
Ingredients + Substitutions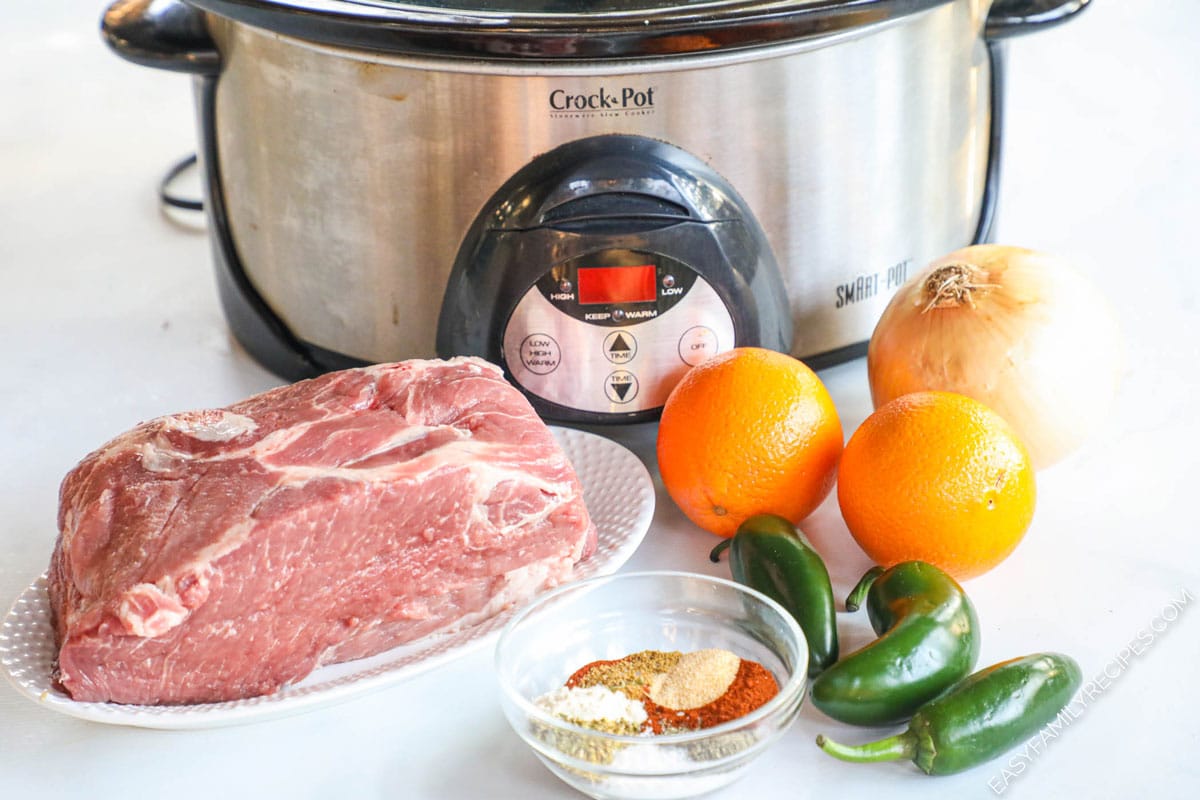 Pork Shoulder – You want a pork shoulder roast to yield the juiciest, tender Crock Pot carnitas. You can also use pork butt or smaller chunks of pork shoulder if you can't find a whole roast.

Smaller pieces will cook a little faster and may be done and hour or two early.

Onion – White or yellow onions both work really well.

Jalapenos – Yes, we do use 3 jalapenos for this recipe but I promise it is not spicy! They go in whole rather than chopped which allows the flavor to infuse into the carnitas without making it spicy. Instead we just get the delicious floral, fruity flavor of jalapeno without the heat.

Oranges – You'll want the juices and the aromatic and flavorful rinds of fresh oranges for this. Use whatever variety you like.

Carnitas Seasonings – A blend of common pantry spices make the most delicious rub for your carnitas. You'll need to stir together salt, cumin, chili powder, oregano, pepper, garlic powder, and onion powder.
Make sure to see the recipe card at the bottom of this post for the full quantities and ingredients list.
Recipe Variations
If you love this recipe as much as we do and want some quick ways to change it up for variety, these little tips will do the trick!
Spicy Slow Cooker Pork Carnitas– Add 1/4-1 teaspoon of cayenne pepper to the carnitas seasoning depending on how spicy your family likes it. To add more spice afterward, mix crushed red pepper flakes into the shredded pork.

Instant Pot Pork Carnitas– Add all the ingredients to your Instant Pot as directed in the recipe. Seal and set to cook on manual for 35-40 minutes or until the pork is tender. Slowly release the pressure then continue with the recipe to shred and bake the pork.

BBQ Slow Cooker Pork Carnitas– After you season the pork shoulder slather it with 1/2 cup of my easy homemade BBQ sauce or your favorite bottled brand. Then continue with the recipe as directed.
Recipe Step by Step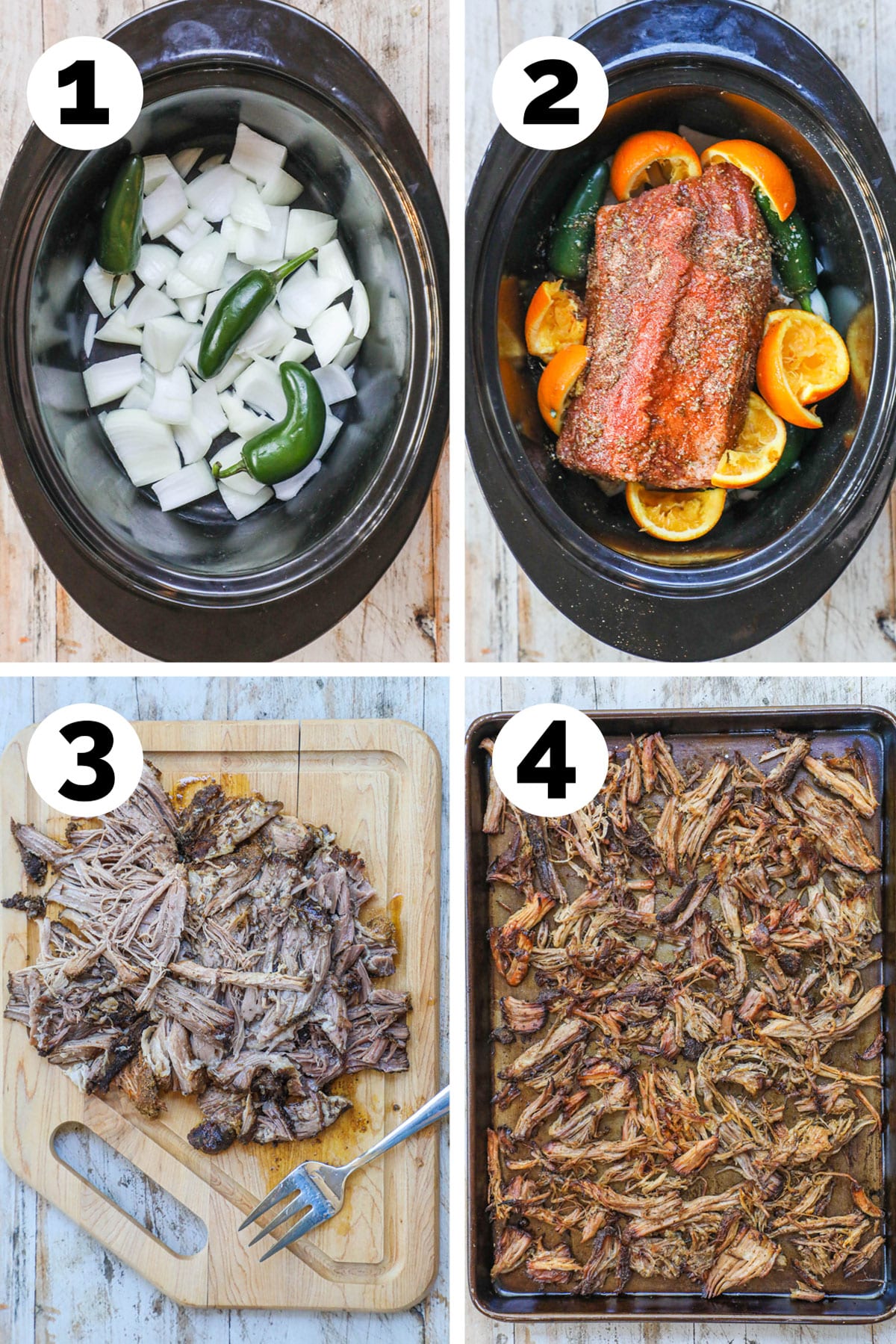 I am going to highlight a few key steps in the recipe here, but make sure to jump down to the recipe card for comprehensive instructions on how to make carnitas in the crockpot.
Dice an onion and add fresh jalapeno to the slow cooker– I like to do this first to hold the roast up off the bottom of the crock pot as it heats. The peppers are added whole to add flavor without adding heat to the dish.

Season the pork– My favorite thing to use is our homemade carnitas seasoning, which is simple and uses pantry ingredients to create an incredible authentic carnitas flavor. Once you rub this over the roast, place it in the slow cooker on top of the onion and peppers.

Shred the meat– After the pork has cooked, remove it from the crock pot (careful, it's hot!) and use forks, or thick insulated cooking gloves to shred the meat. I use this as an opportunity to discard any extra fat, bone, or gristle as well.

Make the Carnitas Crispy– The signature crispy texture of the carnitas can be achieved by taking the meat, spreading it in a thin layer over a baking sheet, and cooking it at high heat (or broiling) until the edges become crisp. This step is optional but gives your carnitas an authentic texture.
Recipe Tips
No Need to Trim – Don't get caught up trying to trim the fat from the roast before hand. Not only does that fat render and help build flavor in your pork carnitas, but it also is much, much easier to remove once the pork is fall apart tender.

Use all of the rub – You really want to coat the entire pork shoulder roast with the carnitas seasoning. Don't be afraid to really layer and rub it in. It seasons everything as it cooks, but also gets shredded in afterward too, which equals BIG flavor!

Cook Low and Slow – This easy slow cooker carnitas recipe cooks on low for a minimum of 7 hours. But I really recommend 9 if you can. The longer it cooks, the more tender and juicy all the connective tissue and fats of pork shoulder will become, and that means super flavorful, delicious shredded pork for you!

Remove to Shred – I like to remove the roast from the Crock Pot once it is done cooking for a couple of reasons. It is much easier to shred and separate the meat from the fat on a platter or casserole dish than the hot slow cooker. Just use a pair of forks and it will fall apart!

It also makes it so easy to remove the oranges, onions, and peppers without accidentally shredding them into the meat.

Bake on High Heat – To create that iconic crispy carnitas texture, you want to use a HOT oven. Lay out the pork carnitas meat onto a large baking sheet and pop it in at 425°F. You can broil to make it a tad quicker but you will need to keep a close eye on it. Alternately, you can crisp it up in a skillet on the stove top over medium high heat if you prefer.

Strain the Liquid – Don't waste the incredibly flavorful broth that's left. Strain out the onion, oranges, and peppers then use the liquid to moisten the meat or as a dipping sauce for tacos.

Once you have removed the chunks you can use it as is or let it cool in the fridge and skim off the fat as it solidifies to make the broth a little healthier.
Recipe Short Cuts
If you need to make this recipe, but are extra short on time, here are a few ideas that can help make this recipe even faster!
Use a seasoning blend – I recommend the blend of carnitas seasoning I use in this recipe, but pre-mixed options like a fajita seasoning or taco seasoning could also be used to save time. You'll want 2-3 tablespoons to really coat the pork.

Use Bottled Orange Juice– I prefer the flavor or fresh oranges. But in a pinch, absolutely use bottled orange juice instead if that is what gets dinner on the table!

Skip the oven – Making your carnitas crispy is a delicious, but entirely optional step. You can save yourself the 10 minutes in the oven if you just serve the pulled pork after shredding.

Quick Clean up – For quicker clean up line the crock pot with a slow cooker liner, and line the baking sheet with aluminum foil. Each can be tossed when the cooking is done making clean up super quick and easy!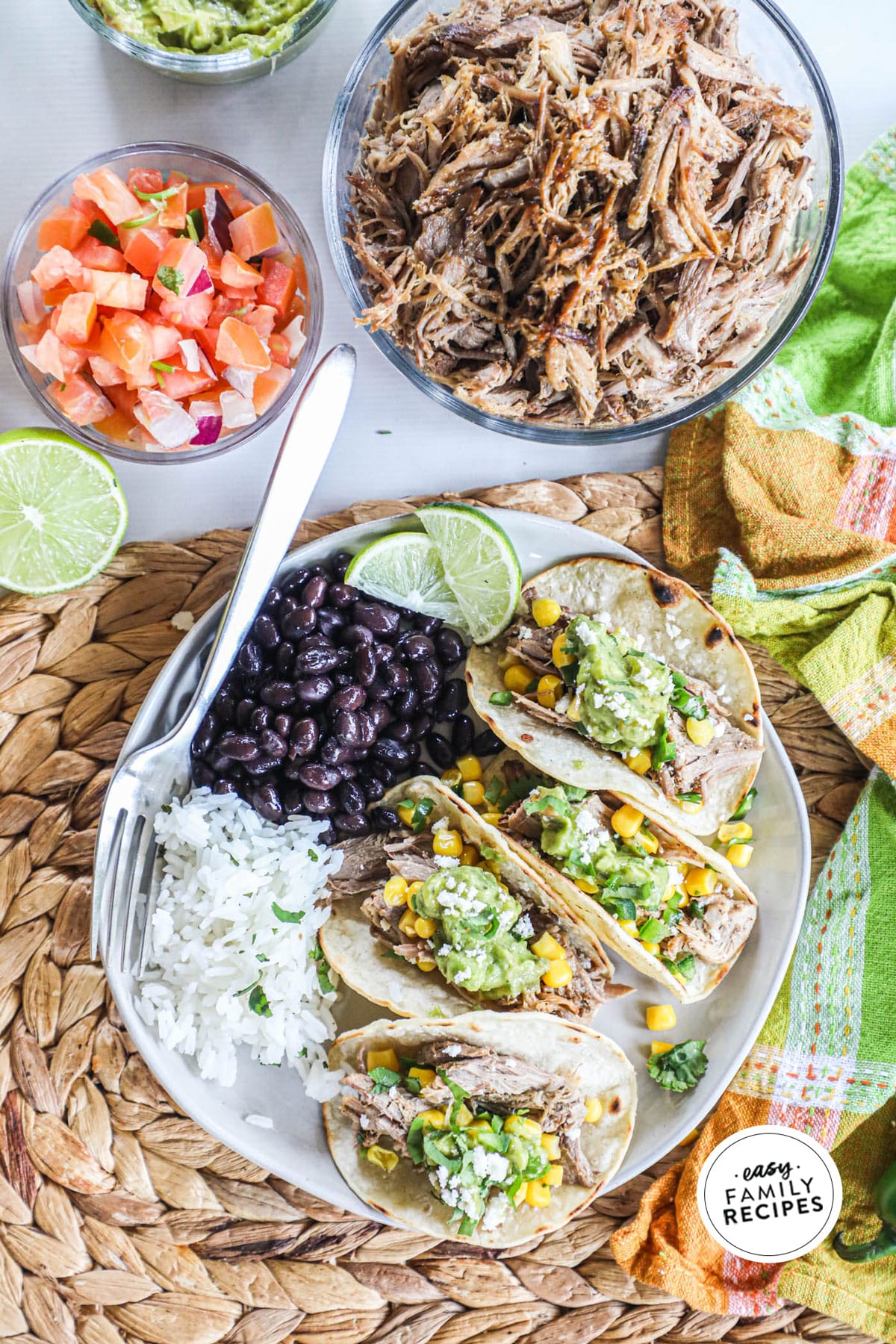 Freezer Meal Instructions
Making this slow cooker pork carnitas recipe into a freezer meal is simple! Follow the steps below and you can store this recipe in the freezer for up to 6 months.
To freeze before cooking
Place the chopped onions and whole jalapenos in a large freezer bag or container.
Season the pork shoulder with the rub and add it to the bag.
Add the orange juice and rinds into the bag.
Seal tightly and freeze.
When ready to cook, thaw in the refrigerator for 24-48 hours.
Pour contents into the slow cooker and cook as directed.
How to Freeze Carnitas After Cooking
Prepare carnitas in the crock pot as directed. Shred the meat, but do not crisp it in the oven.
Allow the carnitas to cool to room temperature.
Place the meat in a freezer bag or freezer friendly container.
Freeze.
Once ready to eat, thaw and then transfer to a baking sheet and heat the meat under the broiler until the edges are crispy.
What to Serve with Slow Cooker Pork Carnitas
Since this protein based dinner has the delicious taste of citrus, chilis, and spices, it will pair well with many of your favorite Mexican side dishes.
Serve your slow cooker pork carnitas over cilantro lime rice or other grains, on corn tortillas (pictured below,) or with chips. Then choose one or several of these side dishes to create a wholesome, well-rounded dinner. There are both classic options and some healthy options to keep it light.
Side Dish Ideas
Carnitas Topping Ideas
Pulled pork carnitas can be served with any number of toppings to make incredibly tasty meals that the whole family will love.
Fresh lime
Fresh Cilantro
Chopped Red Onions
Tomatoes
Cheese– Try anything from cheddar or monterey jack, to a more traditional Mexican cheese like queso fresco or cojita.
Crema– This is a limey Mexican sour cream. You can also just mix regular sour cream with lime juice
Slow Cooker Pork Carnitas Leftovers
If you have leftovers after making this recipe, then it is your lucky day! They save and reheat well, and can make the start of another delicious dish.
To save leftovers, separate into meal sized portions and then place in an airtight container and store:
in the refrigerator for 3-4 days
in the freezer up to a month
Leftover Recipes
Here are a few ways to repurpose those leftovers and give them a delicious makeover!
Recipe FAQ's
What cut of meat makes the best carnitas?
Pork is the traditional meat used to make carnitas. To make the best carnitas you will want to choose a cut of pork that can be cooked slowly over a long period of time. I prefer to use pork shoulder, but a pork butt, or other tougher cut of pork will work well also.
Can you over cook carnitas in a slow cooker?
Because we are using a tough cut of meat it can cook for an extended amount of time, generally 8-12 hours with becoming over cooked. It is possible to over cook any cut of meat in a slow cooker though. Since the moisture is held in, generally the meat will not burn, but it will become tough and hard to chew.
What is the difference between pulled pork and carnitas?
When pulled pork is referred to generically, it is typically referring to BBQ style pulled pork. Carnitas are also a type of pulled pork flavored with Mexican spices, peppers, onions, and orange.
Does Carnitas always mean pork?
Carnitas directly translates to "little meats", but when prepared traditionally will be a pulled pork made with Mexican spices, peppers, and citrus, then fried until crispy. While Pork is traditional, you can find other meats like chicken prepared in the same style.
More EASY Slow Cooker Recipes
If you enjoyed this recipe, I really hope you will take a moment to grab a few more easy recipes for another busy night!
You can check out all of my easy crock pot recipes here, or see a few of our readers favorite recipes below.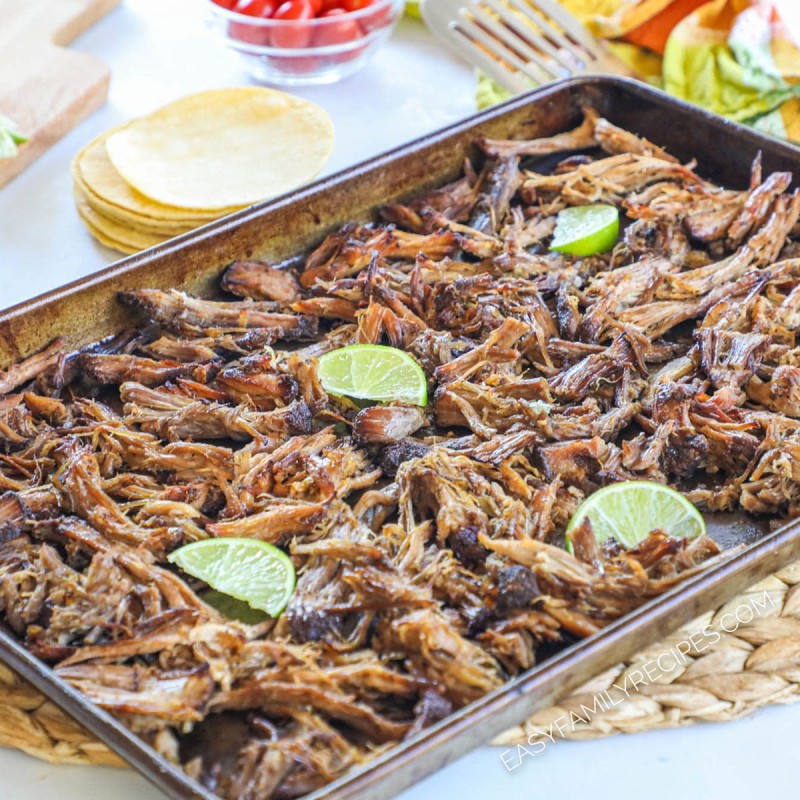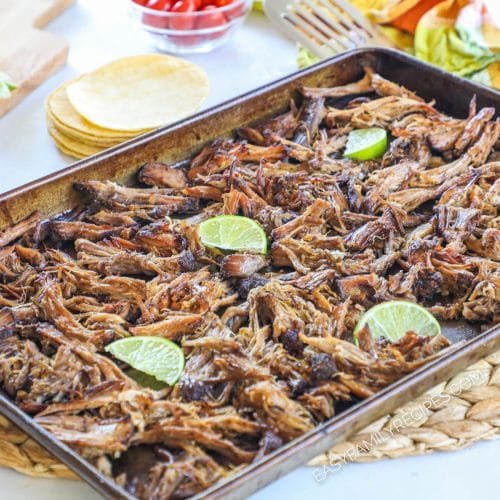 Crock Pot Pork Carnitas
Flavorful Slow Cooker Pork Carnitas made with citrus, spices, peppers, and onions for a simple, hands-off family dinner you can use to make tacos, burritos, or serve simply over rice.
Ingredients
Carnitas Seasoning (Dry Rub)
2

tsp

ground cumin

2

tsp

chipotle chile powder

2

tsp

salt

2

tsp

dried oregano

1

tsp

garlic powder

1

tsp

onion powder

1

tsp

ground black pepper
In the slow cooker
4

pound

pork shoulder roast

1

white onion

,

roughly chopped

3

jalapeno peppers

,

whole

2

oranges
Instructions
Make the dry rub by combining all of the ingredients and mixing to combine.

Place the chopped onion and whole jalapeno peppers in the bottom of the crock pot. Squeeze the juice from oranges and place the rinds with the onions and peppers.

Coat the roast on all sides with the seasoning mixture and pat it in. Place the roast in the crock pot on top of the onions and peppers. Pour the orange juice over the roast.

Cook on low for 7-9 hours.

Remove the pork roast and shred it with a fork, removing any fatty areas.

Preheat oven to 425˚F. Place shredded pork in a thin layer on a large baking sheet. Bake for 6-10 minutes or until the pork edges are crispy to your liking.

Strain juices and discard onions, jalapeno and orange rind. Spoon juices over pork when serving.
Recipe Notes
Substitutions:
Try using pork butt in place of pork shoulder
If you are in a pinch, use store bought taco or fajita seasoning in place of carnitas seasoning
How to Store: To save leftovers, separate into meal sized portions and then place in an airtight container and store:
in the refrigerator for 3-4 days
in the freezer up to a month
How to Reheat: Reheat leftover carnitas in a skillet over medium high heat until crispy.
How to Freeze: You can freeze this recipe either before or after cooking. Check the post above for full directions for both methods.
To Scale: This recipe can be cut in half to make a smaller portion. In order to double the recipe, you would need to use a second slow cooker.
Nutrition Information
Calories:
313
kcal
(16%)
,
Carbohydrates:
9
g
(3%)
,
Protein:
37
g
(74%)
,
Fat:
14
g
(22%)
,
Saturated Fat:
5
g
(31%)
,
Polyunsaturated Fat:
2
g
,
Monounsaturated Fat:
6
g
,
Cholesterol:
124
mg
(41%)
,
Sodium:
929
mg
(40%)
,
Potassium:
799
mg
(23%)
,
Fiber:
2
g
(8%)
,
Sugar:
5
g
(6%)
,
Vitamin A:
404
IU
(8%)
,
Vitamin C:
35
mg
(42%)
,
Calcium:
71
mg
(7%)
,
Iron:
3
mg
(17%)