Pesto Roasted Veggies are the ULTIMATE healthy side dish! This method produces perfectly roasted veggies seasoned with the mouthwatering flavor of pesto. The perfect side dish to accompany your favorite Italian meal, or a delicious way to top a salad, these simple baked vegetables are a staple for our table.
Baked Vegetables – The EASY Way!
Roasted Vegetables are my go-to side dish for a few very important reasons:
Healthy– It is a great way to get a lot of healthy veggies in
Easy– They really couldn't be easier to make, and tastes SO GOOD with so little effort.
Insanely Delicious! I could eat these in so many different ways. They are great alone, as a side dish, or piled high on a salad, baked potato or pasta.
With this side dish baking hands off in the oven, it is perfect for whipping up right alongside your main dish, or can be ready quickly to be the star of the show for a vegetarian main dish (more on that below!)
The other thing that these roasted veggies are perfect for is meal prep. They work beautifully reheated so it can give you something that tastes great if you like to prep a week of meals at once.
These Veggies make a great side dish for…
So many things! When I say this recipe is a go-to, I mean it! Here are some dishes that we regularly pair this side with:
Italian meals – Things like this Meatballs Parmesan, Creamy Asparagus Chicken, Garlic Parmesan Chicken Bake and Tuscan Pot Roast are a perfect pair.
Grilled Meats – If you are looking for a light and healthy dinner, try grilling a cut of meat like our Grilled Chicken, Quick and Easy Steak, Greek Chicken, Balsamic chicken, or Hawaiian Steak and serving it with a side of these pesto baked vegetables.
Baked Dinners– Pair these roasted veggies with a meal baked in the oven and you can have it all done together! Our favorites are Chicken Parmesan, Italian Sausage and Peppers, Creamy Mushroom Chicken Bake, and Italian Beef and Rice Casserole.
Hopefully this will get you well on your way to a delicious dinner. If you have another favorite serving idea, make sure to leave me a note in the comments below so I can give it a try!
Recipe Tips
These Roasted Vegetables with pesto really couldn't be easier! I am going to walk through a few of my notes and tips here to help you get the absolute best out of this recipe, and answer any questions that might come up along the way.
Make sure to scroll to the bottom of this post to find the FULL recipe card!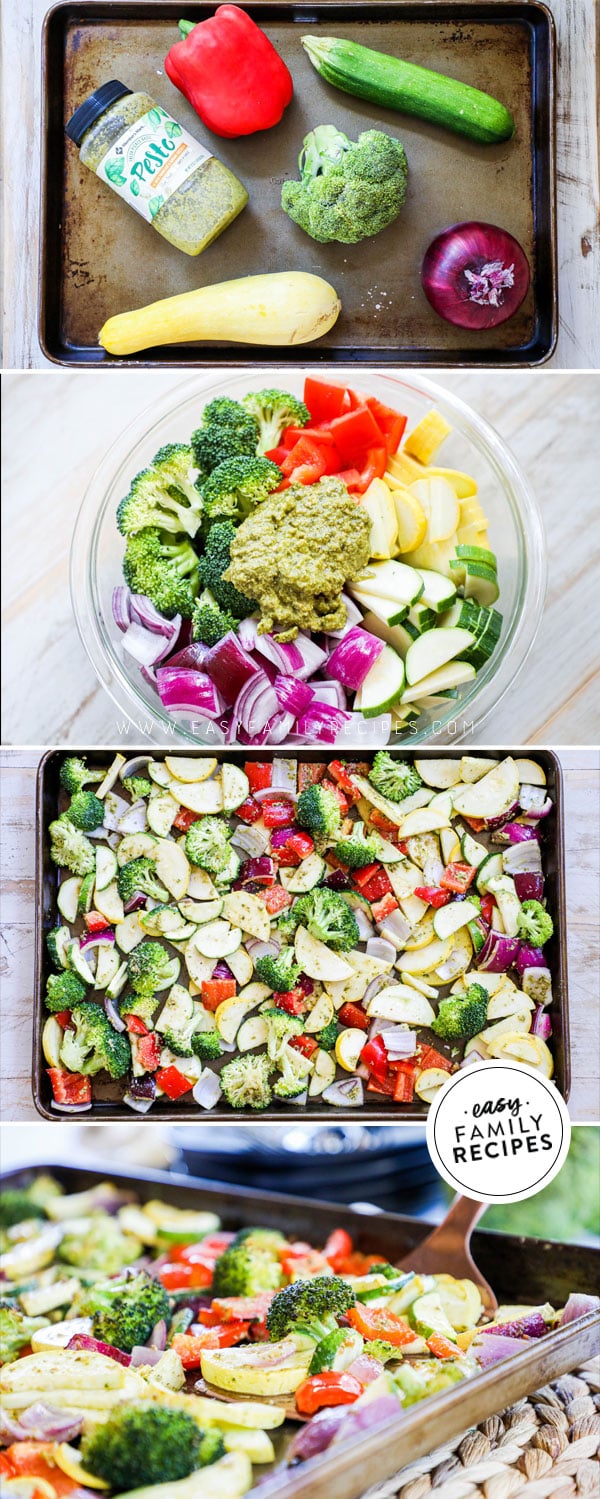 The Veggies
For this recipe, my go to veggies are:
Red onion
Bell pepper
Broccoli
Squash
Zucchini
You can add to or substitute items on this list. Other veggies that work well are:
Cauliflower
Other colored bell peppers
Mushroom slices
Shredded carrots (or thinly sliced)
The Pesto
I recommend using a good quality pesto for this recipe. The pesto really gives the dish it's flavor so making sure you have a good one is key.
You can make pesto from scratch, or find really nice ones in the refrigerator section of the grocery store. Usually Rana and Bertolli both have pestos and Sam's and Costco carry really nice pesto under their store label.
I don't prefer the jarred, non refrigerated version, but if you love the flavor then it will probably work well for you.
Baking Tips
First things first, since all of the veggies cook at the same time, at the same temperature, the key to getting really great veggies is making sure they are sized right based on how they cook.
For example, onions take longer to get nice and sweet, so I chop them in bite sized pieces, but when I spread them on the tray, I make sure that none of the pieces are still stuck together so that they are all thin and able to cook quickly.
The squash and zucchini are the opposite. They cook more quickly, so I cut the slices at a minimum or 1/4″, no thinner. If the slices are too thin, they can end up mushy instead of perfectly tender.
Then once it is time to bake them, it should take around 15-18 minutes at 425˚F. You can do a little more or less time depending on how tender you want them to be.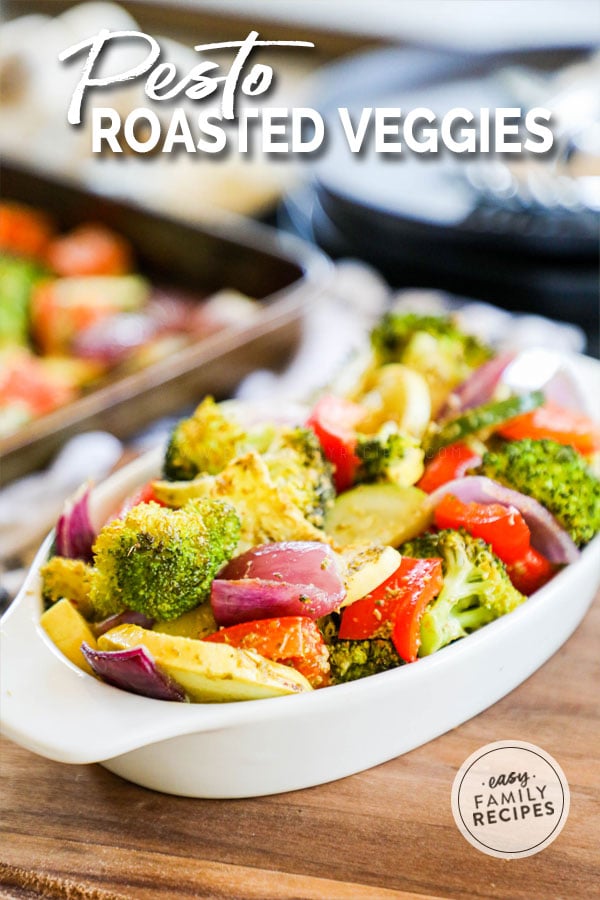 Baked Veggies as a Main Dish
These vegetables make a great side, but can also be a great component of a vegetarian main dish. Here are a few things that I like to use these for:
Pesto Veggie Pasta Alfredo– Make this quick alfredo sauce and toss with prepared pasta and roasted vegetables.
Pesto Vegetable Pizza- Using a prepared pizza crust, spread with a thin layer of pesto or red sauce. Top with mozzarella cheese and vegetables. Add a sprinkle of crushed red pepper and feta cheese if desired. Bake as directed.
Pesto Roasted Veggie Paninis– Grab two slices of fresh Italian bread. Spread on a layer of pesto, then add veggies and mozzarella cheese. Lightly butter the outsides of the sandwich and grill until each side is golden.
Pesto Veggie Stuffed Peppers – Prepare long grain white rice. Chop veggies into small bite sized pieces and mix with rice. Stuff inside hollowed bell pepper halves and place in a baking dish. Top with mozzarella if desired. Cook at 350˚F for 35-45 minutes or until peppers are tender.
Pesto Roasted Vegetable Salad– Chop veggies and place on top of mixed greens. Add croutons and feta cheese if desired. Toss with Balsamic vinaigrette.
Pesto Veggie Pitas– Spread a layer of hummus and tzatiki on a pita bread. Add roasted veggies, sliced pepperoncini peppers and a sprinkle of feta cheese.
More Easy Side Dish Recipes
If you loved this recipe, I hope you will take a moment to browse some of our other easy sides to add to your recipe collection. You can see all of our side dishes here, or find a few favorites below.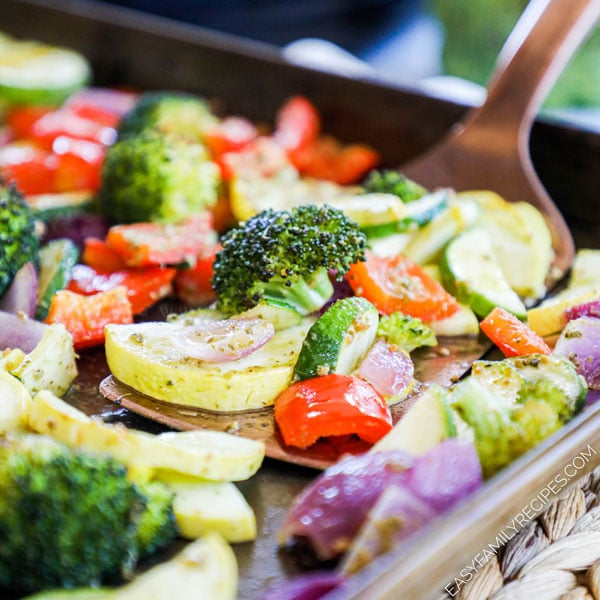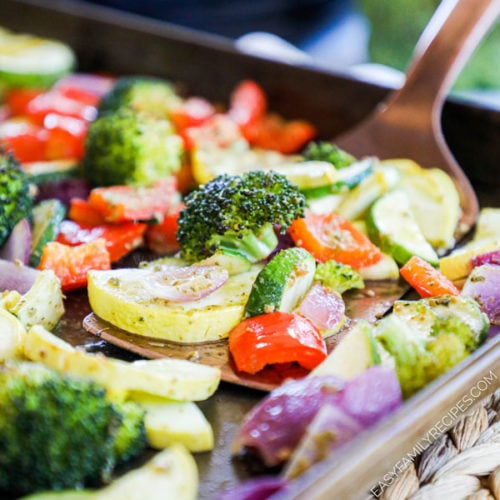 Pesto Roasted Veggies
These Pesto Roasted Vegetables are easy to make and unbelievably delicious! They make the perfect side dish to compliment pasta, steak, or your favorite Italian dish.
Ingredients
1

red onion

,

roughly diced

1

red bell pepper

,

roughly diced

1/2

lb

fresh broccoli

,

cut into small florets

½

lb

yellow squash

,

cut into 1/4 in slices (1 med squash)

½

lb

zucchini squash

,

cut into 1/4 in slices (1 med zucchini)

1/3

cup

prepared pesto
Instructions
Chop vegetables and place in a large bowl and mix to combine.

Add pesto and stir until vegetables are evenly coated.

Spread in a single layer on a large baking sheet. Bake at 425˚F for 15-18 minutes or until vegetables are tender.

Remove from oven and serve warm. Enjoy!
Recipe Notes
Try to cut vegetables so that they cook evenly. Veggies that cook more quickly should be thicker, veggies that cook more slowly should be thinner or smaller.
Other vegetables that can be used in this recipe:

Cauliflower
Other colored bell peppers
Mushroom slices
Shredded carrots (or thinly sliced)
Nutrition Information
Serving:
0.5
cup
,
Calories:
92
kcal
(5%)
,
Carbohydrates:
9
g
(3%)
,
Protein:
3
g
(6%)
,
Fat:
6
g
(9%)
,
Saturated Fat:
1
g
(6%)
,
Cholesterol:
1
mg
,
Sodium:
147
mg
(6%)
,
Potassium:
386
mg
(11%)
,
Fiber:
3
g
(13%)
,
Sugar:
4
g
(4%)
,
Vitamin A:
1285
IU
(26%)
,
Vitamin C:
74
mg
(90%)
,
Calcium:
56
mg
(6%)
,
Iron:
1
mg
(6%)