There is nothing more delicious on a chilly day than this Slow Cooker Tomato Soup! This creamy tomato basil soup is so tasty, that you won't believe how easy it is to make using a Crock Pot and a few simple ingredients. With as little as 1o minutes of prep, you can let the slow cooker do the work bring out the flavors of the tomato and basil while it cooks away all day and have it ready to eat at dinner time.
There is probably no one recipe I personally eat more often than this Tomato Basil Soup. It is literally so good that every time I make it, and I have made it hundreds of times, I think "I forgot just how delicious this is!" It is creamy, comforting, just a hint sweet, and everything I think creamy tomato soup should be.
The absolute best part is, however, how insanely easy it is to make. I mean it is stupid easy! Usually, when I make it to share, people immediately ask for the recipe and when they see it they can't believe how simple it is.
Why I LOVE this recipe
So FAST- Only about 10 minutes, maybe less and the slow cooker takes over
Dump and go- Made with canned tomatoes and broth, it doesn't get any easier!
One Pot- Everything goes right in the crockpot so there is minimal dishes and very little clean up
SO DELICIOUS! This recipe is one I regularly get asked for the recipe. On top of that I have even had someone tell me, "I never liked tomato soup, but just ate yours to be polite. It is incredible! I made it for my sister the next day!"
Tomato Basil Soup- Made the easy way!
To make this recipe follow along here where I will go step by step for how to make slow cooker tomato basil soup, what ingredients you need, and tips and tricks for how I make the soup.
The recipe is pretty straight forward, but if questions arise I most likely will cover them here. Please feel free to leave a comment if you still have questions. If you just want the quick version of the slow cooker tomato soup, feel free to scroll down to the bottom of the post to find the recipe card.
Ingredients+ Substitutions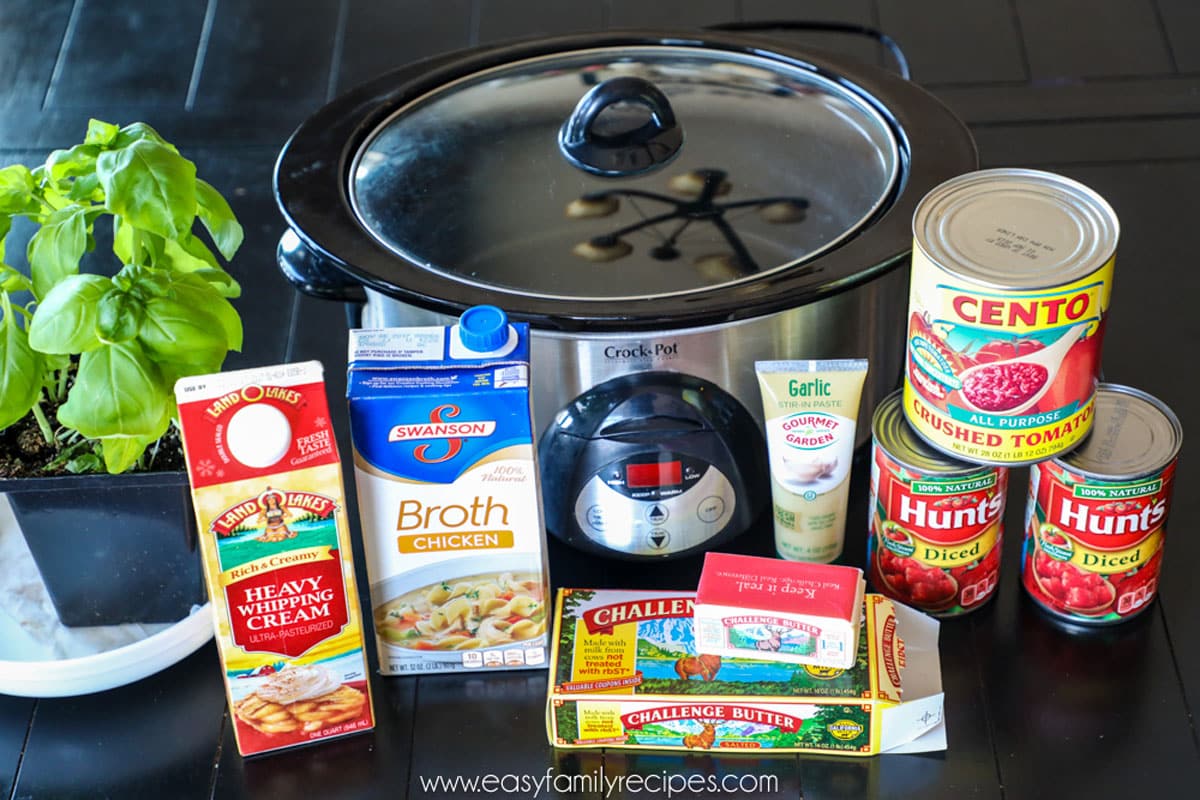 Crushed tomatoes- You can also use 1 large can, or two small cans if you have them on hand. The extra ounce won't be a problem. Also, I recommend using the best brand you can find. The quality of the tomatoes will directly effect the taste of the soup, so if you are going to splurge, the tomatoes are where to do it!
Diced tomatoes- Again, feel free to use 2 smaller cans in place of one large one. The big thing here is that I prefer my soup with chunks of tomatoes in it. If you like smooth tomato soup, you can do one of two things. The easiest is to just use additional crushed tomatoes here in place of the diced. If you make it with the crushed and diced tomatoes, you can use a stick blender to make it smooth at the end as an alternative.
Crushed garlic- You can use fresh garlic, but for the easy factor, I like to use the Garden Gourmet brand tube you can get in the refrigerated produce section at the grocery store.
Chicken broth, or 2 cups – You can use chicken broth, or substitute vegetable broth if you want to make the tomato soup vegetarian friendly
Sugar- This cuts the acidity of the tomatoes and gives it just a hint of sweetness.
Butter- you can use salted or unsalted
Heavy cream- Heavy cream works best in this recipe, however, if you want to lighten it up, you can use half and half in place of it. The soup won't thicken quite as much and the half and half doesn't always blend as well, but the taste will still be good!
Basil leaves -OR- Dried basil leaves- Fresh basil is always my preference for this soup, however since soup weather usually starts when the prime season for fresh herbs ends, so I like to give the option because dried basil will also work. Make sure and note that the basil is added to the recipe in different places depending on whether you are using fresh or dried basil.
Kimber's Tips for Preparing, Cooking & Serving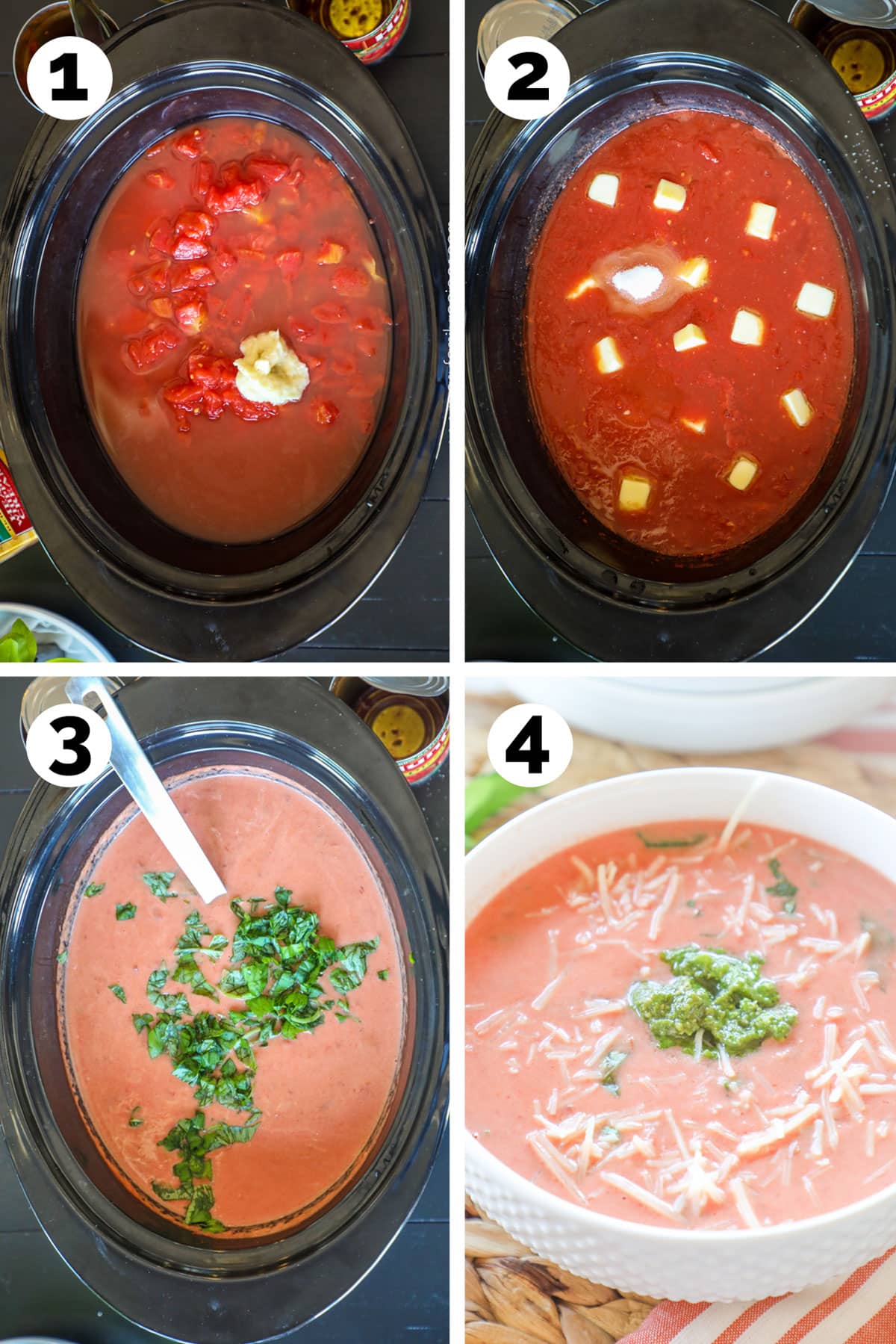 Add tomatoes, both crushed and diced to the slow cooker. Pour over the broth and add the garlic. Give it a good stir. Then cook. This step is great because you can cook the soup as long or short as you want/need to (within reason.) If you are gone all day, just leave it on low. If you are in a rush, you can cook for only an hour or 2 and it will still be great!

Note: If you are using dried basil you can also add it here, but if you are using fresh basil, you will wait until the end.

Before serving stir in the sugar and butter.

Next stir continuously while pouring in the heavy cream very slowly. Continue to mix until it is incorporated throughout. If you are using fresh basil stir in the basil now. The most important thing here is that you pour slowly and mix continuously. If you pour too much cream at a time it can have a chance to curdle before it is combined which won't give you the smooth creamy texture you are looking for. By continuously stirring small amounts you will be able to get it all combined without the milk heating up too much.

Last stir in the fresh basil. I like to chop or tear it into small pieces so it is easiest to eat. If you used dried basil in the beginning, you can skip this step.

Serve hot, topped with a dollop of pesto, croutons and a sprinkle of parmesan cheese. This should make about 6 bowls of soup. It will serve more if they are smaller servings or less if you do extra large servings of course! Be warned though, this stuff is addictive, so while you can refrigerate it or freeze it for later, you might not have any left to save!
You Choose: Stove Top, Instant Pot or Slow Cooker
I created the original Tomato Basil Soup recipe for the stove top, but since it was so popular with not only me but so many of my readers, I have adapted as both an Instant Pot Tomato Soup recipe, and now I am sharing a Slow Cooker Tomato Soup version below. All three of these recipes taste pretty much identical, it just gives you options depending on how much time you have and what you like to cook with. All three tomato soups are simple and delicious.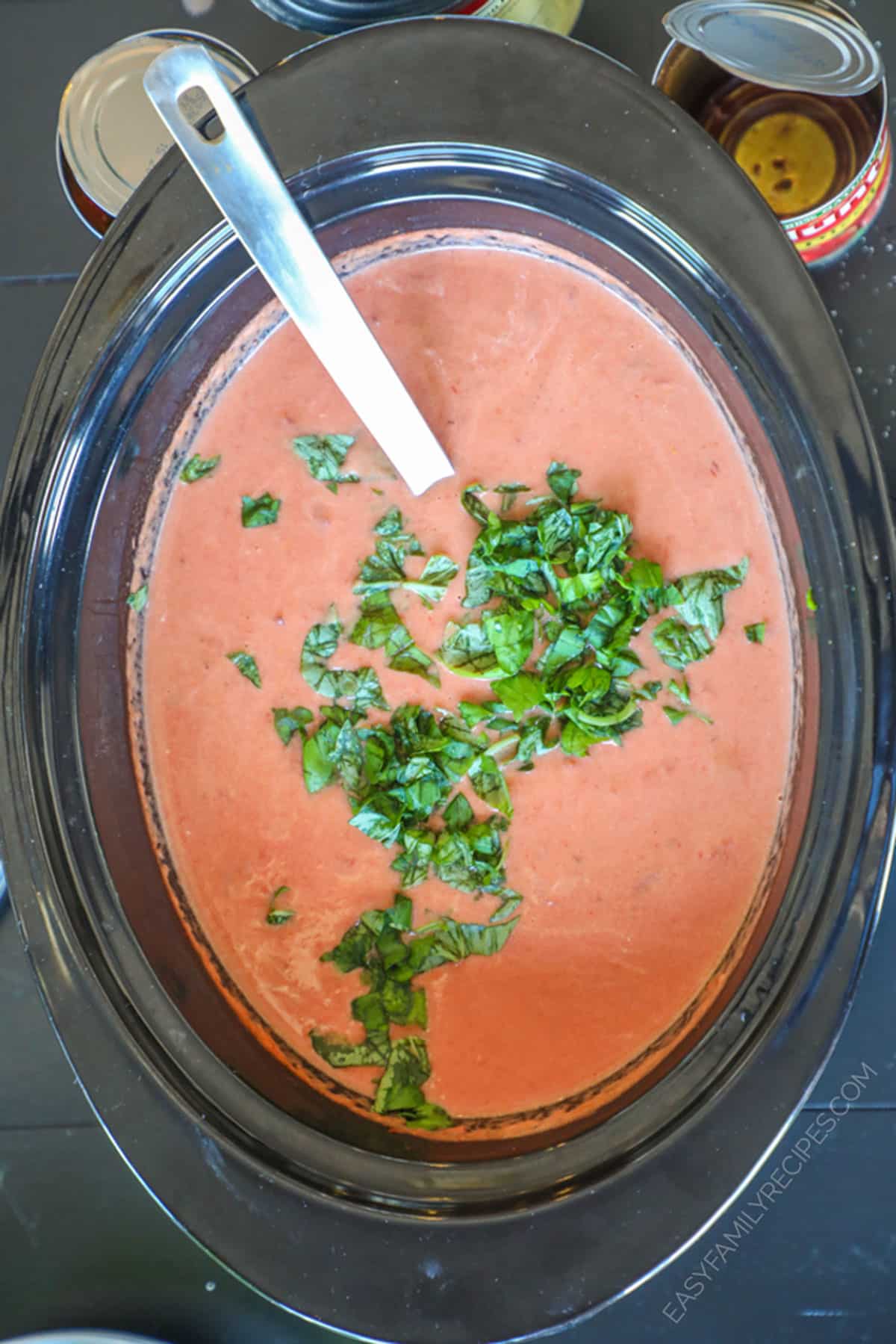 How to Freeze Crockpot Creamy Tomato Soup
This tomato soup makes an excellent freezer meal. It may even be better once it is reheated since the flavors have had lots of time to meld. Freezing it couldn't be easier!
Prepare soup as directed.
Allow soup to come to room temperature.
Divide into meal sized portions and package in a freezer friendly container or freezer bag.
Freeze.
What to Serve with Tomato Soup
Tomato soup is such a classic flavor and while it can be a filling lunch or dinner all on its own, or paired with a sandwich, salad, or side to round out the meal. Here are some of my favorite sides for tomato soup:
Garnishes & Toppings for Slow Cooker Tomato Soup
Once the soup is prepared by your method of choice you can serve it with a number of things. My favorite is adding a dollop of pesto, parmesan cheese, and croutons. Here is a short list of the things that work well with tomato soup:
Pesto
Croutons
Parmesan Cheese
Grilled Cheese bites
Cheddar Cheese
Fresh basil
Toast triangles
Mozzarella cheese
You can use your imagination to come up with other tasty combinations as well. I also love serving it with garlic toast or cheesy bread sticks as a meal.
More EASY Soup Recipes
If you enjoyed this slow cooker Tomato Soup recipe, I hope you will take a moment to try some of our other popular soup recipes!
I really hope you find yourself eating this recipe as much as I do when the weather gets chilly! If you get a chance to make it, I would love it if you would take a moment to leave me a note. It just makes my day to know people are making my recipes. Or snap a photo and tag me on Instagram @easyfamilyrecipes so I can see what you are cooking! And before you go… don't forget to sign up for my Hungry Email Club for more easy recipes!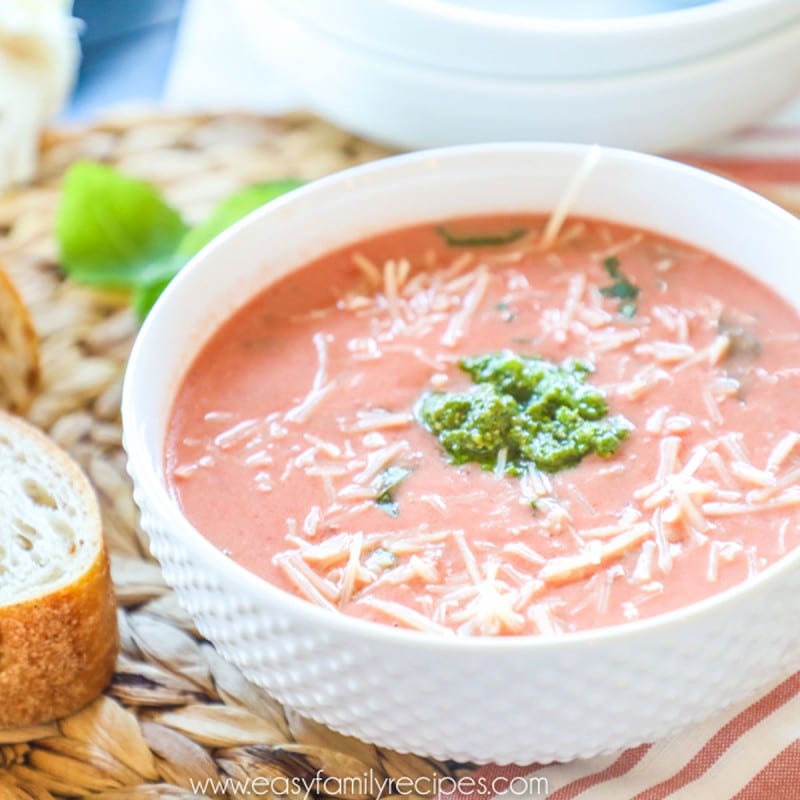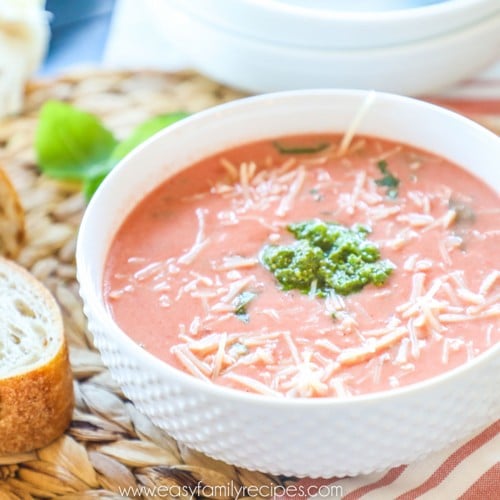 Slow Cooker Tomato Soup
A creamy tomato basil soup recipe made in the slow cooker. This soup is perfect for cold days and can be refrigerated or frozen to make a quick meal on a busy day.
Ingredients
28

ounces

can crushed tomatoes

,

(1 large can)

28

ounces

can diced tomatoes

,

(1 large can)

1

tablespoon

crushed garlic

14

ounce

can chicken broth

,

or 2 cups (or vegetable broth)

2

tablespoons

sugar

⅓

cup

butter

,

cut into ½" cubes

1

cup

heavy cream

15-20

basil leaves

,

-OR- 1 Tbsp dried basil leaves
Instructions
Pour the tomatoes, broth, and garlic into the crock pot. If you are using dried basil, also add it now. Then close the lid and set the temperature to low and the time to 4-6 hours depending on when you will be ready to prepare and serve it.

After cooking, open the lid and first stir in the sugar, then stir in the butter, and continue to stir until melted and well combined.

Next stir continuously while pouring in the heavy cream very slowly. Continue to mix until it is incorporated throughout. If you are using fresh basil stir in the basil now.

Serve hot, topped with a dollop of pesto, croutons and a sprinkle of parmesan cheese.
Recipe Notes
To make this soup vegetarian: Replace the chicken broth with vegetable broth.
To Store: The soup can be stored in an airtight container in the refrigerator and reheated for 3-4 days.  
To Freeze: Allow soup to come to room temperature. Freeze in freezer bags or containers. You can reheat in the microwave, or on low on the stove top.
© 2017 Easy Family Recipes. Recipe found at: https://easyfamilyrecipes.com/slow-cooker-tomato-soup/
Nutrition Information
Serving:
1
.5 cups
,
Calories:
297
kcal
(15%)
,
Carbohydrates:
14
g
(5%)
,
Protein:
4
g
(8%)
,
Fat:
25
g
(38%)
,
Saturated Fat:
15
g
(94%)
,
Polyunsaturated Fat:
1
g
,
Monounsaturated Fat:
0
g
,
Trans Fat:
0
g
,
Cholesterol:
84
mg
(28%)
,
Sodium:
117
mg
(5%)
,
Potassium:
0
mg
,
Fiber:
3
g
(13%)
,
Sugar:
11
g
(12%)
,
Vitamin A:
0
IU
,
Vitamin C:
0
mg
,
Calcium:
0
mg
,
Iron:
0
mg