This Tuscan Garlic Chicken tastes like it came straight out of a restaurant and is one of my personal favorites! It is packed with flavor, and with only 7 ingredients and one casserole dish, you can whip it up and have it in the oven in as little as 15 minutes.
The layers of tender chicken, flavorful garlic, and wholesome spinach, artichokes and sun dried tomatoes give this dish so much delicious flavor that this recipe will make an impression to last. This is the perfect meal to make for company since it is easy to prepare but made to impress, but it is simple enough to also be great for an everyday family dinner. And the leftovers… if you have any… are possibly even better reheated the next day.
EASY Tuscan Garlic Chicken Recipe
Today I am sharing with you one of my all-time favorite recipes! The first time I made this dish, it was something that I threw together because I had some things in the fridge that needed to get used. I wasn't expecting much, but this was 100% love at first bite. My friend Emily was over and she agreed that this was the best thing we had eaten in a long time. So if you are here, I am begging you to add this to your menu ASAP! You shouldn't live without this delicious dinner in your life!
There are a few things that make this Tuscan Garlic Chicken a power recipe for me (besides the obvious that it is so crazy delicious!):
It is quick to make and quick to clean up
It is full of great healthy ingredients and friendly for many types of diets which makes it great for when you are entertaining. Some of the popular ones are:

Gluten Free
Low Carb
Keto Diet Friendly

The leftovers are just as good reheated, or can be used in other dishes later in the week
It is easy to get a quick recipe, or an easy recipe, or one that has fast clean up, or a recipe that is SO DELICIOUS, but let's face it… it is pretty hard to get all four. This my friends is a home run!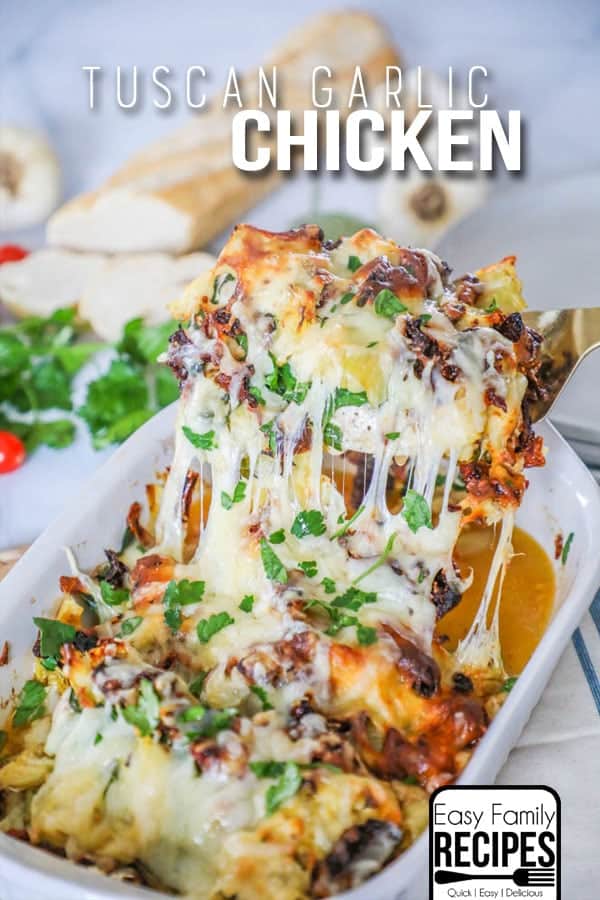 How to serve Tuscan Garlic Chicken
Having a recipe is one thing, but putting it together into a whole meal is another. I know what a challenge it can be so I always like to offer some of my favorite serving suggestions so that you can put together something easily that you can love and feel proud of. Since this recipe is low carb by nature, it can be paired with a starch to really round out the meal, or you can choose low carb options to pair it with to keep things low carb overall. I have plenty of ideas for both!
Traditional serving ideas:
With a side of garlic smashed potatoes (one of my favorites)
On top of a bed of mashed potatoes
With pasta tossed in olive oil, garlic, salt and pepper
On top of rice or another grain (quinoa, farro, etc)
With garlic toast (or garlic cheese toast for an extra treat!)
Low carb serving ideas
On a bed of sauteed spinach (or other greens like kale, collard greens etc)
With a side of roasted cauliflower or cauliflower rice
With a side salad – I would go simple with a balsamic vinegrette
Over zoodles
I like to combine 2-3 of these sides with the chicken to make a well rounded meal that gives everyone something that they enjoy. If you serve this dish with something not listed, please let me know in the comments. I would love to give it a try!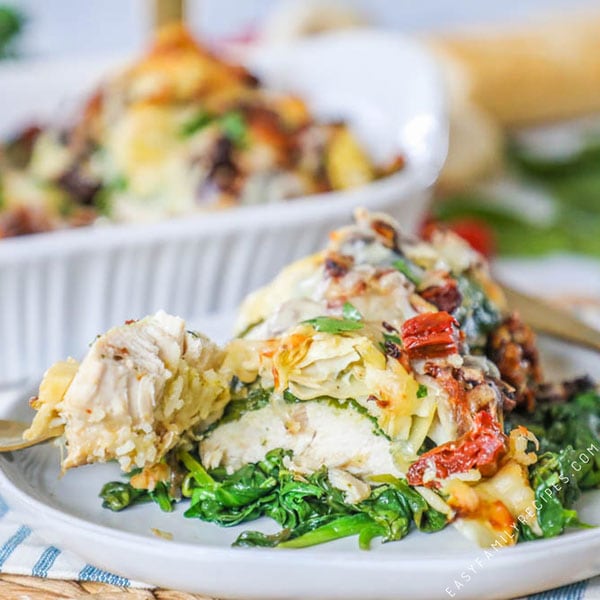 How to make Tuscan Garlic Chicken
I am going to walk through this recipe with you step by step to give you all of my tips and notes to get the best out of this dish. If you have questions, there is a good chance I will answer them in this section, but if not, feel free to leave me a note in the comments section below. If you want the quick version of this recipe, feel free to skip down to the full, printable recipe card below.
Tuscan Garlic Chicken Ingredients
2 lbs boneless, skinless chicken breast– This is usually about 4 chicken breasts depending on size. If you get thick ones, you may want to slice then in half so they are thinner which will allow them to cook more quickly and evenly.
2 cloves fresh garlic- I myself am guilty of using jarred garlic in many recipes, but this one is so simple, and it really does make a big impact on the flavor, so I really encourage you to use fresh here. Just put it through the garlic press and rub it on the chicken. Easy enough!
a pinch of salt and pepper- You just need enough to season the chicken
2 oz fresh baby spinach- This doesn't sound like much, but it is about 2 big handfuls. If you really like spinach, you can load it up with even more. When it cooks, it will wilt down so much that even if it looks like a lot now, you have room for much more.
1 can artichoke hearts, drained- I get these on the vegetable aisle and generally use the regular canned Progresso artichoke hearts. This is a 14 oz can, however the drained weight is 8.5 oz. I drain all of the liquid from the can so all you will be using is the actual artichokes themselves. If you can only find artichokes marinated in herbs, that won't impact the flavor much since we are draining them, so you can go ahead and use them, although I always just buy the plain ones. Also, I like to chop mine up a little if I can't get quartered artichokes.
1 jar sun dried tomatoes, drained with 1 tbsp oil reserved- You can usually find these either near the olives, with the vegetables, or in the specialty foods section. You will find a variety of options here just like the artichoke hearts. I used halved sun dried tomatoes that were in plain oil, but again, if you can only find them marinated in spices, it will work. I like to chop up the sun dried tomatoes quite a bit since they can be kind of chewy. It just makes it easier to eat, especially if you are serving to kids.
1 cup mozzarella cheese, grated- I use regular grated mozzarella in this Tuscan Garlic Chicken recipe, not fresh mozzarella. Once I ran out and made it with the Swiss-Gruyere blend they sell at Trader Joe's and that was also amazing if you want a twist!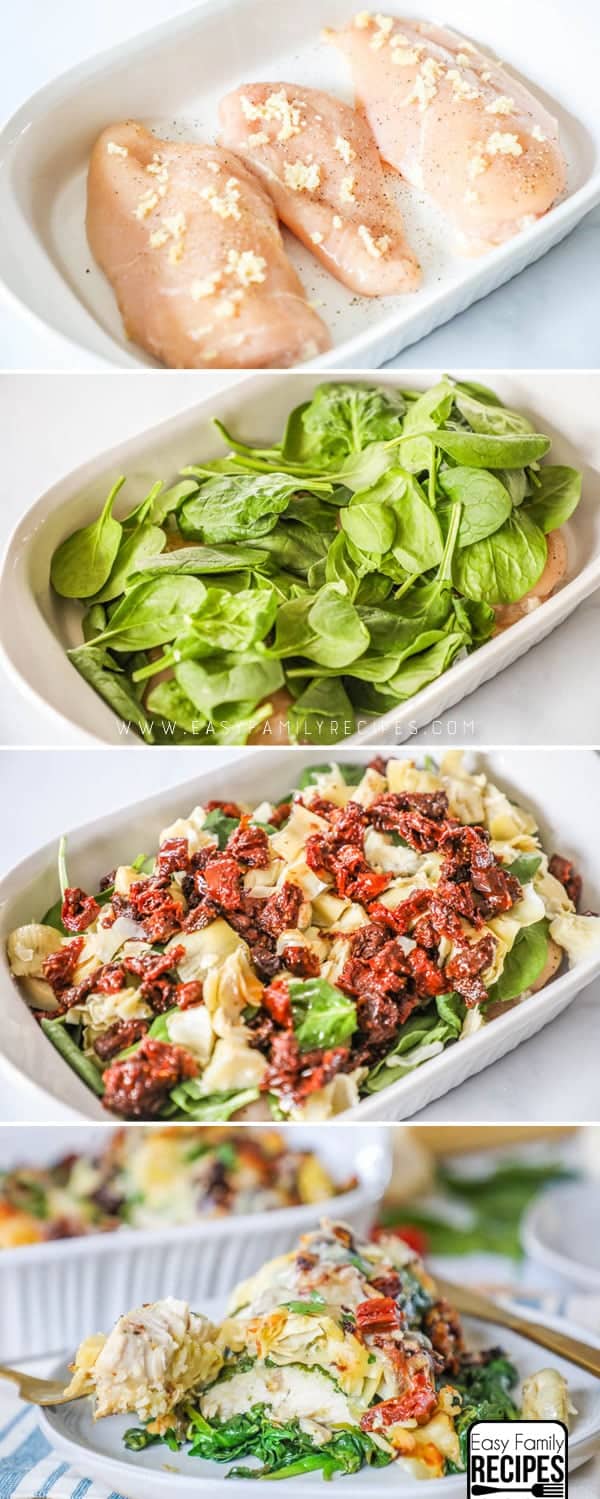 Tuscan Garlic Chicken Instructions- FAQ's
Can I use chicken tenderloins, chicken thighs, etc. instead of chicken breasts in the Tuscan Garlic Chicken recipe?
Yes! I prefer chicken breast which is why I use it, but the flavors will work well with any kind of chicken you would like to use with it. If you do change the type of chicken, the cooking time will likely also change so keep that in mind!
Can I use frozen spinach, jarred garlic, or other non-fresh ingredients as a substitute for the fresh ingredient?
I specify fresh spinach and garlic in this recipe because I think that those both impact the flavor when cooking. Yes you can try it if you are in a pinch, but it will likely alter the taste of the Tuscan Garlic Chicken somewhat.
Do I cover the casserole dish while cooking the Tuscan Garlic Chicken?
In most of my baked chicken recipes I prefer to cook uncovered because it helps to burn off some of the liquid that is released from the ingredients while cooking so that the dish doesn't end up too watery. With this recipe, I have found that since the sun dried tomatoes are already void of most of their liquid they can get a little crispier than you probably want if you bake uncovered the entire time. So to try to get the best of both worlds, by starting the dish uncovered and then loosely covering it toward the end so that the steam can still escape but it will protect the toppings from getting too browned.
Can I add more cheese, veggies, or something else to the Tuscan Garlic Chicken?
Absolutely! Cooking is really the art of creating flavors that YOU love, so if you love things cheesy then throw on some extra cheese. If you think everything is better with capers, then put some of those in. If you are obsessed with spinach, or garlic or artichokes then you can double it! This recipe is really forgiving as far as you being able to add, subtract, modify and adapt it, so don't be afraid to put your own spin on this Tuscan Garlic Chicken.
What are the Weight Watcher's Freestyle Points for this meal?
Tuscan Garlic Chicken has 2 SmartPoints for the Weight Watchers Freestyle program.
What do I do with the Tuscan Garlic Chicken Leftovers?
Now assuming that you do have leftovers, which might not be the case with as good as this dish is, there are a couple of options for what you can do with them. At the end of the meal, store your leftovers in an airtight container either,
In the refrigerator for 3-4 days, or
In the freezer for up to a month
The chicken reheats beautifully in the microwave and can be eaten again as a main entree, or you can also use it as a part of a new meal. Here are a couple of things that the Tuscan Garlic Chicken works well for:
Chopped and tossed with pasta, or orzo
Chopped and used to top a Mediterranean pizza
Sliced and used on a panini
Chopped and added to a salad with balsamic vinaigrette
There are many ways you can make this dish your own, both the first time you eat it and when you prepare the leftovers. No matter how you make it, I hope that you enjoy this Tuscan Garlic Chicken as much as we do!
If you do get a chance to try it, I would love it if you let me know! You can leave me a comment below, or if you post a picture on Instagram, make sure to tag me @easyfamilyrecipes so that I can see what you are cooking up! It makes my day to see others enjoying the recipes that I share!
Oh and before you go!… If you need a regular rotation of recipe inspiration like me, make sure to sign up to get our emails! I send out my new favorites, the recipes my family has been devouring, and some of the best tried and true recipes. It is easy and free of course! You can click here to sign up or on the button below.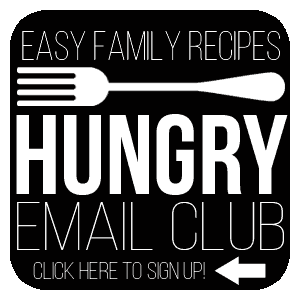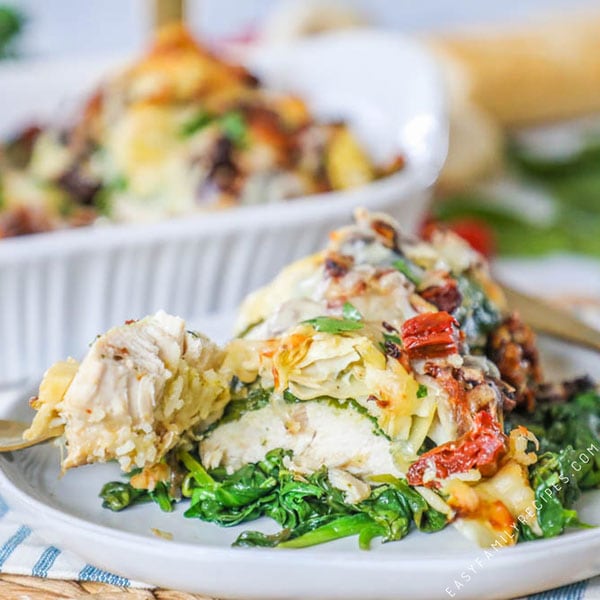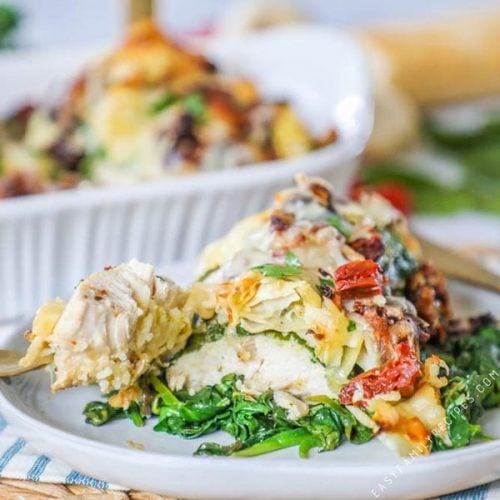 Tuscan Garlic Chicken
This Tuscan Garlic Chicken tastes like it is straight out of a restaurant kitchen, but is so simple to make! It has layers of bold, delicious flavors with the spinach, artichoke, sun dried tomato and, of course, garlic. This meal is perfect for entertaining or just a night with the family.
Ingredients
2

lbs

boneless skinless chicken breast

,

(about 3-4 chicken breasts)

2

cloves

garlic

a pinch of salt and pepper

2

oz

fresh baby spinach

14

oz

can artichoke hearts

,

drained and chopped

8.5

oz

jar sun dried tomatoes

,

drained with 1 tbsp oil reserved, and chopped

1

cup

mozzarella cheese

,

grated
Instructions
Preheat the oven to 375˚F.

Lay the chicken flat in the bottom of a large casserole dish.  Season with salt and pepper then press garlic and spread it evenly over the chicken breast.  Place the spinach, artichoke hearts and sun dried tomatoes on top of the chicken and then drizzle the tablespoon of oil reserved from the sun dried tomatoes. Finish by topping with mozzarella cheese.

Bake for 45-50 minutes total.  Cook 20 minutes uncovered then loosely cover with foil for 25-30 minutes or until the chicken is cooked through (165˚F internal temperature).

Serve with your choice of sides and ENJOY!
Recipe Notes
You can cut the chicken in half, chunks, or use chicken tenderloins in lieu of full chicken breasts to make serving easier. Cooking time may be reduced.
Leftovers can be stored in an airtight container for 3-4 days in the refrigerator or in the freezer for up to a month.
Dietary Considerations:
This recipe is naturally gluten free, for a dairy free version you can omit the cheese.
Weight Watchers Freestyle: 2 SmartPoints
©2018 Easy Family Recipes- Recipe found at: https://easyfamilyrecipes.com/tuscan-garlic-chicken/
For more great easy dinner inspiration, sign up for our emails here!
Nutrition Information
Serving:
4
oz chicken with 1/4 cup toppings
,
Calories:
238
kcal
(12%)
,
Carbohydrates:
12
g
(4%)
,
Protein:
20
g
(40%)
,
Fat:
7
g
(11%)
,
Saturated Fat:
2
g
(13%)
,
Polyunsaturated Fat:
2
g
,
Monounsaturated Fat:
0
g
,
Trans Fat:
0
g
,
Cholesterol:
66
mg
(22%)
,
Sodium:
629
mg
(27%)
,
Potassium:
0
mg
,
Fiber:
4
g
(17%)
,
Sugar:
3
g
(3%)
,
Vitamin A:
0
IU
,
Vitamin C:
0
mg
,
Calcium:
0
mg
,
Iron:
0
mg