These Southwest Bone in Pork Chops use a special seasoning blend for the most irresistible flavor, and are perfectly pan seared for a delicious deep flavor and crunchy texture on the meat's surface. By using bone in pork chops with this method, we get an extra tender and juicy result every time!
Bone In Pork Chops – The EASY Way!
There are a lot of opinions on the best way to cook pork chops. Do you need bone in? Should they be boneless? Do you bake… pan sear… fry… or grill?
The fact is pork chops can be made delicious using all of these methods, but as a busy working mom, I need DELICIOUS, QUICK, and EASY.
This Southwest Bone In Pork Chop recipe does the trick!
A few reasons we love this recipe:
Quick prep– these can be ready to cook in as little as 10 minutes!
One pan – Less mess. Less dishes. Less hassle. Less thinking.
Lots of flavor! The flavors in this dish will please adults and kids. No bland food here!
Wholesome – Pork is a lean meat packed with protein and low in carbs. The seasoning mixture gives it great flavor while adding negligible fat and sugar.
Great for meal prep– If you have leftovers, or plan to make extra, this recipe will work well for prepping lunches or reinvented dinners throughout the week.
This recipe produces a tender juicy pan seared bone in pork chop. If you are looking for recipes for boneless pork chops, you can see our modifications below, or try our Green Chile Smothered Pork Chops or Million Dollar Pork Chops.
What to Serve with Pork Chops
Since this dish has the classic flavors of the southwest, it will pair well with many of your favorite Southwestern side dishes.
There are both classic options regularly served with pork chops, creative options for when you need something new and exciting, and some healthy options to keep it light.
Side Dish Ideas
You can choose one or add a few sides to make a wholesome, well rounded dinner.
Recipe Notes
This bone in pork chop recipe is as simple as promised! Just a few ingredients and one pan for a family friendly meal.
In this section I am going to go through a few tips and tricks I use when making this recipe to get the absolute best and most delicious results.
Make sure to scroll to the bottom for the FULL recipe card.
Ingredients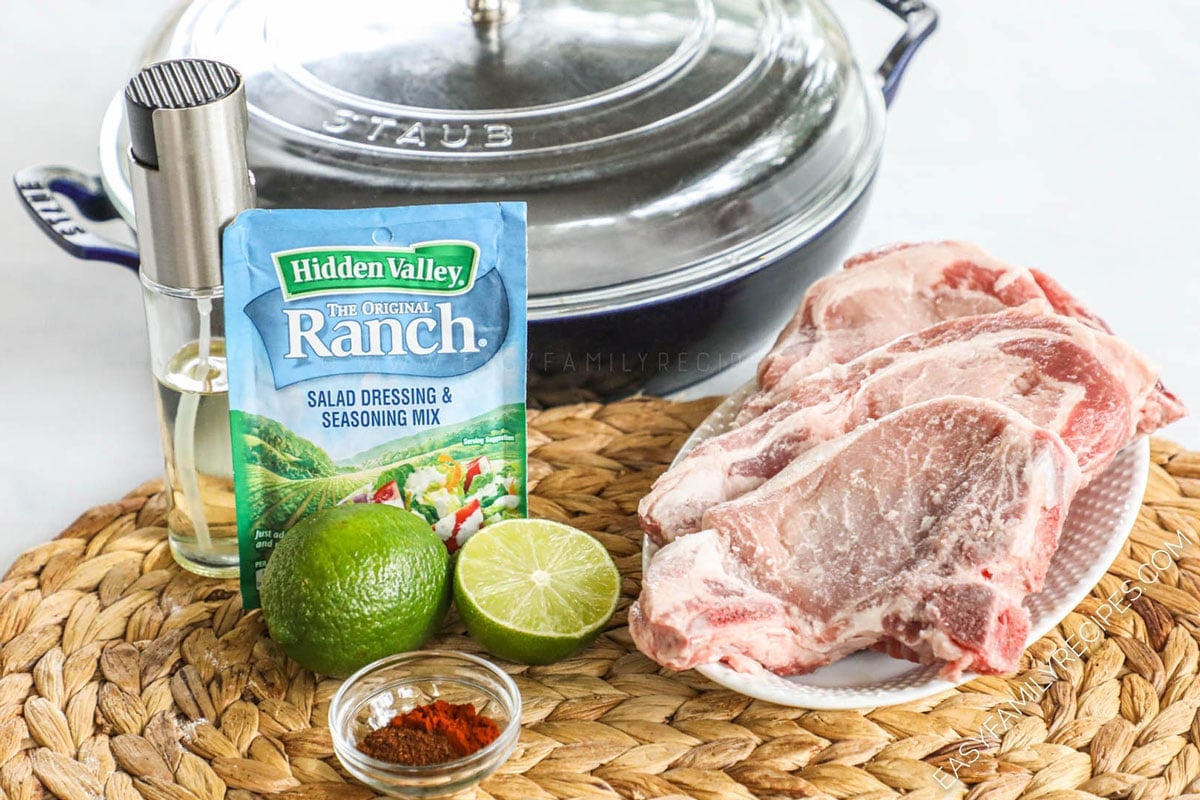 Bone in pork chops – This recipe is made with bone in pork chops. You can use boneless pork chops with the marinade we are making as well, but the cooking time will change.
Ranch seasoning – You can either use a ranch seasoning packet from the store, or make my extra delicious homemade ranch seasoning. It only takes an extra 5 mintues to make and the homemade version is also dairy free, gluten free, and lower carb.
Lime juice– Use FRESH. It will make a big difference in the flavor!!
Chili powder– adds the deep southwest flavor without making it spicy.
Smoked paprika– I love the smokiness that smoked paprika adds, however, you can use sweet paprika also.
Salt
Vegetable oil– Use vegetable oil or your preferred high heat oil for cooking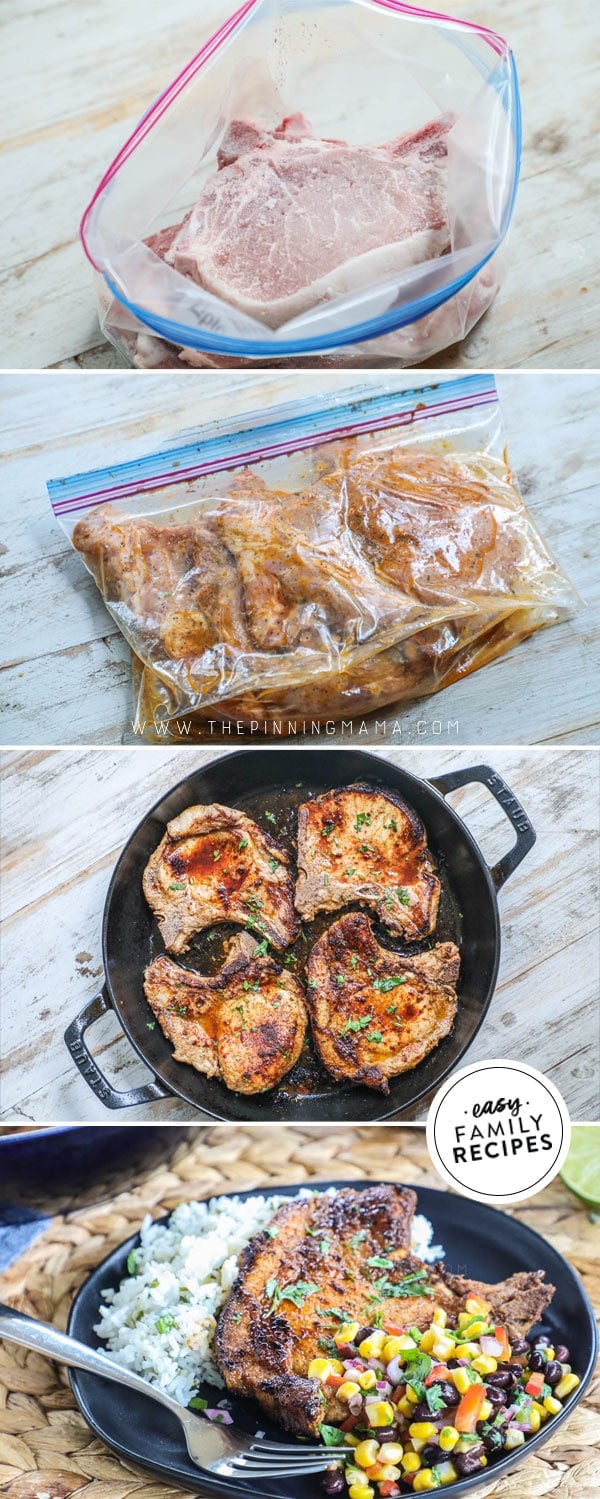 Recipe Tips
Marinate– The seasonings in this recipe will guarantee great flavor, but if you have time to let the pork chops sit in the marinade it will help it become even more tender as the salt starts to change the cellular structure of the meat. 10 minutes will give it flavor but 30 min- 4 hours will really help to tenderize the meat and infuse it with flavor!

Preheat the skillet and oil– Make sure both your skillet AND oil are hot before you start cooking. This will help get that deep caramelized delicious pan seared crust that makes these so drool-worthy.

Pan Sear– The key to the perfect sear on the outside of your pork chop is two things

Make sure the pan and oil are nice and hot before you put the pork chop in,
Don't touch or fiddle with the meat once you put it down. You want to give it time to form a nice crust before you flip or move it.


Two step cooking process– Cooking these is a two step process. First we get the sear on the outside to add to the depth of flavor and texture of the dish. THEN we continue to cook over low until the meat is cooked through. Each is simple and easy, but recognizing the purpose of each will help you get the perfect results.

The hot skillet sears the outside of the pork chops first
The very low temp helps the pork chops to cook through slowly so that the outside does not get tough before the inside is done. Covering the pan will help keep the heat in surrounding the pork chop allowing it to hold in moisture and cook efficiently.


Don't Overcook– The number one enemy of a tender juicy pork chop is over cooking. Even if you do everything else correctly, if you over cook a pork chop it is going to start to get dry and tough.
The best way to ensure you do not overcook them is to use a meat thermometer. If you don't have one, you can get them inexpensively at the grocery store or online and they will change your life in the kitchen!

Let rest– I like to give my pork chops a 5 minute rest before serving to allow the juices to thicken and reincorporate into the meat. If you cut immediately they will run out and you lose all of that juicy flavor to the plate.
Do I need a cast iron skillet to make pan seared pork chops?
In this recipe and photos, I have used a cast iron skillet to make the bone in pork chops. You do not have to use cast iron, however, you will want to use a skillet that has a heavy bottom and will distribute heat well for the best results.
Alternate Methods
If you love this recipe as much as we do and want some quick ways to change it up for variety, these little tips will do the trick!
Oven baked Pork Chops– You can use this flavoring to make bone in pork chops in the oven as well. Follow the recipe as written and after searing on each side transfer the skillet to an oven heated to 400˚F for about 6-10 minutes. Note: Make sure your skillet is oven safe at this temperature.

Boneless Pan Seared Pork Chops– This Southwest Ranch marinade also works well on boneless pork chops. Begin the recipe as directed, marinating the pork chops. You will continue cooking as directed, however the boneless pork chops will likely cook 1-2 minutes more quickly than pork chops that are bone in.

Other flavors– You can use this same pan seared pork chop recipe and replace the southwest ranch seasoning with other seasoning blends you like. You might try greek seasoning with lemon, rosemary garlic seasoning, fajita seasoning, cajun seasoning, or Italian Seasoning blend.
Dietary Considerations
If you have special dietary needs, this recipe meets some and can be easily modified to comply with others.
As always, check all store bought ingredients for compliance on specific dietary needs. The notes below are a general guide.
Gluten free: This recipe is naturally gluten free. Traditionally the store bought Hidden Valley Ranch seasoning is gluten free, however brands can change so always check. My homemade ranch seasoning mix is always gluten free!
Dairy free: This Southwest Pork Chops recipe is dairy free only when using homemade dairy free ranch seasoning.
Nut free: This recipe is naturally nut free
Egg free: This recipe is naturally egg free
Low carb/Keto: This recipe is low carb and keto friendly at only 4g net carbs per serving.
Macros: The approximate macro calculation for this recipe is- P: 37g C: 5g F: 26g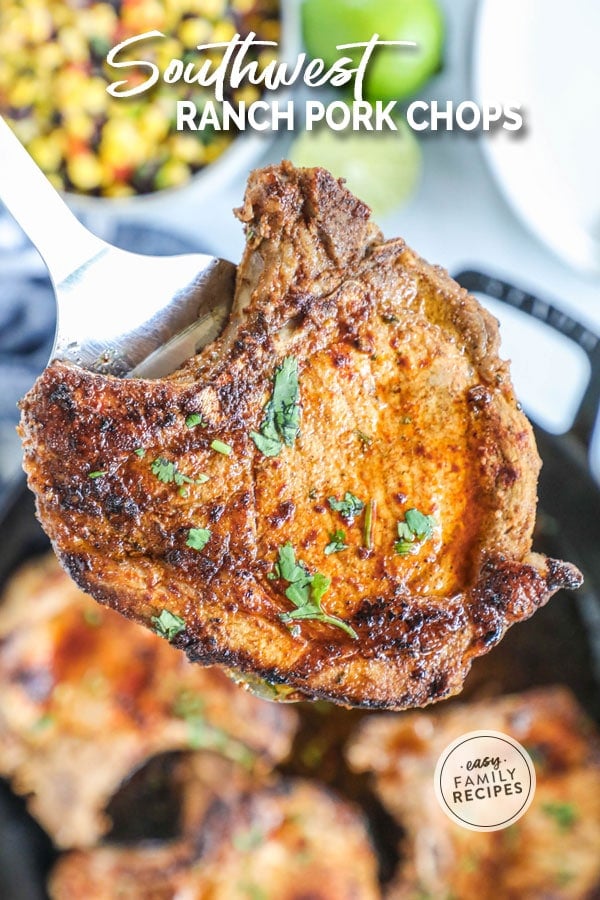 Freezer Meal Instructions
This recipe can be prepared as a freezer meal that can be stored in your freezer for up to 6 months.
Combine the ranch seasoning, lime juice, chili powder, smoked paprika, salt and 2 tbsp oil to make the marinade.
Place pork chops in a container or zip top bag and cover with the marinade on all sides.
Freeze.
When ready to use, thaw in the refrigerator for 24-48 hours.
Cook as directed.
To Freeze After Cooking:
Make recipe as directed. Let any you wish to freeze cool to room temperature.
Prep meat as desired (slice, dice, or separate into portions.) Package in freezer bag or freezer friendly container.
Freeze.
Once ready to cook, thaw in the refrigerator for 24-48 hours.
Reheat in the microwave or on the stovetop.
Southwest Pork Chops Leftovers
If you have leftovers after making the bone in pork chops, then it is your lucky day! They save and reheat well, and can make the start of another delicious dish.
To save leftovers, I like to remove the meat from the bone since it is easier when it is warm. Then separate into meal sized portions and then place in an airtight container and store:
in the refrigerator for 3-4 days
in the freezer up to a month
Leftover Recipes
Here are a few ways to repurpose those leftovers and give them a delicious makeover!
Southwest Pork Salad– Chop leftover pork chops. Fill a bowl with chopped romaine. Add your choice of corn, black beans, tomato or pico de gallo, chopped avocado, and shredded Mexican blend cheese. Drizzle with jalapeno ranch dressing.
Southwest Ranch Pork Quesadillas– Chop leftover pork chops. Place over half of a large tortilla. Add chicken, shredded cheese, and your choice of corn, black beans, and drained diced green chiles. Melt butter over medium heat, and once the skillet is hot, fold the tortilla in half and grill until golden brown on each side. Serve with ranch for dipping.
Southwest Pork Burrito Bowls– Add cilantro lime rice, black beans and chopped Southwest Ranch pork chops to a bowl. Top with your choice of corn salsa, red salsa, chopped romaine, shredded cheese, sour cream, and guacamole.
Southwest Pork Wraps– Remove pork chop from the bone then cut meat into slices. Spread a thin layer of ranch over a large tortilla or flatbread. add mixed greens, sliced pork, bacon crumbles, shredded cheese, and sliced tomato.
More 20 Minute Recipes
If you enjoyed this recipe, I really hope you will take a moment to grab a few more easy recipes for another busy night!
You can check out all of my EASY Dinner recipes here, or see a few of our readers favorite recipes below.
Hungry for more family-friendly recipes? Sign up for my free recipe club to get new family-friendly recipes in your inbox each week! Find me sharing daily meal-time inspiration on Pinterest, Instagram, and TikTok.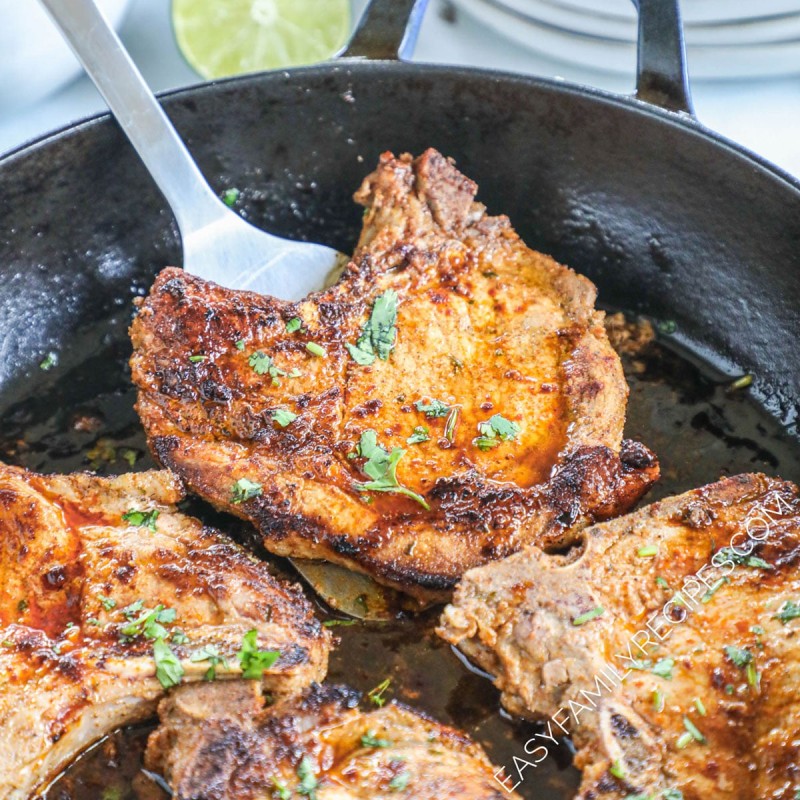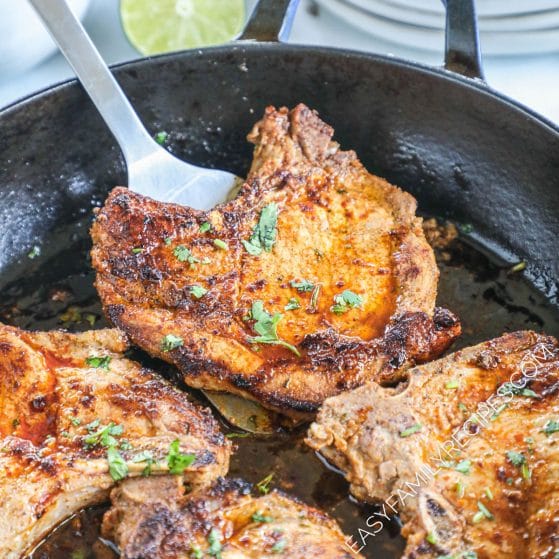 Southwest Bone In Pork Chops
These Southwest Bone in Pork Chops are loaded with the rich smokey flavor of our special southwest ranch seasoning and pan seared to tender juicy perfection.
Prep Time: 5 minutes
Rest time: 5 minutes
Cook Time: 12 minutes
Total Time: 22 minutes
Serves:4 servings
Hover over "serves" value to reveal recipe scaler
Ingredients
2 lbs bone in pork chops (about 4)
2 tbsp ranch seasoning (1 packet)
2 tbsp lime juice (juice from 1/2 lime)
1 tsp chili powder
1/2 tsp smoked paprika
1/2 tsp salt
3 tbsp vegetable oil
Instructions
Combine the ranch seasoning, lime juice, chili powder, smoked paprika, salt and 2 tbsp oil to make the marinade.

Place pork chops in a container or zip top bag and cover with the marinade on all sides. Let rest 10-30 minutes in the refrigerator.

Heat the remaining 1 tbsp oil in a large skillet over medium high heat. Place pork chops in the hot pan and sear on each side for 2 minutes. Then cover the pan and reduce heat to low cooking for 5-8 more minutes or until the pork chops are cooked through to 145˚F

Remove the pork chops from the pan and let rest 3-5 minutes. Then serve hot! Enjoy!
Nutrition Information:
Serving: 1pork chopCalories: 402kcal (20%)Carbohydrates: 5g (2%)Protein: 35g (70%)Fat: 26g (40%)Saturated Fat: 13g (81%)Cholesterol: 117mg (39%)Sodium: 958mg (42%)Potassium: 597mg (17%)Fiber: 1g (4%)Sugar: 1g (1%)Vitamin A: 323IU (6%)Vitamin C: 2mg (2%)Calcium: 32mg (3%)Iron: 1mg (6%)
(Nutrition information provided is an estimate and will vary based on cooking methods and brands of ingredients used.)