Brown Butter Tortellini and Spinach is a one pot wonder meal! Packed with the rich taste of toasty butter, savory garlic, and fresh veggies, it is a loaded with flavor, but quick to make, meatless meal the whole family can enjoy.
Spinach Tortellini – The EASY Way!
This is one of the first meals I started making for my husband and I when we got married. I was experimenting a lot in the kitchen, trying to find a balance of the things he loved and the flavors I loved.
Since I have never been big on meat, this Brown Butter Tortellini was one of the first meals I found we could both really enjoy.
The best part is how incredibly EASY this is to make! Seriously… Brown butter makes it sound fancy, but you can't argue with 5 ingredients (plus S&P) and 1 pot. Doesn't get much easier than that!
The method we use here, has been perfected over my years of juggling 3 kids and reduced from the need for a bunch of dishes, down to just one pot to prepare and serve this dinner from.
That means less prep, less mess, less clean up and all the flavor! That is the easy way!
What to Serve with Tortellini
This one pot meal is packed with grains, veggies, cheese, and dairy so it makes a full meal in and of itself. If you add a couple of sides though, it can stretch the meal to further, either to feed more, or to have leftovers for the next day.
Here are a few of my favorite side dishes to serve with Brown Butter Tortellini and Spinach:
Side Salad with Italian Dressing
Or if you want to add meat to the dish, these meat entrees pair really well with this recipe:
You can choose one, none, or a few and have a winning combination with this recipe!
Recipe Tips
Making this recipe is simple! I am going to share some of my notes and tips for making this recipe so that you can get the best results possible!
Make sure to scroll down to the bottom of this post for the FULL recipe card.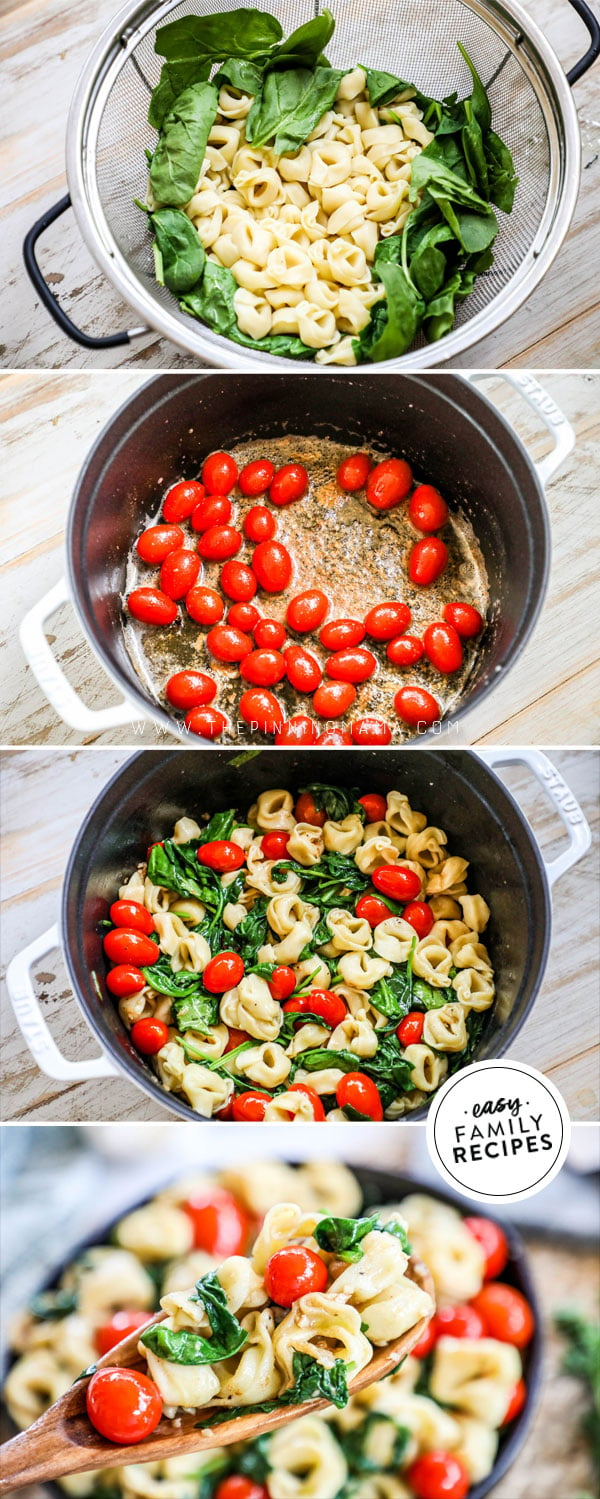 The Tortellini
In this recipe we use FROZEN tortellini. There are several types you can find in the store, but this recipe works best with either frozen or fresh tortellini (that you get in the refrigerated section of the grocery store.)
Tortellini cooks quickly, so I generally try to have the recipe ready to go before I drop the tortellini in to cook. In just 2-3 minutes the tortellini will start to float and be ready to be drained.
Substitutions: You can use other flavors of tortellini in place of cheese tortellini. You can also substitute cheese ravioli for tortellini. The small ravioli will work best.
The Spinach Trick!
One of my favorite little tricks to cut time in this recipe is using the boiling water from the tortellini to wilt the spinach perfectly!
To do this, get a large colander and place the fresh spinach in it. Then drain the pasta over the spinach. The hot water will naturally wilt the spinach and get it perfectly ready to add into the recipe without further cooking.
The Butter Sauce
If you have never had it, browned butter has a magnificent rich, nutty flavor and is so easy to make!
Just pop the empty pot you used to cook the tortellini on back onto the stovetop over medium heat. Then put the butter in and let it melt down. Continue to cook for just another minute or two and it will start to brown and become really fragrant.
You can swirl the pan or give it a stir a couple of times during the process to make sure everything is cooking evenly, but mostly it is just watching and smelling for it to get to the point where it is fragrant and golden brown. Then you are ready for the last step!
Bringing it all together
First add the garlic, tomatoes salt and pepper to the butter. This will infuse the garlic flavor into the butter and cook the tomatoes ever so slightly.
Then the spinach and tortellini is tossed back into the pot and with the sauce.
Simple right?! One pot. Easy everyday ingredients. Magical flavor!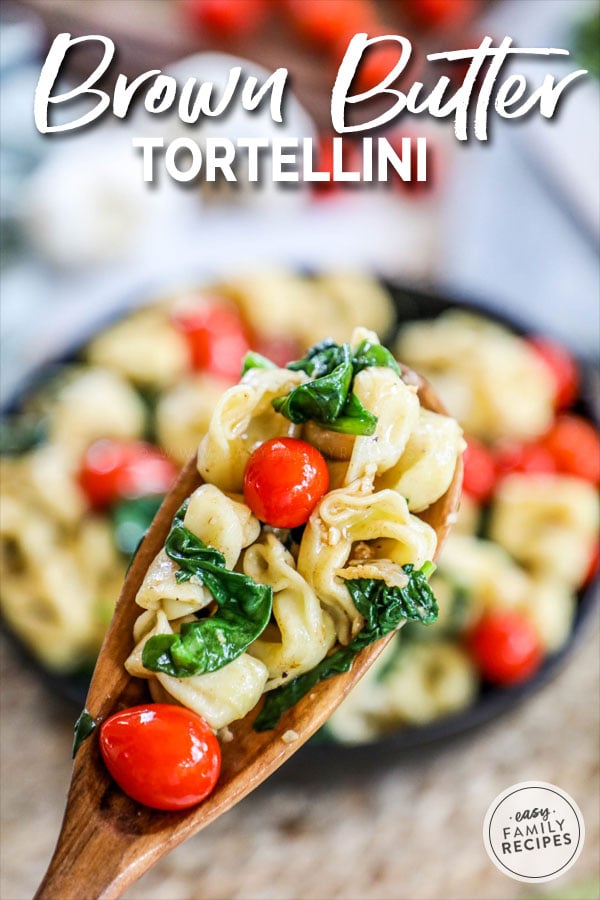 Recipe Variations
I always recommend you try the recipe as written first. If you enjoy this recipe and want to try some new twists on it, there are some fun variations that we use!
Ham & Spinach Tortellini– Add diced ham in with the garlic and tomatoes in step 4.
Sausage Spinach Tortellini– Prepare Italian sausage before cooking the tortellini. Then add it into the butter sauce in step 5 with the tortellini and spinach
Caprese Brown Butter Tortellini– Prepare the recipe as directed. After stirring the tortellini and spinach back into the pot, add 6 oz fresh mozzarella balls and 1/4 cup chopped fresh basil. Optional: Drizzle with balsamic glaze.
Spicy Spinach Tortellini– Make as directed, adding in 1/4-2 tsp crushed red pepper flakes in step 4 with the garlic. Add more or less depending on how spicy you want it.
Dietary Restrictions
This Easy Brown Butter Spinach Tortellini meets requirements for several dietary needs, and can be easily modified to work with others.
As always, verify compliance of any store bought ingredients to ensure they meet your specific need. Information below is a guideline based on general norms.
Vegetarian- This recipe is naturally vegetarian.
Gluten free- This recipe can be made gluten free by using gluten free tortellini
Nut Free- This recipe is naturally nut free
Leftover Ideas
Leftovers of the Brown Butter Spinach Tortellini can be placed in an airtight container in the refrigerator for 3-4 days. It can be reheated on the stovetop or in the microwave.
If you have leftovers, you can dress them up to make a new and exciting meal for another night. Here are a few ideas:
Rotisserie Chicken Spinach Tortellini – Reheat the tortellini in a skillet and add pulled rotisserie chicken. Sprinkle mozzarella over the top and serve.
Spinach Tortellini Alfredo– Make this easy alfredo sauce, and once done, add the leftover tortellini and veggies to it and allow to cook for 3-4 minutes.
Spinach Tortellini Salad– Chop fresh spinach and place leftover tortellini and veggies on top, either cold or warm depending on personal preference. Add fresh mozzarella and toss with balsamic vinaigrette.
More Easy One Dish Meals
If you enjoyed this recipe, I hope you will take a moment to check out a few of our other quick and easy meals that can be made using JUST ONE DISH!
You can see all of our one dish recipes here, or check out a few of our favorites below.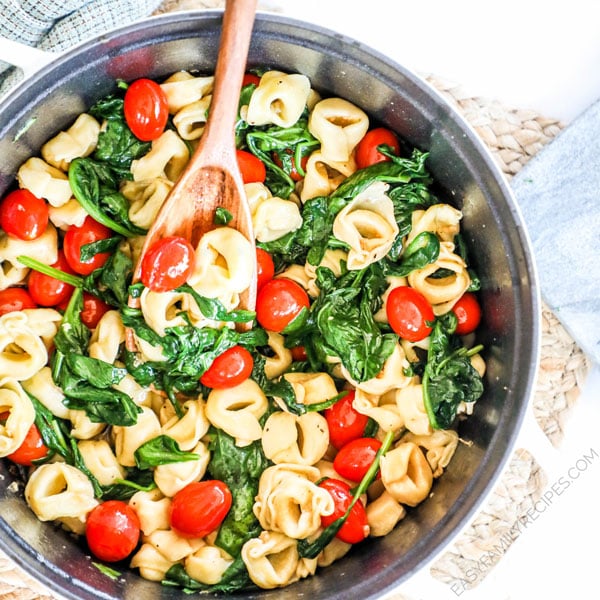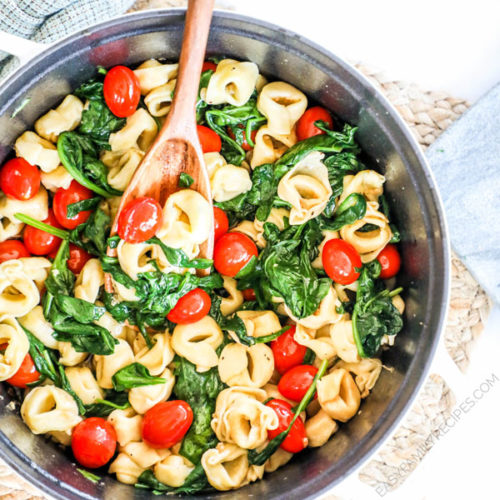 Easy Brown Butter Spinach Tortellini
This is the ultimate one pot EASY dinner! Tender tortellini and fresh spinach is tossed in a rich garlic butter sauce to make a filling meatless meal.
Ingredients
19

oz

cheese tortellini

,

frozen

6

tbsp

butter

,

salted

8

oz

fresh spinach

1

pint

cherry tomatoes

,

washed

3

cloves

fresh garlic

,

pressed

1/2

tsp

salt

1/2

tsp

ground black pepper
Instructions
Bring a pot of water to a boil and cook the tortellini for 2-3 minutes, or until they float.

Place the spinach in a colander and drain the pasta over the spinach to wilt it.

Return the empty pot to the stove top over medium heat. Add the butter and allow it to cook until it becomes bubbles and starts to turn brown and have a delicious rich fragrance, about 2-4 minutes.

Add the garlic, tomatoes, salt and pepper and cook in the butter 1 minute.

Turn the heat off and add back in the pasta and spinach and toss to coat in the butter sauce.
Nutrition Information
Serving:
1.5
cups
,
Calories:
610
kcal
(31%)
,
Carbohydrates:
66
g
(22%)
,
Protein:
23
g
(46%)
,
Fat:
29
g
(45%)
,
Saturated Fat:
15
g
(94%)
,
Cholesterol:
97
mg
(32%)
,
Sodium:
1085
mg
(47%)
,
Potassium:
583
mg
(17%)
,
Fiber:
7
g
(29%)
,
Sugar:
7
g
(8%)
,
Vitamin A:
6425
IU
(129%)
,
Vitamin C:
43.6
mg
(53%)
,
Calcium:
269
mg
(27%)
,
Iron:
5.8
mg
(32%)