In less than the time it takes to order takeout, you can have this Chicken Vegetable Stir Fry on the table! With tender chicken breast, loads of fresh veggies, and a sticky-sweet stir fry sauce that clings to every bite, this is an easy weeknight dinner that everyone in the family will love. 
Chicken Vegetable Stir Fry – The EASY Way!
This Chicken Vegetable Stir Fry is the best kind of weeknight dinner recipe. It's veggie packed, but your kids will actually eat it. (Gasp!) It takes minutes to make and it tastes amazing. As if that's not enough, you can easily customize it with the veggies you happen to have on hand—which means it's perfect for cleaning out that crisper drawer! (Check out our Pepper Steak Stir Fry for a beef version!)
What separates a serviceable stir fry from a stellar one is the sauce, and this one is a keeper. When making a stir fry, you want a sauce that's sticky, which means adding cornstarch for thickness and sugar for, well, stickiness. This allows the sauce to cling to all the chicken and veggies in this chicken stir fry, so every bite is flavorful and there's not a pool of sauce at the bottom of the bowl when you're done eating.
Once you've nailed the sauce, it's time to start thinking about the rest of your Chicken Vegetable Stir Fry. I use boneless, skinless chicken breast because it's easy to work with and it's picky-eater-approved. Stir fries are a great way to work some extra veggies into your day, so I really like to go to town here with zucchini, bell pepper, broccoli, carrots, and onion. Serve it up over fluffy white rice for a satisfying meal!
Why I LOVE this recipe!
Quick – Stir fries come together lightning fast, making them perfect for those busy school nights.
Wholesome – I mean, just look at all those veggies! And, of course, the chicken is loaded with protein. This is the kind of dinner that just makes you feel good after eating it.
Customizable – Kids don't like even the tiniest amount of heat in their food? Skip the sriracha! Have a bag of spinach in the fridge that expires today? Throw it in your Chicken Vegetable Stir Fry! It's all good.
Kid-Friendly – The sticky-sweet sauce in this stir fry is delicious enough to coax even the most ardent veggie-haters into cleaning their plate.
What to Serve with Chicken Vegetable Stir Fry
Since this dish has the classic flavors of Asian takeout, it will pair well with many of your favorite Asian side dishes. There are both classic options and some healthy options to keep it light.
Side Dish Ideas
Rice – The classic! Use white rice, brown rice or cauliflower rice for something healthier, or try sushi rice stirred with a little bit of rice vinegar for something different.
Asian Cucumber Salad with Ginger Soy Dressing – The perfect complement to this Asian-inspired chicken stir fry.
Cabbage – Yep, sometimes I just serve stir fry over shredded cabbage! My Spicy Sriracha Asian Coleslaw works well with the flavors of this Chicken Vegetable Stir Fry too.
Quinoa
Sauce- We love to add a drizzle of yum yum sauce or spicy mayo!
You can choose one or add a few sides to make a wholesome, well rounded dinner.
Recipe Notes
This Chicken Vegetable Stir Fry recipe is as simple as promised! Just a few minutes for a family friendly meal.
In this section I am going to go through a few tips and tricks I use when making this recipe to get the absolute best and most delicious results.
Make sure to scroll to the bottom for the FULL recipe card.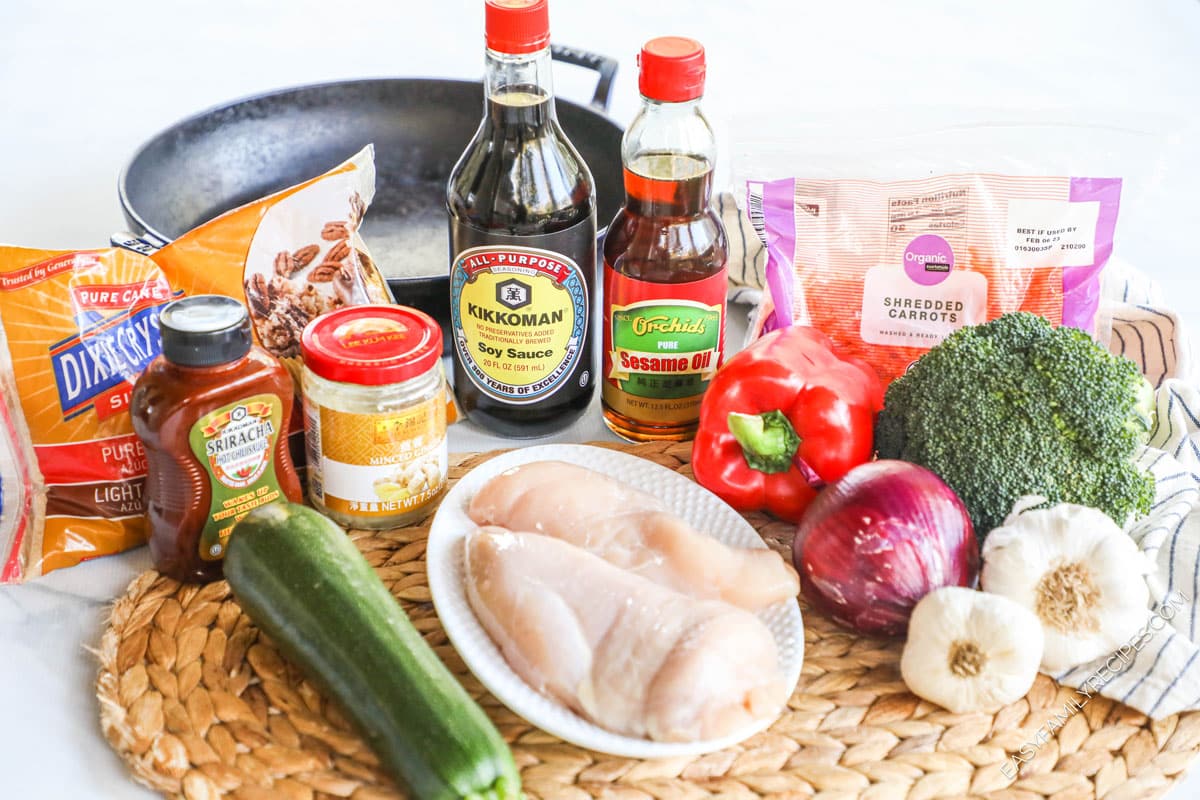 Ingredients + Substitutions
For the Chicken Veggie Stir Fry
Boneless, skinless chicken breast – Cut the chicken into bite-sized pieces so it's easy to eat.
Sesame oil – This will give your chicken and vegetable stir fry that authentic Asian takeout flavor.
Zucchini – Yellow squash can be used instead.
Red bell pepper – Orange and yellow bell peppers have the same mild, sweet flavor as red, so those can be swapped in if you'd like.
Shredded carrots– you can use chopped carrots or carrot chips, I use shredded because it is so easy to grab at the store.
Broccoli – You'll need to cut this small enough that it will cook through in the pan. Fresh or frozen will work!
Red onion
For the Stir Fry Sauce
Soy sauce – Use low-sodium soy sauce to cut the sodium in the recipe, or tamari to make a gluten-free chicken stir fry sauce.
Brown sugar – You can use light or dark brown sugar; dark brown sugar will give your stir fry a little more depth.
Garlic
Ginger – Fresh ginger will give your stir fry more oomph, but if you don't have it on hand, use 1 teaspoon ground ginger.
Sriracha – This is optional; you can always add it on individual portions if not everyone in your family likes a spicy Chicken Vegetable Stir Fry.
Cornstarch
Water
Garnish
Sesame seeds – Make it fancy with black and white sesame seeds.
Green onion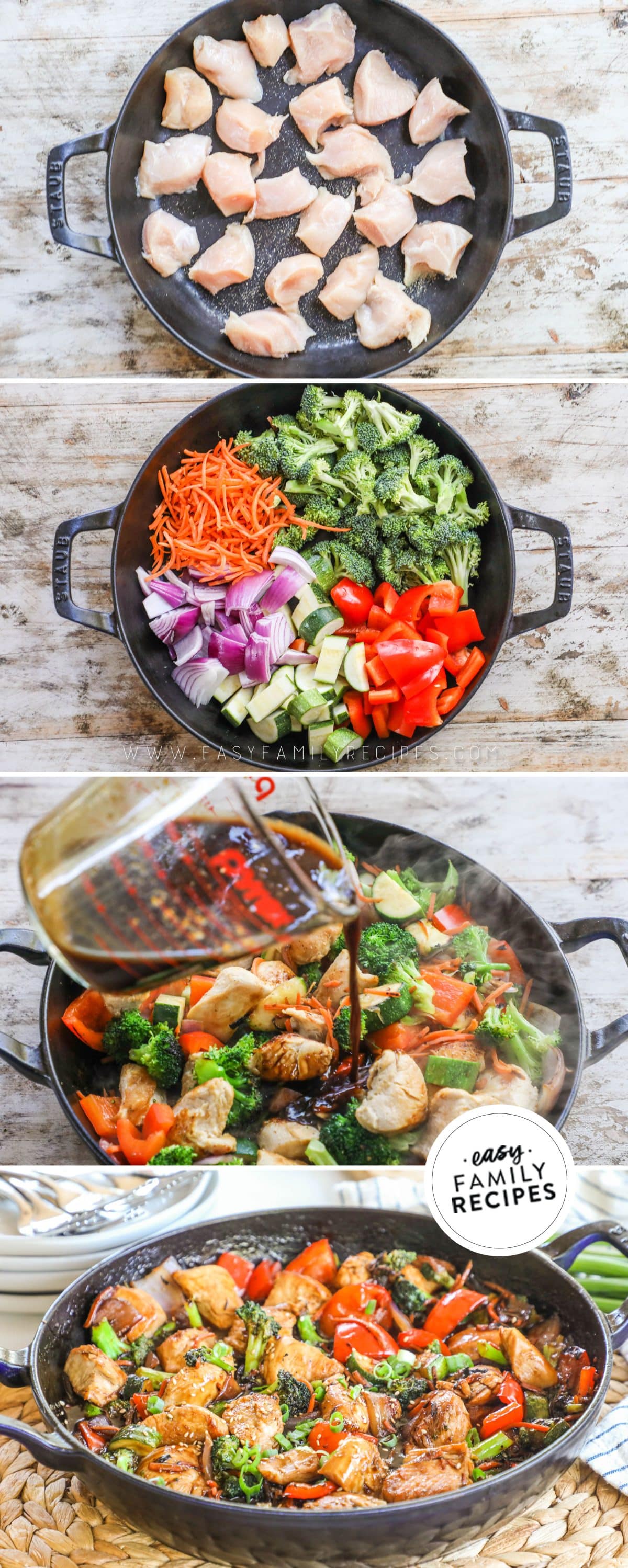 Recipe Tips
Have everything ready – The downside of a quick recipe like this Chicken Vegetable Stir Fry is that you can't prep as you go. You'll need to have all of the ingredients cut and the sauce whisked together before you start. Once you begin cooking, there's no time to pause.

Whisk the sauce well – Mix the cornstarch with water first to prevent lumps from forming and whisk the sauce until the sugar is completely dissolved. This will make sure the sugar and cornstarch is distributed evenly throughout the sauce.

Use the biggest skillet you have – You don't want to add the chicken and sauce back to the skillet with the veggies and realize you have no room to stir it all together! And you definitely don't want everything to overflow out of the pan, leaving you a mess to clean up on the stovetop. There's a lot of food here, so you'll need lots of room for cooking and stirring.

Cut the zucchini thick – The zucchini cooks faster than the other ingredients because it's mostly water; cutting it thicker will allow you to add all of the veggies at the same time without ending up with mushy zucchini.

Customize– You can add whatever extra veggies you have hanging around to the stir fry. This is a super customizable meal and you can use this stir fry recipe as a starting point for whatever you have on hand.
Recipe Short Cuts
If you need to make this recipe, but are extra short on time, here are a few ideas that can help make this recipe even faster!
Use pre-cooked chicken – Buy a package of grilled chicken from the grocery store, cut it into pieces, and skip having to cook your own chicken.

Buy pre-cut vegetables – You can often find packages of stir fry vegetables in the produce section at the grocery store, or use the salad bar.

Use ready rice – You know the kind in the pouch that you microwave? It's super convenient when you don't have 20 minutes to make rice from scratch!
Recipe Variations
If you love this recipe as much as we do and want some quick ways to change it up for variety, these little tips will do the trick!
Make it meatless – You can use a plant-based "chicken" instead of chicken breasts, or just add extra veggies for a Meatless Monday dinner.

Use (almost) any veggies you like – Just be mindful of how long they need to cook. For example, if you throw in some cubed sweet potatoes, odds are they're still going to be hard by the time everything else in your stir fry is done!

Transform it into a sheet pan dinner – Yes you can! Coat a sheet pan with non-stick spray, add the chicken, veggies, and sauce, toss to coat, and bake at 425ºF until the veggies are tender and the chicken reaches an internal temperature of 165ºF.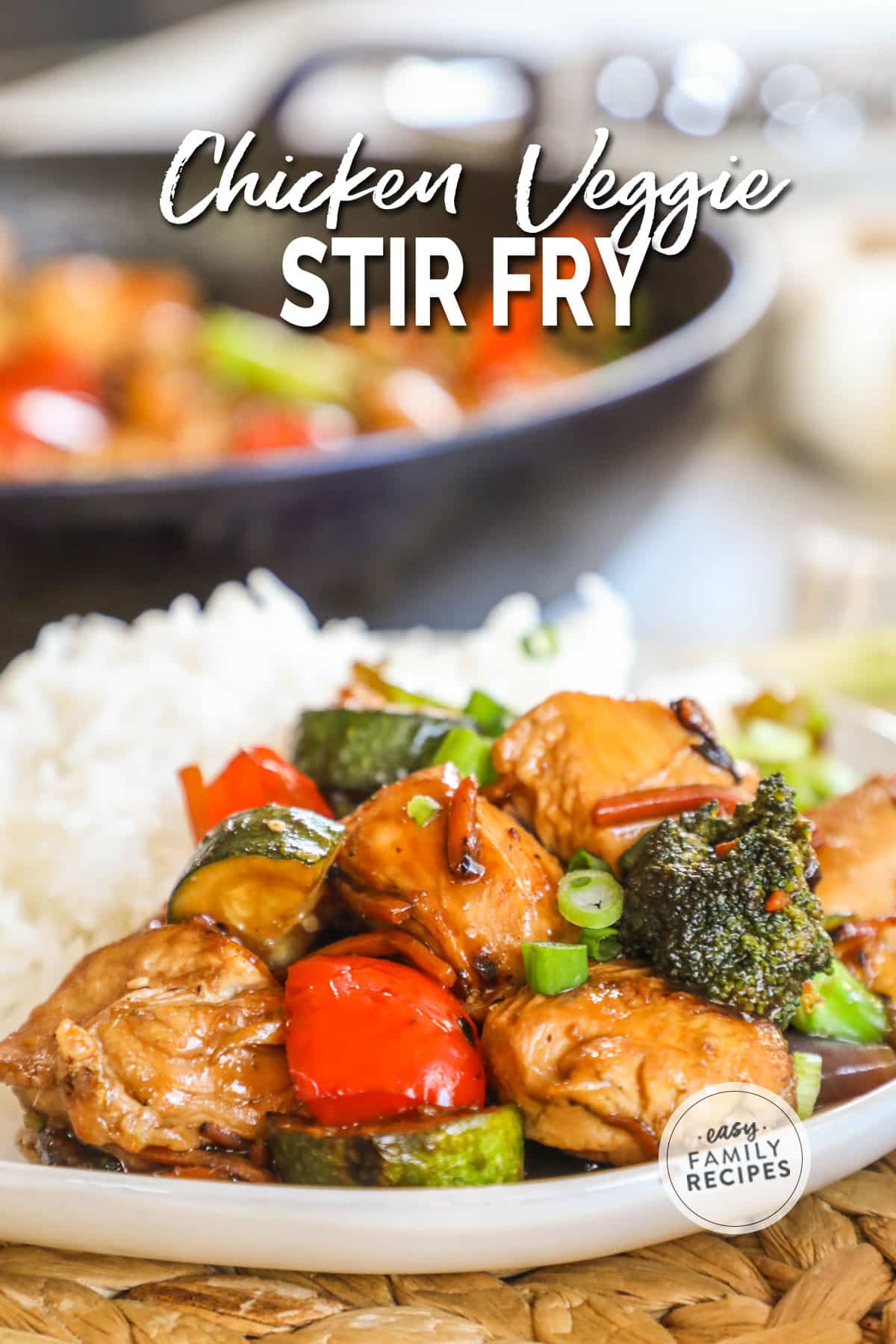 Freezer Meal Instructions
Making this Chicken Vegetable Stir Fry recipe into a freezer meal is simple! Follow the steps below and you can store this recipe in the freezer for up to 6 months.
To Freeze Stir Fry Before Cooking:
Prepare sauce
Prepare chicken and vegetables.
Freeze sauce, chicken, and vegetables separately.
Once ready to cook, thaw for 24-48 hours in the refrigerator.
Continue with recipe as directed.
To Freeze Stir Fry After Cooking:
Transfer the Chicken Vegetable Stir Fry to an airtight freezer-safe container or freezer bag.
Let the stir fry thaw in the refrigerator overnight before you plan on serving it. Although you can reheat it in the microwave, I recommend warming it up in a skillet on the stovetop over medium heat for best results.
Chicken Vegetable Stir Fry Leftovers
If you have leftovers after making Chicken Vegetable Stir Fry, then it is your lucky day! They save and reheat well, and can make the start of another delicious dish.
To save leftovers, separate into meal sized portions and then place in an airtight container and store:
in the refrigerator for 3-4 days
in the freezer up to a month
Leftover Recipes
Here are a few ways to repurpose those leftovers and give them a delicious makeover!
Chicken Vegetable Stir Fry Pitas – If you're a Midwesterner, you may recognize this idea from a restaurant called Bakers Square. It's seriously good. Just heat up the stir fry, fold it into a pita, and eat it with a knife and fork. (Bakers Square puts mozzarella on top, but you've got to be a true Midwesterner to enjoy it that way.)

Chicken Veggie Stir Fry Meal Prep – Today's leftovers can be tomorrow's lunch! Give it a new spin by serving it with a different base or jazzing it up with some chopped peanuts or cashews and fresh basil leaves.

Chicken Vegetable Noodles – Buy a box of Asian noodles from the grocery store—the kind that comes with noodles and sauce—prepare it according to the package instructions, then stir in your leftovers.
More Chicken Dinner Recipes
If you enjoyed this recipe, I really hope you will take a moment to grab a few more easy recipes for another busy night!
You can check out all of my chicken recipes here, or see a few of our readers favorite recipes below.
Hungry for more family-friendly recipes? Sign up for my free recipe club to get new family-friendly recipes in your inbox each week! Find me sharing daily meal-time inspiration on Pinterest, Instagram, and TikTok.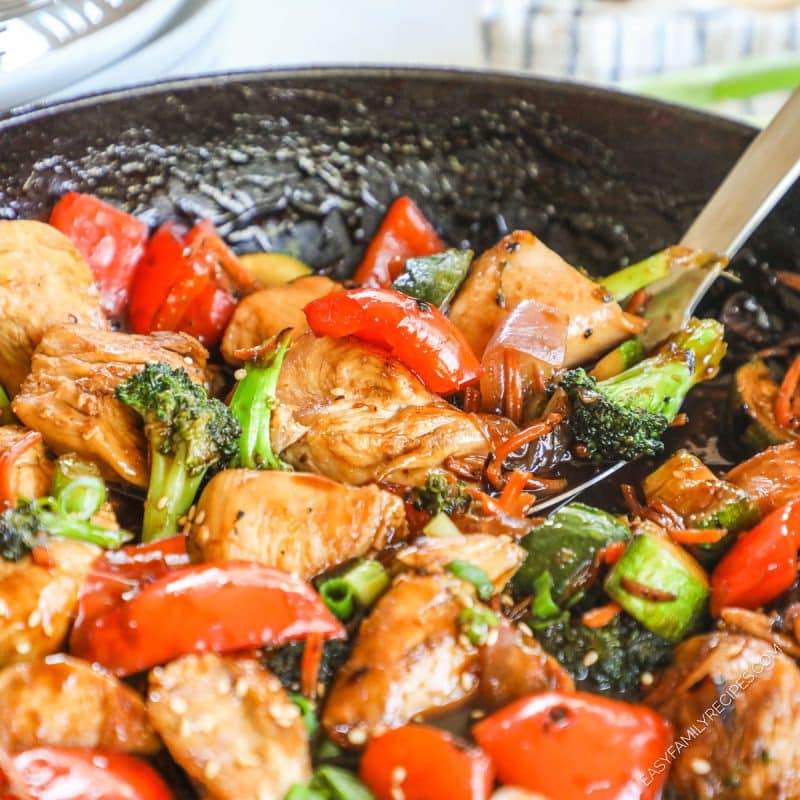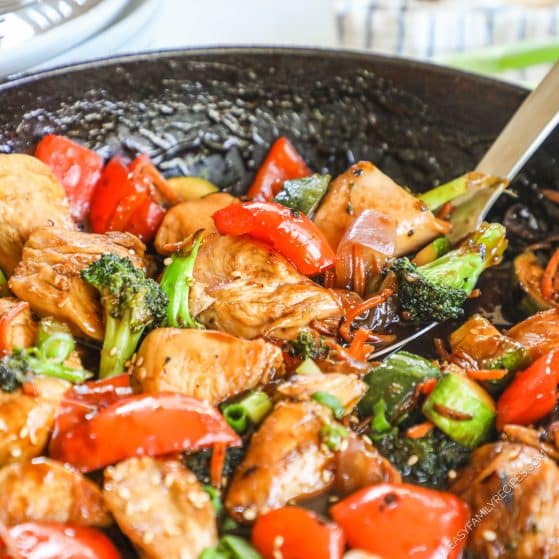 Chicken Veggie Stir Fry with Zucchini
With a sticky-sweet sauce, loads of tender-crisp veggies, and protein-packed chicken, this quick and easy Chicken and Vegetable Stir Fry is the perfect weeknight dinner!
Prep Time: 5 minutes
Cook Time: 15 minutes
Total Time: 20 minutes
Serves:6 people
Hover over "serves" value to reveal recipe scaler
Ingredients
2 pounds boneless, skinless chicken breast cut into bite sized pieces
2 tablespoons sesame oil divided
2 cups zucchini sliced into thick half moons
1 red bell pepper chopped
1/2 cup shredded carrots
1/2 pound broccoli cup into small florets
1/2 red onion diced
Stir fry sauce
1/2 cup soy sauce
1/4 cup brown sugar
1 tablespoon minced garlic
1 tablespoon minced ginger (1 teaspoon ground ginger)
1 teaspoon sriracha optional
1 tablespoon cornstarch
1 tablespoon water
Garnish (optional)
sesame seeds
chopped green onion
Instructions
In a small bowl, whisk together the soy sauce, brown sugar, garlic, ginger, and sriracha. Mix the cornstarch and water together until the cornstarch is dissolved, then whisk into the stir fry sauce.

Heat a large, high-sided skillet with 1 tablespoon of oil over medium high heat.

Once the pan is hot, add the chicken pieces to the pan. Cook for 3-4 minutes without stirring to get a nice sear, then cook for 3-4 additional minutes stirring regularly until chicken is cooked through (165˚F internal temp.) Remove from skillet and set aside.

Add the remaining oil in the pan, then add the vegetables. Cook stirring occasionally for 4-6 minutes or until the veggies become tender.

Add the meat back the pan and pour the stir fry sauce in and toss to coat in the sauce. Cook 1-2 minutes or until the sauce has thickened then remove from heat.

Garnish as desired with green onion and/or sesame seeds.
Nutrition Information:
Calories: 297kcal (15%)Carbohydrates: 18g (6%)Protein: 36g (72%)Fat: 9g (14%)Saturated Fat: 2g (13%)Polyunsaturated Fat: 3gMonounsaturated Fat: 3gTrans Fat: 0.02gCholesterol: 97mg (32%)Sodium: 1301mg (57%)Potassium: 918mg (26%)Fiber: 2g (8%)Sugar: 12g (13%)Vitamin A: 2457IU (49%)Vitamin C: 70mg (85%)Calcium: 51mg (5%)Iron: 2mg (11%)
(Nutrition information provided is an estimate and will vary based on cooking methods and brands of ingredients used.)