Delicious Homemade BBQ Sauce is easier than you think! With just a few pantry ingredients you can whip up a batch – no cooking needed! A little bit sweet, a little smokey, and a little tangy, the flavor just can't be beat! This is the perfect barbecue sauce for chicken, pork, brisket, chicken nuggets, meatballs and all of your favorites.
Homemade BBQ Sauce – The EASY Way!
While it is pretty convenient to just throw a bottle of barbecue sauce in your cart while you are grocery shopping, making bbq sauce from scratch is just as easy!
Being born and raised in Texas, I have had my fair share of BBQ sauce. While there is definitely an art to making it, it can be VERY EASY to make a great quick homemade BBQ sauce!
To make homemade bbq sauce, you only need a few every day pantry ingredients, and there is no cooking required!
In as little as 5 minutes you can have your own signature easy bbq sauce whipped up and ready to serve! How's that for impressive?
It is a great bbq sauce for chicken, pork, beef, and can be used for both dipping or for cooking with!
What to Serve BBQ Sauce With
This sauce is equally great as a dip, a drizzle or for basting, coating, or slow cooking. You can use it almost endlessly!
Here are some ideas of ways we like to use this Easy Homemade BBQ Sauce in our kitchen:
Dip + Drizzle + Top
Dip chicken tenders or chicken nuggets
Dip french fries or chips
Dip onion rings
Drizzle over baked potatoes
Drizzle over nachos
Drizzle on tacos
Drizzle over salad with ranch dressing
Top Burgers
Top hot dogs or sausages
Cook
Use in crock pot to make pulled pork like our Zesty BBQ Pulled Pork and Picnic Pulled Chicken
Baked BBQ Chicken – chicken legs, chicken breast, chicken wings
Slow cook over brisket
Use to baste when grilling – chicken, pork, or ribs
Use to make casseroles like our family favorite BBQ Chicken Casserole
Bake with one pan dinners like Monterey Chicken
Toss with shredded chicken to make dishes like our BBQ Chicken Enchiladas
Use as a marinade for meats like in our BBQ Chicken Marinade
Slather it over baby back ribs and cook in the Instant Pot, Oven or smoker!
Use it as sauce in your sloppy joes!
Whatever you use it for, it will be delicious! The tangy smokey flavor is perfect for making any boring meal, next level delicious!
Recipe Notes
This BBQ Sauce recipe is as simple as promised! Just a few minutes + a few ingredients and you will be ready to serve.
In this section I am going to go through a few tips and tricks I use when making this recipe to get the absolute best and most delicious results.
Make sure to scroll to the bottom for the FULL recipe card.
Ingredients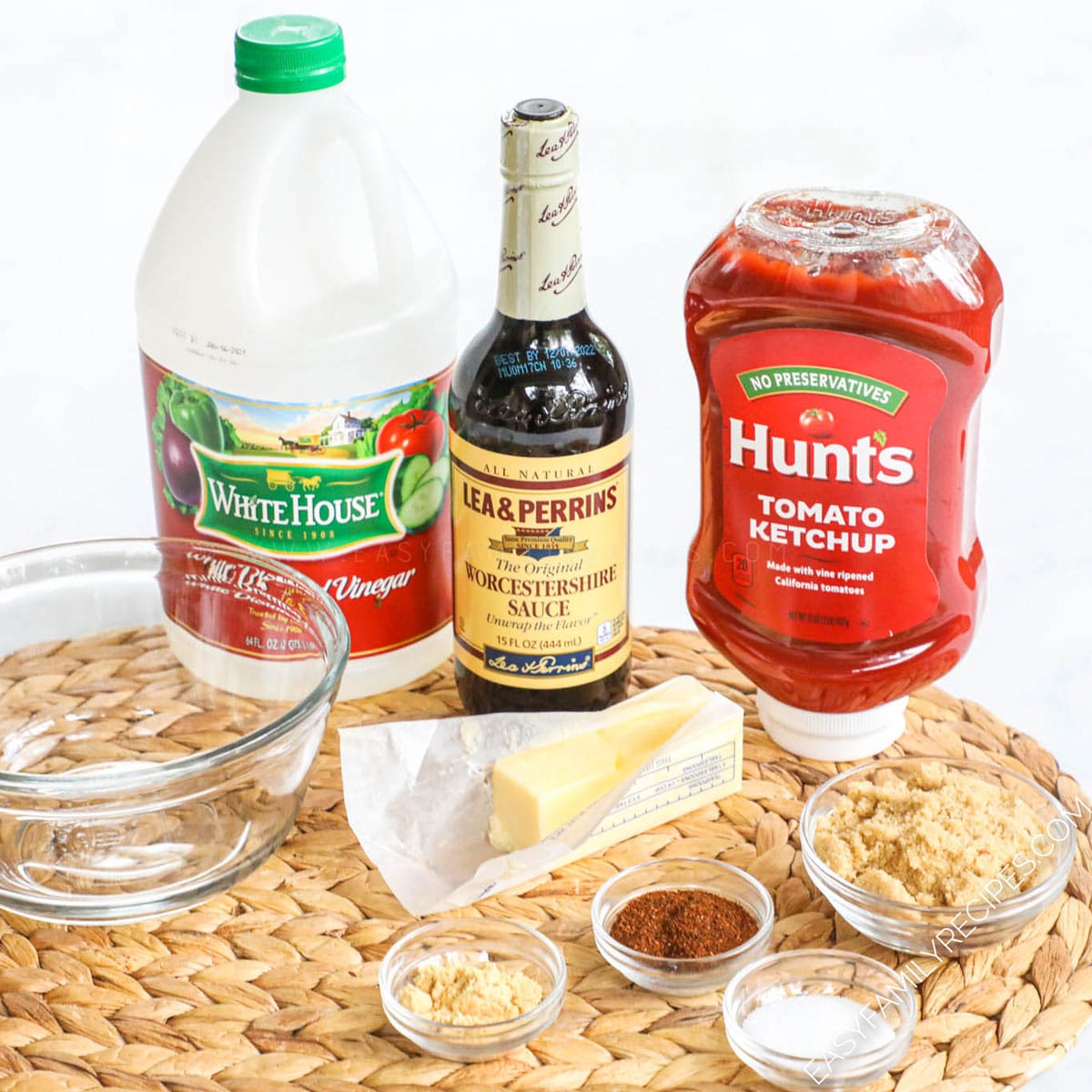 Ketchup- whatever brand you like!
White vinegar – try other kinds of vinegar like apple cider for a different flavor
Brown sugar – brown sugar is a combination of sugar and molasses which gives the BBQ sauce more depth of flavor than white sugar would.
Butter– adds richness and texture to the sauce
Worcestershire sauce– just a little will add a lot of flavor!
Spices – We use a simple combination chili powder, dry mustard, and salt to flavor the sauce. You can use our suggested quantity or play around with the amounts to get a flavor you love.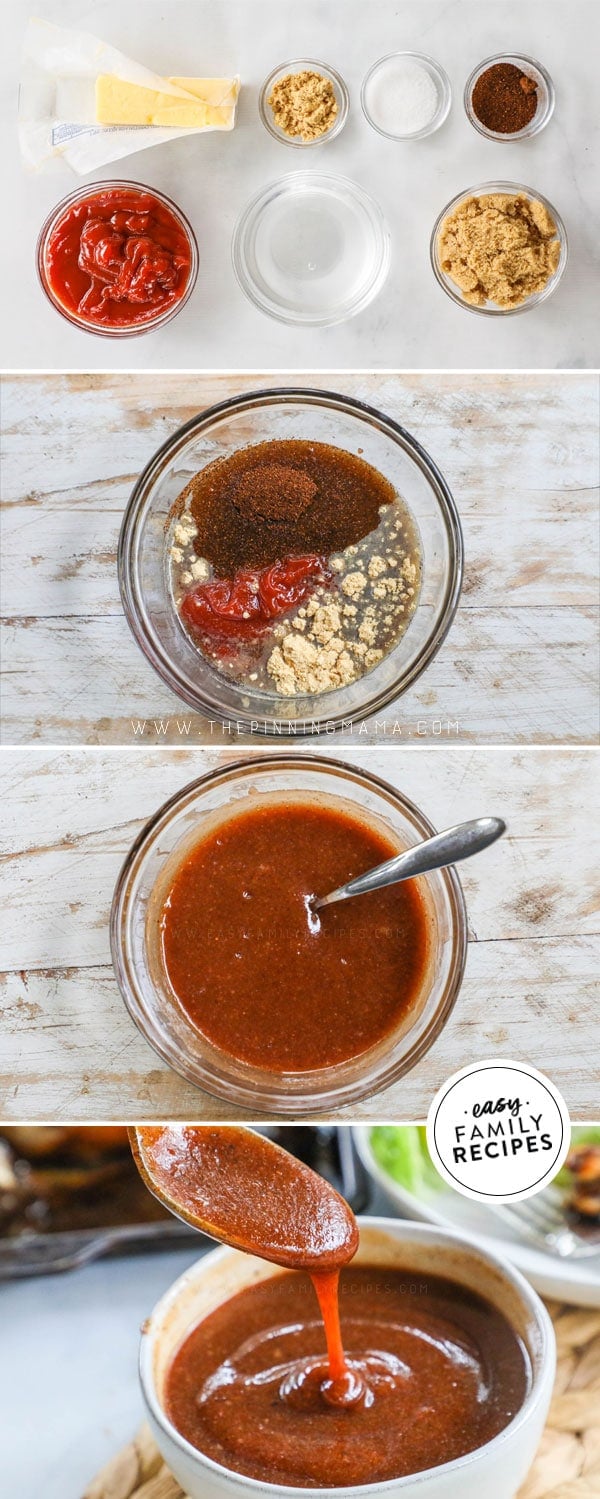 Recipe Tips
Combining the ketchup and butter– Make sure that your ketchup comes to room temperature before adding the butter. You want the butter to completely combine with the ketchup, and if the ketchup comes out of the fridge and is cold, the butter will go back from a liquid to a solid before it can combine. If needed you can microwave the ketchup to get it warm quickly, just transfer it to a microwave safe dish.

Use a Whisk– Since there is no cooking required in this BBQ sauce recipe, you will want to use a whisk and so that you can combine the ingredients as throughly as possible. Whisks help to break down ingredients more quickly and easily then spoons do!

Play with the seasonings – You can add a little more or less of the seasonings and ingredients that are already in the recipe or add something new like adding oregano, paprika, cayenne, garlic or onion powder, or other seasonings. You can make it sweeter, smokier, or any thing you want. You can add more or less sugar to make it sweeter or change up the vinegar to try new flavors. This sauce makes a great base recipe to modify as needed.

Thicken the sauce – This sauce is has a nice consistency, but if you like BBQ sauce with a thicker consistency, you can put the BBQ sauce in a sauce pan and simmer over low for 15-25 minutes. It will begin to thicken as it simmers and continue to thicken as it cools.
Recipe Variations
If you love this recipe as much as we do and want some quick ways to change it up for variety, these little tips will do the trick!
Honey BBQ Sauce– If you like a really sweet BBQ sauce, try adding an additional 1/4-1/2 cup of honey to the sauce.
Smokey BBQ Sauce– To make the Barbecue sauce have a more smokey flavor, you can add liquid smoke (just a little goes a long way,) or use smoked paprika.
Homemade Spicy BBQ Sauce– In addition to the listed spices, add 1/4-1/2 tsp cayenne pepper. You can also add a few dashes of hot sauce as well.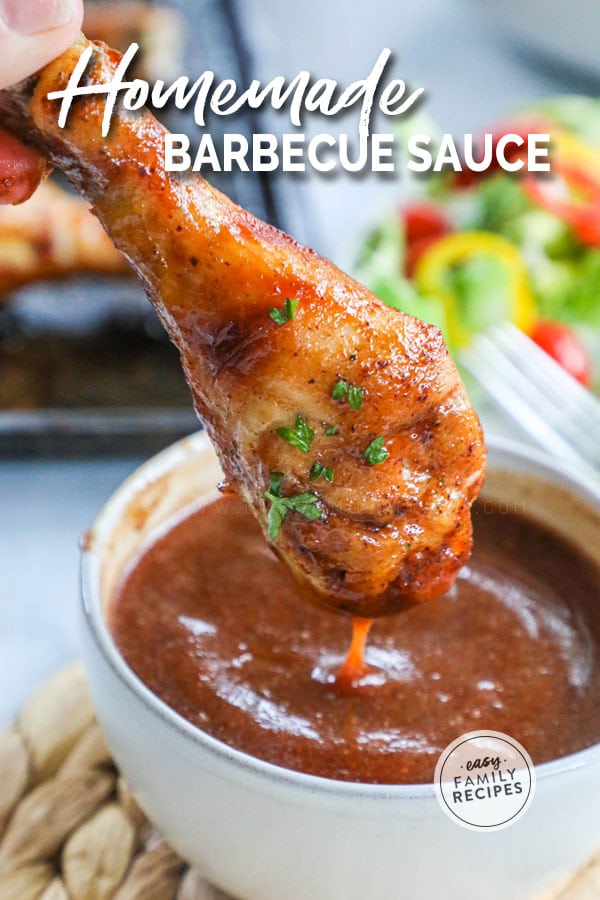 Storing BBQ Sauce
If you have leftovers after making your easy homemade BBQ sauce, then it is your lucky day! It saves well in the refrigerator fo you to use another time.
Homemade Barbecue sauce can be stored in the refrigerator for 2-3 weeks when made as directed.
More Quick + Easy Recipes
If you enjoyed this recipe, I really hope you will take a moment to grab a few more easy recipes for another busy night!
You can check out all of my EASY recipes here, or see a few of our readers favorite recipes below.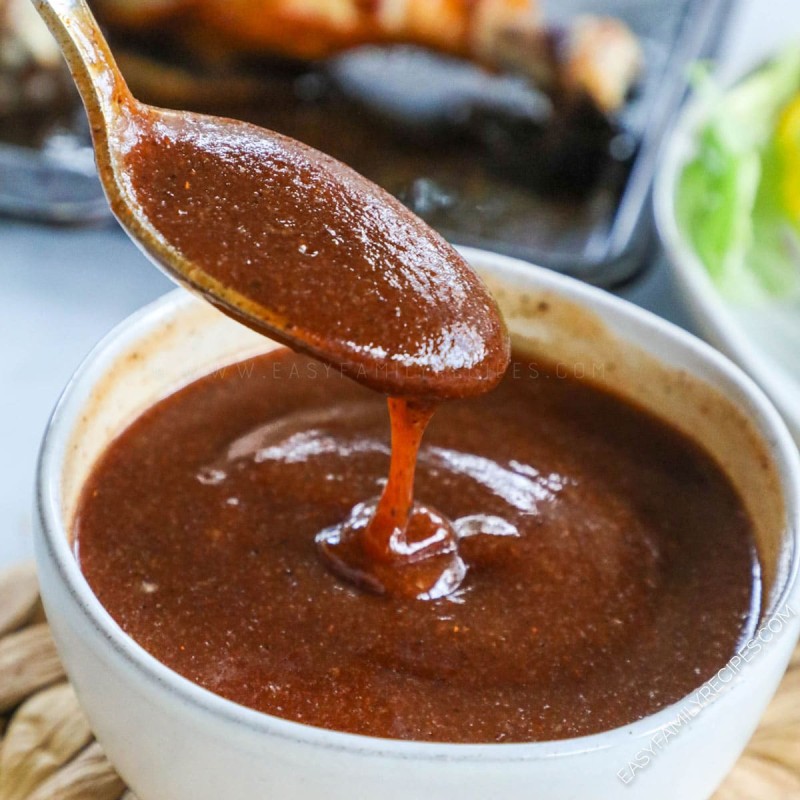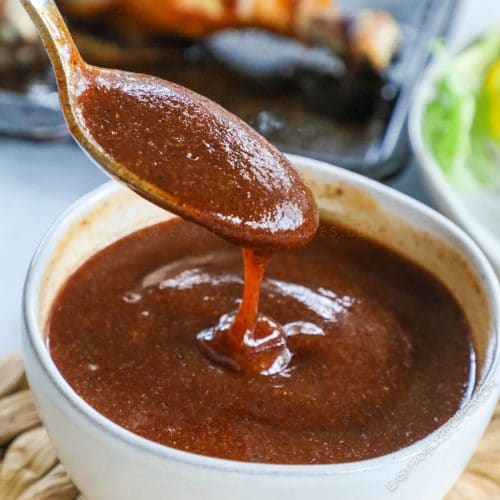 Easy Homemade BBQ Sauce
Delicious Homemade BBQ Sauce that is a little tangy and a touch smokey with a hint of sweetness. The best part is that this recipe is so easy, it can be done in 5 minutes!
Ingredients
1/2

cup

ketchup

1/3

cup

white vinegar

1/3

cup

brown sugar

2

tbsp

butter

,

melted

1

tbsp

Worcestershire sauce

1

tbsp

chili powder

2

tsp

dry mustard

2

tsp

salt
Instructions
Mix room temperature ketchup with butter until combined.

Add the remaining ingredients and whisk until the sauce is smooth.

Use immediately, or store in a mason jar or airtight container in the refrigerator for up to 3 weeks.
Recipe Notes
Makes about 1.5 cups of barbecue sauce.
Variations
To make a thicker sauce: simmer in a sauce pan on low for 15-25 minutes.
Homemade Sweet BBQ Sauce – Add an additional 1/4-1/2 cup of honey to the ketchup and butter mixture.
Homemade Smokey BBQ Sauce – Add 1/4 tsp+ liquid smoke until desired smokiness is achieved
Nutrition Information
Serving:
2
tablespoon
,
Calories:
57
kcal
(3%)
,
Carbohydrates:
9
g
(3%)
,
Protein:
1
g
(2%)
,
Fat:
2
g
(3%)
,
Saturated Fat:
1
g
(6%)
,
Cholesterol:
5
mg
(2%)
,
Sodium:
522
mg
(23%)
,
Potassium:
64
mg
(2%)
,
Fiber:
1
g
(4%)
,
Sugar:
8
g
(9%)
,
Vitamin A:
307
IU
(6%)
,
Vitamin C:
1
mg
(1%)
,
Calcium:
11
mg
(1%)
,
Iron:
1
mg
(6%)