Cranberry Pecan Chicken Salad is a favorite with its cool refreshing flavors! Tender shredded chicken is combined with crunchy celery, dried cranberries, chopped pecans, green onions and tossed in a creamy mayonnaise dressing. This simple salad is packed with sweet and savory flavor and is perfect for stuffing sandwiches and wraps, topping salads, and eating with crackers.
Cranberry Pecan Chicken Salad – The EASY Way!
Chicken salad has long been a staple in our home. It can be made in a variety of flavors. It is quick and easy to make, and chicken salad makes an extra hearty and delicious option when you need a meal in minutes, or to take with you on the run, so it is perfect for busy families!
I have shared many favorite chicken salad recipes, like my VIRAL Loaded Chicken Salad, this Creamy Pesto Chicken Salad, savory Curry Chicken Salad, and this zesty Cilantro Lime Chicken Salad, which are all good- but this one gives you a sweet and savory combo that can't be beat!
What I love about this recipe:
The TASTE! This has the perfect combination of flavors and textures to make it utterly irresistable!
Hearty – When you are doing a cold meal, it is easy to be left unsatisfied, but this chicken salad is packed with protein and hearty enough to keep you filled up.
Quick + Easy– This chicken salad can be made in just minutes with no fancy steps, or cooking methods.
Every day ingredients – Nothing fancy here- almost everything can be found in an average fridge or pantry!
Simple to special – Even though this chicken salad recipe is so easy, a little magic happens when it all comes together for an amazingly delicious, going to get asked for the recipe, can't stop eating it, kind of good!
What to Serve with Chicken Salad
Chicken salad makes a great snack or meal. You can serve it in a variety of ways depending on what you are in the mood for. Add a few simple side dishes and you have a wholesome and filling meal!
Chicken Salad Serving ideas
Sandwich– I like it on everything from a croissant, to toasted whole wheat bread, to a hoagie roll.
Salad– served over chopped romaine or iceberg lettuce
Wrap– Add some lettuce or spinach to a large flatbread or tortilla to make a wrap.
With crackers– A favorite for a light meal or snack
With sliced veggies– try cucumber, zucchini, or squash slices topped with chicken salad for a light or low carb option.
Stuffed – Hollow a tomato or avocado and stuff with chicken salad
Side Dish Ideas
My favorite thing to pair chicken salad with is other deli-style salads. There is not much more delicious than a plate piled high with all sorts of salad options. A few of my go-to easy salads are below:
You can choose one or add a few sides to make a wholesome, well rounded dinner.
Recipe Notes
This Chicken Salad recipe is as simple as promised! Just 10 ingredients for a made from scratch family friendly meal.
In this section I am going to go through a few tips and tricks I use when making this recipe to get the absolute best and most delicious results.
Make sure to scroll to the bottom for the FULL recipe card.
Ingredients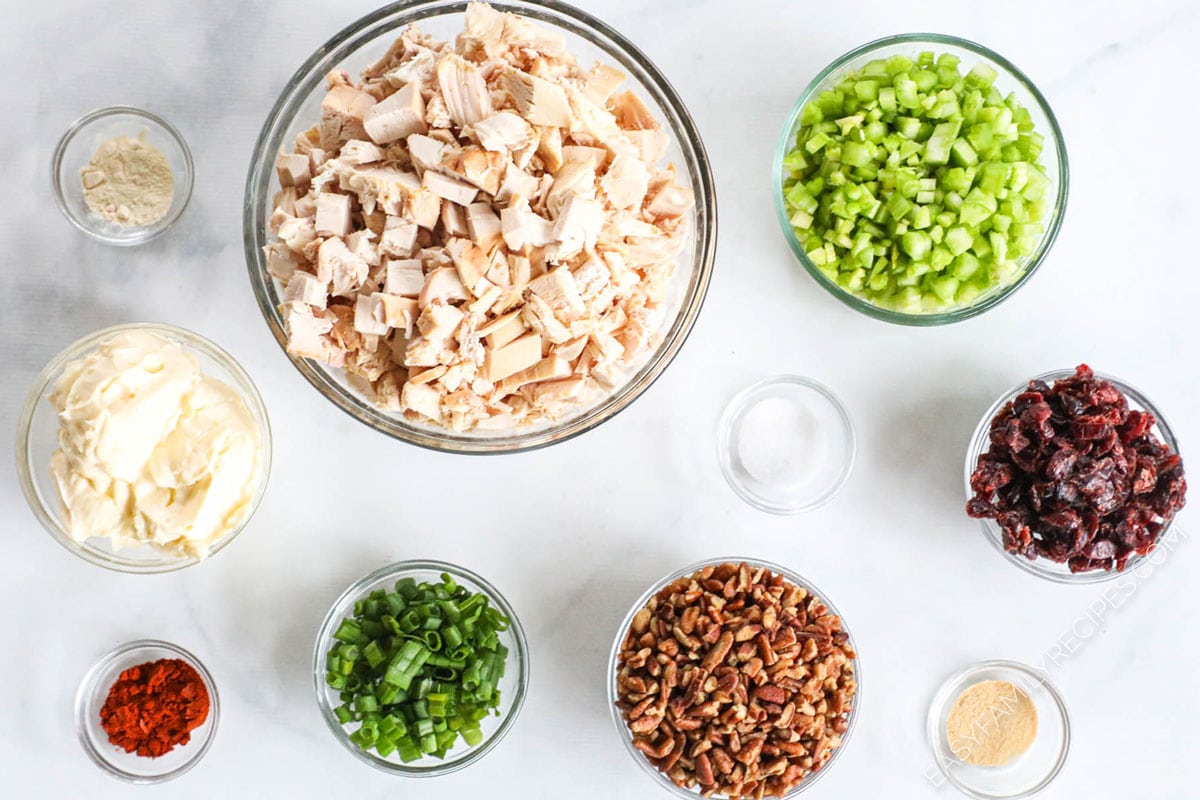 Chicken shredded or chopped – You can use chicken breast, or my favorite, pulled rotisserie chicken. I love this because rotisserie chicken is so tender and has great flavor!
Celery- I love to bulk up my chicken salads with celery. Not only does it add to the texture with the crunch it brings, but it also adds a boost to the the nutritional profile by providing a lot of bulk with very little calories and lots of fiber!
Chopped pecans– These can be bought pre-chopped or you can chop whole pecans by hand or in a food processor. I prefer smaller bits because it makes the salad easier to eat, especially in a sandwich or wrap.

You can use them as is to be quick, but if you want this salad to feel extra luxurious, toast them prior to mixing them in the salad for a boost of flavor and crunch.
Dried cranberries- You will want to use sweetened dried cranberries in this recipe. It is not necessary to soak them, since they will absorb liquid as they sit in the salad, however, if you prefer the cranberries to be extra plump and soft you can soak and drain them in advance.
Green onions– This adds fresh flavor!
Mayonnaise– Use your favorite brand.
Spices– Paprika, garlic powder, onion powder, and salt make up the seasoning mixture that flavors the dressing.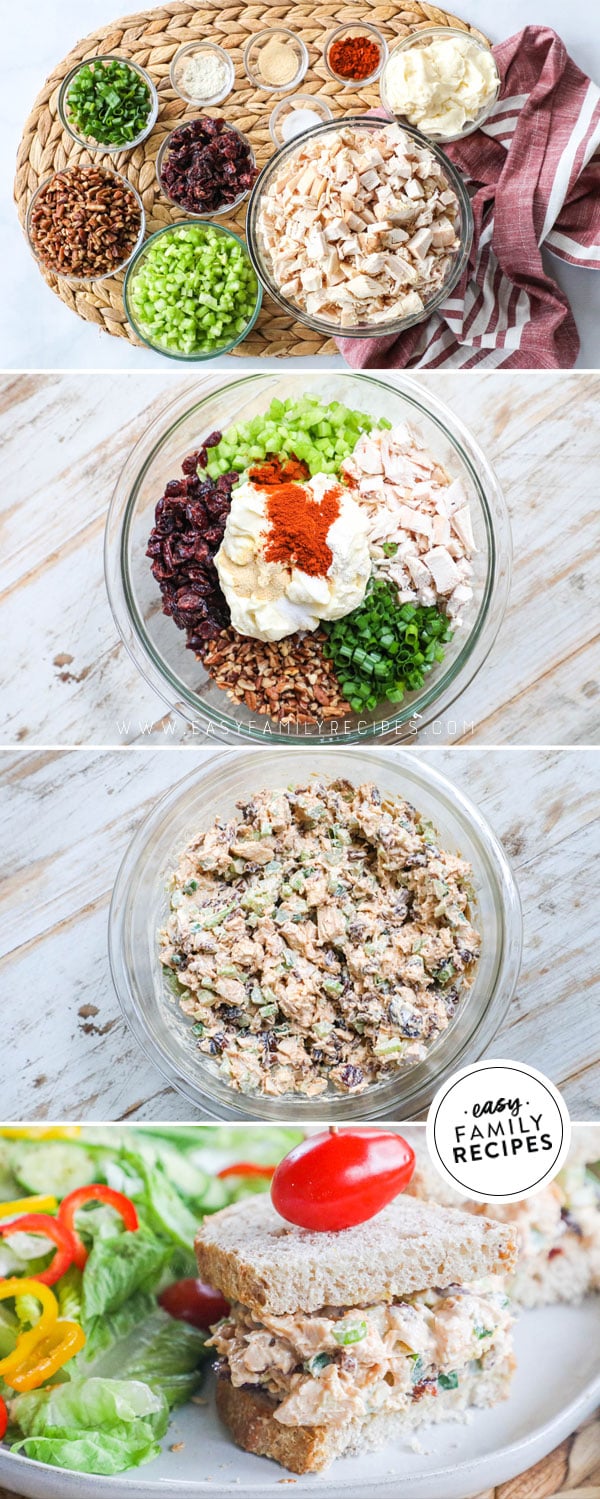 Recipe Tips
How to Cook Chicken for Chicken Salad
You can use any neutrally flavored chicken to make chicken salad. The chicken should be pulled from the bones and either shredded or chopped. Below are my 3 favorite ways to prepare chicken to make chicken salad.
Rotisserie– Using rotisserie chicken is probably my favorite way to make chicken salad. I love that it is tender and full of flavor and it is a bonus that you can easily grab one at the store, or use the leftovers from another meal and just pull it off and chop it up without having to spend the time and mess cooking it.
Oven baked – If I do decided to cook my own chicken for the chicken salad recipe, I usually bake it. To bake chicken for chicken salad, I preheat the oven to 375˚F and then line a cookie sheet with foil. Lay the chicken breast flat and drizzle with olive oil and sprinkle with salt and pepper on each side. Bake for 20-30 minutes, or until the internal temperature reaches 165˚F. Once it is done, shred or chop to your liking.
Boiled chicken– Some people really like to use boiled chicken in chicken salad. It is an easy way to cook multiple chicken breasts quickly. To boil chicken, bring a pot of lightly salted water or chicken stock to a boil. Then place the chicken breasts in the pot and allow them to boil for 15-20 minutes or until they reach an internal temperature of 165˚F.
How long to Chill Chicken Salad
Since chicken salad has both mayonnaise and chicken in it, it should always be stored in the refrigerator and shouldn't be left out at room temperature.
Once you make the chicken salad it can be served immediately, however, if you have 30 minutes to let it chill, the flavors will continue to develop and it will taste even better.
My personal opinion is that it tastes the best after chilling overnight. This will give the dressing a chance to really meld with the flavors of the salad and the cranberries to plump up a bit.
Recipe Short Cuts
If you need to make this recipe, but are extra short on time, here are a few ideas that can help make this recipe even faster!
Use rotisserie chicken– I love to use rotisserie chicken for the flavor as mentioned above, but this also saves time for cooking. You can even buy rotisserie chicken pulled off the bones at some supermarkets!
Pre-chop veggies and nuts– The celery can be chopped as early as 3 days in advance and the nuts can be chopped at any time. I don't recommend chopping green onions in advance, but a super easy trick for cutting them quickly is instead of using a knife, use kitchen scissors.
Make ahead– You can make this salad completely ahead of time with great results! Make sure to chill until serving and I like to remix right before I serve the chicken salad.
Recipe Variations
If you love this recipe as much as we do and want some quick ways to change it up for variety, changing up the fruits, nuts, or both can make a really delicious twist on this recipe
Other nuts– try walnuts, sliced or slivered almonds, hazelnuts, or pine nuts.
Other fruits– you can use dried or fresh fruit in this chicken salad recipe. Some favorites are apples, grapes, chopped dried apricots, dried cherries, etc.
Dietary Considerations
If you have special dietary needs, this recipe meets some and can be easily modified to comply with others.
As always, check all store bought ingredients for compliance on specific dietary needs. The notes below are a general guide.
Gluten free: This recipe is naturally gluten free.
Dairy free: This chicken salad recipe is naturally dairy free
Nut free: This recipe is naturally nut free
Whole30/Paleo: This recipe can be made Whole30 or Paleo compliant by using compliant mayonnaise.
Low carb/Keto: This recipe's carb count is approx 5g net carbs.
Macros: The approximate macro calculation for this recipe is- P: 17g C: 6g F: 23g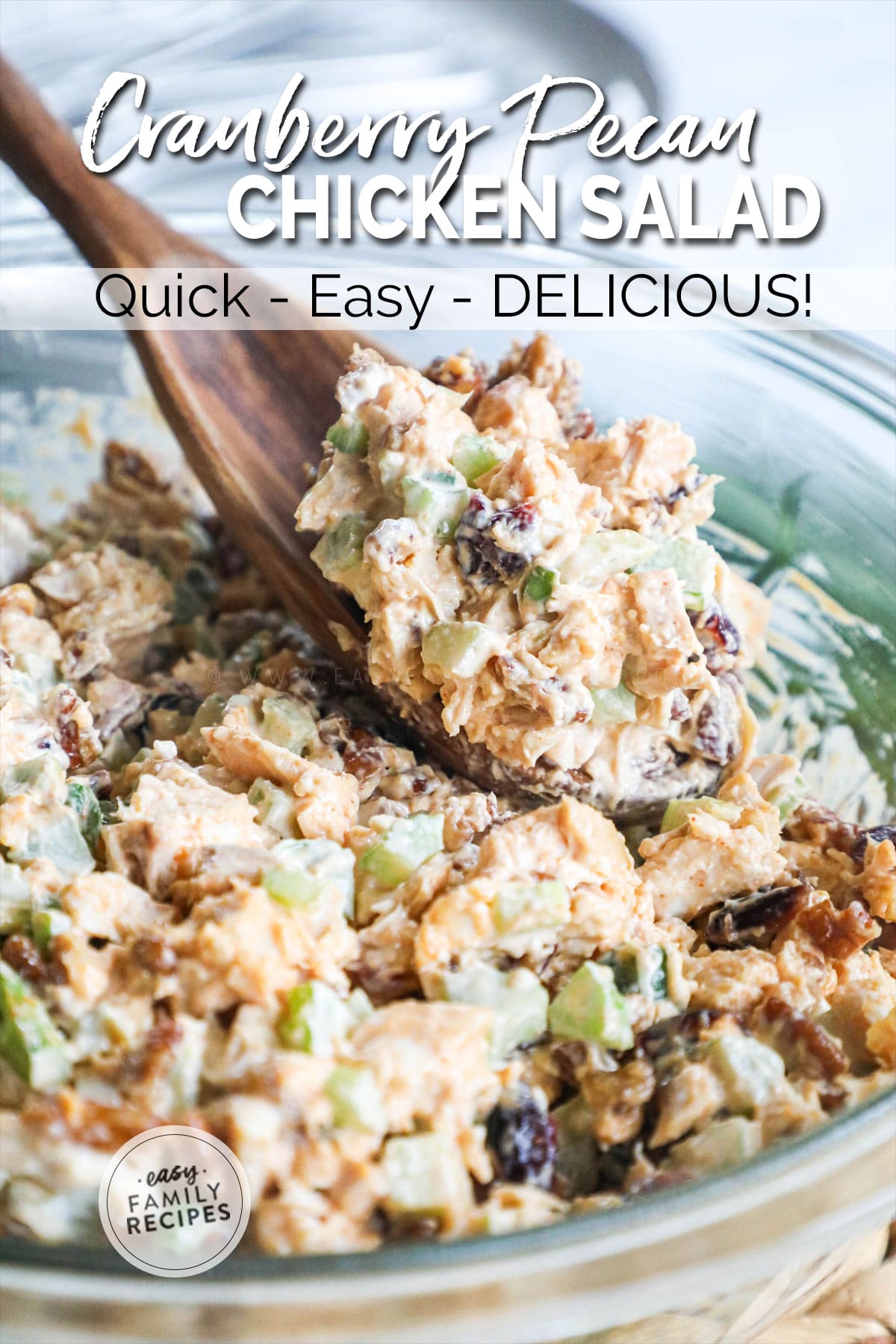 How Long Can you Keep Chicken Salad in the fridge?
If you have leftovers after making Cranberry Pecan Chicken Salad, then it is your lucky day! They save well, and can make the start of another delicious dish.
To save leftovers, separate into meal sized portions and then place in an airtight container and store in the refrigerator for 3-4 days.
How long homemade chicken salad is good for can vary based on how fresh the chicken is, and how long it sits out. 3-4 days is a good guideline, but it could stay good in cases for up to a week.
More Easy Chicken Recipes
If you enjoyed this recipe, I really hope you will take a moment to grab a few more easy recipes for another busy night!
You can check out all of my Easy Chicken recipes here, or see a few of our readers favorite recipes below.
Hungry for more family-friendly recipes? Sign up for my free recipe club to get new family-friendly recipes in your inbox each week! Find me sharing daily meal-time inspiration on Pinterest, Instagram, and TikTok.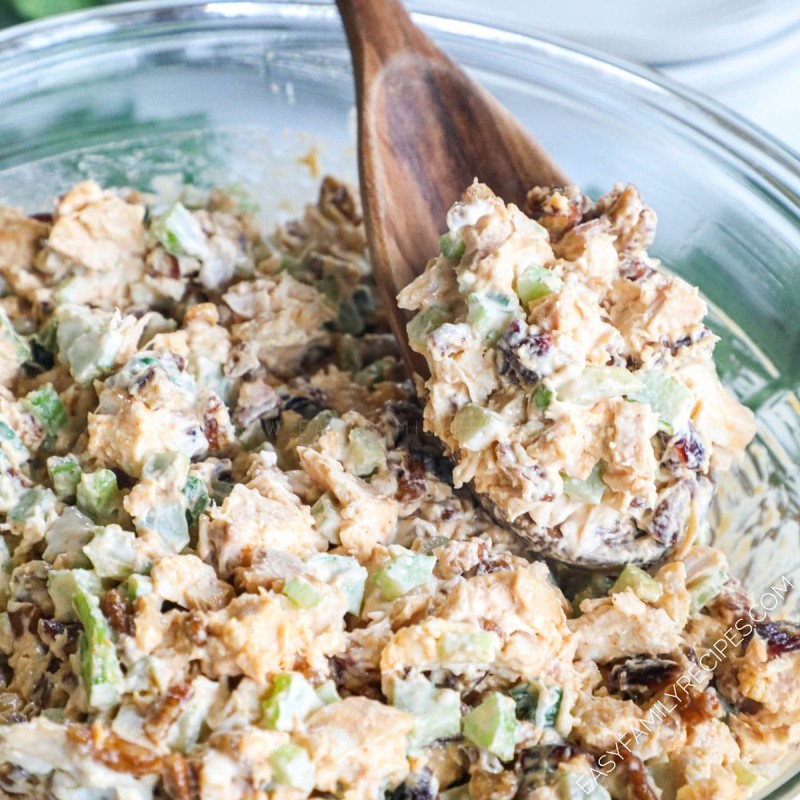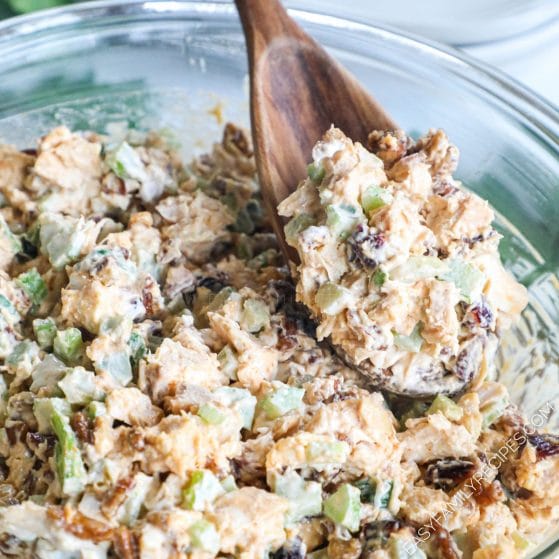 Cranberry Pecan Chicken Salad
This cool and refreshing chicken salad combines cranberries and pecans in a traditional chicken salad recipe for the best combination of sweet and savory! Try it on a salad, sandwich, or with crackers and veggies.
Prep Time: 20 minutes
Cook Time: 0 minutes
Total Time: 20 minutes
Serves:12 servings
Hover over "serves" value to reveal recipe scaler
Ingredients
3 cups rotisserie chicken shredded or chopped
1 cup celery chopped
1 cup chopped pecans
1/2 cup sweetened dried cranberries (or craisins)
1/2 cup chopped green onions
1 cup mayonnaise
1 tsp paprika
1/2 tsp garlic powder
1/2 tsp onion powder
1/2 tsp salt
Instructions
Mix mayonnaise, paprika, garlic powder, and onion powder in a small bowl until combined.

In a large bowl, combine chicken, celery, pecans, cranberries and green onions. Pour the mayo mixture over it and stir until evenly coated.

Refrigerate and allow flavors to combine for at least 30 minutes. Serve on salad greens, as a sandwich or with crackers.
Optional
Toast the pecans before adding to the mixture by heating them in a skillet over medium heat. Stir regularly, cooking for about 4-6 minutes or until they start to darken on the edges and smell nutty.
Nutrition Information:
Serving: 0.5cupCalories: 295kcal (15%)Carbohydrates: 6g (2%)Protein: 17g (34%)Fat: 23g (35%)Saturated Fat: 3g (19%)Trans Fat: 1gCholesterol: 56mg (19%)Sodium: 311mg (14%)Potassium: 362mg (10%)Fiber: 1g (4%)Sugar: 4g (4%)Vitamin A: 201IU (4%)Vitamin C: 2mg (2%)Calcium: 19mg (2%)Iron: 1mg (6%)
(Nutrition information provided is an estimate and will vary based on cooking methods and brands of ingredients used.)