5 minutes and 7 easy ingredients are all you need to whip up delicious, juicy Salsa Verde Chicken. This one-pan chicken bake is a go-to busy family dinner that packs tons of flavor into an easy, hands-off meal that everyone will love. Bright and zesty Salsa Verde combines beautifully with simple pantry staples and gooey melted cheese to transform simple chicken breasts into a dinner kids will be begging you to make again and again!
Salsa Verde Chicken – The EASY Way!
Salsa, chicken, and cheese is always a winning dinner combo in my house, which is why quick and easy bakes like this one are go-to meals on busy nights. Whether it is oven baked salsa chicken, salsa fresca chicken, or this delicious Salsa Verde Chicken, the kids are as excited to eat it as I am about how easy it is to make and clean up.
Salsa Verde has this tangy, fresh, zesty flavor because it is made from tomatillos instead of tomatoes like traditional red salsa. It is such a refreshing and tasty change of flavors. This recipe takes just a few minutes to make, but it definitely does not mean you are sacrificing any flavor! The blend of spices, cheese, and green salsa is a combo that really shines when layered together, which makes super fast recipes like this even easier to love!
If you are looking for a traditional red salsa chicken, you can try my Salsa Chicken Bake, Salsa Fresca Chicken Bake or Rotel Chicken Bake, or a cheesy chicken bake try my Million Dollar Chicken or Cheesy Garlic Cheddar Chicken.
Why I LOVE this recipe!
5 minute prep! – It literally takes minutes to get this whole dish in the oven.
Easy Ingredients – Nothing complicated or fancy goes into this Salsa Verde chicken recipe. You can find every ingredient easily at any grocery store. You may already have most of it!
Family Friendly – Everyone from the youngest kids to the adults will enjoy the Mexican inspired flavors.
Packed with Flavor – This is seriously the EASIEST Salsa Verde chicken, but it does not disappoint on flavor! Every bite is zesty, juicy, creamy and totally delicious!
Hands off Cooking – Once it is in the oven, you don't have to think about it again for 25 minutes.
One Pan to Clean! – With everything baking together in one dish, this is a quick and easy meal to clean up after dinner.
What to Serve with Salsa Verde Baked Chicken
This Salsa Verde Chicken Bake is a quick and easy protein based meal. It will pair well with many of your favorite Mexican style side dishes. There are both classic options and some healthy options to keep it light.
Side Dish Ideas
You can choose one or add a few sides to make a wholesome, well rounded dinner.
Recipe Notes
This Salsa Verde Chicken recipe is as simple as promised! Just one pan and 5 minutes of prep for a family friendly meal.
In this section I am going to go through a few tips and tricks I use when making this recipe to get the absolute best and most delicious results.
Make sure to scroll to the bottom for the FULL recipe card.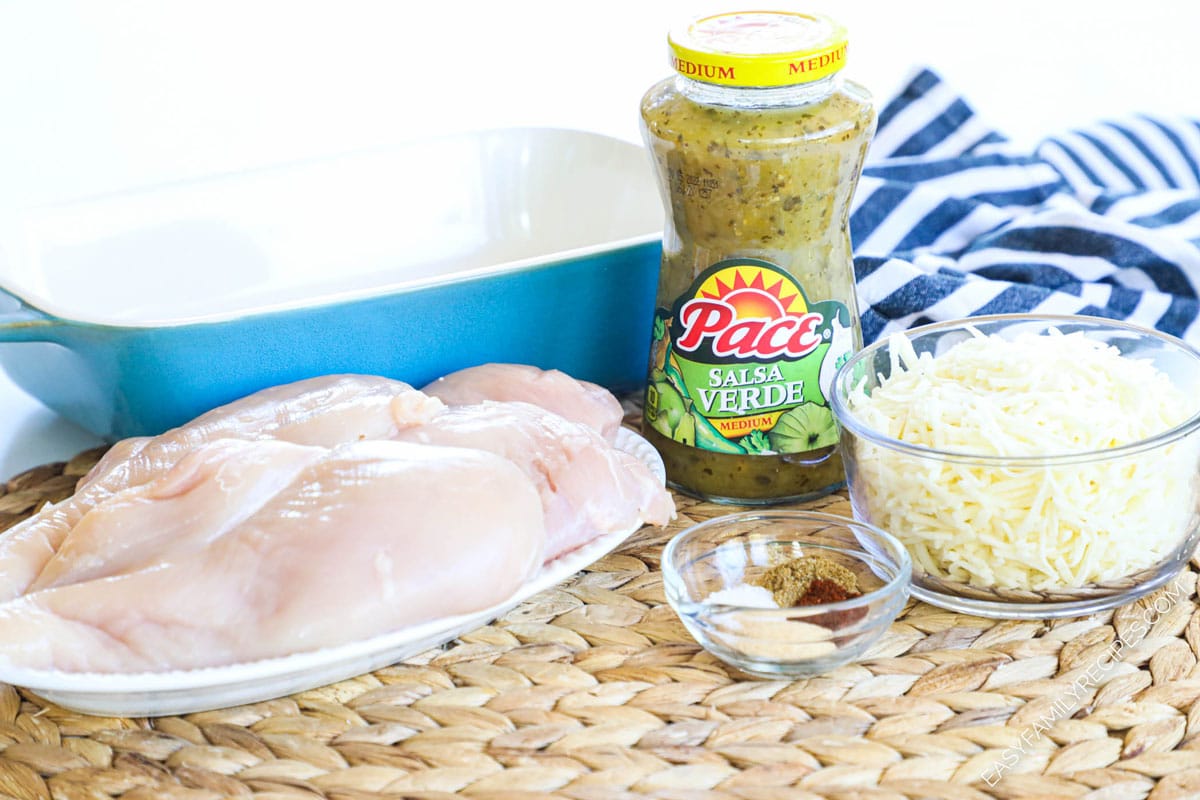 Ingredients + Substitutions
Chicken breasts – I like to use thin, boneless, skinless chicken breasts. But other cuts can be used if you adjust the baking time. Smaller strips will bake faster while bone-in thighs would take much longer. I do recommend skinless for whatever chicken you use.

Salsa Verde – You can make your own of course, but to keep this as the easiest Salsa Verde chicken recipe possible, we buy prepared. Salsa Verde can vary from mild to spicy so be sure to pick a jar with the heat level your family will like. You can also make salsa verde from scratch if you prefer.

I do recommend that you buy a thicker style salsa over a thin, watery one. The chicken and salsa release liquid during baking so starting with a thick style will help keep it concentrated on the chicken breasts instead of running off the sides. It will also reduce the amount of water in the pan when everything is done baking.

Seasonings – A super easy combination of salt, garlic powder, cumin, and chili powder season the chicken and tie all the rest of the ingredients together.

Monterey Jack cheese – I love the creamy, gooey result you get with Monterey jack cheese, and it pairs so well with green salsa. But you can also use cheddar, Colby jack, pepper jack, or a Mexican blend if you prefer.

Cilantro – I like to garnish this dish with chopped fresh cilantro if I can find it, but it is optional. The chicken will be just as delicious without it!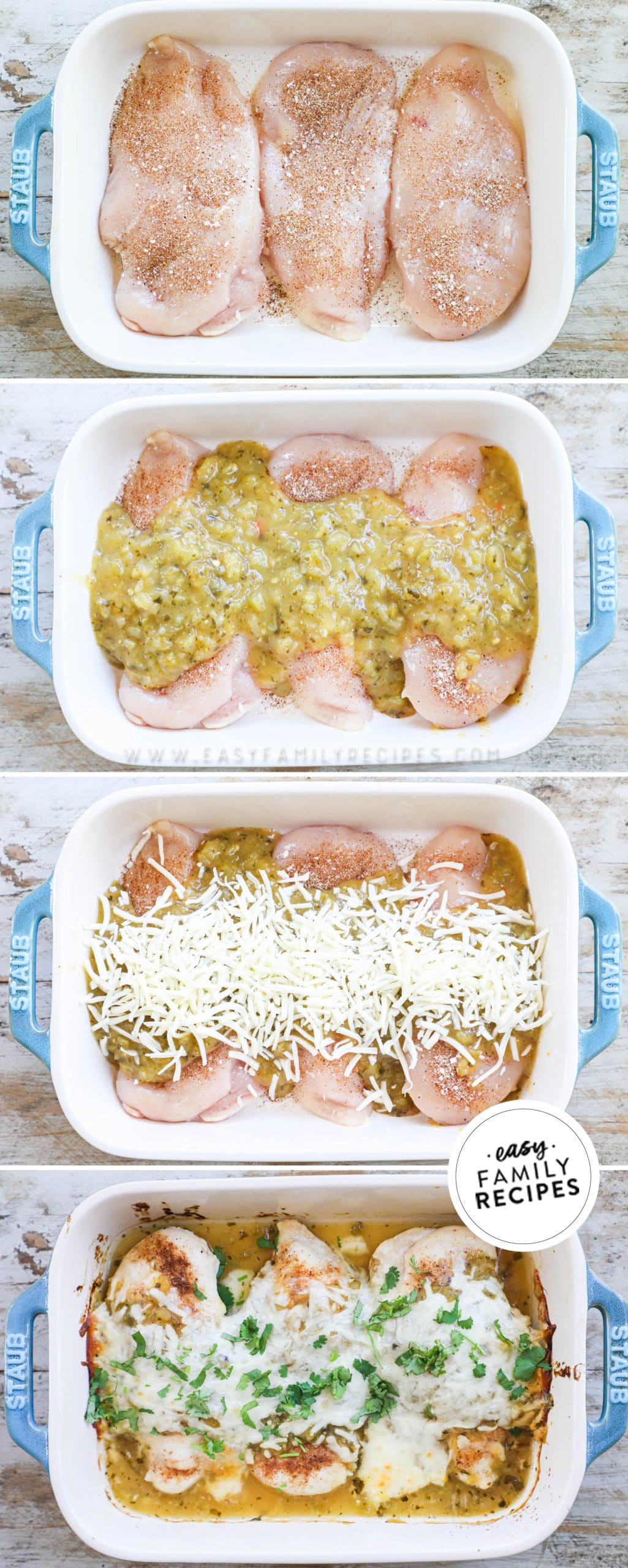 Recipe Tips
Use thin, even chicken breasts – One key to perfect, juicy baked chicken is starting with thin breasts that are roughly the same thickness and size. Either slice them in half or use a mallet or rolling pin to pound them thinner. Cover the breasts with plastic wrap or parchment if you are going to use a meat mallet. It will stop any splattering and help keep everything neat.

Choose the right pan – Make your Salsa Verde baked chicken in any oven safe pan you have, whether that is a large skillet or a casserole dish. Just make sure whatever you choose has high sides to contain all the liquid and the gooey, cheesy, salsa goodness. It is also super important to choose one big enough to allow the chicken to lay flat without overlapping. That would cause uneven baking instead of evenly cooked, juicy chicken.

Cover with foil – I like to cover my chicken bakes with foil for the first part of baking to keep all the moisture in the pan. It gets removed in the last 5-10 minutes so the cheese can melt and create that gooey topping. If you choose not to cover it, the recipe will still work, but you will have crispier cheese at the end. It is all based on preference!

Don't overcook the chicken – The most common reason chicken is tough and chewy is just that it has been over-baked. I recommend getting yourself an inexpensive meat thermometer if you don't have one. They are available near the cooking gadgets at most supermarkets or box stores and can help you have tender, juicy chicken every time. You want an internal temperature of 165°F for the juiciest, most flavorful chicken breasts.

Let it rest – I always recommend letting any chicken bake rest when you pull it from the oven. Just 5 to 10 minutes while you set the table and wrangle the kids will help the juices reabsorb into the chicken and the sauce to thicken up enough to make it perfect for serving.
Recipe Short Cuts
If you need to make this recipe, but are extra short on time, here are a few ideas that can help make this recipe even faster!
Assemble ahead – You can assemble most of this dish the night before. Leave the cheese off, then just sprinkle it on before you pop it in the oven to bake.

Use chicken chunks – Smaller pieces of cubed chicken will bake much faster and can make serving faster too. I especially love this approach for serving kids who cannot eat an entire chicken breast by themselves. You won't have to spend as much time cutting! It is great for crowds too, just scoop and serve! Reduce baking time by 1/2 and start checking the chicken's internal temperature so you still get that juicy, perfect doneness.

Pre-shredded cheese – If you don't already buy pre-shredded bags of cheese, it is such a time saver. No need to wash a grater or dirty a bowl, just sprinkle and go!
Recipe Variations
If you love this recipe as much as we do and want some quick ways to change it up for variety, these little tips will do the trick!
Salsa Verde Chicken Thighs– Follow the recipe exactly but swap in boneless, skinless chicken thighs instead.

Creamy Salsa Verde Chicken– Season the chicken and add it to your pan. Then mix the Salsa Verde with 4 ounces of softened cream cheese and 1/2 cup of sour cream. Pour that over the chicken then top with shredded cheese and bake as directed.

Spicy Salsa Verde Chicken– Add 1/4 teaspoon of cayenne pepper to the seasonings to spice up the chicken breasts. You can also buy a spicier Salsa Verde to use, or top the finished chicken bake with pickled jalapenos. If your family really loves spice, you can do all three!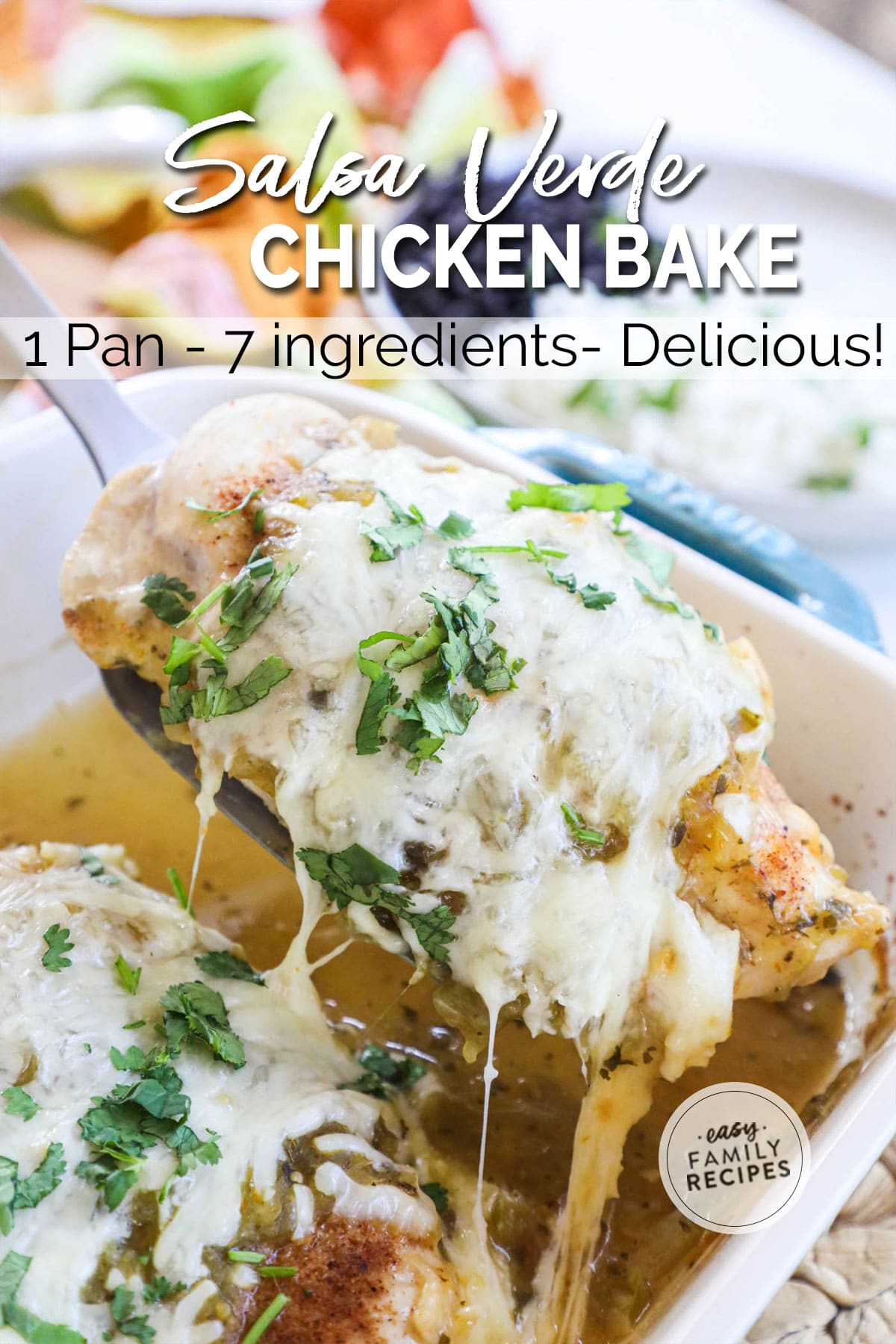 Freezer Meal Instructions
Making this Salsa Verde Chicken recipe into a freezer meal is simple! Follow the steps below and you can store this recipe in the freezer for up to 6 months.
Season the chicken breasts and place them in a freezer safe bag or container.
Add in the salsa.
Freeze.
When ready to eat, thaw in the refrigerator for 24-48 hours.
Transfer to a baking dish and top with cheese.
Bake as directed.
Salsa Verde Chicken Leftovers
If you have leftovers after making Salsa Verde baked chicken, then it is your lucky day! They save and reheat well, and can make the start of another delicious dish.
To save leftovers, separate into meal sized portions and then place in an airtight container and store:
in the refrigerator for 3-4 days
in the freezer up to a month
Leftover Recipes
Here are a few ways to repurpose those leftovers and give them a delicious makeover!
Salsa Verde Chicken Enchiladas– Combine chopped leftover chicken with 1 cup of rice or beans. Scoop 1/4 cup portions into the center of corn tortillas. Repeat until you have used all the chicken, fitting each enchilada snugly beside each other in a casserole dish. Mix 1 cup of Salsa Verde or green enchilada sauce with 1 cup of sour cream and pour it over the enchiladas. Layer 1/2 cup of Monterey jack cheese over the top and bake at 375°F for 20-25 minutes or until it is bubbly and hot.

Salsa Verde Chicken Casserole– Chop the leftover chicken and combine in a large bowl with 1 cup each of salsa, shredded cheese, rice, corn, and black beans. Mix to combine and spread in a casserole dish. Cover with another layer of cheese and bake at 350°F for 20-25 minutes or until it is hot throughout and the cheese is melted.

Salsa Verde Chicken Tacos– Chop or shred leftover, reheated chicken and fill either crunchy or soft taco shells. Top with corn, onions, cilantro, cheese, or other toppings of your choice and serve.
More Chicken Bake Recipes
If you enjoyed this recipe, I really hope you will take a moment to grab a few more easy recipes for another busy night!
You can check out all of my easy chicken recipes here, or see a few of our readers favorite recipes below.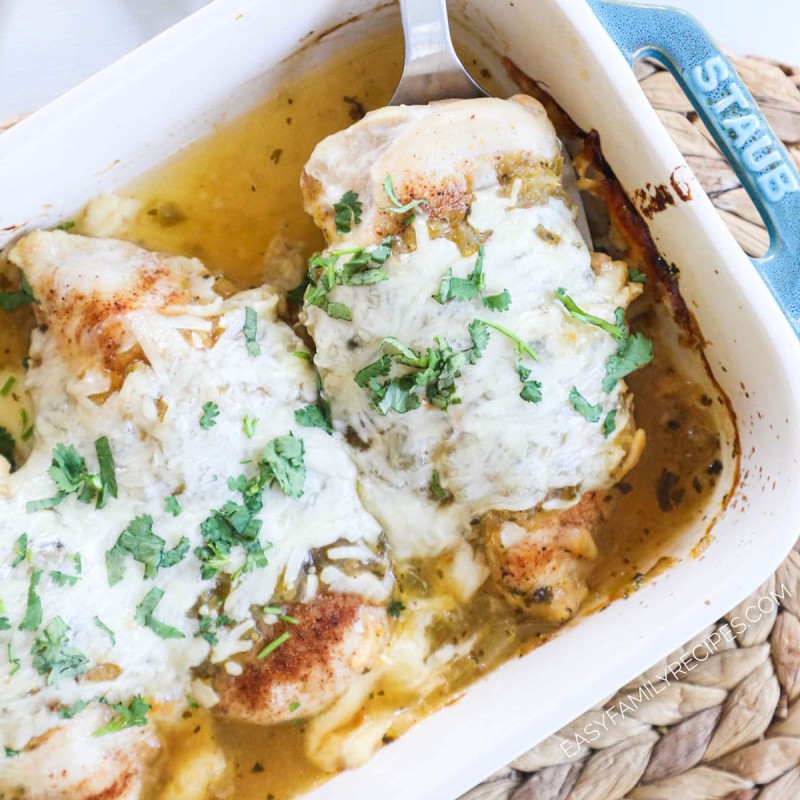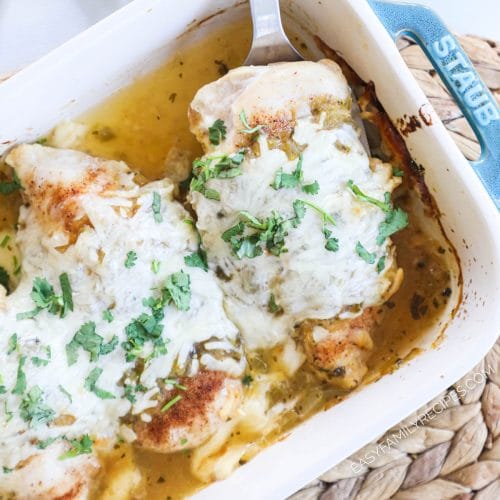 Salsa Verde Chicken Bake
Tender, juicy Salsa Verde Chicken is a one-pan baked dinner that uses simple spices, bright and tangy green salsa, and shredded cheese to make a delicious family meal that takes only minutes to prepare.
Ingredients
2

lbs

boneless, skinless chicken breast

1

cup

salsa verde

,

prepared

½

teaspoon

salt

½

teaspoon

garlic powder

½

teaspoon

cumin

½

teaspoon

chili powder

¾

cup

shredded monterey jack cheese
Instructions
Preheat the oven to 400˚F.

Mix together salt, garlic powder, cumin, and chili powder. Season both sides of the chicken breast and lay flat in a large casserole dish.

Spread the salsa verde over the chicken breasts to evenly cover them. Top with monterey jack cheese.

Cover with foil and bake for 25 minutes. Remove the foil and bake for an additional 5-10 minutes or until the chicken is cooked through (165˚F internal temp.)

Top with your choice or freshly chopped cilantro and serve warm!
Nutrition Information
Calories:
367
kcal
(18%)
,
Carbohydrates:
4
g
(1%)
,
Protein:
53
g
(106%)
,
Fat:
13
g
(20%)
,
Saturated Fat:
5
g
(31%)
,
Polyunsaturated Fat:
1
g
,
Monounsaturated Fat:
4
g
,
Trans Fat:
1
g
,
Cholesterol:
164
mg
(55%)
,
Sodium:
1078
mg
(47%)
,
Potassium:
985
mg
(28%)
,
Fiber:
1
g
(4%)
,
Sugar:
4
g
(4%)
,
Vitamin A:
661
IU
(13%)
,
Vitamin C:
5
mg
(6%)
,
Calcium:
173
mg
(17%)
,
Iron:
1
mg
(6%)