Filled with pillowy quinoa, crunchy cauliflower and celery, a hearty mixture of beans, and a tangy curry dressing, this 4 Bean Curry Quinoa Salad is packed with flavor, hearty and wholesome, and so simple to make! It is a perfect filling lunch, can be paired with your favorite protein or a variety of salads for a well rounded dinner, or bring it as a side dish for a potluck or barbecue.
Curry Quinoa Salad – The EASY Way!
Cold salads are a staple in our house. They taste great fresh, and can be even better the next day for a quick lunch. Salads are easily packed with lots of wholesome, good-for-you stuff, and can still be hearty and filling.
Best of all, cold salads, like this 4 Bean Curry Quinoa Salad are super quick and easy to make- with really just 3 steps: dump, stir and chill!
This salad won't disappoint, with ease or flavor!
What I love about this recipe:
Hearty– It may be a salad, but it is packed with grains, beans, and veggies to make it filling!
Short cuts make it fast! Using READ® 4 Bean Salad gives lots of flavor and volume to salad without any work! The whole salad can be made in under 20 minutes.
Great flavors– The mix of tangy and savory create an irresistible combination of flavors.
Gets better with time– As this salad continues to marinate in the refrigerator, the flavor will enhance and it will get better and better.
Versatile for serving– It can be a main dish, a side dish, or makes a fantastic addition to a potluck. More on this below!
Quick clean up– Since all you need is a cutting board and a bowl, this recipe is fast on prep and clean up!
What to Serve with Quinoa Salad
Since this dish is loaded up with grains, beans, and veggies, it can make a filling lunch or light dinner on it's own or paired with other salads. It also can be served as a side dish with your choice of protein to make a meal that is anything but boring.
Below you will find some of my favorite dishes to pair our 4 Bean Curry Quinoa Salad with. Of course there are so many more great options beyond this as well, so if you have a favorite not listed, make sure and leave me a comment below this post.
Main Dish Ideas
You can serve with just the Curry Quinoa Salad, or add a few sides to make a wholesome, well rounded dinner.
Side dish pairings
One of my favorite ways to eat this salad is just as a side or salad plate with a few different salads together. You can also serve with butter lettuce leaves and use the 4 Bean Curry Quinoa Salad as a filling for a lettuce wrap.
Recipe Notes
This 4 Bean Curry Quinoa Salad recipe is as simple as promised! Just a few simple ingredients for a delicious salad.
In this section I am going to go through a few tips and tricks I use when making this recipe to get the absolute best and most delicious results.
Make sure to scroll to the bottom for the FULL recipe card.
Ingredients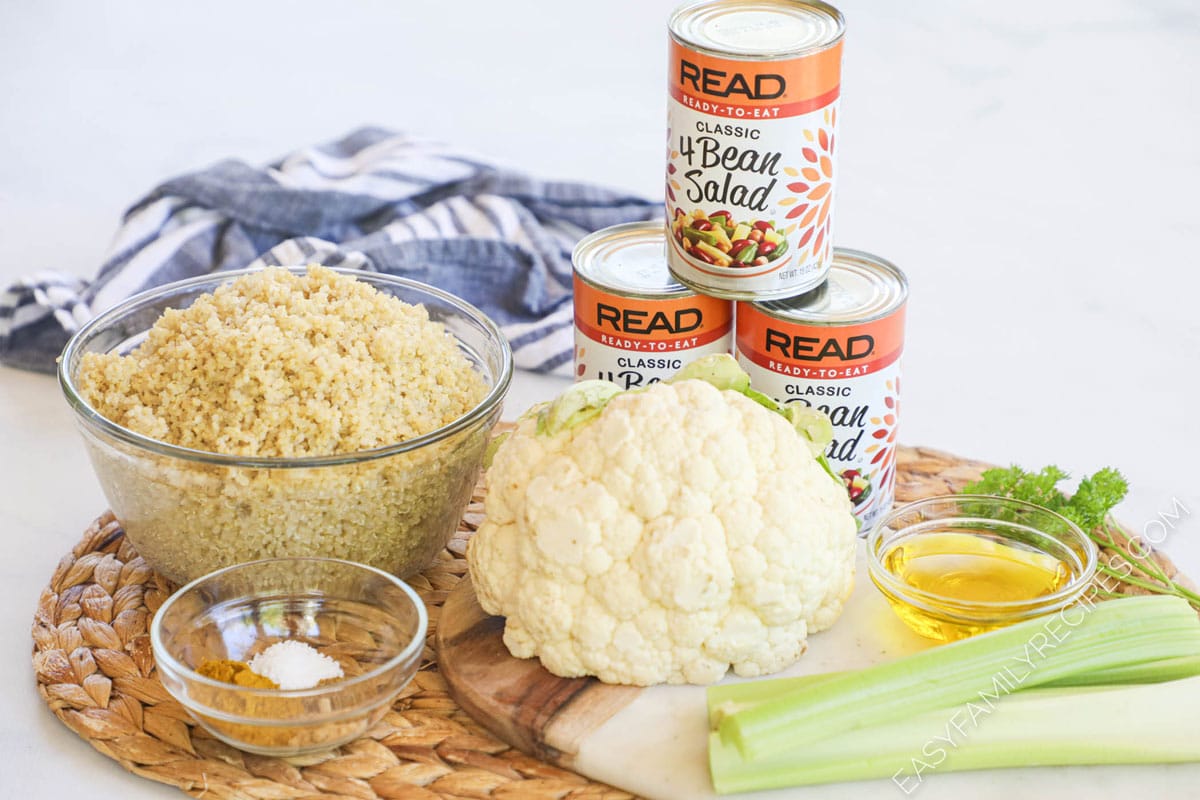 Uncooked quinoa– This will be cooked per package directions. You can use water to prepare it to keep the recipe vegetarian/vegan or use chicken broth to add additional depth of flavor to the quinoa.

Fresh cauliflower– Fresh is best for the recipe (not frozen) because it has a slightly crunchy texture. I like to chop it into very small bite sized pieces so that it is easy to chew in the salad and it adds to the overall texture and heartiness of the dish. Also, if you plan to keep the salad for longer in the fridge, fresh cauliflower will maintain it's texture well in the dressing.

Celery– Use fresh celery ribs and chop them to a similar size to the cauliflower. Celery is great at taking on the flavor of the salad and adding crunch.

READ 4 Bean Salad– This is the secret weapon in our recipe! The READ 4 Bean Salad can be found in the canned vegetable section of the grocery store, use their store finder to locate READ products near you. It combines 4 different kinds of beans- green beans, wax beans, kidney beans plus chickpeas in a vinegar based, sweet-tangy dressing. This makes creating a flavor packed and filling salad super easy!

READ® Salads has been a pantry staple for generations, featuring tasty, convenient and versatile ready-to-eat products packaged in cans or cups —3 Bean Salad, and 4 Bean Salad and German Potato Salad. READ® Salads provide important nutrients including dietary fiber, folate, potassium, iron, plant-based protein and more. All are shelf-stable and gluten free.

Olive oil

Spices– Our special spice blend is simple, yet amazingly delicious when combined with the dressing in the 4 Bean Salad. It includes curry powder, kosher salt, cumin, and ground ginger.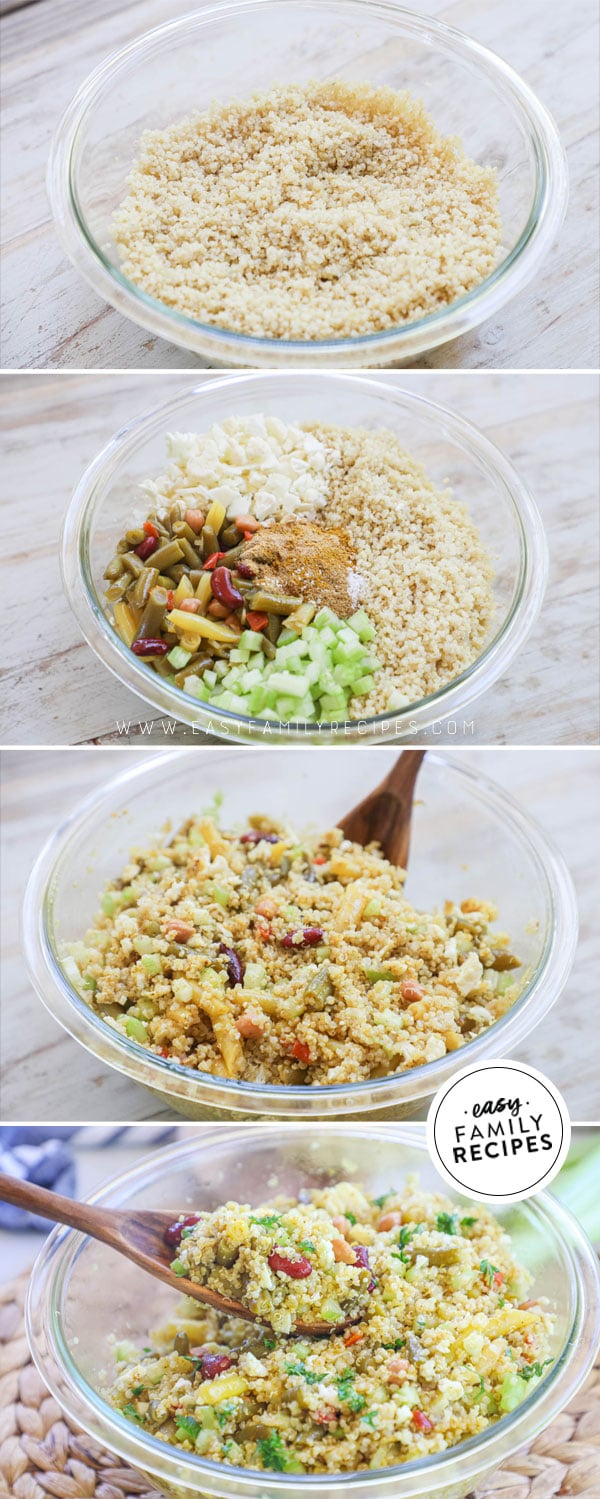 Recipe Tips
Make sure your quinoa is cooled and fluffy. This salad will work best when the quinoa is prepared to fluffy. To do this, make sure to use the correct amount of liquid, so that once we mix it with the dressing it is still light and fluffy, not water logged.

If you have time to cool the quinoa, I always think it helps it to soak the dressing in better. If you are in a time crunch, you can use it warm as well, as long as the liquid has fully cooked from it before you mix in the dressing.

Mix the dressing first. The easiest way to make the Curry Quinoa Salad is to mix the 4 Bean Salad with the olive oil and spices first. This allows the spices to fully incorporate into the existing dressing from the 4 Bean Salad, then evenly distribute when you mix in the veggies and quinoa.

Chill– Although this salad can be be served immediately, I always prefer to let it chill at least 30 minutes. This allows the grains and veggies to start to really absorb the flavor of the dressing and makes the whole salad more flavorful. The 4 Bean Curry Quinoa Salad will continue to develop flavor as it sits and can be good up to 5 days when refrigerated.
Recipe Short Cuts
If you need to make this recipe, but are extra short on time, here are a few ideas that can help make this recipe even faster!
Pre-cut veggies– Celery and cauliflower can be chopped up to 3 days in advance and stored in the fridge.
Pre-cook quinoa– Quinoa can be prepared and refrigerated up to 4 days in advance.
Make Ahead– The whole salad can be made as directed and chilled in the refrigerator for 5 days. I recommend serving within the first 3 days for the best results.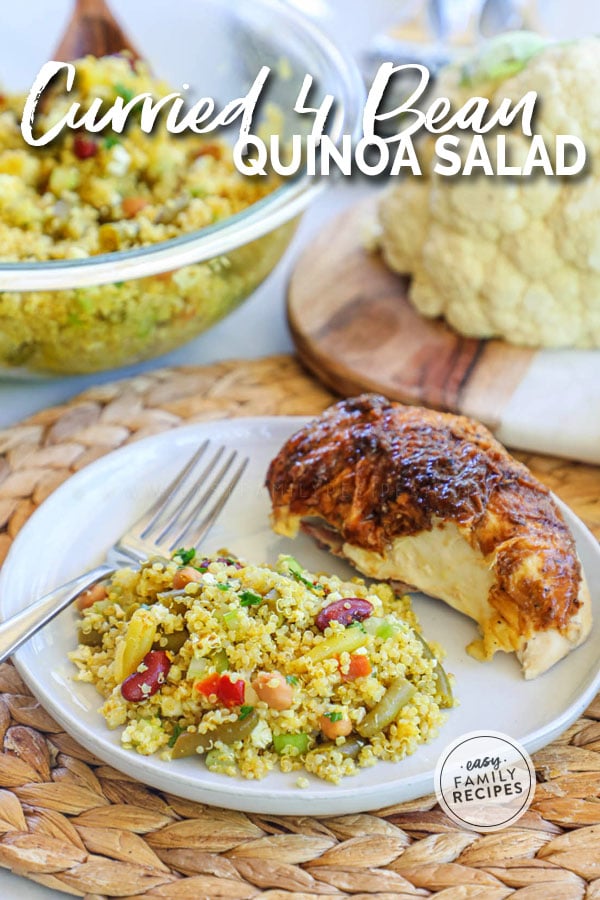 4 Bean Curry Quinoa Leftovers
If you have leftovers after making this quinoa salad, then it is your lucky day! They save well and work for meal prep or easy lunches, or dinner sides throughout the week.
To save leftovers, separate into meal sized portions and then place in an airtight container and store:
in the refrigerator for 4-5 days
in the freezer up to a month
More Easy Salad Recipes
If you enjoyed this recipe, I really hope you will take a moment to grab a few more easy recipes for another busy night!
You can check out all of my EASY side dish recipes here, or see a few of our readers favorite recipes below.
I've teamed up with @READSalads to give you and a friend a chance to WIN some of our favorite things!!! Five lucky winners will receive: a $50 Amazon Gift Card, a case of your favorite READ Salads for yourself AND a case of READ Salads for a friend! Click here (link) for the rules and to enter. The sweepstakes closes 5/13 at midnight. And don't forget to follow READ on Instagram and Facebook.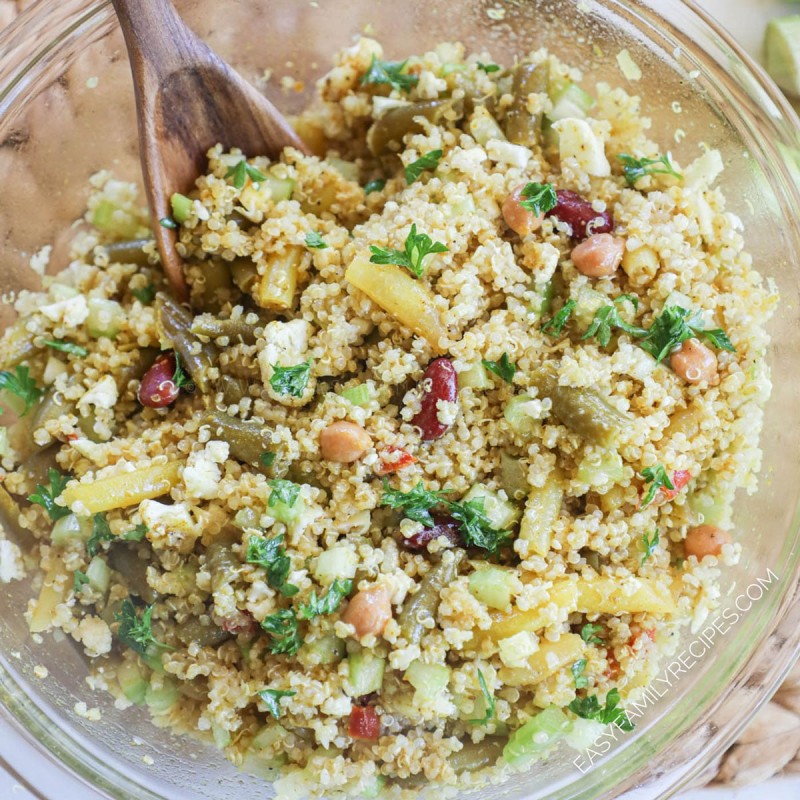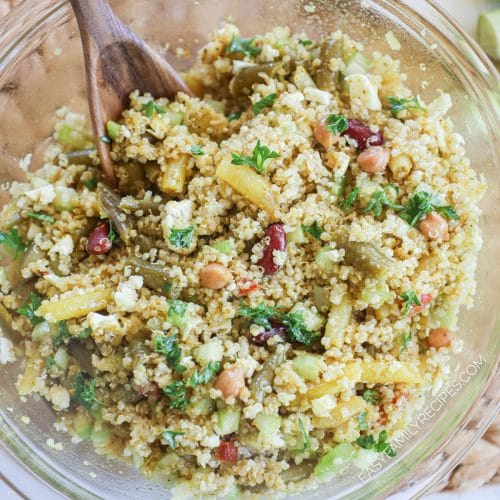 4 Bean Curried Quinoa Salad
This hearty chilled quinoa salad is refreshing and packed with flavor. It makes a great side dish or can be a filling lunch since it is packed with grains, beans and veggies. The special mix of spices makes the flavor shine!
Ingredients
1

cup

white quinoa

,

uncooked

1/4

head cauliflower

1

cup

chopped celery

1

can

READ 4 Bean Salad

,

(15 oz)

1/4

cup

olive oil

1

tbsp

curry powder

1

tsp

kosher salt

1/2

tsp

cumin

1/2

tsp

ground ginger
Instructions
Prepare quinoa per package directions. Once done, fluff with a fork and set aside to cool.

Remove the leaves and stem from the cauliflower. Then, chop the florets into small bite sized pieces.

In a large bowl, mix the READ 4 Bean Salad (entire can including the dressing) with the olive oil, curry powder, salt, cumin, and ginger. Stir in the cauliflower, celery, and quinoa.

Refrigerate for 30-60 minutes and serve chilled.
Nutrition Information
Serving:
1
cup
,
Calories:
247
kcal
(12%)
,
Carbohydrates:
31
g
(10%)
,
Protein:
6
g
(12%)
,
Fat:
11
g
(17%)
,
Saturated Fat:
1
g
(6%)
,
Polyunsaturated Fat:
0
g
,
Monounsaturated Fat:
0
g
,
Cholesterol:
0
mg
,
Sodium:
661
mg
(29%)
,
Potassium:
296
mg
(8%)
,
Fiber:
4
g
(17%)
,
Sugar:
8
g
(9%)
,
Vitamin A:
92
IU
(2%)
,
Vitamin C:
12
mg
(15%)
,
Calcium:
32
mg
(3%)
,
Iron:
2
mg
(11%)