This 15 Bean Soup is hearty and delicious – perfect for a cozy night in! With just minutes of prep, you can set it in the morning and the Crock Pot will do the hard work, delivering perfectly tender, flavorful beans enveloped in a rich mouthwatering soup.
This post is sponsored by Hurst Beans. All tips, ideas and recipes are created right here at Easy Family Recipes.
15 Bean Soup – The EASY Way!
15 Bean Soup is a classic recipe that has withstood the test of time, because it is just so delicious!
Using dried beans, makes the soup unbelievably flavorful, since the beans soak up the flavor from the seasonings and meat as they cook. Using the slow cooker makes it unbelievably EASY, since you can set it and forget it!
What I love about this soup most is:
Super hearty and filling – No one leaves the table hungry!
Toppings can allow everyone to "customize" their dinner
Feeds a crowd (or leaves plenty for leftovers!)
Cooks over the course of the day with NO BABYSITTING!
Smells delicious and tastes even better!
Leftovers are a treat because it tastes even better the next day.
It doesn't get much more perfect than a meal that is quick to prep, super filling, and oh, so delicious!
What to Serve with 15 Bean Soup
Since this dish is super hearty, you can serve it all on its own without worrying that it won't be enough. That said, there are a couple of things that make great side, and what my family really loves is each adding toppings to the soup to make it their own. Here are my go to's for both!
Toppings
Cheddar cheese
Diced onion
Chopped parsley
Sour cream
Crumbled bacon
Green onions or chives
Hot sauce
Crushed red pepper
Side Dish Ideas
When adding a side, since it is soup, I love the cornbread or rice since it helps you soak up every last drop of the delicious soup!
What are the 15 Beans?
We are using the Hurst Hambeen's 15 Bean Soup recipe because, frankly, it is so good, I can't even improve on it! This classic recipe has been a go-to for many, many years!
The beans included in the Hurst Hambeen's 15 Bean Soup mix are:
Northern
Pinto
Large lima
Yelloweye
Garbanzo
Baby lima
Green split
Kidney
Cranberry
Small white
Pink
Small red
Yellow split
Lentil
Navy
White kidney
Black beans
This combination is not only delicious, but packed with wholesome goodness including no fat, and a generous amount of fiber and protein!
Recipe Notes
This Slow Cooker 15 Bean Soup recipe is as simple as promised! Just a few minutes of prep and the soup will be cooking away to create a family friendly meal.
In this section I am going to go through a few tips and tricks I use when making this recipe to get the absolute best and most delicious results.
Make sure to scroll to the bottom for the FULL recipe card.
Ingredients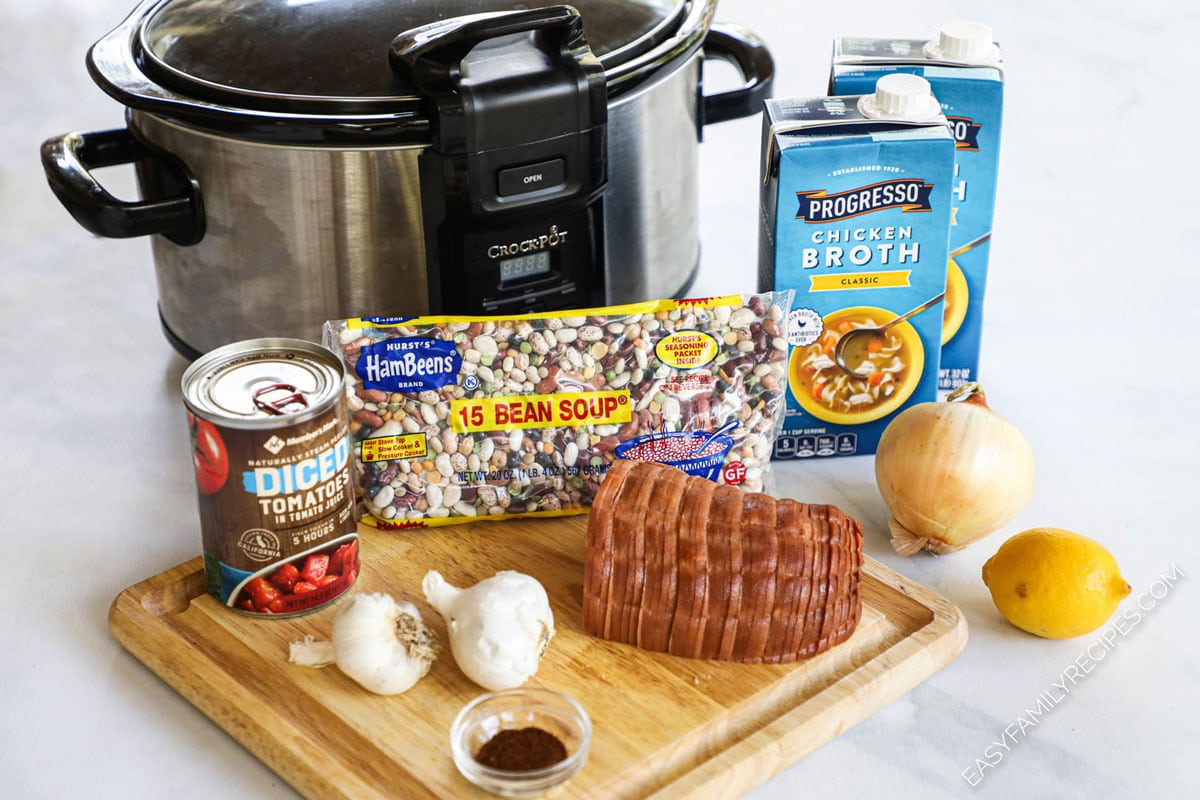 HamBeens® 15 BEAN SOUP®– Hurst was the first to package dried beans with a flavor packet many years ago, and became famous for their 15 Bean Soup variety of dried beans. This is still the leading brand today, and the only one I use for my 15 bean soup! You can find it at a store near you here.
Water or broth – I prefer to use chicken, beef, or vegetable broth for added flavor and used chicken broth as prepared in the photos here.
Meat– You can use your choice of smoked sausage, ground sausage (browned in pan), ham hocks or diced ham.

This is our go to when we have a leftover hambone from the holidays! It gives it so much delicious flavor to the soup.

In the photos here, I didn't have a hambone, so I just used diced ham for a fast way to get this soup cooking!
Onion– I generally use a large yellow onion, but white or sweet will also work well
Garlic– Using fresh gives it the most flavor
Chili powder– this is optional but I highly recommend it. It adds to the depth of flavor and doesn't make it spicy at all
Diced tomatoes– Using canned tomatoes makes it quick and easy
Lemon Juice – This is for finishing the soup at the end. You will get the most delicious results using a fresh lemon for the juice
Optional: Hot sauce or crushed red pepper to taste- You can add a little kick, or a big one! I add a little in to all of it for flavor (not spice), then let each person add more to taste.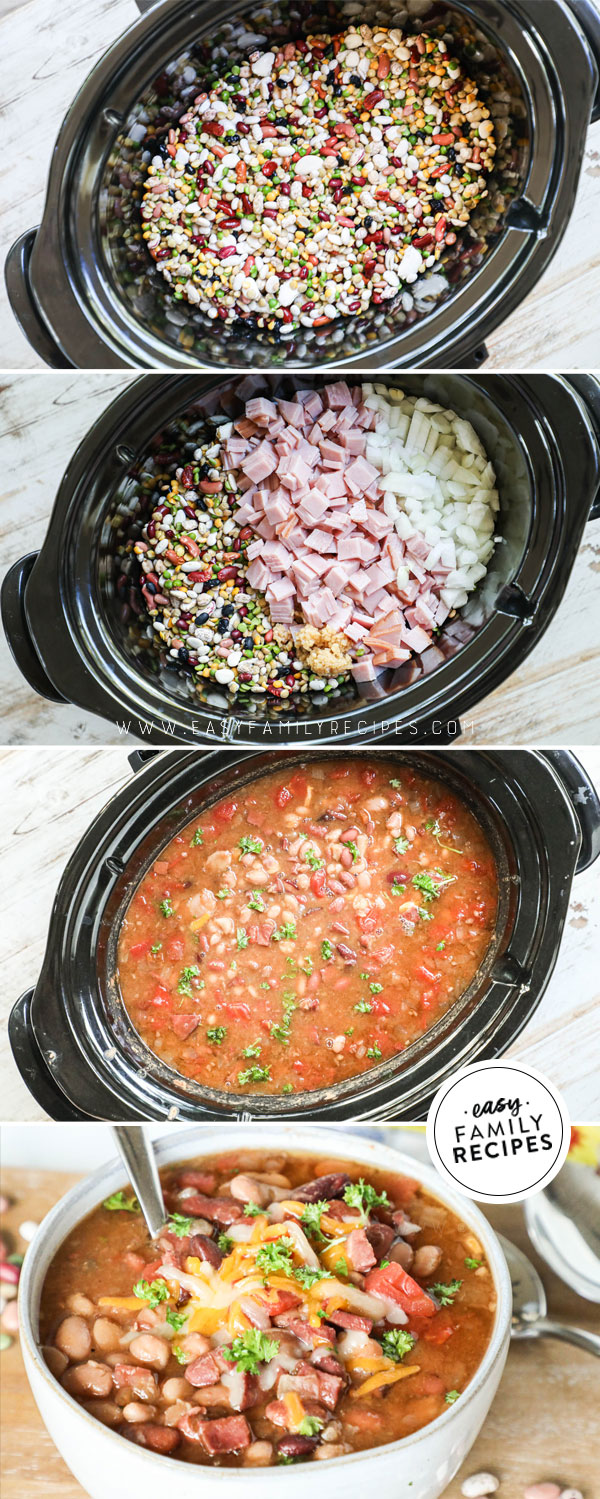 Recipe Tips
No need to soak! The beauty of using the crock pot for this recipe is that it saves time and steps. You do want to rinse the beans and sort any out that aren't good, but that is usually minimal. There is no need to do any additional soaking.

Don't open the lid. It is so tempting to open it up, stir the soup around and get that heavenly waft of the scent of soup cooking, but RESIST! Every time you open the lid, it will slow down the cooking process. Leaving the lid on will produce more tender beans, more quickly.

Add the tomatoes and lemon last – It is noted in the directions to add the tomatoes and lemon juice after cooking, but it is worth noting that there is an important reason for this. If you add the tomatoes or lemon at the beginning of the cooking process it can hinder the beans form becoming soft which can ultimately ruin the soup.

Seasoning Packet Magic! The seasoning packet included in the Hurst 15 Bean Soup is like magic! It adds a ton of delicious concentrated ham flavor. I highly recommend using it, but if you decide not to, don't throw it away, make sure to set it aside for use later.

Use more or less liquid – The recipe as written produces a soup that is thick and hearty. If you want a more brothy soup, you can add an additional 1-2 cups of liquid to the recipe.

Let it cook even longer- This soup will need to cook a minimum of 5 hours, or maybe a bit longer to get the beans soft and delicious. However you can cook many more hours for additional convenience. This will just continue to develop the flavor of the soup, making it even tastier! I find this is especially helpful if I need to put the soup in the crockpot before work, or even to cook it overnight!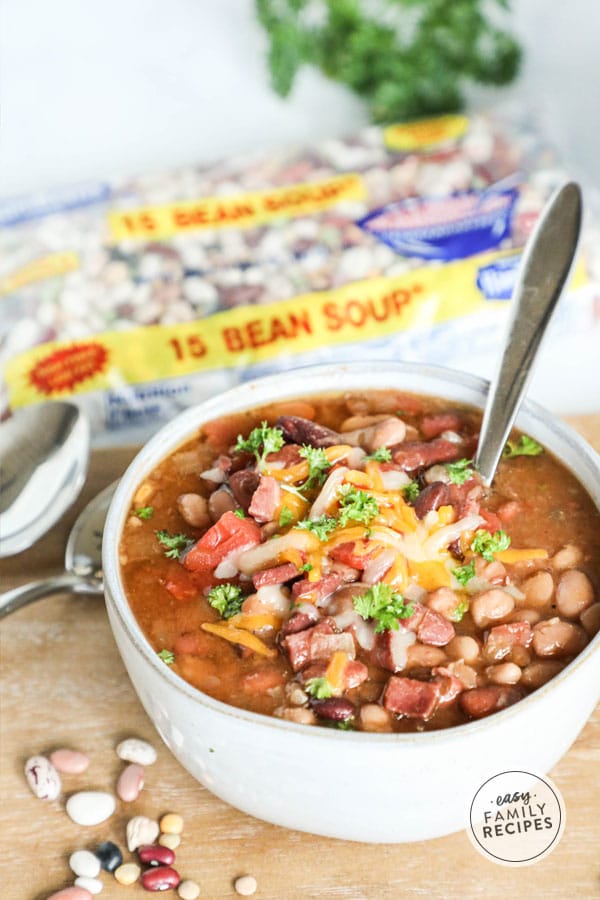 Recipe Short Cuts
This soup does require many hours to cook in a slow cooker, but there are a few tricks you can use for when you are short on time!
Cook overnight– If you need the dish ready to take with your first thing in the morning, consider starting the soup the night before and letting it cook while you sleep. The house will smell amazing when you wake and the soup is nearly ready to go!
Cook Ahead of time– This soup can be prepared ahead of time and saved for up to 4-5 days in the refrigerator. Reheat as needed.
Prepare as a freezer meal– To save on prep time prepare this as a freezer meal. Full instructions below.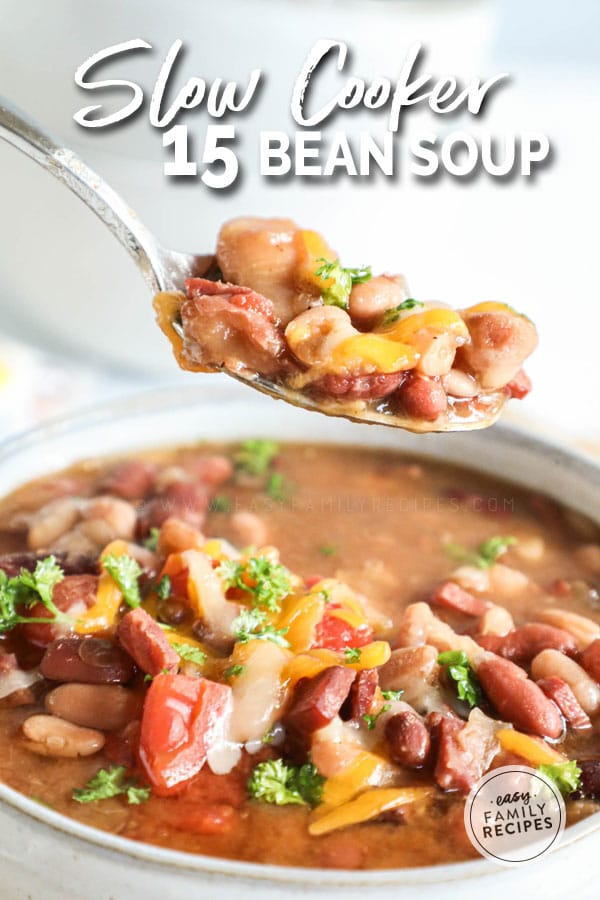 Freezer Meal Instructions
This meal can be prepared as a freezer meal. For best taste, cook within 6 months of freezing.
Combine the stock/water, onions, garlic, and meat or hambone and place in a freezer bag or freezer friendly container.
Freeze.
Once ready to cook, add the contents of the bag along with the beans to the slow cooker. You can add frozen or thawed. If you add frozen, it could take an additional 60-90 minutes to cook.
Continue with recipe as directed.
15 Bean Soup Leftovers
If you have leftovers after making 15 Bean Soup, then it is your lucky day! They save and reheat well, and can make the start of another delicious dish.
To save leftovers, separate into meal sized portions and then place in an airtight container and store:
in the refrigerator for 3-4 days
in the freezer up to a month
If you enjoyed this recipe, I really hope you will take a moment to grab a few more easy recipes for another busy night!
You can check out all of my Crock Pot recipes here, or see a few of our readers favorite recipes below.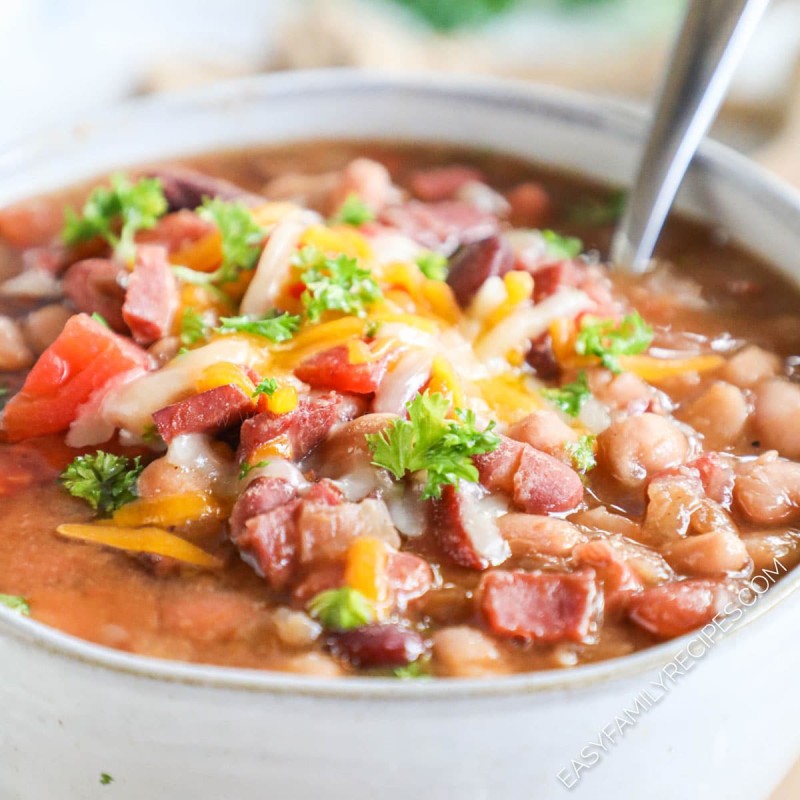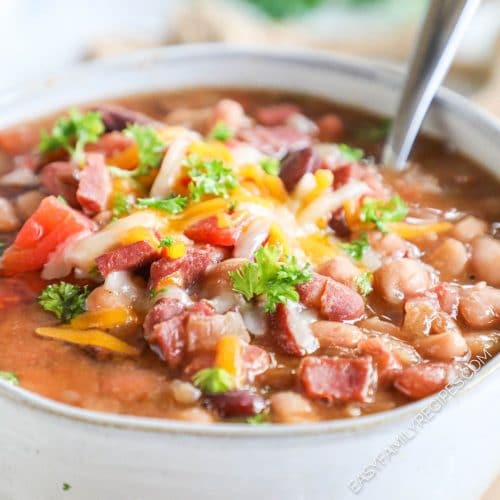 Slow Cooker 15 Bean Soup
15 Bean Soup is hearty and delicious! The perfect warm meal on a cold day, it is delicious served with cornbread or over rice.
Ingredients
1

package HamBeens® 15 BEAN SOUP®

8

cups

water

,

use chicken, beef, or vegetable broth for added flavor

1

lb.

smoked sausage

,

ground sausage (browned in pan), ham hocks or diced ham. Our favorite is to use a leftover hambone with some meat on it.

1

lg. onion

,

diced

1

clove

garlic

,

minced

1

tsp

chili powder

,

optional

1

can diced tomatoes

,

15 oz.

Juice from 1 lemon

Hot sauce or crushed red pepper to taste

,

optional
Instructions
In a colander or sieve, rinse beans thoroughly. Sort and inspect for any unwanted debris and discard.

Drain and pour beans in a slow cooker with 8 cups of stock/water, onions, garlic, and meat or hambone. (Not tomato or lemon juice yet!). Use 9-10 cups of liquid if you like a more "brothy" soup.

Stir to combine. Set slow cooker on high and cook for 5-7 hours then check to make sure beans are tender. The soup can continue to simmer for several hours and will develop more flavor over time.

After the beans are tender, remove the hambone (leave any ham in the pot), stir in the can of diced tomatoes, our Ham Flavor packet, optional chili powder, and the lemon juice.

Cook for additional 30 minutes then keep warm until ready to serve.

We recommend to serve with a freshly baked slice of corn bread or serve over rice.
Recipe Notes
This is a no soak method of cooking. Beans can be rinsed and cooked from the package, no soaking required.

Please keep in mind that every time the lid of the slow cooker is opened, your cooking time will be longer.
Nutrition Information
Calories:
187
kcal
(9%)
,
Carbohydrates:
5
g
(2%)
,
Protein:
7
g
(14%)
,
Fat:
15
g
(23%)
,
Saturated Fat:
5
g
(31%)
,
Polyunsaturated Fat:
2
g
,
Monounsaturated Fat:
7
g
,
Cholesterol:
40
mg
(13%)
,
Sodium:
571
mg
(25%)
,
Potassium:
232
mg
(7%)
,
Fiber:
1
g
(4%)
,
Sugar:
2
g
(2%)
,
Vitamin A:
135
IU
(3%)
,
Vitamin C:
6
mg
(7%)
,
Calcium:
32
mg
(3%)
,
Iron:
1
mg
(6%)