This Poppy Seed Chicken is just like Grandma's only even easier to make! A classic comfort casserole with tender shredded chicken in a flavorful mixture of cream of chicken soup, sour cream, and of course poppy seeds! The buttery Ritz cracker crust tops it off to delicious perfection!
Made in just one dish with a handful of ingredients that are pantry staples, this recipe makes for an easy, family friendly, weeknight dinner!
Poppy Seed Chicken- The EASY Way!
I am all about taking classic recipes and braking them down to figure out how to make the absolute best taste, with the least steps, time, and dishes to clean at the end.
Poppy Seed Chicken Casserole is one of those comfort foods we grew up on, but today's version is every bit as tasty, but even more simple to make.
All you need is your trusty casserole dish and a few pantry staples. This recipe comes together all in just that one dish, making clean up super easy!
If you have never had Poppy Seed Chicken, you are in for a treat! This simple casserole is a blend of tender chicken nestled in a rich gravy full of chicken flavor.  Poppy seeds are a seed harvested from the opium poppy and dried. They have a bright flavor and add a subtle crunch to the dish.
What to Serve with Poppy Seed Chicken
As with most comfort food, Poppy Seed Chicken is rich and delicious. Being a little on the heavier side as a main dish, I like to pair the dish with lighter sides. Vegetables, and salad are a staple, as are a few other extras that can round the dinner out into a hearty, wholesome meal.
Side dish ideas
Add one, or pair the casserole with a few to really help the meal stretch. Either way will make for a great family meal.
Recipe Notes
This recipe is about as easy as they come! I am going to run through a few of my tips here for making sure to get the best results.
Scroll to the bottom of this post for the FULL recipe card. If you have questions I missed, feel free to leave me a note in the comments at the bottom of this post.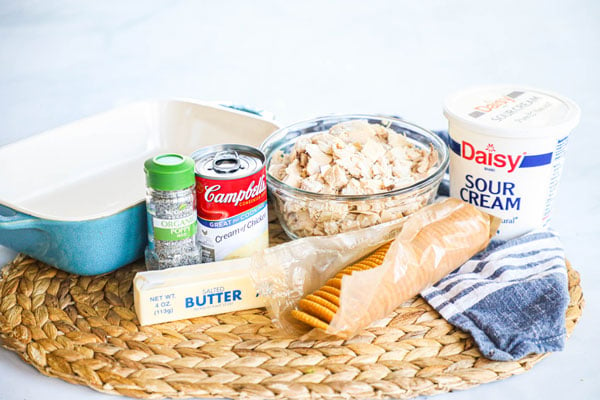 Ingredients + Substitutions
Shredded chicken- Use freshly shredded chicken, leftover neutrally flavored chicken, or pulled rotisserie chicken. I most often use rotisserie it works wonderfully in this recipe!
Cream of chicken soup- You can use canned cream of chicken or it is easy to make homemade cream of chicken instead! Do not dilute the soup. Just add it to the recipe straight from the can.
Sour cream- I use regular (full fat) sour cream. You can substitute light or fat free sour cream, with good results.
Milk- use what ever you have in your fridge. Whole. low fat, or fat free all work! If you are in a pinch and out of milk, you can also use chicken broth instead.
Poppy seeds- Grab these on the spice aisle if you don't have them already on hand.
Ritz crackers- These make the absolute best topping for the casserole! If you are out, you can substitute other types of crackers or bread crumbs.
Butter- You can use butter or margarine. Both will work well.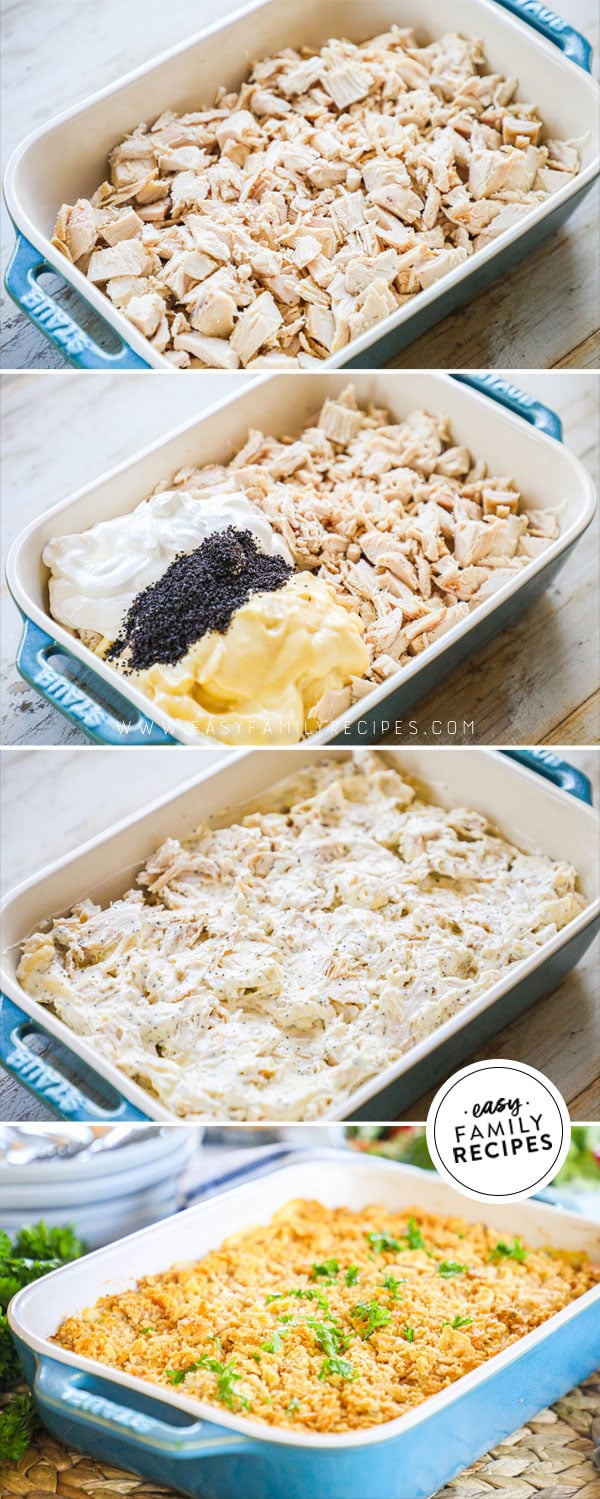 Mix + Top + Bake
There are just 3 little steps between you and dinner! So grab the ingredients and get going!
Mix
To make this recipe extra simple everything is mixed right in the dish that you bake it in! This cuts down on dishes and clean up, BUT you do have to be mindful that you mix well since you aren't in a nice, round mixing bowl.
To make mixing easier, I like to start by combining the soup, sour cream, milk and poppy seeds. Then I stir the chicken into it and fold it until thee chicken is evenly coated.
Scrape down the sides of the dish, then smooth out the mixture evenly, before you add the crumb topping.
Top
Now that the base of the casserole is ready, all that is left to do is add the topping. Crush the ritz crackers so that the crumbs are pea sized or smaller.
You can crush them right in the package they come in, but sometimes the seams burst and can make a mess. The easiest way I have found is to dump them in a baggie and roll over them quickly with a rolling pin. No mess and perfect crumbs!
You can either dump the melted butter right in the bag and work it around to coat the crumbs, or pour the crumbs over the top of the casserole and then drizzle the butter evenly over the top.
Bake
The last step is baking the flavors all together. You will want to bake the casserole uncovered for 25-40 minutes. 
Since the casserole doesn't have any raw ingredients, the purpose of the baking is not to cook the casserole, as it is to meld the flavors and heat it through.
You will notice the edges beginning to bubble a bit when the casserole is done.
Recipe Shortcuts
This recipe is quick to put together, but if you are in a real time crunch, there are a few extra things you can do to make preparing this casserole even faster.
Use rotisserie chicken! This makes it so fast. To prep even more, buy the chicken and pull it off the bones the day before.
Prep the casserole ahead of time. You can mix the casserole up in the dish up to 24 hours in advance. Just prepare, leaving off the Ritz crackers until right before baking, cover it and refrigerate. When ready to bake, add the cracker topping and bake as directed. Note: If you are baking from cold it may take 5-10 minutes longer in the oven.
Use a Freezer meal! More details on how to prepare this below.
Recipe Variations
If you love this recipe as much as we do, you may want to try a few of these new ways to switch it up for a delicious new twist on an old favorite.
Poppy Seed Chicken and Broccoli– Add 2 cups of broccoli florets chopped into bite sized pieces. You can use fresh or frozen broccoli that has been thawed. Mix into the main part of the casserole and continue recipe as directed.
Poppy Seed Chicken and Rice– Add one cup of quick cooking rice and one cup of chicken broth to the chicken mixture. Place in casserole dish and top with cracker topping, then bake as directed. Note: make sure to use quick cooking rice to ensure it will fully cook within the casserole.
Light Poppy Seed Chicken Casserole– If you want to put a healthy spin on this dish, you can use 98% fat free cream of chicken soup, along with light sour cream, or sub greek yogurt for sour cream. Use only chicken breast to make the meat more lean, and I like to add broccoli, or another veggie to lighten up the calories per portion. You can also go light on the crumb topping to further lighten it up.
Cheesy Poppy Seed Chicken– Make casserole as directed adding in 1 cup of sharp cheddar cheese to the chicken mixture. To make it extra cheesy you can also replace the crumb topping with grated cheese as well, but I like to have the cheese inside the casserole and the crunch on top.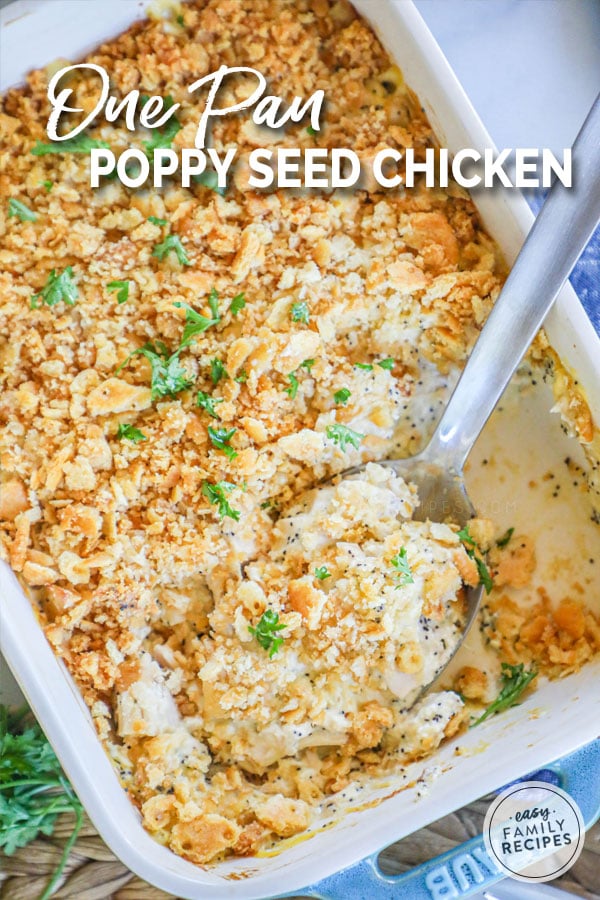 Freezer Meal Instructions
Poppy Seed Chicken can be easily made into a freezer meal. You can store this in your freezer for 3-6 months for the best results. It will need to be thawed before cooking.
Mix the shredded chicken with the cream of chicken soup, sour cream, milk, and poppy seeds until combined.
Store in a zip top bag or freezer friendly container.
Freeze.
When ready to cook, thaw in the refrigerator for 24-48 hours.
Spread in a casserole dish and top with Ritz cracker topping.
Bake as directed.
More Easy Casserole Recipes
If you loved this recipe as much as we do, I hope you will take a few moments to browse a few more of our tried and true favorites!
You can see all of our EASY RECIPES here, or look through a few reader favorites below.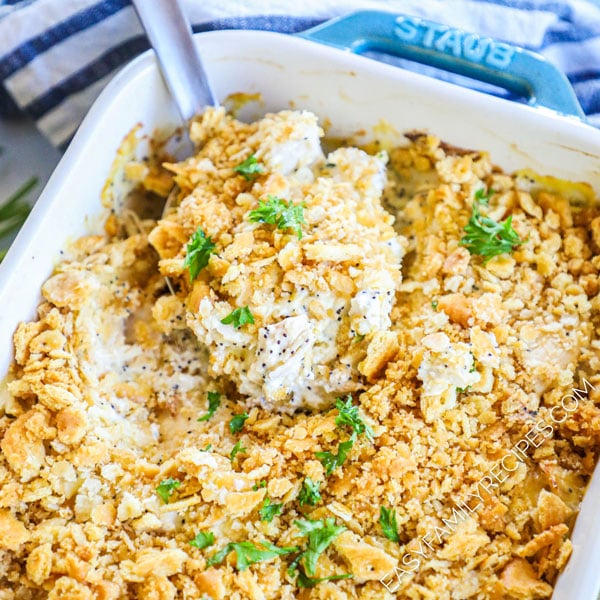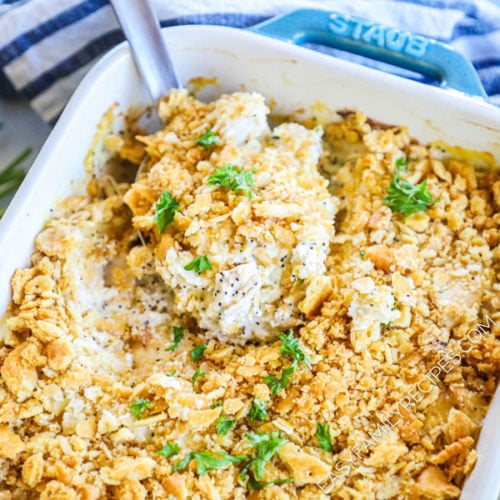 Poppy Seed Chicken Casserole
This classic Poppy Seed Chicken recipe is comfort food at its finest. Made with tender chicken nestled in a rich chicken gravy, this dish is not only delicious, but quick and easy to make!
Ingredients
4

cups

cooked chicken breast

,

shredded or cubed

10.75

oz

cream of chicken soup

,

(1 can)

1

cup

sour cream

1/4

cup

milk

1

tbsp

poppy seeds

1

sleeve

Ritz crackers

1/4

cup

butter

,

melted
Instructions
Preheat the oven to 350˚F.

Add the cream of chicken soup, sour cream, milk, and poppy seeds in an 9×9 or 2.5 qt baking dish and mix until combined.

Stir in the shredded chicken and mix until evenly coated. Spread out mixture evenly in the dish.

Crush the Ritz crackers to crumbs and spread them over the mixture, then drizzle the butter over the top of the crackers.

Bake for 35-45 minutes or until the edges begin to bubble.
Nutrition Information
Serving:
1
cup
,
Calories:
355
kcal
(18%)
,
Carbohydrates:
6
g
(2%)
,
Protein:
32
g
(64%)
,
Fat:
22
g
(34%)
,
Saturated Fat:
11
g
(69%)
,
Cholesterol:
124
mg
(41%)
,
Sodium:
530
mg
(23%)
,
Potassium:
342
mg
(10%)
,
Fiber:
1
g
(4%)
,
Sugar:
2
g
(2%)
,
Vitamin A:
597
IU
(12%)
,
Vitamin C:
1
mg
(1%)
,
Calcium:
99
mg
(10%)
,
Iron:
2
mg
(11%)