These White Chocolate Macadamia Nut Cookies are soft, thick, chewy and everything that make a cookie absolutely perfect!  Made with simple ingredients, in the perfect combination they bring so much flavor into this fail-proof cookie recipe.  These are loaded with white chocolate, macadamia nuts and made so they bake into perfectly soft chewy cookies.
Soft Chewy White Chocolate Macadamia Nut Cookie Recipe
I have to admit it, I am a bit of a cookie monster. I can easily say no to Halloween candy, fudge, or sugary treats, but when Christmas rolls around and there are cookies literally around every corner, my willpower goes ka-put.
Cookies and baking are a huge part of our holiday traditions and this White Chocolate Macadamia Nut Cookie recipe was one that got added to our collection because one of my best friends loves them. I have to say, we were missing out on life up to that point because these are so soft, chewy, and have the coveted sweet salty combo with the sweet white chocolate perfectly balancing the salty macadamia nuts.
These cookies come together quickly with basic ingredients we use in just the perfect ratios. Follow along as I go through some of my top cookie tips for getting perfect thick, soft and super chewy cookies every time!
How to Make Cookies Soft & Chewy
This is the holy grail as far a cookies go, and when you boil it down, how soft and chewy a cookie will be is directly related to how much moisture we can get and keep inside the cookie as we make and bake them.  It is a delicate  balance though, because if you have too much moisture or in the wrong way, it can cause the cookies to spread as they bake and you can end up with with super thin and flat cookies instead. The key is using the right ingredients, in just the right ratio, and then baking them perfectly!
Dark Brown Sugar– We use dark brown sugar and a high ratio of brown to white sugar in this ratio. Brown sugar has molasses in it which increases the moisture and holds it in, helping to create a super chewy cookie!
Perfect amount of flour– The dough of the cookies is not sticky and not crumbly. This perfect amount of flour helps the cookies to hold their shape as baking and not spread and get thin as they cook. Since the cookie is thicker, the mass of the cookie is held in the center where it stays nice and perfectly soft.
Just the right cook time– The cooking time and temp can greatly impact how soft and chewy or hard and crunchy a cookie is. These cookies are designed to be taken out of the oven when they almost seem under-done. Because the cookies will continue to bake while they cool. If you wait until the entire cookie is golden brown or looks nice and done, it will be over baked once it cools and result in a much more dry and crunchy cookie.
Although there is a lot of science that goes into baking, these three tips will get you well on the way to perfect cookies!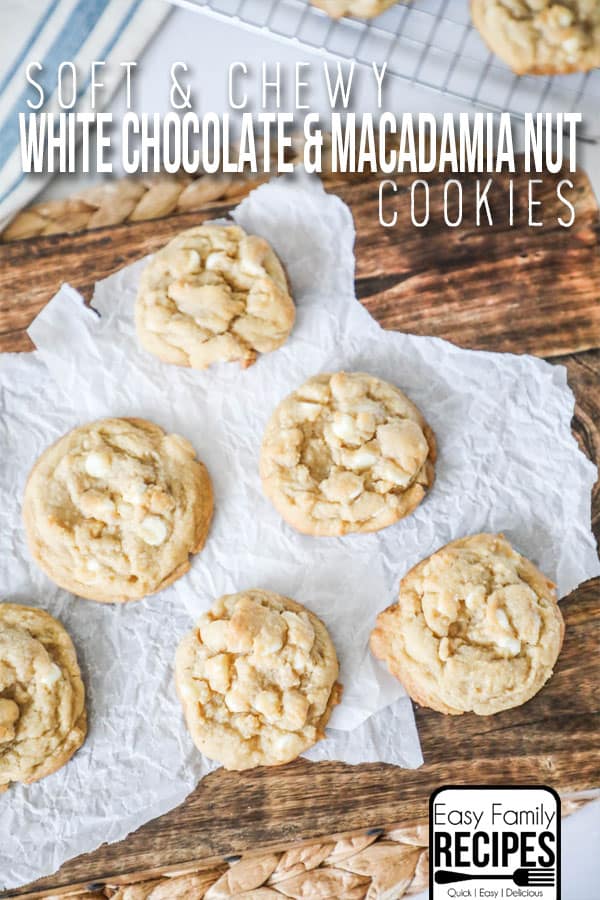 How to Make Chewy White Chocolate Macadamia Nut Cookies
This recipe is simple and straight forward.  I am going to walk through the basic steps here, but make sure to hop down to the bottom of the post for the full recipe.
First cream the butter and sugars together. I like to do the mixing for these cookies with an electric mixer with a paddle attachment, however, you can make these by hand with a little elbow grease!
In a separate bowl, sift the dry ingredients together. Add them into the wet ingredients little by little stirring in between additions until it is combined and the dough is smooth.
Add in the white chocolate and nuts and stir by hand to evenly distribute them throughout the cookie dough.
Bake for 9-11 minutes or until the center is just set.  Avoid over baking to keep the cookies as soft and chewy as possible. Cookies will continue to finish baking as they cool!
Let the cookies rest on the cookie sheet for 2 minutes, then transfer them to a wire cooling rack.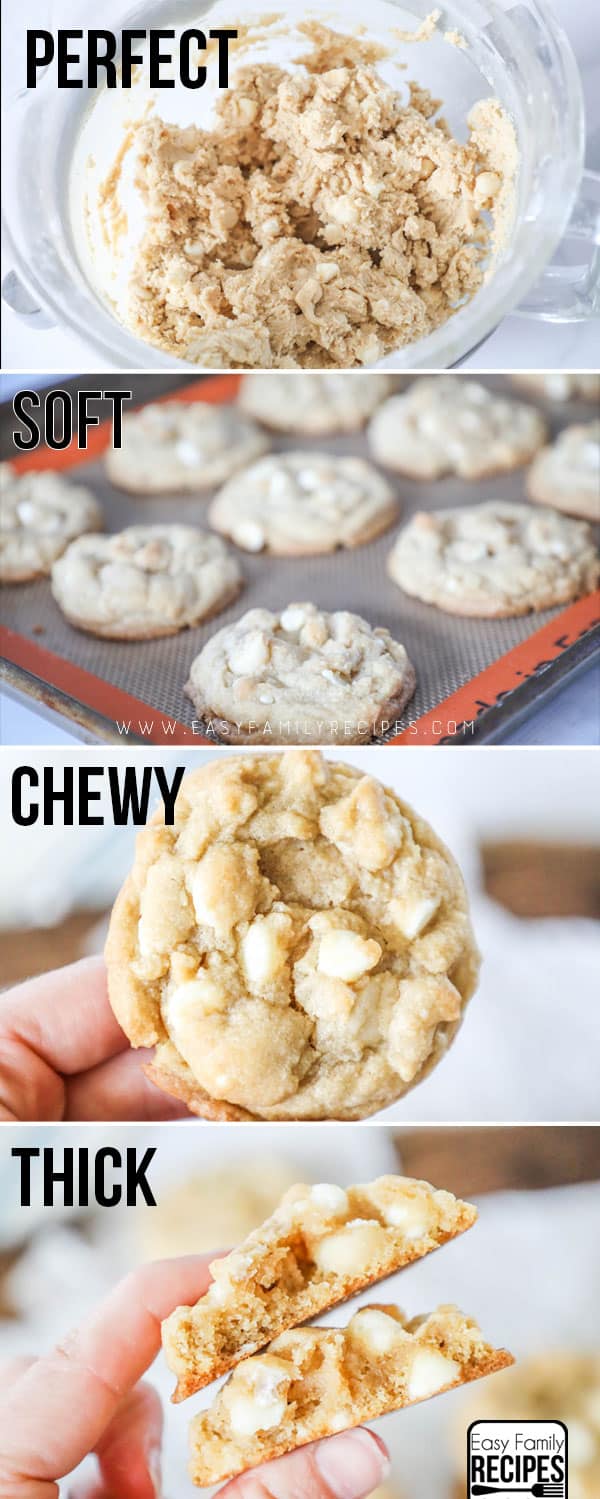 How to Store Cookies
These cookies are down-right amazing when they are hot and fresh out of the oven.  As cookies sit the air will continue to dry them out and rob them of that super important moisture we talked about earlier that makes them so soft and chewy. Even after a few hours cookies can already start to change in texture.
To store your white chocolate macadamia nut cookies so that they stay soft and chewy, you have a couple of options:
Freeze the cookies- This is my preferred method for storing cookies.  White Chocolate Macadamia Nut Cookies freeze beautifully! They can be frozen before or after cooking so that you can have a fresh tasting, soft, chewy cookie on demand anytime you want it! See section on freezing cookies below for instructions on how to freeze your cookies.
Store with a slice of bread- If you don't have the option to freeze your cookies, I recommend storing them in an airtight container with a slice of bread. Any bread will do, but I usually just use sandwich bread for convenience.  When you store with bread, the bread will lose it's moisture instead of the cookies allowing them to stay nice and soft.

To store with a slice of bread, place the cookies in an airtight container and place the bread inside the container, on top of a piece of parchment paper or inside an open bag, on top of the cookies. You want to make sure the bread doesn't directly touch the cookies because too much moisture can transfer making the cookies soggy.
How to Freeze White Chocolate Macadamia Nut Cookies
Freezing these cookies is a great way to keep them fresh and have cookies on hand any time you need them. You can freeze cookies equally well before or after baking.
To freeze cookies before baking:
Prepare recipe as directed and scoop dough into rounded tablespoonfuls. Place each cookie dough round in a single layer inside a zip top bag, or an airtight container. If you need to use multiple layers, use parchment or freezer paper in between layers of cookie dough.
When ready to bake, remove cookie dough from freezer and place cookie dough rounds on a baking sheet frozen. Bake as directed adding 2-3 minutes to the cook time to compensate for baking from frozen.
To Freeze Cookies After Baking:
Prepare and bake White Chocolate Macadamia cookies as directed. Allow the cookies to cool completely then store them in a zip top bag or air tight container in the freezer.
When ready to eat, remove one or more cookies and allow them to sit at room temperature for 5-10 minutes, or microwave 1-2 cookies for 30-45 seconds.
Cookies can be stored up to 1 month in the freezer to maintain the flavor.
Do you have more cookie recipes?!
If you enjoy these cookies as much as our family has, you should make sure and bookmark a few of my other favorite cookie recipes:
I hope that you get a chance to make these cookies for your friends and family! They are perfect for sharing!
If you do get a chance to try it, I would love it if you let me know!  You can leave me a comment below, or if you post a picture on Instagram, make sure to tag me @easyfamilyrecipes so that I can see what you are cooking up! It makes my day to see others enjoying the recipes that I share!
Oh and before you go!… If you need a regular rotation of recipe inspiration like me, make sure to sign up to get our emails!  I send out my new favorites, the recipes my family has been devouring, and some of the best tried and true recipes.  It is easy and free of course!  You can click here to sign up!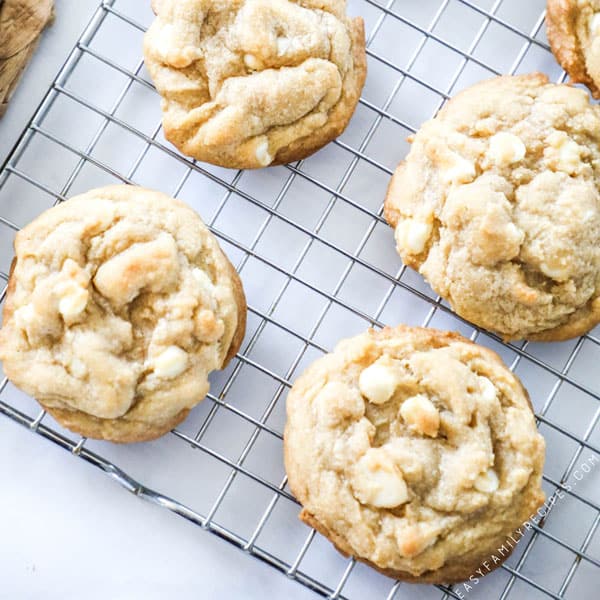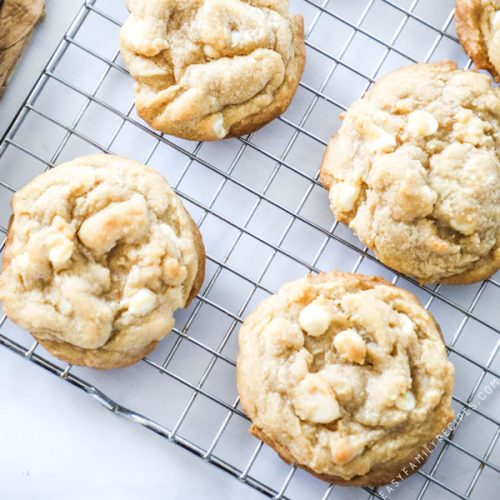 Soft Chewy White Chocolate Macadamia Nut Cookies
These White Chocolate Macadamia Nut Cookies are soft, thick, chewy and everything that make a cookie absolutely perfect! Made with simple ingredients, in the perfect combination they bring so much flavor into this fail-proof cookie recipe.
Ingredients
1.5

c

butter

,

softened

1 1/2

cup

dark brown sugar

1/2

cup

granulated sugar

2

large eggs

4

teaspoon

vanilla extract

3 3/4

cups

all-purpose flour

1

tablespoon

cornstarch

2

teaspoon

baking soda

1

teaspoon

salt

1

bag white chocolate chips

1

C

macadamia nuts
Instructions
Cream the butter and sugars with an electric mixer until light and creamy. Add in the eggs one at a time, then mix in the vanilla until combined.

In a separate bowl, sift the flour, corn starch, baking soda, and salt. Slowly add this mixture to the wet ingredients and mix between each addition.

Once the dough is together, mix in the macadamia nuts and white chocolate by hand until evenly distributed. Scoop by heaping rounded tablespoonfuls onto an ungreased cookie sheet 2 in apart.

Bake at 350˚F for 9-11 minutes or until the center is just set. Let cool on the cookie sheet for 2 minutes then transfer to a wire cooling rack.
Recipe Notes
The dough should not be sticky. If the dough is sticky, add flour 1-2 tbsp at a time mixing well until the dough does not stick to your finger.
To bake these properly, make sure that the center is just set, but they aren't browned across the whole cookie.  The cookies will continue to bake as they cool so if they are already done when they come out, they will end up overdone as they sit and cool.
Nutrition facts provided based on my best estimation for the recipe and may not be accurate depending on what brands you use or modifications you make to the recipe.  I recommend using a nutrition calculator with the exact brands and measurements you use for the most accurate calculation.
©2018 Easy Family Recipes- Recipe found at: https://www.easyfamilyrecipes.com/white-chocolate-macadamia-nut-cookies/
For more great easy dinner inspiration, sign up for our emails here!
Nutrition Information
Serving:
1
Cookie
,
Calories:
192
kcal
(10%)
,
Carbohydrates:
22
g
(7%)
,
Protein:
2
g
(4%)
,
Fat:
11
g
(17%)
,
Saturated Fat:
6
g
(38%)
,
Polyunsaturated Fat:
4
g
,
Monounsaturated Fat:
0
g
,
Trans Fat:
0
g
,
Cholesterol:
26
mg
(9%)
,
Sodium:
170
mg
(7%)
,
Potassium:
0
mg
,
Fiber:
1
g
(4%)
,
Sugar:
14
g
(16%)
,
Vitamin A:
0
IU
,
Vitamin C:
0
mg
,
Calcium:
0
mg
,
Iron:
0
mg