This Teriyaki Beef and Rice is quick to make in just one pan with less than 10 ingredients! It can go from fridge to fork in as little as 30 minutes! Tender ground beef is nestled in a bed of rice with sweet red peppers, broccoli florets, and all loaded with delicious flavor of teriyaki. Satisfy that take out craving from the comfort of your own kitchen!
Teriyaki Ground Beef & Rice- The EASY Way!
We love Asian take out! It is something that both the kids and adults can agree on in our home. As easy as it can be to call in an order and hop around the corner to pick it up, this dinner is just as easy, if not even more quick than take out!
The ease of using one pan makes the meal not only quick to make, but also quick to clean up. And by using everyday pantry ingredients, this dish is one that can be whipped up whenever that take-out craving hits!
What to Serve with Teriyaki Beef and Rice
This one pan meal has protein, carbs, and lots of veggies so it can be a meal in and of itself, not needing any additional sides added. 
We serve this Teriyaki Beef and Rice in bowls on busy nights with this Spicy Mayo sauce to drizzle on top (this is my favorite part– so good!)
But if the kids have friends over, or we are serving more than just our family, I add a few things to the side to help the meal go even farther.
If you need some serving ideas, here are a few of our favorites:
Spring rolls- buy frozen or make fresh
Asian salad with ginger dressing- I like trader joe's
Cucumber Salad
Pan fried green beans
Sesame noodles
Lettuce wraps
You can pick one, none, or add a few! There is really no way to go wrong on this delicious meal. 
🥣 Ingredients & Substitutions
With only 8 ingredients, this recipe is super simple to make. I am going to share a few notes on the ingredients we use and substitutions you can make here, but make sure to find the FULL recipe card at the bottom
Ground beef– the leaner the better. I usually use around 93%.
Onion – I recommend yellow for the sweetness, but white or red can be used too.
Jasmine rice– This rice has the perfect consistency can cook time for the recipe. Some other whole grain rices may be able to be substituted as well.
Red bell pepper– You can use any color of bell pepper, but my preference is red
Broccoli – Use precut florets, cut it off the stalk yourself, or you can use frozen florets that have been thawed. I usually cut all of them down into smaller pieces to make sure that they are bite sized.
Beef broth
Teriyaki sauce– IMPORTANT- On the grocery store shelf there are usually two kids of teriyaki sauce. Once is thicker like glaze, this is the one we want. The thin sauce like soy sauce is not what we want.
Garlic – Fresh is always best for the most flavor
Substitutions
Here are a few common substitutions that work well in this recipe:
Ground turkey, chicken, or pork can be used in place of ground beef.
Chicken broth or vegetable broth can be used in place of beef broth.
Other vegetables can be added or substituted such as shredded carrots, baby corn, snap peas if desired.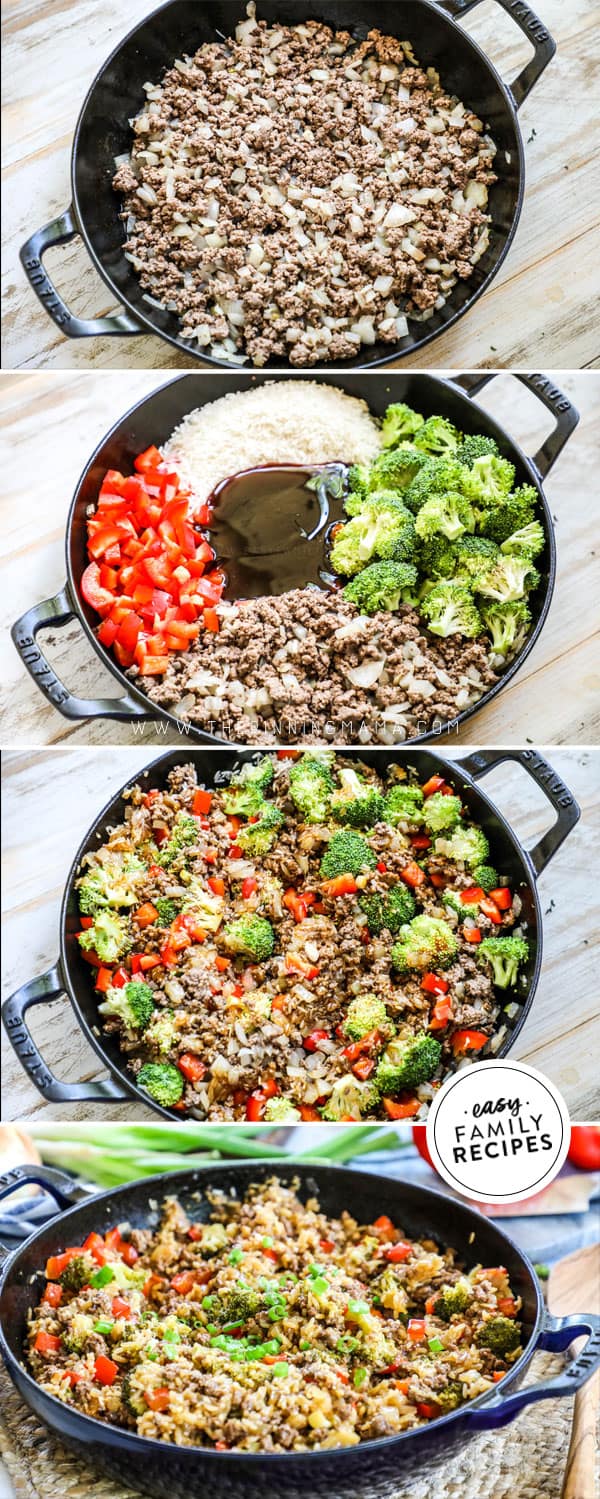 🍳Recipe Tips
There are only 3 easy steps and one skillet, between you and this yummy dinner. 
I am going to walk through some tips for getting the best out of the recipe, and also talk about some shortcuts you can use when you are in a time crunch to get dinner on the table even faster!
Prepare the Ground Beef
The first step is just browning the ground beef. I like to do this with the onions to make sure the onions have time to fully cook and get to that nice sweet place on taste. The goal here is just to get it full cooked through and broken up.
Make sure to drain out the extra fat to save yourself from a greasy end result! Although, if you use a super lean ground beef, or sub ground turkey or chicken, you might not have to do this.
⏲ Cook Time
The next step is an all in one. The broth, rice, veggies and sauce are all combined in the pan.
I do get lots of questions on this, so please note that both the rice and veggies are RAW and not precooked when they go in the pan in this step.
It is very important to make sure you mix well here so that all of the flavors combine evenly.
Then you will use a medium high to high heat to bring it to a boil, then immediately cover and reduce the heat to low and let it simmer. The rice and veggies will fully cook over the next 20 minutes soaking up all the flavor of the beef and teriyaki sauce.
🍜Plate it up!
To serve this, you can just scoop it out on a plate and it will be good. But if you want to make it GREAT, there are a couple of adders that make all the difference.
Add a heaping portion to a plate or bowl.
Drizzle with extra teriyaki glaze.
Drizzle with spicy mayo or yum yum sauce (not spicy)
Garnish with green onions.
✂️ Recipe Shortcuts
You can prepare the ground beef ahead of time by browning it with the onions and placing in the fridge for up to 3 days, or freezer up to a month!
Try doing a large batch of ground beef and freezing to have starters for a bunch of easy meals!
To make this meal even faster, you can use precut veggies 
that either that you precut ahead of time, or that you bought in the supermarket already chopped.
Combining the two above, you can precook the beef, chop the vegetables and combine them, then save in the refrigerator for up to 2 days. When you are ready to cook all you have to do is add the meat mixture, broth, sauce and rice to the skillet and simmer until the rice is cooked.
Prepare a freezer meal – Use instructions below!
🚫Dietary Considerations
This meal is friendly for many different special dietary needs with little to no modifications.
Make sure to verify compliance on any store bought ingredients. Recommendations below are meant to be a guideline, not a blanket statement for all ingredients.
Gluten Free– This recipe can be made gluten free when gluten free teriyaki sauce is used. 
Dairy Free– This recipe is naturally dairy free
Nut Free– This recipe is naturally nut free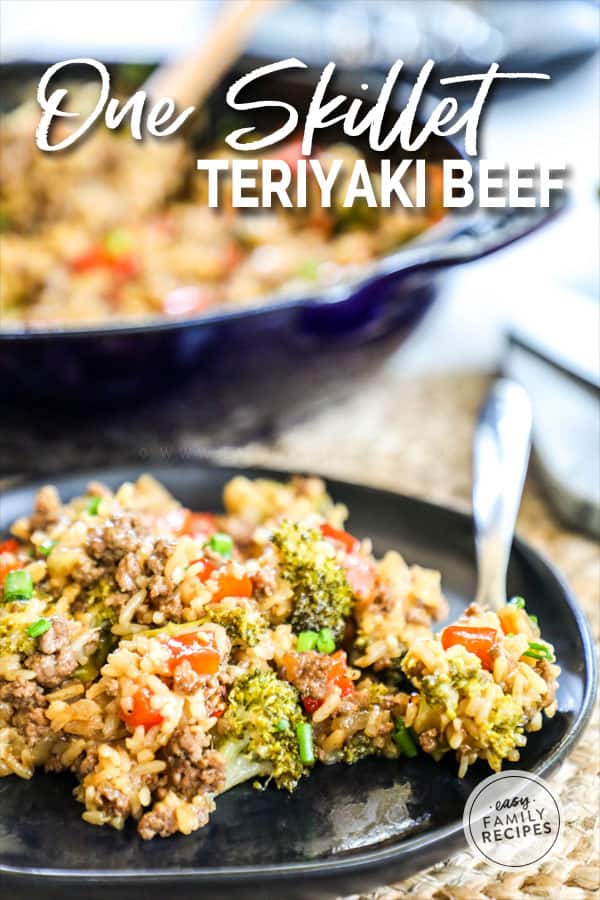 ❄️Freezer Meal Instructions
Teriyaki Beef and Rice makes a wonderful freezer meal to give you the option of having a meal already prepped and ready to cook on a busy weeknight, or to pass on to a friend in need.
The meal can be prepared and stored in the freezer for up to 3 months for the best taste.
Brown the beef and onions. Drain and let cool.
Combine beef with the red pepper, broccoli, garlic and teriyaki sauce and freeze in an airtight container or zip top bag.
When ready to use, thaw for 24-48 hours in the refrigerator.
Add beef and veggie mixture to a large skillet with broth and rice and and bring to a boil, then cover and simmer 20-25 minutes or until the rice is tender
Serve as directed.
🍲 Leftover Ideas
If you have leftovers of this meal, you can reinvent them for another dinner with just a little creativity!
Here are some of our favorites prepared with leftover Teriyaki Beef and Rice.
Teriyaki Beef and Rice Stuffed Peppers– Take the leftover beef and rice and heat it in a skillet with shredded cabbage (or coleslaw mix) until meat is heated through and cabbage is wilted. Stuff the mixture into  hollowed pepper halves and place on a baking sheet or casserole dish. Bake for 25-35 minutes or until the peppers are tender. Drizzle with teriyaki sauce and spicy mayo to serve.
Teriyaki Beef and Rice Zucchini Boats– Cut zucchini in half and hollow out the seeds. Add a thin layer of teriyaki sauce on the bottom of the hollow then pack each half full of the beef and rice mixture. Bake at 350˚F in a casserole dish covered with foil for 25-35 minutes or until heated through and zucchini is fork tender.
Teriyaki Beef and Rice Power Bowls– Heat beef mixture in a skillet. In each bowl, place a bed of shredded cabbage (or coleslaw mix). Add shredded carrots, chopped cashews, and green onions. Top with Teriyaki beef and rice mixture and drizzle with spicy mayo.
Teriyaki Beef and Rice Lettuce Wraps– Heat beef and rice mixture in a skillet. Add drained and chopped water chestnuts, shredded carrots, chopped mushrooms, and chopped green onions.  Add additional teriyaki glaze per taste preference. Cook until mushrooms begin to cook down. Serve with large lettuce leaves. Butter lettuce is my favorite!
➕ More Skillet Recipes!
If you enjoyed this recipe, I hope that you will take a few minutes to browse though more of our recipes and grab some ideas for another night.
We have many tried and true easy family dinner ideas! See all of our dinner recipes here, or browse a few of our favorite skillet meals below.
Hungry for more family-friendly recipes? Sign up for my free recipe club to get new family-friendly recipes in your inbox each week! Find me sharing daily meal-time inspiration on Pinterest, Instagram, and TikTok.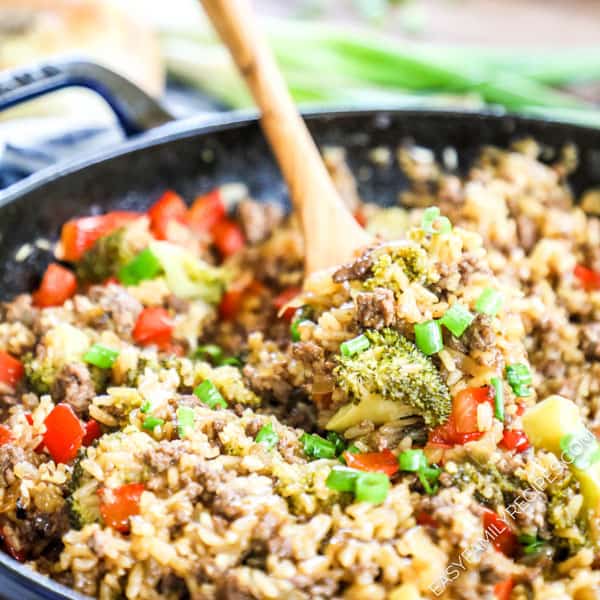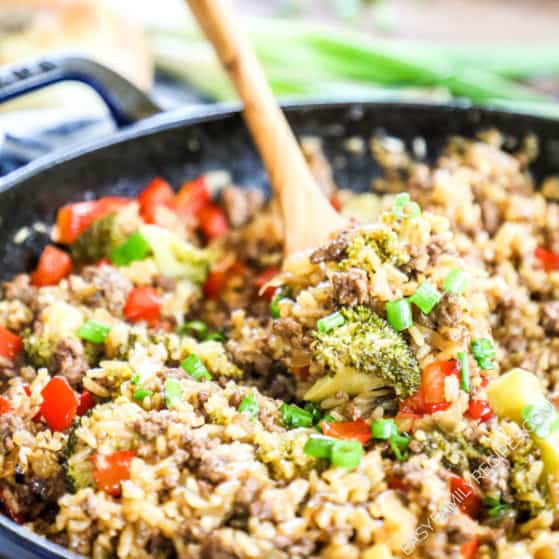 One Pan Teriyaki Beef and Rice
This Teriyaki Beef and Rice is loaded with the best Asian flavors and made in just one pan! With tender ground beef, sweet red peppers, rice, and broccoli florets all enveloped in a Teriyaki glaze, this meal is perfect to feed a hungry crowd fast!
Prep Time: 10 minutes
Cook Time: 20 minutes
Total Time: 30 minutes
Serves:5 people
Hover over "serves" value to reveal recipe scaler
Ingredients
1 lb ground beef
1 yellow onion chopped
1 cup jasmine rice
1 red bell pepper chopped
1 lb broccoli florets cut small
1.5 cups beef broth
1 cup teriyaki sauce (see notes)
2 tbsp garlic minced
Garnish (optional)
green onions chopped
Teriyaki Sauce
Instructions
Brown the beef and onion over medium high heat, then drain and return to skillet.

Add the rice, red bell pepper, broccoli, broth, teriyaki sauce, and garlic to the skillet and mix well. Bring to a boil, then cover and reduce to low and simmer for 20-25 minutes, or until rice is tender.

Remove from heat. To serve, garnish with your choice of chopped green onion and an extra drizzle of teriyaki sauce and spicy mayo. Enjoy!
Recipe Notes:
*Make sure to use a thick teriyaki sauce, sometimes called teriyaki glaze in this recipe rather than one that is thin and more of the consistency of soy sauce.
Nutrition Information:
Serving: 1.5cupsCalories: 474kcal (24%)Carbohydrates: 49g (16%)Protein: 26g (52%)Fat: 19g (29%)Saturated Fat: 7g (44%)Cholesterol: 64mg (21%)Sodium: 2571mg (112%)Potassium: 838mg (24%)Fiber: 4g (17%)Sugar: 12g (13%)Vitamin A: 1310IU (26%)Vitamin C: 114mg (138%)Calcium: 99mg (10%)Iron: 4mg (22%)
(Nutrition information provided is an estimate and will vary based on cooking methods and brands of ingredients used.)