This is not only our FAVORITE Broccoli Slaw recipe, it is also one of the most quick and easy side dishes we make.  This Broccoli Slaw is packed with delicious flavors and interesting textures like crunchy cashews, fresh apples, sweet craisins and savory bacon that are all wrapped in a dressing that is equally creamy and tangy. We love pairing this with meat when we are grilling or some of our other easy favorites like burgers or barbecue for a great wholesome side option. As a bonus this Broccoli Slaw recipe can be adapted to be friendly for many special dietary needs.
The Best Broccoli Slaw Recipe
Broccoli slaw wasn't something I ate growing up… or in college… or well into my adult years. I can remember the first time I had it though. My friend Jennifer had made it and had a hilarious story about a Broccoli Slaw fail she had. Since I had never eaten it, I was curious and once I took a taste it was love at first bite.
Fast forward years later and I had eaten broccoli slaw several times over the years but never made it. One day when I was walking the aisles at Trader Joe's I saw a big bag of broccoli slaw mix staring at me. I did think back to the Broccoli Slaw fail story and with a little giggle I threw it in the basket.
When I got home I knew I needed to figure out the best way to make this, so after lots of research and trials to make the perfect broccoli slaw dressing I hit it just right. Now the only thing left was decide what to put in it. First off, cashews for crunch. I went with cashews over other nuts, first because I had a big thing of them in the pantry. Second, they are really delicious and a really healthy nut option. I used salted to give the salad a little more flavor. Next was the apple because it was a way I could really bulk it up without adding a lot of unnecessary calories or fat (I mean it is supposed to be a salad after all, right?!) . The apples also give it a lot of freshness and a little bit of sweet. The craisins are a classic flavor for broccoli slaw to me and give it a little bit more depth, but if you are trying to limit added sugars you can leave them out. And finally the bacon. I am not a bacon lover myself but I knew this little addition would add an extra layer of deliciousness to win my husband over. And that it did! He might or might not have eaten 3 servings which is a pretty big deal for him!
The dressing is simple and just two ingredients but really brings the salad together in a major way. Although it is a mayonnaise base, this salad is in no way mayonnaise-y or heavy. It is however light, sweet, tangy, crunchy and completely delicious!
All together these flavors really marry to be something special. It is really something when everyone from my husband to my 5 year old daughter clean their plate of a vegetable and ask for more!
Broccoli Slaw Serving Ideas
This Broccoli Slaw recipe is really special and really can be eaten all on it's own as a light lunch or dinner. You could add chicken or steak to the top to make it a more hearty meal. We most often serve it as a side though, and then I can be seen eating the leftovers as lunch the following few days. Below are some of my favorite dishes to serve this broccoli slaw with:
Grilled Chicken, Steak, or Burgers
If you have a favorite way to eat broccoli slaw, or a favorite dish to serve it with, let me know in the comments. I would love to try it out!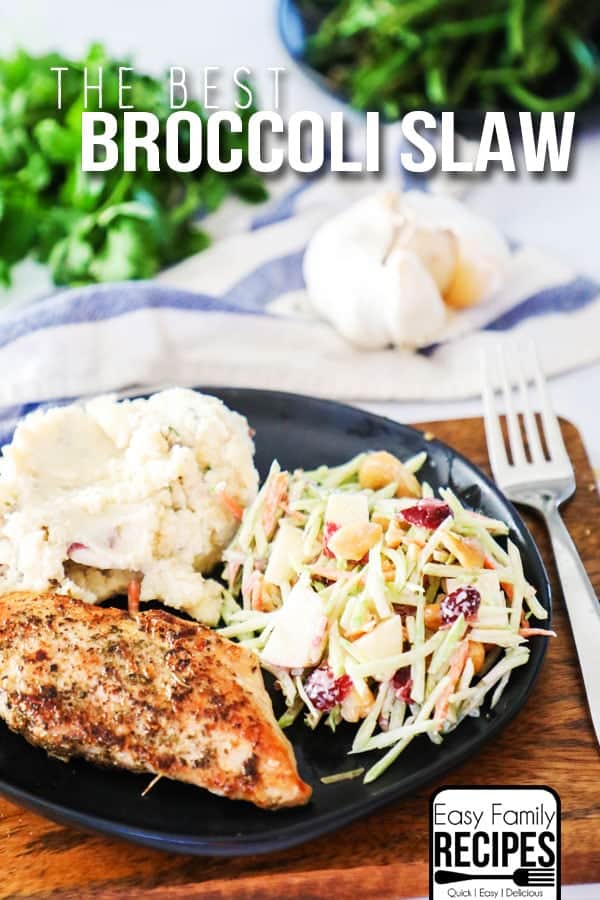 How to Make Broccoli Slaw
Making this Broccoli Slaw recipe is simple! There are only a few basic ingredients and steps. I am going to walk through them here to hopefully cover any questions that might come up, however, you can find the full, printable recipe card (ie the quick version) at the bottom of this post. If you still have questions, feel free to leave me a note in the comment section and I will try to get back to you soon!
Broccoli Slaw Ingredients
For the salad
1 package (12 oz) shredded broccoli slaw mix- I usually get this at Trader Joes, but I have also got it at our local grocery store too. It is usually with the prepackaged salad in the produce department.
1 cup chopped apples- I use gala or other sweet red apples. I large apple will give you about a cup of chopped apple.
1/2 cup roughly chopped salted cashews- I used salted so that it also seasons the salad a bit without adding additional salt.
1/4 cup craisins- Rehydrate them using the instructions in the recipe to give the salad more bulk. You can also leave them as is if you prefer.
1/4 cup crispy crumbled bacon- I like to cook a package of bacon in the oven like this, then store any I don't use in the freezer until next time. That way you have it on hand next time you need it and you don't have to only cook part of a package.
For the broccoli slaw dressing
1/4 cup mayonnaise
1 tbsp red wine vinegar- You can change the ratio if you prefer more tangy but I find this to be perfect for my taste.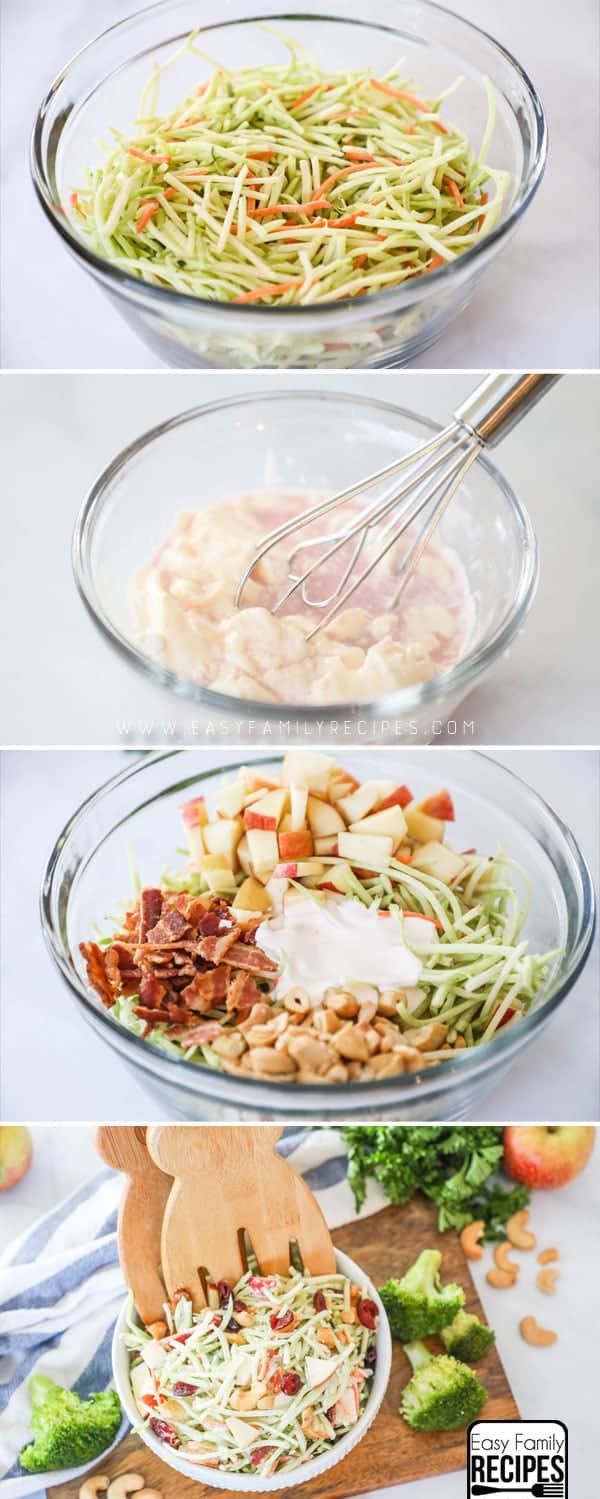 Broccoli Slaw Recipe Instructions FAQ's
Can I use fresh broccoli instead of prepackaged broccoli?
Yes you can use fresh broccoli if you want! Just take the stems and put them through the grating attachment of a food processor and you have your mix ready to go.
Can I make this recipe Whole30 Compliant or low carb?
Yes. Omit the craisins to eliminate added sugar and make the recipe Whole30 compliant or more low carb.
Can I make this into a main dish?
This Broccoli Slaw Salad makes a great main dish if you add chicken or steak to it!
Can I save the leftovers?
You can save the leftovers in the fridge, but I recommend only adding the bacon to the part that you will be eating immediately to keep it fresh and crunchy. You can also mix the broccoli mix, craisins, and cashews and keep the dressing separately, then mix together and add the apples and bacon when you are ready to eat it.
I hope that you enjoy this Broccoli Slaw Recipe as much as we do! If you do get a chance to try it, I would love it if you let me know! You can leave me a comment below, or if you post a picture on Instagram, make sure to tag me @easyfamilyrecipes so that I can see what you are cooking up! It makes my day to see others enjoying the recipes that I share!
Oh and before you go!… If you need a regular rotation of recipe inspiration like me, make sure to sign up to get our emails! I send out my new favorites, the recipes my family has been devouring, and some of the best tried and true recipes. It is easy and free of course! You can click here to sign up or on the button below.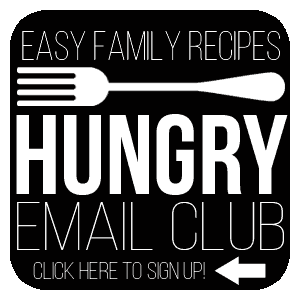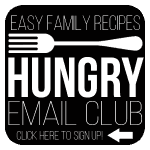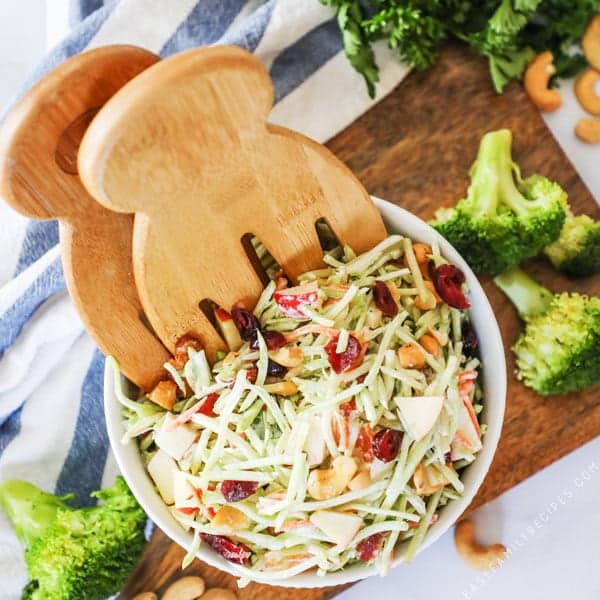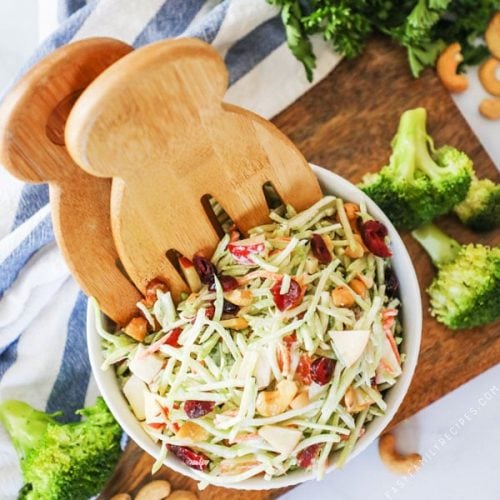 The BEST Broccoli Slaw
This Broccoli Slaw is one of my favorite side dishes. It is quick and easy to make and undeniably delicious. This Broccoli Slaw recipe is packed with delicious flavors like crunchy cashews, fresh apples, sweet craisins and savory bacon that are all wrapped in a dressing that is equally creamy and tangy.
Ingredients
For the salad
1

package

,

12 oz shredded broccoli slaw mix, or shredded fresh broccoli

1

cup

chopped sweet red apples

1/2

cup

roughly chopped salted cashews

1/4

cup

craisins

1/4

cup

crispy crumbled bacon
For the dressing
1/4

cup

mayonnaise

1

tbsp

red wine vinegar
Instructions
In a small bowl, whisk together the mayonnaise and vinegar.

Place the craisins in a bowl of hot water for 5 minutes or until they plump up, then drain.

In a large bowl, combine the broccoli slaw, apple, nuts, bacon and craisins.  Then fold in the dressing and mix until everything is evenly coated.

Serve immediately.  If you are not serving right away, save the bacon to put in right before serving and chill until you are ready to serve then stir in the bacon.
Recipe Notes
Dietary Considerations:
Gluten free- make sure to check the labels on the bacon to ensure the brand you buy is gluten free.
Whole30- This meal can be whole30 compliant if the craisins are omitted and Whole30 Compliant mayonnaise is used.
Vegetarian- This recipe can be vegetarian if the bacon is omitted.
Vegan- This recipe can be made vegan if the bacon is omitted and vegan mayonnaise is used.
©2018 Easy Family Recipes – https://www.easyfamilyrecipes.com/broccoli-slaw-recipe/
Nutrition Information
Serving:
4
oz
,
Calories:
175
kcal
(9%)
,
Carbohydrates:
13
g
(4%)
,
Protein:
5
g
(10%)
,
Fat:
12
g
(18%)
,
Saturated Fat:
2
g
(13%)
,
Polyunsaturated Fat:
9
g
,
Monounsaturated Fat:
0
g
,
Trans Fat:
0
g
,
Cholesterol:
7
mg
(2%)
,
Sodium:
268
mg
(12%)
,
Potassium:
0
mg
,
Fiber:
2
g
(8%)
,
Sugar:
6
g
(7%)
,
Vitamin A:
0
IU
,
Vitamin C:
0
mg
,
Calcium:
0
mg
,
Iron:
0
mg