These delicious Italian style Turkey Meatball Subs are loaded with tender turkey meatballs, rich Italian marinara sauce, and smothered in gooey mozzarella cheese all on a garlic bread sub roll. These sub sandwiches only take minutes to assemble and can be prepped ahead to make them even faster! This kid-friendly dinner is a family favorite at our house.
Turkey Meatball Subs – The EASY Way!
Meatball subs are on my list of guaranteed kid-friendly dinners. While you could grab a meatball sub sandwich at Subway, Firehouse Subs, or Jersey Mikes, these are so quick and easy to make they may even take you less time than heading out for take out!
What I love most about this recipe is not only are these Turkey Meatball Subs EASY, but with the homemade turkey meatballs and the garlic bread roll, they are so delicious that the grown ups don't feel like they are eating a kid-friendly dinner.
What I love about this recipe:
Family Friendly– Kids love it just as much as the grown ups (or vice versa!)
Basic ingredients- Nothing fancy, just pantry ingredients!
Easy to Make– The assembly is quick and pretty fool-proof!
Make ahead options- You can make the meatballs in the evening, the day before, or even months before and freeze. This meal can be as easy as you need!
Easy meal for a crowd- If you need to feed 2 or you need to feed 12, this recipe doesn't really take any more time. You can scale it up or down based on what you need fresh and hot now.
Sides for Meatball Subs
Since this dish has those classic Italian flavors made casual, there are a ton of options that will go really well with it. We are sharing both classic options and some healthy options to keep it light.
Side Dish Ideas
You can choose one or add a few sides to make a wholesome, well rounded dinner.
Recipe Notes
This Italian Turkey Meatball Sub Sandwich recipe is as simple as promised! Just some everyday ingredients transformed into family friendly meal.
In this section I am going to go through a few tips and tricks I use when making this recipe to get the absolute best and most delicious results.
Make sure to scroll to the bottom for the FULL recipe card.
Ingredients + Substitutions
For the Meatballs
Ground turkey– grab some fresh at the store, or get it out of your freezer to thaw!
Bread crumbs– I use plain since we season the turkey meatballs well, but you can use seasoned if that is what you have on hand.
Onion– Dice super fine to add the most moisture and distribute the flavor more evenly throughout the meatball.
Egg– This binds the meatball together.
Herbs and spices– We use a simple combination of fresh parsley, fresh garlic, Italian seasoning, salt, ground pepper, and red pepper flakes in the turkey meatballs. These are all pretty common and the red pepper flakes do not make the meatball spicy, they just add a little extra layer of flavor in.
Grated parmesan cheese– This adds to the richness of the meatball and helps to lock moisture in
Olive oil
Milk
To assemble the sub sandwiches
Sub rolls– I generally use 6 inch rolls from the bakery section to make individual subs. If you want to make a giant sub, you can use a loaf of french bread (but it may require extra meatballs!
Butter– The base of that amazing garlic bread roll that will become the meatball sub
Garlic salt– You can use garlic salt, or garlic powder and salt. Whatever you prefer!
Marinara sauce– Choose your favorite high quality jarred marinara sauce. I like Mezetta and Raos among others. The sauce is going to really be a key player in flavor so picking a good sauce will be important to getting a great Meatball sub!
Mozzarella cheese– I estimated about a cup, but you can measure with your heart. If you like it extra cheesy… go for it!
Fresh parsley– If you want a freshly made feel, go for adding a little freshly chopped parsley on top for garnish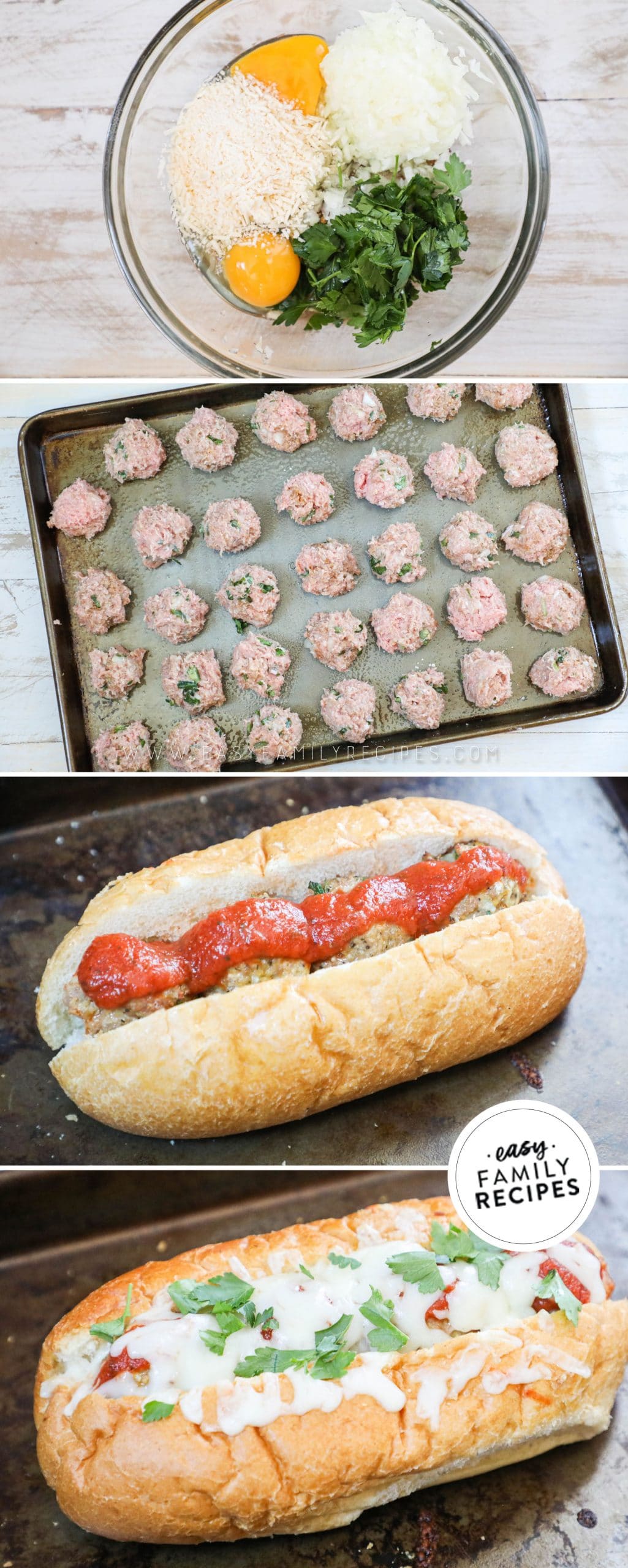 Recipe Tips
Turkey Meatballs– These meatball subs are made with turkey meatballs. If you don't want turkey meatballs in your meatball sub, you can use the "sub" part of the recipe and either make a different meatball (like my meatballs parmesan!!) or use frozen meatballs.

Garlic Bread with Cheese– If you notice the first step in prepping the sub rolls is to add butter, garlic salt, cheese and broil. This does a few things- First, it adds an enormous amount of flavor and texture. The garlic bread gives it that really irresistible base to build the sandwich on. Adding a little cheese underneath where the meatballs and sauce will go, gives the bread a little protection from getting overly soggy from the sauce, which in my opinion, makes all the difference in how the flavors and textures combine!!

Scale the recipe- This recipe makes 4 subs, but it can very easily scale up or down. If you just want 1 or 2, I would recommend making the meatballs as directed and freezing any extras you have for another day. Then continuing to make a meatball sub or two with the ones you need. If you want to feed a crowd, you can easily double or triple the meatball recipe to make as many as you need. Then just add more sub rolls to the mix and you are in business.
Recipe Short Cuts
If you need to make this recipe, but are extra short on time, here are a few ideas that can help make this recipe even faster!
Make the Meatballs ahead- These meatballs can be made up to 3 days ahead of time fresh, or prepared up to a month ahead of time and frozen. See freezer directions below.
Prep ingredients– A lot of the prep work can be done the earlier in the day or night before, for example, chop the onions so that they are ready to go. Measure and prep the spices. Cut the sub rolls etc
Let the kids help– One of the things I love about this recipe is the simplicity. Although the ingredient list looks long, it is deceiving because they are very simple things like salt, pepper, garlic, etc. The meatballs are a dump and mix recipe and the sub sandwiches are crazy easy to assemble. Let the kids get in there and mix the meatballs with their hands, or have them assemble the subs while you work on a side dish.
Recipe Variations
If you love this recipe as much as we do and want some quick ways to change it up for variety, these little tips will do the trick!
Meatball Parmesan Subs– For a different take on this recipe, use my Meatballs Parmesan recipe for the meatballs and sauce for the recipe.

Meatball Sub Casserole– Make the meatballs as directed. Make the garlic sub rolls as directed. Instead of assembling the subs traditionally, grab a large casserole dish. Lay the garlic bread in the bottom and then layer sauce, meatballs and cheese on top and bake. It is Turkey Meatball subs…. Casserole style!

Crockpot Meatball Subs– If you want to prep these meatballs in the morning, you can cook them in the crock pot instead of the oven. Prepare the meatballs as directed. Instead of baking, grease the bottom of the slow cooker, then arrange them in the crock pot in a single layer. add 1/4 cup broth (not much) to the bottom of the pot and cook on low 3.5-4.5 hours, or until they reach at least 165˚F. Continue making meatball subs as directed.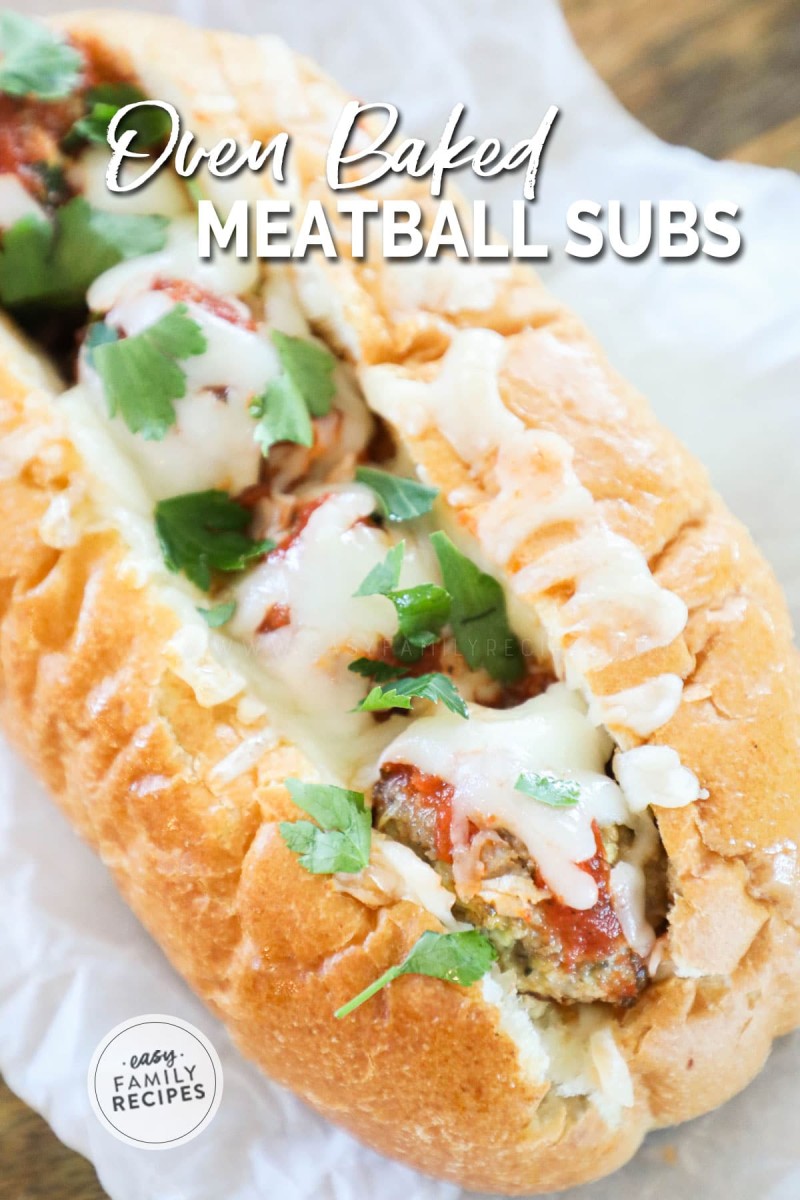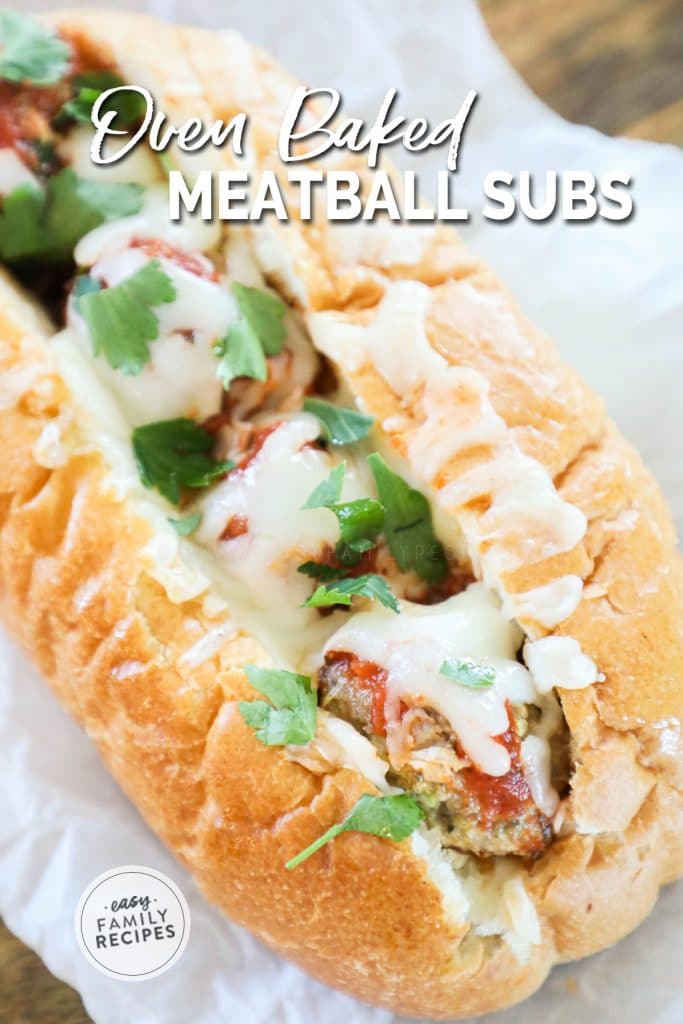 Freezer Meal Instructions
Although you can't freeze the Turkey Meatball Subs assembled, you can prepare the turkey meatballs you use to make the subs as a freezer meal to make this recipe extra quick and easy to make.
Freezing before or after cooking are both great options for meatballs. This allows you to prepare the turkey meatballs as a freezer meal, or just save leftovers so that you can have a quick meal ready to go another night.
TO FREEZE BEFORE COOKING:
Follow the recipe directions through step 3, placing the meatballs in a large zip top bag or air tight container.
Freeze for up to 6 months.
When ready to use, thaw for 24-48 hours in the refrigerator.
 Continue as directed in step 4.
TO FREEZE AFTER COOKING:
Prepare recipe as directed through step 4.
Let the turkey meatballs cool to room temperature.
Divide into meal sized portions and place in a zip top bag or air tight container.
Freeze up to 1 month.
When ready to eat, thaw and continue assembling meatball subs as directed.
More Easy Dinner Recipes
If you enjoyed this recipe, I really hope you will take a moment to grab a few more easy recipes for another busy night!
You can check out all of my EASY dinner recipes here, or see a few of our readers favorite recipes below.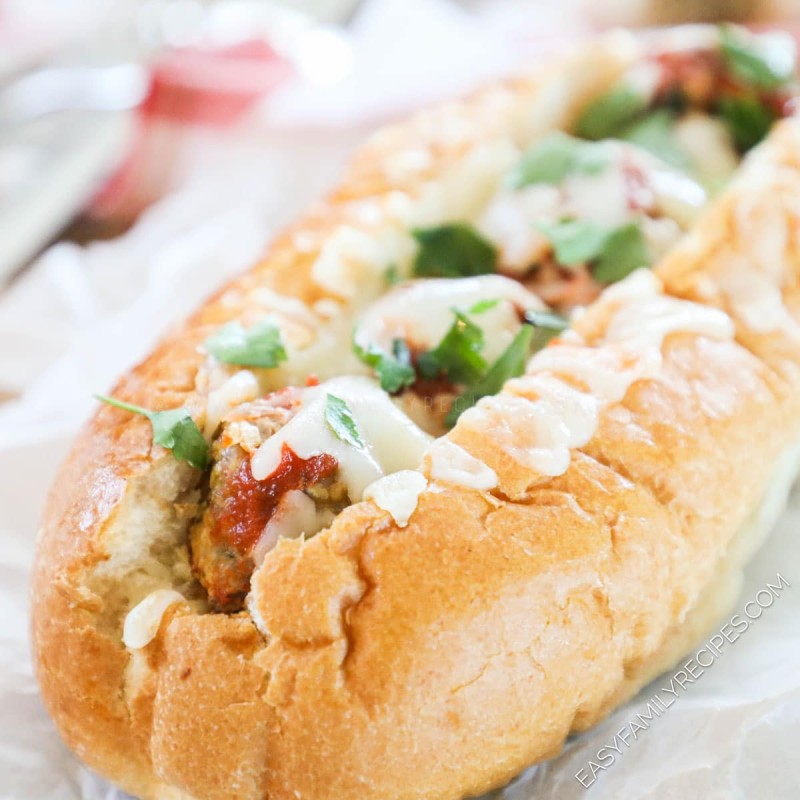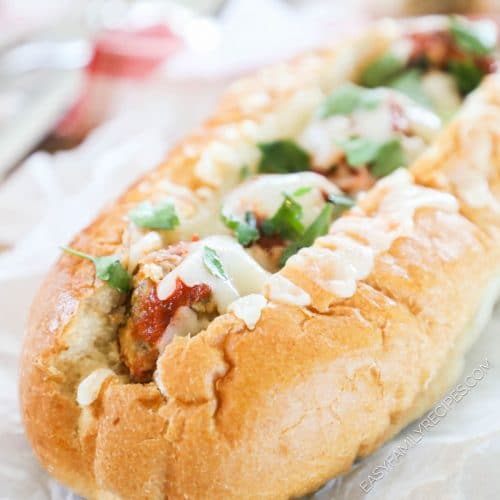 Italian Turkey Meatball Subs
These Easy Meatball Subs combine tender turkey meatballs with rich marinara and lots of cheese on a garlic bread roll! They are a great kid-friendly dinner and can be made ahead to save time.
Ingredients
For the Meatballs
1

lbs

ground turkey

1/4

cup

plain bread crumbs

1/2

onion

,

finely diced

1

egg

1/4

cup

chopped fresh parsley

2

cloves

garlic

,

pressed

2

tsp

Italian seasoning

1

tsp

salt

1/2

tsp

ground pepper

1/4

tsp

red pepper flakes

3

tbsp

freshly grated parmesan cheese

1

tbsp

olive oil

1

tbsp

milk
To assemble the sub sandwiches
4

sub rolls 6 inch

4

tbsp

butter

1

tsp

garlic salt

1

cup

marinara sauce

1

cup

mozzarella cheese

Chopped parsley for garnish optional
Instructions
Preheat oven to 375˚F.

Combine the bread crumbs, salt, pepper, red pepper flakes, and Italian seasoning in a large bowl, then add the parmesan, eggs, onion, parsley, garlic.  Pour in the milk and olive oil and mix to combine.  Let sit for 5 minutes so that the dry ingredients start to soak up the wet ingredients.

Add the ground turkey into the mixture and work it in until it is evenly mixed. You might need to use your hands.

Form the turkey mixture into 2 inch balls.

Place the meatballs evenly spaced on a greased cookie sheet. Bake for 25-35 minutes or until cooked through (internal temp of 165˚F)

Cut the sub rolls in half. Spread 1 tbsp butter, 1/4 tsp garlic salt, and a sprinkle of mozzarella on each roll.  Place them in the oven on high broil for 2-4 minutes or until the the cheese is melted and the edges of the bread are browned.

Place a spoonful of sauce on the bottom of each bun, then place 4 meatballs on each bun, spoon 1/4 of the remaining sauce over the meatballs, and top the sandwich with 1/4 of the remaining cheese.

Bake at 350˚F for 10-15 minutes or until the cheese is melted and the sandwich is heated through.

Garnish with parsley and serve hot with extra marinara for dipping. Enjoy!
Recipe Notes
Other meatball options:
Meatballs Parmesan (beef and pork)
Frozen meatballs of your choice
To prepare the turkey meatballs ahead of time, use these freezer instructions:
Prepare recipe as directed through step 4.
Let the turkey meatballs cool to room temperature.
Divide into meal sized portions and place in a zip top bag or air tight container.
Freeze up to 1 month.
When ready to eat, thaw and continue assembling meatball subs as directed.
Nutrition Information
Serving:
1
sandwich
,
Calories:
602
kcal
(30%)
,
Carbohydrates:
44
g
(15%)
,
Protein:
43
g
(86%)
,
Fat:
28
g
(43%)
,
Saturated Fat:
13
g
(81%)
,
Polyunsaturated Fat:
2
g
,
Monounsaturated Fat:
9
g
,
Trans Fat:
1
g
,
Cholesterol:
159
mg
(53%)
,
Sodium:
2237
mg
(97%)
,
Potassium:
645
mg
(18%)
,
Fiber:
3
g
(13%)
,
Sugar:
9
g
(10%)
,
Vitamin A:
984
IU
(20%)
,
Vitamin C:
6
mg
(7%)
,
Calcium:
251
mg
(25%)
,
Iron:
13
mg
(72%)