This isn't your same old hot dish! This Tater Tot Casserole is LOADED with two kinds of cheese, bacon, green beans, ground beef and lots of creamy goodness for a casserole that is out of this world delicious! Our special ingredient really makes all the difference in this easy weeknight dinner.
What the heck is Tater Tot Casserole?!
There are two kinds of people in life. Those who know how ultimately delicious Tater Tot Casserole is, and those who haven't been let in on the secret yet!
If you fall in the camp where Tater Tot Casserole is new to you, then you are in for a treat. Tater Tot Casserole is a creamy ground beef and green bean casserole topped with tater tots and baked to perfection.
In the mid-west, they call it a hot dish. In the south we call it a casserole. No matter where you live, we can just agree it is completely delicious comfort food!
This particular casserole tops them all in my opinion! Not only is it topped with perfectly crisp tater tots, but my version is loaded with cheesy goodness, has added bacon for flavor, and is made extra creamy with a few key ingredients!
What to Serve with Tater Tot Casserole
If you are planning to make this for dinner, or preparing it for a friend, you might wonder, "What goes well with Tater Tot Casserole?"
This is a pretty hearty dish filled with meat, potatoes and veggies, so it is pretty filling on it's own. For that reason, I like to stick with lighter sides that can compliment the dish without making the meal too heavy.
Here are some of my favorites for serving:
Side Dish Options
Side Salad with Ranch or Italian Dressing
You can choose one, or add a few! Either way this will be a dinner so delicious you might just put it on repeat.
Tips for Making the BEST Cheesy Tater Tot Casserole
This recipe is pretty simple, but there are a few tips and tricks for getting the absolute best Tater Tot Casserole (ie the creamiest inside and the crispiest topping!)
I try my hardest to share my preferences and tips to answer any questions that might come up while making this recipe. You will find the FULL printable recipe card at the bottom of this post.
If you end up with a question I didn't answer, please feel free to drop me a note in the comments section at the bottom of the page.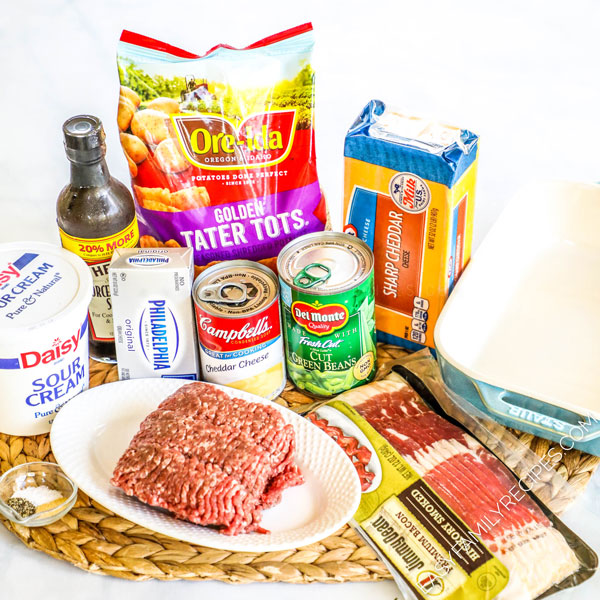 The Ingredients
Let's walk through some of the main ingredients to highlight what you need for the recipe and exactly which ones make THIS tater tot casserole just so special!
Ground Beef
You can use whatever ground beef you like to buy at the store for this recipe. I prefer to buy the most lean beef I can, and usually get at least 90% lean ground beef.
Since you cook the beef separately, you can drain any excess grease and prevent the casserole from becoming greasy, so really any type of ground beef will work that you pick up.
Bacon
Secret Ingredient #1! Cheese and bacon go together as well as any flavor combo in my book! Bacon isn't included in all tater tot casserole recipes, but I think with the addition of the extra cheese, it really adds to the flavor of the final dish.
You can again use any smoked variety of bacon. Thin cut, thick cut, they all will work!
To prep the bacon I use a sharp knife to slice it in to small pieces. Alternatively, you can cook until crispy, let it cool and crumble it by hand. Either way works!
Condensed Cheddar Soup
Secret Ingredient #2! This soup pulls double duty, both making the tater tot casserole extra cheesy, and extra creamy.
You can pick up condensed cheddar soup on the soup aisle of any grocery store. You will use the canned soup in the recipe as is, no need to actually add water or liquid to dilute it.
Green Beans
Green beans are a pretty standard addition to most tater tot casserole recipes, and ours is no exception! I love that they add a little wholesome goodness hidden in the delicious casserole.
We will use canned green beans to make the casserole. The reason being that the canned green beans are already cooked. If you prefer fresh, you can precook them by boiling them, and them cut them into 1-2 in pieces and add them in place of canned.
The Cheese
This extra cheesy tater tot casserole gets its cheesiness from the condensed cheddar soup along with 2 more kids of cheese!
Both cream cheese and sharp cheddar are added to the mix.
I really prefer sharp cheddar because I think you are able to use less cheese for more flavor making the dish less greasy and heavy with the same amount of cheesy flavor!
If you are in a pinch, you can also use mild or medium, but my preference is always sharp!
Tater Tots
The star of the show! Tater tots are added to the top of the casserole for a delicious crispy topping.
You will need about 32 ounces of tater tots for the recipe which is one bag.
You can find the tater tots in the freezer section near the french fries at your local grocery store. The bags sometimes vary from 28-32 oz, so if you can't find 32, don't sweat it! 28 will work just as well.
You may use them all or a little less, it depends on the size and shape of the casserole dish you use to make it and how much area it has on top. If you have a few left over after covering the casserole, don't sweat it!
When I make this dish, I use the tater tots frozen, straight out of the freezer. You don't need to thaw them before making the casserole.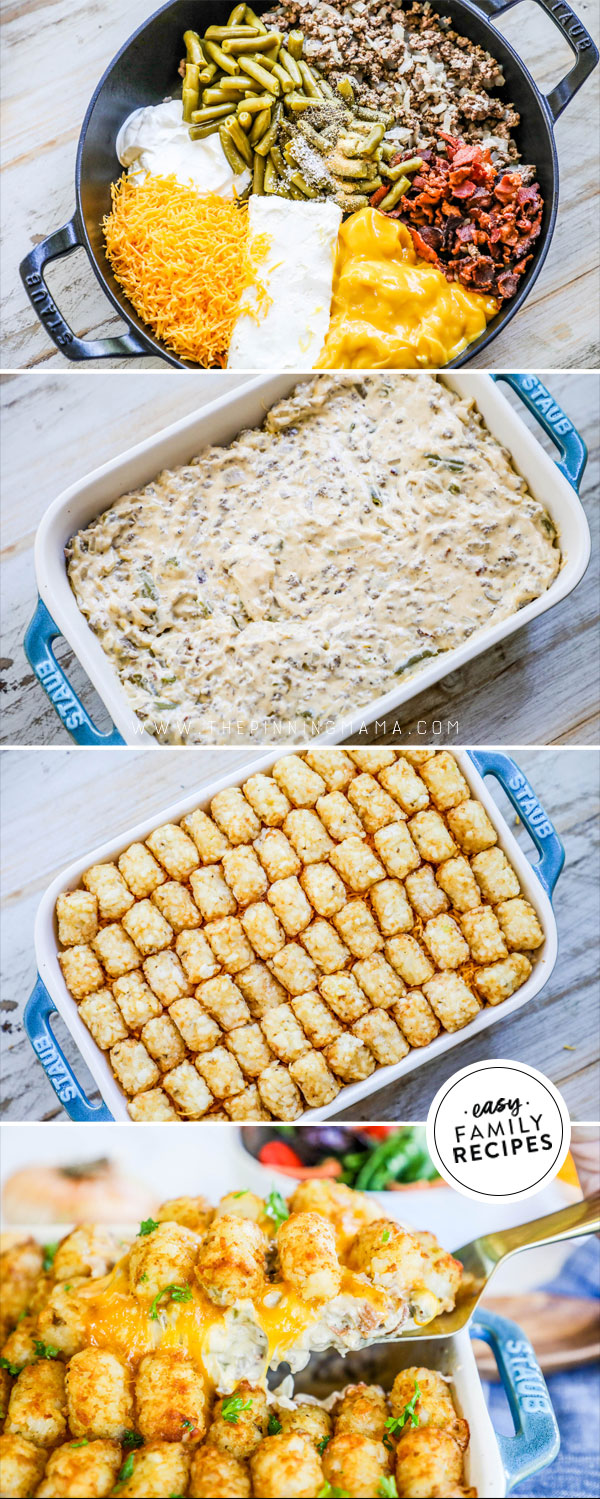 Making the Casserole
Making the Tater Tot Casserole is as easy as
Browning the ground beef and bacon.
Mixing the meats with the rest of the ingredients.
Pouring in a casserole dish and topping with cheese and tater tots
Baking to perfection
The beauty of this casserole is that it is EASY!
IMPORTANT NOTE: We layer the beef mixture, the cheese, then the tater tots last. By putting the cheese layer under the tater tots it allows them to get nice and crispy in the oven while baking.
If we put the cheese on top of the tater tots, it would shield them from the direct heat they need to crisp up. Many casseroles have the cheese on top, so I wanted to make sure to point this out and tell you why it is important to do it under the tots.
How long to Cook Tater Tot Casserole in the Oven
This casserole bakes in the oven until it the filling is warm and bubbly and the tater tot topping is perfectly browned and crisp.
We bake the casserole at 425˚F which is a pretty hot temperature, but this allows that delicious tater tot topping to crisp up nicely.
The Tater Tot Casserole will take about 20-25 minutes to cook on average, and you will know it is done because the edges will be bubbling and the top of the tater tots will be browned.
It is important not to bake this dish covered. The direct heat of the oven is what will make the top crispy.
I don't cover the dish at all, but since every oven bakes differently, if you notice the tater tots on top of the casserole getting to browned, you can loosely cover it with foil for the remainder of the cooking time.
Tater Tot Casserole Recipe Substitutions
I highly recommend you make this recipe as written if possible. Sometimes you are in a pinch though, or you need to work with certain dietary restrictions. So if you find yourself there, here are a few substitutions that work well in this recipe.
Ground Beef– Ground turkey or chicken can be used in place of ground beef
Bacon– precooked bacon can be used in place of uncooked bacon. Just reheat until crispy, crumble and continue with recipe
Condensed cheddar soup– Again, I really think of this as a secret ingredient for this recipe. Not necessarily traditional but adds something really special. If you can't find condensed cheddar soup, you could use cream of chicken, cream of mushroom, or cream of celery soup in its place.
Sour Cream– Light sour cream or greek yogurt can be used in place of traditional.
Green Beans– If you want to switch it up, you can try using different vegetables like green peas, or mixed veggies.
Recipe Short Cuts
Making Tater Tot Casserole is pretty quick, however, if you are tight on time, there are a few things you can do to get this casserole prepped and in the oven even faster.
Use precooked ground beef– cook the ground beef ahead of time and refrigerate for 3-4 days, or freeze for up to a month.
Bacon– Use pre cooked bacon. Just reheat and crumble!
Prep ahead of time– this casserole can be prepared up to 24 hours in advance, then stored in the refrigerator and put in the oven when ready to bake.
Make a freezer meal– save time by using a completely ready-to-go freezer meal. See full instructions below.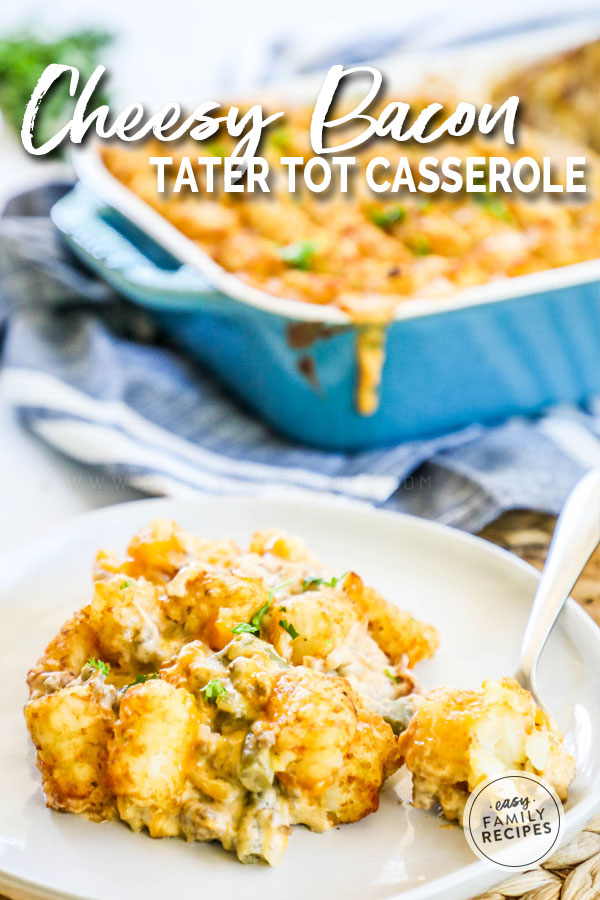 How to Freeze Tater Tot Casserole
Tater Tot Casserole can be prepped and frozen so that the prep work is completely done and the meal can be thawed and baked at a moment's notice.
This is perfect for busy families, new baby meals, a meal for someone who is sick, or who has lost a loved one.
Freezer Meal Instructions
Prepare the tater tot casserole as directed through step 4.
Tightly wrap the casserole dish in plastic wrap and aluminum foil.
Freeze.
When ready to cook, thaw in the refrigerator for 24-48 hours.
Bake as directed. You may need to add up to 10 minutes to the cooking time to accommodate for cooking straight from the fridge.
More Delicious Casserole Recipes
If you love a warm comforting casserole, I hope that you will take a look at some more of our other casserole recipes for another night!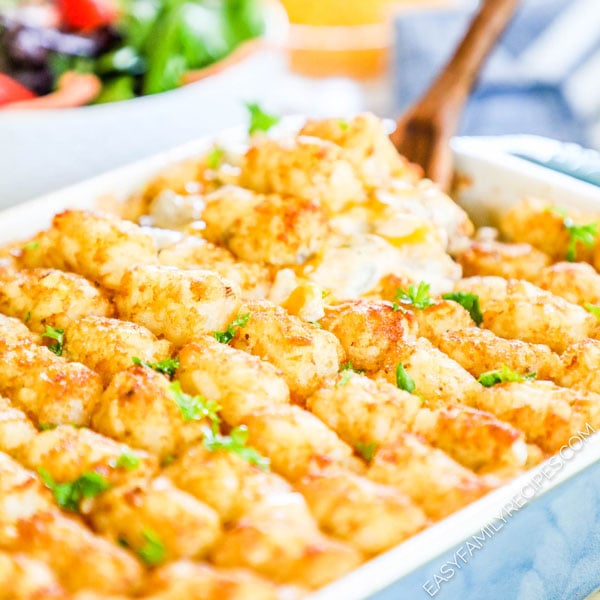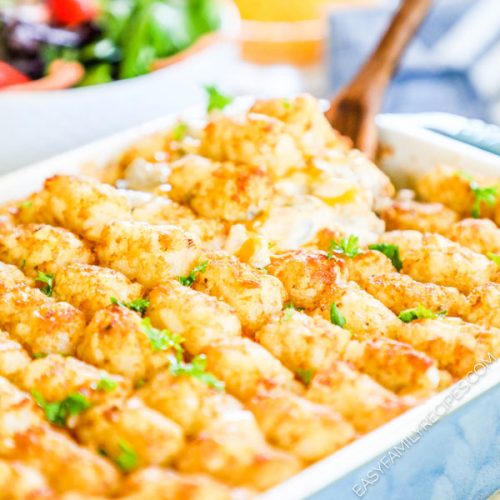 Cheesy Tater Tot Casserole with Green Beans and Bacon
This is the BEST Tater Tot Casserole out there. Loaded with green beans, bacon, and 2 kids of cheese, this creamy and delicious casserole takes the flavor off the charts.
Ingredients
1½

lbs

lean ground beef

12

oz

bacon

1

onion

,

diced

½

tsp

garlic powder

½

tsp

salt

½

tsp

ground pepper

1

tbsp

Worcestershire sauce

1/2

cup

sour cream

10.5

oz

condensed cheddar soup

,

(1 can)

1.5

cups

green beans

,

(1 can drained)

8

oz

cream cheese

2

cups

cheddar cheese

,

shredded and divided

32

oz

tater tots

,

(1 bag)
Instructions
Brown the beef and onions over medium high heat until the beef is cooked through and the onions are translucent, about 4-5 minutes. Remove from skillet and drain any excess fat if needed.

Cut the bacon into 1/2 in pieces and add to skillet and cook over medium high heat until it becomes crispy, or to your preference. Drain the bacon grease from the skillet.

Add the ground beef back into the skillet with the bacon, the add the garlic powder, salt, pepper, Worcestershire sauce, green beans, cheddar soup, cream cream cheese, and ½ the cheddar cheese. Mix until everything is combined.

Transfer the mixture into a large casserole dish and then top with the remaining cheddar cheese. Then place the tater tots in a single layer to cover the top of the casserole.

Bake at 425˚F for 20-25 minutes or until the tater tots are crispy and the edges of the casserole are bubbling.
Nutrition Information
Serving:
1.5
cups
,
Calories:
778
kcal
(39%)
,
Carbohydrates:
38
g
(13%)
,
Protein:
36
g
(72%)
,
Fat:
54
g
(83%)
,
Saturated Fat:
23
g
(144%)
,
Cholesterol:
151
mg
(50%)
,
Sodium:
1464
mg
(64%)
,
Potassium:
1015
mg
(29%)
,
Fiber:
3
g
(13%)
,
Sugar:
4
g
(4%)
,
Vitamin A:
1061
IU
(21%)
,
Vitamin C:
12
mg
(15%)
,
Calcium:
297
mg
(30%)
,
Iron:
3
mg
(17%)