Let your slow cooker transform sirloin tip roast into a tender, juicy, flavor-packed weeknight dinner! You only need 3 simple ingredients for this Crock Pot Sirloin Tip Roast, but the end result will blow you away. Make the optional gravy or pair it with au jus straight from the crockpot—any way you serve it, it's sure to be a hit!
Crock Pot Sirloin Tip Roast – The EASY Way!
While it's fun to use your crockpot to cook everything from corn-on-the-cob to hot chocolate, the original marketing for this kitchen multitasker emphasized its ability to take inexpensive, tough cuts of meat and make them tender, juicy, and delicious. We're all trying to save money on meals these days, so it's a good time to get back to the basics with this Crock Pot Sirloin Tip Roast recipe.
How to Cook a Sirloin Tip Roast
Sirloin tip roast is an affordable cut of beef that typically contains fat and gristle. The best way to cook this cut of beef is in the slow cooker; the long, slow cooking time allows all those tough fibers to break down, leaving you with tender, juicy meat.
When it comes to sirloin tip roast, the longer you cook it, the better!
This Crockpot Sirloin Tip Roast is a pot-roast-style roast, which means if your family enjoys pot roast, they'll love this recipe. It's the perfect dinner for a Sunday evening, but it makes 8 servings, so it's great for when you're having company over too.
Why I LOVE this recipe!
Budget Friendly – Each ingredient in this recipe is inexpensive and if you have a family of four, you'll get two nights worth of dinner from this roast. Crock Pot Sirloin Tip Roast is great when you're trying to stick to a budget!
Dump-and-Go – There's no pre-cooking needed here; just layer everything in your slow cooker and set the timer. So easy.
Family-Friendly – Even picky eaters will love the tender, juicy beef and savory gravy—especially served with a side of mashed potatoes!
Customizable – Add your favorite herbs and seasonings to make this recipe your own.
Cozy Comfort Food – This roast is full of the classic comfort food flavors you probably grew up eating. It's hearty, satisfying, and fall apart tender.
What to Serve with Crock Pot Sirloin Tip Roast
Since this dish has the classic flavors of savory roasts and other beef recipes, it will pair well with many of your favorite traditional American side dishes. There are both classic options and some healthy options to keep it light.
Side Dish Ideas
You can choose one or add a few sides to make a wholesome, well rounded dinner.
Recipe Notes
This Crock Pot Sirloin Tip Roast recipe is as simple as promised! Just 3 ingredients and a slow cooker for a family friendly meal.
In this section I am going to go through a few tips and tricks I use when making this recipe to get the absolute best and most delicious results.
Make sure to scroll to the bottom for the FULL recipe card.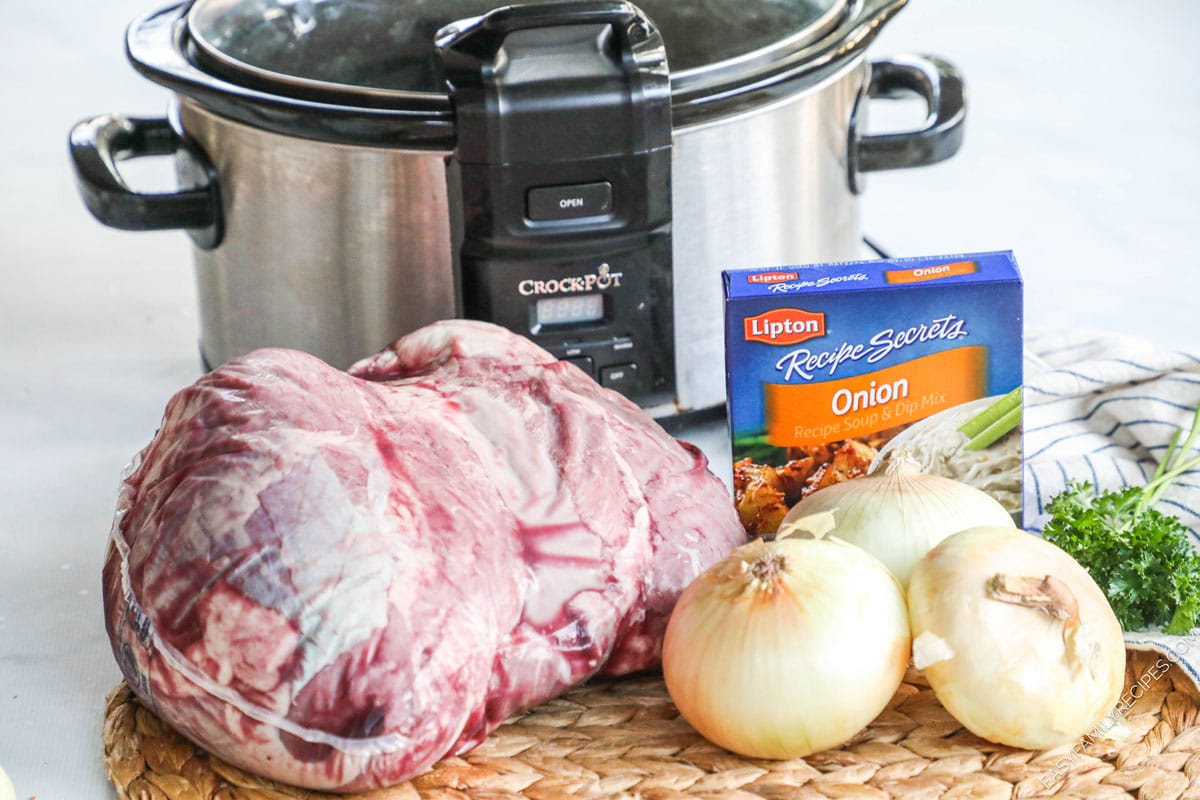 Ingredients + Substitutions
Sirloin tip roast – You can find sirloin tip roast in the meat department of most grocery stores.
Onion soup mix – Store-bought is just fine, or use my homemade onion soup mix.
Onions – Any kind of onions you like or have on hand will work here—yellow, white, sweet, or red. It may look like a lot but they cook down significantly.
All-purpose flour (optional) – You'll only need this if you make the gravy.
Parsley (optional) – Garnish with parsley for a pop of color and some herbaceous flavor.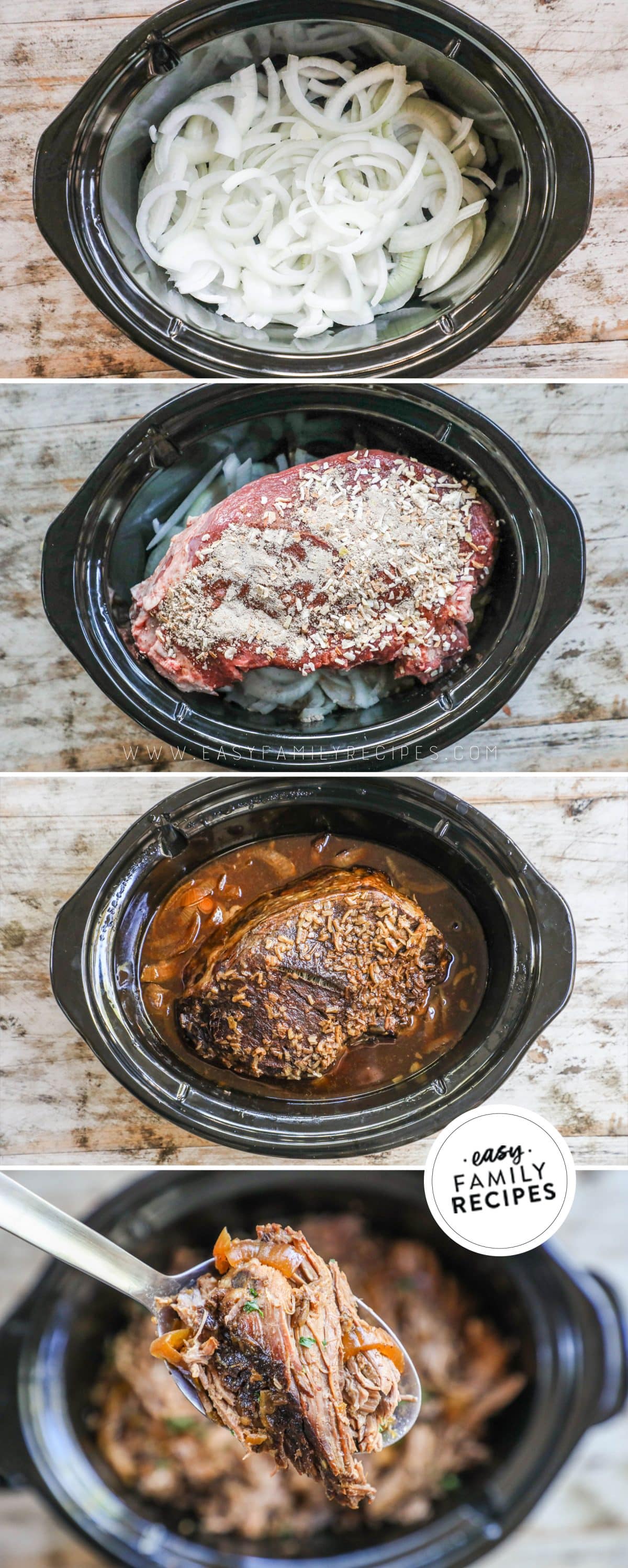 Recipe Tips
Don't trim the fat – Or, at least, don't trim it before you cook the roast. It's much easier to trim the roast after it cooks. Once the roast is done, you can pull away any fat easily, and then shred the meat with forks.

Layer in the ingredients – The way you layer everything is important; start with the sliced onions at the bottom of the pot, then add the roast and rub it with the onion soup mix. The juices from the meat will drip down and soften the onions, while the aroma of the onions will infuse the meat with flavor.

Don't try to speed things up – Low and slow is the way to go! Sirloin tip roast really needs that long, slow cooking time to make it tender and juicy. You can even put this in right before you go to bed and wake up to a perfectly cooked fall apart Sirloin Tip Roast in the morning!

Keep the meat tender – And speaking of tender meat! I always add a cup of the juices back to the meat after shredding it to keep it from drying out.

Make perfect lump-free gravy – You can serve this recipe with au jus or make the optional gravy. To make the gravy, start by cooking a cup of the juices with 1/4 cup of flour and whisk until the mixture is thick and smooth. Then slowly pour in the rest of the juices. Dumping all of the liquid in at once will give you lumpy gravy and no one wants that!
Recipe Short Cuts
If you need to make this recipe, but are extra short on time, here are a few ideas that can help make this recipe even faster!
Use your Instant Pot instead – Although low and slow is best, if you're short on time, the pressure in an Instant Pot will help tenderize the meat in your sirloin tip roast.

Buy pre-sliced onions – Many grocery stores sell sliced onions in the produce section or the salad bar. You'll save on prep time (and save a few tears too!) by using onions that are pre-cut. Another option is to use frozen pearl onions.

Swap in store-bought gravy – There's nothing wrong with buying brown gravy at the grocery store if you're short on time and don't want to make your own!
Recipe Variations
If you love this recipe as much as we do and want some quick ways to change it up for variety, these little tips will do the trick!
Sirloin Tip Roast with Potatoes and Carrots – Make this into a one pot meal by adding quartered Yukon gold potatoes and baby carrots to the bottom of the slow cooker with the onions. Now you've got your sides and your main dish in one crockpot!

Add mushrooms to the gravy – Sauté sliced mushrooms in a pan with butter and then proceed with the rest of the gravy recipe as written. This will add another layer of savory flavor to the gravy.

Use another braising cut of beef – Chuck roast, English roast, and rump roast can all be used instead of sirloin tip roast.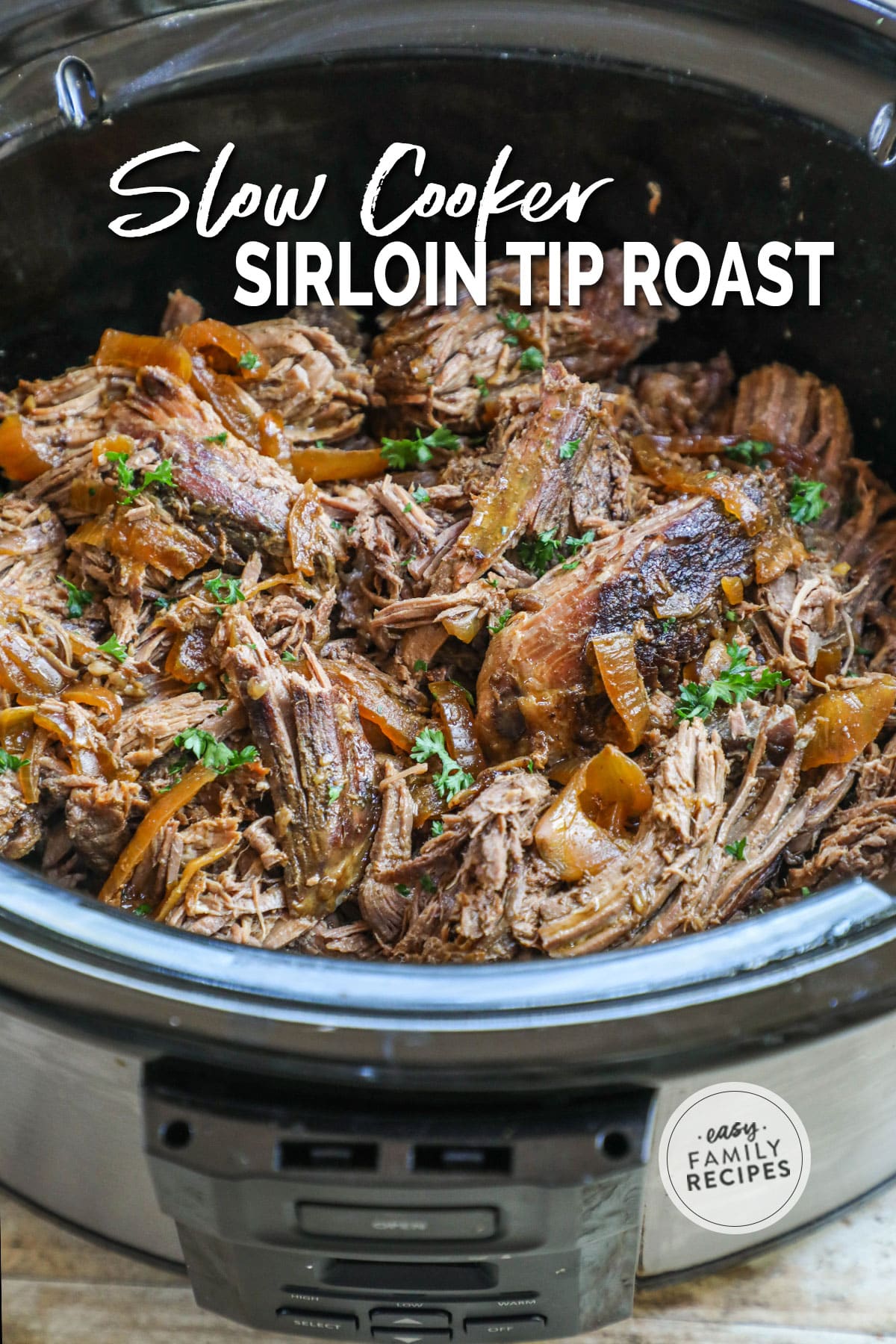 Freezer Meal Instructions
Making this Crock Pot Sirloin Tip Roast recipe into a freezer meal is simple! You can freeze this meal before or after cooking for flexibility based on your needs.
To Freeze Sirloin Tip Roast BEFORE cooking
Slice onions and coat the sirloin tip roast with the seasoning.
Add both to a freezer bag, or freezer friendly container.
Once ready to cook, thaw for 48 hours in the refrigerator.
Continue at step 3 to cook per recipe directions.
You can store the sirloin top roast in the freezer for up to 6 months when prepared this way.
To Freeze AFTER cooking
Transfer leftover Crock Pot Sirloin Tip Roast to a freezer bag or freezer-safe airtight container.
When you're ready to eat, let the roast thaw in the refrigerator overnight if you've frozen it.
Place the meat in a baking dish with leftover juices or beef broth, cover, and cook at 325ºF until the meat is heated through.
You can store this recipe in the freezer for up to 1 month.
Crock Pot Sirloin Tip Roast Leftovers
If you have leftovers after making Crockpot Sirloin Tip Roast, then it is your lucky day! They save and reheat well, and can make the start of another delicious dish.
To save leftovers, separate into meal sized portions and then place in an airtight container and store:
in the refrigerator for 3-4 days
in the freezer up to a month
Leftover Recipes
Here are a few ways to repurpose those leftovers and give them a delicious makeover!
Shepherd's Pie – Transform your leftover sirloin tip roast into a hearty shepherd's pie. Simply use your favorite recipe and skip cooking the beef; instead, swap in your leftovers.

Epic Sirloin Tip Sandwiches – Layer the onions and beef onto ciabatta rolls with provolone and cook on a griddle or in a panini press. Serve with a side of au jus for dipping!

Baked Potatoes – Make a batch of baked potatoes, cut them open, and top them with leftover Crock Pot Sirloin Tip Roast, sour cream, and chives or thinly sliced green onions.
More Easy Crock Recipes
If you enjoyed this recipe, I really hope you will take a moment to grab a few more easy recipes for another busy night!
You can check out all of my crock pot recipes here, or see a few of our readers favorite recipes below.
Hungry for more family-friendly recipes? Sign up for my free recipe club to get new family-friendly recipes in your inbox each week! Find me sharing daily meal-time inspiration on Pinterest, Instagram, and TikTok.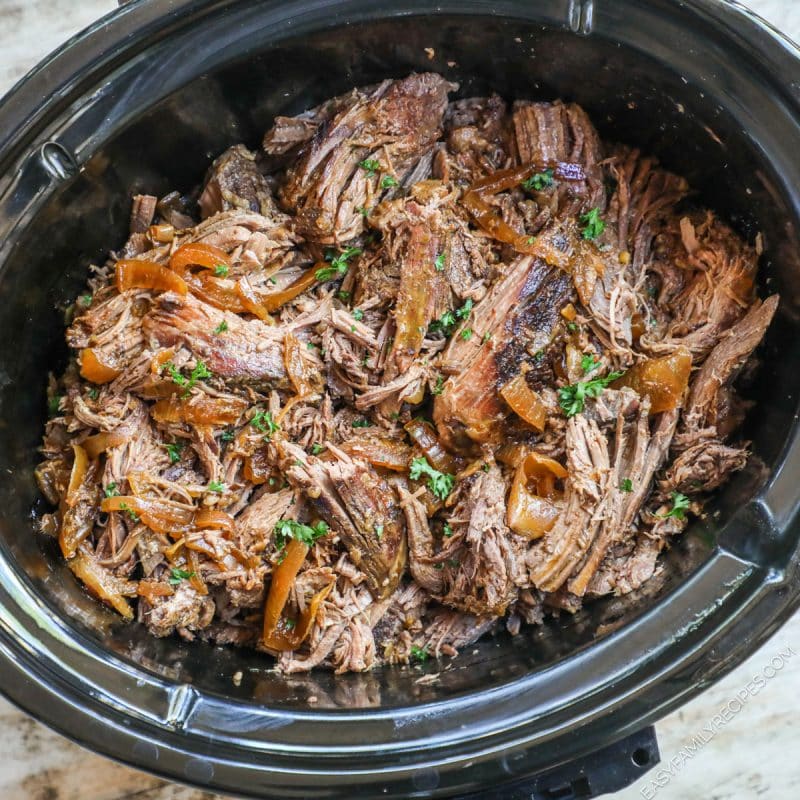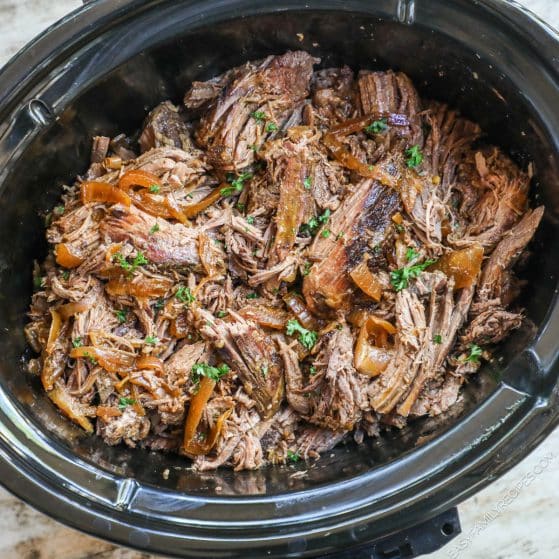 Crockpot Sirloin Tip Roast
The crockpot is the easiest way to make tender, juicy, flavorful sirloin tip roast. Just a few minutes of prep time and you're done!
Prep Time: 5 minutes
Cook Time: 8 hours
Total Time: 8 hours 5 minutes
Serves:8
Hover over "serves" value to reveal recipe scaler
Ingredients
3-4 pound sirloin tip roast
2 ounces onion soup mix (1 packet)
3 onions
Optional Brown Gravy
1/4 cup all purpose flour
Garnish
1/4 cup freshly chopped parsley
Instructions
Remove the peel, ends, and roughly slice the onion. Place the onion in the bottom of the slow cooker.

Coat the roast on all sides with onion soup mix.

Cook on low for 8-12 hours. Once done, remove any excess fat and discard. Then shred the pot roast.
Optional gravy:
Separate the onions from the juices. (It doesn't have to be perfect) Remove one cup of the juices and mix into the shredded roast.

Then add 1 cup of the juices into a sauce pan and whisk in 1/4 cup of flour. Cook over medium heat for 1-2 minutes or until it thickens.

Slow whisk in remaining broth and simmer on low until the gravy reaches desired thickness
Nutrition Information:
Calories: 239kcal (12%)Carbohydrates: 7g (2%)Protein: 37g (74%)Fat: 6g (9%)Saturated Fat: 2g (13%)Polyunsaturated Fat: 0.3gMonounsaturated Fat: 2gCholesterol: 94mg (31%)Sodium: 111mg (5%)Potassium: 649mg (19%)Fiber: 1g (4%)Sugar: 2g (2%)Vitamin A: 159IU (3%)Vitamin C: 6mg (7%)Calcium: 47mg (5%)Iron: 3mg (17%)
(Nutrition information provided is an estimate and will vary based on cooking methods and brands of ingredients used.)