Philly Cheesesteak Casserole is a quick and easy dinner idea that is inspired by the classic! This simple version takes all of the best flavors from Philly Cheesesteak sandwiches and packs them into a family friendly casserole.
Philly Cheesesteak – Made EASY!
Sometimes you have flavors you love, but it is just not weeknight kind of accessible. Ever since I spent time living near Philadelphia when I was just out of college, I have loved the flavors of a good Philly Cheesesteak Sandwich.
This casserole takes inspiration from those flavors – the beefy base, the tender sautéed peppers and onions, and of course the sharp flavor of the provolone cheese melting it all together.
While it isn't Pat's original Philly Cheesesteak, this twist brings all of the flavors of Philly Cheesesteak and packs them in an easy enough to make on a busy night casserole.
I hope your family likes this one as much as mine!
How to Serve Philly Cheesesteak Casserole
This casserole can be served as simply as dishing it into a bowl and grabbing a fork. Or you can dress it up a little to switch things up. Here are our go-to's for serving Philly Cheesesteak Casserole:
In a bowl
In a hoagie roll
Over rice or mashed potatoes
On top of garlic bread – this is my kids FAVORITE!
As a lettuce wrap
Side Dish Ideas
If you want to round out the meal or stretch it to go farther, here are some great side dish options that pair well with Philly Cheesesteak Casserole.
One pan green beans
Potato chips
Veggies and ranch dip
Restaurant Style Hashbrown Casserole
Classic Tomato Cucumber Salad
Low Carb Serving Options
If you are following a low carb diet, this recipe is great with only 7 net carbs per serving. Here are some additional low carb side dishes you can pair it with.
Cauliflower rice
Piled in avocados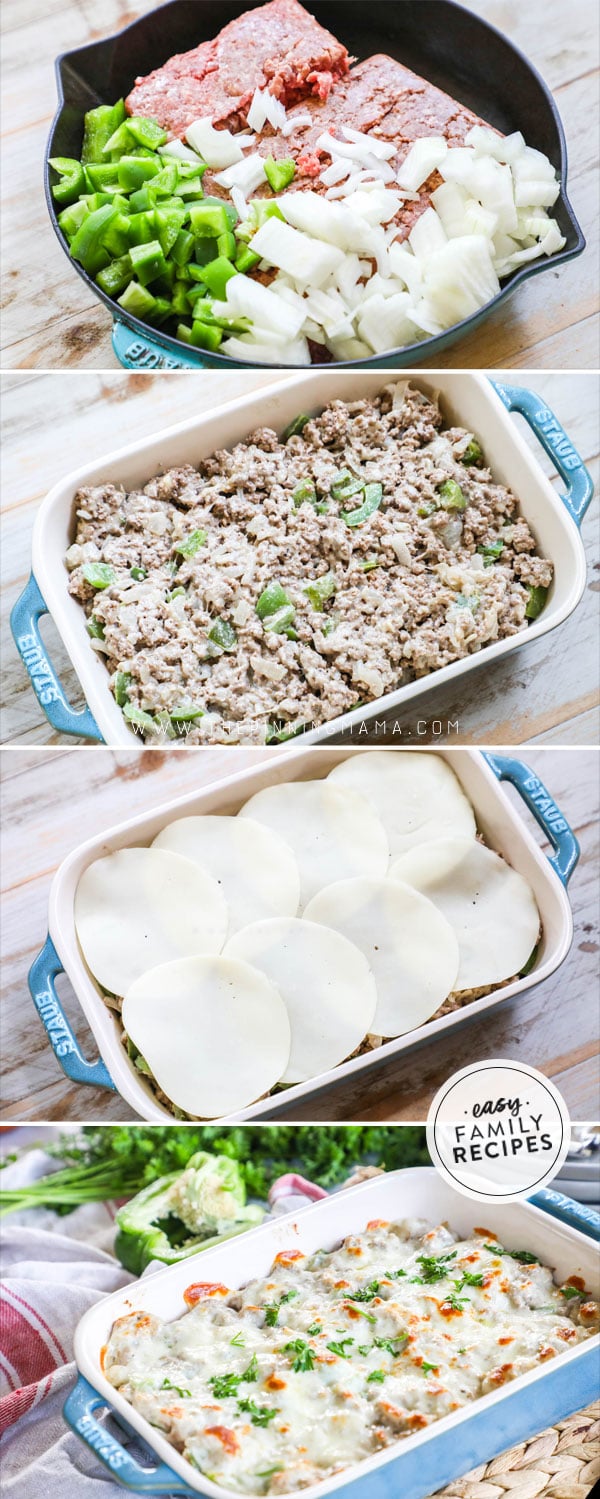 Tips for Making Philly Cheesesteak Casserole
This recipe is easy as promised, however, I do have a few helpful hints to give you to make this the best tasting casserole.
Follow along for the tips below, or scroll down to the bottom of this post for the FULL, printable, recipe card.
The Meat
Philly Cheesesteaks traditionally use finely sliced ribeye steak. While this is very delicious, it impractical and expensive for a busy weeknight.
I use lean ground beef in this recipe to keep things simple, and still maintain the hearty beef flavor in the dish. You can use either 80% lean or 93% lean, however since there is so much fat in the cheese, I usually buy 93%.
The Veggies
I stay true to the traditional philly cheesesteak with the veggies. Onions and green bell peppers are the stars and add some delicious and healthy nutrients to the dish.
Since the peppers and onions cook with the meat, I find it easiest to chop them rather than slice them.
If you want to add more veggies to bulk up the nutrition value for the family, it is easy to hide lots of other veggies in this casserole as well.
The Cheese
This casserole uses a combination of cream cheese and provolone cheese. THe provolone brings out that traditional philly cheesesteak flavor, while the cream cheese and milk, help to make it into a sauce that the delicious Philly Cheesesteak flavors bake in.
You can substitute low fat cream cheese if preferred, but stay away from fat free for this recipe since it doesn't melt and combine in the same way.
Short Cuts
This casserole is fast. This casserole is easy. BUT, if you want to throw this Philly Cheesesteak Casserole together even faster, you can use these three simple tips!
Use pre-made ground beef. If you like to make it in bulk and freeze it, just saute the onions and pepper and continue the recipe.
Use pre-cut onions and bell peppers. If you don't like the time it takes to chop things up on a busy night, most grocery stores carry these items pre-chopped in the produce section.
Make this as a freezer meal. See directions below to pre-prep the entire dish for your family (or a friend!)
How to Freeze Philly Cheesesteak Casserole
This casserole works well for freezing both before or after cooking to make an easy weeknight meal that you can have prepped and stored for up to 6 months.
To freeze before cooking:
Follow the directions through step 3 to freeze in a casserole dish,

Alternately, follow directions through step 2 and transfer to a zip top bag to save freezer space.
If using this option, you can freeze the provolone cheese topping seperately, or use fresh provolone when you are ready to bake.

Thaw completely in the refrigerator when ready to cook.
Bake as directed.
To freeze after cooking:
Prepare dish as directed.
Let cool.
Divide into meal sized portions and package in an air tight container.
Freeze.
When ready to eat, you can reheat in the microwave, in the oven or on the stovetop.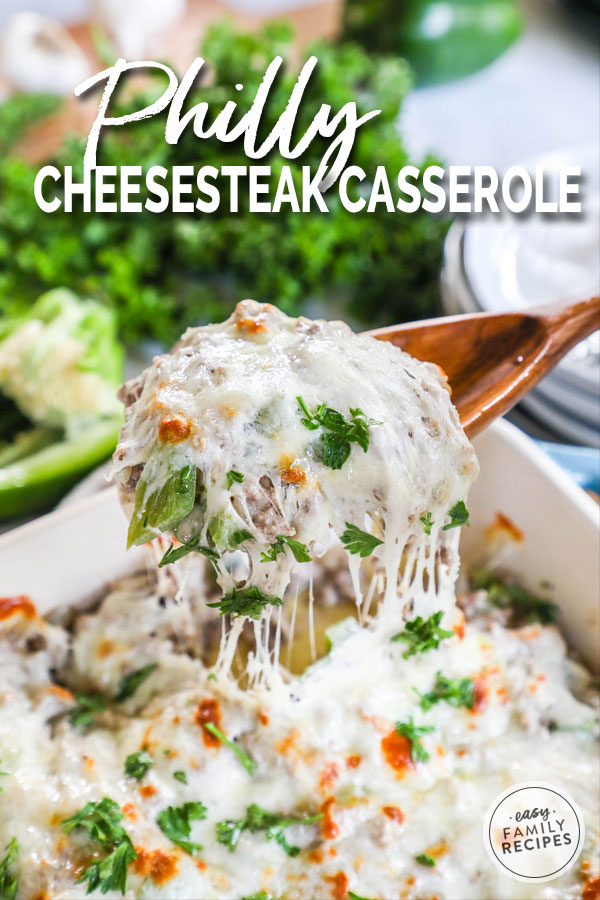 Philly Cheesesteak Casserole Leftovers
Leftovers of this dish can be saved and reinvented into all sorts of delicious meal options for an even easier dinner later in the week, or month if freezing.
To save the leftovers, divide into meal sized portions and store in an airtight container in the
refrigerator for 3-4 days
in the freezer for up to a month
Leftover Meal Ideas
Here are a few easy makeover dinners you can make with leftover Philly Cheesesteak Casserole. Some of my kids favorites are in here!
Philly Cheesesteak Grilled Cheese- Pile the leftover casserole between two slices of bread and add extra cheese if desired. Grill each side on a hot buttered skillet until golden brown.
Philly Cheesesteak Nachos- Spread tortilla chips over a sheet pan and dollop the leftovers on top of chips. Add additional veggies chopped peppers, corn, tomatoes etc, then top with cheddar cheese. Bake at 425˚F until the cheese is melted and the nachos are heated through. OR make a healthier version of this using mini peppers that are cut in half.
Philly Cheesesteak Stuffed Peppers- Stuff spoonfuls of the leftover meat mixture into halved bell peppers. Optional: Mix with prepared rice to make the meat mixture go farther. Bake at 350 for 25-35 minutes or until the peppers are tender and heated through.
Philly Cheesesteak Bombs- Roll out pillsbury crescent rolls, or pizza dough. Cut into squares and put a scoop of Philly Cheesesteak Casserole in each one. Wrap the dough around the meat and place seam side down on a baking sheet. Repeat until all the dough is used. Bake at 350˚F for 25-20 minutes or until the dough is cooked through.
More EASY Casserole Recipes!
If you enjoyed this Philly Cheesesteak Casserole, I hope you will try more of our popular casserole recipes. Here are a few that are reader favorites:
Hungry for more family-friendly recipes? Sign up for my free recipe club to get new family-friendly recipes in your inbox each week! Find me sharing daily meal-time inspiration on Pinterest, Instagram, and TikTok.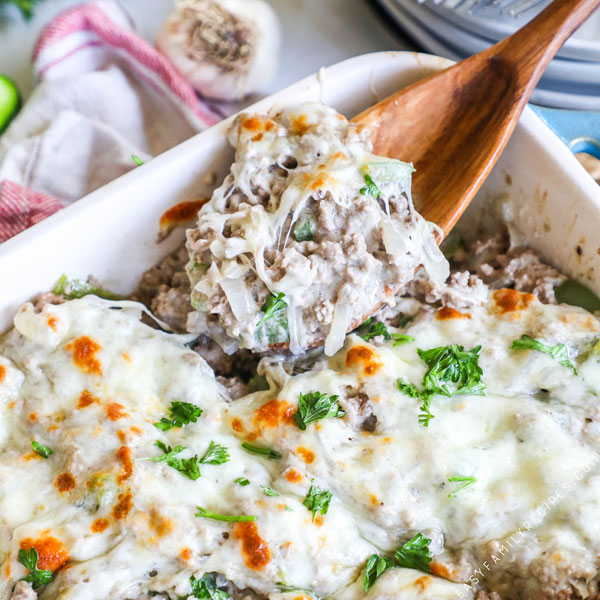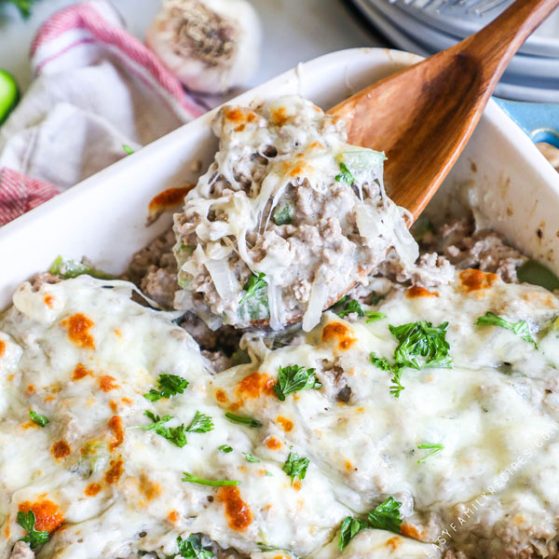 Philly Cheesesteak Casserole
This Philly Cheesesteak Casserole brings all of the flavors of the beloved sandwich into an easy to make weeknight casserole!
Prep Time: 15 minutes
Cook Time: 20 minutes
Serves:6 servings
Hover over "serves" value to reveal recipe scaler
Ingredients
2 lbs ground beef
1 green bell pepper chopped
1 sweet yellow onion chopped
6 oz provolone cheese thinly sliced
4 oz cream cheese softened
2 tbsp milk
1.5 tsp garlic powder
1.5 tsp salt
1/2 tsp ground pepper
1/2 tsp onion powder
Instructions
In a large skillet over high heat, brown the ground beef, onions, and bell pepper until the beef is cooked through and the onions and peppers are soft. Drain the fat and juices from the meat.

Dice 4 oz (about 2/3) of the provolone cheese. Mix the diced provolone, softened cream cheese, milk, garlic powder, onion, powder, salt and pepper into the ground beef mixture.

Transfer to a casserole dish and cover the top of the meat mixture with the remaining thinly sliced provolone cheese.

Bake at 350˚F for 10-15 minutes, or until the cheese is melted. Optional: turn the oven to broil for 2-3 minutes or until the cheese gets slightly browned and bubbly on top. Watch carefully so as not to burn the cheese!

Garnish with freshly chopped parsley if desired. Serve warm. Enjoy!
Nutrition Information:
Serving: 1cupCalories: 576kcal (29%)Carbohydrates: 8g (3%)Protein: 35g (70%)Fat: 44g (68%)Saturated Fat: 20g (125%)Cholesterol: 148mg (49%)Sodium: 1000mg (43%)Potassium: 590mg (17%)Fiber: 1g (4%)Sugar: 4g (4%)Vitamin A: 575IU (12%)Vitamin C: 18.6mg (23%)Calcium: 279mg (28%)Iron: 3.4mg (19%)
(Nutrition information provided is an estimate and will vary based on cooking methods and brands of ingredients used.)