Sautéed Peppers and Onions makes an excellent side dish for fajitas or any Mexican meal! It is a family friendly favorite that fills our plates about once a week.
These onions and peppers can also make a hearty filling for vegetarian dishes like burritos, tacos, and fajitas. Whether you prefer them as a side or the "meat" of the dish, this simple, classic recipe makes perfect bell peppers and onions every time!
Sautéed Peppers and Onions- The EASY Way!
Sometimes simple is best, and that definitely holds true for making the best sautéed peppers and onions. Using just 4 basic ingredients you can get delicious peppers and onions that are just like those you get at your favorite Mexican restaurant.
This method uses a hot skillet to create caramelization on the onions and gives the dish an enhanced flavor and texture. They are cooked without any special ingredients, but instead, the method we use enhances the flavor and lets the natural sweetness of the peppers and onions shine.
***If you are looking for a main dish recipes with peppers and onions, make sure to check out my Baked Chicken and Peppers and my Italian Sausage and Peppers as well as my Chicken Fajitas, Steak Fajitas, and Sheet Pan Fajitas recipes — or see the section below on how to use these in a meatless main dish!
Recipe Tips + Tricks
This recipe is just as simple as promised! I want to walk through a few of my tips and tricks I have learned from making this recipe hundreds of times over the years so you can get the best results possible.
Make sure to scroll to the bottom of this post for the full recipe card, and if you have any additional questions that aren't answered below, you can leave them for me in the comments section at the bottom of this post.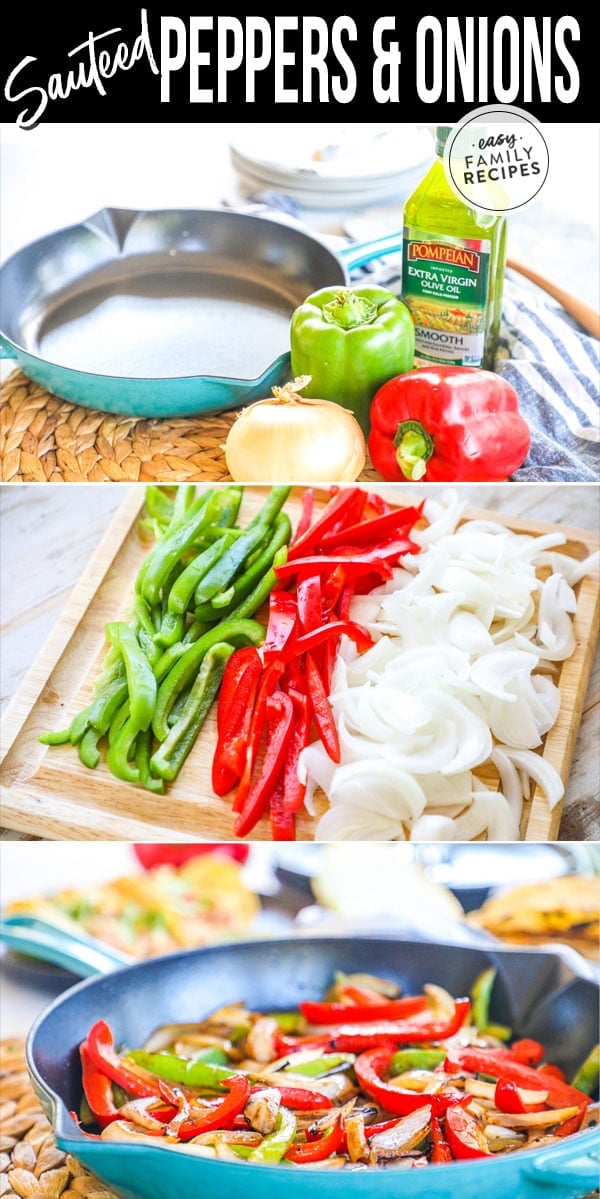 Ingredients
The ingredients in this recipe are simple and straight forward. Just bell peppers, onions, oil and salt.
Peppers
I like a ratio of 2 bell peppers to one onion when I make this recipe. The recipe calls for one red bell pepper and one green bell pepper.
You can use any color you like, or two of the same color, but I enjoy the flavor contrast between the sweeter red pepper and the tangier green pepper. You will also find that yellow bell pepper, and orange bell pepper are sweeter like the red pepper, so they also make a good substitute.
Onion
Any variety of onion can be used in this recipe as well. I tend to gravitate toward sweet yellow onions because I love how they caramelize in the pan as they are sautéed. You can use yellow, white, or even purple onions. They will all work with delicious results in this recipe.
Oil
Oil is also something we can be flexible with in this recipe. Only minimal oil is used in sautéing to aid the cooking process. Since it is not used to add flavor to the dish, you can use what you have on hand and don't have to worry about using a specific type of oil. I have used olive oil, vegetable oil and canola oil all with great success for sautéing.
How to get the perfect sauté
The perfect sautéed onions and peppers have a slight char on the outside. The onions are translucent and sweet, and the peppers are starting to get soft but still hold their shape and have some substance to them.
What is sautéing?
To start with the basics, let's talk about what makes sautéing unique from other cooking methods.
To sauté means to cook food quickly in a pan with a minimal amount of fat over medium-high to high heat. This method come from french cooking and originally traces back to the french verb sateur meaning to jump, which describes the food hitting the hot pan.
Sautéing Rules
To get this coveted perfection in cooking, there are a few specific things that need to happen.
Hot Pan– Don't add the onions and peppers right away. First heat your pan to a medium high heat. Then add the oil and make sure your pan is hot and oil is heated before adding the vegetables. This helps to create the delicious caramelized outside.

Don't over crowd your pan. If you put too many veggies in the pan, they will end up steaming instead of sautéing. You need some space in the pan for the liquid to cook off, otherwise it is trapped underneath the veggies and the steam that rises between them will cook them instead of the contact with the hot pan.

Let them sit– If you want the flavorful char on your peppers and onions it is important to let them sit without stirring for a bit (2-4 min) before stirring. This allows the char to form on the outside of the peppers and onions.

Use fresh veggies– Once vegetables are frozen the cellular structure will change and they can become too "wet" to get a nice sauté. So for the BEST results, use freshly cut bell pepper and freshly cut onion.

You can however freeze onions and peppers that have already been cooked to thaw and eat later. See below for more details on that!
These four steps are the key to getting perfectly sautéed vegetables, so simple, yet if you skip one, you won't get the same results.
Flavor Variations
This is the classic recipe for sauteed peppers and onions, however there are MANY great twists and flavor combinations that can build on this recipe. Here are a few things to try for a new flavor combination:
How to Serve Peppers and Onions
Peppers and Onions make both a fantastic side dish, or a hearty meat substitute for a main dish. We use this recipe for both, and below I will share with you some of our favorites for each.
Served as a side
Try serving peppers and onions as a side dish with these delicious main dishes. If you need an additional side, this recipe pairs wonderfully with my easy Mexican Rice.
All of the recipes above also make a great meal prep option for pairing with this dish.
Served as a main dish
In place of meat (or even alongside meat) use these super flavorful bell peppers and onions as the filling for your Mexican favorites. Here are some of the best ways to use them.
Of course the options are nearly limitless, but these are some that regularly appear on the menu at our house.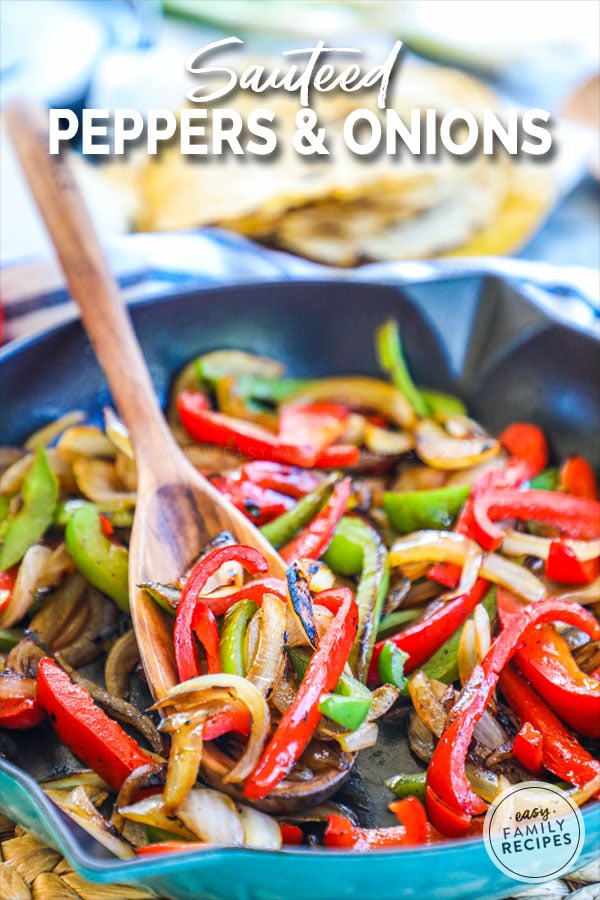 How to Freeze Sautéed Bell Peppers & Onions
If you have leftovers of this recipe or like to prep ahead or batch cook, these sautéed peppers and onions can be kept in the refrigerator for up to 5 days, or frozen to extend the life.
Freezer instructions
Prepare sautéed peppers and onions as directed in recipe card.
Allow to cool to room temperature.
Divide into meal sized portions (if desired) then package in zip top bag or other freezer friendly container.
Freeze.
When ready to use, thaw overnight in the refrigerator.
Note: making sautéed onions and peppers from frozen packages of peppers and/or onions can work but is more difficult since the vegetables release more moisture after they have been frozen. I recommend cooking them before freezing for the best results.
More Dishes with Bell Pepper
If you love the flavor of bell peppers as much as me, I hope you will take a minute to browse some of these other easy recipes filled with sweet bell peppers.
Hungry for more family-friendly recipes? Sign up for my free recipe club to get new family-friendly recipes in your inbox each week! Find me sharing daily meal-time inspiration on Pinterest, Instagram, and TikTok.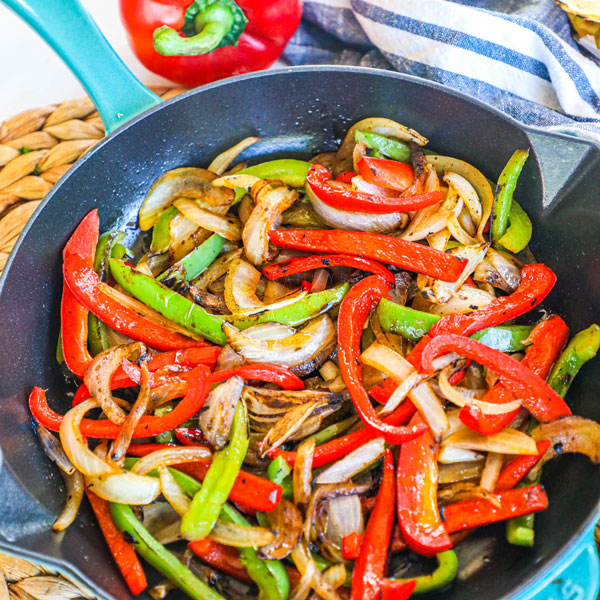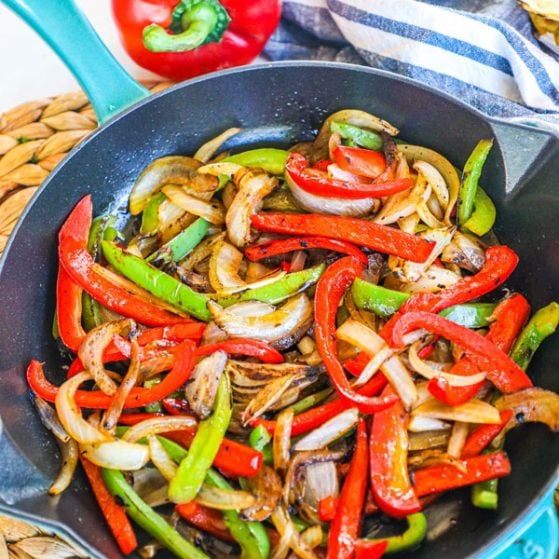 Sautéed Peppers and Onions
These Sautéed Peppers and onions have a sweet caramelized outside and a tender flavorful inside. They cook to perfection in just minutes in a hot skillet.
Prep Time: 5 minutes
Cook Time: 6 minutes
Total Time: 11 minutes
Serves:6 servings
Hover over "serves" value to reveal recipe scaler
Ingredients
1 sweet yellow onion large
1 green bell pepper
1 red bell pepper (or yellow or orange)
1 tbsp oil vegetable or olive
1/2 tsp salt
Instructions
Cut the onion in 1/4 in strips. Remove the seeds and ribs from the bell pepper and cut into 1/2 in strips.

Heat oil in a large skillet over medium high to high heat. Once the oil is hot, carefully add the peppers and onions and season with salt. Allow to cook on the first side for 2-4 minutes without stirring to get a little char on the edges. Then stir and cook an additional 3-4 minutes stirring about every 1 minute.

Cook until the onions just start to turn translucent and the peppers are still slightly firm. If at any point, the peppers and onions start to get too brown, turn the heat to low and continue to cook to the desired consistency.
Nutrition Information:
Calories: 48kcal (2%)Carbohydrates: 6g (2%)Protein: 1g (2%)Fat: 2g (3%)Saturated Fat: 1g (6%)Sodium: 200mg (9%)Potassium: 142mg (4%)Fiber: 1g (4%)Sugar: 4g (4%)Vitamin A: 694IU (14%)Vitamin C: 44mg (53%)Calcium: 13mg (1%)Iron: 1mg (6%)
(Nutrition information provided is an estimate and will vary based on cooking methods and brands of ingredients used.)