This Spaghetti Squash and Meatballs recipe couldn't be easier, all made side by side in the slow cooker! This simple dinner combines rich marinara sauce with homemade beef meatballs, and tender spaghetti squash. Our method cooks all of these together in our trusty Crock pot, making it an extra simple dinner to prepare.
Spaghetti Squash with Meatballs – The EASY Way!
Making spaghetti squash, meatballs and spaghetti sauce separately could take hours, but when you combine them to cook with our crock pot method, it becomes one of the most simple healthy dinners you can make! Each of these is prepared and cooked together in the slow cooker to infuse the flavors and keep it all perfectly cooked without almost any effort!
The spaghetti squash cooks to perfectly tender providing long golden strands of squash or "spaghetti noodles" for the base of the recipe. The meatballs come together quickly and cook right in the rich marinara sauce making the whole dish loaded with flavor.
I shared this crock pot Meatballs in Marinara recipe a few months back which is great if you just want meatballs and sauce, but this builds on that to make a true one pot meal by incorporating the spaghetti squash to cook right alongside it!
Why I LOVE this recipe:
Wholesome– Packed with both tomatoes and squash you get a double whammy on the veggies in this meal
Easy- If you have ever dealt with hard squashes before, you know they can kind of be a pain. This method for cooking the spaghetti squash is extra easy, saving both your time and your sanity!
Family friendly– This is a great way to sneak some extra veggies in with those familiar kid-friendly flavors in this dinner recipe.
Cooks hands off– The slow cooker does the work. Just load it up and let it do it's thing!
Healthier! Compared to traditional pasta, spaghetti squash is much lower in carbs and calories, but what I love best is that with how this cooks, you can do spaghetti squash and meatballs for the grown ups, and traditional spaghetti and meatballs for the kids with very little extra effort.
What to Serve with Slow Cooker Spaghetti Squash and Meatballs
Since this dish has the classic flavors of spaghetti, it will pair well with many of your favorite Italian side dishes. There are both classic options and some healthy options to keep it light.
Side Dish Ideas
You can choose one or add a few sides to make a wholesome, well rounded dinner.
Recipe Notes
This Crock Pot Spaghetti Squash and Meatballs recipe is as simple as promised! Just a few ingredients in your slow cooker for a family friendly meal.
In this section I am going to go through a few tips and tricks I use when making this recipe to get the absolute best and most delicious results.
Make sure to scroll to the bottom for the FULL recipe card.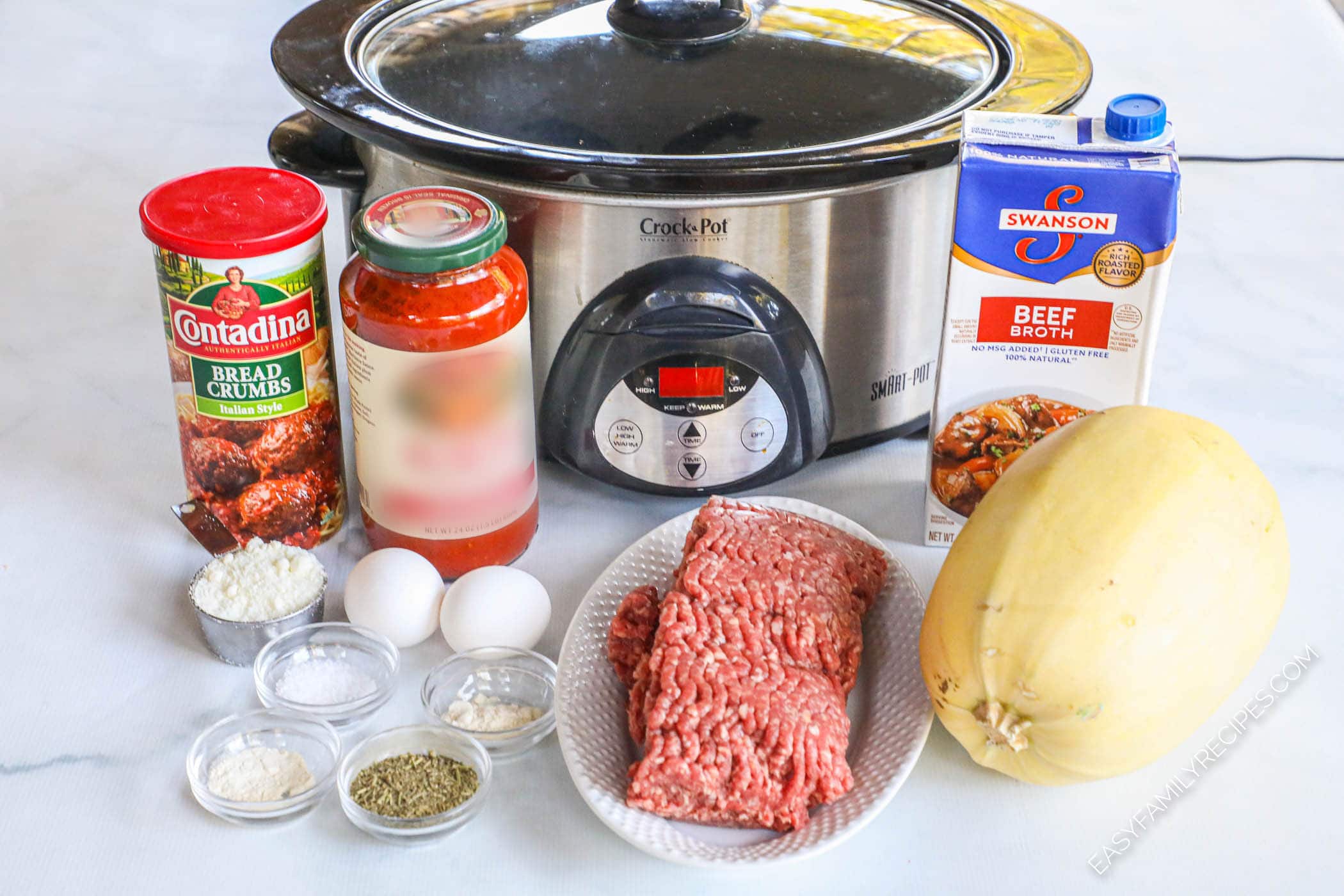 Ingredients + Substitutions
Lean ground beef– To keep this recipe simple I like to simply use ground beef for the meatballs. This makes a nice Italian style meatball that is tender and delicious. If you prefer, you can substitute ground turkey, ground pork, or a combination of meats to make the meatballs.

Italian bread crumbs– Since these meatballs cook over a long period of time in the crock pot, these bread crumbs are key to helping keep the meatballs tender and delicious. I use Italian seasoned bread crumbs, but you can substitute plain and add an additional 1 teaspoon of Italian seasonings if needed.

Beef broth or water– This helps to add and retain moisture along with the bread crumbs in meatballs. If you have broth it will add a little flavor boost, but water will work in a pinch too.

Grated parmesan cheese– Parmesan helps to add richness and depth of flavor to the meatballs. Use a good quality grated parmesan. This should look more like a powder, not a shred. Grated parmesan will most fully incorporate into the meatballs.

Eggs– These serve as a binder in the meatballs.

Seasonings- A combination of Italian seasonings, garlic powder, onion powder, and salt season the dish.

Marinara sauce– To help make this recipe super quick and easy, we use a pre-made, jarred spaghetti sauce. It is important to pick one with great flavor since the taste of the sauce will carry through the entire dish.

Spaghetti squash– This round yellow squash is characterized by the way it pulls apart into strands ( like spaghetti) when cooked. The really important thing here is to pick a squash that will fit in your slow cooker. Depending on the size and shape that may vary. I found that a 3 lb squash was just about as large as I could go to fit it into my oval shaped slow cooker.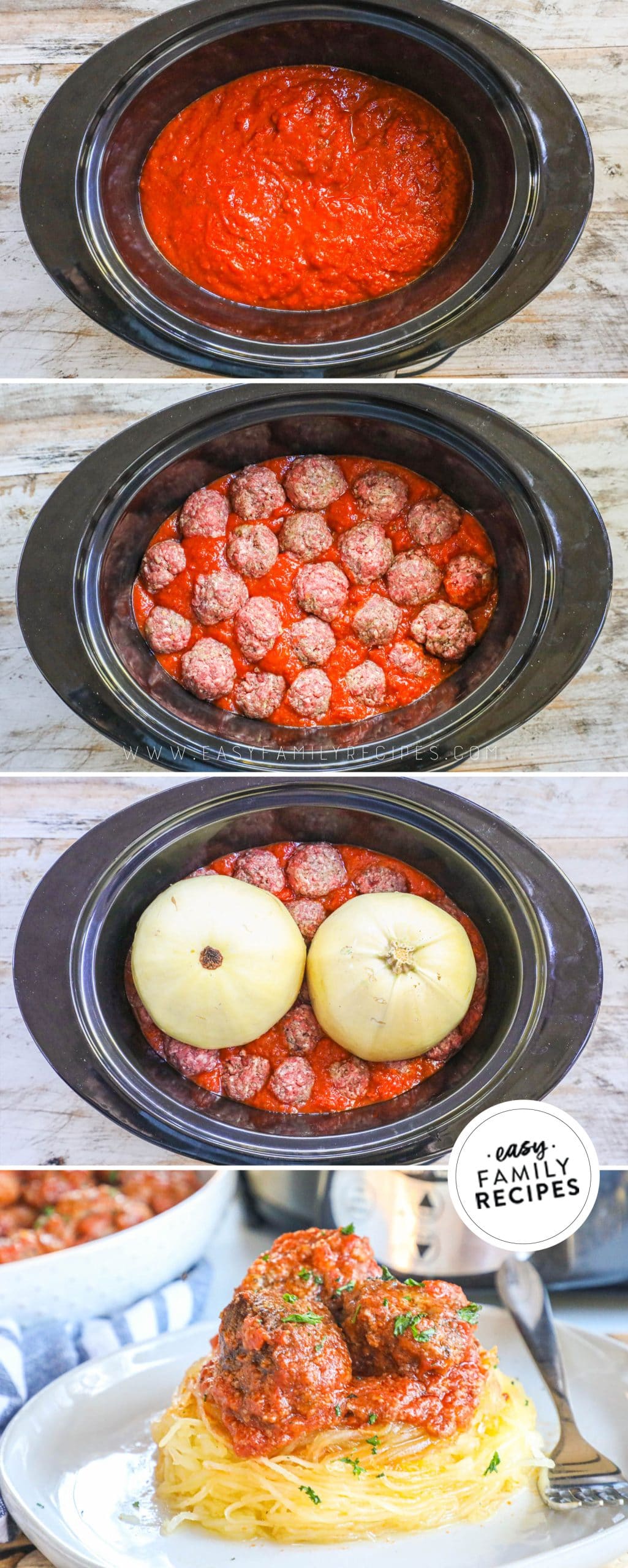 Recipe Tips
Layer it in– This special method allows all parts of the spaghetti squash and meatballs to cook side by side in the crockpot. Start with the sauce then add the meat balls, then add the spaghetti squash right on top. It will cook and steam inside the pot along side the meatballs and sauce.

Cut the squash more if needed– Depending on the size of the slow cooker and the volume of the squash, you may need to cut the squash more than once to get it to fit. That is perfectly fine and will have no other affect, other than producing slightly shorter spaghetti squash "noodles."

Keep the ingredients cold– This helps the fat to stay solid until you start cooking which will help you make more tender, juicy meatballs.

The bread crumbs make the magic– Having moistened bread crumbs is another trick we use to keep the meatballs super tender even though they cook a long time in the crockpot. They will hold in the moisture in the meatball, even as the meat cooks and releasing its liquid.

Use a scoop– Using a cookie or ice cream scoop can help you make meatballs that are all a uniform size. You can roll them lightly with your hands after scooping but try not to compact them too much for the best results.
Recipe Short Cuts
If you need to make this recipe, but are extra short on time, here are a few ideas that can help make this recipe even faster!
Make meatballs ahead– you can mix the ground beef, and other meatball ingredients and form into meatballs up to 24 hours in advance. Then when you are ready to cook, just layer the marinara sauce and meatballs into the slow cooker in minutes.

Prepare as a freezer meal– These meatballs can be prepped to freeze and cook when you are ready up to 6 months in advance. Find the full directions for this method below.
Spaghetti and Meatballs Recipe Variations
If you love this recipe as much as we do and want some quick ways to change it up for variety, these little tips will do the trick!
Spaghetti Squash with Turkey Meatballs– Make Spaghetti Squash and meatballs recipe as directed using ground turkey in place of ground beef. You can also substitute chicken broth for beef broth if preferred.

Crock Pot Spaghetti Squash and Frozen Meatballs- If you have frozen meatballs you need to use up, grab the bag and place the frozen meatballs in the sauce. Cook as directed. You can place the meatballs in frozen, no need to thaw.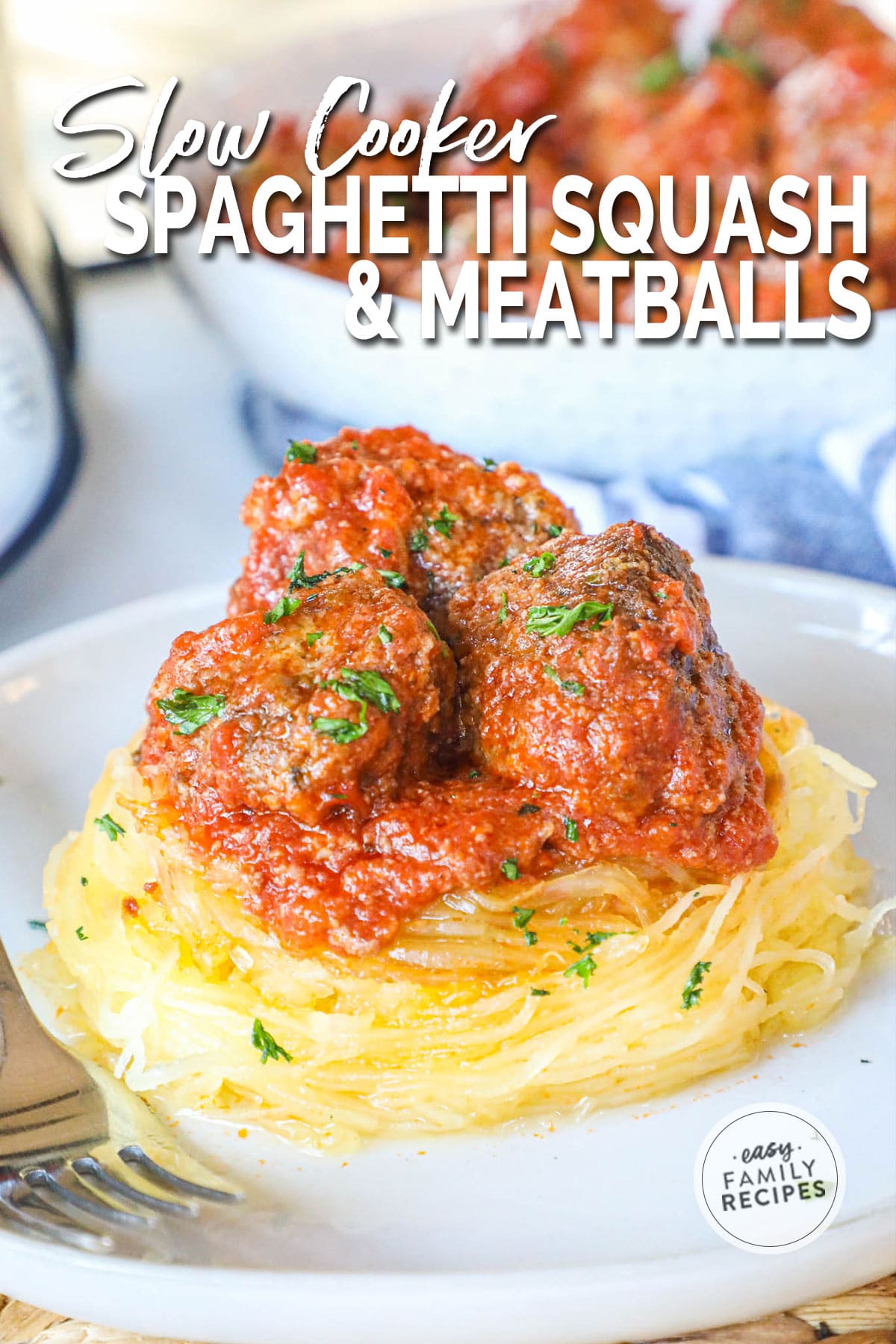 Freezer Meal Instructions
Spaghetti Squash and Meatballs can be easily prepared as a freezer meal to enjoy on another busy night, or share with a friend in need.
Form meatballs as directed.
Place in a freezer bag, or other freezer friendly container.
Cut spaghetti squash so that it will fit in the slow cooker. Place in another container.
Freeze.
Once ready to cook, thaw overnight in the refrigerator and add on top of marinara sauce in the slow cooker.
Note: You can also add the marinara sauce to the meatballs before freezing and freeze together. Since I use jarred marinara sauce, I find it easier to just keep them separate, but if you choose, add the sauce to the freezer bag along with the meatballs before freezing.
For the best flavor this can prepared up to 6 months in advance.
Crock Pot Spaghetti Squash and Meatballs Leftovers
If you have leftovers after making Spaghetti Squash and meatballs, then it is your lucky day! They save and reheat well, and can make the start of another delicious dish.
To save leftovers, separate into meal sized portions and then place in an airtight container and store:
in the refrigerator for 3-4 days
in the freezer up to a month
More Easy Crock Pot Recipes
If you enjoyed this recipe, I really hope you will take a moment to grab a few more easy recipes for another busy night!
You can check out all of my EASY dinner recipes here, or see a few of our readers favorite recipes below.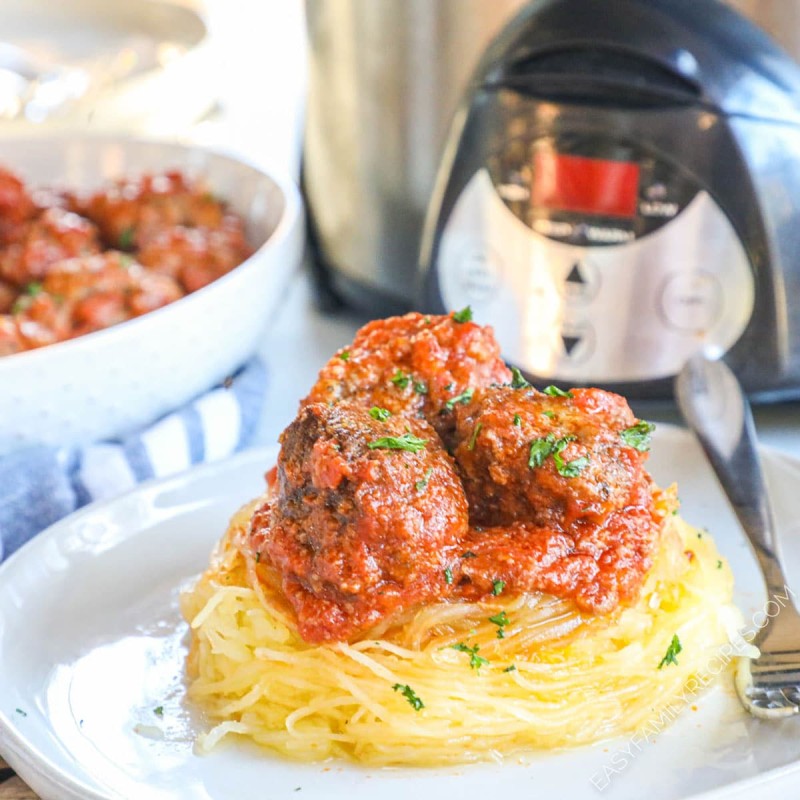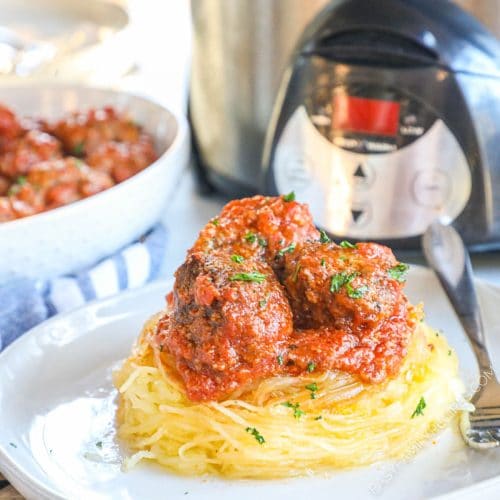 Spaghetti Squash and Meatballs
This healthier Spaghetti Squash and Meatballs is quick and easy to prep and cooks hands off in the slow cooker! This family friendly meal is a hit with kids and adults.
Ingredients
1.5

lbs

lean ground beef

3/4

cup

Italian bread crumbs

1/4

cup

beef broth

,

or water

1/4

cup

grated parmesan cheese

2

eggs

1

tbsp

Italian seasonings

1

tsp

garlic powder

1/2

tsp

onion powder

1/2

tsp

salt

24

oz

marinara sauce

,

(1 jar)

3

lbs

spaghetti squash
Instructions
Cut the spaghetti squash in half. Use a spoon to scoop out the seeds.

In a large bowl, combine ground beef, bread crumbs, broth, parmesan cheese, eggs, Italian seasoning, garlic powder, onion powder, and salt. Use a spoon, or your hands to work the mixture until everything is evenly combined.

Roll meat into 24 balls, about 1.5-2 in in diameter.

Pour the marinara sauce in the bottom of the slow cooker. Nestle the meatballs into the sauce. Then gently place the spaghetti squash on top of the meatballs, cut side down.

Cook on low for 4 hours, or high for 2.5 hours.

Once done, remove the spaghetti squash (careful, it will be very hot!) Use a fork to remove the inside of the spaghetti squash and discard the rind.

You can serve by either mixing the spaghetti squash into the marinara and meatballs, or by mounding the squash on a plate and piling meatballs on top. Enjoy!
Nutrition Information
Serving:
3
meatballs
,
Calories:
251
kcal
(13%)
,
Carbohydrates:
22
g
(7%)
,
Protein:
24
g
(48%)
,
Fat:
8
g
(12%)
,
Saturated Fat:
3
g
(19%)
,
Polyunsaturated Fat:
1
g
,
Monounsaturated Fat:
3
g
,
Trans Fat:
1
g
,
Cholesterol:
97
mg
(32%)
,
Sodium:
910
mg
(40%)
,
Potassium:
769
mg
(22%)
,
Fiber:
4
g
(17%)
,
Sugar:
8
g
(9%)
,
Vitamin A:
632
IU
(13%)
,
Vitamin C:
9
mg
(11%)
,
Calcium:
119
mg
(12%)
,
Iron:
4
mg
(22%)