This Steak Fried Rice will rival your favorite take out, both with taste and with ease to make! With only a handful of ingredients and a few minutes of prep you can be on your way to a restaurant quality dinner, made at home!
Homemade Steak Fried Rice
Some dishes you order at your favorite restaurant seem super hard and impossible to recreate at home.
Who knows how many ingredients are in there…
How would I even know where to start to get it right?
There must be a secret to getting it to taste SO GOOD!
This Steak Fried Rice tastes every bit as good as your favorite restaurant, but you can make it right at home… in just a few minutes… in just one pan!
(Pssst… that means not only is it EASY to make, it is also EASY to clean up!)
This is a recipe that my family asks for over and over again because it really is better than anything we get from take out.
Give it a try, and make sure to come back and let me know what your family thinks!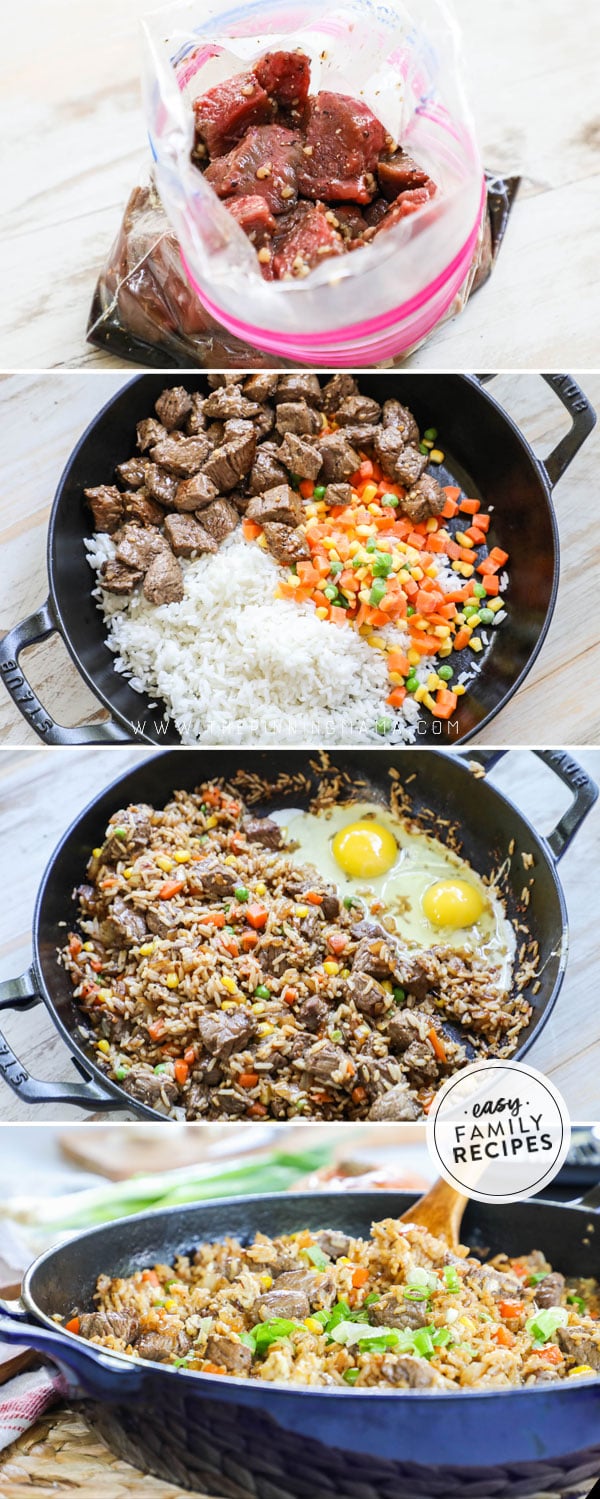 Tips for Making Steak Fried Rice
This recipe is super simple as promised! I am going to give you a few pointers here that will help you get the absolute best out of this recipe.
If you have a question that I don't cover here, feel free to drop it down in the comments below!
Prep Ahead!
My number one tip for this recipe is to read the instructions though, and prep all of your ingredients so that they are ready to go.
Stir frys including this fried rice cook really quickly once you start. Having the ingredients out, prepped, and ready to go will make the recipe go much more smoothly!
Do I need a Wok?
To make this Steak Fried Rice, you can use a wok or a large skillet. You do not have to use a wok.
I am a big fan of using what you have, and don't think you need fancy equipment to make great meals. I don't have a wok, so I use my Staub cast iron braising pan as it is the largest skillet I have.
A large skillet is important so that the dish isn't overcrowded while it cooks and allows the meat and rice to get the slight caramelization that gives it so much flavor. If the pan is small and over crowds it can just steam instead of searing.
The Marinade
The flavor of the Steak Fried Rice largely comes from the simple combination of soy sauce, sesame oil, garlic and pepper.
You will first marinate the steak in half of it to enhance the flavor. The directions instruct you to let it rest 10 minutes, but if you want to prepare it earlier and let it sit for longer it will just add to the flavor.
The rest of the marinade is poured into the rice at the end to bring all of the flavors together.
How to Cook the Steak Fried Rice
The Steak
In the directions you will see that you are directed to use high heat. This really is important for this dish to come out well!
First, make sure that before you start cooking, you place the oil in the skillet and allow enough time for both the skillet and oil to become hot before you add the meat. This will help to sear the outside of the meat and lock in the moisture. It also gives the steak great flavor.
This will be quick, but the steak will continue to cook in the following steps, so make sure not to cook it too long at first, or it may make the steak get overcooked and tough by the end.
The Onion
After you do a quick cook on the steak, you can take it out and set aside. The next thing to cook will be the onion. The butter is also added in this step and gives the rice a ton of flavor.
The onions will start to brown, and any caramelization on the pan should come up in this step as you cook the onions.
The Rice
Next add in the rice, frozen veggies, and steak into the skillet and pour the remaining marinade over the top.
Stir everything together and continuously stir and turn the rice. With such high heat, it is important to keep it moving!
After 2-3 minutes push the rice to the side and add the egg to the skillet, pushing it around with the spatula until it is cooked, then stir it into the rest of the rice mixture.
It moves fast, but at this point, you are done! You can remove the skillet from the heat and garnish it with chopped green onions.
Substitutions
I recommend trying to stay as close to the recipe as possible, at least the first time you try it. If you have special dietary restrictions, or are missing an ingredient, these notes can help you sort through what can be substituted in the Steak Fried Rice.
Steak
I recommend sirloin for Steak Fried Rice. Since there is so much added flavor in this recipe you can get away with a cheaper cut of steak without sacrificing flavor.

Most other cuts of beef can be substituted with good results in this fried rice recipe including ribeye, flank steak, strip steak, and skirt steak.

Rice
Jasmine rice is our preference, but fried rice can be made with almost any variety of white rice or brown rice. You can use brown, minute rice, short grain, or long grain rice.

Leftover rice, or day old rice, works best in this recipe since there is less moisture in the rice so it cooks up nicely in the stir fry. If you are in a pinch and have no leftover rice, freshly cooked rice will work as well.

Mixed Vegetables
Carrots, corn, and peas are traditionally found in fried rice and can easily be bought together in a pack of mixed veggies. If you want to avoid one of these or have other veggies on hand you can add or subtract to your preference.

Fresh vegetables can also be substituted in lieu of frozen veggies. I would not recommend using canned vegetables since they contain so much additional moisture.

Eggs
If you are on an egg free diet these can be omitted from the recipe completely.
Sesame Oil
This is the one ingredient in this recipe that really isn't an everyday pantry staple. I really like the sesame oil because it has a unique flavor that really adds to the depth of flavor of the dish. So I recommend trying it if at all possible!

If you are in a pinch and don't have sesame oil, you can substitute vegetable or canola oil here.

Butter
If you are dairy free you can substitute margarine here.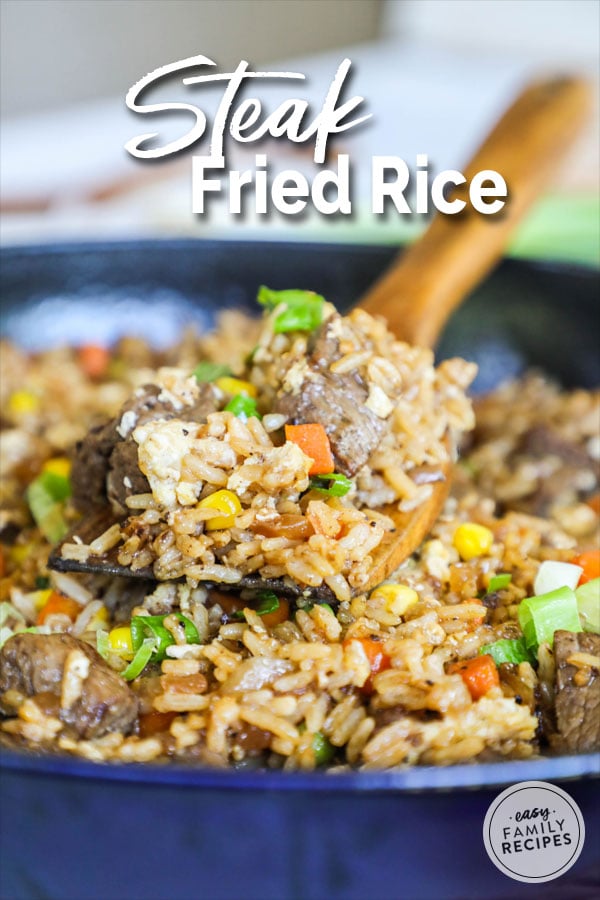 Recipe Variations
If you love this Fried Rice recipe as much as we do, you may want to consider making it with these variations for a new and exciting twist to the recipe.
Chicken Fried Rice– Perfect when you have leftover chicken in the fridge
Ham fried rice– Use this with anything from holiday leftovers to deli meat!
Pineapple fried rice- Make the recipe as directed using pineapple chunks in place of steak for the fried rice.
Shrimp Fried Rice- Make the recipe as directed using bite sized shrimp in place of steak for the fried rice.
How to Serve Steak Fried Rice
This meal contains just about everything you need in a well rounded dinner in just one skillet! So really, there is no need to add anything to this meal if you want to keep it simple. If you want to round it out though, here are a few options we like when I have extra time to make them!
Top it off!
Add one or more of these toppings to your Steak Fried Rice:
Add a side dish
As mentioned before, there is no need to add sides to this meal, but if you want to stretch it to go farther, or you are having company and want multiple courses, here are a few ideas.
If you have any other extras I missed, make sure and let me know in the comments. I am always looking for new ideas!
Leftover Steak Fried Rice
Steak Fried Rice reheats well, so it is perfect for having plenty of leftovers! If you end up with leftovers you can package them in meal sized servings in an airtight container and store them in the:
Refrigerator for 3-4 days
Freezer for up to a month
Leftovers can be reheated in the microwave or on the stovetop.
Leftover Recipes
Try these ideas for making your Steak Fried Rice have a new life as another meal another night!
Steak Fried Rice Lettuce Wraps– Reheat leftovers and then serve them with leaves of butter lettuce and a variety of toppings and sauces such as chopped nuts, carrot shreds, chopped cabbage, asian spicy mayo, teriyaki sauce, etc.
Steak Fried Rice Stuffed Peppers– Wash and cut sweet bell peppers in half. Fill each half with a scoop of steak fried rice and then place in a baking dish and cover with foil. Bake for 30-40 minutes or until the peppers are tender.
Steak Fried Rice Power Bowls – Mix the steak fried rice with some quinoa and chopped spinach, then top with your choice of chopped nuts, carrot shreds, chopped cabbage, asian spicy mayo, teriyaki sauce, etc.
More Easy Skillet Recipes
If you enjoyed this Steak Fried Rice, I hope you will plan to try a few more of our simple dinner recipes! Here are some of our other favorite skillet meals!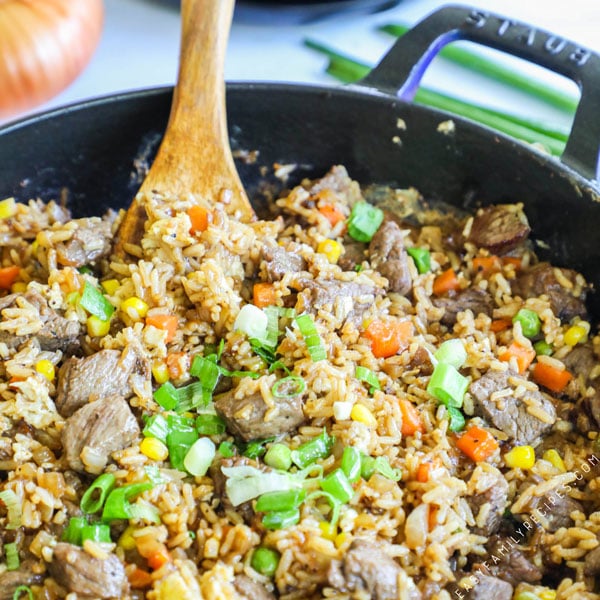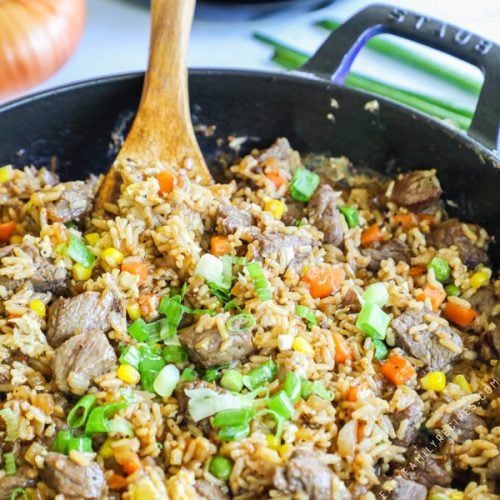 Steak Fried Rice
This Homemade Steak Fried Rice is a quick and easy one pan meal that combines steak with rice, veggies, and the best Asian flavors. This simple stir fry will leave you wanting more!
Ingredients
1

lb

sirloin steak

3

cups

jasmine rice

,

cooked

1

cup

mixed vegetables

,

frozen

2

eggs

1

onion

,

medium

1/4

cup

soy sauce

2

tbsp

sesame oil

2

tbsp

butter

1

tbsp

garlic

,

minced

1

tsp

vegetable oil

1/4

tsp

black pepper
Instructions
Combine soy sauce, sesame oil, garlic and pepper together.

Chop steak into 1 inch cubes. Place in a bowl, or zip top bag with 1/2 soy sauce mixture and allow to rest for 10 minutes (or more.) While the meat is marinating, chop the onion.

Heat a wok or skillet coated with vegetable oil over high heat. Once the skillet is hot, add the steak in a single layer and cook 2 minutes on the first side, then turn and cook 1 additional minute. Remove steak from skillet.

Add butter and onion to the skillet and cook for 2-3 minutes or until the edges start to brown.

Add the rice, veggies, steak, and remaining soy sauce mixture to the skillet and stir to combine. Let cook 2-3 minutes, then push to one side and add the egg and cook until done.

Stir the egg into the mixture and cook 1-2 more minutes, then remove from heat.

Garnish with green onions if desired. Serve warm, and ENJOY!
Nutrition Information
Serving:
1
cup
,
Calories:
576
kcal
(29%)
,
Carbohydrates:
81
g
(27%)
,
Protein:
27
g
(54%)
,
Fat:
15
g
(23%)
,
Saturated Fat:
6
g
(38%)
,
Cholesterol:
111
mg
(37%)
,
Sodium:
658
mg
(29%)
,
Potassium:
497
mg
(14%)
,
Fiber:
3
g
(13%)
,
Sugar:
1
g
(1%)
,
Vitamin A:
1740
IU
(35%)
,
Vitamin C:
5
mg
(6%)
,
Calcium:
71
mg
(7%)
,
Iron:
2.8
mg
(16%)