This easy Baked Hawaiian Chicken is perfect for a weeknight meal.  Tender chicken is seasoned and layered with tangy BBQ Sauce, salty ham, sweet pineapple, and savory cheeses then baked to perfection. This one dish dinner is a family friendly recipe that packs in the flavor with just minutes of prep.
One Dish Hawaiian Chicken Dinner
I really, really love baked chicken dinners. They just check every box I need on a busy weeknight.
Only a handful of ingredients
Quick to prep
Cooks without assistance
Tons of flavor- YUM!
I have made these in many flavors for years (check out more of them here,) but this Hawaiian Chicken knocked it out of the park for my family!
The beauty of the one dish meal, is you can get all of those flavors you love into the oven quickly. The dish doesn't need stirred, babysat, or anything else, so you can go about your busy evening.
Then Voila! Dinner comes out hot and ready, and there is just as little clean up after since, well, it was just one dish!
What to Serve with Hawaiian Chicken
This dish has that perfect sweet and savory combo. You can serve it just by itself or in a variety of ways to dress the Hawaiian Chicken up and round out the meal.
Here are a few of our favorite serving options:
Side Dish Suggestions
Rice- White, brown or wild
Pick one or serve it with a few for a wholesome family meal. If you have other sides you love to serve this dish with, let me know in the comments!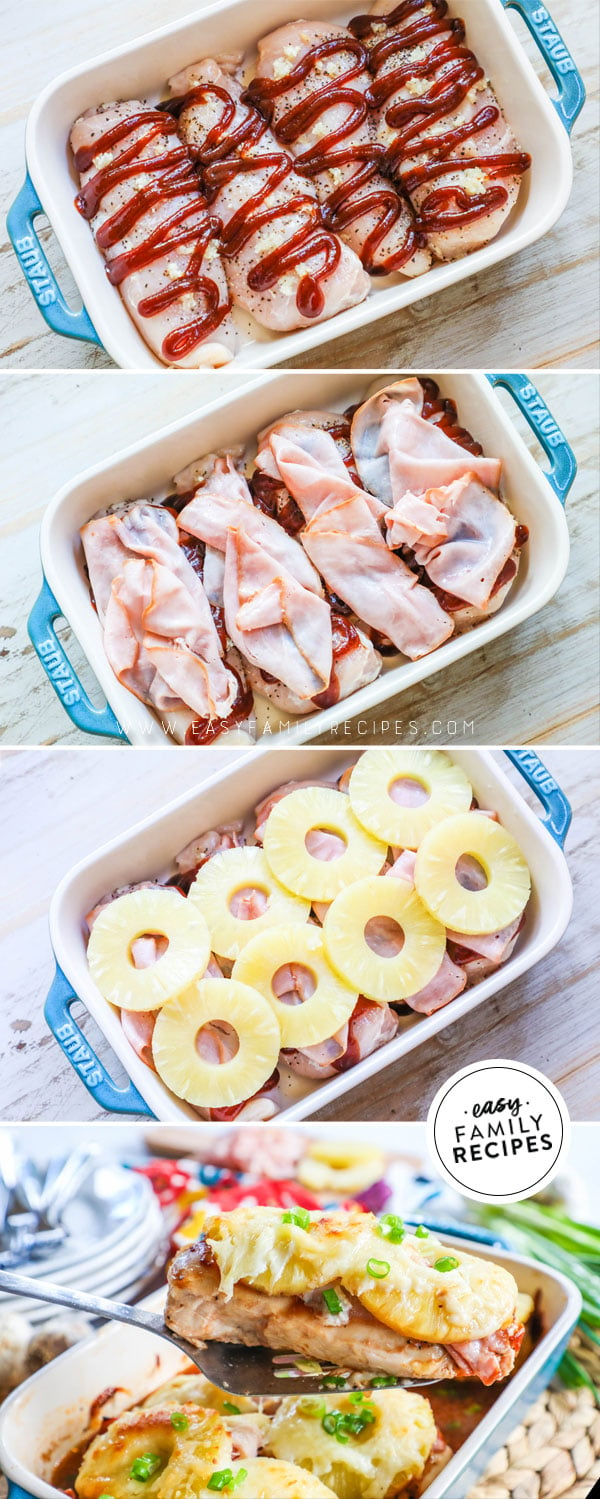 Tips for Making the BEST Hawaiian Chicken
This is a really easy one dish meal, but there are a few tips I have for you to offer that keep the chicken super tender and make the dish the best it can be.
I will also try to answer frequently asked questions in this section as well. If you have a question that I don't answer, don't hesitate to leave it in a comment below.
The Ingredients
Chicken– I recommend using thin chicken breasts for this recipe. If your chicken breast is normal to thick, I would recommend butterflying them, or cutting them horizontally so that they are half the thickness. The reason for this is that it helps the chicken cook more quickly and evenly in the dish and keeps the chicken more tender.

You can also substitute other boneless, skinless cuts of chicken for chicken breast such as chicken thighs or chicken tenderloins.

BBQ Sauce– I recommend a classic thick tomato based BBQ sauce rather than a vinegar based BBQ sauce for the most flavors. I used Sweet Baby Rays in this recipe, but you can use your favorite variety.
Ham– The ham is an integral ingredient in the Hawaiian Chicken. I like to used thinly sliced ham for ease of serving and eating. You can pick up prepackaged ham or get it freshly sliced at the deli.
Pineapple– You will notice that I use pineapple rings in my recipe. This is personal preference. I think it is easy to portion out to each person when they are in rings, but you will get the same delicious results with drained pineapple chunks or even crushed pineapple.
Cheese– I use mozzarella when I make this, but you can also use provolone.
Troubleshooting
Here are couple of questions I hear regularly that hopefully I can help with!
Should I bake uncovered?
I always bake this dish uncovered, however every oven cooks differently due to many factors such as size, climate, power source, age, etc.
If you find that the cheese is getting too crispy, lightly cover with foil for the remainder of the cook time.
Why is the chicken watery?
Chicken will release juices naturally. There are a few reasons why yours might release more than normal.
The chicken you bought has added solution. This is very common and should be listed on the package.
The dish is too crowded. The more crowded the dish is, the less liquid will evaporate in cooking. Try using a bigger dish to give your chicken more room to breathe.
The chicken cooked too long. As I mentioned above, I like to use thin chicken breasts which allows it to cook more quickly and evenly. If you cook too long the juices will continue to release and the meat will be more dry. Try using a digital meat thermometer. They are affordable and can be found at almost any store. Cook the chicken just until it reaches an internal temp of 165˚F then remove it from the oven regardless of whether it takes more or less time than directed.
The pineapple wasn't drained well. If you don't drain the pineapple well, especially if you use crushed pineapple instead of rings, you can have excess juice in the bottom of the pan
Does this meet special dietary needs?
This recipe can easily be made allergy friendly with small modifications. See my notes on each requirement below.
Gluten Free- This recipe is naturally gluten free. Make sure that you double check the ingredients, especially the ham to verify compliance.
Dairy Free- You can omit the cheese from the recipe with great results for a dairy free version of the recipe.
Low Carb- This recipe can be made much lower in carbohydrates by using sugar free BBQ sauce. You can also reduce the amount of pineapple to further lower the carb count.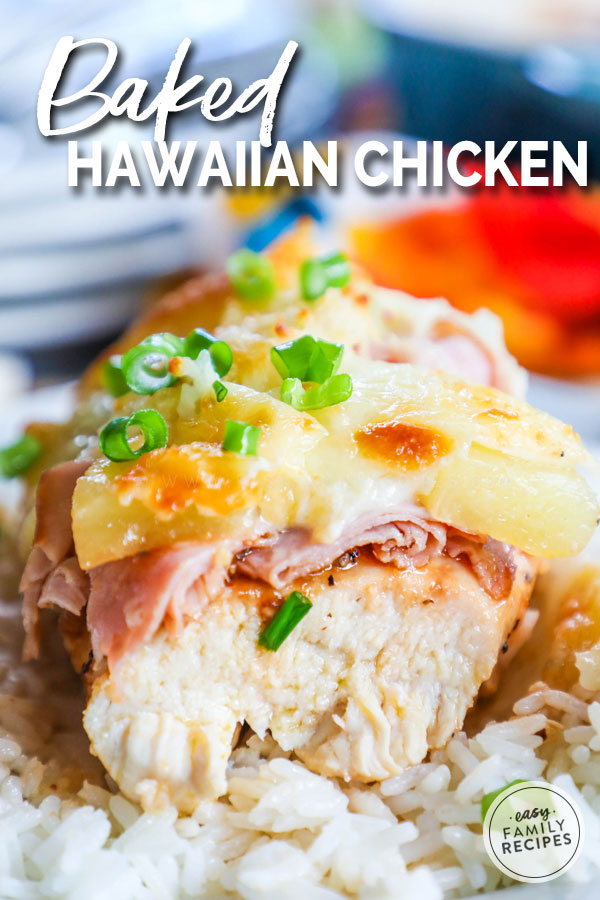 Freezer Instructions
This recipe can be made ahead as a freezer meal, or the leftovers can be frozen after cooking for quick and easy leftover meals.
To Freeze Before Cooking
Prepare the dish in a freezer friendly container as directed through step 4.
Freeze.
When ready to prepare, thaw completely in refrigerator.
Once thawed, continue at step 5 to bake as directed.
To Freeze After Cooking
Prepare the Hawaiian Chicken as directed and let cool.
Divide into meal sized portions and package in airtight containers.
Freeze.
When ready to eat, reheat in the microwave or oven.
Hawaiian Chicken Leftovers
Hawaiian Chicken is delicious and reheats well which makes it perfect both for saving leftovers or for meal prep.
To save leftovers, divide the chicken into meal sized portions. I also like to chop the chicken ahead of time if you prefer to eat or use it that way.
Place in an air tight container or zip top bag and place in the:
Refrigerator for 3-4 days
Freezer for up to a month
Leftover Recipes
Here are a few fun ideas on how to repurpose those Hawaiian Chicken leftovers into a new and exciting meal.
Hawaiian Chicken Pizza– On a prepared pizza crust, evenly spread a layer of BBQ sauce. Sprinkle with mozzarella or provolone cheese and top with chopped Hawaiian Chicken leftovers. Add your choice of thinly sliced red onions, spinach, or crumbled bacon and bake as directed.
Hawaiian Chicken Stuffed Zucchini– Cut zucchini in half and hollow it out. Finely chop the leftover Hawaiian Chicken and fill the hollowed zucchini with it. Top with a sprinkle of cheese. Bake at 350˚F for 25-35 minutes or until the zucchini is tender.
Hawaiian Chicken Wraps– Get a large tortilla or flatbread and spread with BBQ sauce. Add sliced Hawaiian Chicken, sweet red bell pepper slices, spinach, and thinly sliced onion. Wrap tightly and cut in half.
Hawaiian Chicken Meal Prep
If you plan to use this dish for meal prep, you can make it as directed with a single or doubled recipe. Then pair it in meal prep containers with one of the following options.
Rice
Roasted veggies
Coleslaw
Mashed Potatoes
More Easy Dinner Recipes
If you thought this recipe was as tasty as my family did, we sure hope that you will try out some of our other easy, family friendly recipes. You can see them all in our recipe index, or browse a few of our favorites below.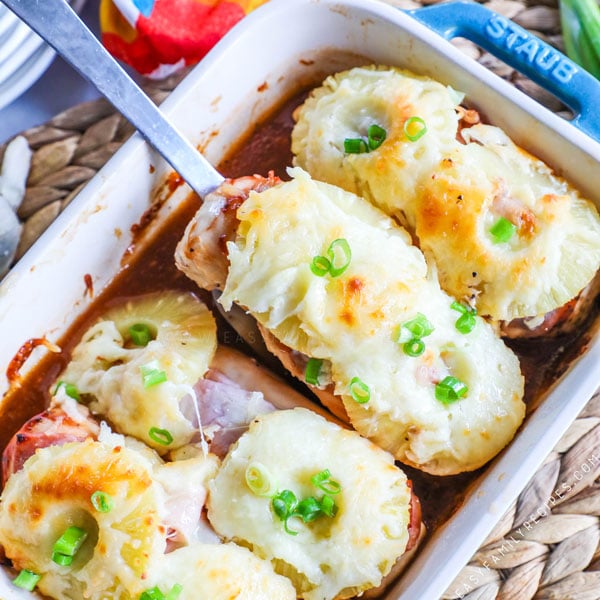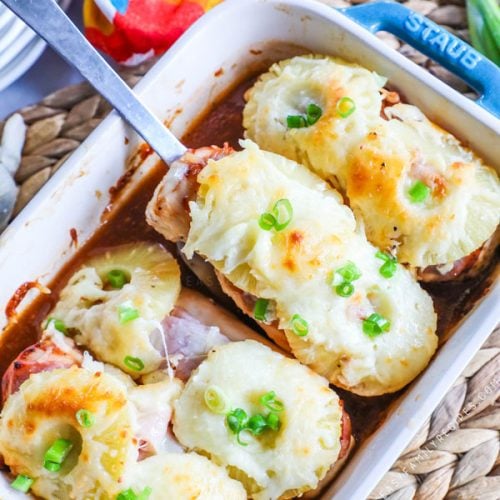 Hawaiian Chicken Bake
All of the flavors you love in Hawaiian Pizza baked right on top of chicken for a wholesome and easy dinner. This quick and easy meal is one the whole family will love.
Ingredients
2

lbs

chicken breast

,

boneless, skinless

1/2

tsp

salt

1/4

tsp

ground black pepper

3

cloves

garlic

,

pressed

1/4

cup

barbecue sauce

,

or more to taste

1/4

lb

ham

,

thinly sliced

20

oz

pineapple rings

,

(1 can, drained)

1

cup

mozzarella cheese

,

shredded
Instructions
Place the chicken breast flat in a large baking dish and season with salt, pepper, and pressed garlic.

Spread the barbecue sauce evenly over the chicken breast.

Top with sliced ham and pineapple.

Finish with shredded cheese.

Bake at 350 for 30-40 minutes or until chicken is baked through (internal temp 165˚F) Remove from oven and garnish with green onions. Serve warm. Enjoy!
Nutrition Information
Serving:
8
oz chicken plus toppings
,
Calories:
534
kcal
(27%)
,
Carbohydrates:
31
g
(10%)
,
Protein:
62
g
(124%)
,
Fat:
17
g
(26%)
,
Saturated Fat:
7
g
(44%)
,
Cholesterol:
185
mg
(62%)
,
Sodium:
1253
mg
(54%)
,
Potassium:
1193
mg
(34%)
,
Fiber:
2
g
(8%)
,
Sugar:
27
g
(30%)
,
Vitamin A:
460
IU
(9%)
,
Vitamin C:
18.4
mg
(22%)
,
Calcium:
192
mg
(19%)
,
Iron:
1.9
mg
(11%)