This LOADED Taco Dip is addictingly delicious! Piled high with layers of refried beans, ground beef, sour cream seasoned with taco seasoning, and toppings galore! Perfect for watching the big game, bringing to a potluck or neighborhood BBQ, or making for a hungry group of kids. This easy appetizer dip feeds a crowd and is one that you will get asked for the recipe over and over again!
Easy no bake appetizer!
There is nothing better than a grazing table full of munchies. If we are talking appetizers, I love them all, but I especially love dips!… and boy have I made a lot of them over the years.
This Taco Dip is a favorite. If I set it down in front of adults or kids alike, it is inhaled in minutes!
It is a simple layered dip you can make in minutes, no baking required. It almost seems wrong that something so delicious can be so easy to make, but boy am I glad it is!
Throw this recipe together for the next party or potluck you attend and you will see exactly what I mean!
What to Serve with Taco Dip
Taco dip is a great appetizer to share. As much as I would like to just dig in with a spoon, there are some more appropriate… and even better ways to eat it.
Here are a few ideas for dippers:
Tortilla chips
Fritos- especially good because they don't break as easily and can get a lot of dip on each bite!
Ruffles
Baked tortillas – cut flour tortillas into quarters and bake until crispy
Mini peppers
Bell pepper strips- one of my favorite healthy options. I like to cut them short and wide to be the most "dippable"
Celery sticks- not my first choice but great if you are looking for a lighter option that holds up well for dipping
This dip does make enough to feed a crowd, but if you want to add a little more, it pairs well with these other appetizers:
Just make the Taco Dip, or make a few appetizers to stretch the recipes out among many! These all are super simple and widely loved!
Recipe Tips
This recipe is super simple as promised! It will come together quickly and easily. I want to share a few of my notes, tips and suggestions to make sure you get the absolute best out of this recipe, as well as answer any questions that may come up while you are cooking.
Make sure to scroll to the bottom to get the FULL recipe card!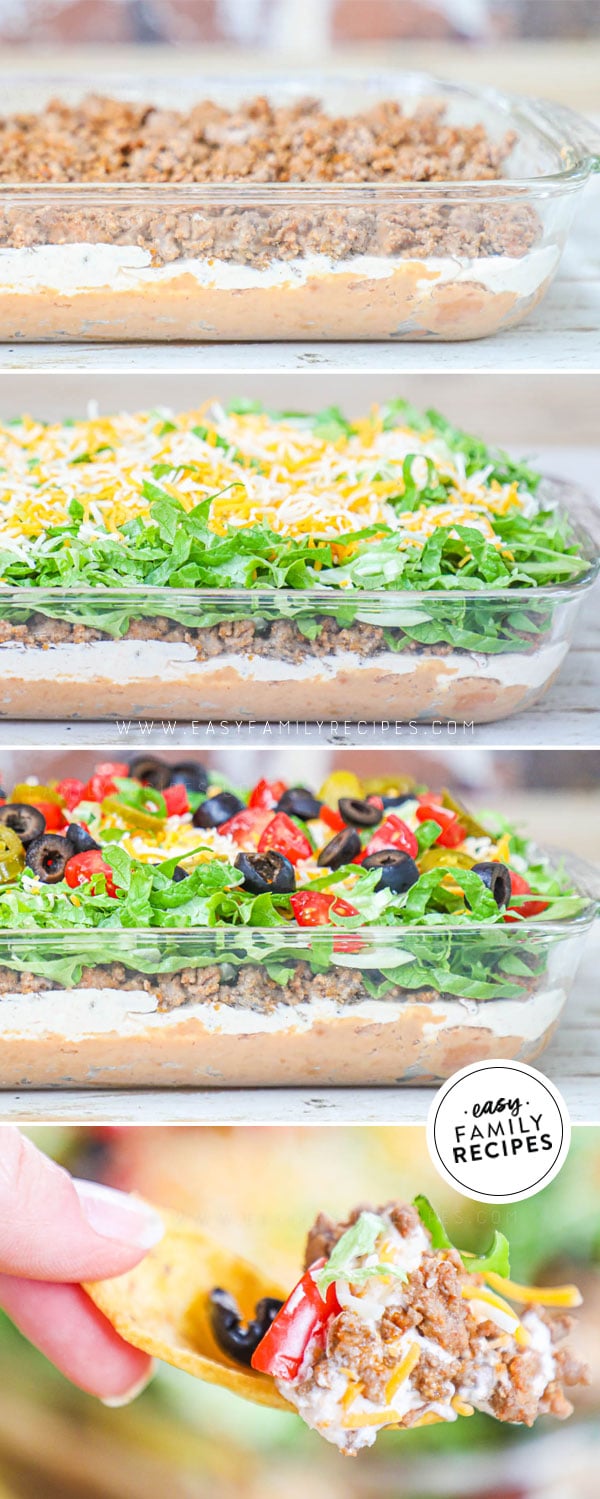 This dip has 4 main components-
The beans
The creamy taco layer
The meat
The toppings
Each of these brings their own flavor punch to the dip and they come together for pure deliciousness!
This dip is a lot like a 7 layer dip, only when it is all said and done, and customized with your favorite toppings, it can end up to be 8, 9, or even 10 layers!
The dish
This makes a good sized dip! You can use a casserole dish, or jus pick a big platter and pile it up (similar to how I constructed this layered Greek Dip.)
If you go for a casserole dish, I always like to use glass so you can see the layers, but it is definitely not a requirement.
You can choose to use a bigger dish like a 9×13 or a smaller dish like a 9×9. The bigger the dish, the more thin your layers will be. The smaller the dish, the thicker the layers will be.
Depending on how you like your dip (or what dish you have lying around!) you can make it how you like.
The Beans
For the bean layer I like to keep it simple and use canned refried beans. One can will be enough to spread across the base of the dish for the bottom layer.
If you want an easy way to make the dip go further, you can use two cans of beans instead!
Substitutions: You can substitute refried black beans for traditional refried beans. If you prefer whole beans, you can use whole beans instead of refried, but I would add them on top of the meat layer instead of on the bottom. If you use whole beans, it will be a bit more salad like, and a bit less dip like, but still very delicious.
The Creamy Taco Layer
This layer is the magic for the dip! Cream cheese, sour cream, and taco seasoning are mixed together to create an over the top delicious spread.
To make this the best way, make sure that the cream cheese is softened. I like to combine the cream cheese and sour cream first. This helps to lessen any lumps and really combine them well. Then stir in the taco seasoning.
Once it is combined, spread it out right on top of the beans.
Substitutions: Light versions of sour cream or cream cheese can be used in lieu of the regular version. If you aren't able to use cream cheese, or sour cream, you can double up on either and omit the other.
For example, if you want taco dip with no sour cream, you can use 8 oz of cream cheese mixed with the taco seasoning instead. Or to omit the cream cheese, use 2 cups of sour cream mixed with the taco seasoning. The flavor will be a little different than when using both, but you will still get a good result.
The Meat
The meat layer is a simple layer of ground beef combined with taco seasoning. I use half of the taco seasoning in the creamy taco layer and half on the meat. If you really love those taco flavors, you can add more seasoning! Another great option is using any leftover taco meat you might have from earlier in the week. I also have a HUGE list of taco meat leftover ideas here!
Substitutions: Ground beef is traditional in this dip, but you can substitute other ground meats with good results. Ground turkey or ground chicken are both great substitutes.
The Toppings
The toppings might even be my favorite part because I love to pile them high! Usually after the meat layer, we add a layer of lettuce and cheese.
After those two, you can get as creative as you want!
Tomatoes
Pico de gallo
Olives
Jalapeño peppers
Diced onions
Cilantro
Diced avocado
Guacamole
Pile it on! This is a LOADED taco dip after all! I usually use a hand full of toppings based on what I have on hand. Any or all are a great combination.
Recipe Shortcuts
Taco dip is really quick to put together, but there are a few extra short cuts you can use to make it even faster.
Precook your meat- You can use ground beef you cooked up to 2 days in advance, or have cooked and frozen up to a month in advance. Another great option is using leftover taco meat that was prepared for a dinner earlier in the week.
Use pre-cut veggies– Lettuce, olives, and jalapeños are all easy to find precut in any grocery store. Most nicer stores also carry pico de gallo, tomatoes and onions pre-cut in the produce section.
Prep the first layers– You can layer the beans, creamy taco layer, and meat in the dish, cover, and chill up to 24 hours in advance. Then when you are ready to serve, just pop the toppings on and the dip will be ready in minutes.
Taco Dip Recipe Variations
If you love this dip, but want to change it up a little for something new, try some of these delicious recipe variations for a new twist on an old friend.
Baked Taco Dip– Our traditional recipe is served cold, but to make this into a hot, baked dip is easy! Layer the beans, creamy taco layer, and meat as directed. Then, instead of adding lettuce, add the shredded cheese on top of the meat layer. Bake at 350˚F for 25-35 minutes or until heated through. Once done, top with and additional toppings you wish (I like to leave off the lettuce and add pico de gallo and olives!
Chili Taco Dip– In this version of the dip, all you do is replace the ground beef layer with chili. You can use canned chili or your favorite homemade version. You can serve this cold, or hot as detailed above or below.
Crockpot Taco Dip– If you have a party that will be going on for hours, you may want to use the slow cooker version of this dip! Layer the meat, creamy taco layer, beef, and shredded cheese into a crockpot. Turn on low for 2-3 hours, then you can use the keep warm setting. Once the dip is served, add any additional toppings you wish such as pico de gallo, olives, green onions, etc.
Vegetarian Taco Dip– If you want to go meatless, you can use make this dip using no meat. Make sure to use vegetarian refried beans. Then, omit the meat layer, using all of the directed taco seasoning in the sour cream and cream cheese mixture.
Skinny Taco Dip– To lighten this dip up, use fat free refried beans, light sour cream and cream cheese and ground turkey instead of ground beef. This saves on the calories and the fat content of the recipe.
Dietary Considerations
This taco dip can be friendly for a variety of dietary needs! See the notes below on how to make sure it complies with your requirements.
Gluten Free– This dip can be made gluten free by using homemade taco seasoning. Ensure that any store bought ingredients also comply.
Low Carb/Keto– This dip is naturally low carb and friendly for keto diets with only 4g net carbs. To further lower the carb content, you can omit the beans and double the meat and creamy taco layer.
Vegetarian– This dip can be made vegetarian by omitting the meat layer and using vegetarian refried beans.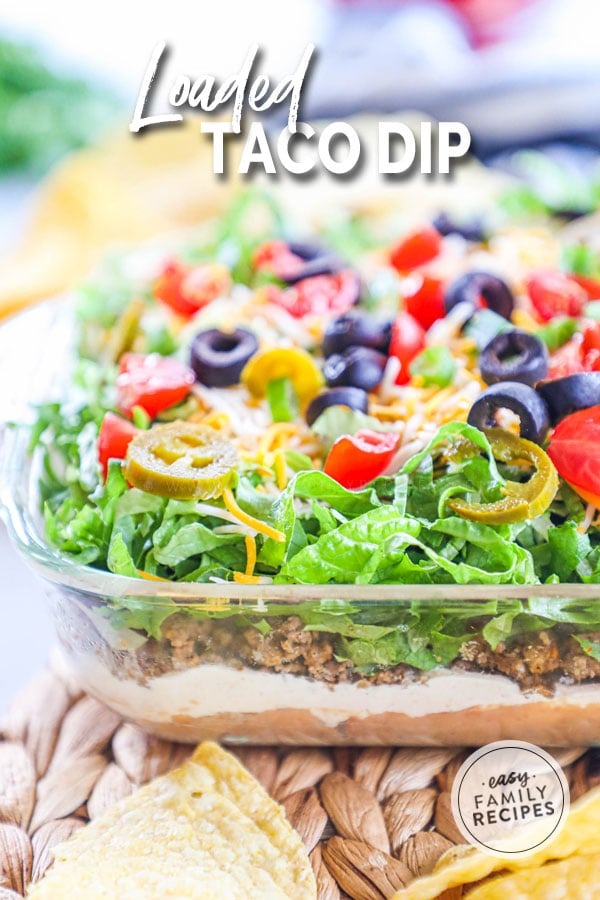 Leftover Taco Dip
If you have leftovers of this dip, it can be packaged in the fridge and saved for 2-3 days in the refrigerator.
The bottom layers of the dip save really well, but the top starting at the lettuce can sometimes not save as well in the fridge.
When I save our dip, I put the whole thing in, however, if you want to get a little longer out of it, you can try to remove the lettuce and toppings and just keep the bottom 3 layers.
If you do keep the leftovers, try making a quesadilla out of the meat, creamy taco layer, and beans the next day. SO GOOD!
More EASY Appetizers!
Make sure to take a minute to browse a few more of our favorite recipes! Here are a few that ALWAYS disappear at a party: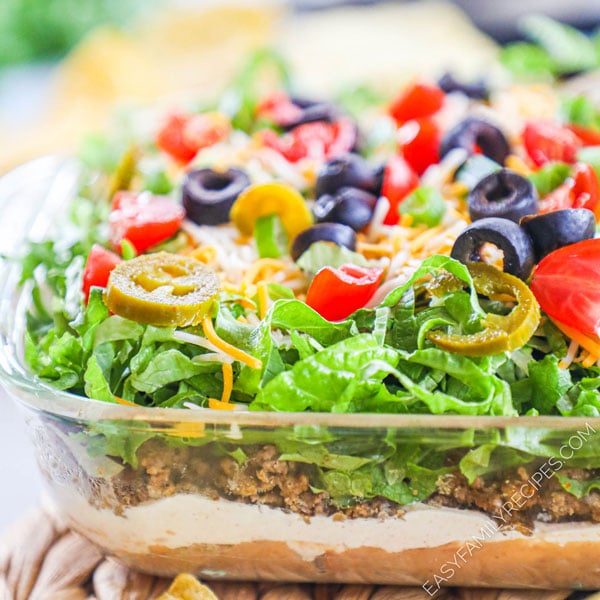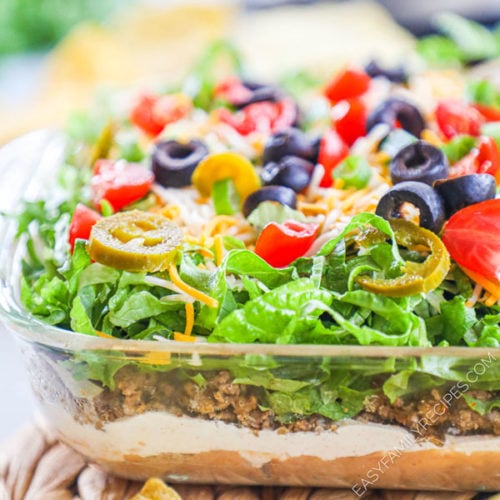 LOADED Taco Dip
This isn't your basic Taco Dip! It is LOADED with everything delicious! With layers of beans, ground beef, and a signature creamy taco mixture, this dip might just be too addicting!
Ingredients
4

oz

cream cheese

,

softened

1

cup

sour cream

3

tbsp

taco seasoning,

(1 store bought packet)

1

lb

ground beef

16

oz

refried beans

4

oz

lettuce

,

shredded

1/2

cup

tomatoes

,

diced

1/4

cup

green onions

,

diced

1/2

cup

Mexican blend cheese

,

shredded

1/4

cup

black olives

,

sliced

1/4

cup

jalapeno slices

,

(optional)
Instructions
Cook the ground beef in a skillet over medium heat. Once browned, drain the meat and stir in half (1.5 tbsp) taco seasoning. Set aside.

In the bottom of a 2.5 qt casserole dish evenly spread the refried beans.

Combine the cream cheese, sour cream, and remaining taco seasoning and mix until combined. Spread the mixture over the beans.

Layer the taco meat, shredded lettuce, Mexican blend cheese, tomatoes, green onions, black olives and jalapeños on top of the cream cheese mixture.

Serve immediately, or chill up to 4 hours then serve with tortilla chips or sweet peppers.
Nutrition Information
Serving:
0.5
cup
,
Calories:
199
kcal
(10%)
,
Carbohydrates:
6
g
(2%)
,
Protein:
10
g
(20%)
,
Fat:
16
g
(25%)
,
Saturated Fat:
8
g
(50%)
,
Cholesterol:
52
mg
(17%)
,
Sodium:
464
mg
(20%)
,
Potassium:
185
mg
(5%)
,
Fiber:
2
g
(8%)
,
Sugar:
2
g
(2%)
,
Vitamin A:
546
IU
(11%)
,
Vitamin C:
2
mg
(2%)
,
Calcium:
85
mg
(9%)
,
Iron:
1
mg
(6%)