Skip the stirring at the stove with this hands-off, easy Crock Pot Caramelized Onion recipe. With just 5 minutes, a bag of onions, and a slow cooker, you can have the sweetest, beautiful golden onions so EASILY! Just go about your day while a low and slow cook creates the most tender, jam-like caramelized onions. They are fantastic as a topping or condiment to literally anything! Even kids will LOVE helping themselves to the candy-like sweetness.
Crock Pot Caramelized Onions – The EASY Way!
Caramelized onions have a flavor and richness that are incomparable. They're like candy and completely transform that typical onion sharpness into something so sweet that they feel luxurious in any recipe. But the process of slowly cooking the internal sugars of onions can be time consuming.
But not in this recipe! Crock Pot caramelized onions deliver all that sweetened, gooey onion goodness without ANY extra effort on your part. They're completely hands off, super freezer friendly, and can me made in a HUGE batch so you can add them to anything and everything you like. Your family will be impressed with mom's new gourmet flavors, and I promise they're simple enough that you'll be happy to make them again and again.
Why I LOVE this recipe!
So EASY! – There's nothing at all complicated about this recipe. It doesn't even matter how you chop the onions! Just get them in the pot with oil and seasonings and you're done.
5 Minute Prep – The slow cooker does all the work and it takes just minutes to get everything in the pot.
Large Batch – You'll end up with enough caramelized onions for several meals easily.
Extremely Versatile – They go with almost anything. Use them as toppings for meats or veggies, or to add richness to classics like pastas and pizza.
Delicious! – This is the best reason to make them! Onions take on such a richly sweet, deep flavor when caramelized.
Freezer Friendly – Make them once and enjoy them for months, that's a busy family win in my book!
What to Serve with Crock Pot Caramelized Onions
Since this recipe features the classic flavors of caramelized onions, it will pair well with many of your favorite proteins and veggie side dishes. You can use them as a topping, or add them to a recipe to make it extra special. There are both classic options and some healthy options to keep it light.
Caramelized Onions Pair well with
Use caramelized onions to make
Gourmet grilled cheese – Make that childhood classic amazing without any extra effort.
Extra Creamy Mashed Potatoes – Stir them into mashed potatoes for an over the top delicious sweet and savory combo!
Creamy onion dip– Just blend them with sour cream for the ultimate homemade onion dip!
BBQ Chicken Pizza – This is a match made in heaven!
French Onion Chicken or French Onion Meatballs – Using pre-cooked caramelized onions makes these recipes even faster.
You can choose one or add a few sides to make a wholesome, well rounded dinner.
Recipe Notes
This Crock Pot caramelized onion recipe is as simple as promised! Just 5 minutes of prep for a family friendly topping on any meal.
In this section I am going to go through a few tips and tricks I use when making this recipe to get the absolute best and most delicious results.
Make sure to scroll to the bottom for the FULL recipe card.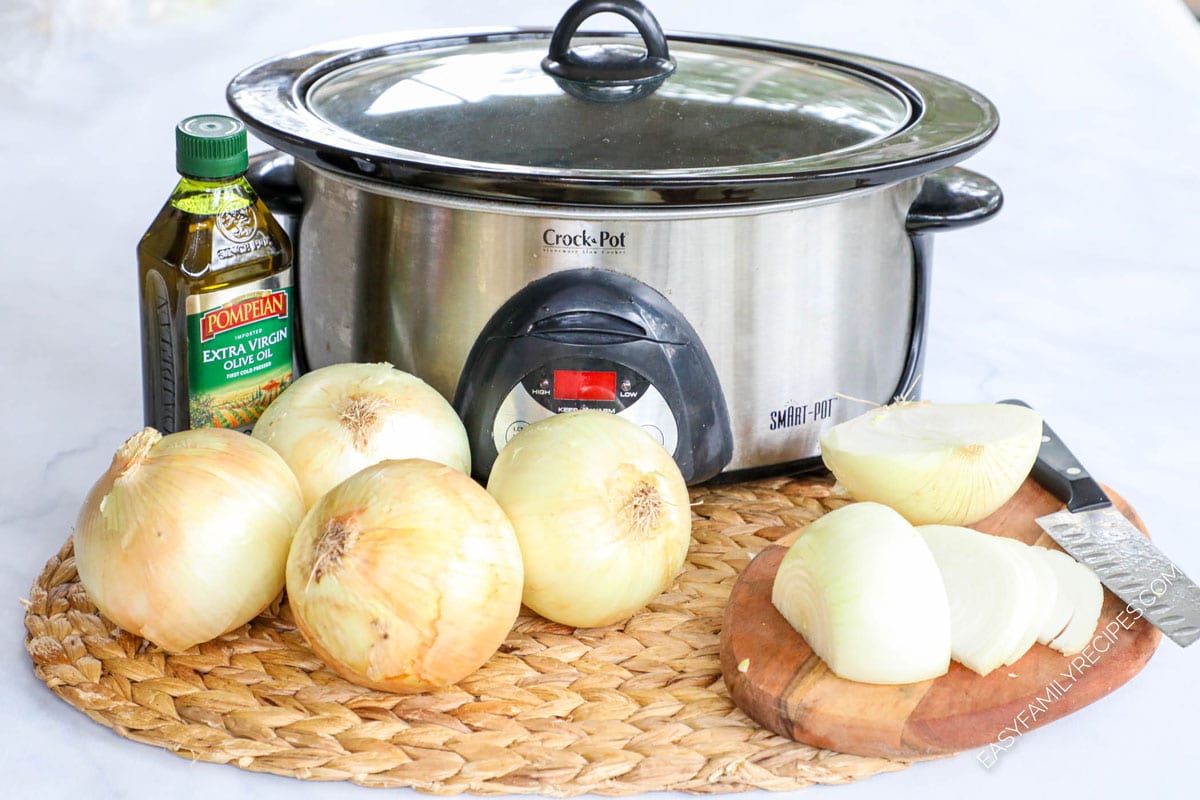 Ingredients + Substitutions
Onions – I like to buy the 3 pound bags to make this recipe super easy. Look for sweet varieties if possible.
Salt and Pepper

– I add both at the beginning so the onions are ready to scoop and serve when they're done. But you can add the seasoning at the end and adjust it to your tastes if you prefer.

Oil – I used olive oil, but really any neutral flavored oils like canola, vegetable, or grapeseed will work.
Recipe Tips
Use 1/2″ slices – It's been my experience that slicing the onions makes them so much easier to serve and eat, but it is completely optional. There is no wrong way to cut them.
Make More not Less – Since onions come in 3 pound bags, that's what I use, but you can absolutely do more! Feel free to load that slow cooker up with 5 pounds and make a bigger batch. Be careful about reducing it though. If you use too little, the onions can burn instead of caramelize.
Don't add liquid – I know it might seem odd to only add a splash of oil, but the onions contain all the liquid they need to caramelize. Adding more will make it watery, so resist!
Use the Low Setting – It's so tempting to crank it up to high, I get it! Trying to speed things up can leave you with scorched onions and we definitely don't want that. All that rich, sweet flavor really develops from a long process. Be patient and let your Crock Pot do it's thing.
Cook them overnight – If you don't want to wait around, or have other plans for your slow cooker the next day, feel free to cook these overnight. They can go for 12 hours and be ready for you to portion and store in the morning.
Crack the lid – Occasionally there is more residual liquid than we want in the bottom. For gooier, jam-like onions crack the lid for the last 1-2 hours to let some of that moisture evaporate.
What kind of onions do you use for caramelized onions?
Here's the deal, ANY onions sitting in your kitchen will work. Crock Pot caramelized onions can be made with any variety and have yummy results. So go for it!
But for the BEST and most perfect caramelized onions I recommend starting with a variety that's naturally higher in sugar. Yellow or sweet onions are my favorite. Look for names like Spanish, Vidalia, or Walla Walla onions.
When we want something fun and different (and totally beautiful!) we use red onions. They turn a stunning purple color and have a truly fantastic flavor. If you're feeling adventurous, you can even mix and match for a blended batch!
How long does it take to caramelize onions in the slow cooker?
You really want to give onions at least 8 hours to caramelize properly in a slow cooker. That low and slow cooking process is all about building flavor. If you can, let them go longer! Cook them for up to 12 hours for the richest flavor possible.
How do you know when onions are caramelized? What should it look like?
If you peek in at the onions it might seem like nothing is happening for the longest time, but when they reach that caramelized point you'll know! The color will become golden brown, like a luscious caramel, and the texture is jammy and soft. If you taste one they should be rich, sweet, and incredibly tender.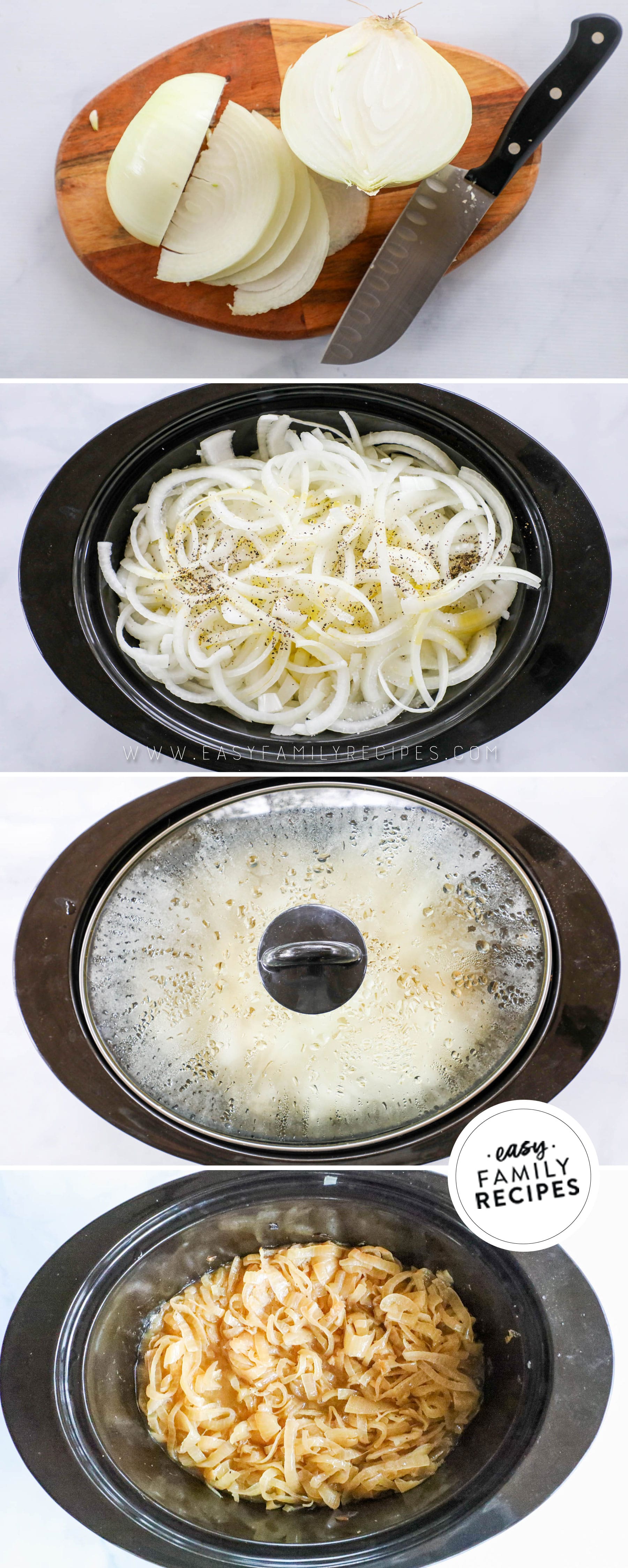 Recipe Short Cuts
If you need to make this recipe, but are extra short on time, here are a few ideas that can help make this recipe even faster!
Skip Slicing– I like the slices for easy serving, but if you're in a rush to get them cooking, don't bother chopping at all. They can be cooked at any size, whether that is 1/2″ slices, big chunks, a large dice, or even just popped into the Crock Pot whole. Remove the papery skins first though!
Cook them Overnight– There's nothing better than some of your kitchen prep work getting done while you sleep! Start them before bed and wake up to perfect caramelized onions.
Prep More than you need– If you have a slow cooker large enough to handle 5 or more pounds of onions, then do it. They freeze really well so you only need to make them once every few months.
Recipe Variations
If you love this recipe as much as we do and want some quick ways to change it up for variety, these little tips will do the trick!
Balsamic Caramelized onions– Add 1-2 tablespoons of Balsamic vinegar into the Crock Pot with the oil and cook as directed.
Red Caramelized Onions– Simply use a red onion variety rather than a sweet kind.
Sweet Caramelized Onions– Sprinkle 1-2 tablespoons of brown sugar over the onions before cooking. This is a great trick for when you're using an onion variety that is not sweet.
Caramelized Onions and Mushrooms– Add 1 pound of sliced mushrooms in with the onions and cook the recipe as directed.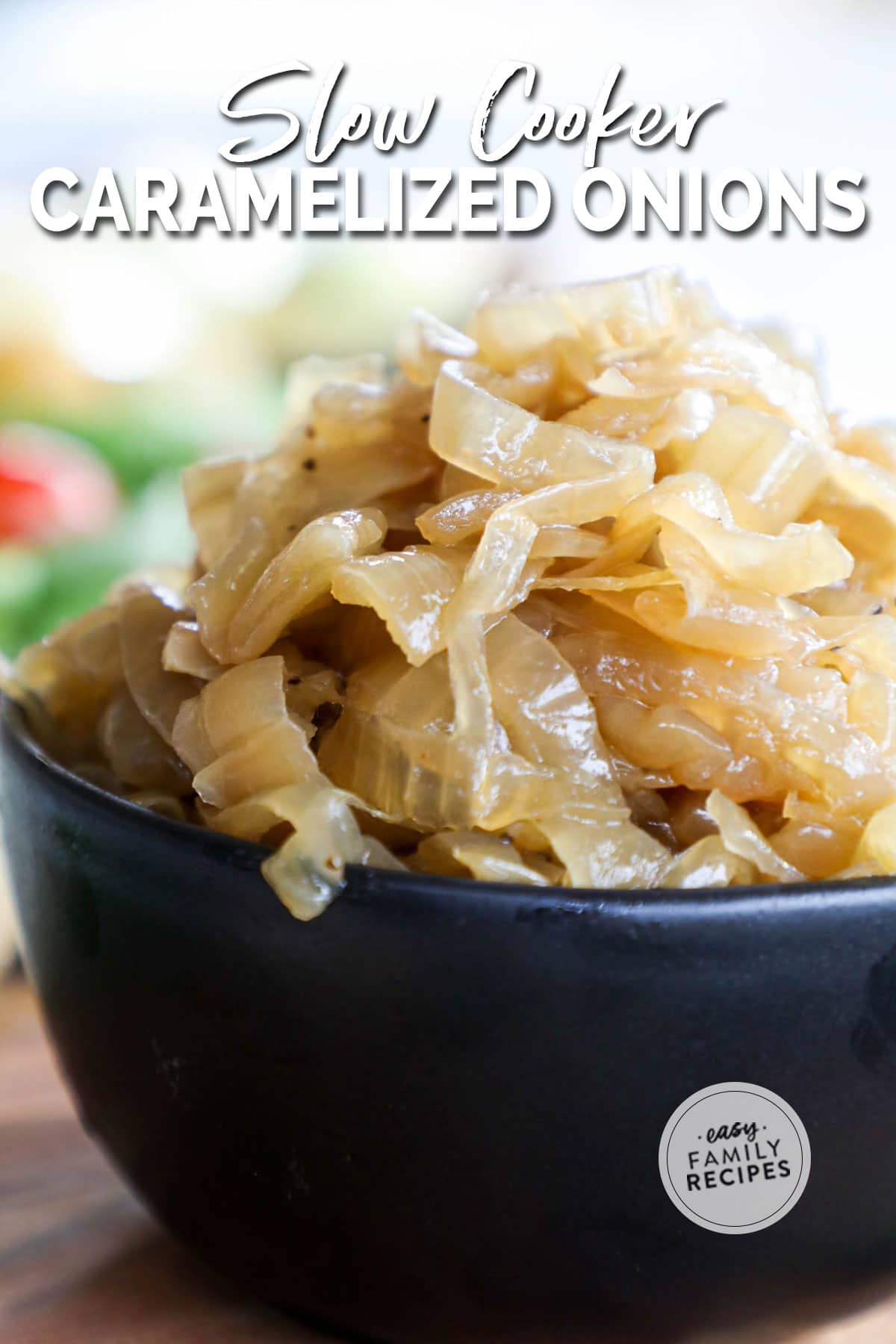 Freezer Instructions
Making this caramelized onion recipe into a freezer meal is simple! Follow the steps below and you can store this recipe in the freezer for up to 6 months.
Make the recipe as directed.
Let the onions cool completely.
Decide on portion sizes.
Place portions into freezer safe bags or containers.
Freeze.
When ready to use, thaw in the fridge for 24-48 hours.
Slow Cooker Caramelized Onions Leftovers
If you have leftovers after making easy caramelized onions, then it is your lucky day! They save and reheat well, and can make the start of another delicious dish.
To save leftovers, separate into meal sized portions and then place in an airtight container and store:
in the refrigerator for 3-4 days
in the freezer up to a month
More Crock Pot Recipes
If you enjoyed this recipe, I really hope you will take a moment to grab a few more easy recipes for another busy night!
You can check out all of my Crock Pot recipes here, or see a few of our readers favorite recipes below.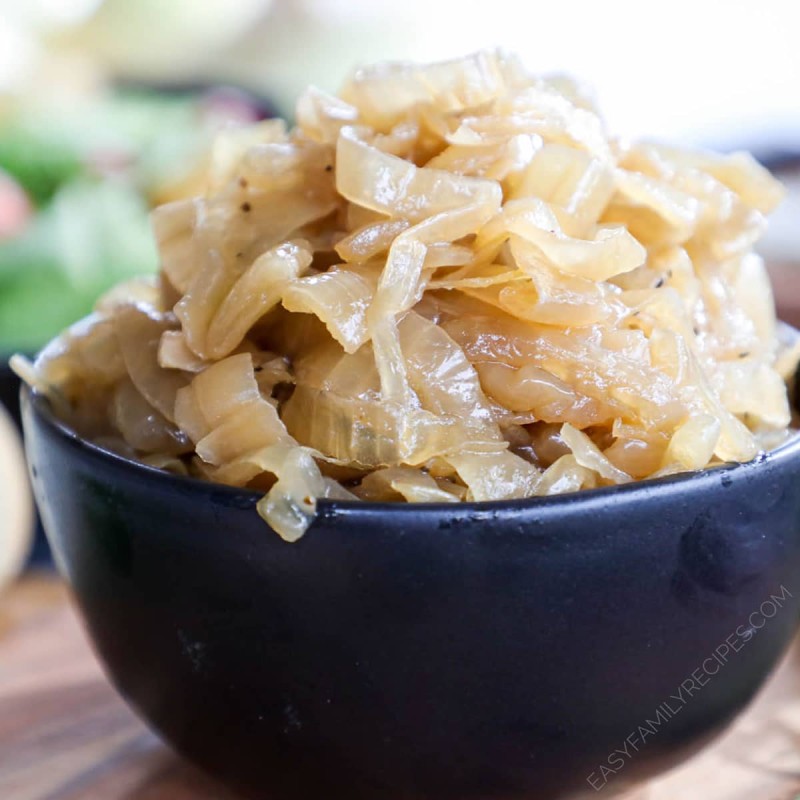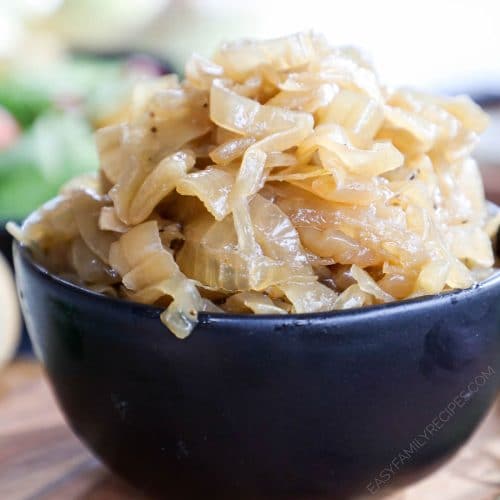 Crock Pot Caramelized Onions
Crock Pot caramelized onions take just 5 minutes, a splash of oil, salt, and pepper to get cooking and transform into a versatile, delicious large batch of golden brown, sweet onions that can easily be frozen for long term use.
Ingredients
3

lbs

onions

,

I prefer yellow, sweet, or vidalia

2

tablespoons

olive oil

1/2

teaspoon

salt

1/2

teaspoon

pepper
Instructions
Prepare the onion by removing the ends, peeling the outer dried layers and then slicing the onion into roughly 1/2" slices.

Place onions in the slow cooker and toss them with the oil, salt, and pepper to coat.

Cook on low for 8-12 hours or until the onions are a deep caramel color.

Note: If the onions have more liquid than you prefer, you can set the lid slightly ajar for the last 1-2 hours of cooking time to help them thicken up and become more jammy.

Stir the onions and serve immediately, or save in the fridge for up to a week, or freezer for up to 3 months.
Recipe Notes
What onions should I use for caramelized onions?
Any traditional  style onion will work! My favorites are:
Yellow onions
Sweet onions
Vidalia onions
Red onions
The first three are naturally sweeter so they produce that very signature sweet caramelized onion flavor well. Red onions turn to a beautiful purple color when caramelized and also have great flavor.
You can use one of these, or do a mixture of several.
Nutrition Information
Calories:
66
kcal
(3%)
,
Carbohydrates:
11
g
(4%)
,
Protein:
1
g
(2%)
,
Fat:
2
g
(3%)
,
Saturated Fat:
1
g
(6%)
,
Polyunsaturated Fat:
1
g
,
Monounsaturated Fat:
2
g
,
Sodium:
101
mg
(4%)
,
Potassium:
167
mg
(5%)
,
Fiber:
2
g
(8%)
,
Sugar:
5
g
(6%)
,
Vitamin A:
3
IU
,
Vitamin C:
8
mg
(10%)
,
Calcium:
27
mg
(3%)
,
Iron:
1
mg
(6%)