This Garlic Steak Skillet is tastes almost too delicious to be so EASY! You can whip this hearty dinner up with only a few ingredients in just minutes on your stovetop to feed a hungry family. The steak is perfectly tender and packed with delicious flavor! The Garlic Steak can be served with your favorite sides, or makes a great option for meal prep. Not only is this recipe easy and delicious, but the Garlic Steak Skillet is also a great gluten free, dairy free, and low carb meal option!
Garlic Steak Recipe
I have to admit I am not much of a beef eater, but when I think of eating beef, the thing that really makes my mouth water is a good cut of steak with a caramelized sear to it and loads of garlicky flavor.
If you are doing beef, you need to do it right! While beef can be cooked to perfection on a grill, it can be done equally well in a skillet. This recipe is so simple and takes advantage of all of those things to bring the most flavor into a simple-to-make every day kind of dish.
There are three main parts to the recipe, first cooking the garlic low and slow to give it that mellow creamy flavor and infuse the oil we will use to cook the steak with flavor. Second, cooking the steak super high and super fast. And third, mixing the garlic in at just the right time to maximize the flavor without burning it.
This Garlic Steak Skillet does it all, and does it in just one pan!
How to Serve Garlic Steak
You can serve this Garlic Steak Skillet dinner in a variety of ways. It is a super flexible meal that allows you to make the dish and even let everyone customize how they eat it without much extra work. It also makes a really great recipe for meal prep since it can be paired with many different sides and kept throughout the week to quickly heat and eat.
These are some of my favorite options that we like to serve with Garlic Steak.
Traditional Garlic Steak Sides
Potatoes- Almost any potato will go well with this dish. Try any of my favorites:
Rice- Try a wild rice (I like Uncle Ben's) or a rice pilaf
Garlic Bread- Nothing says delicious steakhouse-worthy dinner more than a big slice of garlic bread
Broccoli Salad– This is a favorite of ours and pairs really well with this meal. I also love to put the leftover steak on top of the leftover broccoli salad for a really awesome lunch the next day!
Corn Casserole– This is one of the most requested sides at our house!
Low Carb Steak Side Dishes
You can keep this meal as simple as you want, just pairing it with one side, or make it a big meal by adding a few sides. If you have another side idea you like to serve steak with, let us know in the comments!
How to Make Garlic Steak Skillet
This dish is super simple to make, but I will walk through the recipe here and offer my tips as we go. Hopefully this will answer any questions that might arise as you make the recipe. Scroll to the bottom of this post to find the FULL RECIPE card!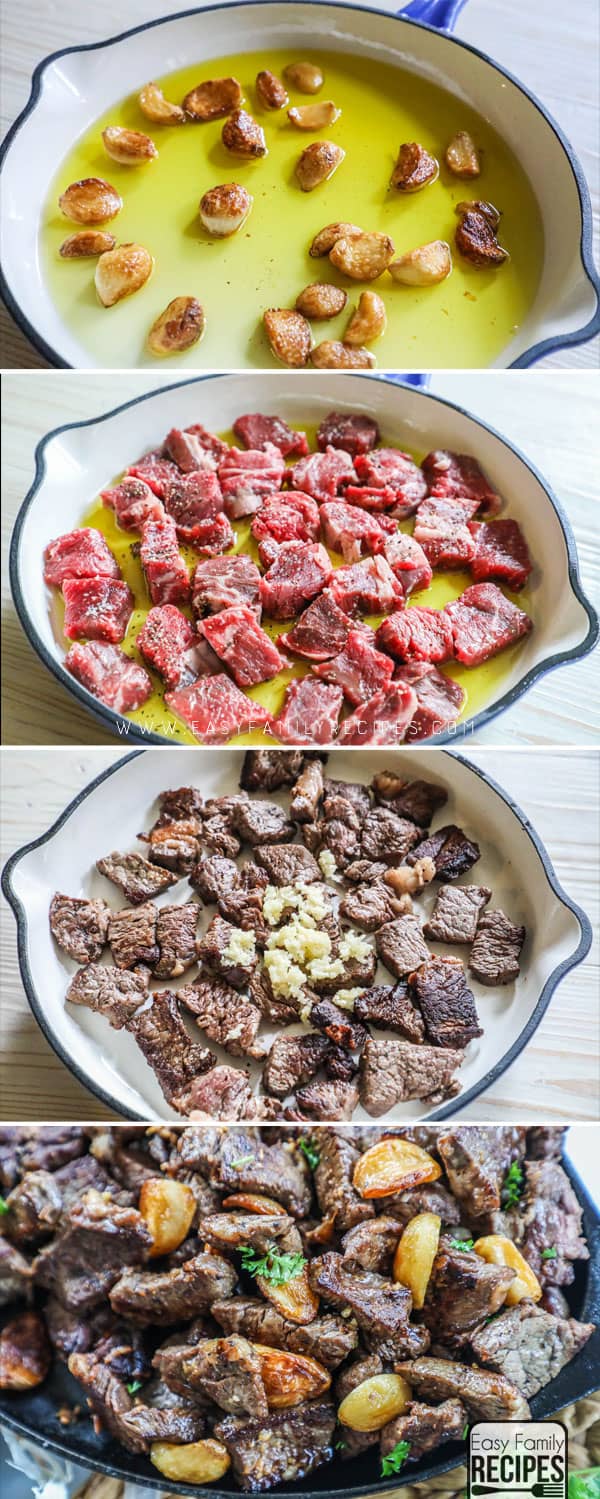 To start this the Garlic Steak Skillet, we will need A LOT of garlic. Don't be alarmed at the amount. Garlic is potent, but when the garlic is cooked the flavor becomes mellow and the texture almost creamy for a really addictive combination, so you will want enough to go around in your skillet.
The first thing we do is slow cook most of the garlic. I suggest about 15 cloves here and you can use more or less. Since it is so much, I like to buy the garlic cloves pre-peeled in the refrigerator part of the produce section. You absolutely don't have to do this, but it is a great time saver and usually easy to find and inexpensive.
Place about 1/4 cup of oil in your skillet with the garlic and turn it to the lowest heat setting. You will want the bottom of the skillet to be covered so if it isn't, you can either move to a smaller skillet or add more oil. The garlic will cook about 20 minutes, and you can mostly ignore, it, but do make sure to turn the cloves (I use tongs) about every 5 minutes so they cook evenly.
You will know the garlic is done cooking because it will be soft all the way through and golden brown on the outside. Once it is done, remove the garlic cloves and set aside, and drain and reserve the oil. This oil is now infused with delicious roasted garlic flavor so we will use this to cook the steak and add tons of great flavor.
While the garlic is slow cooking you can prepare the steak. To do this trim any excess fat from the steak, and cut the steak into 1 inch cubes. Season the steak with salt and pepper evenly.
How Long To Cook Garlic Steak
Once the garlic is done, measure 1 tbsp of the oil from the garlic and add it back into the pan. Turn the burner to high heat. The key to getting the steak cooked well with the most flavor is using high heat in a single layer, so that we sear the outside and create that great caramelized crust on the steak. If the steak doesn't fit in the skillet in a single layer, do two rounds of cooking, but mine had no problem fitting in a large skillet.
Let the oil heat for a couple of minutes, then add the steak to the skillet and stir it once to make sure the oil is distributed, then let it cook without stirring for 2 minutes. This will form the delicious crust.
After 2 minutes, use tongs to flip each piece over, cook for 1 minutes, then stir in the pressed garlic (use fresh for the best flavor) and stir while cooking 1 final minute.
This should be all you need to get your steak pretty much perfect! If you prefer it more well done, you can cook longer before you add the garlic. If you prefer less done, I recommend cutting the steak in bigger pieces, since you need to cook a minimum of these times to get the crust on the steak and flavor from the garlic.
To Serve the Steak
Remove the steak from the heat and toss the garlic cloves and chopped parsley back in with the steak and stir to combine. Serve hot with your favorite sides!
What to do with Leftover Garlic Steak
To save the garlic steak, place in a zip top bag or air tight container and place in the
Refrigerator for 3-4 days.
Freezer for up to a month.
Leftover Garlic Steak Meal Ideas
If you have any of these delicious Garlic Steak Bites leftover, you are in luck because they make some pretty delicious leftover meals.
Garlic Steak Wraps- Use tortillas, lavash bread, or butter lettuce to create wraps with your favorite veggies and a drizzle of balsamic dressing.
Garlic Steak Quinoa Bowls- Mix your favorite chopped veggies such as peppers, cucumber, tomato, carrots, etc with quinoa and a healthy pour of balsamic dressing then top with the garlic steak.
Garlic Steak Stuffed Pitas- Place a layer of hummus, tzatziki, greens and steak inside a toasted pita pocket. Serve with cucumber tomato salad.
Garlic Steak Stir fry- In a large pan, stir fry peppers, onions, snap peas, and carrots. Once they are tender, stir in garlic steak bites and teriyaki sauce and stir until the steak is heated through. Serve over rice, cauliflower rice, or cabbage with a drizzle of asian mayo.
Garlic Steak Salad- Pile romaine and spinach in a bowl, top with cucumber, tomato, shredded carrots, and blue cheese. Drizzle with Balsamic vinaigrette and garnish with croutons.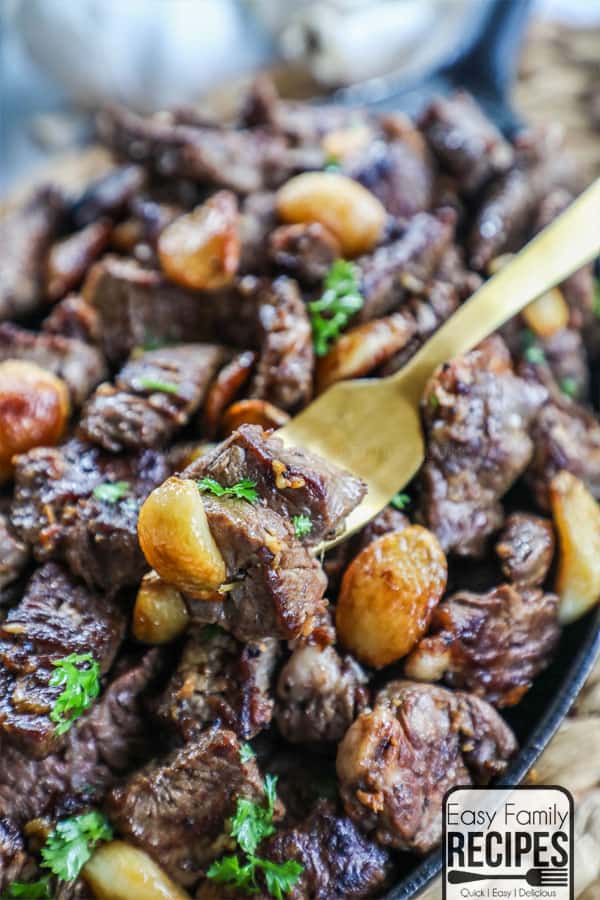 Do you have other easy dinner ideas?
If you enjoyed this recipe, I have many more to ease the dinner burden for another night. Make sure and sign up for my e-mail here to get them regularly in your inbox.
Also, I would love for you to take a moment to leave a comment or review! Not only do I love hearing your experience with the recipe, but your positive comments and reviews help my website to grow!
Easy One Skillet Dinner Ideas: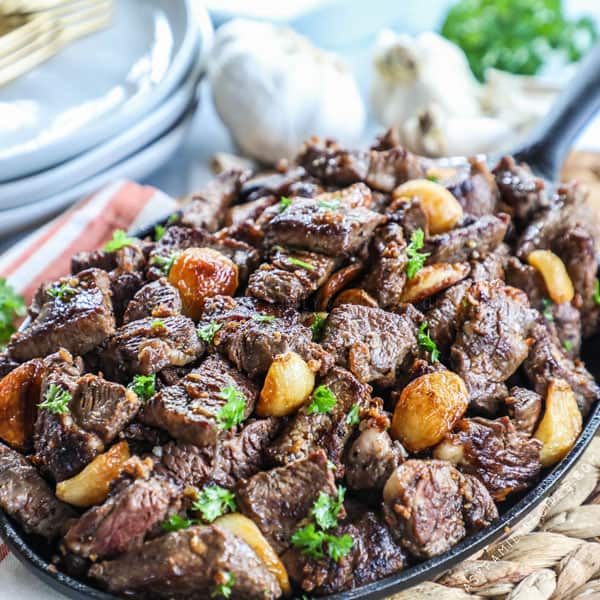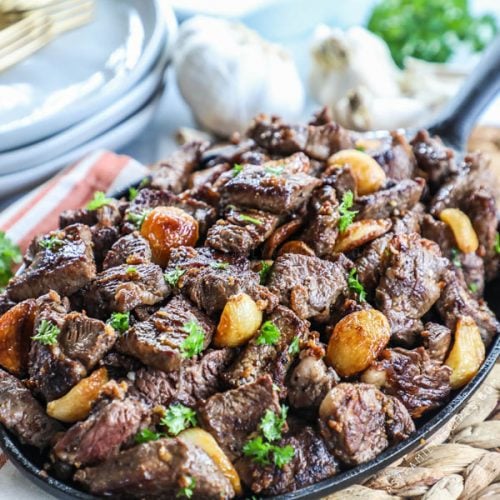 Garlic Steak Skillet
This Garlic Steak Skillet is a quick and hearty recipe for a filling meal. Serve these in a variety of ways from over greens or mashed potatoes, to in a wrap or topping a salad. They are also perfect for meal prep!
Ingredients
24

oz

ribeye steak

,

(about 2 large steaks)

1/4

cup

extra virgin olive oil

20

cloves

garlic

,

divided, 15 cloves and 5 cloves

1/2

tsp

salt

1/2

tsp

pepper

2

tbsp

parsley

,

chopped
Instructions
Pour the olive oil in a medium skillet and add about 15 garlic cloves. Cook over low heat for about 20 minutes, stirring about every 5 minutes.

While the garlic cooks, cut the steak into 1 inch pieces, trimming any excess fat. Season evenly with salt and pepper. Press the remaining 5 cloves of garlic and set aside.

When the garlic is soft and golden brown remove it from the pan and drain and reserve the oil.

Add one tablespoon of the oil back into the pan over high heat. Once the oil is hot, place the steak in the pan in a single layer (if the pan isn't big enough for all of it in a single layer, do a second batch) and let cook for 2 minutes. Flip the steak over and let cook an additional minute, then stir in the garlic and cook while continuously stirring for 1 more minute.

Remove the steak from the pan and toss with the pan and toss with the parsley. Serve immediately.
Recipe Notes
Other cuts of steak can also be used such as sirloin, tenderloin, or strip steak.
Leftovers can be stored in an airtight container for 3-4 days in the refrigerator or in the freezer for up to a month.
If short on time, recipe can be made with out sautéed whole garlic cloves.
Dietary Considerations:
This recipe is naturally gluten free, low carb, and friendly for low carb and keto diets.  Please check all packages of products bought to ensure compliance.
Nutrition facts provided based on my best estimation for the recipe and may not be accurate depending on what brands you use or modifications you make to the recipe.  I recommend using a nutrition calculator with the exact brands and measurements you use for the most accurate calculation.
©2018 Easy Family Recipes- Recipe found at: https://www.easyfamilyrecipes.com/garlic-steak-skillet/
For more great easy dinner inspiration,

sign up for our emails here!
Nutrition Information
Serving:
6
oz
,
Calories:
408
kcal
(20%)
,
Carbohydrates:
5
g
(2%)
,
Protein:
35
g
(70%)
,
Fat:
27
g
(42%)
,
Saturated Fat:
11
g
(69%)
,
Cholesterol:
103
mg
(34%)
,
Sodium:
382
mg
(17%)
,
Potassium:
526
mg
(15%)
,
Fiber:
0
g
,
Sugar:
0
g
,
Vitamin A:
185
IU
(4%)
,
Vitamin C:
7.2
mg
(9%)
,
Calcium:
42
mg
(4%)
,
Iron:
3.3
mg
(18%)