This Caprese Chicken Sheet Pan Dinner is THE BEST way to get a delicious dinner on the table FAST! Tender chicken breast and perfectly seasoned vegetables are baked together using just one pan for a fast and healthy meal packed with flavor!
Chicken and Veggies – The EASY Way!
I make LOTS of easy dinners here on Easy Family Recipes. Recipes that take minutes to prep, that cook quickly, recipes that have minimal clean up, but sheet pan recipes take the cake!
Sheet Pan Caprese Chicken and Veggies hits all the things that make a meal meal super simple, but still manages to pack in lots of flavor too.
Made in just ONE PAN
As little as 10 minutes of prep
Veggies and protein cook together for a WHOLE meal
Clean up is super easy!
It is one thing for a meal to be easy, but even more important for the meal to be DELICIOUS and HEALTHY.
This one checks all the boxes my friends with ease and tons of flavor!
It's a simple equation:
EASY + HEALTHY + DELICIOUS = Dinner Winner.
Recipe Tips
As simple as this recipe is, there are a couple of things I want to point out to help you get the very best end result.
Make sure that you scroll all the way to the bottom of this post for the FULL recipe card.
I will cover the most frequent questions I get in this section but if you have questions I didn't cover, make sure to leave me a note in the comments section below.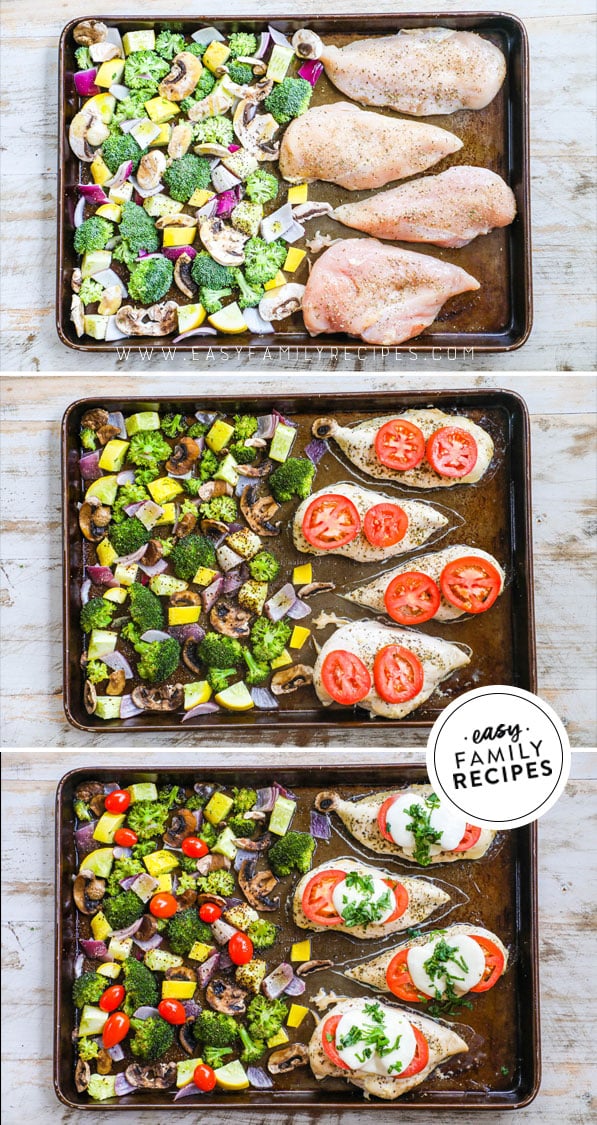 Ingredients
The main things you need for this recipe are:
Chicken Breast
Caprese Toppings- Tomato, Mozzarella & Basil
Veggies
Oil + Seasonings
The ingredients are minimal, but each one plays an important role in your finished dish.
Chicken Breast
I like to use thinly sliced chicken breast. The key here is that chicken needs to be able to cook on the sheet pan quickly enough to cook at the same pace as the vegetables.
If you use a regular to thick sized chicken breast the chances are that it will take too long to cook through to done, and the veggies will be mushy by the time it is done.
You can buy thinly sliced chicken breast prepackaged at the store, or you can just take regular chicken breast and cut it in half horizontally so that each side is half the thickness of the original. They can also be pounded thin with a meat pounder.
Substitutions- You can use any boneless, skinless cut of chicken in place of chicken breast. Chicken thighs and chicken tenderloins both make good options based on preference.
Caprese Toppings
We season the chicken and then use the traditional caprese toppings for our chicken including sliced tomato, buffalo style mozzarella, and fresh basil.
I generally use roma tomatoes in this recipe because they are sweet and the perfect size to place on top of the chicken breast.
Buffalo Mozzarella is the round ball style mozzarella cheese, in case you aren't familiar with it. If you don't see it in the cheese section of the grocery store, you can usually find it in the deli section in the gourmet cheese case. I like this style first because it is traditional, but second because of its mild flavor and creamy texture.
The toppings are placed on just at the end of the cook time. This allows the tomato to keep some of its firmness and the mozzarella cheese to melt without burning or getting tough.
I also like to finish the dish with balsamic glaze. You can find this near the balsamic vinegar in most grocery stores, or make homemade balsamic glaze here. It really makes this dinner EXTRA delicious, so I highly recommend it!
Substitutions: The two most common things that needed to be substituted are the buffalo style mozzarella and fresh basil. If you find yourself in a pinch with no buffalo mozzarella, you can substitute block mozzarella, or shredded mozzarella, although it will change the taste a bit.
Also, basil can sometimes be tricky to get if it is not in season. Another trick I like to use when I can't get fresh, is using pesto instead of fresh basil. It has a similar flavor and is super delicious. I like to add it right before the tomato, instead of when the basil is directed to be added in the end per the recipe.
Veggies
Our recipe uses a vegetable medley to cook alongside the chicken. You can use all of the vegetables in the recipe, or just a few of them. The important thing is that you cut them to a size that will take about the same time to cook at the chicken (about 25 minutes.)
Substitutions: You will want about 3-4 cups of vegetables total. You can use a medley like directed in the recipe or adjust it to personal preference and use increased quantities of only 1-2 of the vegetables or substitute other veggies. Avoid using hard vegetables that take longer to cook like carrots or potatoes.
Oil + Seasonings
The very last component of the recipe is just the oil and seasonings. You can get by using very little oil in this recipe since it just helps the seasonings to stick and aids in cooking.
We keep it simple using garlic powder and Italian seasonings, along with basic salt and pepper. You can jazz it up with other seasonings, but these do the job well.
The amount of seasoning I use is a guide, but you can use more or less based on how heavily seasoned you like your food.
Substitutions: If you don't have Italian seasoning on hand you can use equal parts dried basil, dried oregano, and dried thyme in its place.
How long do I cook the chicken?
The key to getting this dinner as delicious as possible is making sure that everything cooks at about the same rate so that you end up with perfectly tender chicken and veggies, instead of tough chicken or mushy veggies.
With a thin chicken breast, you can expect to cook this for about 20-30 minutes total to reach 160˚F internal temp, which is the recommended temperature to cook chicken breast.
If the chicken breast is thicker, it may need longer to cook to done.
What to serve with Chicken Caprese
This sheet pan meal serves as an all in one dinner, so adding additional sides really isn't necessary. However, adding additional side dishes to the meal is a great way to stretch it to help the meal go farther and feed more, or provide leftovers for another day.
Here are a few of our favorite pairings for Caprese Chicken:
Salad- Adding a salad course is perfect because it isn't too filling and adds some extra nutritional punch. Try one of these:

Side salad with Balsamic dressing

Pesto Cheese Bread– One of our favorites with this dinner, or if you don't have pesto, use this garlic cheese bread recipe
Mashed Potatoes– these are extra creamy and delicious!
Pasta – toss it with pesto, or just olive oil, garlic and parmesan cheese
Dietary Considerations
If you have special dietary needs, this recipe is friendly for many as written and can be modified to meet many others easily.
Make sure that you check any store bought ingredients to verify their compliance for your need, as each brand uses different processes and ingredients.
Gluten Free– This recipe is naturally gluten free. It does contain mushrooms which are sometimes grown on wheat products, so I recommend to leave them out if you are sensitive to that level.
Dairy Free– This recipe can be modified to be dairy free by leaving off the mozzarella cheese. This does change the flavor of the dish a fair bit, but I find it is still delicious in this way.
Nut Free– This dish is naturally nut free. Make sure you do not use the pesto substitution suggested above as pesto often contains nuts.
Low Carb/ Keto Friendly– This recipe is naturally low carb at approx 6g net carbs per serving.
Paleo / Whole30– This recipe can be modified to paleo or whole30 diets by omitting the cheese and balsamic glaze. You can drizzle with a little regular balsamic vinegar instead.
Macros– The macros for this dish are approx P: 56g C: 6g F: 16g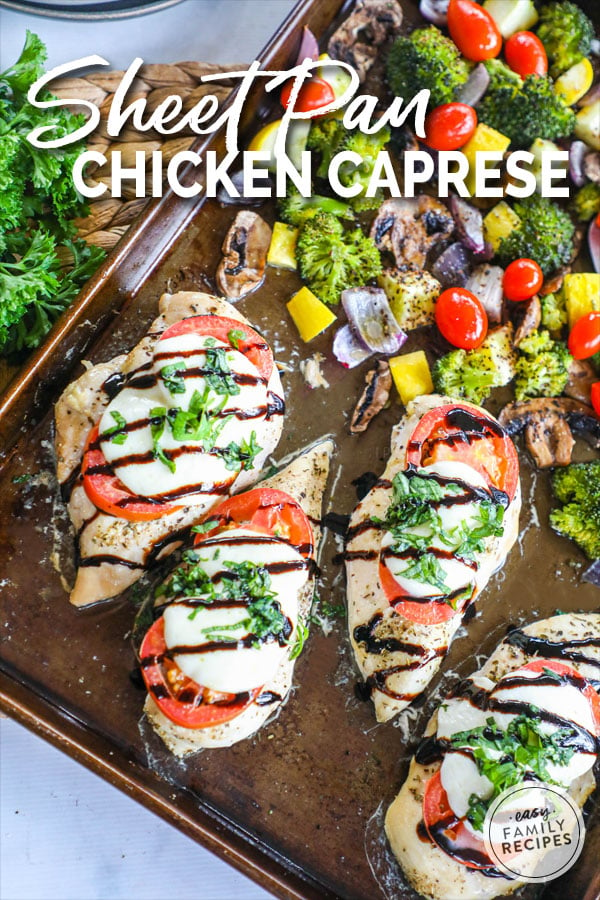 Freezer Meal Instructions
This recipe can be prepared in advance as a freezer meal. To make this ahead of time:
Season the chicken breast and place in a zip top bag or freezer friendly container.
Chop the vegetables and toss them with oil and seasoning and store them in a separate zip top bag or container. Place in the freezer together.
Once ready to cook, thaw the chicken and veggies for 24-48 hours in the fridge, or until fully thawed.
Place each on the sheet pan and bake, continuing in the recipe at step 3.
Chicken Caprese Leftovers
If you have leftovers of this recipe, they save well and also can make great meal prep for lunch or dinner another day.
To save leftovers, allow them to cool to room temperature and then package them in meal sized containers and place them in the:
Refrigerator for 3-4 days
Freezer for up to a month.
Leftover Recipes
Leftovers can also be used for a head start on making other easy dinner recipes. Try out a few of the recipes below, or make up your own!
Caprese Chicken and Roasted Veggie Salad– Chop leftover chicken and top mixed greens with the chopped chicken and roasted veggies. Add croutons (or cooked pasta) and toss with balsamic vinaigrette.
Tomato Basil Chicken Panini- Spread the outside of two sliced of french bread with butter and sprinkle with garlic salt. Layer sliced chicken caprese, tomato, basil and extra mozzarella inside each one. (optional: add pesto) Cook in a panini press, or grill on each side until golden brown. Serve veggies on the side.
Chicken and Veggie pizza– On a prepared pizza crust, spread marinara sauce evenly, then top with mozzarella. Add chopped chicken caprese, veggies, and extra basil. Bake as directed.
More EASY Chicken Recipes
If you loved this recipe as much as we do, I hope that you will take a minute to browse more of our recipes. We have many 5 star and super easy chicken recipes ready to make dinner a breeze!
You can find all of our easy chicken recipes here, or see some of our reader favorites below!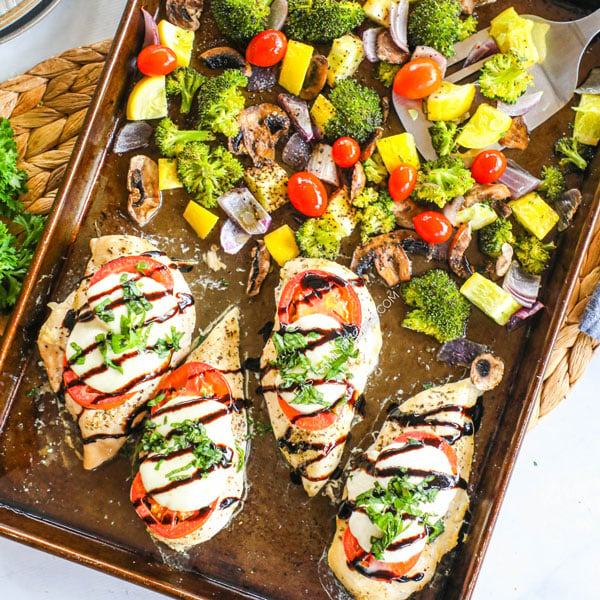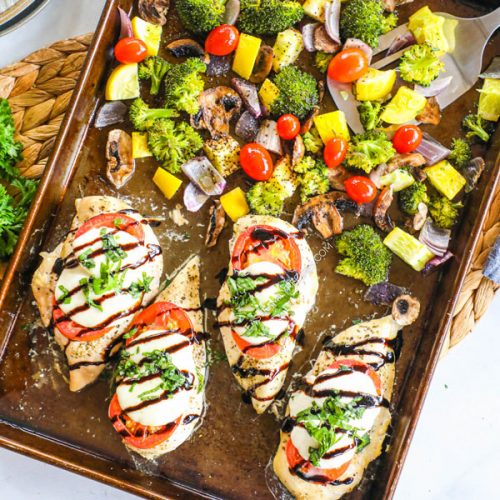 Caprese Chicken & Veggies Sheet Pan Dinner
Quick, easy, and delicious, this easy sheet pan chicken is one of the most flavorful and delicious chicken breast recipes! This all in one meal include protein and veggies cooked all at once to get a full meal on the table with minimal work.
Ingredients
For the chicken:
2

lbs

boneless skinless chicken breast

,

(about 4 thin chicken breasts)

1/2

tsp

garlic powder

1/2

tsp

salt

1/2

tsp

Italian seasoning

3

roma tomatoes

,

sliced

4

oz

buffalo mozzarella
For the vegetables:
1

cup

broccoli florets

1

cup

yellow squash

,

chopped to thick bite sized pieces

1/4

red onion

,

roughly chopped

1

cup

mushrooms

,

sliced

1/2

cup

grape tomatoes

1

tbsp

olive oil

1/4

tsp

garlic powder

1/4

tsp

salt

1/4

tsp

pepper
Garnish
1/4

cup

fresh basil

,

chopped

Balsamic Glaze
Instructions
Mix the garlic powder, salt and Italian seasonings and season each side of the chicken breasts. Lay each breast flat on one side of a large cookie sheet.

Mix the vegetables together and spread them on the other side of the cookie sheet. Then drizzle with olive oil and season with the garlic powder, salt and pepper.

Bake at 375˚F for 15 minutes.

Remove the cookie sheet and top the chicken with tomato and mozzarella and place back in the oven for 5-10 minutes or until cheese is melted and starts to brown.

Optional- broil for the last 1-3 minutes to get a nice browning on the cheese.

Once done, top with your choice of freshly chopped basil and a drizzle of balsamic glaze. Serve hot and enjoy!
Nutrition Information
Calories:
377
kcal
(19%)
,
Carbohydrates:
8
g
(3%)
,
Protein:
56
g
(112%)
,
Fat:
16
g
(25%)
,
Saturated Fat:
6
g
(38%)
,
Cholesterol:
167
mg
(56%)
,
Sodium:
828
mg
(36%)
,
Potassium:
1244
mg
(36%)
,
Fiber:
2
g
(8%)
,
Sugar:
4
g
(4%)
,
Vitamin A:
1724
IU
(34%)
,
Vitamin C:
38
mg
(46%)
,
Calcium:
670
mg
(67%)
,
Iron:
2
mg
(11%)