These French Onion Meatballs are the ultimate one pan dinner! Made with tender homemade ground beef meatballs, sweet caramelized onions, and lots of cheese, this easy recipe is a big crowd pleaser. Serve it over mashed potatoes or rice for a hearty dinner that is packed with flavor.
French Onion Meatballs – The EASY Way!
One pan dinners are always a lifesaver for busy weeknights, but they aren't always made from scratch as quickly and easily as this these French Onion Meatballs!
If you didn't grow up making meatballs from scratch, it may seem intimidating, but I can promise you that this recipe is so worth trying something new. These meatballs are so packed with flavor and exceptionally quick and easy to make.
Reminiscent of French onion soup, the flavors combine sweet and savory onion with tender beef, and of course, lots of cheese to bring it all together for a mouth-watering meal F-A-S-T!
What I love about this recipe
Homemade– Mixing the meatballs from scratch gives us so much amazing flavor in this dish
One Pan– Just one pan needed from start to finish on this easy dinner
Remix- We take classic flavors our family has always loved (French onion soup) and make it new!
Easy to serve– with the meatballs already portioned, it is super simple to serve this up without carving, cutting or making more messes!
Easy Clean up– With just one pan to wash, clean up is just as easy as prep for this dinner.
What to Serve with French Onion Meatballs
These classic beefy meatballs are a great hearty comfort food. They pair well with many classic side dishes. I find that anything that can soak up the delicious juices from the onions and meatballs makes my favorite sides for this dish.
Side Dish Ideas
Mashed Potatoes– our #1 for this recipe! I like the meatballs right on top.
Rice- If you are not a potato person, go with rice! Try white, brown, or wild rice for a good pairing.
Side salad with creamy Italian dressing– The dressing takes 5 minutes to make and is SO WORTH it!
Garlic Bread– our favorite recipe, and many agree… it IS THE BEST!
Roasted Vegetable Medley– These are the perfect healthy side dish.
You can choose one or add a few sides to make a wholesome, well rounded dinner.
Recipe Notes
This One Pan French Onion Meatball recipe is as simple as promised! Just a handful of ingredients and one pan for a family friendly meal.
In this section I am going to go through a few tips and tricks I use when making this recipe to get the absolute best and most delicious results.
Make sure to scroll to the bottom for the FULL recipe card.
Ingredients + Substitutions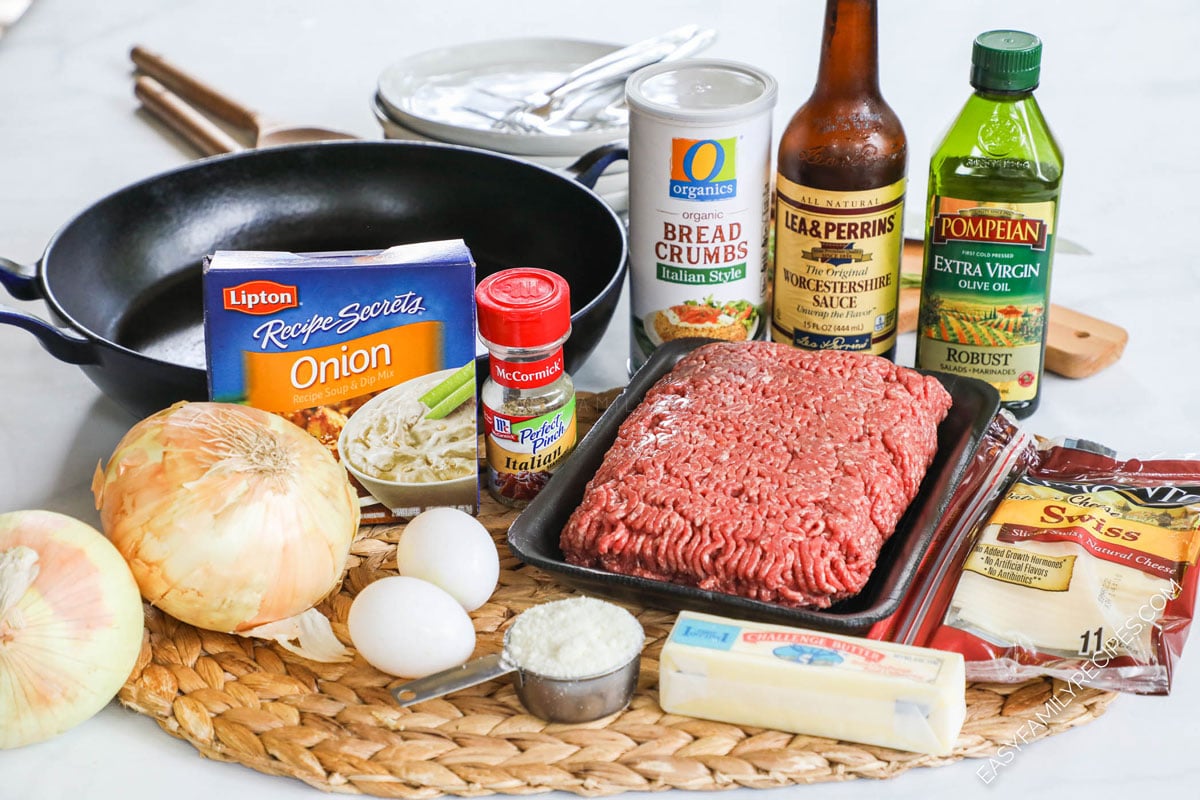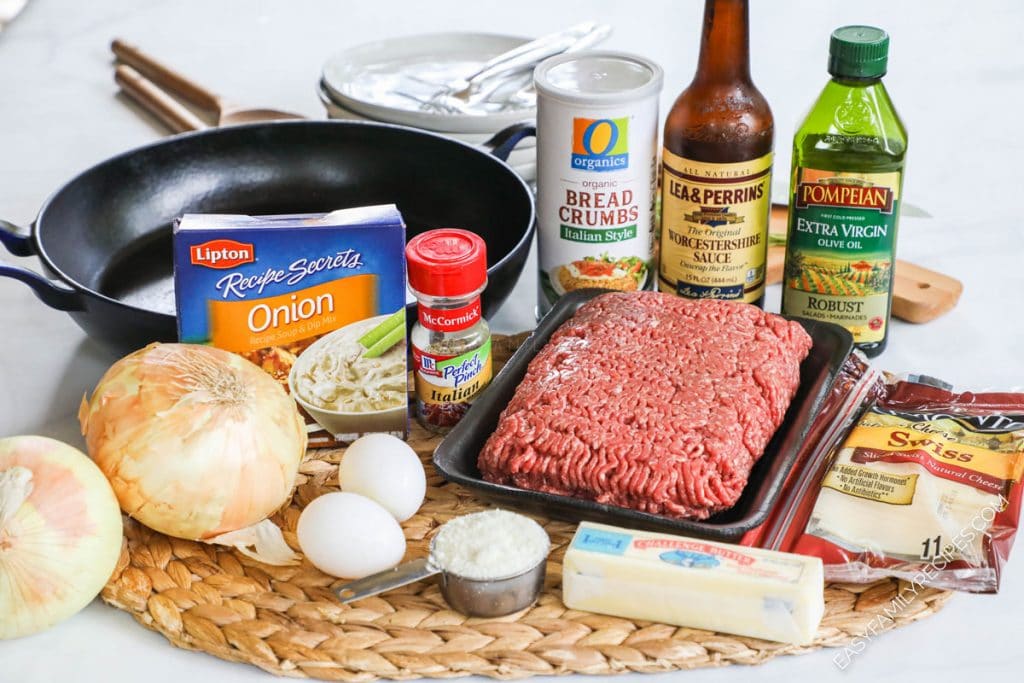 For the meatballs
Ground beef– I like to use lean ground beef. You can use whatever you have on hand, but if you use a higher fat content, then you may need to drain more grease as they cook, but they will still be every bit as delicious.

Italian seasoned bread crumbs– Italian bread crumbs are pre-seasoned, but you can use plain bread crumbs combined with Italian seasoning in place of Italian bread crumbs if needed.

Grated parmesan cheese– Make sure to use grated cheese (the more powdery consistency) rather than shredded for the flavors to best incorporate.

Italian seasoning– You can use store bought seasoning or make a homemade Italian seasoning blend with this simple recipe.

Onion soup mix– This is another ingredient that you can easily buy premade at the store. I have used both Lipton Onion Soup mix and store brand mix, both with great results. If you prefer to make it from scratch, here is my homemade onion soup mix recipe.

Worcestershire sauce– Just a dash to get that great French onion soup flavor.

Eggs

Milk
For the dish
Olive oil

Yellow onions– I usually use yellow onion because they get so perfectly sweet as they cook, but other onions can work well too, like white onions, red onion, sweet onion, vidalia onion etc.

Butter

Beef broth– Beef broth is my favorite to use in this recipe, because it is what is traditionally used to make French onion soup it really adds to the depth of flavor. You can use a few other things with good results if you don't have beef broth on hand, such as chicken broth, vegetable broth, or even water as a last resort.

Swiss cheese– Again, to keep with the traditional flavors of the dish, I use swiss cheese. My kids prefer other cheeses though, so I have used provolone, and mozzarella with really great (less sharp) results. You can also choose an Italian cheese blend to give you a mix of flavor.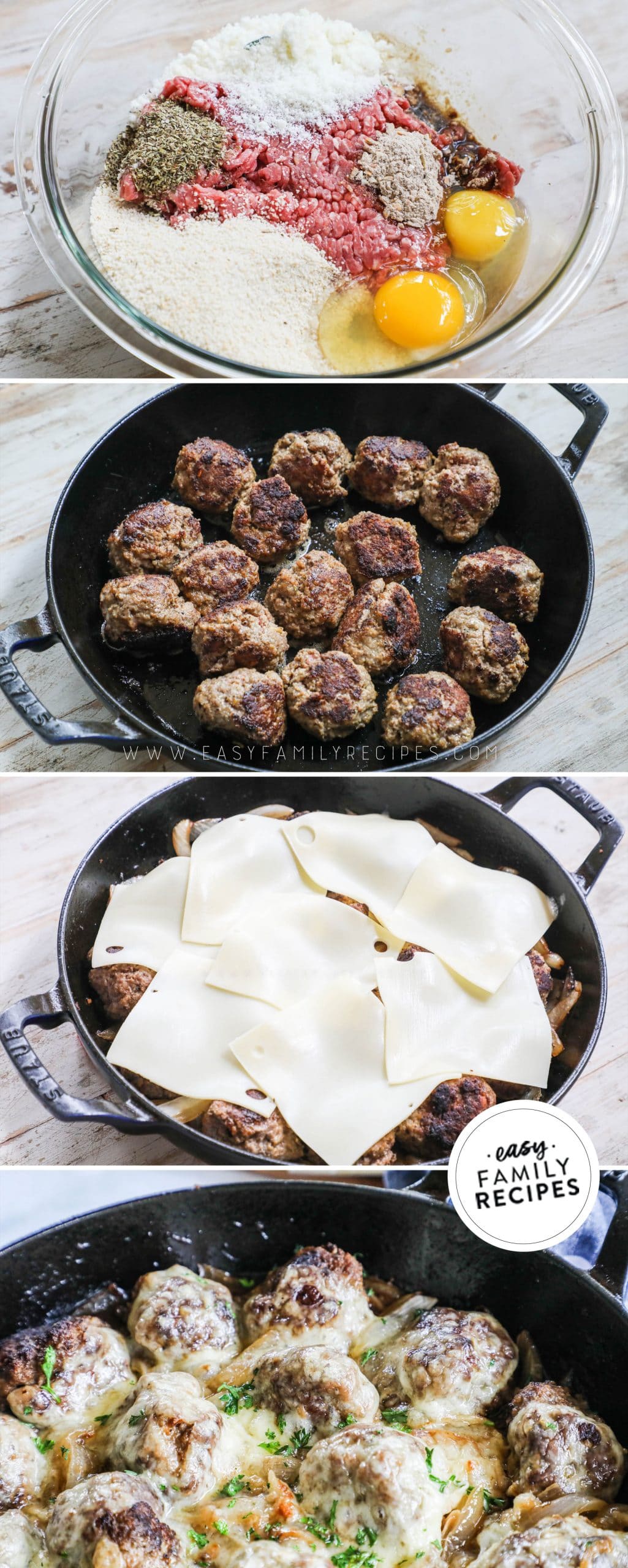 Recipe Tips
Prep your ingredients– This recipe moves really quickly, so it is a big help if you have everything prepped, measured, and cut before you start! This helps avoid anything over cooking or causing a delay at any point in the recipe. Nothing should take long, but having the onions diced, the spices measured, and the liquid ready to go, makes the recipe run smoothly.

Use a large skillet– It is important to use a large skillet to make sure that you have room to cook all the meatballs and then for all the onions and meatballs to nestle in together.

You will also want to make sure your skillet is oven proof up to 375˚F. If you don't have an oven proof skillet, you can transfer the onions and meatballs to a casserole dish to bake.

Onion Soup Mix– The onion soup mix is our short cut for adding tons of flavor to this dish FAST! You will use the onion soup mix to both season the meatballs, and the onions. I usually use a store bought soup mix, but you can also make your own homemade onion soup mix if you prefer (it can be made up to 6 months in advance!)

Use liquid in the onions– This helps the onions to caramelize beautifully. Depending on the size of your pan and amount of heat your stove top provides you may use more or less than the recipe calls for. When you first start to cook the onions, there will be more liquid. As they begin to caramelize, the liquid will reduce and the onions will become soft and translucent. If the pan becomes too dry, or you notice then onions darkening too much, you can add a little liquid at a time, until they are done cooking.
Recipe Short Cuts
If you need to make this recipe, but are extra short on time, here are a few ideas that can help make this recipe even faster!
Mix meatballs ahead of time– Meatballs can be pre-made and shaped so they are ready to cook with no prep needed.

Pre-cook meatballs– To take that a step further, you can actually pre-cook the meatballs and then continue to sauté the onions and place the dish together when ready to eat.

Saute onions ahead of time– Although, this recipe is overall pretty quick, a good chunk of the cooking time is taken up by caramelizing the onions. You can do this step in advance to cut the cooking time in half.
Recipe Variations
If you love this recipe as much as we do and want some quick ways to change it up for variety, these little tips will do the trick!
French Onion Chicken Meatballs– Make recipe as directed, substituting ground chicken for ground beef. You can use beef broth, or substitute chicken broth, based on personal preference.

Cheese Stuffed French Onion Meatballs– Cut an 8 oz block of mozzarella cheese in to 18 cubes. Make recipe as directed, placing 1 cube of cheese in the middle of each meatball. Continue with recipe as directed.
Freezer Meal Instructions
To make this French Onion Meatball recipe as a freezer meal, follow the instructions below, and use meal within 60 months of freezing.
To make meatballs: Combine the ground beef, bread crumbs, parmesan cheese, Italian seasoning, half the onion soup mix (about 1 tbsp), Worcestershire, milk and eggs.Roll into 18 meatballs, about 1.5-2 inches each.
Package meatballs in a freezer bag, or freezer friendly container.
Slice onions and place in a separate freezer bag with the soup mix, butter, and 1/4 broth.
Freeze both bags.
When ready to cook, thaw in the refrigerator for 24-48 hours.
Cook as directed.
French Onion Meatballs Leftovers
If you have leftovers after making these beef French Onion Meatballs, then it is your lucky day! They save and reheat well, and can make the start of another delicious dish.
To save leftovers, separate into meal sized portions and then place in an airtight container and store:
in the refrigerator for 3-4 days
in the freezer up to a month
Leftover Recipes
Here are a few ways to repurpose those leftovers and give them a delicious makeover!
French Onion Meatball subs– Cut a sub roll in half. Butter each side of the roll and sprinkle with garlic salt. Toast in the oven until the edges are golden brown. Pile on the onions and meatballs and sprinkle with a little extra cheese. Bake again until everything is heated and melty. Dip sandwich in the extra juices as you eat!

French Onion Meatballs and Rice– Chop leftover meatballs and onions. Mix with cream of chicken soup and sour cream. Mix everything with prepared white rice and spread in a casserole dish. Top with French-fried onions and bake for 20-30 minutes or until heated through and the edges get bubbly.

French Onion Meatball Pasta– Prepare pasta per package directions. Heat leftover meatballs, onions, and sauce in a skillet. Stir in heavy cream until a nice saucy consistency. Toss with pasta and serve hot.
More One Pan Dinner Recipes
If you enjoyed this recipe, I really hope you will take a moment to grab a few more easy recipes for another busy night!
You can check out all of my Easy Dinner recipes here, or see a few of our readers favorite recipes below.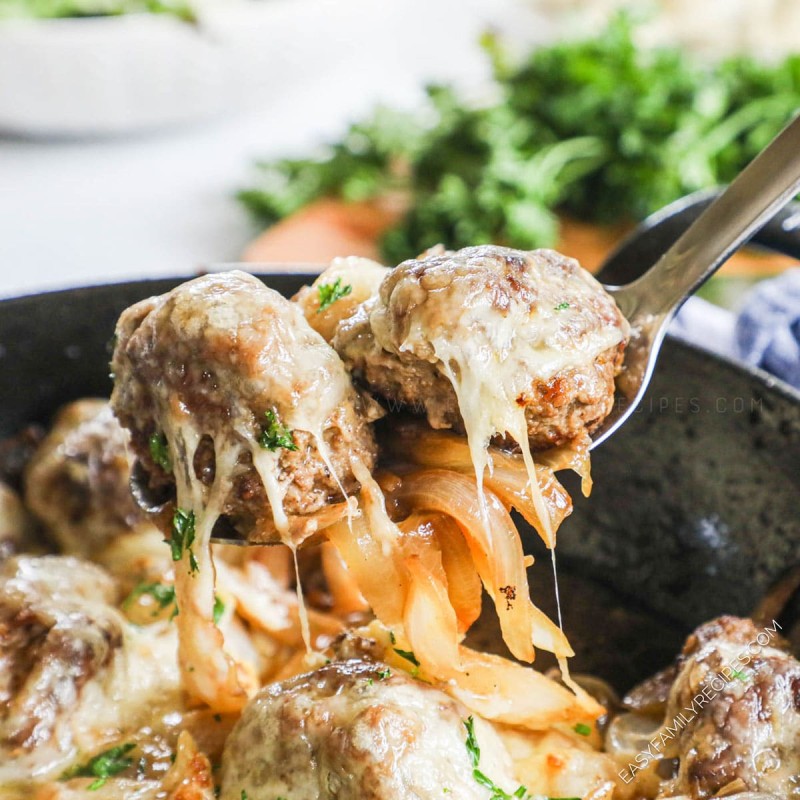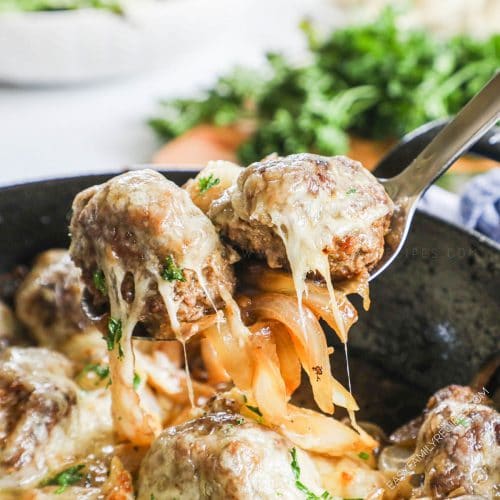 French Onion Meatballs
This one pan dinner is packed with flavor, hearty and and comforting. These beefy meatballs pair amazingly with the sweet caramelized onions and gooey cheese and are amazing served with mashed potatoes or garlic toast.
Ingredients
For the meatballs
1.5

lb

ground beef

3/4

cup

Italian seasoned bread crumbs

1/4

cup

grated parmesan cheese

1

tsp

Italian seasoning

1

oz

onion soup mix

,

(1 package) divided in half

2

tbsp

worcestershire sauce

2

eggs

1/4

cup

milk
For the dish
1

tbsp

olive oil

2

large yellow onions

2

tbsp

butter

3/4

cup

beef broth or water

4

oz

swiss cheese

,

sliced or shredded
Instructions
Preheat the oven to 375˚F.

To make meatballs: Combine the ground beef, bread crumbs, parmesan cheese, Italian seasoning, half the onion soup mix (about 1 tbsp), worcestershire, milk and eggs.

Roll into 18 meatballs, about 1.5-2 inches each.

Heat a large, oven proof skillet over medium high heat. Add the olive oil and once it is hot, lay the meatballs in the pan.

Cook on each side for 2-3 minutes, or until seared. Then remove the meatballs from the skillet and set aside (they will finish cooking later.

Add the onions, butter, 1/4 cup broth, and remaining onion soup mix and reduce the heat to medium low. Allow the onions to cook for 8-12 minutes, stirring regularly.

You can add broth as they cook to keep moisture in the skillet if needed. They should become translucent and caramelized once done.

Place the meatballs back into the skillet, add the remaining broth, and top with swiss cheese then bake in the oven for 10-15 minutes, or until meatballs are done (160˚F internal temperature.)

Optional: Turn the oven to broil for the last 1-2 minutes of the cooking time to toast the cheese more heavily.

Once done, garnish with freshly chopped parsley and serve over thick sliced garlic toast, or mashed potatoes.
Nutrition Information
Serving:
3
meatballs
,
Calories:
551
kcal
(28%)
,
Carbohydrates:
20
g
(7%)
,
Protein:
32
g
(64%)
,
Fat:
38
g
(58%)
,
Saturated Fat:
16
g
(100%)
,
Polyunsaturated Fat:
2
g
,
Monounsaturated Fat:
15
g
,
Trans Fat:
2
g
,
Cholesterol:
167
mg
(56%)
,
Sodium:
983
mg
(43%)
,
Potassium:
549
mg
(16%)
,
Fiber:
2
g
(8%)
,
Sugar:
4
g
(4%)
,
Vitamin A:
439
IU
(9%)
,
Vitamin C:
4
mg
(5%)
,
Calcium:
293
mg
(29%)
,
Iron:
4
mg
(22%)