Pineapple Salsa Chicken is packed with Southwest flavor and is the perfect wholesome easy dinner recipe. Tender chicken breast is pan seared and served with a sweet and tangy pineapple salsa. The best part is not only is it delicious, but it can be made in as little as 20 minutes.
Pineapple Salsa Chicken – The EASY Way!
What makes this recipe the best is that it is so fresh and delicious. It packs a punch with layers of flavor. And it can all be made in under 30 minutes!
This is one of my go to recipes for the summer because it is impressively delicious. It is equally perfect for entertaining company or a quick weeknight dinner.
What I love about this recipe:
Fresh– This recipe is packed with whole foods, fresh flavors and is incredibly wholesome!
Fast– The recipe can be made from fridge to fork in under 30 minutes, but to make it even faster you can prep ahead!
Family Friendly– The sweet and savory combo is friendly for kids and the great flavor is perfect for grown ups!
Great leftovers– This is one of those meals that we end up fighting for the leftovers because it just gets better. Not to mention, all of the delicious leftover ideas.
Make ahead friendly– If you are really in a hurry, you can do 90% of the work for this meal ahead of time, so all you have left is a a quick cook of the meat and you are ready to eat.
Versatile– Make it as directed in a skillet, or move it to the grill. Both are equally delicious!
What to Serve with Pineapple Salsa Chicken
This dish already has so many great flavors in it, and packs both protein and veggies in. I love to serve with a simple side or two for a really wholesome and filling meal.
Side Dish Ideas
You can choose one or add a few sides to make a wholesome, well rounded dinner.
Recipe Notes
This Pineapple Salsa Chicken recipe is as simple as promised! Just a few fresh ingredients for a family friendly meal.
In this section I am going to go through a few tips and tricks I use when making this recipe to get the absolute best and most delicious results.
Make sure to scroll to the bottom for the FULL recipe card.
Ingredients + Substitutions
For the Chicken
Chicken breast– You will want to use thin chicken breast filets. You can either buy the chicken breast already cut this way, or cut or pound it out yourself. This will help the chicken to cook quickly and evenly and maintain its tender, juicy texture.
Vegetable oil– I like to use vegetable oil in my marinade, but you can use your preferred high smoke point oil.
Spices– You will use garlic powder, onion powder, ground cumin, and salt to season the chicken in the marinade. Alternately, you can use a pre-made southwest seasoning mix, but it will have a slightly different flavor.
Lime juice– The lime juice helps to both flavor and tenderize the chicken. I recomemmend using fresh lime juice for the best flavor if at all possible.
For the Pineapple Salsa
Pineapple– Fresh is always best, but when it isn't in season, or you are just in a pinch, you can use canned pineapple rings, or chunks that you have diced into small pieces.
Bell pepper– I use half red and half green. You can substitute orange or yellow for the red pepper taste-wise, but it doesn't offer the same beautiful color contrast in the salsa.
Jalapeno pepper- The jalapeno is optional, but it can add to the flavor of the salsa. You can use it without the ribs and seeds for a mild flavor addition, or leave in the ribs and seeds to give the pineapple salsa more of a kick!
Red onion– Red onion is my favorite for the pineapple salsa, but in a pinch you can substitute, yellow, while, or sweet onion.
Cilantro– Fresh cilantro chopped finely will add the best flavor to the salsa. To pick out great cilantro look for leaves that look perky and bright green. Smell the bunch of cilantro. It should be fresh and bright, not odorless.
Lime juice– Fresh lime juice helps to meld all of the flavors of the pineapple salsa together.
Salt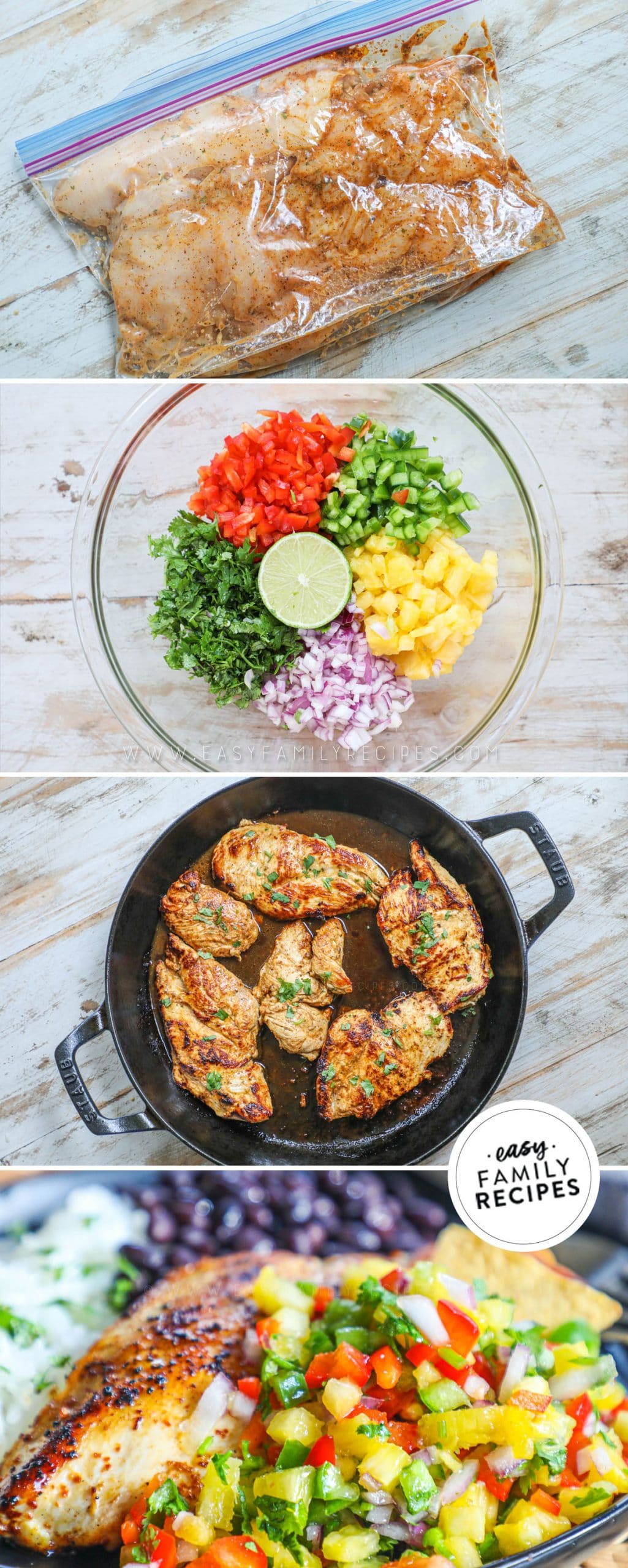 Recipe Tips
Marinate longer- This recipe doesn't need a long time to marinate to be great. I usually just season and cook right away. However if you do want that flavor to infuse even more, you can marinate the chicken for up to 24 hours to get even more taste jam packed in the chicken.

Finely dice– When making the pineapple salsa I try to chop all of the ingredients as small as possible, this to me really makes all he difference in making the pineapple salsa next level delicious! The smaller chop you achieve, the more the flavor will combine into one new delicious pineapple salsa flavor instead of tasting each thing separately which can happen when it is a bigger dice.

Slice the chicken thin- One of my best tips for getting tender, juicy chicken every time, is to cut the chicken into thin cutlets. This allows the chicken cook more quickly and evenly and can be used with any cooking method.

Cooking options– You can use any method you want to cook the chicken for this recipe. Our two favorites, and must used, are grilled chicken and pan seared chicken. Baking also works well for a quick, hands off method with almost no clean up!

Don't overcook the chicken- To ensure you get the most delicious chicken make sure you don't over cook it. Overcooked chicken will be dry, tough or rubbery. Chicken should be cooked to an internal temperature of 165˚F. The time it takes to cook to this temperature will vary based on cooking method, thickness of the chicken, climate, and many other factors.
Recipe Short Cuts
If you need to make this Pineapple Salsa Chicken recipe, but are extra short on time, the recipe can be prepped ahead and ready to quickly cook and assemble when you are ready to eat.
Marinate the chicken- Combine the ingredients for the chicken marinade and refrigerate for up to 24 hours.
Prep the salsa- Prep and chop all of the ingredients for the salsa, combine, and refrigerate.
When ready to cook continue by heating the skillet and cooking the chicken, then serving with the pre-made salsa.
Recipe Variations
If you love this recipe as much as we do and want some quick ways to change it up for variety, these little tips will do the trick!
Mango Salsa Chicken– Prepare the chicken as directed. Instead of pineapple salsa, try serving it with this fresh mango salsa.
Southwest Chicken with Corn Salsa– Prepare the chicken as directed. Instead of pineapple salsa, try serving it with this Chipotle Style Corn Salsa.
Southwest Chicken with Salsa Fresca– Prepare the chicken as directed. Instead of pineapple salsa, try serving it with this fresh pico de gallo.
Dietary Considerations
If you have special dietary needs, this recipe meets some and can be easily modified to comply with others.
As always, check all store bought ingredients for compliance on specific dietary needs. The notes below are a general guide.
Gluten free: This recipe is naturally gluten free.
Dairy free: This Southwest Pineapple Salsa Chicken is naturally dairy free.
Nut free: This recipe is naturally nut free
Egg free: This recipe is naturally egg free
Low carb/Keto: This recipe is low carb at only 6g net carbs.
Macros: The approximate macro calculation for this recipe is- P: 37g C: 7g F: 8g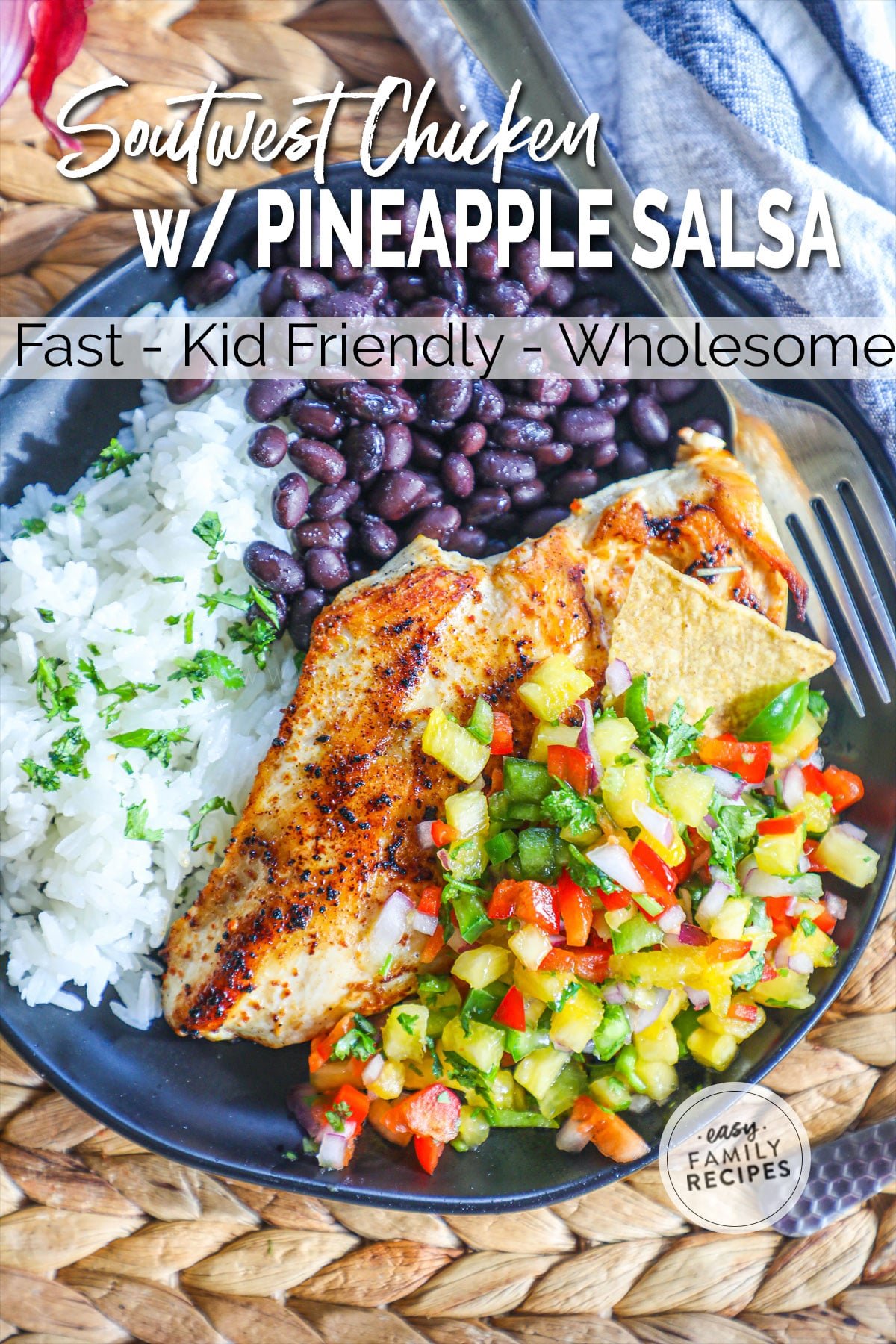 Freezer Meal Instructions
Southwest Pineapple Salsa Chicken can be prepared as a freezer meal to make on another busy night, or give to a friend in need.
Prepare the chicken per recipe directions. Allow to cool to room temperature.
Prepare pineapple salsa per recipe directions.
Package chicken breast and pineapple salsa separately in freezer bags, or freezer friendly containers.
Freeze.
When ready to serve, heat chicken in the microwave or stove top until warm, then serve with thawed pineapple salsa.
For the best flavor, this meal can be frozen for up to 6 months.
Pineapple Salsa Chicken Leftovers
If you have leftovers after making Pineapple Salsa Chicken, then it is your lucky day! They save and reheat well, and can make the start of another delicious dish.
To save leftovers, separate into meal sized portions and then place in an airtight container and store:
in the refrigerator for 3-4 days
in the freezer up to a month
Leftover Recipes
Here are a few ways to repurpose those leftovers and give them a delicious makeover!
Chicken Tacos with Pineapple Salsa– Chop leftover chicken and heat in a skillet. Fill taco shells with chicken. Add shredded cabbage and pineapple salsa into warmed corn tortillas.

Pineapple Salsa Chicken Wraps– On a large tortilla or flatbread spread a thin layer of mayo (or this spicy mayo). Then slice leftover chicken and add it to the tortilla, top with pineapple salsa and fresh chopped cabbage. Roll and enjoy!

Pineapple Salsa Chicken Bowls– I have to have leftovers of this recipe for this reason alone! Jus chop the chicken then load up a bowl with rice, black beans, shredded cabbage, then add the chicken and pineapple salsa, and any extras you like such as cucumber, sliced carrots, lime wedges, etc. I especially love to add crumbled queso fresco, and drizzle the bowl with jalapeno ranch.

Pineapple Salsa Chicken Salad– Mix half chopped romaine and half shredded cabbage. Slice leftover chicken and pop it on top. Add thinly sliced cucumbers and carrots then pile on the pineapple salsa and enjoy. I generally let the salsa act as the dressing, but if you need more you can give it a drizzle of olive oil or a squeeze of fresh lime (or both!)
More Easy Dinner Recipes
If you enjoyed this recipe, I really hope you will take a moment to grab a few more easy recipes for another busy night!
You can check out all of my Easy Dinner recipes here, or see a few of our readers favorite recipes below.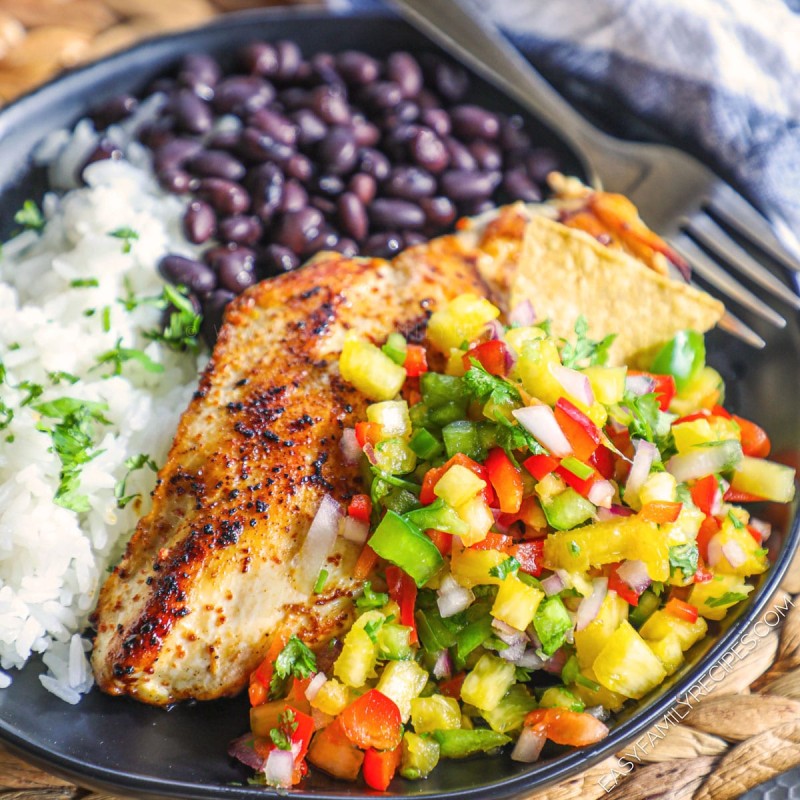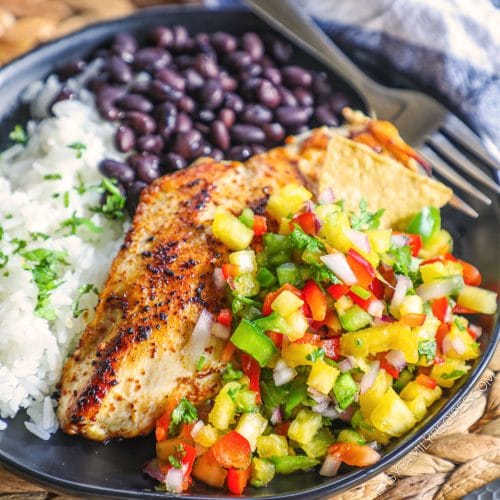 Southwest Pineapple Salsa Chicken
Tender seared chicken breast is perfectly paired with a pineapple salsa that uses fresh ingredients for the perfect combination of sweet and savory with a little kick!
Ingredients
For the Chicken
3

lbs

boneless, skinless chicken breast

,

thin filets

2

tbsp

vegetable oil

1

tsp

garlic powder

1

tsp

onion powder

1

tsp

ground cumin

1

tsp

salt

1

lime

,

juice of
For the Pineapple Salsa
1.5

cups

fresh pineapple

1/2

red bell pepper

1/2

green bell pepper

1

jalapeno pepper

,

ribs and seeds removed (optional)

1/4

cup

red onion

1/4

cup

cilantro

1

tbsp

lime juice

1/8

tsp

salt
Instructions
Combine the chicken with the seasonings, lime juice, and 1 tbsp oil. Mix well so all of the meat is evenly coated and set aside.

Finely dice the pineapple, bell pepper, jalapeno, onion and cilantro.

Note: you can leave the jalapeno out all together for no spice, or if you want more spice you can add an extra jalapeno pepper, or leave in the seeds and ribs for extra heat.

Mix all of the ingredients together in a medium bowl until combined. Refrigerate until serving.

Heat the remaining 1 tbsp in a large skillet over medium high heat. Once hot add chicken and cook 3-4 minutes on each side, or until cooked through. (165˚F internal temp)

Make sure the chicken is not too crowded in the skillet. You can cook the chicken in batches if needed.

Plate chicken with a scoop of the pineapple salsa to serve.
Recipe Notes
Leftovers can be stored in an airtight container in the refrigerator for 3-5 days.
Nutrition Information
Calories:
252
kcal
(13%)
,
Carbohydrates:
7
g
(2%)
,
Protein:
37
g
(74%)
,
Fat:
8
g
(12%)
,
Saturated Fat:
4
g
(25%)
,
Polyunsaturated Fat:
1
g
,
Monounsaturated Fat:
2
g
,
Trans Fat:
1
g
,
Cholesterol:
109
mg
(36%)
,
Sodium:
527
mg
(23%)
,
Potassium:
728
mg
(21%)
,
Fiber:
1
g
(4%)
,
Sugar:
4
g
(4%)
,
Vitamin A:
390
IU
(8%)
,
Vitamin C:
38
mg
(46%)
,
Calcium:
22
mg
(2%)
,
Iron:
1
mg
(6%)