This Mango Salsa Chicken is the epitome of a fast, fresh, healthy, delicious dinner! Tender chicken breast is perfectly seasoned and then grilled, baked, or pan seared. The Mango Salsa brings the perfect combination of sweet and savory together to compliment the chicken. It is fast and easy to make, but has so much great fresh flavor you feel like someone slaved all day!
Chicken and Mango Salsa – The EASY Way!
This has been our go-to warm weather recipe for YEARS! The combination of having amazing flavor and the ease of this recipe can't be beat.
It is family friendly and can be served as suggested with the mango salsa right on top of that tender grilled chicken – OR- if you can serve it with the chicken and salsa each separately to make it friendly for kids that may be more particular.
Mango Salsa Chicken is quick, easy, and uses only a few ingredients, so it is a win all around!
What I love about this recipe
Works for all cooking methods! Whether you want grilled chicken, prefer it on the stove top or griddle, or you just ran out of propane and want to stick it in the oven, the chicken can be cooked in any of these methods and will be delicious.
Fresh and Healthy! This recipe uses super fresh ingredients to make a quick and flavorful meal. The goal is delicious, but the bonus is that it is light on calories, gluten free, dairy free, and full of protein and fresh fruits and veggies.
Quick clean up– With just a bowl, cutting board, and grill, this meal packs a punch and leaves very little mess behind to clean up.
Can be prepped ahead– Much of the "work" for this easy chicken dinner can be done ahead of time so the recipe comes together even faster when you are ready to eat!
Always impresses– When I feed this to friends I can almost guarantee that they will ask for the recipe. It is just so good! Unique enough to not be ordinary, but not too out there where people aren't sure they will like it.
Perfect for entertaining– The recipe scales easily by just making more chicken or an extra batch of mango salsa to feed more people. On top of that it is just kind of a unique and impressive thing to serve guests that will have them excited about the meal.
What to Serve with Mango Salsa Chicken
With most of my recipes I like to give you tons of options for serving. With this dish, our family has a tried and true way we ALWAYS serve it!
We start with a bed of Cilantro Lime Rice, then top with the grilled chicken, and top with mango salsa. To make the meal a little extra hearty, you can also add a side of black beans.
This is our signature way to serve Mango Salsa Chicken, but it isn't the only thing it is good with. Here are a few more ideas for side dishes that will pair well with the recipe.
Side Dish Ideas
You can choose one or add a few sides to make a wholesome, well rounded dinner.
Recipe Notes
This Grilled Chicken and Mango Salsa recipe is as simple as promised! As little as 30 minutes for a family friendly meal.
In this section I am going to go through a few tips and tricks I use when making this recipe to get the absolute best and most delicious results.
Make sure to scroll to the bottom for the FULL recipe card.
Ingredients + Substitution
For the chicken
Chicken breast – Chicken breast is our go to for this recipe, but you can make it with almost any cut of meat. It works well with chicken thighs, chicken tenderloin, even pork chops or pork tenderloin.
Vegetable oil
Spices– Garlic powder, onion powder, ground cumin, salt
Lime juice– fresh is best!!
For the mango salsa
Fresh mangos– try to use ripe mangos that are still slightly firm to the touch.
Avocado– The avocados should be similar to mangos where they are ripe but still slightly firm.
Red bell pepper– Red is my favorite but orange, yellow or green can be used also, but the sweeter red, yellow or orange are my preference.
Red onion
Fresh cilantro
Jalapeño pepper– Jalapeno is completely optional. Use it if you like a little kick. If you want more kick, you can leave the seeds in. Or if you don't want any spice, just leave it out all together.
Vegetable oil– any neutral flavored oil will do. This helps carry and meld the flavor and preserve the freshness of the salsa.
Lime juice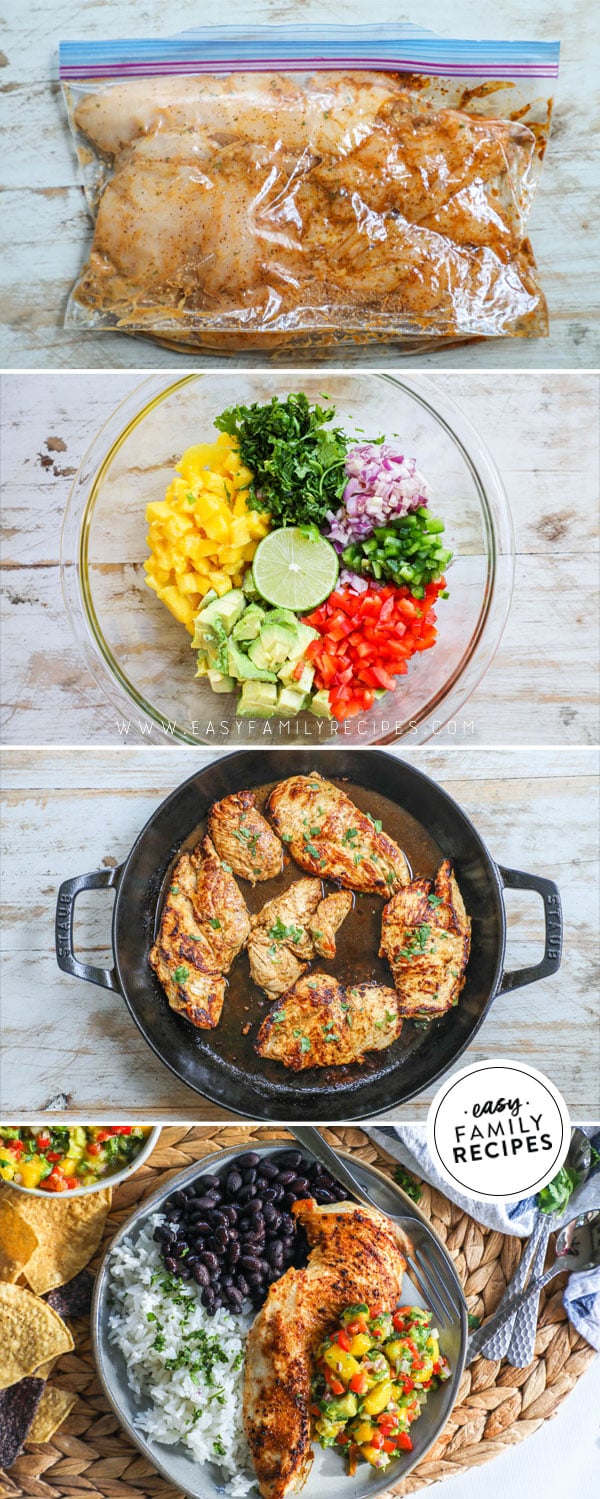 Recipe Tips
Marinate longer- This recipe doesn't need a long time to marinate to be great. I usually just season and cook right away. However if you do want that flavor to infuse even more, you can marinate the chicken for up to 24 hours to get even more taste jam packed in the chicken.

Slice the chicken thin- This isn't a requirement, but one of my best tips for getting tender, juicy chicken every time, is to cut the chicken so that it is half the thickness. This allows the chicken cook more quickly and evenly and can be used with any cooking method.

Cooking options– Speaking of cooking methods… you can use any method you want to cook the chicken for this recipe. Our two favorites, and must used, are grilled chicken and pan seared chicken. Baking also works well for a quick, hands off method with almost no clean up!

Don't overcook the chicken- To ensure you get the most delicious chicken make sure you don't over cook it. Overcooked chicken will be dry, tough or rubbery. Chicken should be cooked to an internal temperature of 165˚F. The time it takes to cook to this temperature will vary based on cooking method, thickness of the chicken, climate, and many other factors.

Ripe… but not too ripe- When making the mango avocado salsa, you want o use mango and avocado that are ripe, but still a touch firm. If the are too ripe, you will still end with great flavor in your salsa, but it will be mushier consistency and texture over all.

Chop small– My other big tip for making the best mango salsa is to cut the ingredients small. This allows the flavors to more fully incorporate in every bite. If you want more tips on making your mango salsa extra amazing see my full Mango Salsa recipe here!

Pile it up! Once the chicken is cooked and the mango salsa is made, all that is left to do is plate it up. Our favorite way is a bed of rice and/or black beans, chicken on top, mango salsa tops the whole dish off.
Recipe Short Cuts
If you need to make this recipe, but are extra short on time, here are a few ideas that can help make this recipe even faster!
Chop ahead– The chopping takes more time than anything else in this recipe. You can pre-chop veggies (except the avocado) up to 3-4 days in advance.
Prep the chicken ahead– The chicken can be prepped ahead and marinate for up to 24 hours.
Make mango salsa ahead– The mango salsa can be made up to 48 hours in advance with THE EXCEPTION of the avocado. Cut and add the avocado right before serving.
Recipe Variations
If you love this recipe as much as we do and want some quick ways to change it up for variety, these little tips will do the trick!
Chicken with Pineapple Salsa– Make the chicken as directed except, make this pineapple salsa to use in place of the mango salsa.
Chicken with Corn Salsa– Make the chicken as directed except, make this corn salsa to use in place of the mango salsa..
Jerk Chicken with Mango Salsa– Make the recipe as directed using jerk chicken seasoning in place of the spices to season the chicken. Still add the lime and oil, and continue as directed.
Dietary Considerations
If you have special dietary needs, this recipe meets some and can be easily modified to comply with others.
As always, check all store bought ingredients for compliance on specific dietary needs. The notes below are a general guide.
Gluten free: This recipe is naturally gluten free.
Dairy free: This chicken with mango salsa recipe is naturally gluten free.
Nut free: This recipe is naturally nut free
Egg free: This recipe is naturally egg free
Macros: The approximate macro calculation for this recipe is- P: 50 g C: 18 g F: 16g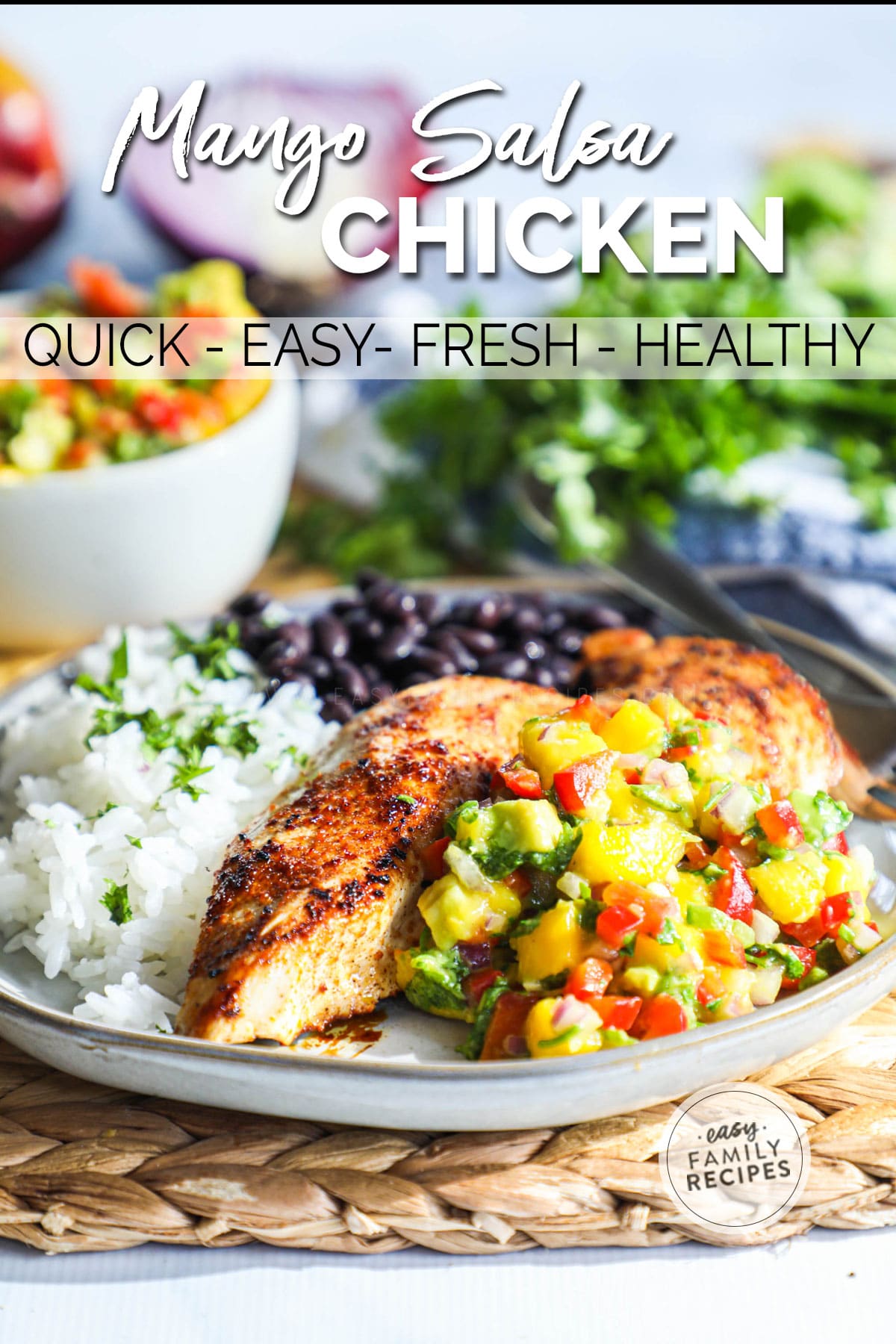 Mango Salsa Chicken Leftovers
If you have leftovers after making grilled chicken with mango salsa, then it is your lucky day! They save and reheat well, and can make the start of another delicious dish.
To save leftovers, store chicken and salsa separately and package into meal sized portions and then place in an airtight container and store:
in the refrigerator for 3-4 days
in the freezer up to a month
Leftover Recipes
Here are a few ways to repurpose those leftovers and give them a delicious makeover!
Mango Salsa Chicken Wraps– On a large tortilla or flatbread spread a thin layer of mayo (or this spicy mayo). Then slice leftover chicken and add it to the tortilla, top with mango salsa and fresh chopped cabbage. Roll and enjoy!
Mango Chicken Bowls– I have to have leftovers of this recipe for this reason alone! Jus chop the chicken then load up a bowl with rice, black beans, shredded cabbage, then add the chicken and mango salsa, and any extras you like such as cucumber, sliced carrots, lime wedges, etc.
Mango Avocado Chicken Salad– Mix half chopped romaine and half shredded cabbage. Slice leftover chicken and pop it on top. Add thinly sliced cucumbers and carrots then pile on the mango avocado salsa and enjoy. I generally let the salsa act as the dressing, but if you need more you can give it a drizzle of olive oil or a squeeze of fresh lime (or both!)
More Fresh Easy Recipes
If you enjoyed this recipe, I really hope you will take a moment to grab a few more easy recipes for another busy night!
You can check out all of my Easy Dinner recipes here, or see a few of our readers favorite recipes below.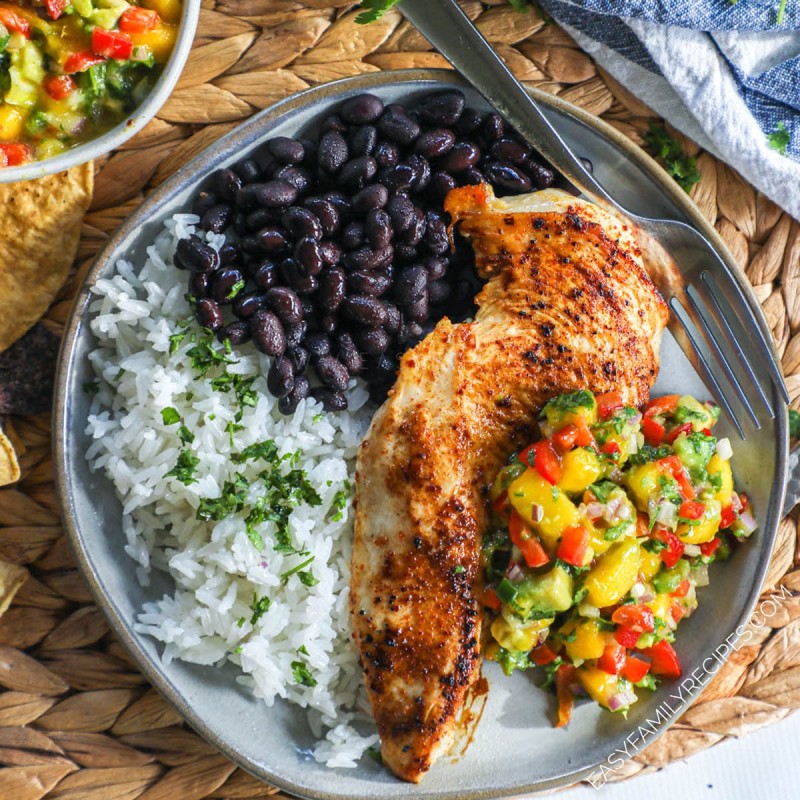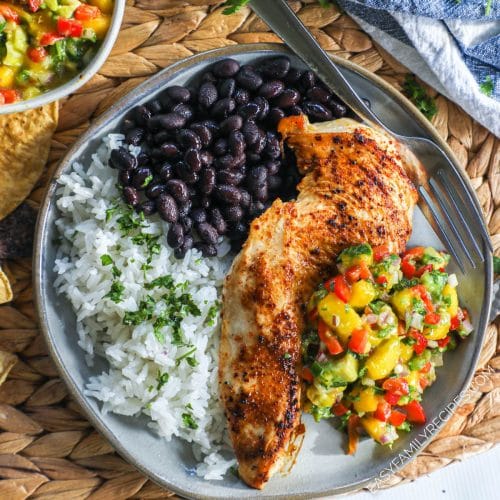 Chicken and Mango Salsa
This super fresh chicken dinner can be made in as little as 30 minutes. It is packed with wholesome sweet and savory flavors and perfect for a family dinner or entertaining guests!
Ingredients
For the chicken
3

lbs

boneless, skinless chicken breast

1

tbsp

vegetable oil

1

tsp

garlic powder

1

tsp

onion powder

1

tsp

ground cumin

1

tsp

salt

1

lime

,

juice of
For the mango salsa
2

mangos

,

diced

1

avocado

,

diced

1

red bell pepper

,

diced

1/2

cup

chopped red onion

1/4

cup

chopped cilantro

1

jalapeno pepper

,

seeded, and diced (optional)

1

tbsp

vegetable oil

1/2

lime

,

juice of
Instructions
Combine the chicken with the seasonings, lime juice, and oil. Mix well so all of the meat is evenly coated and set aside.

Combine all ingredients for the mango salsa and then mix well so that the flavors are evenly distributed.

Heat the grill to medium heat and brush with oil to prevent sticking. Place chicken on the grill and cook for 4-6 minutes per side, depending on thickness. Cook to an internal temperature of 165˚F.

Once done, remove chicken from grill and allow to rest for 5 minutes.

Serve the chicken with mango salsa over the top. Enjoy!
Recipe Notes
To cook on the stove top:
Heat pan with 1 tbsp oil over medium high heat.
Once hot, place each chicken breast flat in the pan. Cook for 2-4 minutes, or until a crust has formed.
Flip the chicken breast, cover the pan and reduce the heat to low. Cook an additional 5-8 minutes or until chicken is cooked through (internal temp of 165˚F)
*This method works best with thin chicken breasts, so if you plan to cook this way, you can cut or pound the chicken breast to 1/2″ thickness.
To cook in the oven:
Preheat oven to 375˚F
Place chicken breast flat on a large baking sheet.
Bake for 15-25 minutes or until chicken is cooked through (internal temp of 165˚F)
Nutrition Information
Calories:
415
kcal
(21%)
,
Carbohydrates:
18
g
(6%)
,
Protein:
50
g
(100%)
,
Fat:
16
g
(25%)
,
Saturated Fat:
6
g
(38%)
,
Trans Fat:
1
g
,
Cholesterol:
145
mg
(48%)
,
Sodium:
657
mg
(29%)
,
Potassium:
1220
mg
(35%)
,
Fiber:
5
g
(21%)
,
Sugar:
11
g
(12%)
,
Vitamin A:
1568
IU
(31%)
,
Vitamin C:
65
mg
(79%)
,
Calcium:
39
mg
(4%)
,
Iron:
2
mg
(11%)