Crock Pot Corn on the Cob is an effortlessly delicious side dish with incredibly tender kernels that are bright, juicy, and perfect for summer cookouts. If you want crave-worthy herbed butter corn on the cob with juicy, crisp but soft kernels, this slow cooker recipe is precisely what you're looking for!
Corn on Cob Crock Pot Recipe- The EASY Way!
Having the crock pot slowly cook the corn cobs is a great and easy way to utilize your time and effort to make a delicious meal without the hassle of an overly hot oven running or a pot of steaming water.
Plus, you can use the grill and focus on other dishes as the corn on the cob in a crock pot without foil cooks to tender deliciousness. This summer is going to be that much tastier when you make these corn cobs in the crock pot.
Why I LOVE this recipe!
Kid-Friendly – Eating corn cobs is such a fun and yummy food for kids. They love chowing down the corn off the cob and this recipe makes it super simple to enjoy them without the fuss of peeling back the husk after cooking. Just grab, go, and enjoy!

EASY – With minimal ingredients you can have this ready in no time. Bonus- When purchasing pre-husked corn cobs, this recipe comes together that much easier.

Hassle-free – Because we are not using foil to individually wrap each ear of corn, this corn on the cob with herb butter is as simple as placing the cobs in the crock pot with water. That's it!

Tender and Juicy – You'll know when the corn is done by its bright yellow appearance and tender kernels bursting with juiciness.

Scaleable – Make as little or as many corns on the cobs as you'd like. You can fill the pot completely full as long as the lid shuts!

Free up space! Don't waste thata valuable space on the grill or in your oven! You can have this crazy delicious side dish cook out of the way in the crock pot!
What to Serve with Herb Butter Corn on the Cob
Since this dish has the classic flavors of Summer, it will pair well with many of your favorite Summer side dishes. There are both classic options and some healthy options to keep it light.
Main Dishes that go with corn
Complimentary Side Dishes
You can choose one or add a few sides to make a wholesome, well rounded dinner.
Recipe Notes
This Garlic Butter Corn on the Cob recipe is as simple as promised! Just 5 minutes of prep for a "Set it and forget it" family-friendly side dish.
In this section I am going to go through a few tips and tricks I use when making this recipe to get the absolute best and most delicious results.
Make sure to scroll to the bottom for the FULL recipe card.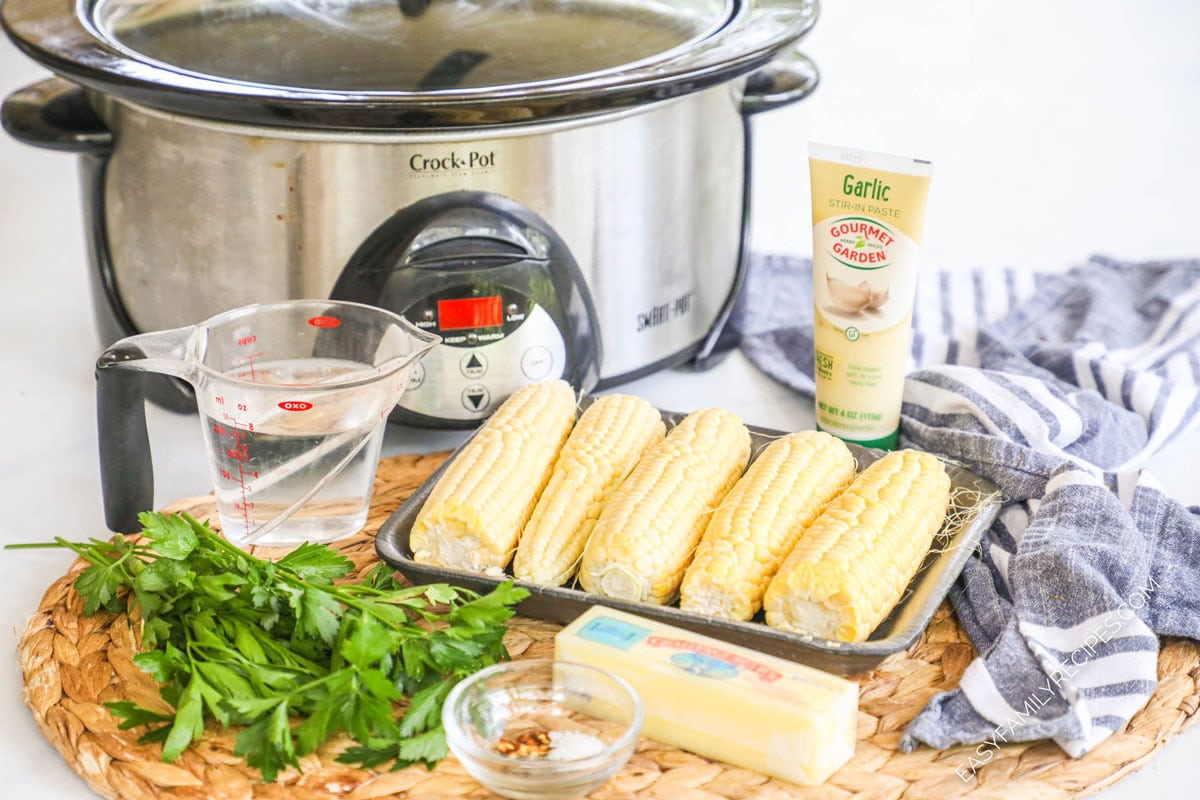 Ingredients + Substitutions
Corn on the cob – Fresh corn is always best and offers the best texture. You can use corn that has already been shucked or purchase pre-shucked with the husk already removed. This recipe calls for the shuck to be removed either way. Frozen corn cobs can also be used- make sure to see the notes on that below.

Water – A small amount of water works well as it heats in the slow cooker and creates steam to evenly cook the corn.
Garlic Butter Ingredients
Butter – Softened. Switch for vegan butter to make this a Vegan friendly and dairy-free dish.

Garlic paste – Paste makes this herb butter easier as it is already smooth and will combine well. If you prefer, use fresh garlic cloves in a garlic press or minced finely. Then, place the garlic on a cutting board, sprinkle with salt, and use a knife to slide and smear the garlic into a paste.

Herbs: fresh parsley, dried basil and thyme

Salt

Red pepper flakes – This adds a little heat and a flavorsome bite.
How to pick corn on the cob
When going to market and selecting your corn on the cob, there are a few things to look for to get the freshest cobs.
Husks – Choose corn with bright green husks that are damp and tight or the corn cob.

Don't choose ones that are dry and yellowed.
Check for insects that can be observed by small brown holes in the husk.

Kernels – Use your thumbnail to gently puncture a kernel. If it is clear, then this corn is not yet ripe. Instead, look for a watery, milky liquid. These are the ones that are ripe and ready to eat.
Silk – If the silk appears fresh, pale, and still moist then you have a fresh ear of corn that is likely sweet, as well.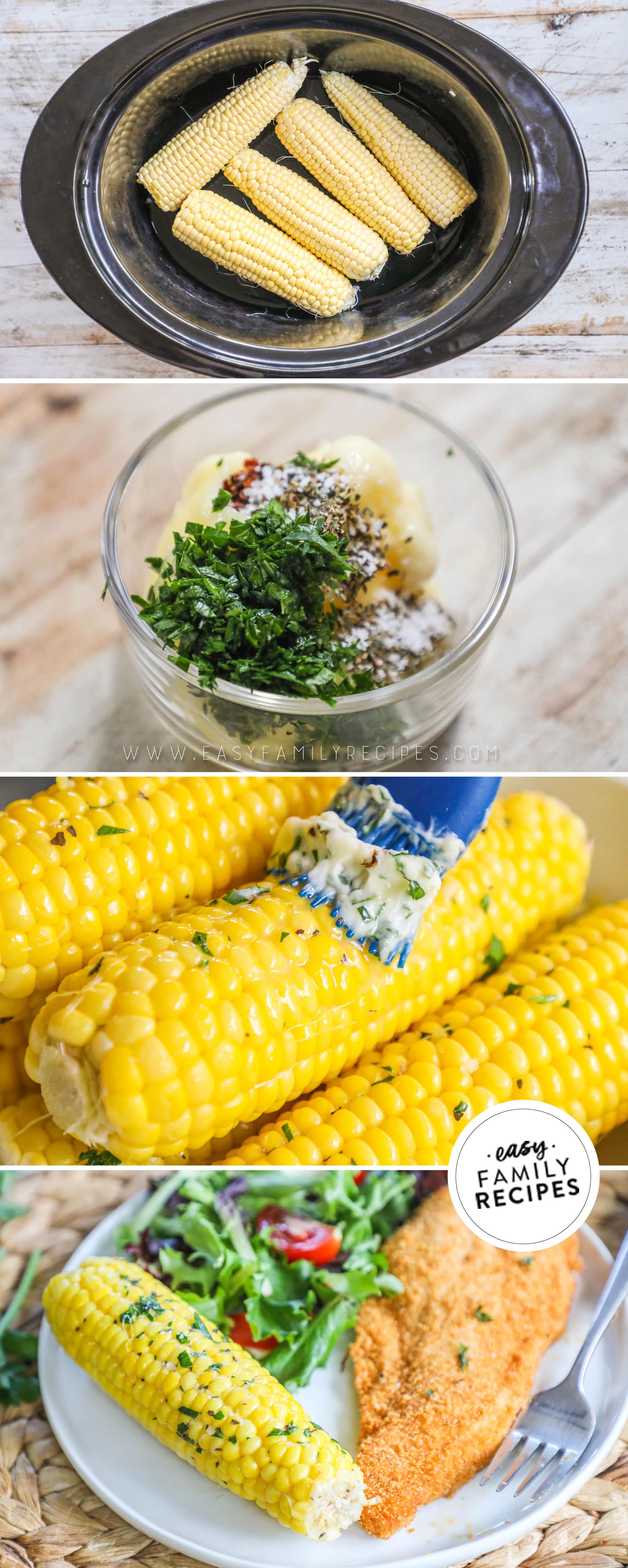 How to cook corn on the cob in Crock Pot
If you're using corn on the cob with husks still on, remove these first. Then add water to the slow cooker and pile the corn in and cover.

Cook the corn cobs in the crock pot for 2 ½ to 3 ½ hours depending on the size and amount of cobs used. You'll know the corn is read as it will be brighter and tender.

While cooking, make the herb butter for corn on the cob by combining the butter, herbs, red pepper flakes, and salt and mix well.

Once the corn is done, brush on all sides with the garlic herb butter allowing the melty goodness to get into all the crevices for a most delicious, buttery corn. This butter makes enough for about 8 ears of corn. Increase the recipe if making more.
Recipe Tips
Fill the pot – If you want to cook as much corn on the cob as you can in your crock pot, don't worry about overcrowding. You can pack the slow cooker to capacity with the shucked corn cobs and they will still cook perfectly. It may take a little more time.

Water goes a long way – You only need a small amount of water to cook the corn. The steam envelops the entire crock pot for an even cook.

Seal the Lid! – To ensure that you get that even cook, the lid must be closed and sealed well.

Serving Suggestion – The rule of thumb is that 1 ear of corn equates to ½ a cup of corn kernels. If you want to extend the servings to equal this amount, break the corn on the cob in half before cooking. Or, chow down on the whole ear of corn, because let's face it… We all want at least one ear of corn to ourselves!
Recipe Short Cuts
If you need to make this recipe, but are extra short on time, here are a few ideas that can help make this recipe even faster!
Use Shucked Corn – Skip a step and purchase corn that has already been shucked.

Use Frozen Corn – No need to defrost, just add the corn to the slow cooker and they are ready to go.

Make-Ahead – For meal prep, make these slow cooker corn on the cobs with herb butter on your meal prep batch day and store until ready to use. *See notes below on how to store and reheat.
Recipe Variations
If you love this recipe as much as we do and want some quick ways to change it up for variety, these little tips will do the trick!
Crock Pot Corn on the Cob with Frozen Corn – Follow the same Instructions but lower the cooking time by 30 minutes or so.

Garlic Parmesan Corn on the Cob – After the corn has finished cooking, remove the excess liquid from the pot. Then, add the garlic butter and sprinkle in Parmesan cheese. Toss and enjoy!

Corn on the Cob with Honey Butter – Instead of herb butter, make a batch of honey butter by using melted butter with ¼ cup of honey. Mix well and pour over the cooked corn on the cobs.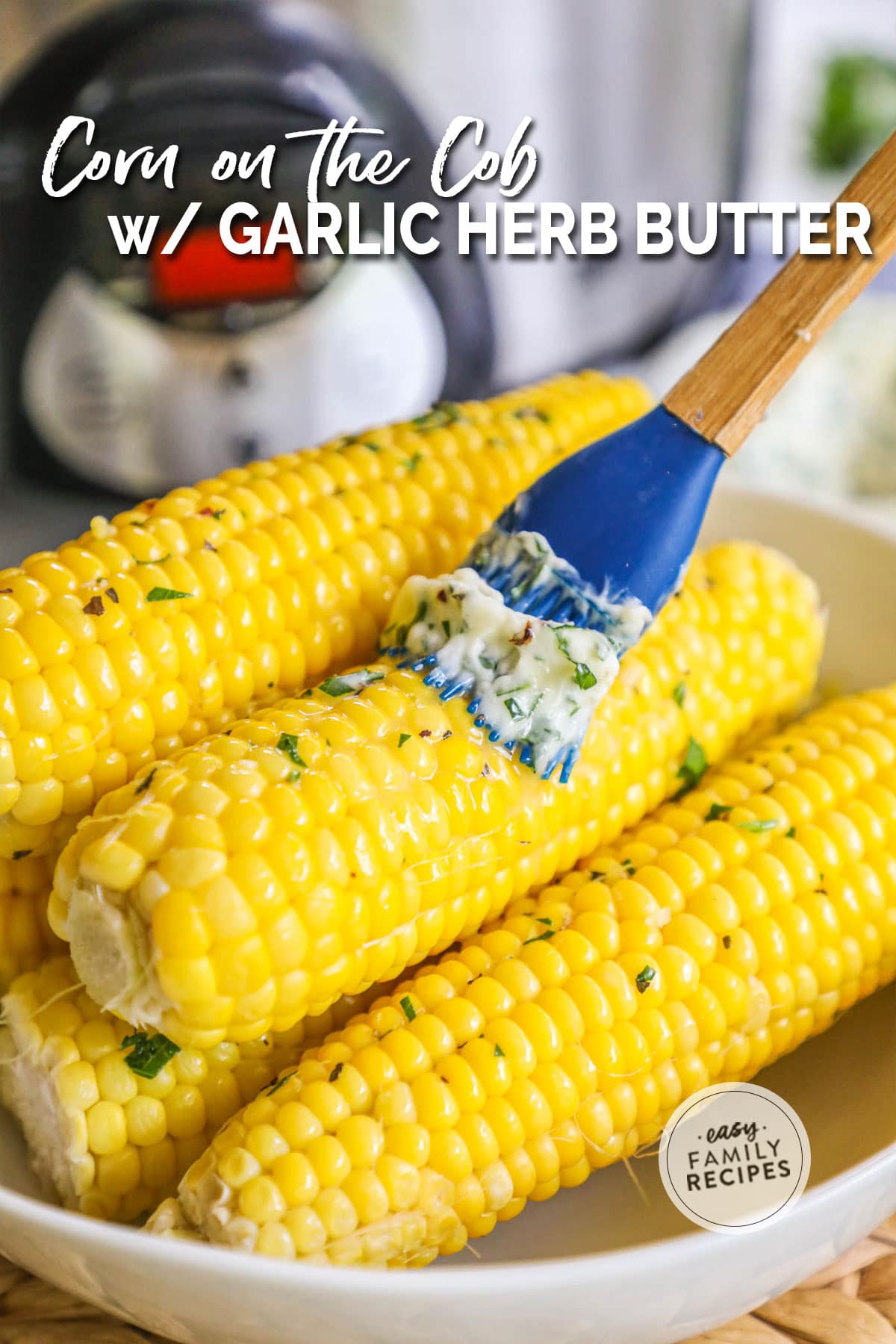 Freezer Meal Instructions
Making this Crock Pot Corn on the Cob recipe into a freezer meal is simple! Follow the steps below and you can store this recipe in the freezer for up to 6 months.
Cook corn as directed in the slow cooker. You can either add the herb butter or leave it off.

Once the corn has cooled, place it in a freezer-friendly air-tight container. Or individually wrap each corn on the cob with plastic wrap and then foil for individual serving sizes.

When ready to eat, thaw in the refrigerator overnight. Place in a pot with a little bit of water and reheat.
Slow Cooker Corn on the Cob Leftovers
If you have leftovers after making this herb butter corn on the cob recipe in the crock pot, then it is your lucky day! They save and reheat well, and can make the start of another delicious dish.
To save leftovers, separate into meal sized portions and then place in an airtight container and store:
in the refrigerator for 3-4 days
in the freezer up to a month
Leftover Recipes
Here are a few ways to repurpose those leftovers and give them a delicious makeover!
Cornbread – Scratch-made Cornbread is divine, and adding leftover crock pot corn on the cob is easy!

Remove the kernels from the cob once cooled. Be sure to keep all the juice that comes off the cobs as well.
Then, mix it with 1 cup of yellow cornmeal, 1 cup of flour, 1 tsp baking soda, ½ tsp salt, ½ of the herb garlic butter, ½ cup of sugar, 2 large eggs, ¾ cup of buttermilk, and 2 tsp of vegetable oil.
Pour into an oiled pan and bake in a preheated 375˚F oven for about 20 minutes.
Corn Salsa with Black Beans – Follow this recipe and substitute the frozen corn for the corn off the cob from this slow cooker recipe.

Mexican Street Corn Casserole – All the best flavors of Mexican street corn slow-cooked to creamy perfection. Just replace the frozen corn with the leftover corn from this recipe.
More Crock Pot Recipes
If you enjoyed this Crock Pot Corn on the Cob recipe smothered in Garlic Herb Butter, I really hope you will take a moment to grab a few more easy recipes for another busy night!
You can check out all of my Crock Pot recipes here, or see a few of our readers favorite recipes below.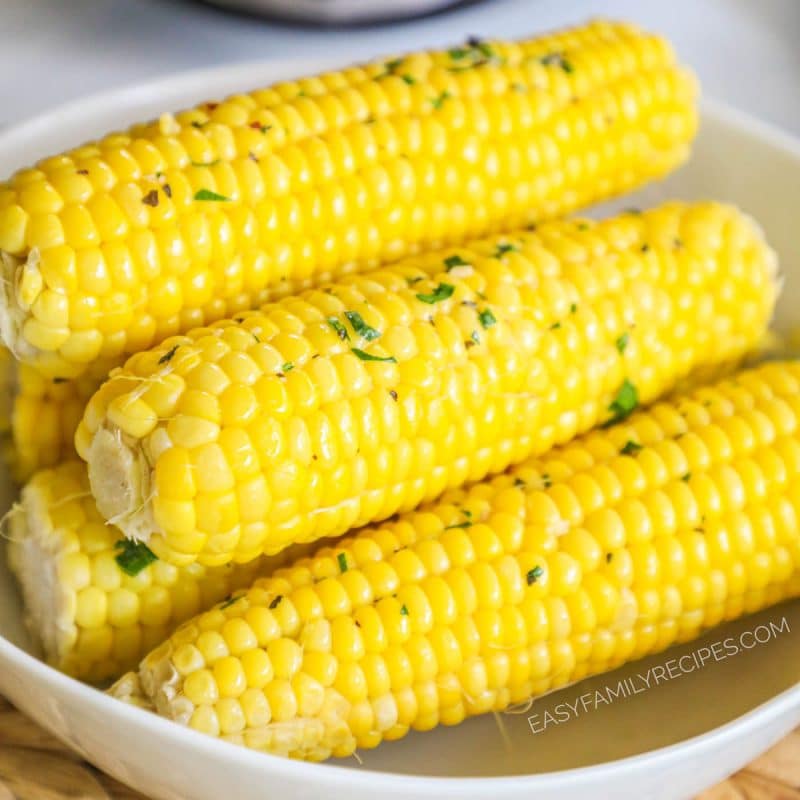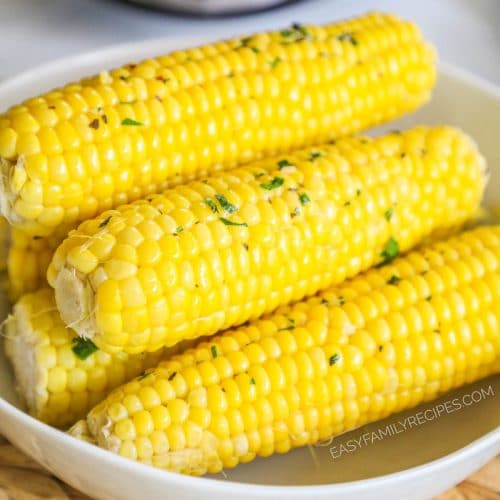 Crock Pot Corn on the Cob
This simple method of making corn in the crock pot makes some of the most tender and amazing corn you will ever have! Add the optional garlic butter for a flavor burst that will make the corn so good, you may never eat it any other way!
Ingredients
For the corn
4-8

ears

corn on the cob

1

cup

water
For the garlic butter
1/4

cup

butter

,

softened

2

tbsp

fresh parsley

,

chopped

1/2

tsp

dried basil

1/4

tsp

dried thyme

1/4

tsp

kosher salt

1/2

tsp

garlic paste

1

pinch

red pepper flakes
Instructions
Remove the husks from corn. Add water to the slow cooker and then pile the corn in and cover.

Cook on high for 2.5-3.5 hours. Corn will be bright and tender when ready.

While cooking, combine all ingredients for the garlic butter together and mix well.

Once the corn is done, brush on all sides with the garlic butter. There will be enough butter for 8 large ears of corn.
Recipe Notes
You can also make this recipe with frozen corn. Just add the water, pile in the corn and cook in the slow cooker 3.5-4.5 hours on high.
Nutrition Information
Serving:
1
ear of corn
,
Calories:
91
kcal
(5%)
,
Carbohydrates:
9
g
(3%)
,
Protein:
2
g
(4%)
,
Fat:
6
g
(9%)
,
Saturated Fat:
4
g
(25%)
,
Polyunsaturated Fat:
1
g
,
Monounsaturated Fat:
2
g
,
Trans Fat:
1
g
,
Cholesterol:
15
mg
(5%)
,
Sodium:
127
mg
(6%)
,
Potassium:
132
mg
(4%)
,
Fiber:
1
g
(4%)
,
Sugar:
3
g
(3%)
,
Vitamin A:
351
IU
(7%)
,
Vitamin C:
5
mg
(6%)
,
Calcium:
8
mg
(1%)
,
Iron:
1
mg
(6%)