This super simple, rich, and flavorful quiche combines the irresistible flavors of spinach, artichokes and cheese into the ultimate quiche recipe. We use a special method to make the creamiest most delicious quiche filling! This Spinach Artichoke Quiche is perfect for breakfast, lunch, brunch, or bringing to a pot luck. The creamy egg custard combined with spinach and artichokes make this a cravable dish you will find yourself making again and again!
Spinach Artichoke Quiche – The EASY Way!
Quiche is a winner for me because it packs in flavors in such a convenient, easy to serve and easy to eat dish. In this particular quiche recipe the creamy egg custard is nearly irresistible when combined with the rich and savory cheesy spinach and artichoke filling.
It is easy to make, and so versatile because you can eat it hot, or at room temperature. It can be a hearty breakfast or a light lunch. It travels well if you need a dish to bring to a brunch or pot luck, and the flavors are new and exciting, while at the same time being familiar enough for people to immediately fall in love!
What I may love most (after the delicious flavor, of course) is that it is so very easy to make. We use a frozen pie crust to speed up the prep and then it is just a matter of mixing up a few ingredients and baking.
Why I love this recipe:
Extra creamy- Almost everyone who tries this quiche comments on how amazing the texture is!

Meat Free– Packed with eggs, artichokes, spinach and cheese, it is wholesome, hearty, and filling meatless meal option!

Eat it hot… or not– This can be served room temperature or warm. Both are great which makes it extra convenient when you are on the go.

Sharing size! This quiche is great for potlucks or brunch because it makes 8 nice size slices and you can easily make 2 or 3 with minimal extra effort.

Saves and reheats like a champ– This Spinach Artichoke Quiche makes a great meal, but saves well so you can just pull out a slice and reheat in seconds for a quick meal.

Perfect for meal prep– what I mentioned above makes it perfect for meal prep! It is also easy to pack to take along where ever you might be headed. Plus it goes well with either breakfast or lunch options so it can be flexible for either!
What to Serve with Spinach Artichoke Quiche
Cheesy Spinach Artichoke Quiche is filled with protein and veggies. If you are looking for something light to eat, it is a great option all on its own. However if you want more variety to round out the meal, this quiche recipe pairs well with a number of different sides, or complimentary main entrees.
Side Dish Ideas
Fruit– try a fruit salad, or cut melon, grapes, or berries
Toast– Simple white or wheat toast with butter or jam
Biscuits or English Muffins
Potatoes– hash browns or roasted potatoes are a personal favorite, or this hashbrown casserole is a winner for brunch!
Yogurt– plain, flavored, with granola or fruit!
Complementary Main Dish
You can choose one or add a few sides to make a wholesome, well rounded meal. 
Recipe Notes
This Spinach Artichoke Quiche recipe is as simple as promised! Just mix and bake for a family friendly meal.
In this section I am going to go through a few tips and tricks I use when making this recipe to get the absolute best and most delicious results.
Make sure to scroll to the bottom for the FULL recipe card.
Ingredients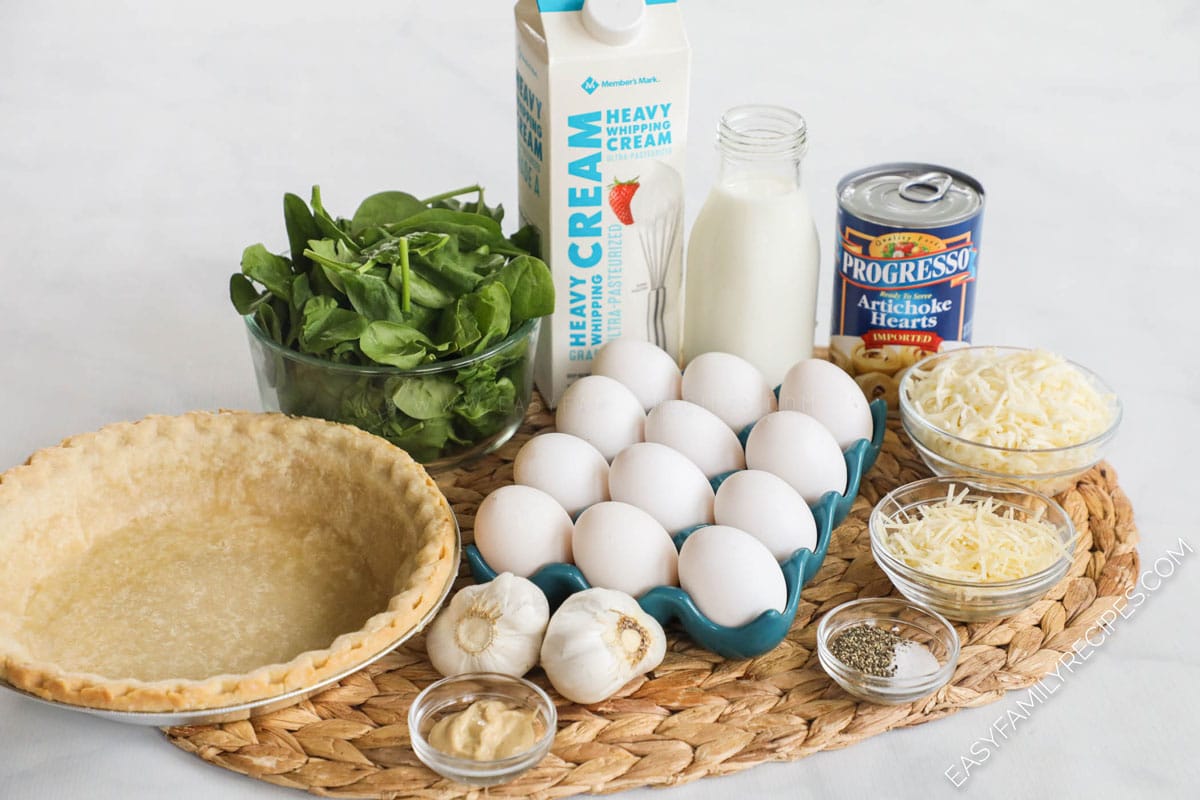 Deep dish pie shell- I like to use a deep dish shell because 1. I like a big hearty quiche, no little wimpy eggs here! and 2. You just really need it to fit in all the great flavor you want in this quiche.

Canned artichoke hearts drained and chopped– Use the artichoke hearts that are in water, not the marinated artichoke hearts in this recipe. Drain the water, and only use the artichokes in this recipe. You can buy them quartered already, or just get them whole and give it a quick chop. Frozen artichoke hearts that have been thawed will also work, but I find canned artichokes easier to find.

Fresh spinach– Using fresh spinach is part of the magic of this recipe. The spinach will hold its shape long enough for the eggs to bake around it, creating thin ribbons of spinach throughout the quiche rather than just having frozen chunks of spinach that sink to the bottom of the quiche. It looks pretty and tastes better to use fresh spinach!!

Cheeses – We use both shredded mozzarella and shredded parmesan to get that rich cheesy taste without having to add so much cheese that it is overpowering. The mozzarella adds to the creaminess and the parmesan lends its sharp flavor.

Large eggs– You may use an egg less if they are extra large or an egg more if they are smaller, but I try to provide guidance using large eggs since they are most readily available.

Heavy cream and Milk– Using a blend of cream and milk helps to add richness and creaminess to the egg custard while not making it too heavy.

Seasonings – To create the signature flavor, we can use a combo of dijon mustard, crushed garlic, salt and ground black pepper to season the spinach artichoke quiche.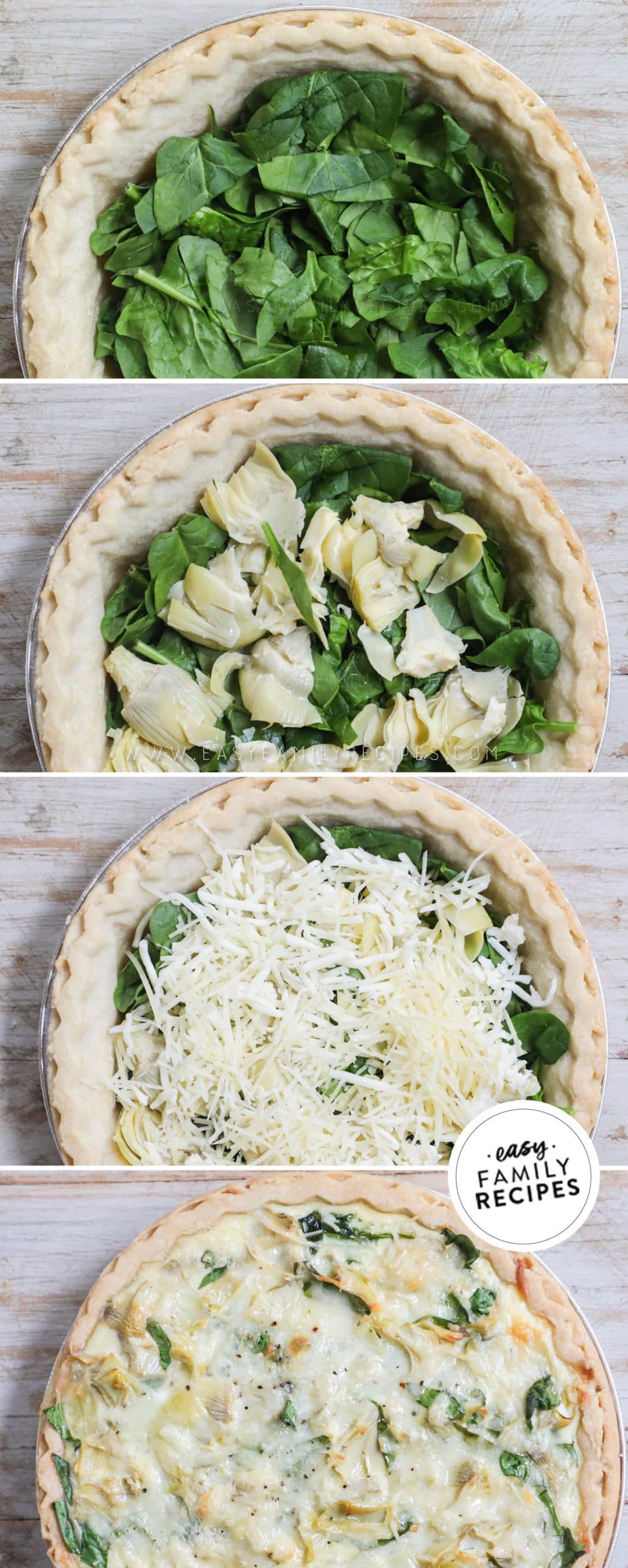 Recipe Tips
Pre-bake the crust– This can also be called par-bake or blind bake and is a necessary step to make the quiche set up nicely without getting a soggy bottom. This essentially pre-bakes the crust. Just add parchment on top of the crust and pile in something that can hold the crust down while it cooks. I like to use dried beans, but you can use coffee beans, granulated sugar, or store bought pie weights.

Fresh Spinach – As mentioned above, the way we are able to get those beautiful ribbons of spinach though out the quiche is by using fresh spinach. You will feel like you are using a lot when you fill the crust, but once the quiche cooks the spinach reduces to the perfect amount to add flavor, but not be overpowering.

The special method! The one thing that I think makes a quiche go from average to over the top deliciously creamy is to whip the eggs with an electric mixer. This allows the eggs to be more fully incorporated and creates an extra soft, tender custard to set up in the quiche. Such a simple little thing, but it really is a game changer!! You have to try it and tell me what you think!

How long to cook a quiche– The time the quiche will take to cook will have some variation depending on temperature going in the oven, size of your pie dish, climate, oven, size of your crust etc. Generally a deep dish quiche of this size will take about 50-60 minutes to bake.

Place quiche on a cookie sheet– I like to place the quiche on a cookie sheet to bake because I find it much easier to transfer to and from the oven when baking and if it happens to spill over at all, it ends up on the cookie sheet, not burning in the bottom of my oven.

Bake on the middle or bottom rack– This allows both the bottom and top crust to get golden brown. The top rack will only allow the top to get browned.

Don't over bake! The quiche is done when the center is just set. The edges will be firm and the center will have just a hint of a jiggle- not too much. It will continue to firm up as it cools and then have the perfect silky brilliantly cooked custard throughout.

Let it rest– The quiche will need to rest for about 20-30 minutes to set. Make sure to build in this time so that you don't cut into the dish before it is ready, it can be runny if you do this.
Recipe Short Cuts
If you need to make this recipe, but are extra short on time, here are a few ideas that can help make this recipe even faster!
Blind bake the crust ahead of time– this can be done up to 2 days in advance and stored in the refrigerator, or 3 months in advance when stored in the freezer. Just be careful because the crust will be delicate and can easily break if things hit it in the freezer.

Prep the fillings– The the spinach and artichokes can be chopped, and the cheese can be shredded well ahead of time and the eggs, spice, milk and cream can even be combined.

Prepare as a freezer meal– This dish can be made up to 3 months in advance and reheated at your convenience. Full directions below.
Recipe Variations
If you love this recipe as much as we do and want some quick ways to change it up for variety, these little tips will do the trick!
Crustless Spinach Artichoke Quiche– If you prefer to keep this recipe low carb, you can opt to prepare the Spinach Artichoke Quiche without a crust. To do this, grease a deep dish pie plate and then add the fillings and bake as directed in the recipe.

Spinach Artichoke Feta Quiche– Feta offers a new flavor twist on a Spinach Artichoke Quiche. To make the recipe with feta cheese, omit the parmesan and add equal amount of feta cheese in its place. Continue with recipe and bake as directed.

Spinach Artichoke Bacon Quiche– To make this recipe with meat, you can incorporate bacon. Make the recipe as directed. Right before cooking, add crispy crumbled bacon to the top of the quiche. I don't like to mix it in because I prefer it to stay crispy for the best texture. Bake as directed.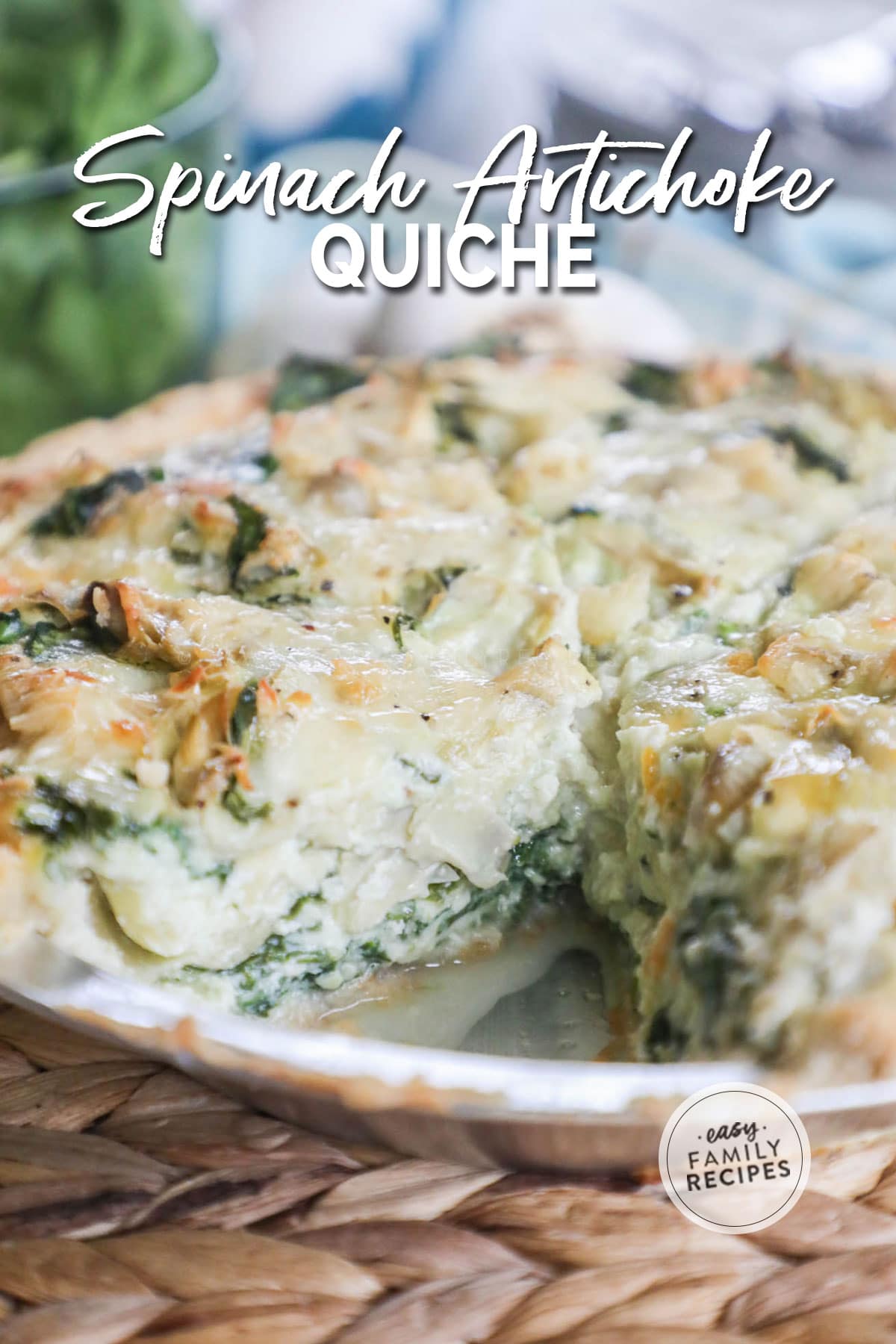 Freezer Meal Instructions
This Spinach Artichoke Quiche recipe can be prepared as a freezer meal to make on another busy night, or give to a friend in need.
Make the recipe as directed, baking until the center is almost set.
Allow to cool at room temperature.
Package in a zip top bag (most pie pans will slide into a gallon size bag) or other freezer friendly container.
FREEZE.
When ready to eat, thaw for 24-48 hours.
Bake at 350˚F for 15-20 minutes on middle or lower rack or until heated through.
For the best flavor, this meal can be frozen for up to 3 months.
Spinach Artichoke Quiche Leftovers
If you have leftovers after making Spinach Artichoke Quiche, then it is your lucky day! They save and reheat well, and can make the start of another delicious dish.
To save leftovers, separate into meal sized portions and then place in an airtight container and store:
in the refrigerator for 3-4 days
in the freezer up to a month
More Easy Breakfast Recipes
If you enjoyed this recipe, I really hope you will take a moment to grab a few more easy recipes for another busy night!
You can check out all of my Easy Breakfast Recipes here, or see a few of our readers favorite recipes below.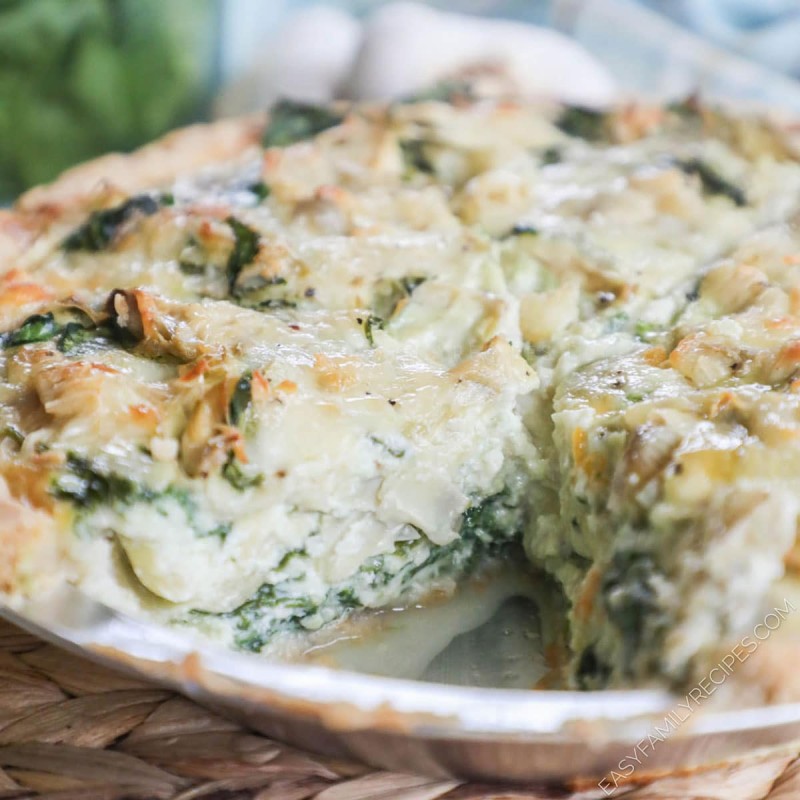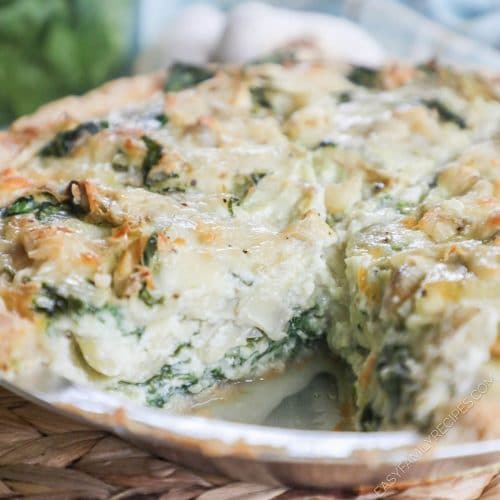 Spinach Artichoke Quiche
This ultra creamy Spinach Artichoke quiche is loaded with amazing flavor and uses a special method to get a super creamy egg custard with ribbons of spinach throughout. This is a favorite recipe of many because it is just that good!
Ingredients
1

deep dish pie shell

,

(16 oz)

14

oz

canned artichoke hearts

,

drained and chopped

2

cups

fresh spinach

1/2

cup

mozzarella cheese

,

shredded

1/4

cup

parmesan cheese

,

shredded

6

large eggs

1/2

cup

heavy cream

1/2

cup

milk

1

tsp

dijon mustard

1

tsp

crushed garlic

1/4

tsp

salt

1/4

tsp

ground black pepper
Instructions
Pre-bake the pie crust: Heat the oven to 400˚F. Place parchment in the crust and fill it with dried beans. Bake for 12-15 minutes or until golden brown. Remove from oven and allow to cool to room temperature.

Reduce oven temperature to 350˚F.

Note: do not poke holes in the crust. This can allow the egg to leak through if the holes do not completely close during baking. Weighting the crust with beans should prevent the crust from bubbling up and so the holes are not needed.

Make the custard: In a medium bowl, add the eggs, heavy cream, milk, mustard, garlic, salt and pepper. Beat with a hand mixer until completely combined.

Roughly chop the spinach, then place half of it in the bottom of the pie crust. Layer half of the chopped artichokes and half of the cheese on top of the spinach, then repeat with the remaining spinach, artichokes, and cheese.

Pour the egg mixture over the quiche. Place the quiche on a baking sheet and bake for 50-55 minutes or until the center is just set.

Let sit for 20 minutes and serve warm to room temperature. Enjoy!
Recipe Notes
For a crustless Spinach Artichoke Quiche– Omit the crust and instead, oil a deep dish pie pan and continue recipe as directed.
Nutrition Information
Serving:
1
slice
,
Calories:
438
kcal
(22%)
,
Carbohydrates:
24
g
(8%)
,
Protein:
13
g
(26%)
,
Fat:
32
g
(49%)
,
Saturated Fat:
12
g
(75%)
,
Trans Fat:
1
g
,
Cholesterol:
203
mg
(68%)
,
Sodium:
703
mg
(31%)
,
Potassium:
208
mg
(6%)
,
Fiber:
2
g
(8%)
,
Sugar:
2
g
(2%)
,
Vitamin A:
2245
IU
(45%)
,
Vitamin C:
17
mg
(21%)
,
Calcium:
190
mg
(19%)
,
Iron:
2
mg
(11%)