This Asian Cucumber Salad with Ginger Soy Dressing is a refreshing and easy side dish or topping. It doesn't require any cooking and can be made in advance making it great for busy weeks!
Asian Cucumber Salad – The EASY Way!
Cucumber salads are a household favorite around here. I love them because they are light and refreshing in contrast to the many warm and hearty dishes it can be enjoyed with.
Now add ginger (my absolutely favorite) and the flavor of soy sauce and this Asian cucumber salad is the ultimate tasty bite! What is even better is that this dish can be made in advance and the flavors get even better with time!
This Asian cucumber salad recipe can be made up to 2 days in advance and is enjoyed cold so have company coming over and a busy week ahead? Make this and serve it straight from the fridge! It also doesn't require any cooking which means no taking up precious oven space. Win win win!
Why I LOVE this recipe!
Veggie Packed– Crisp cucumbers and green onions make this a veggie-forward dish already, but you can add in even more if you want! Carrots or jalapenos would be a great addition!
Can be prepped ahead– This salad can be prepped ahead up to 2 days in advance with the dressing. And, the longer it sits in the fridge the better the flavors will be.
Great flavors– With flavors like ginger, chili flakes, and soy sauce this spicy Asian cucumber salad is packed with unique and delicious flavors.
No cooking required – That's right! No cooking is needed, simply chop and mix – how easy is that?
Super quick – Again, this easy Asian cucumber salad is super quick and takes little effort. Besides letting the dish sit, the actual work to put this salad together is only about 10 minutes.
Wholesome and versatile – With the umami of soy sauce and punch of ginger, this salad provides a wholesome dish for serving alongside almost any other Asian dish. Or it could be used as a topping on a beef bowl or sandwich.
Recipe Notes
This crunchy Asian cucumber salad recipe is as simple as promised! Just 10 minutes of prep time for a family friendly side.
In this section I am going to go through a few tips and tricks I use when making this recipe to get the absolute best and most delicious results.
Make sure to scroll to the bottom for the FULL recipe card.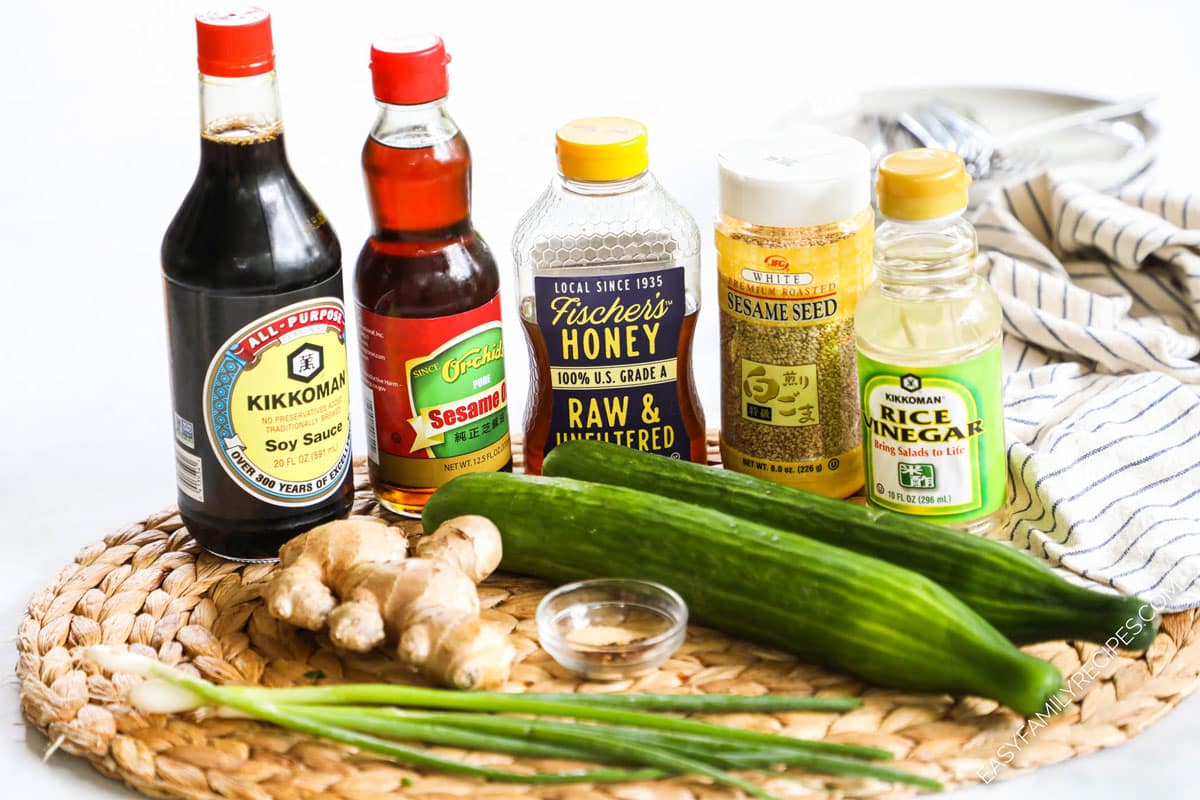 Ingredients + Substitutions
Cucumber – I like to use English cucumber or pickling cucumbers because their size is great for a salad. Feel free to use any kind though.
Salt – Salt draws out excess moisture from the cucumbers to make sure your salad isn't soggy.
Green Onions – I like to add green onions to my quick Asian cucumber salad for a bite. I use the entire green onion, but some folks only use the top or bottom so feel free to use what you like.
Rice Vinegar – Rice vinegar is a staple in Asian cuisine and is known for its light and mild flavor. The mild flavor makes it the perfect pairing for this Asian cucumber sesame salad.
Soy Sauce – I use regular soy sauce for this salad but if sodium is a concern for you, you can definitely use low-sodium soy sauce.
Sesame Oil – This is one of my favorite ingredients! Just adding a little bit adds a wonderfully nutty and warm flavor to the Asian cucumber salad dressing.
Honey – Another way to add depth of flavor! The honey contrasts the chili flakes for the ultimate sweet and spicy. You can adjust the amount to taste if needed.
Ginger -Ginger adds a brightness and zing, similar to citrus. I like to use fresh or jarred for the best flavor, but you can use dried ginger in a pinch.
Chili Flakes – Another ingredient that can be adjusted to taste if your family doesn't like spice. This recipe is written with just enough chili flakes to make your mouth feel warm, so not too spicy but really tasty!
Toasted Sesame Seeds – Sesame seeds keep adding to that nutty flavor and also add a fun additional crunch to the Asian cucumber salad sesame oil dressing!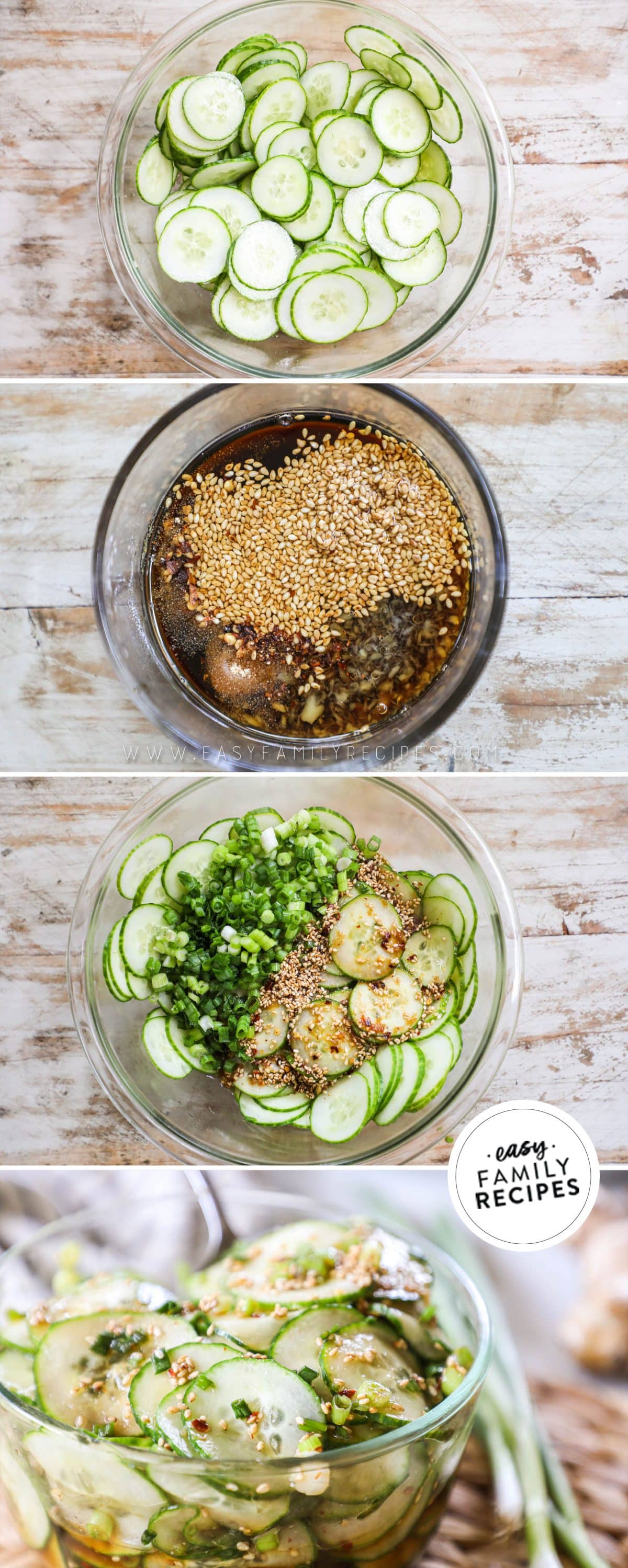 Recipe Tips and Common Questions
Salt the cucumbers – Cucumbers have a ton of water in them! They are on par with watermelon is regards to water ratio. So, in order to avoid a soggy salad we will sprinkle the sliced cucumbers with salt and let them sit on a paper towel for a full 10 minutes. This should draw out a lot of moisture that you can then pat off to avoid a dripping salad.

Let the salad rest – This Asian cucumber salad with sesame oil dressing relies on the dressing being able to absorb into the cucumbers. In order to do this, you need to let the salad rest in the fridge for at least 30 minutes before serving. This equals more flavor with no more work.

Thinly slice the cucumbers – The thinner the better! I like to use a mandolin for even thin slices. A food processor for small pieces or slowly cutting thin slices with a knife will work too. This may take a little more work but thin pieces are so much more enjoyable to eat and also mean there are more pieces to get coated in that tasty ginger dressing!
Common Questions
What should I eat with an Asian Cucumber Salad?
You can eat just about anything with this salad! One of my favorite ways to enjoy it is with sticky rice and firecracker chicken for an Asian-inspired bowl. Be sure to check above for other delicious pairing ideas!
Should Asian cucumber salad be served cold?
Yes! Asian cucumber salad wth soy sauce is best enjoyed chilled. This is the most refreshing way to enjoy it which maintains the crunch of the cucumbers.
What type of vinegar is in Asian cucumber salad?
Most commonly, Asian cucumber salad uses rice vinegar. This was originally because rice was (and still is) one of the most prominent crops in Asia so rice vinegar was much more common than white vinegar or apple cider. Because it is such a mild vinegar, it is perfect for the cucumber salad and does not weigh it down at all.
Recipe Short Cuts
If you need to make this recipe but are extra short on time, here are a few ideas that can help make this recipe even faster!
Make it in advance– You can make this whole salad in advance, up to two days! This is the ultimate shortcut because it means you don't have to do anything to make dinner when the time comes. Simply serve or use it as a snack while you make the rest of dinner.

Prep the cucumbers– You can cut the cucumber a day before you want to make the salad. I would not recommend salting them yet as that may draw out too much moisture.

Prep the dressing– I often keep this dressing in the fridge for other salads, not just this one. You can everything to a mason jar, close the lid, and shake! When ready to use, just shake once more and add the salad.
Recipe Variations
If you love this recipe as much as we do and want some quick ways to change it up for variety, these little tips will do the trick!
Carrot and Cucumber Salad– For added crunch and color, try adding sliced carrots to this salad.
Sriracha Cucumber Salad– For another flavor combination, you can swamp out the chili flakes for sriracha in the dressing.
Creamy Asian Cucumber Salad– Similar to the cucumber salads common n the midwest, you can add a little bit of mayo to the dressing. This will create a creamy version of this delicious salad.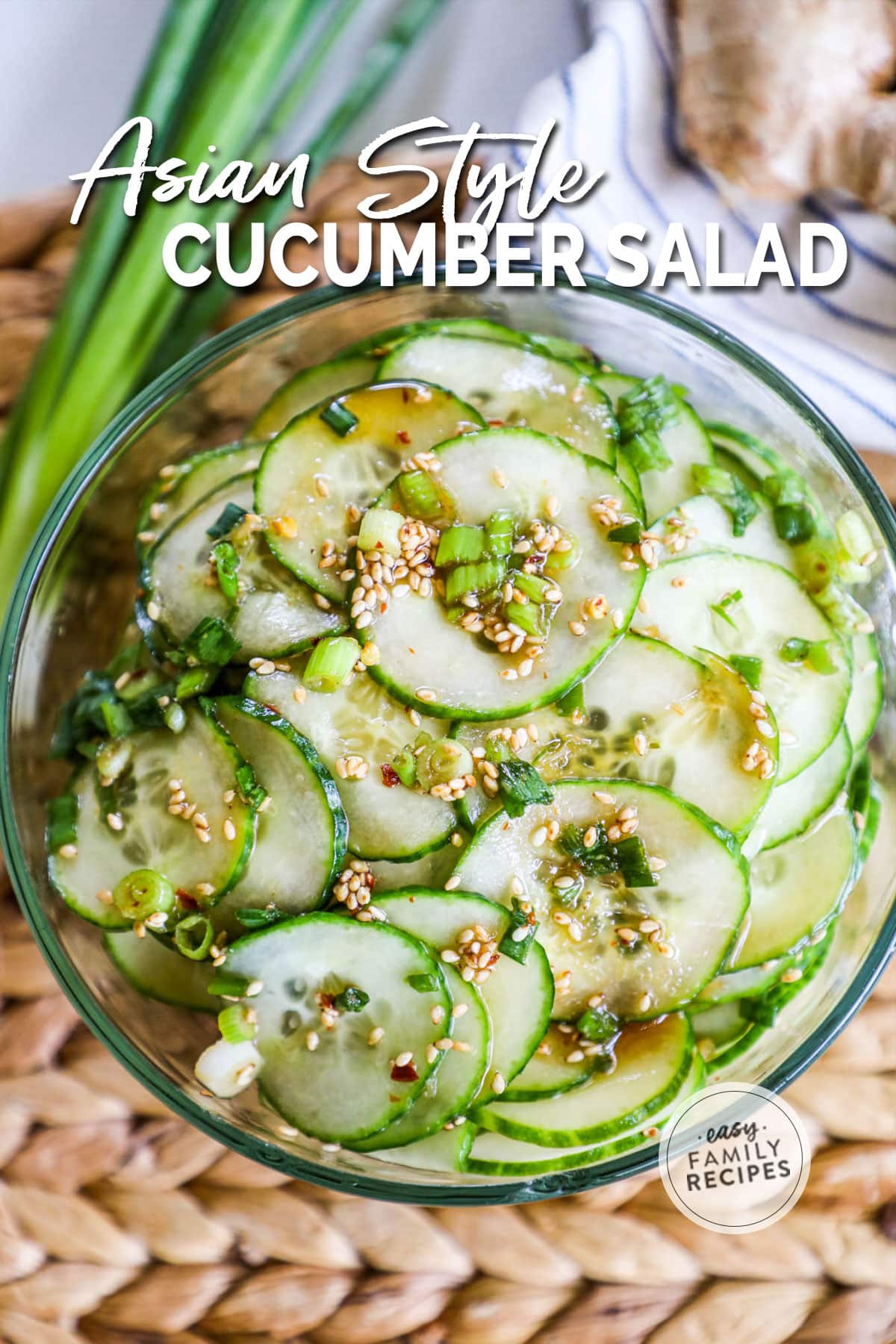 What to Serve with a Simple Asian Cucumber Salad
Since this dish has classic Asian flavors, it will pair well with many of your favorite Asian dishes. There are both classic options and some healthy options to keep it light.
Main Dish Ideas
Other Side Dish Pairings
You can choose one or add a few sides to make a wholesome, well-rounded dinner.
More Quick Salad Recipes
If you enjoyed this recipe, I really hope you will take a moment to grab a few more easy recipes for another busy night!
You can check out all of my side dish recipes here, or see a few of our reader's favorite recipes below.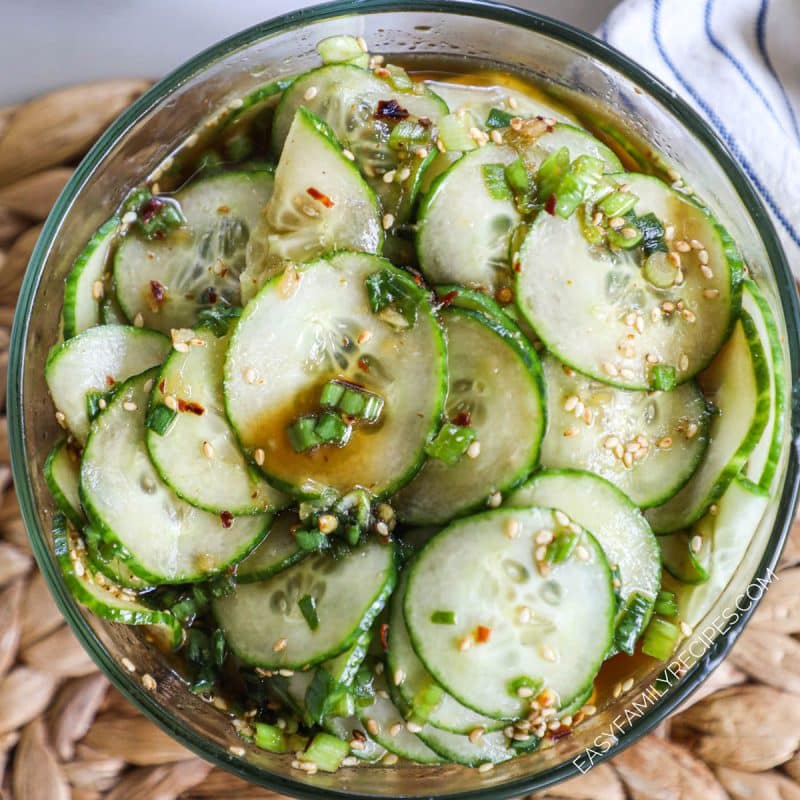 Asian Cucumber Salad with Ginger Soy Dressing
This quick and easy Asian Cucumber salad with Ginger Soy Dressing is a crowd favorite! This no cook wonder can be prepped ahead for the perfect busy weeknight side dish!
Ingredients
2

large

english cucumbers

,

or 8 small pickling cucumbers

1/2

teaspoon

salt

3

tablespoons

rice vinegar

2

tablespoons

soy sauce

1

tablespoon

sesame oil

1

tablespoon

honey

,

or more to taste

1

teaspoon

fresh minced ginger

,

or 1/4 teaspoon dried ginger

1/2

teaspoon

chili flakes

1

tablespoon

toasted sesame seeds

4

green onions

,

finely sliced
Instructions
Thinly slice the cucumbers. I like to use a mandolin, but you can also slice evenly by hand with a knife.

Sprinkle salt over the cucumbers and let them sit for 10 minutes while you prepare the dressing. At the end of the 10 minutes, drain liquid released from the cucumbers.

To make the dressing, whisk together the rice vinegar, soy sauce, oil, honey, ginger, chili flakes, and sesame seeds.

Add cucumbers, green onions, and dressing to a bowl, and toss to coat. Chill in the refrigerator for 20 minutes to allow the flavors to meld.

Serve chilled. Salad is best fresh but can be saved for up to 2 days.
Recipe Notes
Although we mainly serve this cucumber salad as a side dish, it also works wonderfully to add as a topping to other dishes. Try it on top of an Asian style bowl, as a topping on a sandwich, or in a green salad.
Substitutions:
Cucumber – Any type of cucumber will work. 
Soy Sauce – I use regular soy sauce for this salad but if sodium is a concern for you, you can definitely use low-sodium soy sauce.
Ginger – I like to use fresh or jarred for the best flavor, but you can use dried ginger in a pinch.
How to Store:

 

You put everything into a mason jar, close the lid, and shake! When ready to use,  just shake once more and add to the salad.
Nutrition Information
Calories:
93
kcal
(5%)
,
Carbohydrates:
12
g
(4%)
,
Protein:
3
g
(6%)
,
Fat:
5
g
(8%)
,
Saturated Fat:
1
g
(6%)
,
Polyunsaturated Fat:
2
g
,
Monounsaturated Fat:
2
g
,
Sodium:
803
mg
(35%)
,
Potassium:
290
mg
(8%)
,
Fiber:
1
g
(4%)
,
Sugar:
7
g
(8%)
,
Vitamin A:
351
IU
(7%)
,
Vitamin C:
6
mg
(7%)
,
Calcium:
56
mg
(6%)
,
Iron:
1
mg
(6%)