This Oven Baked Salsa Chicken is a go-to easy weeknight meal! Bursting with the best Mexican flavors, this one dish wonder only has 4 ingredients and takes as little as 5 minutes to prep and get in the oven. No wonder why it is a long time dinner winner!
Easy Salsa Chicken
There are easy dinner recipes. Then there are EASY DINNER RECIPES.
This Salsa Chicken is EASY.
I am talking the
Only 4 ingredients
You most likely already have them in your pantry
Can be thrown together in 5 minutes
and the cooking is totally hands off
kind of easy.
If this was an infomercial, I would say "BUT WAIT! THERE'S MORE!"
There are a lot of things in life that are easy, but then the result is not great. This isn't one of them.
This meal is not only EASY but also really, really delicious!
Kind of the holy grail of recipes.
Easy + Healthy + Delicious.
On top of all the easy and delicious, this Salsa Chicken is a really healthy dinner option. It is low carb, gluten free, with dairy free, paleo and whole 30 modifications. More on that below!
How to Make Salsa Chicken
This Salsa Chicken is every bit as easy and wonderful as promised. I have many readers with a variety of experience levels in the kitchen.
I use this section to share all of my notes and tips so that I can answer most of the questions that may pop up while cooking!
Make sure to find the FULL printable recipe card at the bottom of this post and if you have a question, that I didn't answer, please leave it for me in the comments below.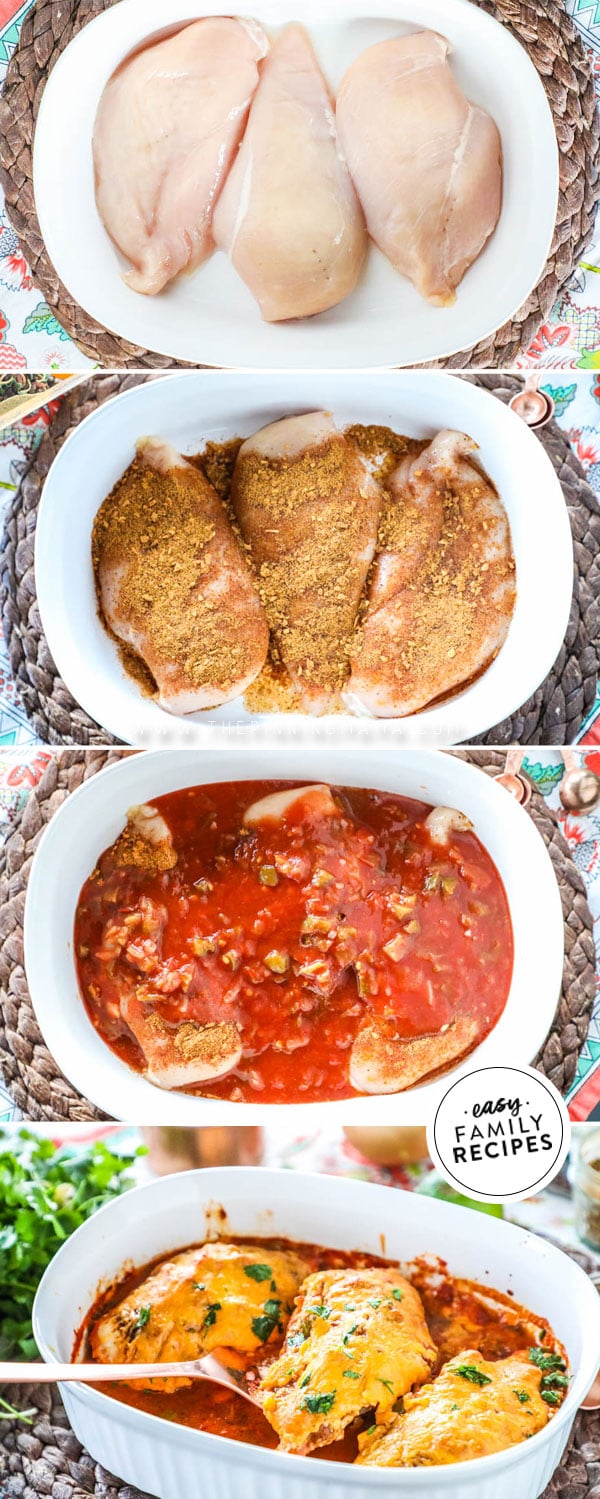 The Ingredients
There are only 4 so this is short and sweet, but I do have some pretty strong opinions on each one if you want to get the BEST salsa chicken.
Chicken
This recipe calls for boneless, skinless chicken breast. I like this cut of meat because it is lean, doesn't really need any prep, and bakes well.
⭐️Pro Tip: If you have chicken breasts that are regular sized to thick, I always recommend cutting them so that they are half the thickness. This does a few key things:
Allows the chicken to cook more quickly and evenly
In general, the thicker the chicken, the longer it will take to cook, so by making the chicken more thin and uniform it makes it cook more quickly.
Keeps the chicken more tender
Since the chicken doesn't have to take as long to cook, it stays more tender!
More flavor in every bite!
With thinner pieces of chicken you have more surface area for the same weight of chicken. This allows you to season more of the chicken so you get more flavor in every bite!
If you prefer you can use other cuts of chicken. It will work best if you use boneless, skinless cuts such as chicken thighs or chicken tenderloins.
Seasoning
To keep this recipe simple, we use taco seasoning as a main component of the flavor.
I highly recommend that you use my homemade taco seasoning. Why?
It is really delicious
Super easy to make
Stays good for a year – so make a big batch!
Healthy & wholesome – Ensures it is gluten free, dairy free, preservative free, etc
If you don't have time to whip up the homemade taco seasoning, you can absolutely use a store bought package, and the recipe will still be tasty. Sometimes these store bought taco seasoning packets do contain gluten, dairy, fillers and preservatives, so if you are sensitive to those, make sure to choose carefully.
Salsa
Obviously, salsa is a key ingredient in SALSA CHICKEN! And while this recipe is pretty versatile so that you can use most any salsa, I do think some work the best for taste and texture!
When I make this recipe, I like to use a thicker salsa where the tomatoes are more sauce-like, as opposed to one that is more like a pico de gallo with chunks of tomato, onion, pepper, etc in a more thin juice base.
Since the chicken releases juices as it cooks, having a thicker based salsa give the dish substance, versus it being more watery.
While I am usually a HUGE fan of homemade salsa, for this recipe, I do favor store bought. I think even the least expensive brands can work really well like Old El Paso, Pace, or even store brand.
If you have a specific salsa that you love, it will probably work well in this recipe, just make sure it has that thicker base.
The Cheese
For this recipe I recommend sharp cheddar cheese. I like sharp cheddar because it gives a lot of flavor without having to add too much cheese to the dish.
You can also use mild or medium cheddar, colby jack, or Mexican blend cheese if you have it on hand.
Or, if you want a little more spice, try pepper jack cheese!
Dietary Restrictions
If you are feeding someone that has special dietary needs, this recipe tends to work really well! Not only is it delicious but it is naturally compliant for many diets, and easily modified to fit many more!
Gluten free– This recipe is naturally gluten free when using homemade taco seasoning.
Low Carb/ Keto– This recipe is naturally low carb and friendly for the keto diet and approx 6 net carbs per serving.
Dairy Free– This recpe can be modified to be dairy free when the cheese topping is omitted.
Whole30– To make this recipe Whole30 compliant, omit the cheese, and use homemade taco seasoning.
Paleo– To make this recipe Paleo, omit the cheese, and use homemade taco seasoning.
Remember, with any special diet, to double check the labels on the specific ingredients purchased to verify compliance.
Salsa Chicken Recipe Variations
I encourage you to make the recipe as is because the combo of easy and delicious can't be beat. BUT, if you want to try something new, here are a few ways to jazz this recipe up a bit!
Creamy Salsa Chicken – This one is rich, creamy, and delicious!
Salsa Verde Chicken- Use salsa verde (green salsa) in place of red salsa for a new flavor twist.
Salsa Chicken and Veggies- Chop up sweet bell pepper and onions and place them on the bottom of the casserole dish. Then add the chicken, seasoning, salsa, and cheese on top. This gives you a main dish and side dish all in one pan!
How to Serve Salsa Chicken?
This Easy Baked Salsa Chicken can be served as a whole tender chicken breast on top of a bed of rice or veggies. It is equally good, if you slice or chop the chicken and then use it for a filling for tacos, burritos, and other Mexican favorites. This recipe works for both really well!
Topping Ideas
Although, it by no means is necessary, and this Salsa Chicken is super good on it's own, we love to pile on some extras to top it off. If your family loves the "toppings" as much as mine, here are some options we use:
Guacamole
Sour Cream
Crushed tortilla chips
Chopped cilantro
Shredded lettuce
Side Dishes that go well with Salsa Chicken
To round out your meal, you can add one or more sides to serve with this recipe. Adding side dishes is also a great way to stretch the meal to help it go further.
Mexican Rice
Black or Refried Beans
Sautéed Peppers and Onions
You can also add tortillas and toppings and call it a day. There are just so many fun and easy ways to serve Salsa Chicken!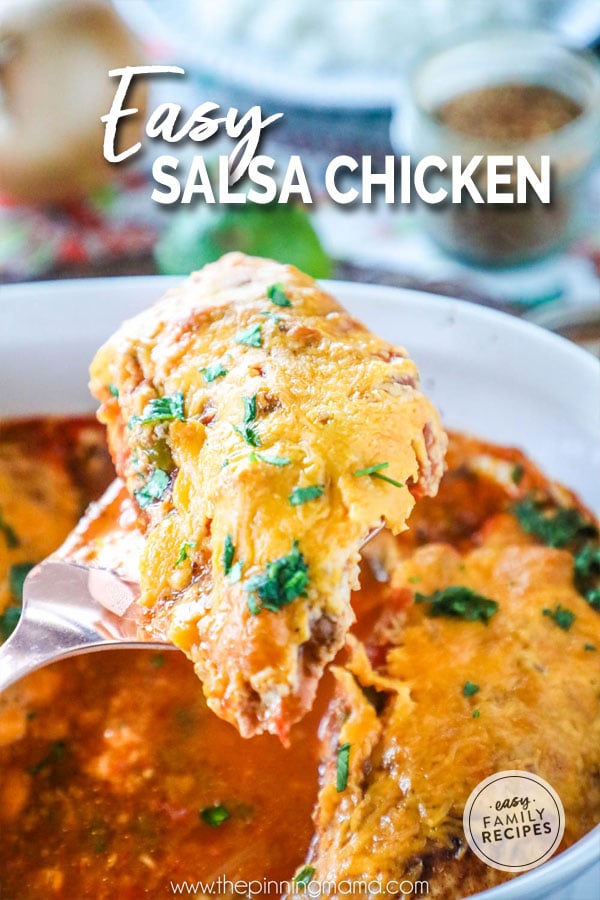 Freezer Friendly
Salsa Chicken makes a great freezer meal. If you want to prepare it ahead of time you can store it in the freezer for up to 3 months, then bake and serve at a later time.
Salsa Chicken Freezer Meal Instructions
Place in freezer bag or air tight container. Season the chicken with the taco seasoning.
Top with salsa.
Freeze.
When ready to bake, thaw for 24-48 hours in the refrigerator.
Place in baking dish and top with cheese.
Bake as directed.
Baked Salsa Chicken Leftovers
Leftovers of Salsa Chicken are awesome to have because they reheat well, and also repurpose into many great meals you can make later in the week.
To save leftovers, divide into meal sized portions and place in an air tight container
in the refrigerator for 3-4 days
in the freezer for up to a month
Leftover Recipe Ideas
Here are a few of the MANY things you can use leftover Baked Salsa Chicken for. You can get as creative as you want with this recipe, but these are a few of our favorites.
Salsa Chicken Quesadillas– Chop leftovers and mix them with sweet corn kernels. Heat a large skillet or griddle to medium heat. Butter a tortilla and place it on the heated skillet. Fill it with salsa chicken mixture and extra shredded cheddar cheese. Fold it over and grill both sides until golden.
Salsa Chicken and Rice Casserole– Chop leftover Salsa Chicken and mix with prepared white rice or cauliflower rice. Stir in black beans and corn, and extra salsa if needed. Spread mixture in a casserole dish and top with cheese and bake until heated through.
Salsa Chicken Burrito Bowls– Have a make-your-own burrito bowl night with chopped salsa chicken, rice, black beans, salsa, sour cream, chopped lettuce, and guacamole.
Salsa Chicken Salad– Start with a bed of chopped romaine lettuce. Add chopped Salsa Chicken then top with your choice of diced avocado, sweet yellow corn, black beans, pico de gallo, and crushed tortilla chips. For the dressing I like to mix ranch dressing with salsa and toss it with the salad.
Salsa Chicken Enchiladas– Shred or chop the chicken and place it inside a tortilla with a sprinkle of cheese. Repeat placing the enchiladas in a baking dish seam side down. Cover with red or green enchilada sauce and a sprinkle of cheese and bake at 375˚F until heated through and bubbly.
More Easy Baked Chicken Recipes
If you enjoyed this recipe, we have so many more that are just as simple and delicious! I hope you will add a few of these recipes to your upcoming meal plans!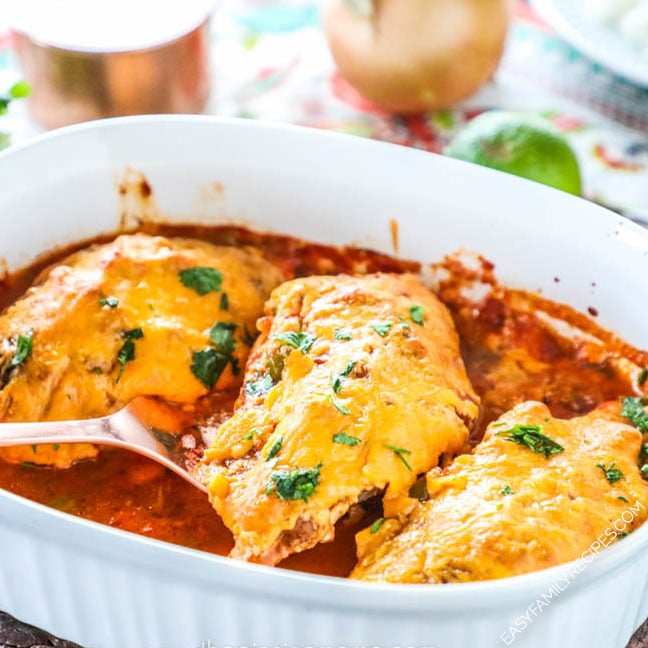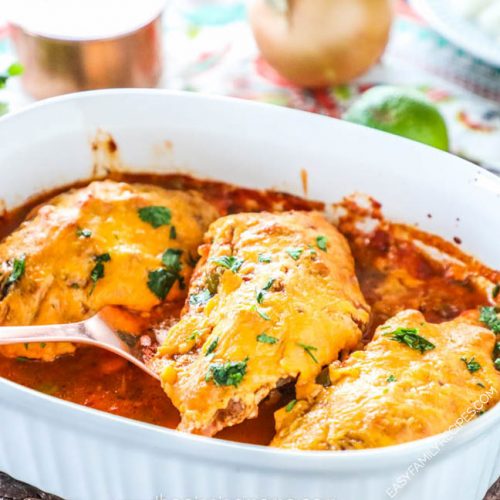 Oven Baked Salsa Chicken
This easy Oven Baked Salsa Chicken is equal parts EASY – HEALTHY- DELICIOUS! Serve it with tortillas, rice and beans, or Mexican corn for a simple dinner that they whole family will love.
Ingredients
2

lbs

Chicken Breast

,

boneless, skinless thin cutlets

2

tbsp

Taco seasoning,

(or 1 store bought packet)

1½

cups

Salsa

,

(thick preferred)

¾

cup

sharp cheddar cheese

,

shredded
Toppings (optional)
Sour cream

Chopped cilantro

Diced jalapeno

Crushed tortilla chips
Instructions
Place the chicken breast in the bottom of a large baking dish.

Sprinkle the taco seasoning evenly over the chicken.

Top with with salsa and cheese.

Bake at 375˚F for 25-35 minutes or until chicken is cooked through (165˚F internal temp.)
Recipe Notes
Use thin chicken chicken breasts, or cut them to half the thickness. Alternatively, the chicken can be cut into chunks, or chicken tenderloins can be used.
Dietary Modifications
Optional for dairy free, whole30 and Paleo- Omit cheese and make as directed.
To ensure this recipe is gluten free, dairy free, Whole30, and Paleo, make sure to use homemade taco seasoning.
Freezer Friendly
This recipe can be frozen before or after cooking.
When freezing before cooking, the meal will last 3 months in the freezer.
When freezing after cooking the Salsa Chicken is best used in 1 month.
Nutrition Information
Serving:
10
oz
,
Calories:
375
kcal
(19%)
,
Carbohydrates:
8
g
(3%)
,
Protein:
55
g
(110%)
,
Fat:
13
g
(20%)
,
Saturated Fat:
6
g
(38%)
,
Cholesterol:
167
mg
(56%)
,
Sodium:
1189
mg
(52%)
,
Potassium:
1138
mg
(33%)
,
Fiber:
2
g
(8%)
,
Sugar:
4
g
(4%)
,
Vitamin A:
873
IU
(17%)
,
Vitamin C:
5
mg
(6%)
,
Calcium:
193
mg
(19%)
,
Iron:
1
mg
(6%)