These Cornflake Cookies are irresistible! With perfectly crunch edges, and a soft and chewy middle, they are one of the best cookies. The addition of cornflakes give these cookies a little extra boost in both flavor and crunch to make them extra special and elevate them over your average cookie!
Cornflake Cookie Recipe
One of my favorite memories of growing up was spending time in the kitchen baking with my mom. No matter what I came up with the craving for, she always made time to cook and bake with me.
We had many cookie recipes we rotated through growing up (like these chocolate chip pudding cookies, and our perfect soft sugar cookies, oh and these no bake cookies!) but I always really loved these Cornflake Cookies when I was a kid.
They are the perfect combination of sweet, but not too sweet. Crispy on the edges but soft and chewy in the middle. The cornflakes give it that little something extra, where you don't quite know what it is when you are eating it but it tastes really special.
Note: Some people also call these Ranger Cookies, so if you are looking for a Ranger Cookie with cornflakes made the nostalgic way, you found it!
Recipe Notes
These Cornflake cookies are as simple as promised! Just a few minutes of prep for an amazingly delicious sweet treat.
In this section I am going to go through a few tips and tricks I use for how to make cookies with chocolate pudding to get the absolute best and most delicious results.
Make sure to scroll to the bottom for the FULL recipe card.
Ingredients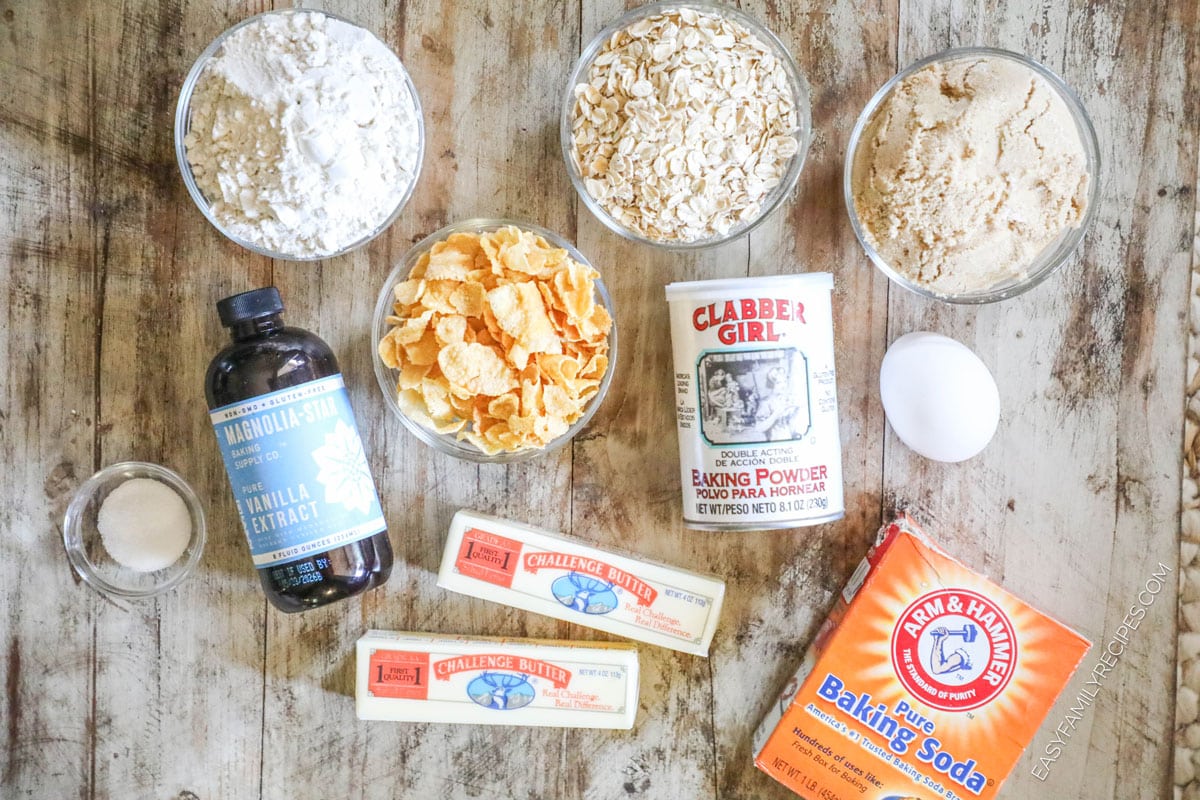 Flour
Quick cooking oats – if you only have old fashioned oats, you can use these as well, but I recommend letting the dough sit in the refrigerator 30 minutes before baking.
Baking powder
Baking soda
Salt
Butter– You can use salted or unsalted. You won't notice a flavor difference either way!
Brown sugar– I generally use light brown, but you can also use dark brown for a richer flavor.
Egg– I like to beat the egg before adding so that it combines more smoothly with the mixture
Vanilla
Cornflakes– you can use name brand cornflake cereal or off brand with good results
Optional:
Nuts – Pecans or walnuts work well
Chocolate chips
How to Make Cornflake Cookies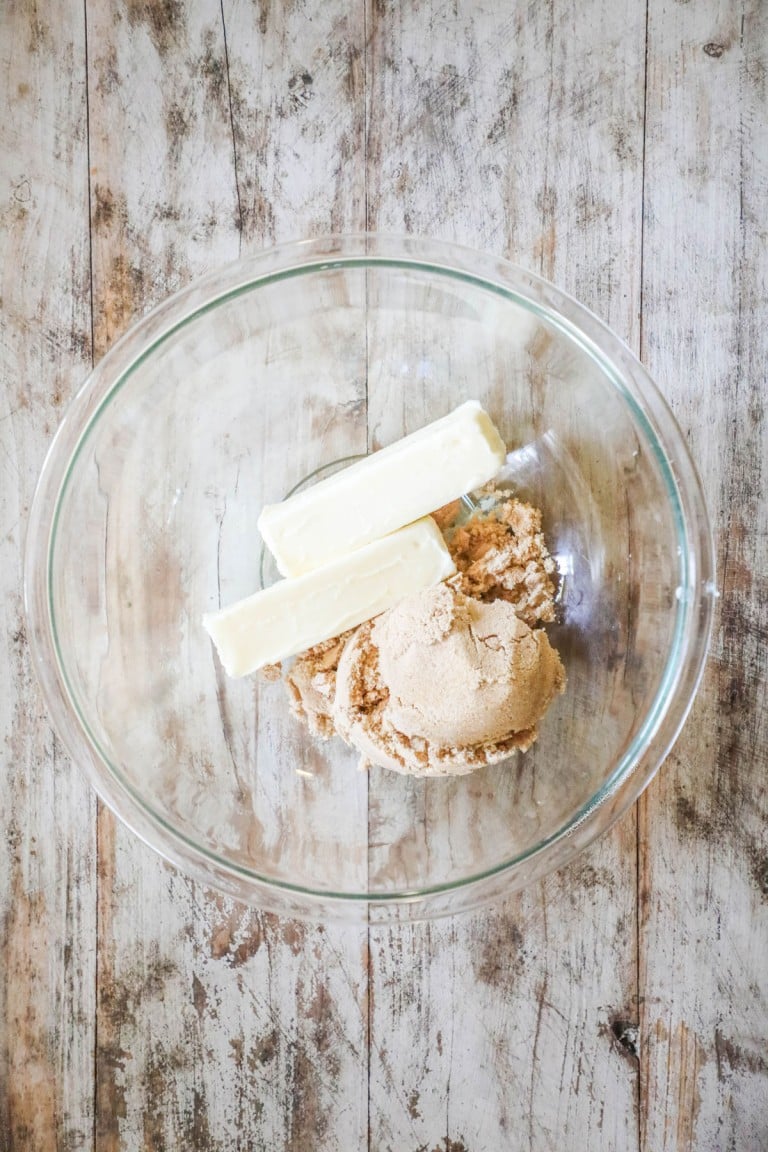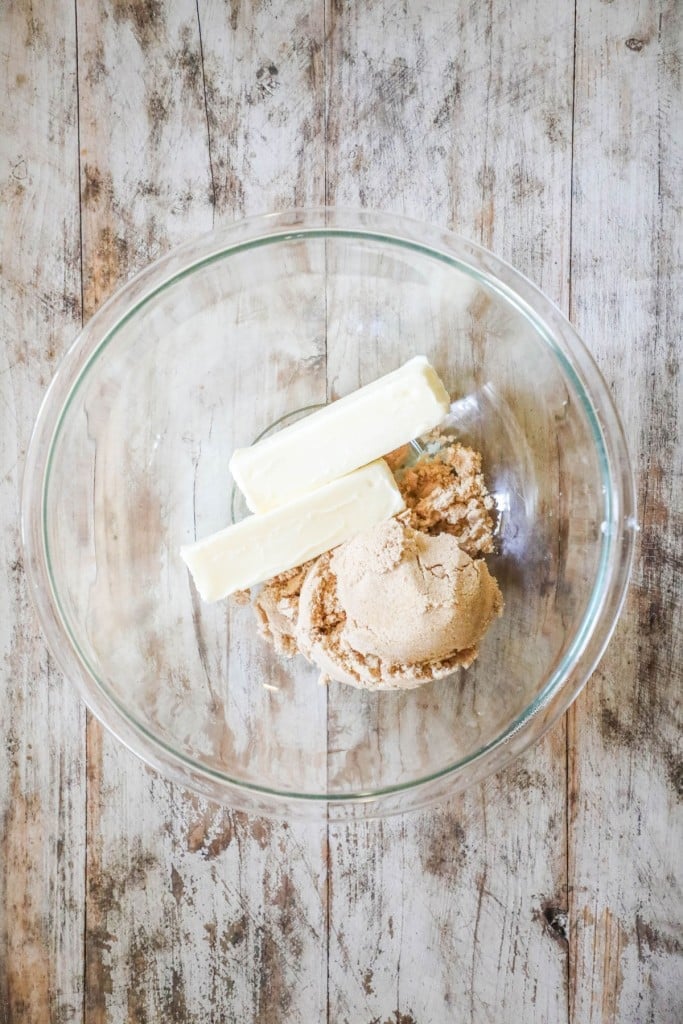 These cookies follow a pretty basic cookie recipe. First the butter and sugar is creamed together and the egg and vanilla added.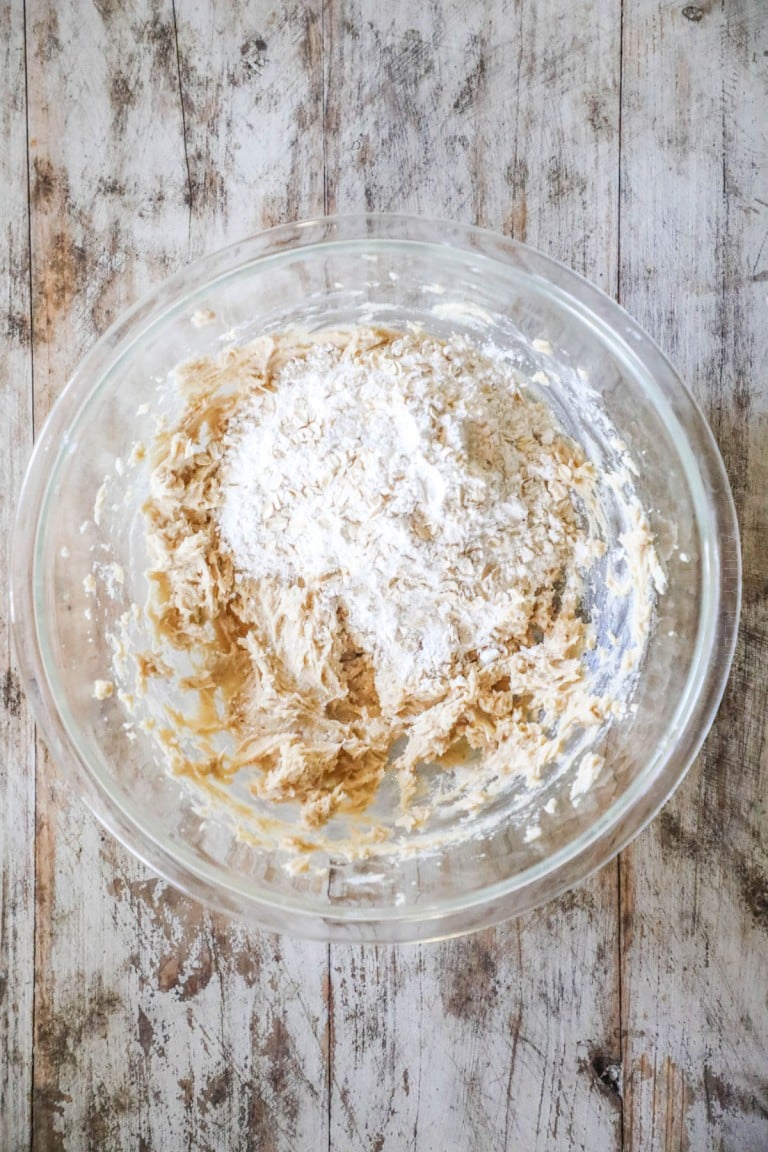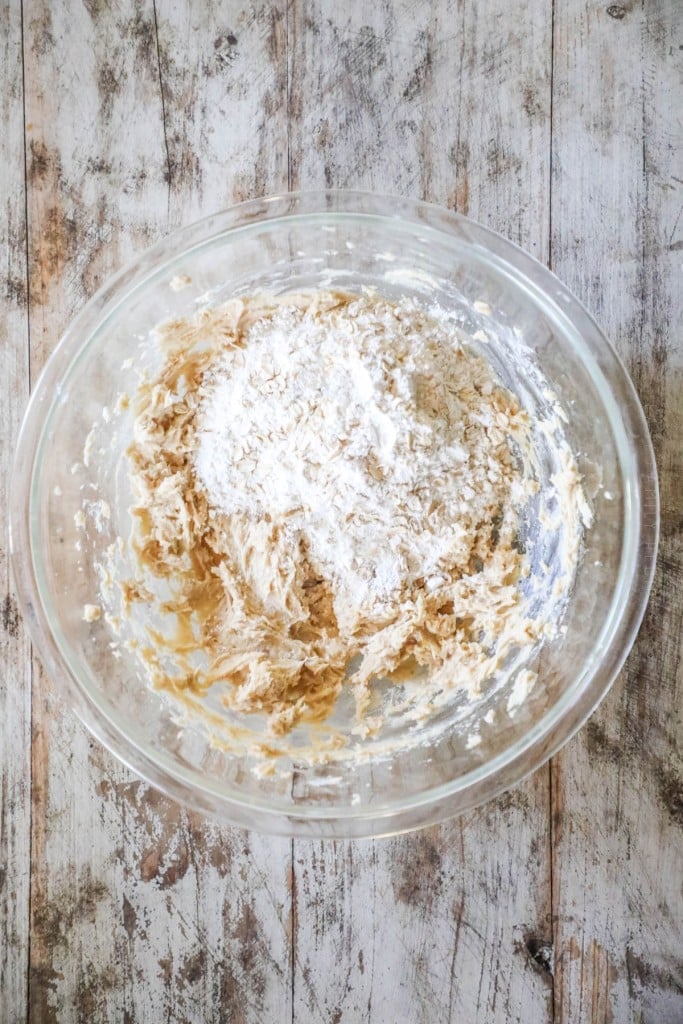 The dry ingredients are sifted together and the oatmeal is added. It is important to use quick cooking oatmeal so it can really incorporate into the mixture.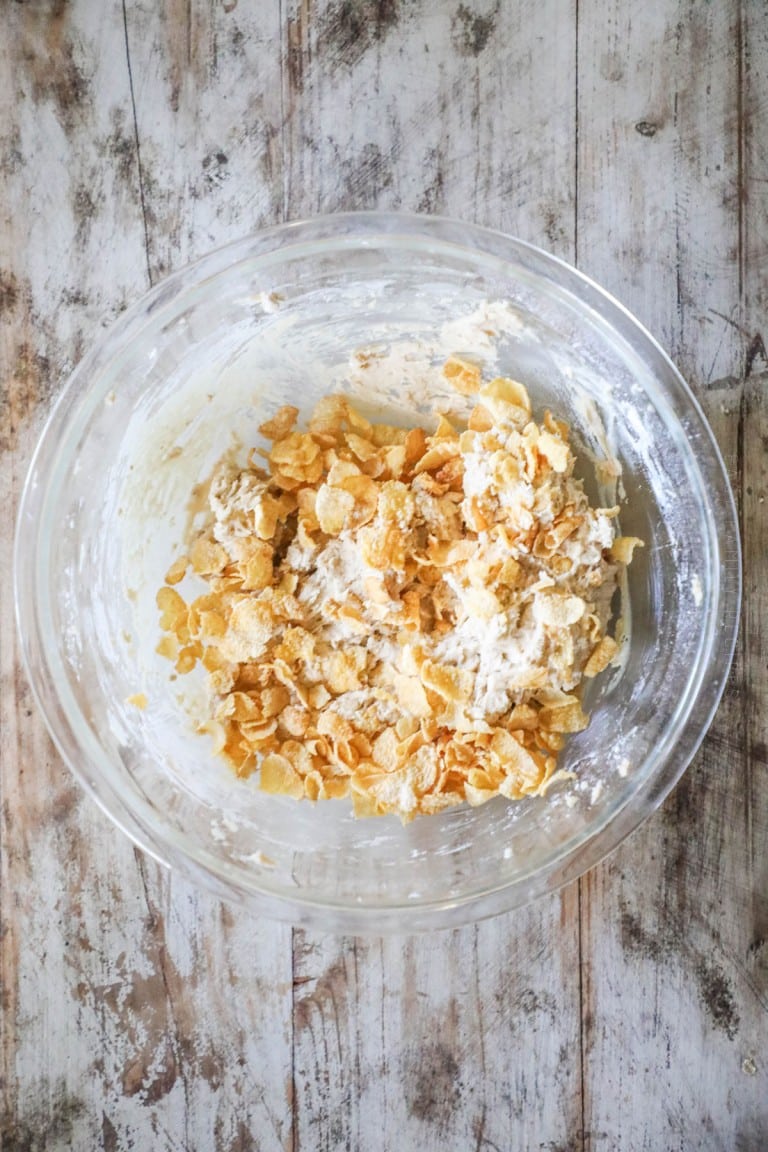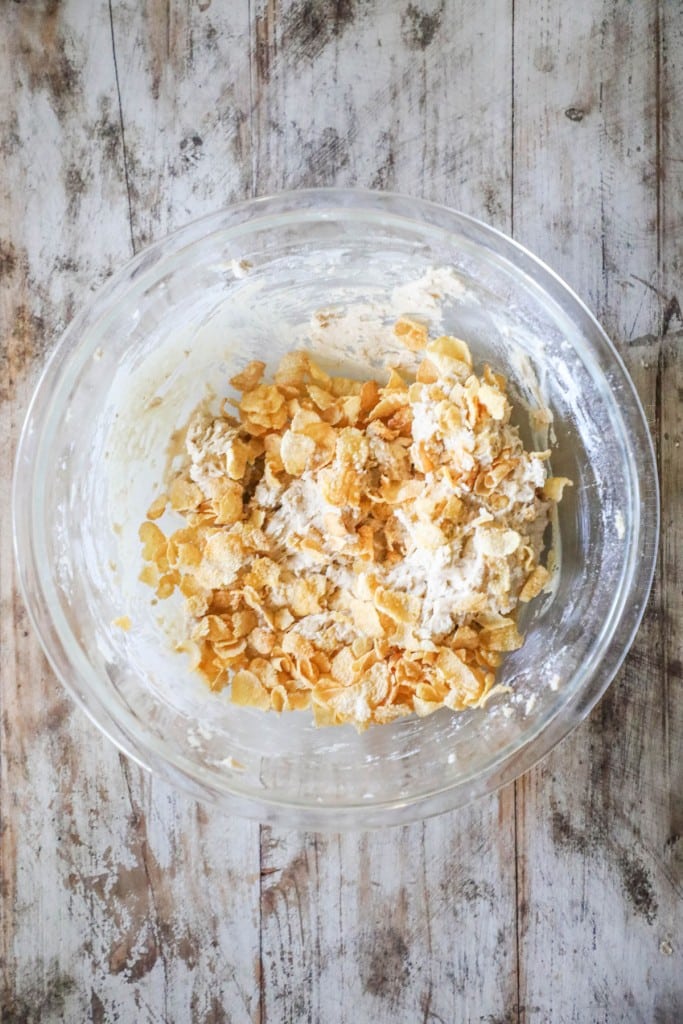 The dry ingredients are mixed into the wet ingredients and then the extras are added. I think these are fantastic with chocolate chips and always include in mine!
The very last thing to mix in is the cornflakes. You want to mix them in gently so they don't get crushed into the cookie dough, but instead stay as intact as possible. Try to mix them in as throughly as you can throughout the dough as possible being gentle.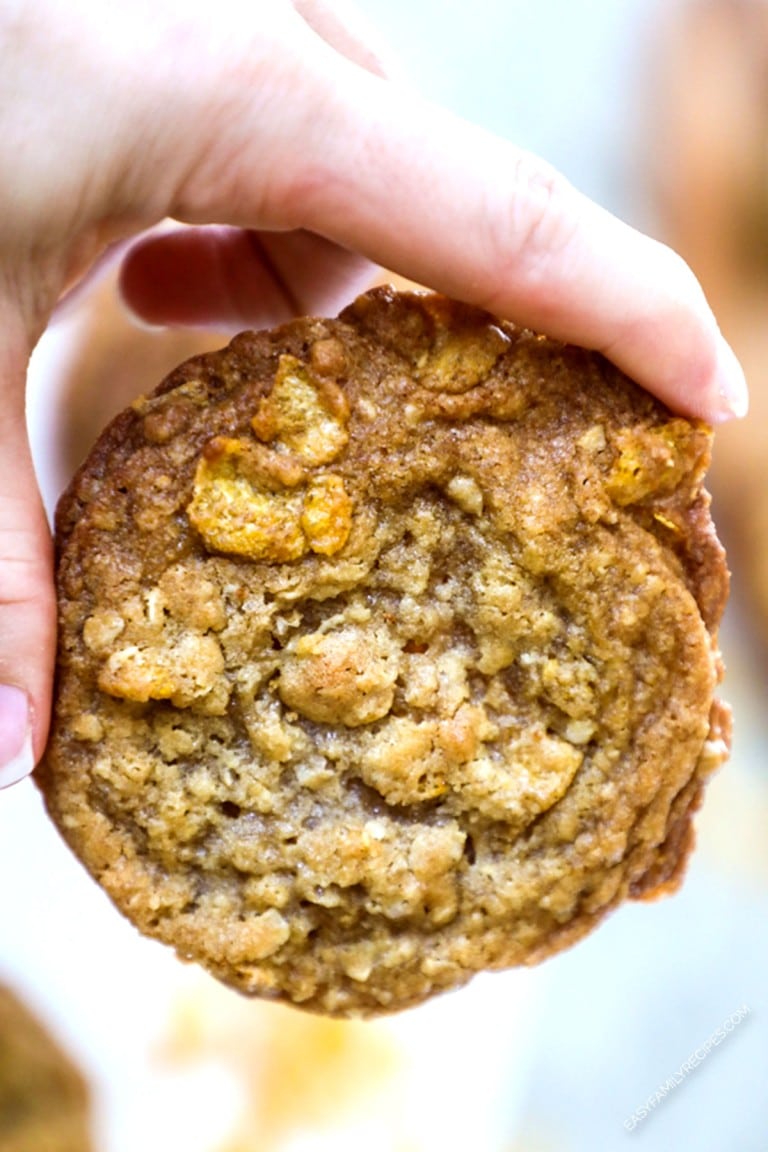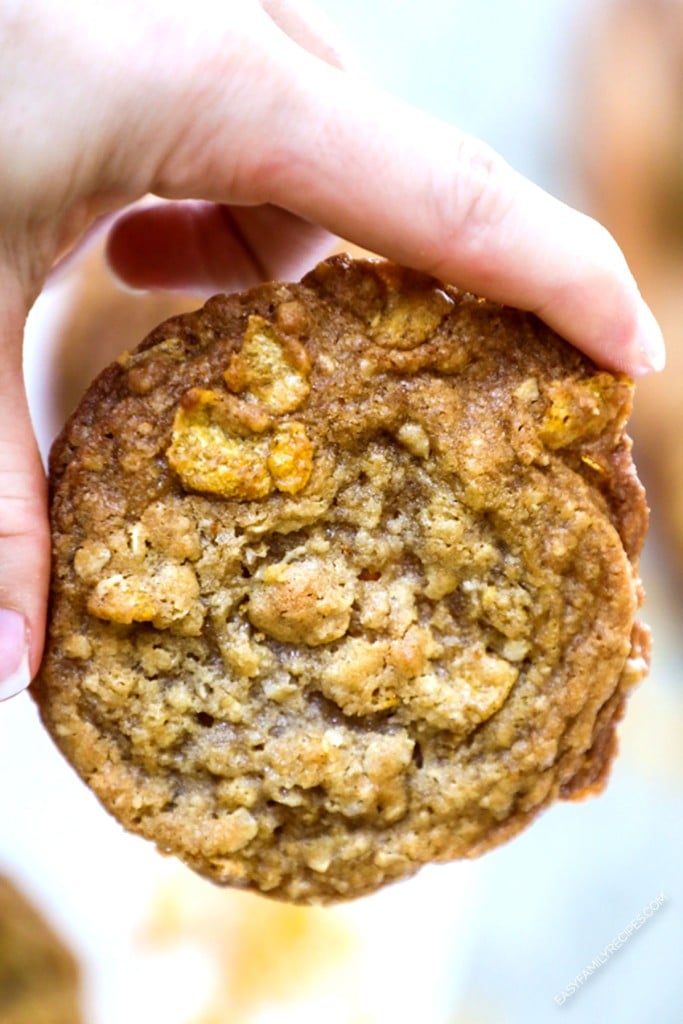 We bake them at 375˚F to get those gorgeous crispy edges!
You will want to let the cookies cool on the baking sheet for 2-3 minutes then transfer to a wire rack to make sure those edges stay nice and crispy!
Recipe Tips
Don't Over-bake– When you bake the cookies keep an eye on them toward the end so they don't over-cook. When they are done, the edges will be golden brown and the middles will lose their shine.

The whole cookie won't be the golden color, just the edges for pure perfection, although if you are one of those crazy people who prefer crispy cookies then you can leave them in a couple minutes longer to get a fully crispy cookie.

Use quick cooking oatmeal– This helps the texture of the cookie. The quick cooking oats are able to absorb moisture faster so that the cookie holds its shape better. If you only have old fashioned oats on hand, you can substitute them, but you will need to let the cookie dough chill for at least 30 minutes before baking.

Mix gently– One of the things that makes these cornflake cookies so special is that the cornflakes give them the most delicious crispy, crunchy texture. I try to mix the cornflakes in very gently after everything else is mixed in so that they stay as in tact as possible giving you that amazing texture in your cookie.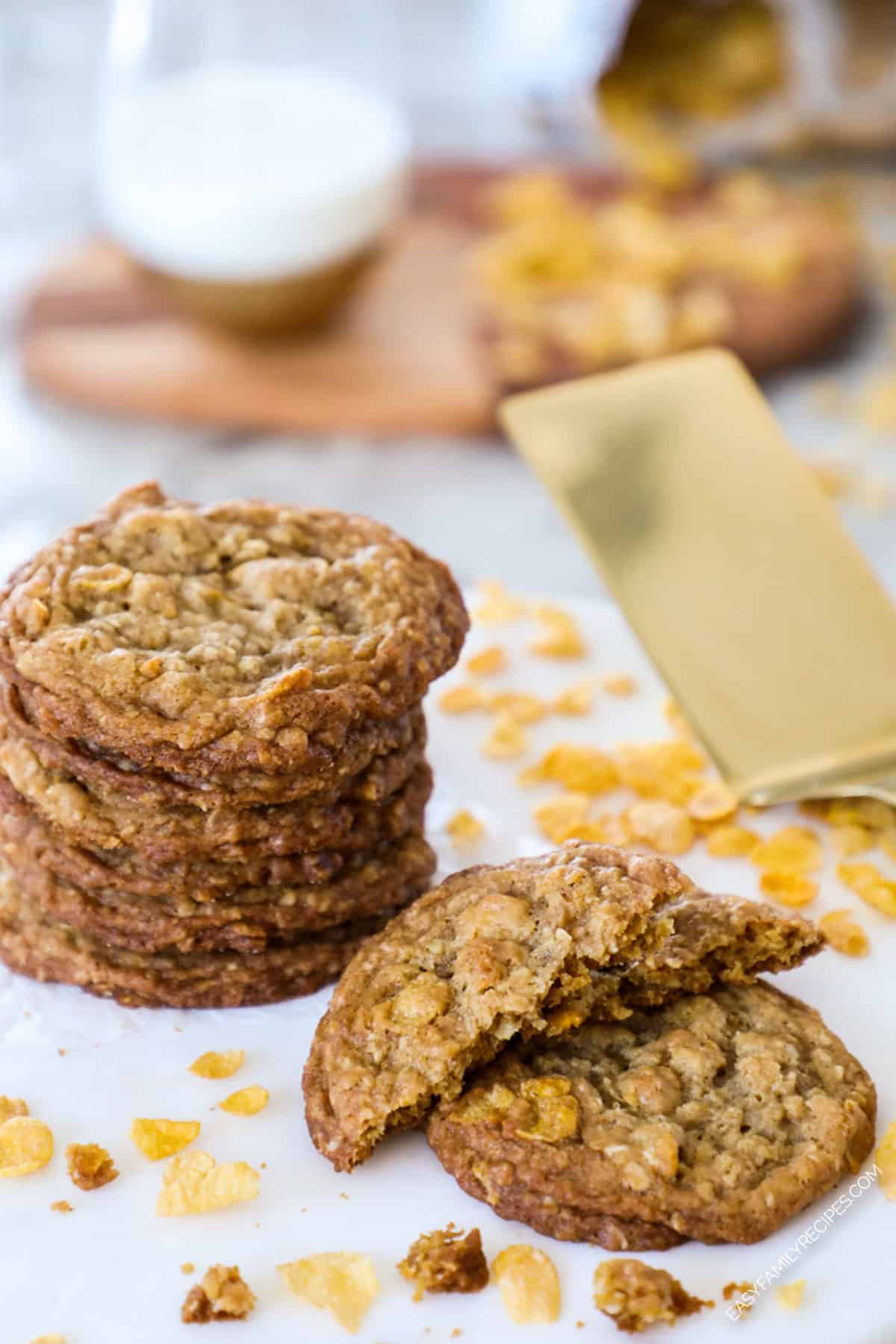 Recipe Variations
Peanut Butter Cornflake Cookies– Add 3 tablespoons of creamy or crunchy peanut butter in with the butter and sugar at the beginning of the recipe, and 1 extra tablespoon of flour, to give the cookies a peanut butter twist.

Butterscotch Cornflake Cookies– Add 1 cup of butterscotch chips to the cookie dough before adding in the cornflakes.

Chocolate Chip Cornflake Cookies– Add 1 cup of chocolate chips to the cookie dough before adding in the cornflakes.
I really hope that you love this Cornflake Cookie recipe as much as we do and that you can make some memories making this one with your kids! Make sure and check out all of our easy cookie recipes here, or find a few of our personal favorites below.
Oh and before you go… I invite you to join me in my Hungry Email club where I share the best recipes I have been making and eating! It's free and you can sign up here .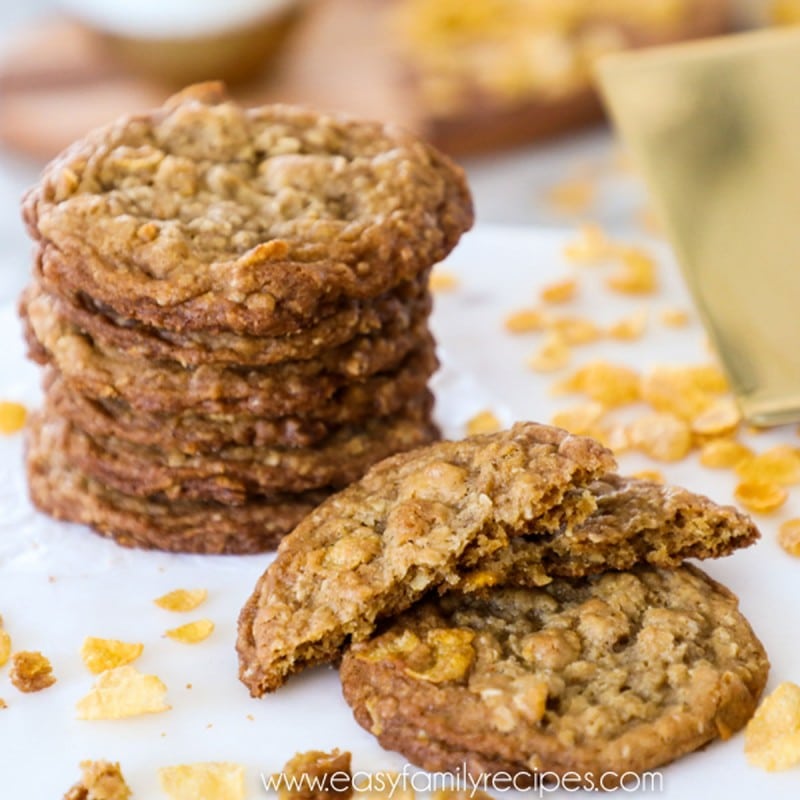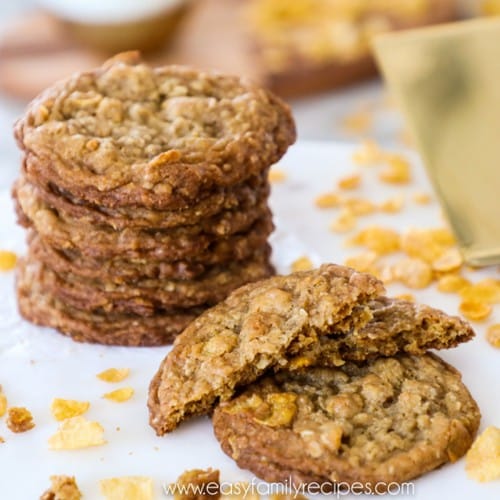 Cornflake Cookies
The Cornflake Cookies are the perfect combination of soft and chewy in the middle and perfectly crispy on the edges. They have a great flavor and the addition of the cornflakes gives them a little something extra that makes them quite irresistible, especially when warm! Grab a glass of milk and enjoy!
Ingredients
1.25

c

flour

1

c

quick cooking oats

¼

tsp

baking powder

½

tsp

baking soda

½

tsp

salt

½

c

butter

1

c

brown sugar

1

egg

,

well beaten

1

tsp

vanilla

1½

c

corn flakes
Optional:
1/2

c

pecans

,

chopped

1/2

c

chocolate chips
Instructions
 Preheat the oven to 375˚F.

Sift together flour, baking powder, baking soda, and salt, then stir in the oats.

Cream butter, add sugar gradually. Mix until light. Add beaten egg and vanilla. Mix thoroughly.

Add flour mixture and stir until combined. Stir in chocolate chips and nuts if desired. Last, lightly stir in corn flakes.

Using a cookie scoop, scoop the dough and drop on cookie sheet 2 inches apart. Bake for 10-12 minutes or until the edges are golden brown and the centers are set.  Cool for 2 minutes on the cookie sheet, then move to a cooling rack.
Recipe Notes
How to Store — Store extra cookies in an airtight container at room temperature for up to 3 days or in the freezer for up to a month (I prefer the freezer. It keeps them so fresh!) How to Freeze — Put cookies into an airtight container or freezer bag and freeze for up to 3 months. 
Nutrition Information
Serving:
1
cookie
,
Calories:
151
kcal
(8%)
,
Carbohydrates:
20
g
(7%)
,
Protein:
2
g
(4%)
,
Fat:
7
g
(11%)
,
Saturated Fat:
4
g
(25%)
,
Polyunsaturated Fat:
2
g
,
Monounsaturated Fat:
0
g
,
Trans Fat:
0
g
,
Cholesterol:
18
mg
(6%)
,
Sodium:
118
mg
(5%)
,
Potassium:
0
mg
,
Fiber:
1
g
(4%)
,
Sugar:
12
g
(13%)
,
Vitamin A:
0
IU
,
Vitamin C:
0
mg
,
Calcium:
0
mg
,
Iron:
0
mg
Can you freeze cookies?
Yes! These cornflake cookies freeze wonderfully. I recommend baking them, then letting the cookies cool completely. You can then package in them in freezer bags or storage containers and freeze for up to 3 months.
What determines if a cookie is soft or crisp?
There are a couple of things that help these cookies get their unique texture of crispy edges and a soft center. First the ratio of grain to fat plays a large roll. It allows the cookies to spread thin enough to really crisp. Second the brown sugar creates more browning than using a white sugar. Last the cornflakes add a crispy crunch throughout.