Baked Feta Chicken is DELICIOUS and unbelievably easy to make! With just a handful of ingredients and a few steps you will have a wholesome dinner with tender chicken in a rich, creamy, homemade tomato sauce. This one is a keeper for the regular dinner rotation!
Baked Feta Chicken – The EASY Way!
There aren't many recipes that give you the combination of incredible ease with complex flavors for a completely made from scratch meal in minutes.
This Baked Feta Chicken is my twist on the viral TikTok Baked Feta Pasta. I made it, tried it, and loved it! …. But we also tend to eat more protein packed meals, so I did what I do, and put an Easy Family Recipes spin on it!
Why I love this recipe:
All in one pan – Less prep and less dishes!
Simple ingredients– Just a handful of common ingredients
Made completely from scratch– Not many recipes made completely from scratch are THIS EASY!
AMAZING flavor– The flavor of the sauce really makes this dish shine, and makes it hard to believe how easy it was to make!
Serving flexibility– Because we are baking this sauce with chicken you can serve it a variety of ways based on your diet and taste preferences.
Believe me… This recipe does not disappoint! And if you are a little worries about the feta, or tomatoes, my husband doesn't like feta OR tomatoes and really enjoyed this recipe (I only told him what it was after he ate it, ha!)
How to Serve Baked Feta Chicken
The beauty of this recipe is that the rich sauce and tender chicken can be a full meal in themselves or a compliment to many other foods. Either way, the sauce makes the dish pretty irresistible!
Serving Ideas
Pasta– I couldn't resist including the most classic way to serve the dish. There is plenty of sauce for the chicken and also 8-12 oz of cooked pasta.
Spaghetti squash or zoodles– If you want a pasta substitute these both work really well with the flavors of the dish.
Sautéed Spinach – My favorite way to eat the Baked Feta Chicken is served right over a big bed of sautéed spinach.
Side salad– Lavish every bite of chicken in the luscious sauce and add a side salad with balsamic vinaigrette for the perfect compliment.
Garlic Bread– Nothing better to soak up every last bit of sauce!
Pesto Roasted Veggies – These are great because they can cook right alongside the chicken in the oven and the flavors work wonderfully together.
You can choose one or add a few sides to make a wholesome, well rounded dinner.
Recipe Notes
This Baked Feta Chicken recipe is as simple as promised! Just ONE pan and a few everyday ingredients for a family friendly meal.
In this section I am going to go through a few tips and tricks I use when making this recipe to get the absolute best and most delicious results.
Make sure to scroll to the bottom for the FULL recipe card.
Ingredients + Substitutions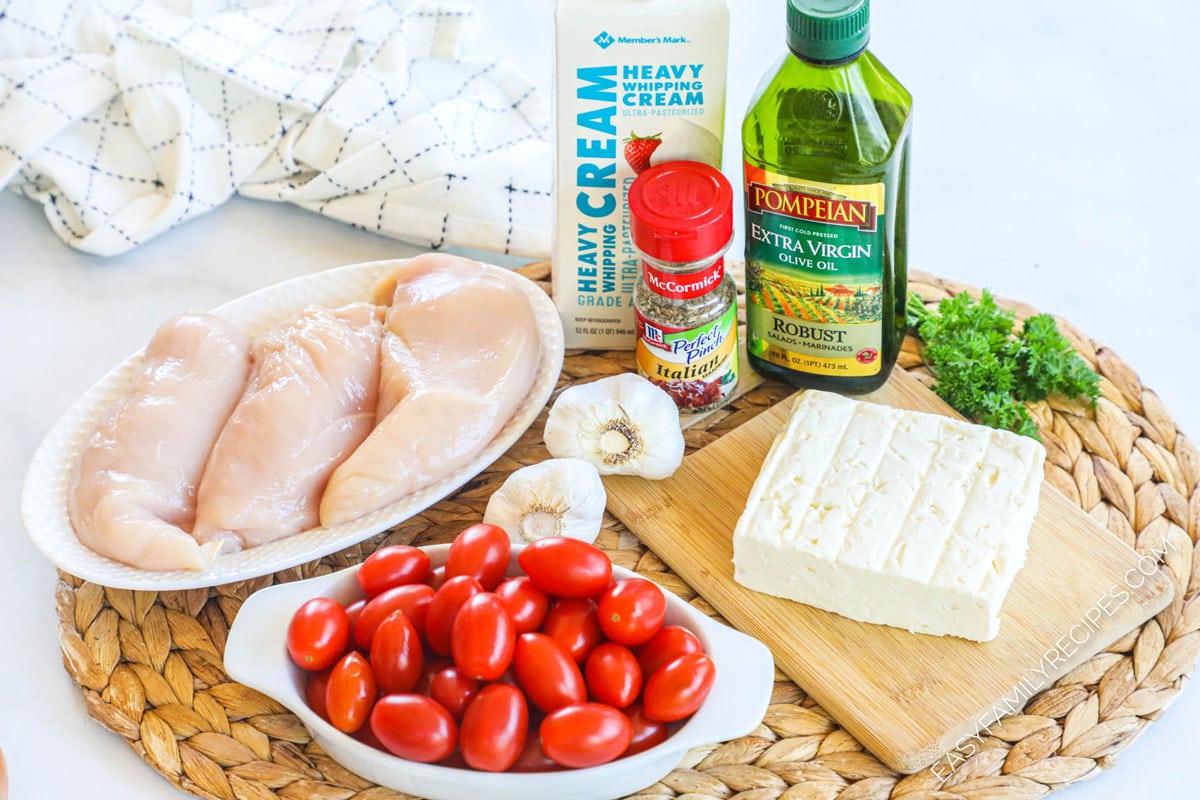 Chicken breast – I use 2 pounds of chicken breast, which equates to 3-4 chicken breasts, but you could easily do double if you aren't planning to toss the sauce with pasta or something else.

You can also use chicken tenderloins or boneless, skinless chicken thighs in place of chicken breast
Italian seasoning – Use this store bought seasoning blend, or if you prefer you can whip up this homemade Italian Seasoning in minutes.
Salt & pepper
Olive oil – I prefer olive oil for the flavor, but you can use most cooking oils in this dish as a substitute if preferred
Grape tomatoes– These work extra well because they are some of the sweetest varieties of tomatoes which gives the sauce amazing flavor.
Feta cheese– I use a block, but crumbled feta will work just as well!
Garlic- Fresh garlic is highly recommended for the flavor!
Heavy cream– Just a splash of cream really ups the flavor, richness, and velvety texture of this recipe. If preferred, you can substitute half and half, or milk.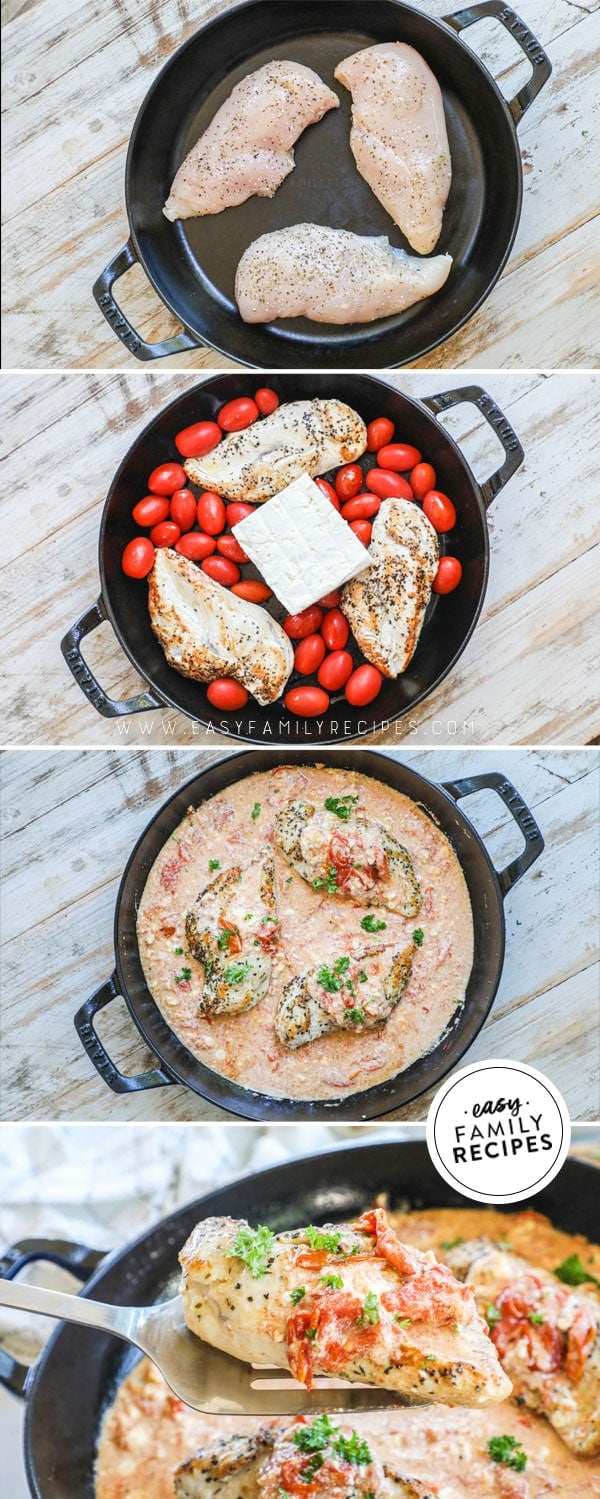 Recipe Tips
Brown the chicken– I designed this recipe to create an extra flavorful seared crust on the chicken then transfer to the oven to bake in the flavor with the sauce. You can skip this step and just bake the chicken, but you will miss out on some flavor and texture in the recipe.

Use an oven safe pan– To do the method described above, you will need an oven safe skillet. I used a cast iron skillet, but you can use any kitchen skillet rated to 400˚F.

Bake at a high heat– How long to bake chicken breast is always a common question, and this recipe uses a higher heat which allows the tomatoes and feta to soften and develop their flavor, along side the chicken.

Because we are at a higher heat than we usually bake chicken at, it may bake more quickly than you are used to. The chicken can be done in as little as 15-20 minutes, which is amazing for a busy weeknight!

Don't overcook the chicken– Since we are cooking at a higher temperature, make sure you check the chicken and don't over cook it. It is easy to do! The chicken should be 165˚F when done. Cooking over this can result in dry or tough chicken.

Mix the sauce– Once the chicken is cooked, all you have to do is remove it from the pan and use a spoon to stir the tomatoes and feta together. I add a splash of cream to help it combine well and stay super creamy, and salt and pepper to taste. Then just add the chicken right back in to marry it all together!
Recipe Variations
If you love this recipe as much as we do and want some quick ways to change it up for variety, these little tips will do the trick!
Baked Feta Chicken with Spinach– One of my favorite recipe variations is once the chicken is done cooking and the sauce is made, stir in a few big handfuls of spinach and return it to the oven (without the chicken) for a few minutes to wilt the spinach. Then add the chicken back in and enjoy!

Spicy Baked Feta Chicken– To make a delicious spicy baked feta tomato sauce, add up to 1 additional tsp of crushed red pepper to the sauce when combining. Use more or less pepper based on your desire for heat.

Baked Cream Cheese Chicken– If you don't care for feta cheese, you can make a similar dish with cream cheese. Follow the recipe as written using cream cheese in place of feta cheese.
Dietary Considerations
If you have special dietary needs, this recipe meets some and can be easily modified to comply with others.
As always, check all store bought ingredients for compliance on specific dietary needs. The notes below are a general guide.
Gluten free: This Baked Feta Chicken recipe is naturally gluten free.
Dairy free: Baked Feta Chicken is not dairy free. Since cheese is a main ingredient, there is no good substitution to make it dairy free.
Nut free: This recipe is naturally nut free
Egg free: This recipe is naturally egg free
Low carb/Keto: Baked Feta Chicken has approx 7g net carbs per serving, making it friendly for many low carb or keto diets.
Macros: The approximate macro calculation for this recipe is- P: 58g C: 9g F: 28g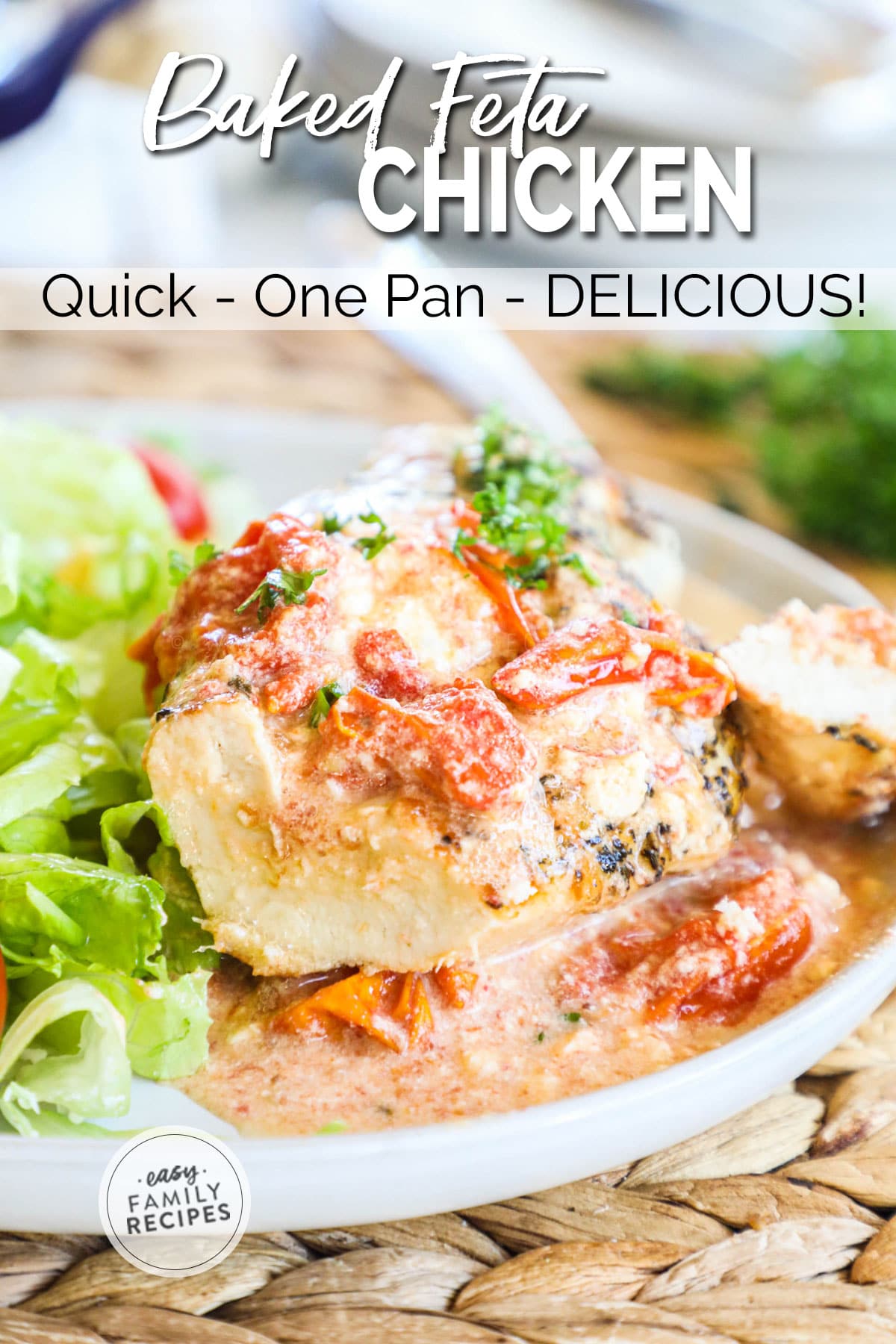 Freezer Meal Instructions
Baked Feta Chicken can be prepared as a freezer meal to make on another busy night, or give to a friend in need.
Season both sides of the chicken breast with Italian seasoning, salt and pepper. Place in a freezer bag or freezer friendly container.
In a separate freezer bag or freezer friendly container, add tomatoes feta and garlic.
Freeze.
When ready to make the dish, thaw for 24-48 hours in the refrigerator.
Continue at step 3 and make as directed.
For the best flavor, this meal can be frozen for up to 6 months.
Baked Feta Chicken Leftovers
If you have leftovers after making Baked Feta Chicken, then it is your lucky day! They save and reheat well, and can make the start of another delicious dish.
To save leftovers, separate into meal sized portions and then place in an airtight container and store:
in the refrigerator for 3-4 days
in the freezer up to a month
Leftover Recipes
Here are a few ways to repurpose those leftovers and give them a delicious makeover!
Baked Feta Chicken Pizza– On a prepared pizza crust, spread the tomato sauce evenly over the top. Chop leftover chicken and sprinkle it over the pizza. Cover with mozzarella cheese, then add your choice of sliced onions, mushrooms, spinach, etc.
Baked Feta Chicken Panini– Slice the chicken and place it in between two slices of crusty white bread with mozzarella cheese. Brush each side of the bread with softened butter or olive oil. Use a panini press, or grill in a skillet on each side over medium. Heat the leftover sauce and dip the sandwich in it to eat.
Baked Feta Chicken and Spinach Stuffed Shells– Chop leftover chicken and fresh spinach. Mix the sauce, spinach, and chicken together. Stuff prepared large pasta shells with the chicken mixture and place in a baking dish. Cover with additional sauce (or marinara if needed) and sprinkle mozzarella over the top. Bake at 350 for 20-30 minutes or until heated through.
More Easy Chicken Recipes
If you enjoyed this recipe, I really hope you will take a moment to grab a few more easy recipes for another busy night!
You can check out all of my Easy Chicken recipes here, or see a few of our readers favorite recipes below.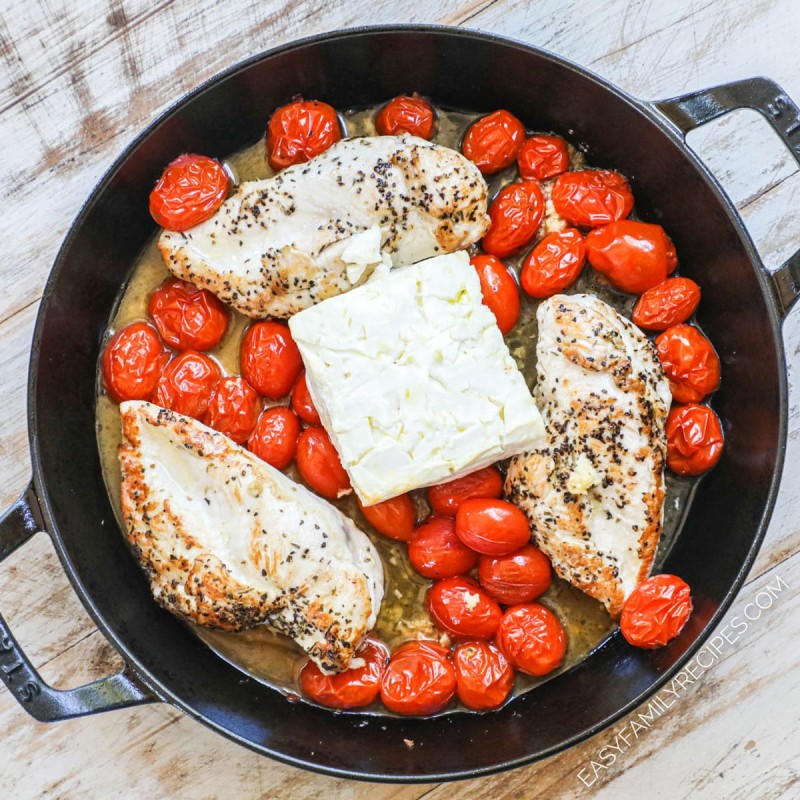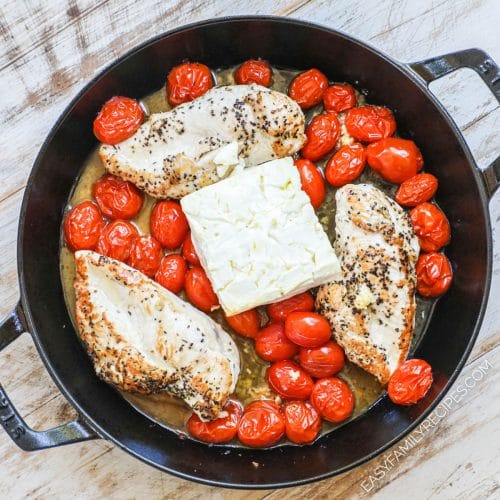 Baked Feta Chicken
This simple yet delicious recipe combines tender juicy chicken breast with a homemade creamy tomato sauce made with a combination of tomatoes and feta cheese. Serve this protein packed dinner with pasta, spinach, salad, garlic bread or veggies.
Ingredients
2

lbs

boneless, skinless chicken breast

,

about 4 chicken breasts

1/2

tsp

Italian seasoning

1/2

tsp

salt

1/2

tsp

black pepper

2

tbsp

olive oil

16

oz

grape tomatoes

8

oz

feta cheese

6

cloves

garlic

,

pressed

2

tbsp

heavy cream

1/2

tsp

crushed red pepper

,

optional
Instructions
Preheat the oven to 400˚F.

Season both sides of the chicken breast with Italian seasoning, salt and pepper.

Heat half (1 tbsp) of oil in a large skillet over high heat. Once it is hot, place the chicken breast in. Cook for 1-2 min on each side until golden brown.

Add tomatoes, garlic, and feta into the pan and drizzle the remaining olive oil over top.

Bake for 15-20 minutes or until the chicken is cooked through (165˚F internal temp)

Once done, remove the chicken from the pan and stir the sauce smashing the feta and tomatoes together. Mix in the heavy cream, red pepper, and additional salt and pepper to taste, then place the chicken back into the pan and cover it with sauce.

Garnish with fresh basil if desired and serve hot with pasta, zoodles, spinach, garlic bread, or however you like it!
Nutrition Information
Serving:
1
chicken breast with sauce
,
Calories:
525
kcal
(26%)
,
Carbohydrates:
9
g
(3%)
,
Protein:
58
g
(116%)
,
Fat:
28
g
(43%)
,
Saturated Fat:
13
g
(81%)
,
Trans Fat:
1
g
,
Cholesterol:
206
mg
(69%)
,
Sodium:
1200
mg
(52%)
,
Potassium:
1178
mg
(34%)
,
Fiber:
2
g
(8%)
,
Sugar:
5
g
(6%)
,
Vitamin A:
1442
IU
(29%)
,
Vitamin C:
20
mg
(24%)
,
Calcium:
321
mg
(32%)
,
Iron:
2
mg
(11%)