Loaded with tender blackened chicken, crunchy romaine, fresh veggies, cheese, and creamy dressing, this Blackened Chicken Salad is a hearty meal sized salad perfect for a wholesome dinner that's big on flavor. This salad takes minutes to make and you don't even have to turn on the oven!
Blackened Chicken Salad – The EASY Way!
Whether you are making this salad with leftover blackened chicken, or whipping up a fresh batch just for this salad, the flavors in this salad never disappoint! The crunch veggies, combined with the tender chicken and creamy dressing give you enough texture to keep it interesting and compliment the bold Cajun flavors of the blackened chicken.
While this salad is so good I occasionally whip up blackened chicken just for it, this salad is made EXTRA easy by using the leftovers of our blackened chicken breast, blackened chicken thighs, or blackened chicken tenders. When you have blackened chicken on hand, you can whip this salad up in just minutes!
Why I LOVE this recipe!
Hearty and filling– packed with a full serving of lean protein and a hearty portion of veggies, this salad will keep you full.
Veggie Packed– Crispy romaine, carrots, sweet peppers, and onions give you many servings of fresh veggies, but you can add in even more if you want!
Uses up leftovers– I love to make blackened chicken as a main dish early in the week then use the leftovers for this salad later in the week. It saves time and gives the leftovers a whole new life!
Can be prepped ahead– This salad can be prepped ahead up to 1-3 days in advance as long as you don't toss it with the dressing. That makes it perfect for your busiest nights!
Lunch or dinner– This can be a great meal for lunch or dinner- It even packs and travels well for on the go!
Great flavors– This isn't your same old boring salad, this Cajun Blackened Chicken Salad has bold flavors that make this salad really special. Mix that with some homemade dressing and you will have friends and family requesting this recipe on the regular!
What to Serve with Blackened Chicken Salad
This big hearty salad can stand alone to make a great meal, however if you want to pair it with something to help stretch the meal or round it out, there are a few great options.
Side Dish Ideas
Soup– Try a quick and easy bowl of soup. Since the salad is hearty and packed with blackened chicken, I love to pair it with a soup that is meatless like this creamy tomato soup or my popular loaded baked potato soup.

Sandwich– A quick sandwich can be a great compliment to a cool, crisp salad. Try anything from a grilled cheese, to a veggie sandwich with hummus, cucumber, and spouts, or a classic club sandwich.

Salad– Pairing with other salads to make a salad plate can be a really fun dinner. I suggest adding salads like my Broccoli Cauliflower Salad, this Rotini Pasta Salad, or my Italian Quinoa Salad.
You can choose one or add a few sides to make a wholesome, well rounded dinner.
Recipe Notes
This Blackened Chicken Salad recipe is as simple as promised! Just 10-15 minutes for a family friendly meal.
In this section I am going to go through a few tips and tricks I use when making this recipe to get the absolute best and most delicious results.
Make sure to scroll to the bottom for the FULL recipe card.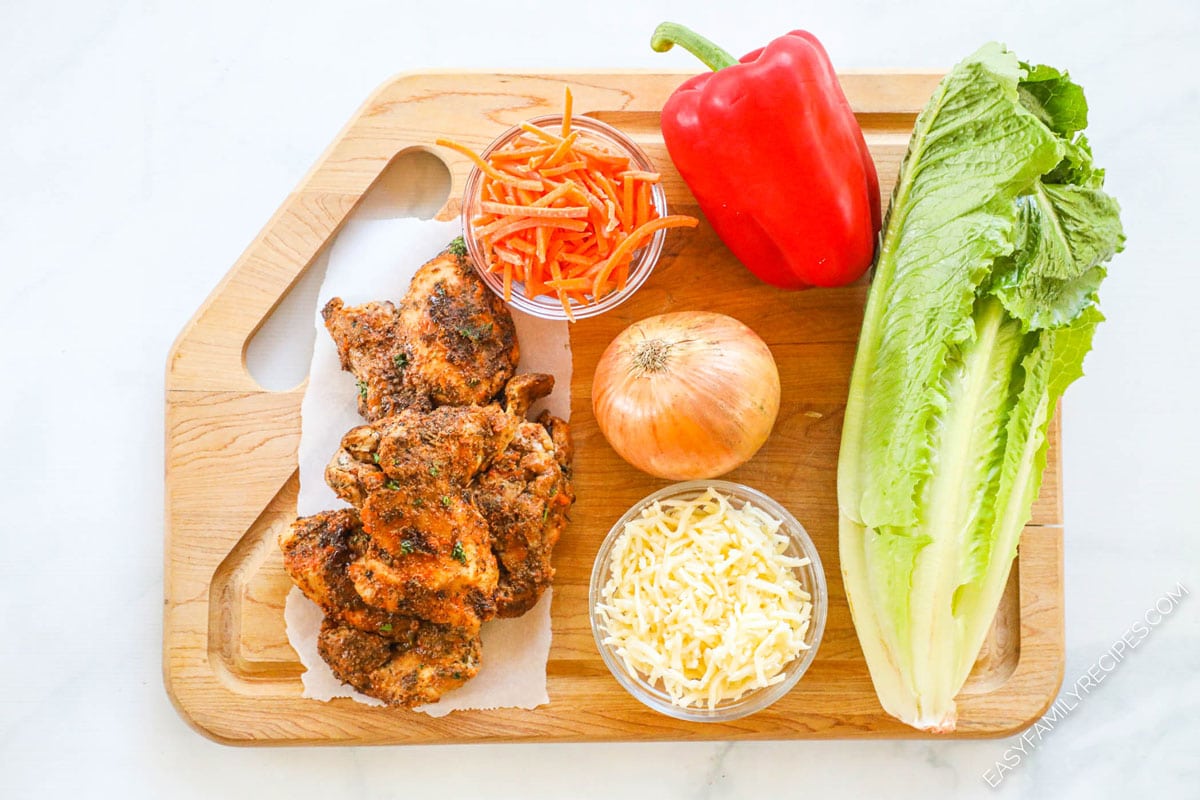 Ingredients + Substitutions
Blackened chicken- Blackened chicken is prepared by cooking chicken in hot butter over high heat with a bold cajun seasoning. It is absolutely delicious and a huge part of why this salad has such amazing flavor.

You can use leftover chicken or make blackened chicken breast, blackened chicken thighs, or blackened chicken tenders for this recipe. Blackened chicken cooks quickly so whether or not you have leftovers on hand, this is an amazingly quick and easy recipe.

Shredded romaine lettuce- I like the sturdy texture and crunch of romaine lettuce in this salad. If you prefer, you can substitute something more delicate like mixed greens, arugula, spinach or butter lettuce.

Red bell pepper- This sweet pepper offsets the slight heat of the blackened chicken. I prefer red pepper for the sweetness and beautiful color in the salad, but you can substitute yellow or orange pepper.

Sweet onion- Sweet onion works, as well as, red onion, yellow onion and white onion. The key is slicing it as thin as you can so that the flavor really melds into the bigger flavor of the salad.

Shredded carrots- These add crunch and color and go really well with both the flavor of the blackened chicken as well as the creamy dressing. I like to buy the carrots pre-shredded in the produce section. They are sometimes called matchstick carrots. You can always shred them with a medium grater if you need to as well.

Shredded mozzarella cheese- Since there is so much bold flavor going on with the chicken, I think mozzarella cheese is the perfect compliment to this salad. It is smooth, creamy and mellow and a very nice addition to the salad.

Buttermilk ranch dressing– A creamy dressing is a must to finish the salad, and this homemade buttermilk ranch is pretty much perfection! If preferred, you can also substitute this Homemade Blue Cheese dressing instead. Both are next level delicious!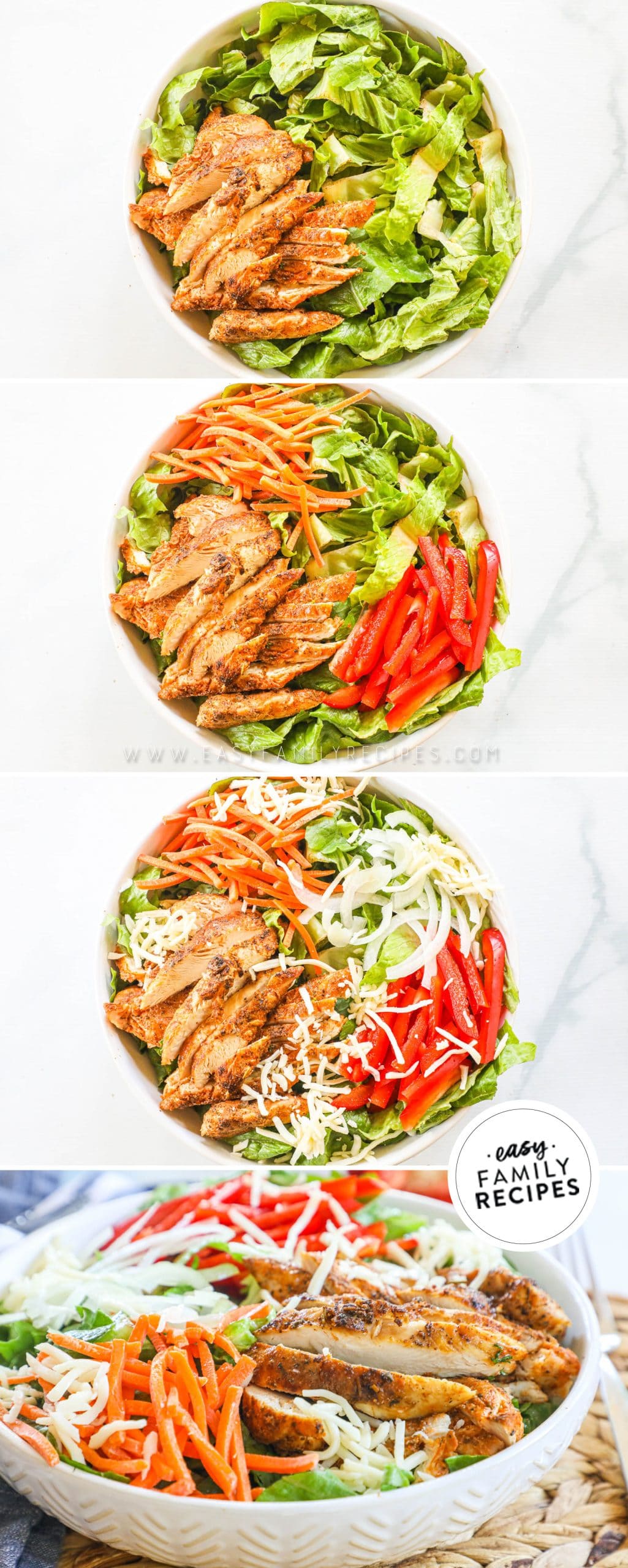 Recipe Tips
Use up leftover chicken- This blackened chicken salad can be made with freshly made blackened chicken but can also be prepared with leftover blackened chicken. I like to eat the blackened chicken as a meal itself the first day, then save leftovers to make this salad with so it makes it SUPER quick and easy!

Slice thin– Make sure the onion and bell peppers are sliced thin. This allows the flavors to meld more with the other items in the salad rather than just getting pungent bites of onion.

Use homemade dressing– This salad is good, but with homemade dressing it is GREAT! I promise it only adds about 5 minutes to the prep time and it will really knock your socks off and make this an incredible meal! My favorites for this salad are buttermilk ranch or blue cheese dressing. The dressings can be made up to a week in advance.

Only toss the dressing with what you will eat. If you aren't going to eat the whole salad, only put dressing on the part you plan to eat. That enables you to save any extras for later. If you get hungry you can always go back for more!

Serve it up! This makes 2 nice sized entree salads, or 4 side salads.

Scale it- If you want more or less than this, you can easily half, double, or triple the recipe to make what you need to feed your crew.
Recipe Short Cuts
If you need to make this Blackened Chicken Salad recipe, but are extra short on time, here are a few ideas that can help make this recipe even faster!
Prep the veggies ahead– You can chop most veggies up to 3-5 days in advance. Also, in the produce section of most grocers you can buy pre-cut veggies if you are extra short on time.
Use salad mix– Using pre-chopped salad mix can save you a few minutes on making this recipe. Look for a chopped romaine, or even a caesar lettuce mix.
Mix the dressing ahead of time– Either of the salad dressing options can be made up to a week in advance to save time.
Use leftover chicken– Make Blackened Chicken earlier in the week, and use the leftovers to make this hearty entree salad.
Recipe Variations
If you love this recipe as much as we do and want some quick ways to change it up for variety, these little tips will do the trick!
Blackened Chicken Caesar Salad– Toss diced blackened chicken with chopped romaine, freshly grated parmesan, croutons, and caesar dressing.
Blackened chicken cobb salad – Try making this classic chicken cobb salad with blackened chicken instead!
Blackened chicken quinoa salad– Make recipe as directed adding 1 cup of prepared quinoa to the salad. This will make it even more hearty and filling!
Blackened chicken avocado salad– Make salad as directed, adding 1 freshly diced avocado to the salad right before tossing with the dressing. If you plan to save any of the salad, do not add avocado to the portion you save.
Bacon blackened chicken salad– Make salad as directed adding 1/2 cup of crispy crumbled bacon into the salad after tossing with the dressing. If you plan to save any of the salad, do not add the bacon to the portion you save to prevent it from losing its crispiness.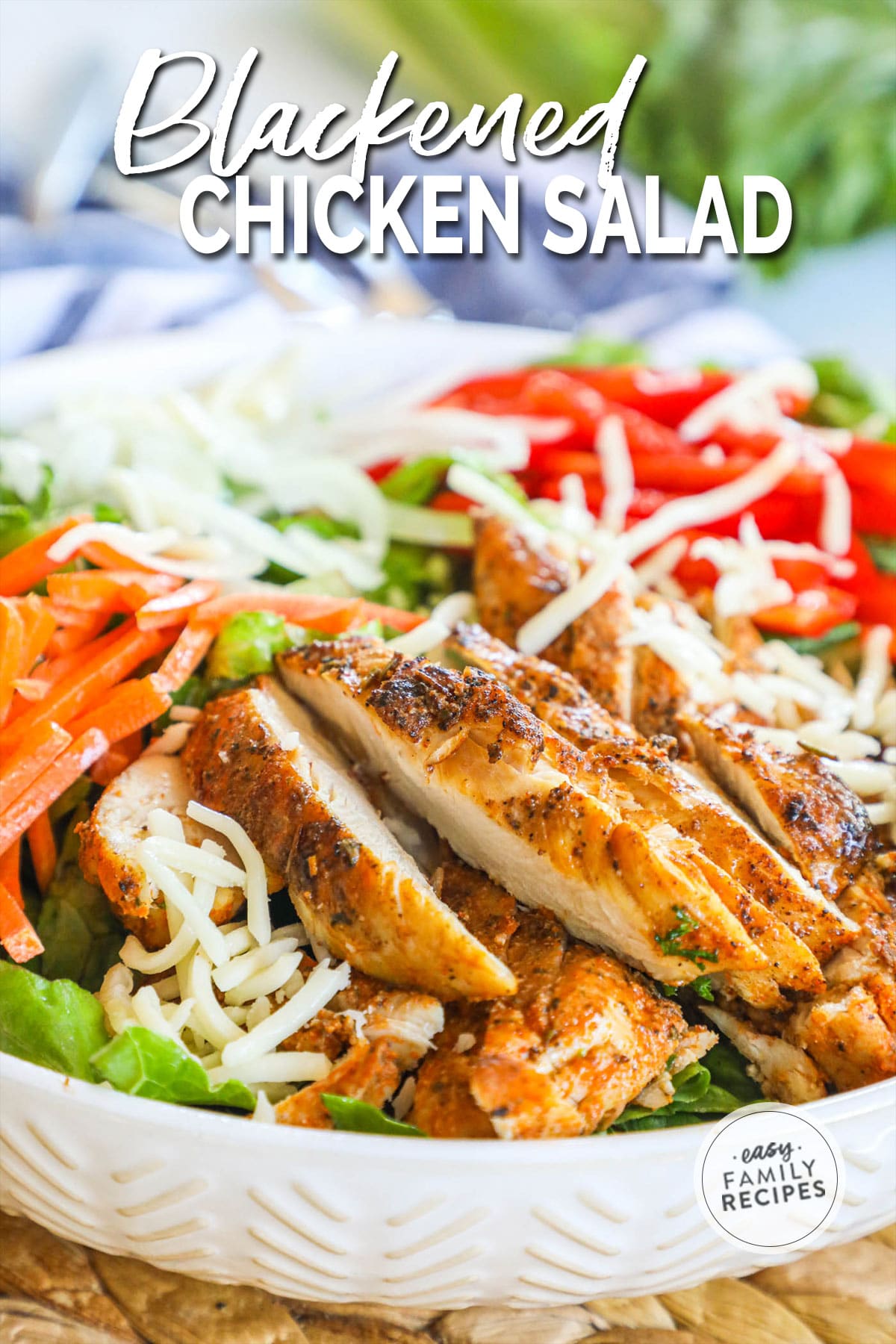 Leftovers
If you have leftovers of this salad, they will save well as long as they are not tossed with the dressing. My advice is to only dress as much salad as you know you will eat, then package any extra salad in an airtight container and store in the refrigerator for 1-3 days.
More Easy Salad Recipes
If you enjoyed this recipe, I really hope you will take a moment to grab a few more easy recipes for another busy night!
You can check out all of my easy dinner recipes here, or see a few of our readers favorite recipes below.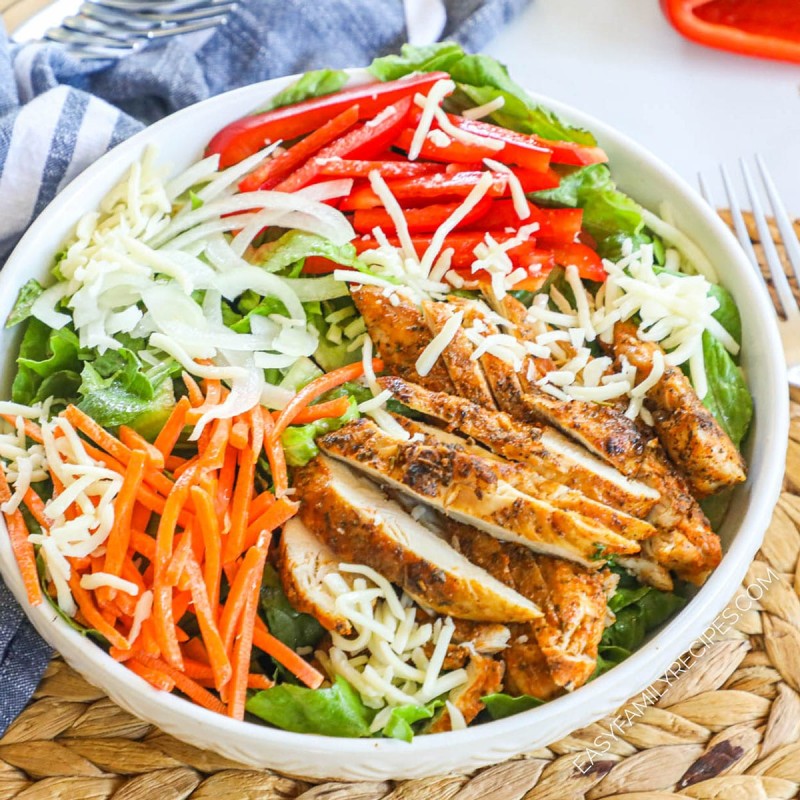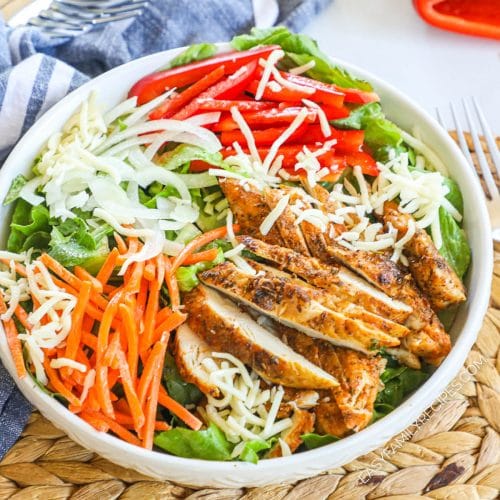 Blackened Chicken Salad
This hearty and wholesome salad is loaded with cajun flavors! Blackened Chicken Salad can make a refreshing lunch or filling dinner and can come together in as little as 15 minutes for a fast meal that is anything but boring.
Ingredients
8

ounces

blackened chicken

,

prepared (see note)

4

cups

shredded romaine lettuce

1/2

red bell pepper

1/4

sweet onion

1/2

cup

shredded carrots

1/2

cup

shredded mozzarella cheese

1/4

cup

buttermilk ranch dressing
Instructions
Slice the bell pepper and onion into very thin slices.

Add the shredded lettuce to large shallow bowl. Top the salad with bell pepper, onion, carrots, and shredded cheese.

Toss salad with ranch dressing until evenly coated.

Divide into 2 large salads, or 4 side salads for serving.
Recipe Notes
Blackened Chicken
Blackened chicken can be prepared when making the salad, or ahead of time. You can use any of these blackened chicken recipes depending on your preference for meat:
Blackened Chicken Tenders recipe
Salad Dressing
While you can use bottled salad dressing on this recipe, it really shines if you use a quick and easy homemade dressing. I promise it will be worth the extra 5 minutes to make it!
Here are a few of my favorite pairings for this salad:
Nutrition Information
Calories:
466
kcal
(23%)
,
Carbohydrates:
13
g
(4%)
,
Protein:
44
g
(88%)
,
Fat:
26
g
(40%)
,
Saturated Fat:
7
g
(44%)
,
Polyunsaturated Fat:
10
g
,
Monounsaturated Fat:
7
g
,
Cholesterol:
128
mg
(43%)
,
Sodium:
625
mg
(27%)
,
Potassium:
750
mg
(21%)
,
Fiber:
4
g
(17%)
,
Sugar:
7
g
(8%)
,
Vitamin A:
13757
IU
(275%)
,
Vitamin C:
46
mg
(56%)
,
Calcium:
219
mg
(22%)
,
Iron:
3
mg
(17%)