This Baked Caesar Chicken tastes almost TOO DELICIOUS to be so easy to make! With only a handful of ingredients and one casserole dish, you can have this easy dinner prepped and in the oven in just minutes. The tender chicken bakes to perfection smothered in creamy caesar dressing, but the topping of cheese and crispy crouton crumbs might be what makes this baked chicken so irresistible!
Easy Baked Chicken
When it comes to busy weeknights, I love one dish baked chicken recipes. Why?
They only take a handful of ingredients
I can have them from the fridge to the oven in record time (sometimes as quick as 5-10 minutes)
They can bake while I make a side, get homework started, set the table, and address whatever else calls on each busy weeknight.
Then on top of it all, clean up is a breeze since there is only one dish, a serving spatula, and a few plates.
This Caesar chicken is not only quick and easy, but it is a delicious crowd pleaser! It is devoured by kids and adults and there is rarely a crumb left to put away.
How to Serve Caesar Chicken
Caesar Chicken has such a classic flavor, it really goes well with a variety of side dishes. You can pick one, or go with a few to make a really filling meal. Here are some of our favorite pairings.
Side Dishes
Hopefully that will get you started! If you have another side dish that you love to serve Caesar Chicken with, let me (and all of our readers) know in the comments so that I can give it a try next time I make this dish.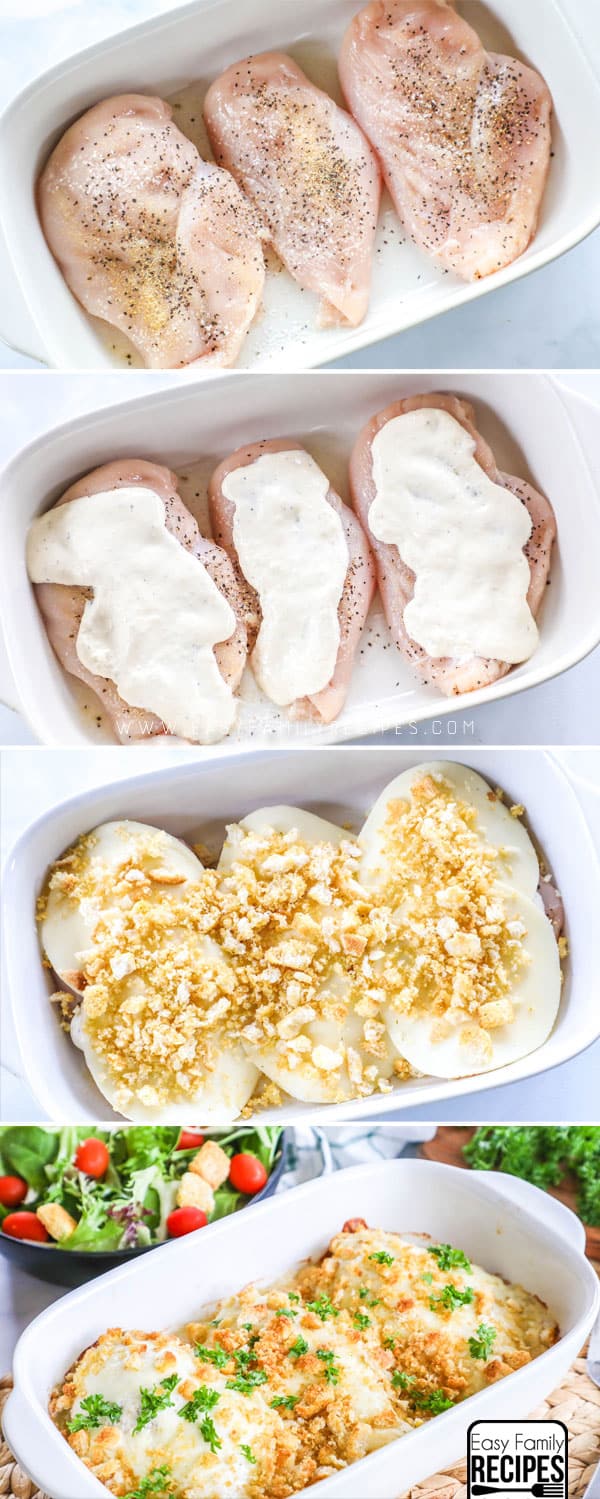 Tips & Tricks for Making Caesar Chicken
Use thinly sliced chicken breast
When picking your chicken breast, try to find thinner cuts of meat. If your chicken breast is normal to thick, I like to slice them in half horizontally which will help the chicken to cook more quickly and evenly. If you end up with more chicken pieces, use a larger dish so that you are able to lay them flat without overlapping.
Use Creamy Caesar Dressing
This recipe really works best with a creamy caesar dressing. I use Ken's Creamy Caesar Dressing (pictured below) to make this and it works really well. If you prefer to make the dressing homemade here is a from scratch Creamy Caesar Dressing you can make. I generally make all of my salad dressings from scratch, but I think the Ken's works really well and has good flavor so I almost always use that in this dish.
Use Sliced Cheese, not grated cheese
When covering the chicken with provolone cheese, you will want to use sliced cheese over grated for the best results. The reason is that since we are adding the crumb topping it keeps it all on top to crisp with the cheese perfectly melting under it. When you use the grated cheese, the crumbs fall in all the spaces and crevices and it doesn't give you nearly as good of a result. If you do get in a pinch and only have grated cheese, I recommend adding the cheese on top, then placing it in the oven. When the cheese is melted take it back out add the crumb topping and return it to the oven for the remaining cook time.
Use natural provolone, not smoked
Another note on the cheese, I prefer natural (or not smoked) provolone. This is personal preference, but it can be a little harder to find, so just make sure the package does not say "smoke flavor added" if you don't want the smoked flavor. If you can't find the natural provolone, you could also use a sliced mozzarella cheese although it will be less sharp.
Use Caesar Croutons
For the crumb topping, I like to use caesar croutons to really compliment the flavor of the dressing seasoned chicken. These are just a deliciously seasoned (think lots of garlic flavor) croutons and you can find them packaged near the other bagged croutons usually in the salad dressing section of the grocery store. If you prefer, you can make Caesar Croutons from scratch.
How to Make Crumbs
If you have never made crumbs (at least on purpose) before, it is easiest to put them in a zip top bag and then use a rolling pin to roll over them until they are crushed to the consistency you want. I like a chunky crumb to add a little more texture, but a fine crumb works well too!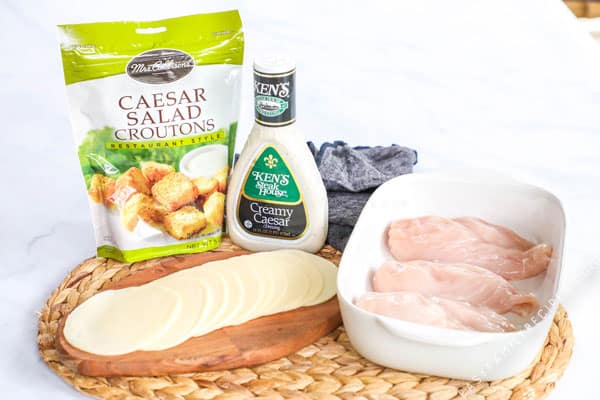 Frequently Asked Questions
These are some of the questions that I frequently get from readers on this recipe. If you have a question, glance through these, and if you don't see it addressed, feel free to leave me a note in the comments and I will try to get back to you as soon as possible!
Can I use tenderloins, chicken thighs, or other cuts of chicken instead of chicken breast?
Yes! Other cuts of chicken can be used in this recipe. I recommend only using cuts that are boneless and skinless for the best results. Also, due to cuts being different sizes and thicknesses, it can cause the cook time to change.
Can I use light or fat free Caesar Dressing?
I make this Caesar Chicken with the traditional Ken's Creamy Caesar Dressing. If you find a light version of creamy caesar and want to try it, it might still come out well, but I haven't tested it with these versions.
Do I bake Caesar Chicken covered or uncovered?
I always bake this dish uncovered on the middle rack of the oven. With that said, ovens can cook differently based on a lot of factors such as size of the oven, heating elements, climate, etc. I recommend cooking uncovered and peeking in to check on the dish a couple of times through the baking process. If you find that the top is getting more browned than you like, then loosely cover it with foil for the remainder of the cook time.
Can I make this Caesar Chicken low carb?
You can leave the crouton bread crumbs off of the dish and it will be very low carb. I will say that they really add a ton of flavor and texture to the dish though! If you have someone following a low carb diet, you can compromise by baking the dish without the crumb topping and then baking the crumbs on a foil lined baking sheet next to the dish. Those that want crumbs can spoon them over top and those that don't can pass.
Is Caesar Chicken gluten free?
If you would like to modify this recipe to be gluten free, I recommend making the caesar dressing from scratch and omitting the crouton crumbs.
Can I Freeze Caesar Chicken?
Caesar Chicken can be frozen ahead of time to make at a later date, and the leftovers can frozen after cooking.
To Freeze Before Cooking:
Prepare recipe through step 3 in a baking dish.
Cover with plastic wrap and foil and freeze.
When ready to cook, thaw completely, then resume the preparation at step 4 and bake as directed.
To Freeze After Cooking:
Note, this is primarily meant for freezing leftovers. If you choose to freeze the leftovers it will freeze well, however the crumb topping never really gets as crispy as it is straight out of the oven.
Prepare as directed and cool completely.
Package in meal sized quantities in air tight containers.
Freeze.
Reheat in the microwave in 30 second increments until heated through -OR- in the oven in a baking dish covered with foil. Remove foil at the end and broil to crisp up the top.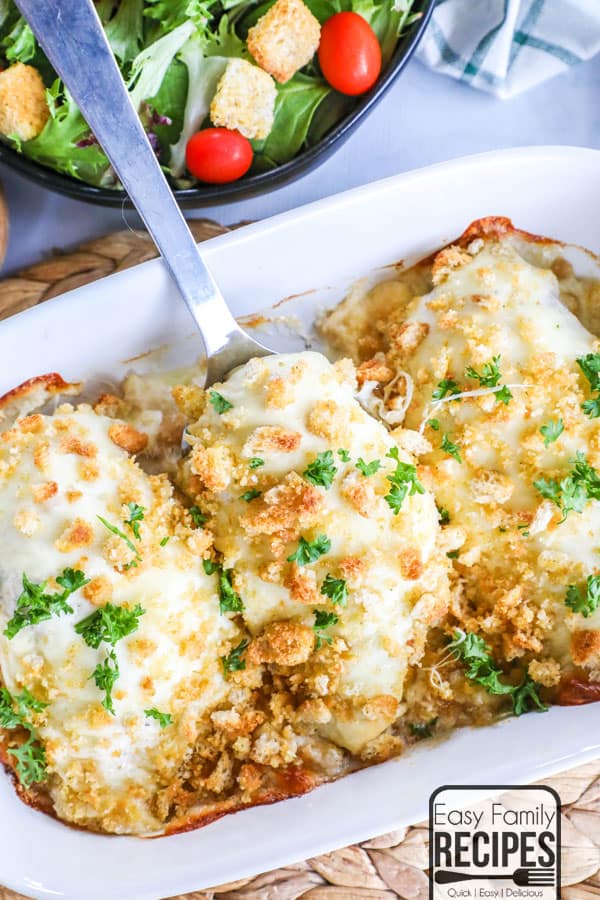 What to do with Caesar Chicken Leftovers
If you have leftovers from this delicious dinner… and that is a big if… you can save them in the fridge or freezer to use throughout the week or month.
Refrigerate for 3-4 days.
Freeze for up to a month (see directions above)
When saving leftovers, it is important to note that the crumb topping will not stay nice and crunchy as it was out of the oven. It does absorb moisture from the chicken, which changes the texture, but in my opinion is still very tasty. It is just more like a chicken and stuffing than a chicken with crispy topping like it was before.
Leftover Caesar Chicken Recipes
Caesar Chicken Wrap- Chop up leftover chicken and add it to a large wrap with romaine lettuce, cherry tomato halves, a sprinkle of parmesan cheese, and an additional drizzle of caesar dressing if desired.
Pesto Caesar Chicken Pasta- Cook bowtie pasta as directed on the package. Toss pasta with equal parts pesto and creamy caesar dressing. Stir in chopped caesar chicken and top with a sprinkle of parmesan cheese.
Creamy Chicken Caesar Pizza- On a prepared pizza crust, brush a light layer of olive oil then spread a tsp of minced garlic over it. Chop leftover caesar chicken into small bite-sized pieces and spread it over the crust. Sprinkle evenly with mozzarella and parmesan cheese and thinly sliced red onions. Bake as directed on crust. (usually about 12-15 minutes at 425˚F.) Remove from oven, slice and garnish with fresh parsley.
Loaded Caesar Salad- Chop leftover Caesar Chicken. Wash romaine hearts, and pat dry. Chop into bite sized pieces. Place in a large bowl and toss with chicken, cherry tomato halves, red onion, sliced hard boiled eggs, avocado, croutons, and parmesan cheese.
Do you have more EASY ONE DISH CHICKEN recipes?
Yes! Lots of them, in fact! Here are a few of my favorites you might want to try if you enjoyed this Caesar Chicken:
I really do hope that you get a chance to try this Caesar Chicken soon and that your family enjoys it as much as mine does!
If you do get a chance to try it, I would love it if you let me know! Not only does it make my day, but it also helps my website when you leave a star rating on the recipe!
You can leave me a comment below, or if you post a picture on Instagram, make sure to tag me @easyfamilyrecipes so that I can see what you are cooking up! It makes my day to see others enjoying the recipes that I share!
Oh and before you go!… If you need a regular rotation of recipe inspiration like me, make sure to sign up to get our emails! I send out my new favorites, the recipes my family has been devouring, and some of the best tried and true recipes. It is easy and free of course!
You can click here to sign up.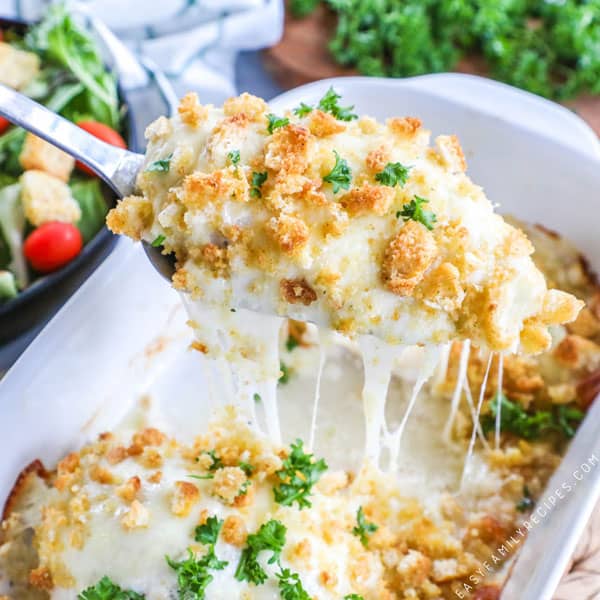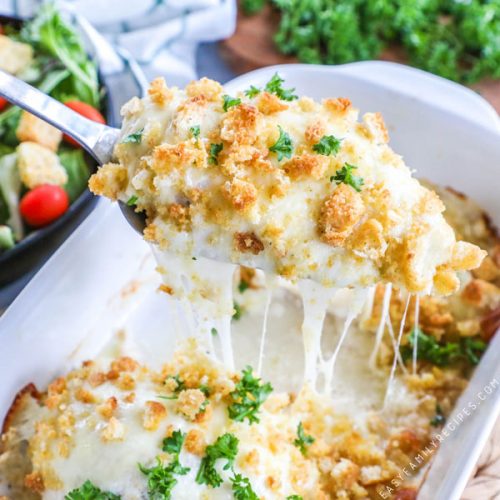 Baked Caesar Chicken
This Caesar Chicken is perfectly creamy and packed with the delicious flavors from Caesar Salad. Made in one dish, this dinner doesn't get any easier to make or clean up! Serve it with a side of salad or roasted vegetables for a wholesome and easy dinner idea.
Ingredients
2

lbs

chicken breast

,

boneless, skinless, thin

6

tbsp

creamy caesar dressing

6

oz

provolone cheese

,

sliced

1

cup

caesar style croutons

1

tbsp

butter

1/4

tsp

salt

1/4

tsp

pepper
Instructions
Place the chicken breast flat in a large baking dish. Season the chicken with salt and pepper.

Spread 1-2 tbsp, or a nice thick layer, of creamy caesar dressing over each chicken breast.

Place the sliced provolone over the chicken to cover.

Crush the croutons to crumbs, then melt 1 tbsp of butter and mix the croutons with it to coat.

Spread the crouton crumbs over the cheese. Then bake the dish on the middle rack at 375˚F for 20-30 minutes, or until the chicken is cooked through and the crumbs are golden brown. If the top of the crumbs become too browned, loosely cover with foil for the remainder of the cook time.

Garnish with parsley if desired. Serve immediately. Enjoy!
Recipe Notes
You can cut the chicken in half, chunks, or use chicken tenderloins in lieu of full chicken breasts to make serving easier. Cooking time may be reduced.
Make sure to use CREAMY CAESAR dressing with this recipe. It is not designed for vinaigrette style caesar dressings.
Leftovers can be stored in an airtight container for 3-4 days in the refrigerator or in the freezer for up to a month.
Nutrition facts provided based on my best estimation for the recipe and may not be accurate depending on what brands you use or modifications you make to the recipe.  I recommend using a nutrition calculator with the exact brands and measurements you use for the most accurate calculation.
©2018 Easy Family Recipes- Recipe found at: https://www.easyfamilyrecipes.com/baked-caesar-chicken/
For more great easy dinner inspiration,

sign up for our emails here!
Nutrition Information
Serving:
0.5
lb chicken breast plus toppings
,
Calories:
583
kcal
(29%)
,
Carbohydrates:
7
g
(2%)
,
Protein:
60
g
(120%)
,
Fat:
33
g
(51%)
,
Saturated Fat:
12
g
(75%)
,
Cholesterol:
190
mg
(63%)
,
Sodium:
1125
mg
(49%)
,
Potassium:
907
mg
(26%)
,
Fiber:
0
g
,
Sugar:
0
g
,
Vitamin A:
530
IU
(11%)
,
Vitamin C:
2.7
mg
(3%)
,
Calcium:
349
mg
(35%)
,
Iron:
1.6
mg
(9%)