These Honey Garlic Chicken Thighs are packed with flavor and quick and easy to make! If you love sweet and savory Asian style chicken, you have to try this easy dinner recipe! Tender boneless chicken thighs are simmered in a honey garlic sauce until tender and served with rice, all in under 30 minutes!
Honey Garlic Chicken Thighs – The EASY Way!
If you ever spent hours walking around the mall as a teen, this recipe will have the nostalgia going strong. When I bite into these Honey Garlic Chicken Thighs I can't help but be brought back to the food court chicken being handed out in front of the Asian restaurants.
It has all the flavor with tender chicken thighs, coated in sweet savory, caramelized honey garlic sauce. All you are missing is the toothpick!
What I love even more about this recipe though is that it is simple and delicious. It has flavors everyone in the family enjoys and can be made in under 30 minutes!
What I LOVE about this recipe:
One Pan– All you need is one large skillet to get this recipe cooking from start to finish. You don't have to pull out everything in your kitchen or use any obscure gadgets here!

Super Tender– My kids can be picky about meat if it is hard to chew. These chicken thighs stay super tender and perfect for making "perfect" chicken.

FAST– There's fast… and then there is FAST! There are not many chicken recipes that you can make as quickly as this one. It is done in under 20 minutes!!

Only a few ingredients– Make this chicken recipe with only a few ingredients… 6, plus salt and pepper to be exact! Bonus- you may already have all of them in your fridge or pantry!

Scales easily– If you need to cook for 2 or 20, this recipe can easily scale up or down to feed more or less people. As written it will make 6-8 chicken thighs.

Fast Clean Up– With only 6 ingredients and one pan, this recipe is not only easy to prep, but quick to clean up!
What to Serve with Honey Garlic Chicken Thighs
Since this dish has the classic flavors Asian flavors, it will pair well with many of your favorite staple side dishes. There are both classic options and some healthy options to keep it light.
Side Dish Ideas
Rice– My #1 pick for this dish. You can do simple white or brown rice, or if you want to make it extra hearty, you can try our popular chicken fried rice or steak fried rice. You can also use cauliflower rice for a lighter option.
Green Beans– Try either the classic or asian style of these roasted green beans.
Sauces– I basically can't serve anything Asian flavored without topping it with spicy mayo (for me) and yum yum sauce (for the kids!)
Asian Cucumber Salad– This is a light and healthy side
Spring rolls– I like to buy these frozen and bake (Schwans has great ones!) but you can also make them from scratch.
Edamame– Probably tied for the easiest to make with the green beans- this side is fun for the kids, but a little more time consuming to eat.
You can choose one or add a few sides to make a wholesome, well rounded dinner.
Recipe Notes
This Honey Garlic Chicken Thighs recipe is as simple as promised! Just 6 ingredients and one pan for a family friendly meal.
In this section I am going to go through a few tips and tricks I use when making this recipe to get the absolute best and most delicious results.
Make sure to scroll to the bottom for the FULL recipe card.
Ingredients + Substitutions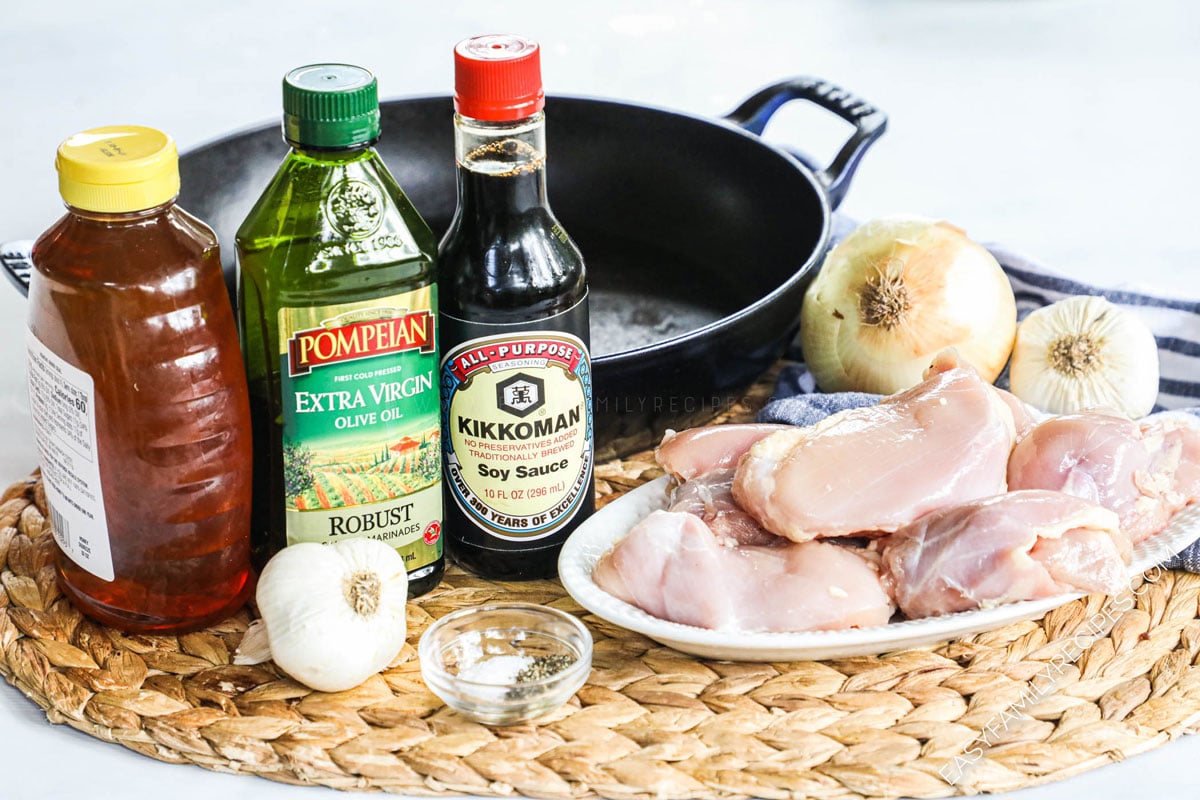 Boneless chicken thighs– This recipe is made with boneless, skinless chicken thighs. You can trim any excess fat if you want, or cook as is and trim as eating. You can substitute chicken breast if desired. Make sure to cut the chicken breast in half horizontally (butterflied) and then you can cut each side in half again to resemble the size of a chicken thigh.

Oil– You can use your preferred cooking oil. Olive oil, vegetable oil, and canola oil all work well.

Medium onion– Try to dice the onion finely to help it incorporate into the sauce the best.

Garlic– Fresh garlic will give you the best flavor. Like the onion, I recommend pressing the garlic, or chopping super fine to help best infuse the flavor into the sauce.

Honey– The honey will both sweeten and thicken the sauce. You can use more if you want a sweeter sauce, or less if you want a more savory sauce.

Soy sauce– Regular or low sodium will both work well in this recipe.

Salt and pepper– Use these to taste to season the dish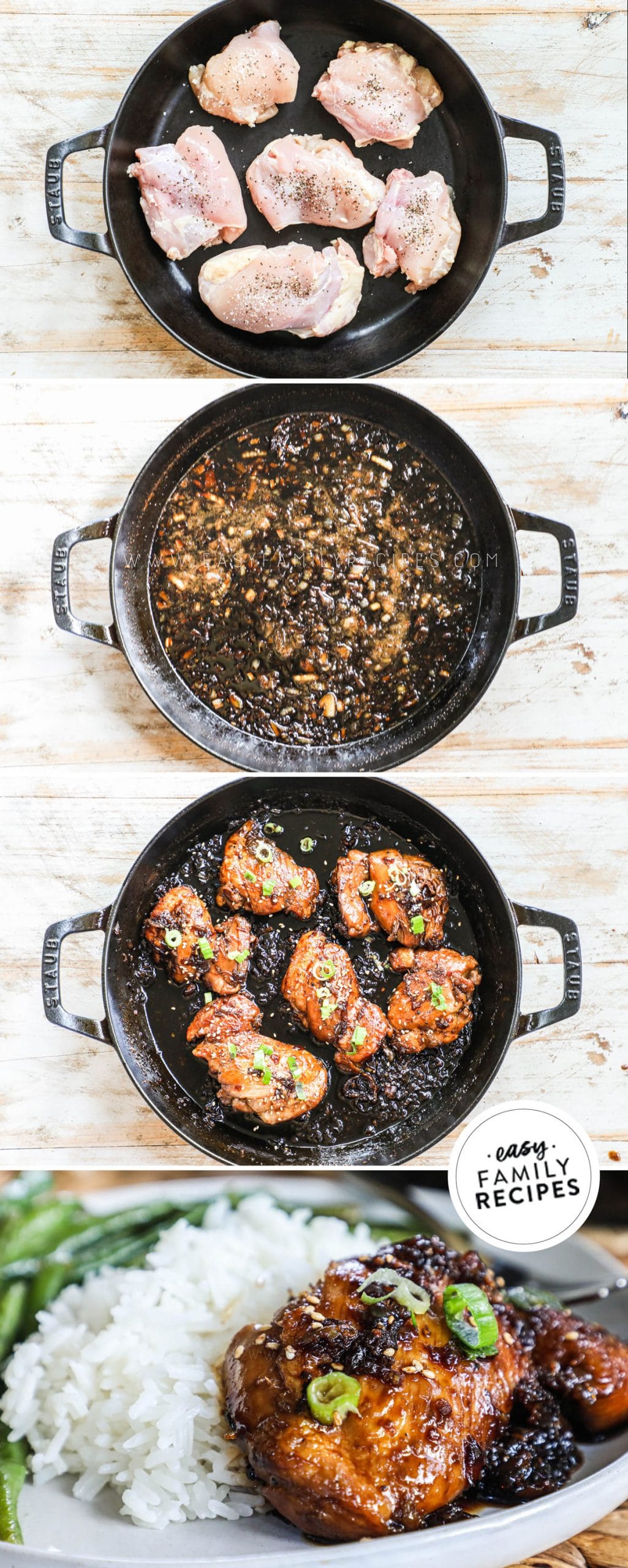 Recipe Tips
Use a large pan– I like to get this recipe done in just one pan for simplicity in time and clean up. In order to do that, you do need to make sure to use a LARGE skillet so there is room for everything. If you don't have a large skillet, this can be made by cooking the chicken in the first part in batches.

Careful with the garlic + onion– Once the chicken is seared, you will add the garlic and onion to the skillet. The goal here is just to flash cook it (cook it really quickly) to take the bite out of them. This works really well when your pan is hot and your onion and garlic are diced finely. You really do only need about a minutes because any longer than that can result in the onion and/or garlic getting burnt.

Scrape the pan– Once the onion and garlic are flash cooked, you will add the soy sauce and honey. This simple sauce combo really packs in the flavor without having to use loads of ingredients. The secret to getting the flavor maxed out though is that once it is added, use the spoon or spatula to scrape the pan as you stir to get any browned bits from cooking the chicken, onion, and garlic to loosen and combine with the sauce. Those little brown bits = tons of flavor… and we want it all!

Simmer and serve– The chicken is added back in and simmered to finish the dish. I like to turn them once or twice to make sure they are evenly coated in sauce, but this isn't mandatory.
Recipe Short Cuts
If you need to make this recipe, but are extra short on time, here are a few ideas that can help make this recipe even faster!
Prep the onion– Really the only prep that goes into this dish is cutting the onion and garlic. If you want to really speed it up, just chop it all up to 3 days in advance and have it ready to go when you are ready to cook.

Pre-cook the chicken– If you know you are in a super rush, you can actually sear the chicken in advance (up to 2 days.) When using this method, you will want to make sure to fully cook the chicken, then, store it in a zip top bag, or container in the fridge until ready to finish the meal. Once ready to serve, start by making the sauce, then simmer the pre-cooked chicken in it to finish.

Prepare as a freezer meal– Follow the instructions in our freezer meal section below to make this up to 6 months in advance.
Recipe Variations
If you love this recipe as much as we do and want some quick ways to change it up for variety, these little tips will do the trick!
Spicy Honey Garlic Chicken– Make recipe as directed. When making sauce, add in 1 tbsp sriracha to the sauce. For spicier sauce also add 1/2 tsp red pepper flakes.

Crockpot Honey Garlic Chicken Thighs– Add all ingredients to a crockpot and cook for 6 hours on low. Optionally you can sear the chicken before adding, or transfer the sauce to a sauce pan and boil to reduce after cooking.

Honey Garlic Chicken Breast– Make recipe as directed substituting chicken breast for chicken thighs. Cut the chicken breast in half horizontally (butterflied) and then you can cut each side in half again to resemble the size of a chicken thigh.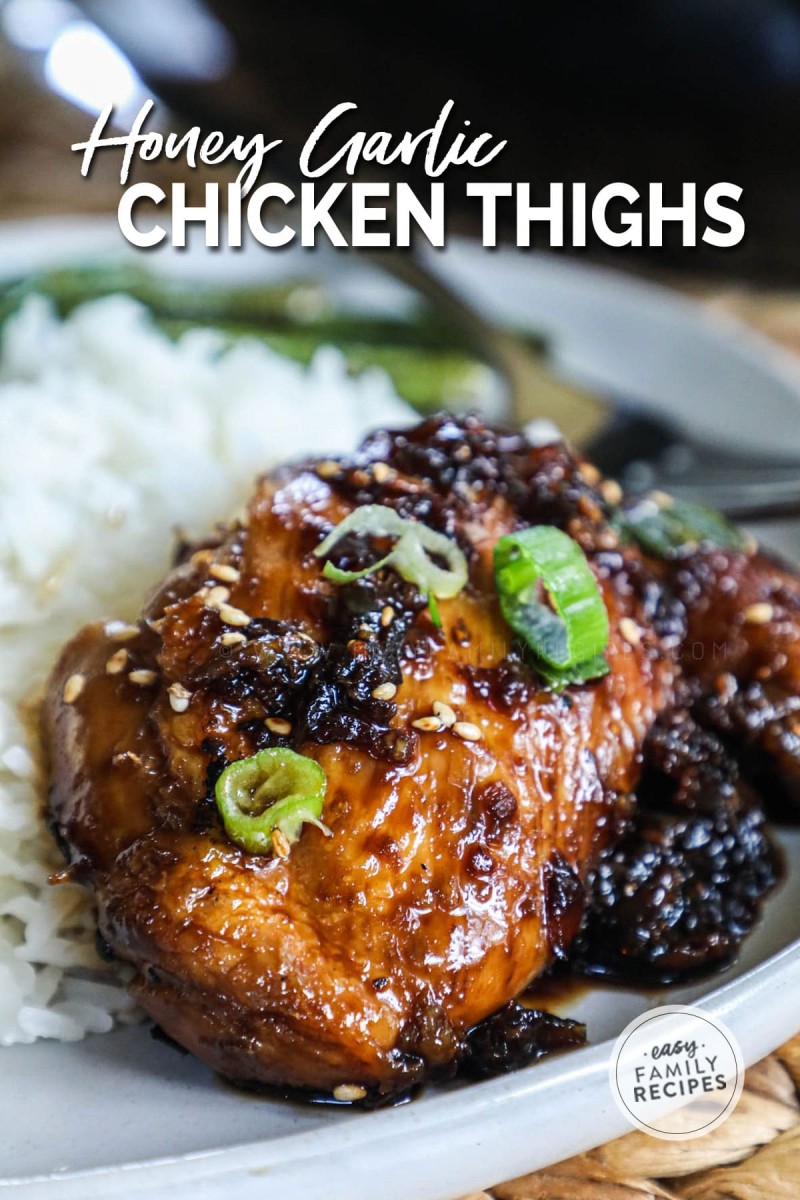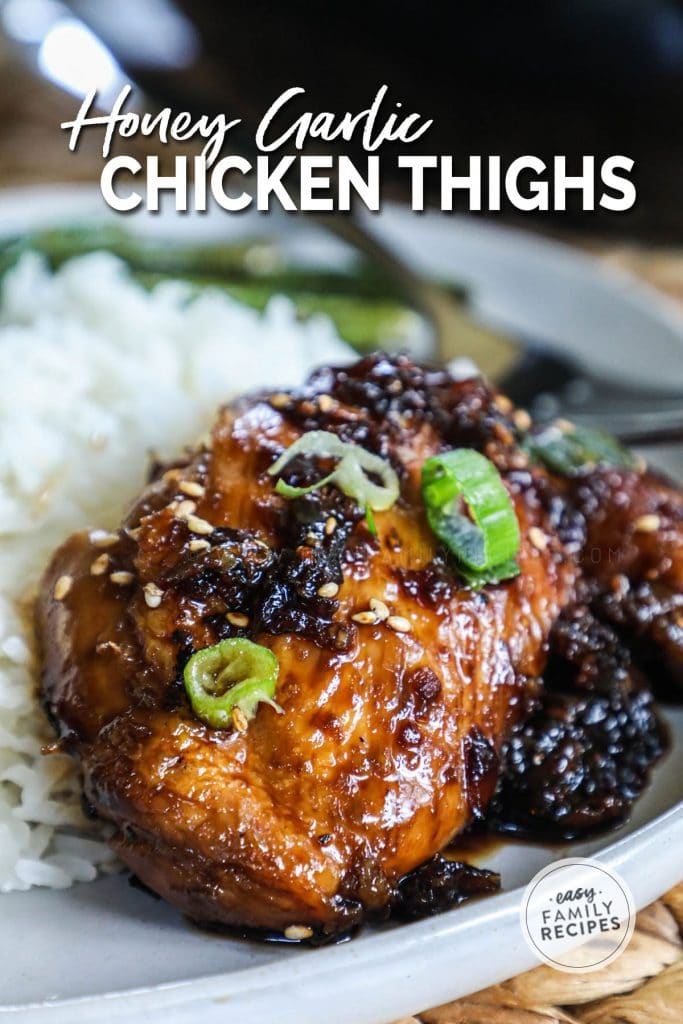 Freezer Meal Instructions
To make this recipe as freezer meal:
Season chicken with salt and pepper and place in a freezer bag, or freezer friendly container.
In a separate bag/container, place the garlic, onion, soy sauce and honey.
Freeze.
Once ready to cook, thaw the chicken for 24-48 hours until completely thawed.
Make recipe as directed, skipping the flash cook of the garlic and onion.
Honey Garlic Chicken Leftovers
If you have leftovers after making Honey Garlic Chicken, then it is your lucky day! They save and reheat well, and can make the start of another delicious dish.
To save leftovers, separate into meal sized portions and then place in an airtight container and store:
in the refrigerator for 3-4 days
in the freezer up to a month
Leftover Recipes
Here are a few ways to repurpose those leftovers and give them a delicious makeover!
Honey Garlic Chicken Salad– Mix a bowl of half chopped romaine, and half chopped cabbage. Add diced carrots, green onions, chopped cashews and mandarin orange slices. Place chopped chicken on top and toss with oil and rice wine vinegar or a squeeze of lime juice.

Honey Garlic Chicken wraps– On a large tortilla, spread a thin layer of mayo and sriracha. Add coleslaw mix (shredded cabbage and carrots) and thinly sliced cucumbers. Top with Honey Garlic chicken thighs and sesame seeds. Wrap and enjoy!

Honey Garlic Chicken Bowls– Saute chopped cabbage and shredded carrots in a skillet with a drizzle of sesame oil until soft. Top a bed of rice with the cabbage mixture, honey garlic chicken, chopped salted cashews, and freshly chopped green onion. Drizzle either spicy mayo or yum yum sauce over the top.
More One Pan Dinner Recipes
If you enjoyed this recipe, I really hope you will take a moment to grab a few more easy recipes for another busy night!
You can check out all of my Easy Dinner recipes here, or see a few of our readers favorite One Pan dinners recipes below.
Hungry for more family-friendly recipes? Sign up for my free recipe club to get new family-friendly recipes in your inbox each week! Find me sharing daily meal-time inspiration on Pinterest, Instagram, and TikTok.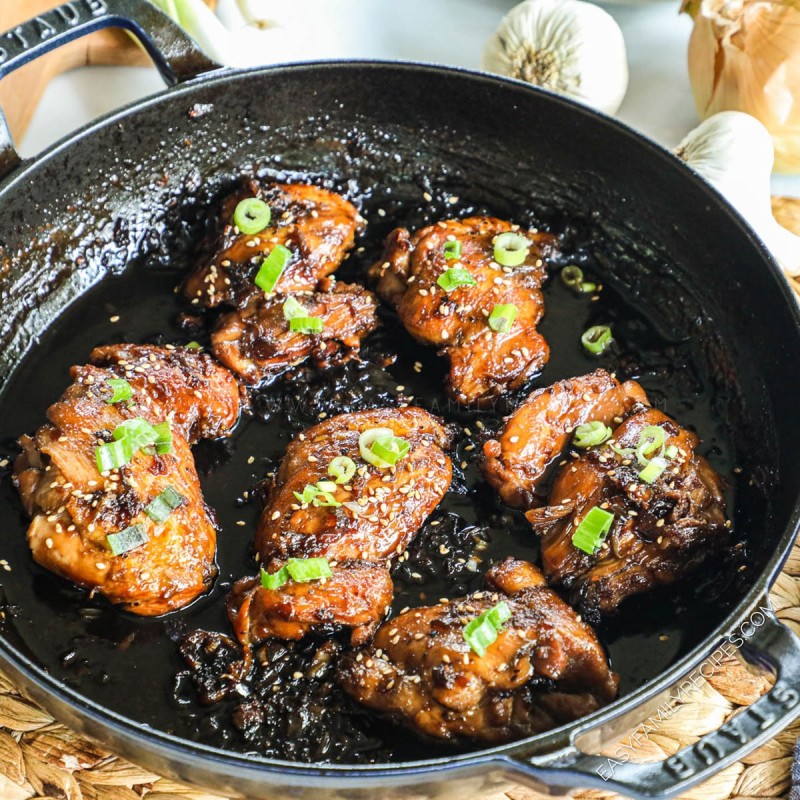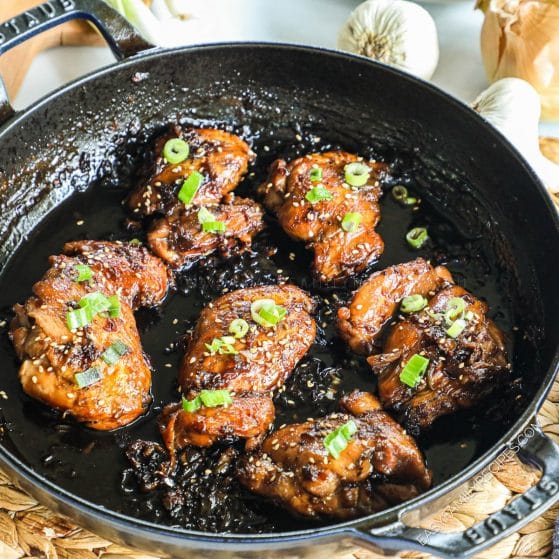 Honey Garlic Chicken Thighs
These sweet and savory Honey Garlic Chicken Thighs are an Asian inspired recipe that the whole family can enjoy. Tender chicken thighs are simmered in the most delicious honey garlic sauce and since this dinner is all made in one pan, it is quick to make and clean up!
Prep Time: 5 minutes
Cook Time: 15 minutes
Total Time: 20 minutes
Serves:6 servings
Hover over "serves" value to reveal recipe scaler
Ingredients
3 lbs boneless chicken thighs
1 tablespoon vegetable oil
½ medium onion diced
7 cloves garlic
1/2 cup honey
½ cup soy sauce
Salt and pepper- to taste abut 1/2 tsp each
Garnish (optional)
chopped green onion
toasted sesame seeds
Instructions
Heat a large skillet over medium high heat.

Season chicken with salt and pepper and add to the pan and cook 3-5 minutes on the first side, then flip and cook 5-7 min. Remove and set aside

Add garlic and onion to the pan and cook 1 minute, then reduce heat to med low. Pour in soy sauce and honey and mix scraping the bottom to remove and combine brown bits.

Add chicken back into the skillet and simmer until the sauce begins to thicken and the chicken is done (internal temperature reads 165˚F.)
Recipe Notes:
If you plan on serving this with rice, I like to start the rice first, and it is perfect once the Honey Garlic Chicken Thighs are cooked and ready to serve!
Nutrition Information:
Calories: 623kcal (31%)Carbohydrates: 27g (9%)Protein: 39g (78%)Fat: 40g (62%)Saturated Fat: 12g (75%)Polyunsaturated Fat: 8gMonounsaturated Fat: 16gTrans Fat: 1gCholesterol: 222mg (74%)Sodium: 1257mg (55%)Potassium: 548mg (16%)Fiber: 1g (4%)Sugar: 24g (27%)Vitamin A: 177IU (4%)Vitamin C: 2mg (2%)Calcium: 32mg (3%)Iron: 2mg (11%)
(Nutrition information provided is an estimate and will vary based on cooking methods and brands of ingredients used.)