It only takes 10 minutes to make the most TENDER & JUICY Blackened Chicken Breast! With just minutes of prep and one pan you can have this chicken sizzling to perfection for a flavor packed dinner. Our special blackened seasoning allows you to make it as mild or spicy as your family enjoys. Both delicious and healthy, this quick dinner is perfect for serving on a busy night and goes well with almost and side you have on hand.
Blackened Chicken Breast – The EASY Way!
Our travels have inspired many of the recipes I share with you here and this one is no exception. Blackened Chicken and fish is very prevalent throughout the south and especially in the coastal regions of Louisiana, Mississippi, Alabama and Florida.
The popularity is due undoubtedly to the amazing flavor that the blackening process gives the meat! If you haven't had it, you are in for a treat!
What is Blackened Chicken?
Blackened may just sound like burnt food, but I assure you blacked chicken is not burnt, but rather incredibly flavorful, tender and juicy chicken!
Blackened chicken is chicken that is prepared by the cooking method of blackening. To blacken, the meat is seasoned and then cooked quickly in a very hot skillet with butter. The chicken develops a dark crust or "black" crust from the seasoning and milk solids from the butter.
Blackening is traditionally associated with cajun cuisine which is why you see it so often through the southern coastal regions, though it can appear in any type of restaurant or cuisine today.
Typically blackening seasoning is a blend of spices and includes using black or cayenne pepper which can add some spice. When it is not spicy it is often referred to as bronzed instead of blackened. In my recipe below, I give you options on how to adjust the seasoning from mild to spicy to get the best flavor!
If you are looking for fish, you can find my Blackened Fish Recipe here!
Why I LOVE this recipe:
Fast– When I say, fast, I mean this recipe is about as quick as making a meal gets!
So good! The flavor in blackened chicken never disappoints
Healthy– This lean meat is packed with protein and low in carbs
Goes with everything – Whatever else you have in the fridge or pantry can be a great side for this meal. It matches well with most side dishes.
Leftovers are perfect second meals– Any leftovers you have can be used for salads, wraps, potatoes, or meal prep later in the week.
Recipe Notes
This Blackened Chicken recipe is as simple as promised! Just 10 minutes and one pan for a family friendly meal.
In this section I am going to go through a few tips and tricks I use for how to make blackened chicken to get the absolute best and most delicious results.
Make sure to scroll to the bottom for the FULL recipe card.
Ingredients + Substitutions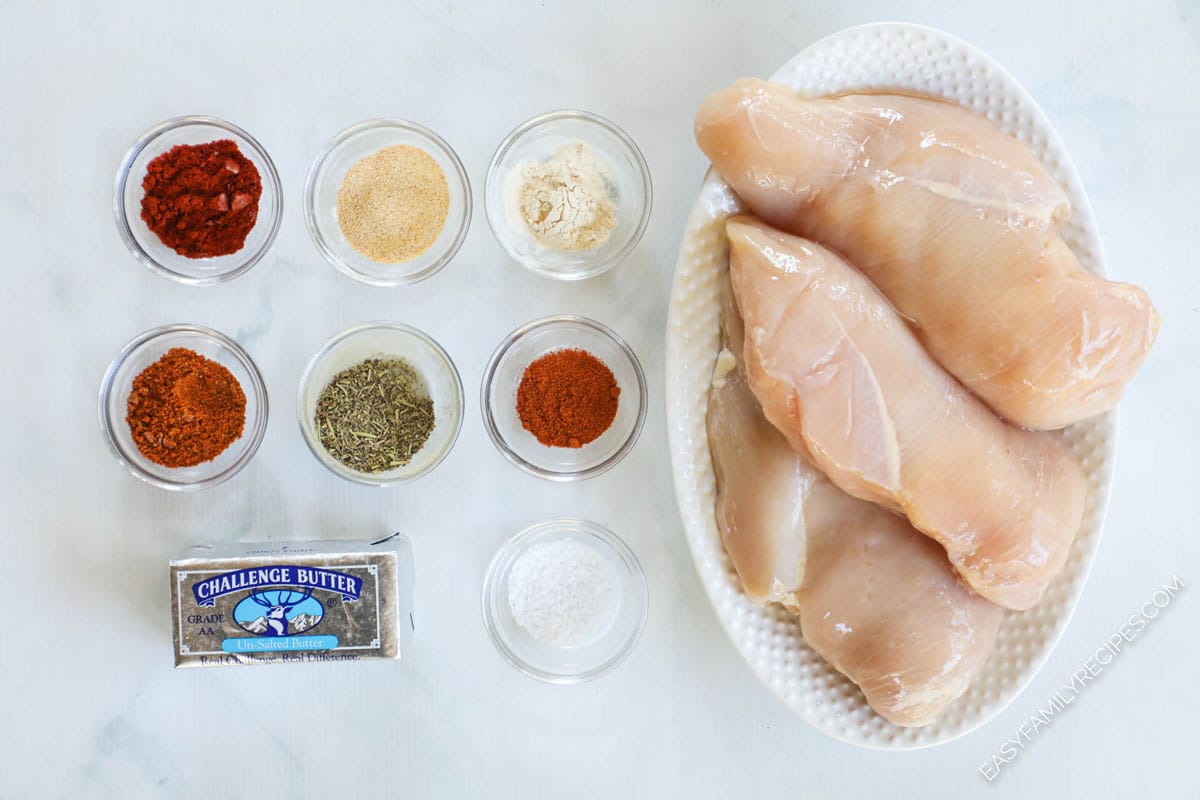 Chicken breast– This recipe is written for chicken breast, so the cook time and measurements reflect that. If you prefer you can use the same method with any cut of chicken to get a blackened effect. Chicken thighs, chicken tenders, or even chicken wings will work, however the cook time and measurements can vary.

Butter– You can use salted or unsalted. The taste won't vary much either way, so I just use what I have on hand.
For the Blackened Chicken Seasoning
Garlic powder
Onion powder
Paprika
Italian seasoning– You can use store bought, or make your own blend at home.
Old Bay seasoning- you can find this in the seasoning section of almost any grocery store
Salt
Cayenne pepper- this will be used to taste to make the blackened chicken more spicy or keep it more mild.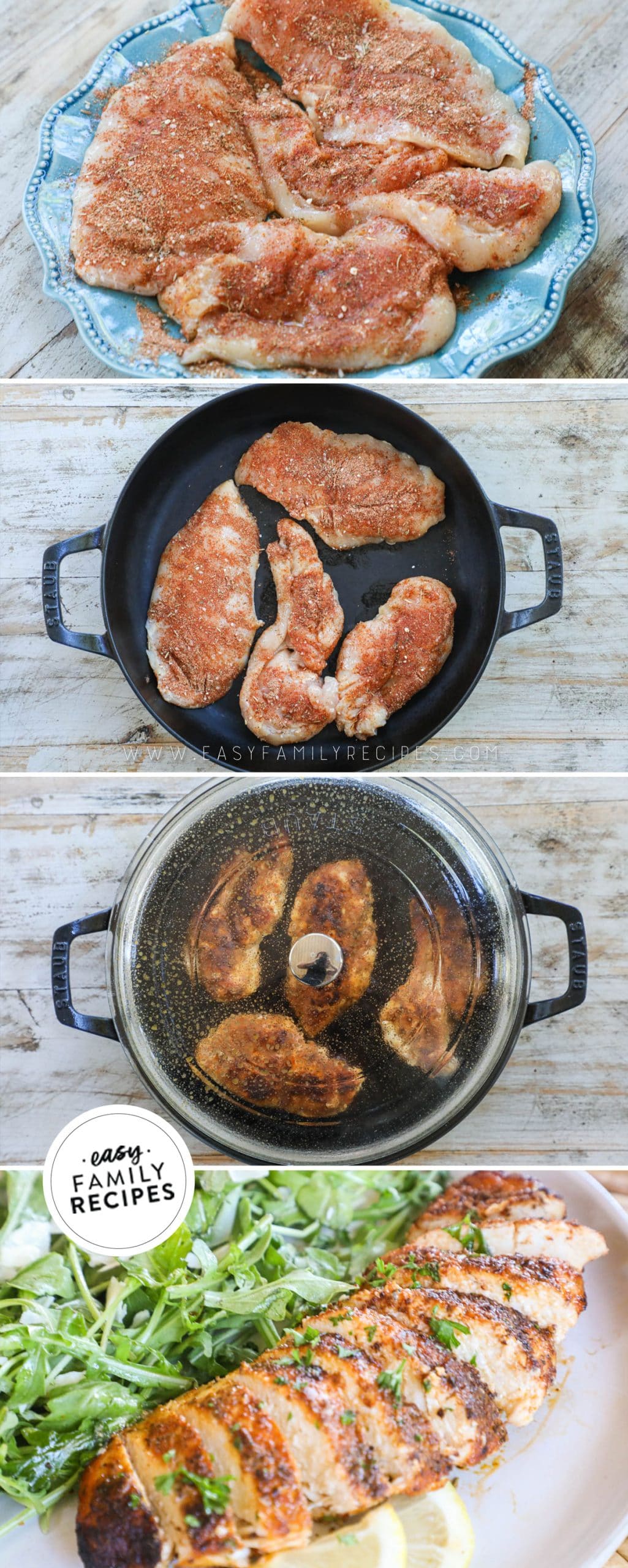 Recipe Tips
Use thin chicken– This is VERY important to getting a great result! Our method cooks the chicken quickly at a high heat to get that classic blackened crust on the outside of the chicken. In order to make sure the chicken breast is cooked through, it really needs to be thin (around 1/4-1/2″ thick.) You can either cut the chicken with a knife, or pound it out with a meat mallet. Either work equally well here.

Hot Butter + Hot Pan– One of the keys to getting that really great crust on the blackened chicken breast is making sure both the pan and the butter are HOT before putting the chicken in. You want them both to come to temperature over a medium high heat.

Don't Crowd the Pan– Make sure not to over crowd the pan. When the pan is too crowded the chicken isn't able to get enough air to form the sear on each side that is the signature of the delicious blackened crust you look for. Depending on the size of the skillet, you may need to cook the chicken in batches.

Don't touch! While it is tempting to fiddle and check the chicken, you will get the best blackened crust is you leave the chicken without moving or touching it for the full 2-3 minutes. Then flip and leave it again!

Cover to finish– After flipping the chicken, you will cover the pan which helps to finish the cooking all the way through. You will want the chicken to reach 165˚F to be done. If you don't have a meat thermometer, this is the best, and only true way to make sure your chicken is cooked, and prevent it from getting dry and chewy or being over cooked.
Recipe Short Cuts
This recipe is already really fast, but if you are extra short on time, here are a few ideas that can help make this blackened chicken breast recipe even faster!
Mix the seasoning in advance– You can mix the seasoning together as far in advance as you want! It will actually stay good for 1+ year, so feel free to mix up a big batch if you love these flavors, and keep it on hand to use as needed.
Pre-cut the chicken– As we talked about above, the chicken needs to be either cut or pounded to thin cutlets. You can do this in advance as well, so it is ready to go when you need to cook.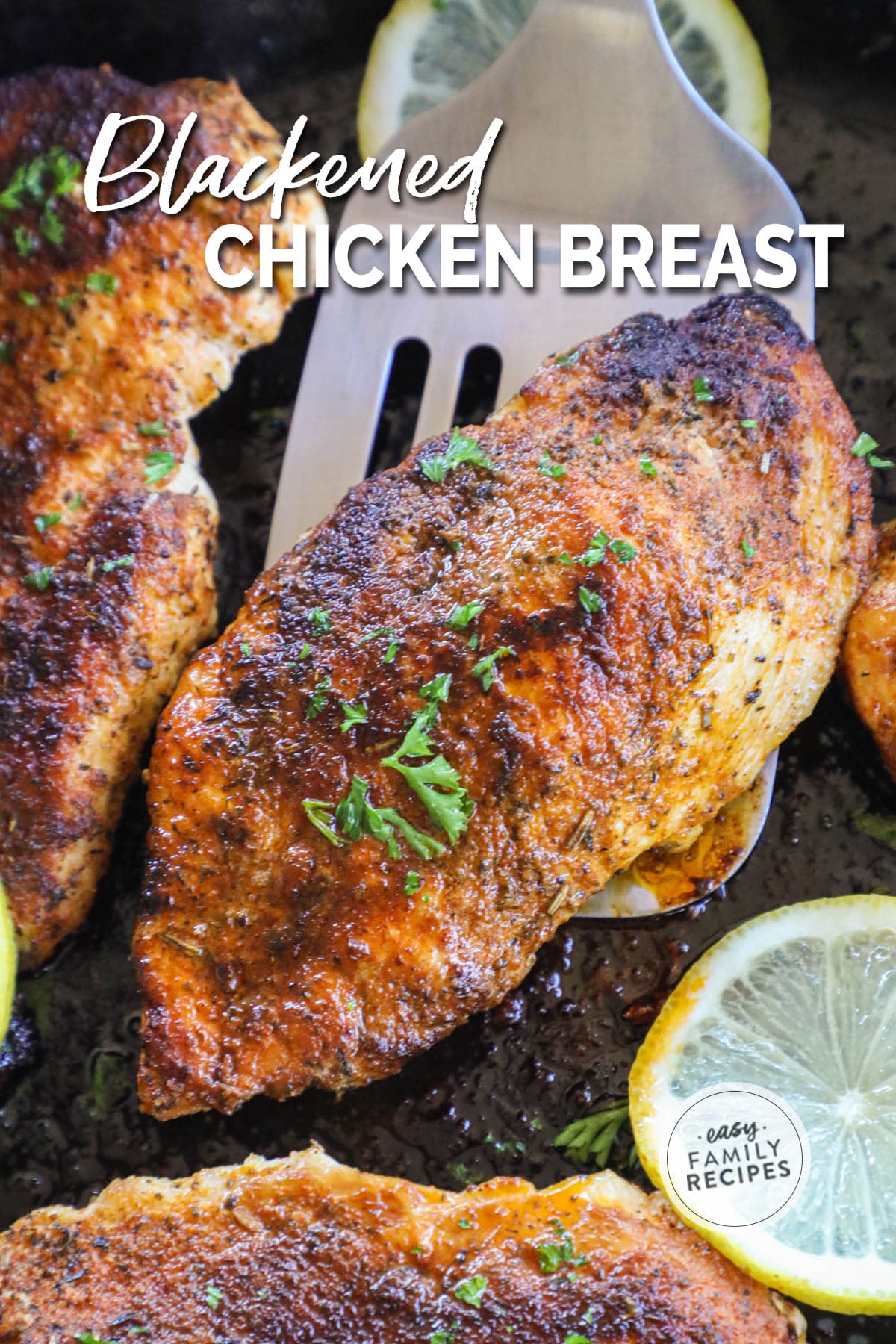 To prepare Blackened Chicken as a freezer meal:
You can prepare this blackened chicken breast recipe up to 6 months in advance and freeze.
Prepare seasoning mix
Coat chicken with seasoning on both sides.
Vacuum seal the chicken and freeze.
When ready to cook thaw for 24-48 hours in the refrigerator and continue with recipe as directed.
What to Serve with Blackened Chicken
While the flavor in this dish is bold, it matches well across the board, so you are able to serve Blackened Chicken with many different options based on what you have.
You can make the chicken breast seem very fancy, or extremely casual based on what you pair it with. It is up to you!!
SIDE DISHES
Salads– If you want to keep it light, blackened fish is perfect served with or on a salad. Here are a few of my favorites:
Potatoes– At most restaurants here on the water, you will see french fries as an accompaniment to fish, you can pair potatoes at home just as easily.
Vegetables– Add a veggie for a well rounded meal. Almost any you choose will go wonderfully, although these seem to be on repeat for us!
Bread
You can choose one or add a few sides to make a wholesome, well rounded dinner.
Blackened Chicken Leftovers
If you have leftovers after making Blackened Chicken Breast, then it is your lucky day! They save and reheat well, and can make the start of another delicious dish.
To save leftovers, separate into meal sized portions and then place in an airtight container and store:
in the refrigerator for 3-4 days
in the freezer up to a month
Leftover Recipes
Here are a few ways to repurpose those leftovers and give them a delicious makeover!
Blackened Chicken Salad– xxx.
Blackened Chicken Sandwich– Heat blackened chicken. Toast a hoagie roll. Mix mayo with old bay, salt, and a little lemon juice and spread it on the roll and add chicken, lettuce, tomato, and red onion.
Blackened Chicken Pasta– Prepare your preferred pasta and use either jarred or my quick homemade alfredo sauce. Toss pasta with sauce and top with heated and sliced blackened chicken.
More Easy Chicken Recipes
If you enjoyed this recipe, I really hope you will take a moment to grab a few more easy recipes for another busy night!
You can check out all of my Easy Chicken Dinner recipes here, or see a few of our readers favorite recipes below.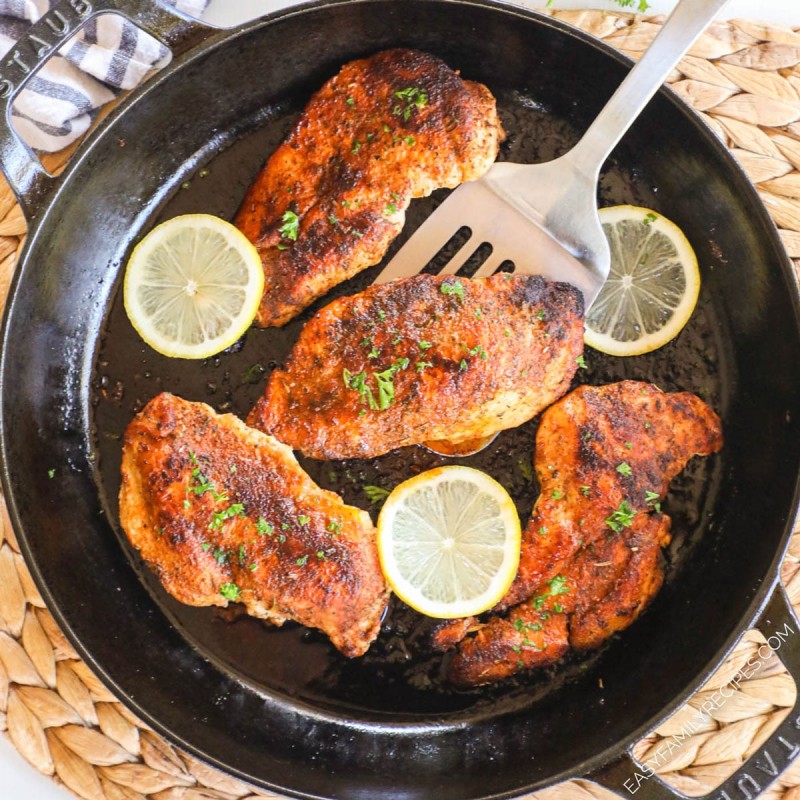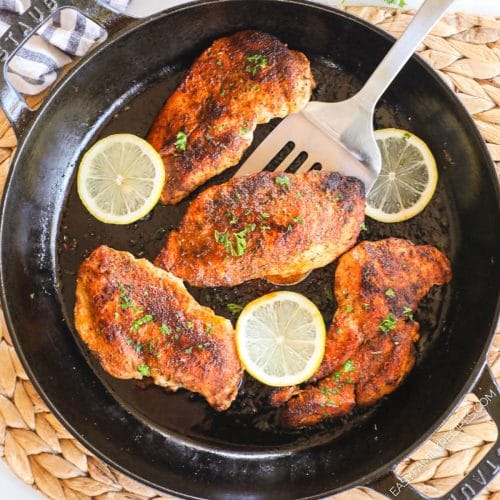 Blackened Chicken Breast Recipe
This Blackened Chicken is so simple, yet so delicious! It is easy and quick enough for a busy weeknight, but flavorful enough to impress guests. Filled with protein and big on taste, you can't go wrong with this easy dinner idea.
Ingredients
2

pounds

boneless, skinless chicken breast

,

cut into thin cutlets (about 6)

2

tbsp

butter
For the Blackened Chicken Seasoning
1

tsp

garlic powder

1

tsp

onion powder

1

tsp

paprika

1

tsp

Italian seasoning

1

tsp

Old Bay seasoning

1/2

tsp

salt

1/4

tsp

cayenne pepper

,

or up to 1/2 tsp to taste (optional)
Instructions
Combine the garlic powder, onion powder, paprika, Italian seasoning, Old Bay, salt, and cayenne pepper (optional) and mix.

Lay the chicken cutlets flat and sprinkle seasonings on the first side, lightly pat them in, and then sprinkle the remaining seasoning on the back side and pat in. This can sit in the refrigerator for up to an hour seasoned.

Heat a large cast iron skillet over high heat for 2-3 minutes, then reduce to medium high and add the butter.

Once the butter is melted and starting to brown, but not smoke, put the chicken flat in the skillet. Do not crowd the skillet. Cook the chicken in batches if necessary.

Let the chicken cook for 2-3 minutes on the first side without moving or checking it, then flip and cook 2 minutes on the other side. Then reduce heat to low, cover the pan and continue to cook until the chicken reaches an internal temp of 165˚F (about 2-3 more minutes.)

Remove the chicken from the skillet (to prevent it from continuing to cook) and serve warm with fresh parsley or freshly squeezed lemon if desired.
Recipe Notes
Substitutions — 
To create a milder, kid-friendly blackened chicken, sometimes called bronzed chicken, omit the cayenne and lightly season with black pepper.
To make a true blackened seasoning use the cayenne and black pepper to create the spice.
Instead of chicken breasts, use chicken thighs, chicken tenders, or even chicken wings will work, however the cook time and measurements can vary.
How to Store — To save leftovers, separate into meal sized portions and then place in an airtight container and store:
in the refrigerator for 3-4 days
in the freezer up to a month
How to Freeze —

This recipe freezes well. It can be frozen up to 6 months in advance or after cooking. See "how to freeze" section in original post for full instructions.
How to Reheat —

This can be reheated in the microwave in 30 second increments, or cover with tin foil and place into the oven to reheat. 
Nutrition Information
Serving:
4
oz
,
Calories:
212
kcal
(11%)
,
Carbohydrates:
1
g
,
Protein:
32
g
(64%)
,
Fat:
8
g
(12%)
,
Saturated Fat:
3
g
(19%)
,
Polyunsaturated Fat:
1
g
,
Monounsaturated Fat:
2
g
,
Trans Fat:
1
g
,
Cholesterol:
107
mg
(36%)
,
Sodium:
403
mg
(18%)
,
Potassium:
586
mg
(17%)
,
Fiber:
1
g
(4%)
,
Sugar:
1
g
(1%)
,
Vitamin A:
375
IU
(8%)
,
Vitamin C:
2
mg
(2%)
,
Calcium:
20
mg
(2%)
,
Iron:
1
mg
(6%)