Nothing beats these family friendly, quick and easy, lemon pepper chicken tenders for dinner! They're tender, juicy, and have double the lemony flavor from seasoning and an irresistible lemon butter that takes you practically no time to make. Transform simple chicken strips into a flavor-packed dinner option in just 15 minutes.
Lemon Pepper Chicken Tenders – The EASY Way!
Chicken is a GO-TO in our house, you can find tons and tons of recipes on my site championing the simple chicken breast from baked chicken, to chicken casserole. It's so versatile, family friendly, and a good, healthy source of protein. I love all my recipes, but these AMAZING lemon pepper chicken tenders are a new favorite, hands-down, no questions asked.
They're just SO easy. It's just 15 minutes from fridge to table for juicy, tender, super delicious chicken strips! They are packed with double the flavor from lemon pepper seasoning and a lemon butter pan sauce that's the perfect finishing touch. You can serve them with anything you like and they even reheat super well. Which means whipping up this chicken recipe is always a win for the whole family!
Why I LOVE this recipe!
FAST & Easy – The process for making these is so simple that you can easily get it done in just 15 minutes.
Simple Ingredients – Everything you need to make this may already be in your pantry, or is very easy to buy.
Unlimited Side Options – Salads, potatoes, vegetables, or bread, you can serve these up with just about anything.
Extra Tasty! – Lemon pepper seasoning and a lemon butter sauce make each bite an explosion of flavor.
Recipe Notes
This lemon pepper seasoned chicken recipe is as simple as promised! Just one pan and 15 minutes for a family friendly meal.
In this section I am going to go through a few tips and tricks I use when making this recipe to get the absolute best and most delicious results.
Make sure to scroll to the bottom for the FULL recipe card.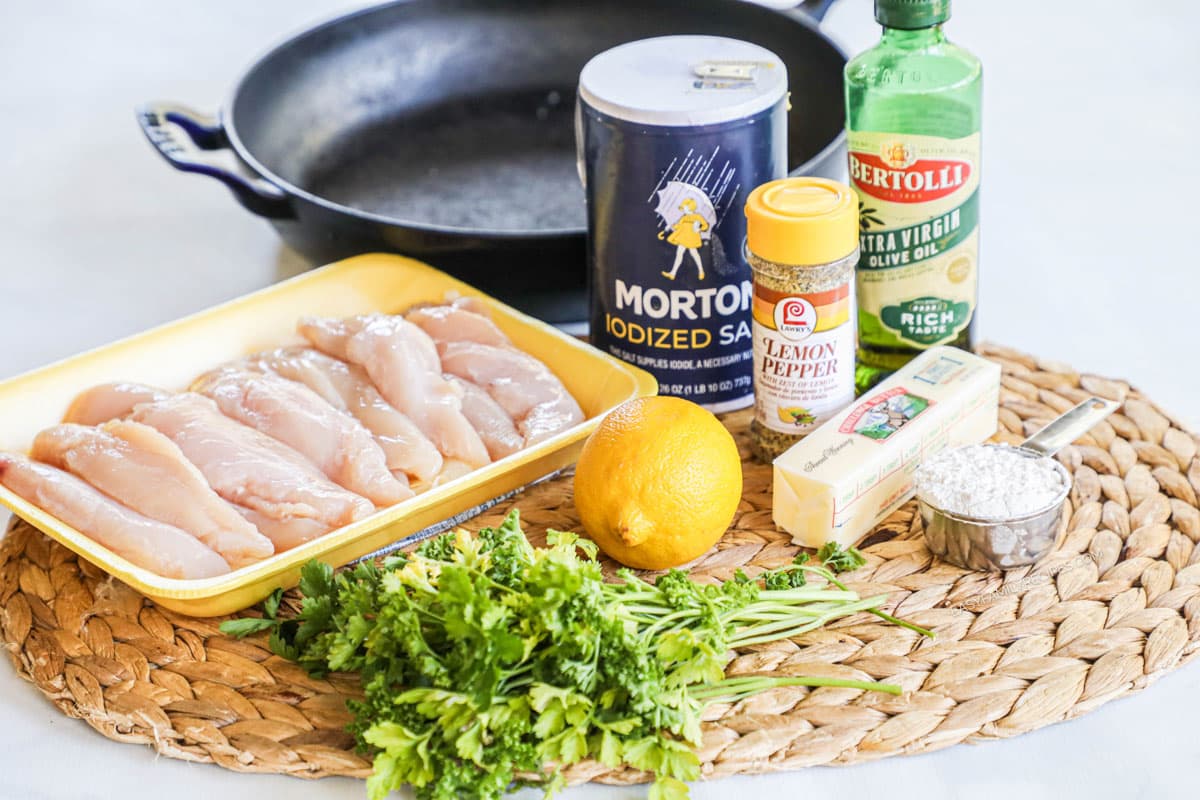 Ingredients + Substitutions
Chicken Tenderloin – You need 2 pounds of chicken tenders, which may be pre-cut and labeled as strips or tenderloins at the grocery store. You can also buy boneless, skinless chicken breasts and slice them yourself.
Flour
Lemon Pepper Seasoning – This is a super yummy seasoning blend that's usually easy to find in the spice section at most grocery stores.
Salt – Most lemon pepper seasoning doesn't contain salt, so you'll want to add some for flavor.
Olive Oil – Any neutral flavored oil like canola, vegetable, olive, or grapeseed works to sear the chicken.
Butter
Lemon Juice – Fresh squeezed lemon juice is really tasty and recommended, but bottled juice will absolutely work to make this recipe.
Fresh Parsley – I love the sprinkle of green as a garnish, but this is optional!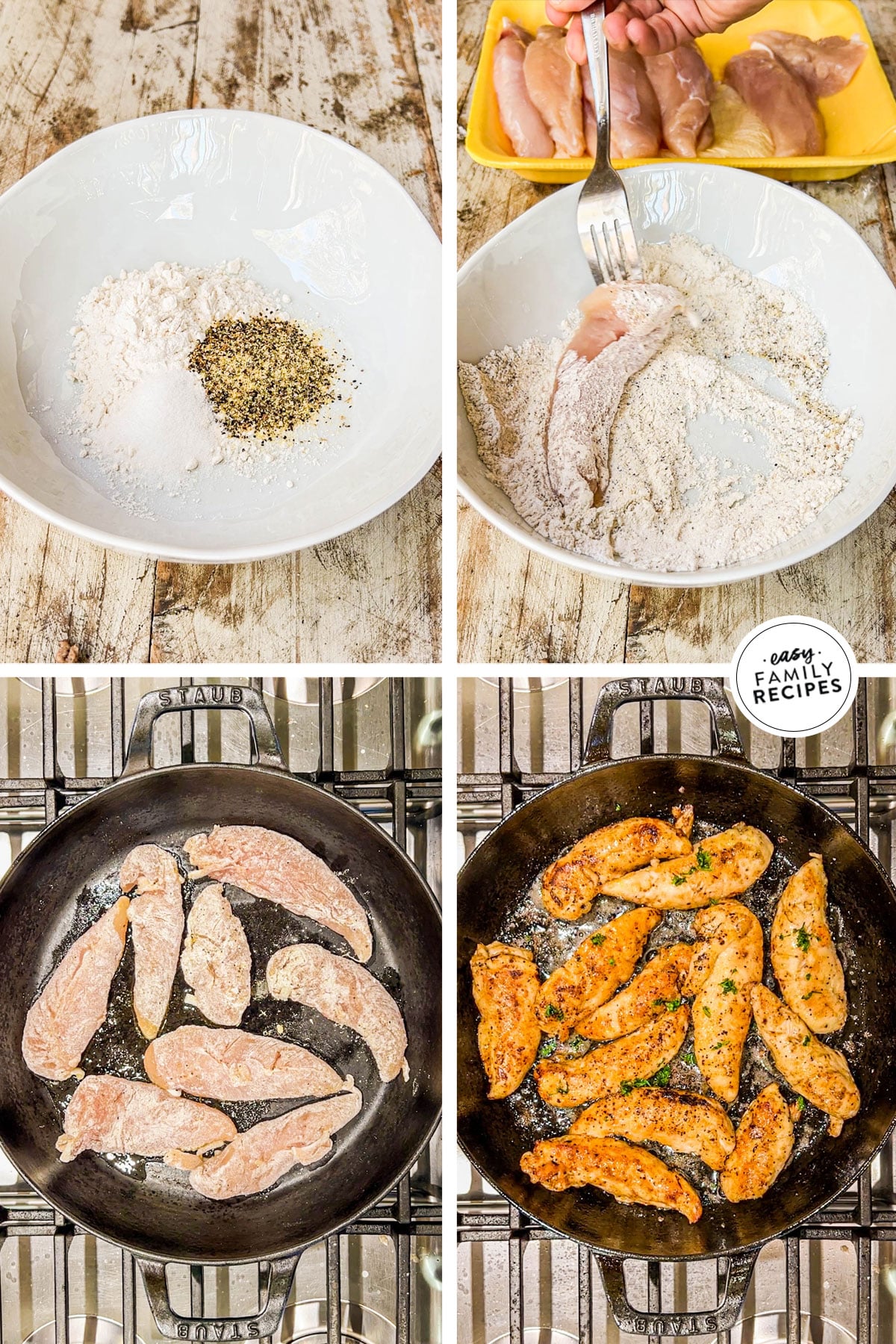 Recipe Tips
Choose your largest skillet – In order to cook your lemon pepper chicken strips quickly while also getting that yummy brown sear on them, you'll need a large skillet. You want enough room for the tenders to lay in the pan without touching or crowding so the moisture they release can evaporate instead of steaming your chicken.

Get the pan and oil HOT – One of the easiest mistakes to make when you're cooking in a hurry is to put the chicken in the pan before it's hot enough. To get that brown caramelization, which equals big flavor, you want to let the pan and oil get very hot before you put anything else in. If it doesn't immediately sizzle, it's not ready yet.

Keep it single layered – The point of having that large skillet is to give your lemon pepper seasoned chicken room to brown. I usually have to cook two batches, even with my largest pan. Trust me, for best flavor, cook in 2 batches instead of cramming them into one. The tenders only take 5-6 minutes to cook, and making sure they brown makes a big difference in how it will taste.

Don't overcook it! – The number one enemy of tender, juice chicken is the simple mistake of overcooking it. I recommend that everyone has a simple, inexpensive meat thermometer, which you can buy easily from the grocery store or online. Then you can make sure you're pulling them from the pan at that perfect internal temperature of 165°F to ensure the most tender juicy lemon pepper chicken tenderloins.
Recipe Variations
If you love this recipe as much as we do and want some quick ways to change it up for variety, these little tips will do the trick!
Crispy Lemon Pepper Chicken Strips– In addition to the lemon pepper seasoned flour, prepare a bowl of 3 beaten eggs, and another bowl of cornstarch. Start by dredging the chicken strips in the cornstarch, then the egg, then the seasoned flour. Increase the oil to half a cup, so it coats the bottom of the pan well, and get it hot. Then start pan frying the chicken strips until they're golden brown and crispy on both sides. Melt the butter separately, add the lemon juice and parsley, and drizzle it over just before serving.

Lemon Pepper Shake N Bake Chicken– Check out my classic shake n bake chicken cutlets and simply remove the seasonings from the breadcrumb mix and swap in 1 tablespoon of lemon pepper seasoning. Bake in the oven until crisp.

Lemon Pepper Chicken Bites– Chop the tenderloins or chicken breast into even 1-2″ cubes. Combine the flour, lemon pepper seasoning, and salt in a bag and add the chicken cubes. Shake well to coat them evenly. Continue as directed in the recipe, but reduce the chicken cook time by 1-2 minutes per side.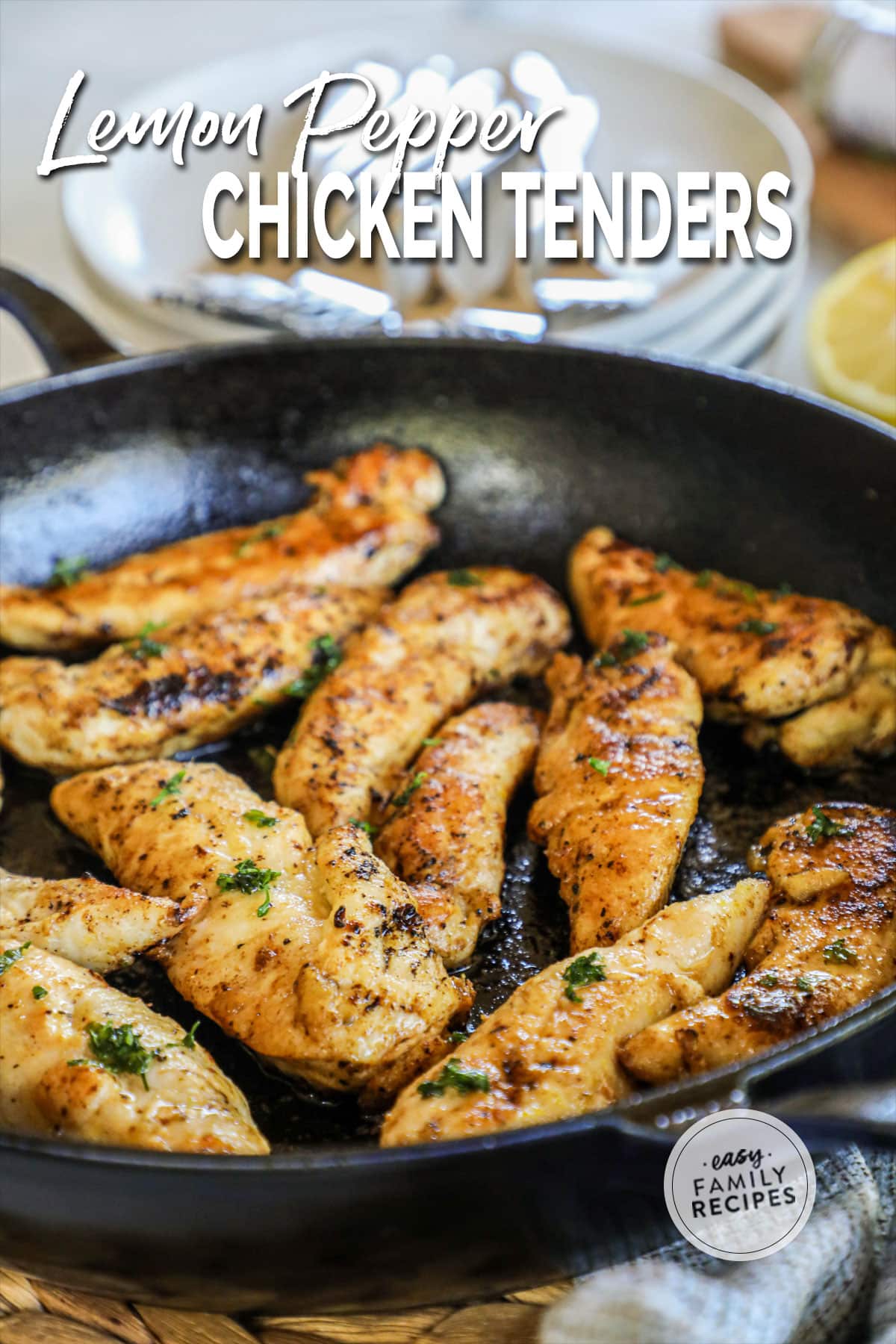 Freezer Meal Instructions
Making this lemon pepper chicken strips recipe into a freezer meal is simple! Follow the steps below and you can store this recipe in the freezer for up to 6 months.
Cook the lemon pepper chicken strips completely.
Allow to cool.
Place in a freezer safe bag or container and freeze.
When ready to cook, preheat your oven to 400°F.
Once heated, place frozen tenders on a baking sheet.
Bake for 15-20 minutes or until hot throughout.
Sides for Lemon Pepper Chicken
Since this dish has the classic flavors of lemon, it will pair well with many of your favorite traditional side dishes. There are both classic options and some healthy options to keep it light.
Side Dish Ideas
You can choose one or add a few sides to make a wholesome, well rounded dinner.
Lemon Pepper Chicken Tenders Leftovers
If you have leftovers after making lemon pepper seasoned chicken, then it is your lucky day! They save and reheat well, and can make the start of another delicious dish.
To save leftovers, separate into meal sized portions and then place in an airtight container and store:
in the refrigerator for 3-4 days
in the freezer up to a month
Leftover Recipes
Here are a few ways to repurpose those leftovers and give them a delicious makeover!
Lemon Pepper Chicken Wraps– Combine 1 teaspoon of lemon juice with 2 tablespoons of mayonnaise and chopped parsley then spread a layer on a large tortilla. Add in chopped, leftover lemon pepper chicken tenders. Layer desired toppings like lettuce, avocado, tomato slices, or red onion. Fold to ends toward the middle over the toppings, then roll from one open end over the folded edges and toppings to form a wrap. Slice in half and serve with extra lemon mayonnaise as desired.

Lemon Pepper Chicken Pasta– Cook pasta according to the package instructions. While it cooks, melt 2 tablespoons of butter in a large skillet over low heat. Add in 1 teaspoon of lemon juice and two cloves of finely minced garlic. When the pasta is done, reserve 1/2 cup of pasta water then drain the noodles. Add the cooked pasta to the butter with half the reserved water. Turn the heat up to medium high and toss the pasta until well coated, adding more pasta water if it's too dry. Add in chopped leftover lemon pepper chicken strips and toss until warm. Serve with grated parmesan cheese.

Lemon Pepper Chicken Cesar Salad– Chop romaine lettuce and place in a bowl with croutons and shredded parmesan cheese. Chop the leftover chicken and add it to the bowl. Mix 1 teaspoon of lemon juice into 1-2 tablespoons of Cesar dressing then toss it with the salad and serve.
More EASY Chicken Recipes
If you enjoyed this recipe, I really hope you will take a moment to grab a few more easy recipes for another busy night!
You can check out all of my chicken dinner recipes here, or see a few of our readers favorite recipes below.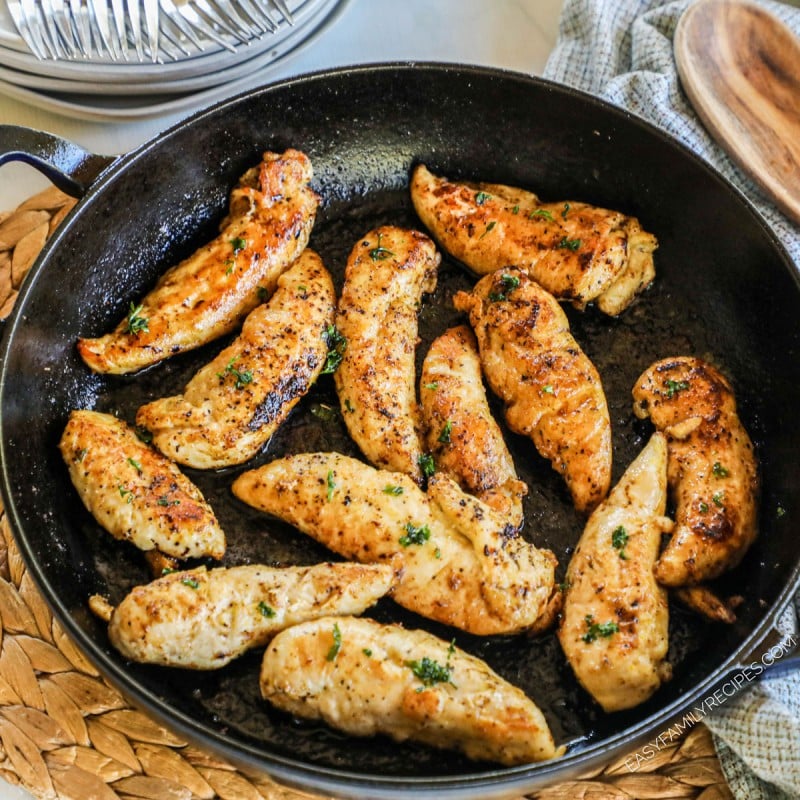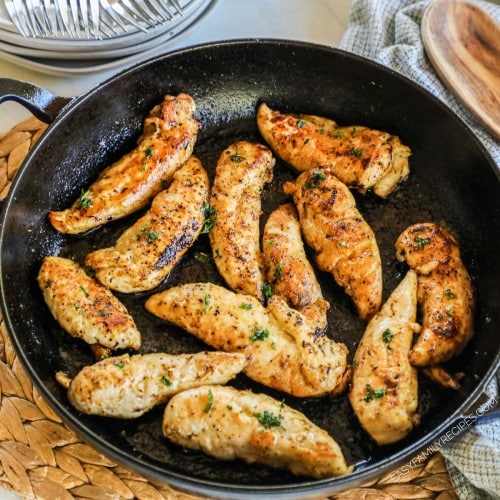 Lemon Pepper Chicken Tenders
Chicken tenderloins are tossed in lemon pepper seasoned flour, cooked, and then tossed in a rich, lemon butter pan sauce to create a family friendly dinner option that only takes 15 minutes to make.
Ingredients
2

pounds

chicken tenderloins

3

tablespoons

all purpose flour

1

tablespoon

lemon pepper seasoning

1

teaspoon

salt

2

tablespoons

olive oil

1

tablespoon

butter

1

lemon

,

juice of
Instructions
Combine the flour, lemon pepper seasoning, and salt in a shallow dish. Toss the chicken tenderloins with the lemon pepper flour mixture to coat.

Heat a large skillet with 1 tablespoon of oil over medium heat. Once hot, add a single layer of chicken tenders to the pan. Let cook 3-5 minutes without turning or stirring. Then flip and cook an additional 3-5 minutes or until the chicken is cooked through (165˚F internal temp.) Remove the chicken tenders and set aside.

Repeat if you have additional chicken tenders, adding more oil to the pan as needed.

Reduce the heat of the pan to low, and add the fresh lemon juice and butter to the pan to deglaze. Add the chicken tenders back in the pan and toss to coat with the lemon butter sauce.
Nutrition Information
Calories:
378
kcal
(19%)
,
Carbohydrates:
8
g
(3%)
,
Protein:
49
g
(98%)
,
Fat:
16
g
(25%)
,
Saturated Fat:
4
g
(25%)
,
Polyunsaturated Fat:
2
g
,
Monounsaturated Fat:
8
g
,
Trans Fat:
0.1
g
,
Cholesterol:
153
mg
(51%)
,
Sodium:
868
mg
(38%)
,
Potassium:
903
mg
(26%)
,
Fiber:
1
g
(4%)
,
Sugar:
1
g
(1%)
,
Vitamin A:
170
IU
(3%)
,
Vitamin C:
17
mg
(21%)
,
Calcium:
27
mg
(3%)
,
Iron:
1
mg
(6%)