These authentic Tex-Mex style chicken fajitas are not only tender, juicy, and amazingly delicious, but so quick and easy to make! These Chicken fajitas are made with chicken breast and fajita seasoning in the traditional style- sizzling in a cast iron skillet with onions and peppers just like your favorite Mexican restaurant. Perfect for a family friendly weeknight dinner, and is a great dinner idea for a crowd since it cooks quickly and can be easily doubled, tripled or more.
Homemade Chicken Fajitas – The EASY Way!
Born and raised in Texas, chicken fajitas are my jam. They were my go to order at any Mexican restaurant for the majority of my life and I have sampled them from hundreds if not thousands of restaurants. With all of this "research" I can pretty confidently say I have perfected the recipe for chicken fajitas at home.
These are not only my favorite, but also a family favorite because they are perfect for kids and picky eaters since you can build your own fajita, fajita bowl, or even a fajita salad to keep it light and healthy. And bonus- its FAST! I mean like make it in minutes fast!
So what makes chicken fajitas not just ok, but really, really amazingly delicious?!
The best chicken fajitas are:
Perfectly seasoned
Seared on the outside
Tender & Juicy on the inside
Sizzling hot!
While this may sound like only something you can get in a restaurant, it is SO EASY to make at home. And I am going to walk you right through it!
First, I want to make sure you are at the right place though… These are my authentic Tex-Mex Chicken Fajitas made in a skillet. Fajitas can be made many ways, and if you are looking for something else, I probably have that for you too! Find my other chicken fajita recipes here:
What to Serve with Fajitas
Since this dish has those classic Tex-Mex flavors, it will pair well with many of your favorite Mexican side dishes. There are both classic options and some healthy options to keep it light.
Traditional fajitas served at a Mexican restaurant will generally come with the fajita set up. This is a plate that includes the following:
Refried beans
Shredded lettuce
Sour cream
Shredded cheese (in tex mex style fajitas)
Flour tortillas
Side Dish Ideas
A few other side dishes we love to serve with this chicken fajitas recipe are:
You can stick with this just as it is served at the restaurant, or mix it up to include other family favorites! Our family likes fajitas with my crock pot black beans, corn salsa, and a drizzle of jalapeno ranch. Do what you love!
Recipe Notes
This Chicken Fajita recipe is as simple as promised! Just a few pantry staples for a family friendly meal.
In this section I am going to go through a few tips and tricks I use when making this recipe to get the absolute best and most delicious results.
Make sure to scroll to the bottom for the FULL recipe card.
Ingredients + Substitutions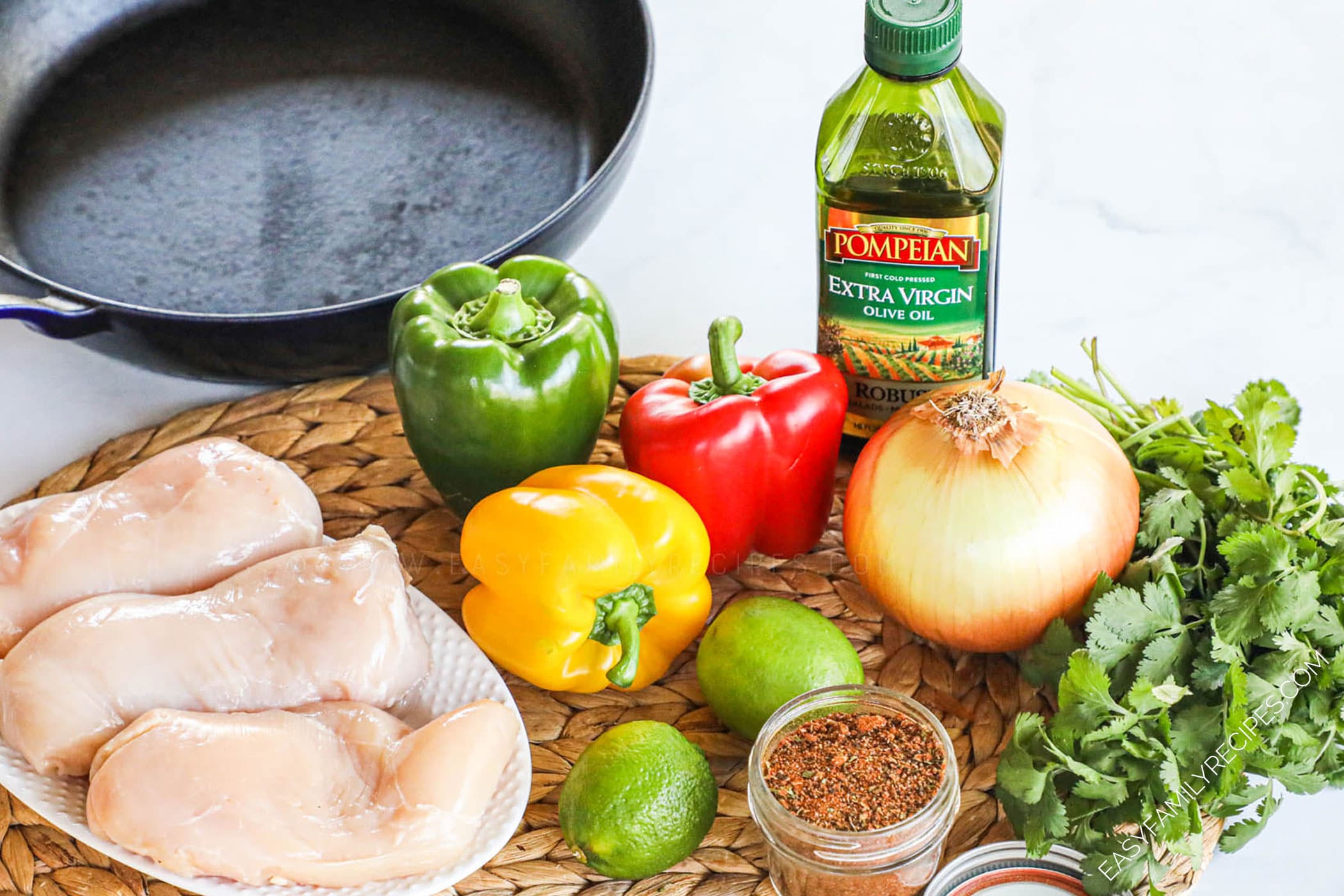 Chicken breast– To work well in this recipe, you want thin chicken breasts. I generally cut my chicken in half horizontally so that it is two thin filets. You can also buy thin chicken breasts, or pound the chicken to be thin.

Fajita seasoning– You can use premade fajita seasoning bought at the store or homemade. I highly recommend using my homemade fajita seasoning. It is SO GOOD! And as a bonus, it is gluten free, dairy free, sugar free, and has no preservatives or additives. You know exactly what you get, and completely control the flavor.

Vegetable oil- You can use vegetable oil, canola oil, avocado oil, or any cooking oil that has a higher smoke point.

Lime juice– Using fresh lime juice is so important for flavor! Limes can keep for a few weeks in the fridge, so I like to keep them on hand at all times for seasoning and adding flavor to recipes.

Bell peppers– My favorite combo is one green pepper and one red pepper. You can use any combination of green, red, orange, and yellow sweet bell peppers.

Yellow onion– I like sweet onion varieties to offset the smokey flavors of the fajitas, but you can use any variety of onion you like in this recipe. To cut onions for fajitas, I like to cut the ends off then cut the onion in half. Then slice the onion from top to bottom (cut end to cut end) in slices about 1/2″ thick. This gives slices of onion that are not too long, and perfectly sized to fit in a fajita.

Butter– The butter is optional, but I love to use it because it adds both a richness and depth of flavor and that signature sizzle at the end. You can omit the butter or use margarine to make the fajitas dairy free.

Garlic– This final ingredient gives a burst of insanely delicious flavor. Make sure to use fresh garlic for the best flavor!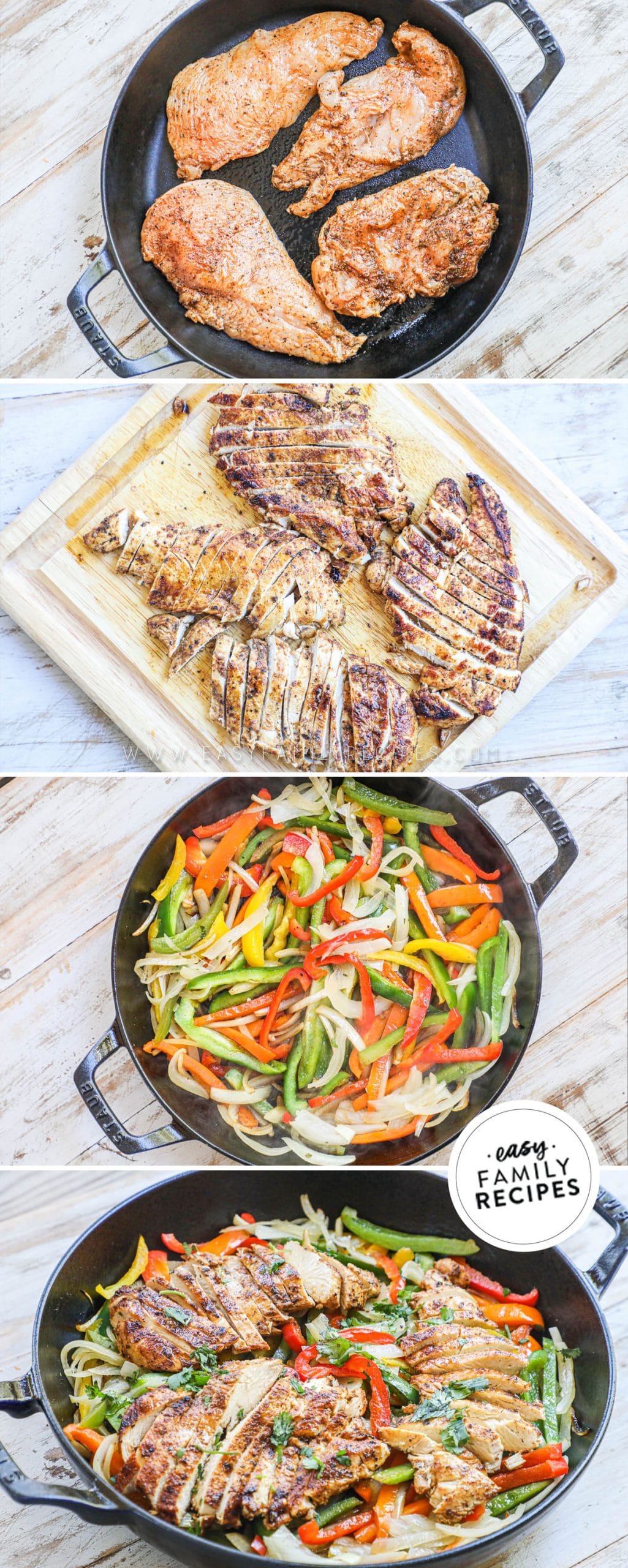 PREP
We use HIGH HEAT in this recipe so things move fast!
TIP: Make sure to have all of your ingredients prepped and ready before starting to cook so you can keep up with the pace for the best results!
Make sure that your chicken is thin as we mentioned above. This is important because the chicken will need to cook quickly and evenly in the skillet to remain tender and juicy.
The veggies should also be sliced into uniform strips.
How long to cook Chicken Fajitas
We use high heat to give the outside of the chicken breast and vegetables the delicious caramelization that makes the flavor so good!
Make sure to cook the meat in a single layer in the pan. Don't over crowd the meat. Depending on the size of the pan and the chicken, you may need to cook the meat in 2 batches so that there is space in the pan.
This will allow the chicken to get that great sear, instead of the moisture being trapped in the pan which would steam the meat instead.
Since the heat is so high, it only takes just a couple of minutes to get that lovely seared crust on the meat. Then you can finish cooking on low with the lid. You also have to keep a careful eye on them so that you don't leave them on too long and burn or over cook both the chicken and vegetables.
The vegetables will take about 3-4 minutes and I like to cook these first for 2 reasons.
The vegetables will continue to cook and soften as they sit
This allows you to serve the chicken as hot, fresh and sizzling as possible
The chicken fajitas will take about 6-9 minutes total to cook, done in steps.
How to Cut the Chicken for Fajitas
Once the chicken is cooked, I like to let it rest a minute then use a chef knife to cut into 1/4-1/2″ strips.
SIZZLING FAJITAS
This last step is where you get that signature sizzle for your fajitas.
When you add the butter and garlic into the skillet on high heat, it will immediately produce the sizzle from the moisture in the butter.
The combination of these ingredients also add an insane level of flavor!
Be ready to stir back in the veggies and get your hot sizzling skillet to the table asap!
Recipe Short Cuts
If you need to make this recipe, but are extra short on time, here are a few ideas that can help make this recipe even faster!
Prep and marinate the meat– I usually get the meat cut and marinating in the morning. This both saves time when I start to prep for dinner, and also allows the meat to be more tender and flavorful!
Pre-cut the veggies– You can pre-slice the onions and peppers up to 3 days in advance. Just slice them up and place them in a container or zip top bag in the fridge until you are ready to cook.
Recipe Variations
If you love this recipe as much as we do and want some quick ways to change it up for variety, these little tips will do the trick!
Spicy Chicken Fajitas– If you like your fajitas spicy, I recommend two things. First, add 1/4-1/2 tsp cayenne pepper to the meat marinade. Then add sliced or whole jalapeno peppers to the veggies when cooking.
Grilled Chicken Fajitas– You can grill the meat instead of cooking it in the skillet.
Steak and Chicken Fajitas– You can use the same method to make flank steak to combine with the chicken fajitas. I use 1 tbsp seasoning and 1 tbsp oil per pound of meat. Slice into thin pieces and then cook after the chicken.
Dietary Considerations
If you have special dietary needs, this recipe meets some and can be easily modified to comply with others.
As always, check all store bought ingredients for compliance on specific dietary needs. The notes below are a general guide.
Gluten free: This recipe is naturally gluten free.
Dairy free: This recipe is dairy free when the butter is omitted.
Nut free: This recipe is naturally nut free
Egg free: This recipe is naturally egg free
Low carb/Keto: This recipe is low carb at only 9g net carbs per serving.
Macros: The approximate macro calculation for this recipe is- P: 33g C: 10g F: 11g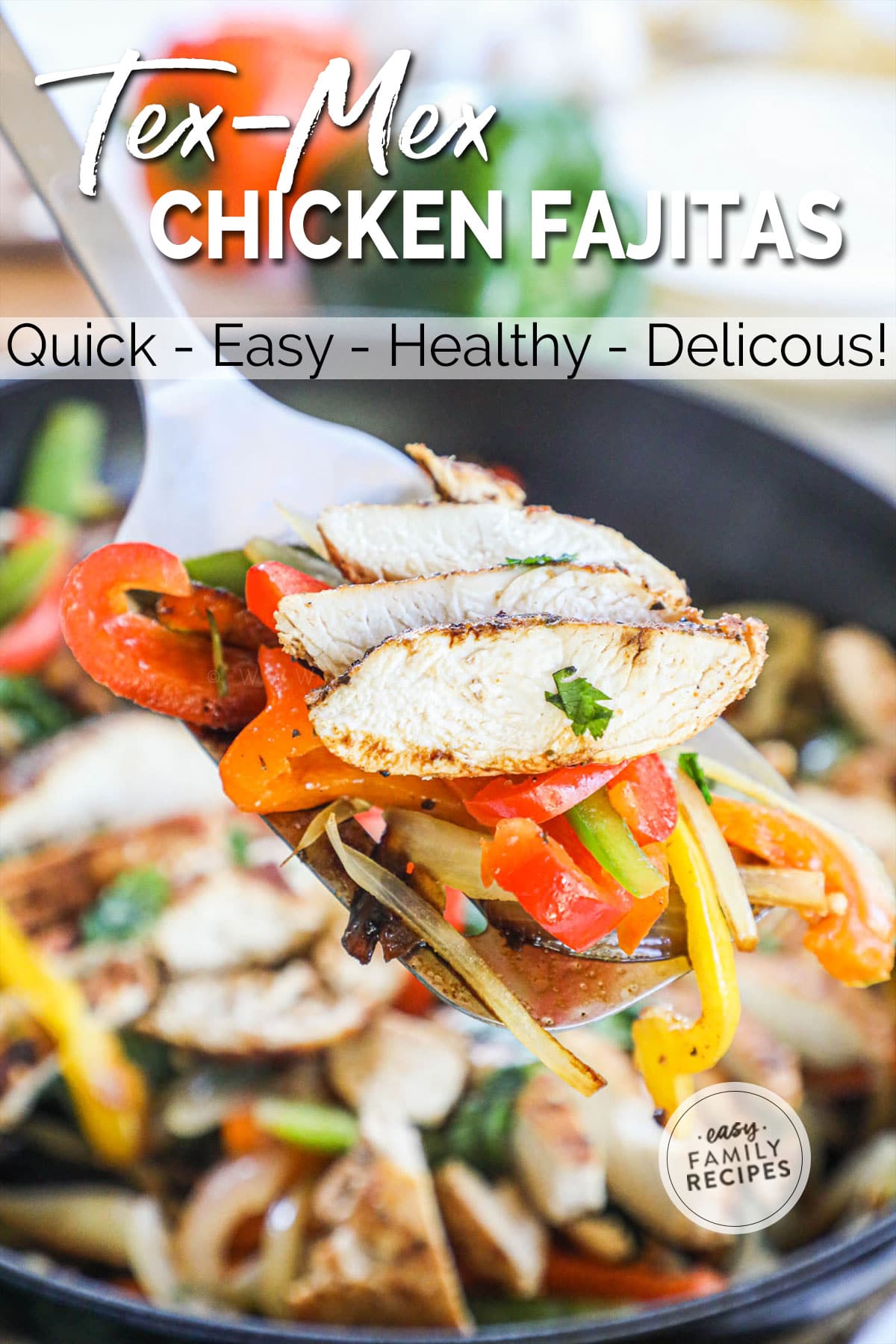 Chicken Fajita Leftovers
If you have leftovers after making XXX, then it is your lucky day! They save and reheat well, and can make the start of another delicious dish.
To save leftovers, separate into meal sized portions and then place in an airtight container and store:
in the refrigerator for 3-4 days
in the freezer up to a month
Leftover Recipes
Here are a few ways to repurpose those leftovers and give them a delicious makeover!
More Easy Dinner Recipes
If you enjoyed this recipe, I really hope you will take a moment to grab a few more easy recipes for another busy night!
You can check out all of my Dinner recipes here, or see a few of our readers favorite recipes below.
Hungry for more family-friendly recipes? Sign up for my free recipe club to get new family-friendly recipes in your inbox each week! Find me sharing daily meal-time inspiration on Pinterest, Instagram, and TikTok.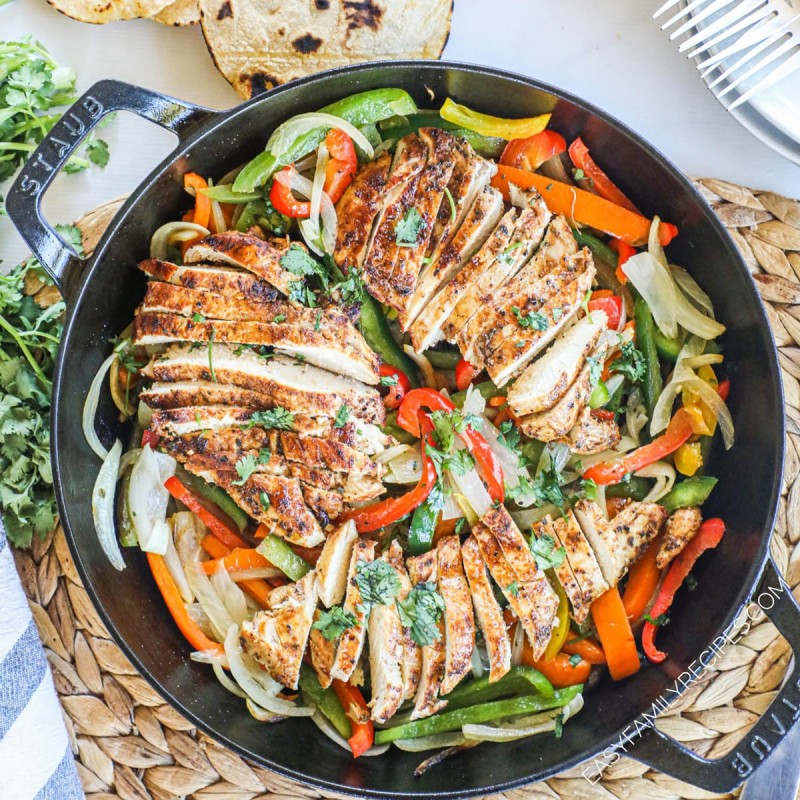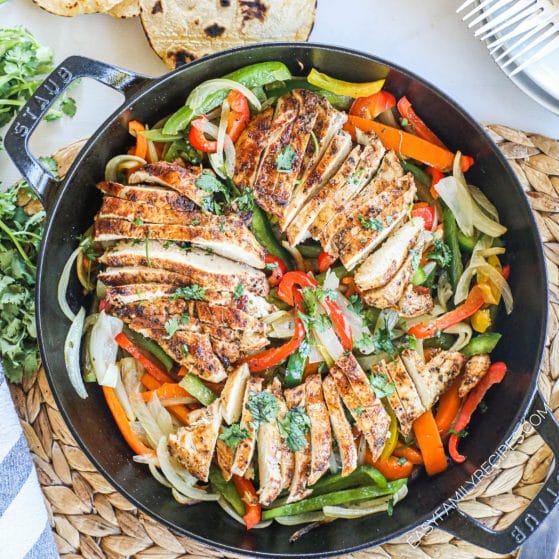 Homemade Chicken Fajitas
These Chicken Fajitas are tender, juicy, and packed with flavor. They are made in just minutes in a hot skillet. The Chicken Fajitas, peppers, and onions can be eaten in tortillas, on a salad, or with rice and beans.
Prep Time: 10 minutes
Cook Time: 8 minutes
Serves:6 servings
Hover over "serves" value to reveal recipe scaler
Ingredients
2 lbs Chicken breast (thin or cut in half horizontally to be thin)
2 tbsp fajita seasoning
2 tbsp vegetable oil divided
1 lime juiced
1 green bell pepper sliced
1 red bell pepper sliced
1 sweet yellow onion sliced
1 tbsp butter
3 cloves garlic pressed
Instructions
Combine the chicken with the fajita seasoning, half of the lime juice and 1 tbsp of the oil, and place in a zip top bag or container to marinate while finishing prep.

Cut the peppers and onions into thin strips.

Heat the remaining 1 tbsp oil over high heat in a large skillet. Once hot, carefully place the peppers and onions in the skillet, cooking for 3-4 minutes, stirring occasionally. Remove the peppers and set aside.

Then place the chicken in a single layer in the hot skillet. Let cook (without stirring) for 2-3 minutes. Then flip the meat to the other side and cook for 1 minute. Then reduce heat to low, cover, and cook for 3-5 additional minutes or until cooked through (165˚F internal temperature)Remove from skillet and slice into thin slices.

Stir the butter, garlic, and lime juice in and cook for 1 minute. Then remove from heat and stir in the onions and peppers and sliced chicken.

Garnish with fresh cilantro and serve hot. Enjoy!
Nutrition Information:
Serving: 8ozCalories: 268kcal (13%)Carbohydrates: 10g (3%)Protein: 33g (66%)Fat: 11g (17%)Saturated Fat: 6g (38%)Polyunsaturated Fat: 1gMonounsaturated Fat: 2gTrans Fat: 1gCholesterol: 102mg (34%)Sodium: 266mg (12%)Potassium: 731mg (21%)Fiber: 2g (8%)Sugar: 5g (6%)Vitamin A: 888IU (18%)Vitamin C: 53mg (64%)Calcium: 33mg (3%)Iron: 1mg (6%)
(Nutrition information provided is an estimate and will vary based on cooking methods and brands of ingredients used.)